How to fix multiple monitors having issues on Mac
Many Mac users enjoy using a second monitor in their setup, or maybe even two monitors while the Mac is in clamshell mode. But a MacBook not detecting monitor extensions is typical for the Mac, so if you're experiencing a problem with the Mac not recognizing external monitor setups, you're not alone!
Whether you want to extend monitor setups, have some dual monitor troubleshooting to do, or need some apps that can help make your multiple monitor Mac setup even better, we'll tell you everything you want to know about using a Mac or MacBook with one or more external monitors.
Mac not detecting the monitor troubleshooting
If your Mac won't connect to monitor setups, it might be due to a few known issues. First, be sure your Mac and the monitor or monitors you're trying to use together are plugged in to a working power source. A second monitor not working may actually be due to power not getting to the monitor in the first place!
If your monitors and Mac are plugged in and your Mac still doesn't recognize external monitors – here are some steps you can try to get external monitors to work with your Mac.
How to force Mac to recognize a monitor
You can't quite "force" your Mac to recognize a monitor, per se, but you can take steps to ensure your Mac recognizes external monitors. Those who think a MacBook Pro external monitor not working is due to faulty hardware might be right, but it could be something else too!
Make sure your monitor is supported. If you're trying to use a really old monitor, chances are it's just not supported by a more modern Mac, or possibly unsupported if your Mac has a recent build of macOS.
Don't chain connections together. Some monitors with older connections require adapters for use with Macs, sometimes more than one. Chaining adapters together can cause your monitor to not be recognized.
Make sure cables are in good condition. Cables being old, broken, or just plain not working may also be why your Mac doesn't recognize your external monitor.
Watch out for adapters. Some third-party adapters just aren't quality, and may even be total junk. Be sure you're only buying quality hardware.
Check your connection and cables
If you're using USB-C cables to connect your Mac to an external monitor, be sure the connectors are inserted all the way into both the Mac and your monitor. Even the slightest disconnection can cause your monitor to go unrecognized.
If you're using adapters for monitors with non-USB-C connections, be sure the adapters are secured well to one another and your Mac. Keep in mind there are particular issues with HDMI to USB-C adapters that can cause Macs to not recognize external monitors. Specifically, trying to hook your USB-C cable to a DVI adapter – and then the HDMI cable for a monitor – seems to be a deal-breaker for the Mac and will almost definitely cause your Mac to not recognize an HDMI external display.
Adjust monitor settings
Sometimes you're positive the monitors and Mac are working properly, the cables and/or adapters are in a good working state – and the external display still won't show up for your Mac. When that happens, it's time to dig into System Preferences on your Mac and adjust the settings on your external display:
Click the Apple logo on the top left of your Mac menu bar
Access System preferences
Open Displays
Select the external display you want to toggle
Choose Display Settings at the bottom of the window.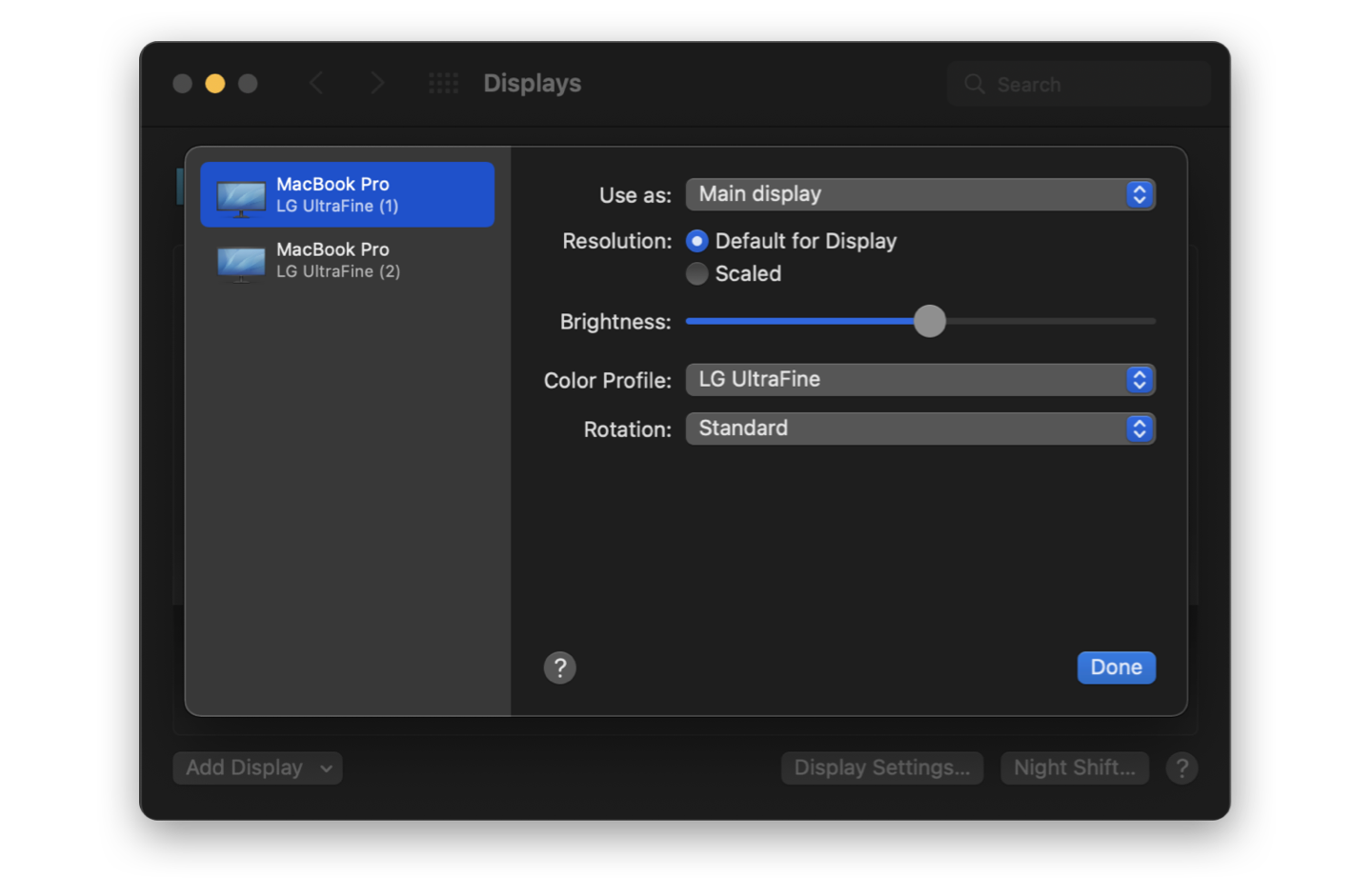 Often, your external monitor's brightness settings are at their lowest. Increasing the brightness will make the monitor's backlight come alive, which should give you signs of life on your external display.
A more efficient way to manage your monitr settings is to use DisplayBuddy. It's a perfect multi-monitor controller that lives in the menu bar on your Mac and provides quick and easy access to the settings for all monitors connected to your Mac. You can control brightness, contrast and volume, manage presets, and create custom keyboard shortcuts that toggle settings for your displays instantly. Best of all, you can change settings for all your monitors at once!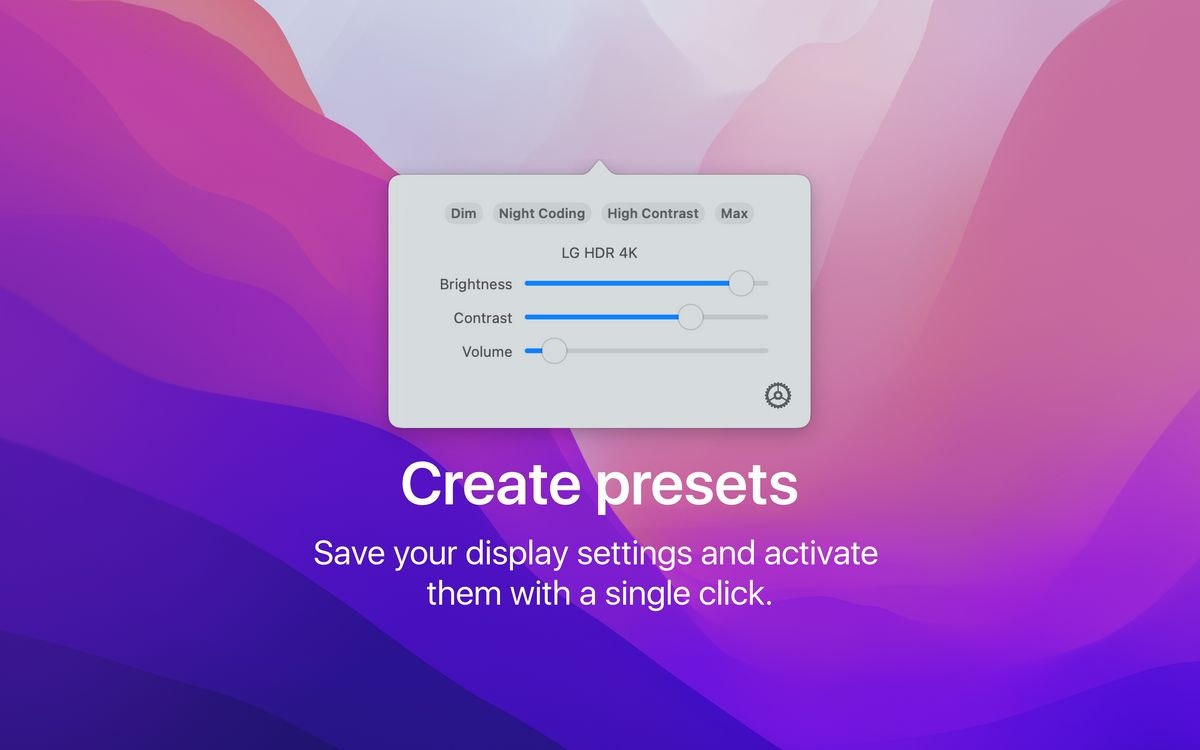 iPad won't work as a second display
You can use an iPad as a second display for your Mac – if your Mac supports Apple's Sidecar feature. Sidecar turns an iPad connected to a Mac into a second display, which is a huge win for anyone who works remotely!
It won't work with all Macs and iPads, though. Here is the full list of iPads and Macs that support Sidecar:
iPads:

12.9-inch iPad Pro
11-inch iPad Pro
10.5-inch iPad Pro
9.7-inch iPad Pro
iPad (6th generation)
iPad (5th generation)
iPad mini (5th generation)
iPad mini 4
iPad Air (3rd generation)
iPad Air 2

Macs:

MacBook Pro (2016 or later)
MacBook (2016 or later)
MacBook Air (2018 or later)
iMac (2016 or later, as well as iMac 5K, 27-inch, late 2015)
iMac Pro Mac mini (2018 or later)
Mac Pro (2019)
Reset your SMC and/or NVRAM
Resetting the SMC and/or NVRAM on a Mac is a quick way to force your Mac to reevaluate how it interacts with peripherals like external monitors. Keep in mind you don't need to take these steps on Macs with M1 or newer Apple Silicon chipsets. Apple advises you simply turn your device off for 30 seconds or longer, then reboot it normally.
If you have an Intel-based Mac, here's how to reset the SMC:
Shut your Mac down completely
Hold the right shift key, left option key, and left control key for seven seconds
Continue holding those keys down while you press and hold the power button for seven seconds
Release all keys simultaneously
Power your MacBook on again.
If you have an Intel-based Mac, here's how to reset the NVRAM:
Power your Mac down completely
Press the power button
Quickly – before the Apple logo appears – press Command + Option + P + R
Hold down the keys until your Mac restarts and you hear the startup chime for the second time or the Apple logo appears for the second time
Release the keys.
Check the monitor with another computer
If you can, connect your external monitor to a different computer to ensure it works properly. Once you know the monitor works – and you know your Mac works – you can narrow the problems down to adapters, connectors, cables, or possibly software.
Macs are notoriously fussy about external monitors, but once you have the right setup (including cables, connectors, adapters, and such) working across multiple monitors can give you a huge productivity boost.
Managing external monitors can be fussy, which is why we like DisplayBuddy. It lets you manage all displays at once, which is great because Macs can change external display settings for no reason or notice. Quick and easy access to external monitor settings will save you a ton of headaches later on.
DisplayBuddy is part of Setapp, so you can try it for 7 days free, along with other world-class productivity apps for Mac, including CleanMyMac X, CleanShot X, and Boom 3D. During your week-long trial, you can download and use any (or all!) of the 230+ apps in the Setapp to find the right setup and workflow for you.