How to connect monitor to a MacBook
Every time Apple introduces a new MacBook, they improve the display. Whether it be the pixel density, brightness, or support for colors, the MacBook display gets better almost every year.
Many don't bother with the built-in screen much, instead opting to treat their MacBooks as desktop computers tethered to an external monitor or two. Who could blame them? The MacBook monitor may be one of the best attached to a laptop, but even the largest size is underwhelming stacked next to a big desktop display.
Desktop monitors come in a ton of sizes, orientations, and support far more features than a MacBook screen can (or should). Depending on your use case or needs, connecting your MacBook to a monitor may be the perfect desktop environment for you.
How to connect an external monitor to a Mac
Before you connect MacBook to monitor, it's best to know which MacBook external monitors you can use. Not all monitors work with all MacBooks, so arranging your perfect setup may require you to reconsider which monitor (or monitors) you use.
Here's how to check which monitors your MacBook supports:
From your Mac menu bar, select the Apple logo at the top left corner
Choose "About This Mac" from the menu
Choose the "Support" tab from the top of the window that appears
Tap on "Specifications" next to Mac Resources
This opens a webpage with details on the number of displays your MacBook supports under the "Video Support or Graphics" section.
Apple notes that MacBooks with Apple Silicon chips are currently limited to one external display linked via one of the Thunderbolt/USB 4 ports; a happy feature for those who wish to connect MacBook Air to monitor as you can use any port. The Mac Mini can support a second external display via its HDMI port. (We expect this will change as Apple Silicon matures and finds its way to the MacBook Pro.)
Once you understand just which monitors – and how many – you can connect, simply make sure your external monitors are connected to a power source (if necessary) and connect them to your MacBook via the wired connection available to you depending on the year your MacBook was made.
Configure your external monitor
Whether you're using an external monitor as your only monitor or in conjunction with your MacBook monitor, there are a few things to keep in mind:
You can arrange your MacBook monitors however you like. In the steps below, we outline how to arrange your MacBook and external monitors. Once you know how to connect a MacBook to a monitor, configuring them is the next step.
Close your MacBook and keep working. Once you connect MacBook to monitor, you can choose to shut its lid to make the external monitor your only display. This will keep your MacBook powered on and awake – just remember to make sure it's connected to a power source, or is throughput charging via the monitors connected to power.
You will have the same options and settings. Display brightness, warmth, and Night Shift are all customizable when you connect an external display or two. Install DisplayBuddy to unify your settings across multiple monitors.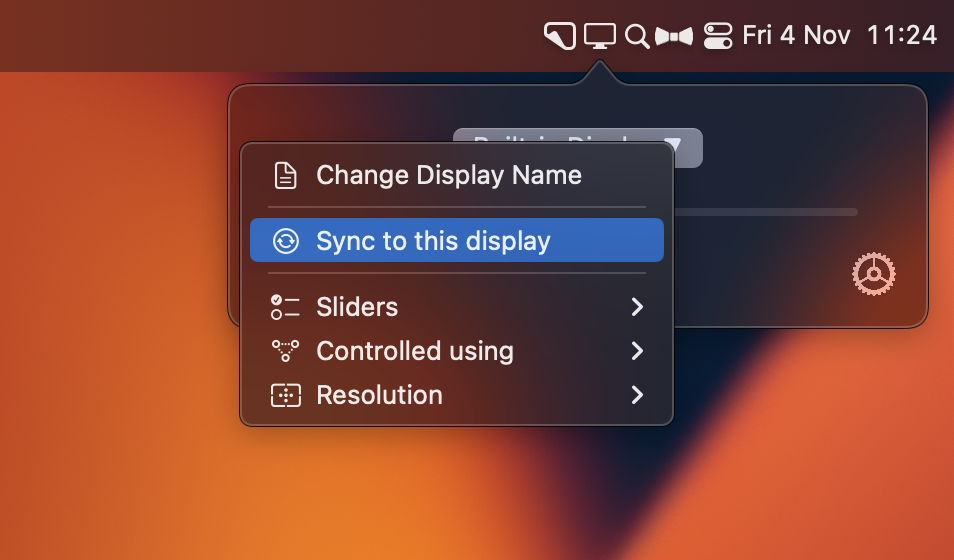 The monitor's settings are also available. Monitors that support features like in-plane switching (IPS) and other features will also be available.
Here's how to configure your external monitor for use with any MacBook:
Plug in your external display to a power source
Plug your external display into your MacBook
Ensure the external display (or both, if you're able to use two displays) is active and on
Open System Settings/System Preferences
Access Displays.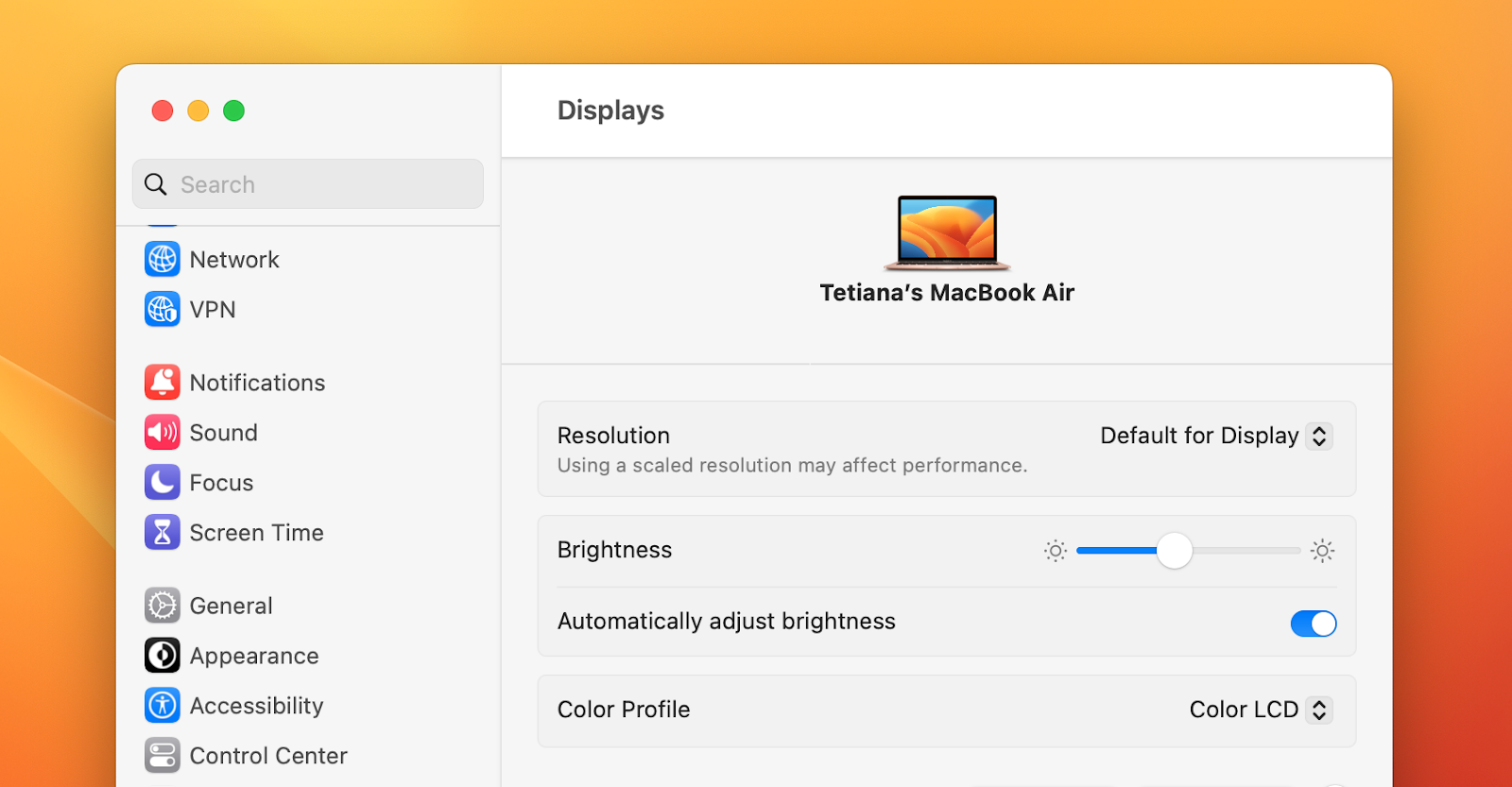 This is where things get dynamic. With more than one external monitor connected, your MacBook screen will open multiple windows.
Your MacBook will always be the 'main' display when it's open and available. If you have an external monitor connected, it will open up a second menu that is unique to that monitor; only your primary monitor will have the "arrangement" and "Night Shift" options available. Because a second monitor is how to extend screen on Mac, Night Shift settings will be reflected there as it's a system wide feature.
Arrangement is controlled via the primary monitor because how you arrange monitors is always dependent on their relationship to that primary monitor. You can have them side by side, or stacked. If you drag one monitor over the other in the arrangement field, it will mirror the displays.
However you arrange them, know your mouse or trackpad cursor will follow that arrangement; a side by side arrangement, for instance, will allow you to drag your cursor off one screen and onto the other arranged next to it. This helps an external monitor feel like a true extension of your MacBook screen, or for two external displays to work in unison.
Tip: Want your display brighter? You can always double display brightness with Vivid! It works like Magic with M1 MacBook Pro and Pro Display XDR.
Using an external monitor can cause your MacBook to work harder than it's used to. All the pixels being pushed around and colors changing can be taxing on your machine. This is why you need iStat Menus.
iStat Menus for Mac makes its home in your Mac's menu bar, only appearing when you click on its icon. From there, it surfaces a handy drop-down menu that gives you details on your network, CPU, memory, and sensor performance. Hover over any section and iStat Menus will provide even more detail on what's happening with your Mac.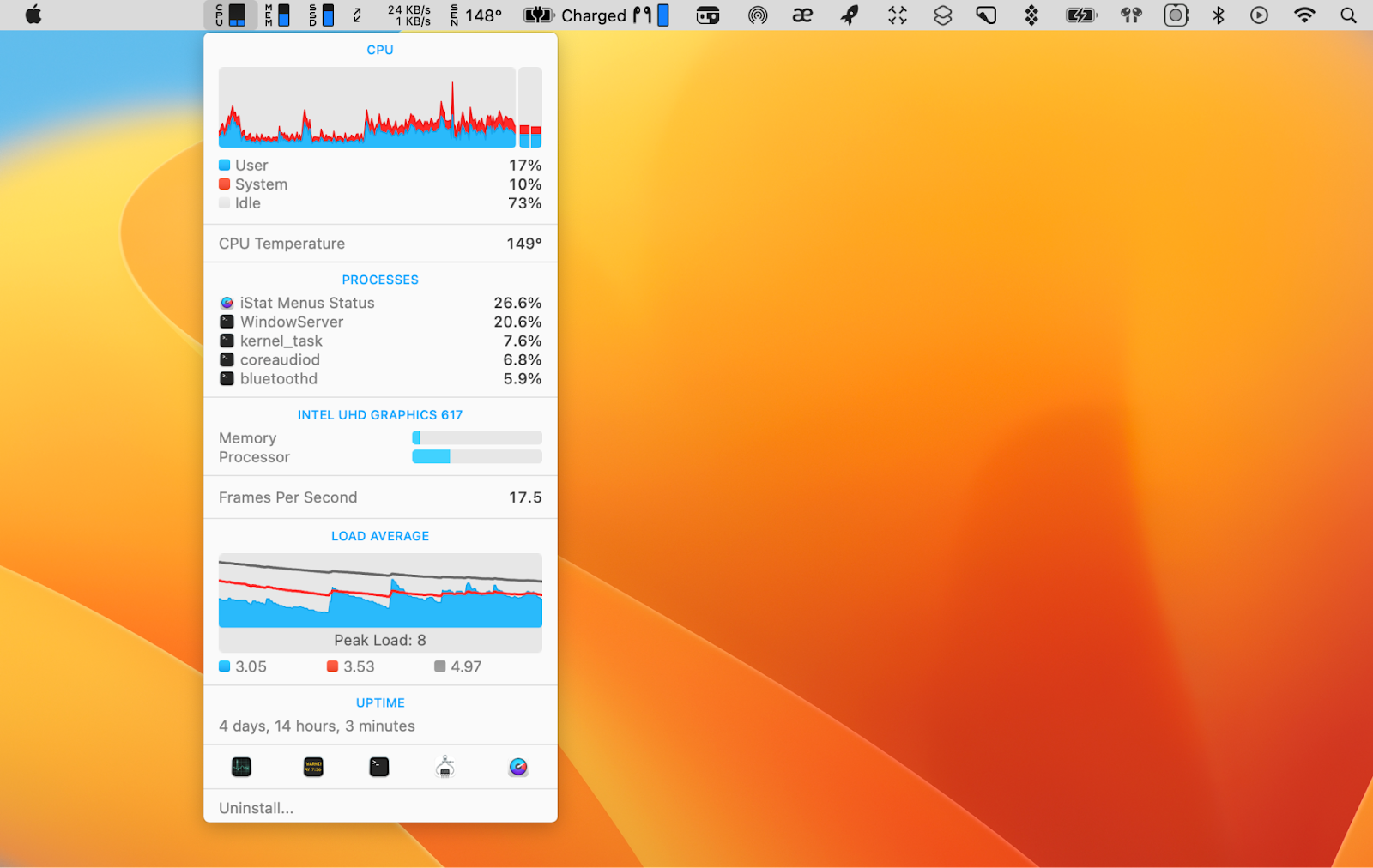 Which port to use on my Mac
This is dependent on both your Mac and the monitor you have.
Modern MacBooks use Thunderbolt connections, which have the USB-C connection. Any monitor that works via a USB-C cable should work with your MacBook.
To connect to your MacBook, a good rule of thumb is to use the port (or ports) closest to the rear of the MacBook. These are considered 'power' ports and were designed to support external displays. Some lower-end displays may work on the other ports as well.
For a Mac Mini, iMac, or Mac Pro, other connection types like HDMI may be available.
Adapters to use to connect the monitor to a Mac
There are a wide variety of adapters that may be available to you. HDMI to USB-C, USB-C to DVI, VGA to USB-C, USB to USB-C, USB-C to DAV – the possibilities seem endless.
Be sure to purchase any adapters from respected retailers. Read the reviews; someone may note their adapter wouldn't work for the same purpose you need it for. Not all adapters are created equally, so try to find one with great reviews and user feedback that's positive.
You may want to try a different cable, too. Instead of an adapter, search for cables that may work for your monitor to Mac setup instead.
Common problems
There are a few common issues with using an external monitor with your MacBook:
The monitor doesn't turn on. Remember to try different ports, and default to the ones at the rear of your MacBook.
The monitor isn't where you want it to be. If your monitor physically sits to the left of your MacBook and you want to extend the display in that arrangement, remember to follow the steps above to get into System Settings and arrange your displays properly.
The MacBook won't work when you close the lid. Remember that your MacBook only supports an external monitor being the only display when it's connected to a power supply. You may be able to keep it connected to power via your monitor, but that's not a sure bet.
There may also be some settings keeping your external monitor from working properly. This is why it's a great idea to download CleanMyMac X.
CleanMyMac X keeps your Mac working in perfect condition, and has a deep clean function that resets system settings for you. If there's something blocking your monitor from working with your Mac, chances are CleanMyMac X can find and fix the issue.
Beyond monitor settings, CleanMyMac X is excellent at ensuring your Mac stays free of unwanted or unnecessary files, provides a way to delete apps from your Mac completely with a few taps, identifying and removing malware, viewing your storage in a visual graph, and optimizing your Mac for speed. It's the app every Mac owner should have.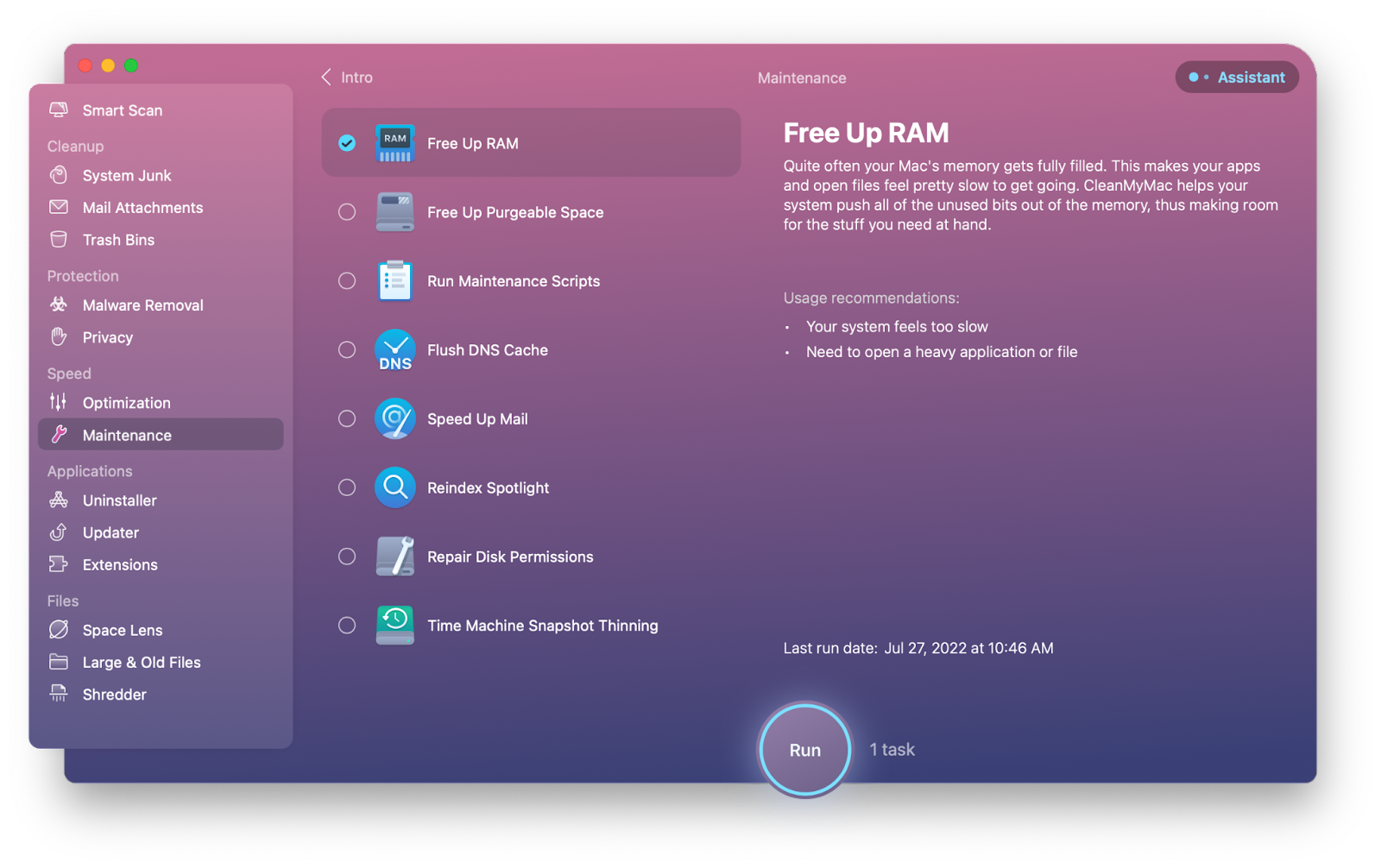 No matter how many monitors you have, the menu bar will display on each screen. Why not keep it nice and tidy with Bartender?
Bartender hides your menu bar icons behind a single three-dot menu, allowing you to rearrange those icons however you like. If you're a keyboard warrior, Bartender supports hotkey switching, and the ability to navigate through apps using the keyboard arrow keys. You can also set commands to launch your favorite apps with a few keystrokes!
Grab every helper tool on Setapp
CleanMyMac X, DisplayBuddy, Vivid, Bartender, and iStat Menus are just five of the over 240 great Mac apps available for free during a week-long trial of Setapp.
During your trial, you can use all of the apps in the Setapp catalog for free. When your seven day trial period ends, continued access to the massive (and growing) Setapp suite is only $9.99 per month. It's an amazing deal, so don't wait – try Setapp now!
FAQ
How to connect MacBook to monitor without HDMI?
You can buy an adapter from Apple or any other trusted retailer. For example, you can get a MiniDisplay-to-DVI, MiniDisplay-to-VGA, or HDMI-to-DVI adapter.
How to connect a second monitor to MacBook?
You should plug in your second display to a power source, then connect it to your MacBook using a cable and, if necessary, an adapter. You can check the connection in System Settings > Displays.
How to connect MacBook to monitor and close laptop?
On macOS Monterey and earlier, open System Preferences on your MacBook and access Energy Saver > Power Adapter. Set "Turn display off after" to Never. On macOS Ventura, open System Settings on your MacBook and access Lock Screen. Set "Turn display off on power adapter if inactive" to Never. After that, you can use your laptop with a lid closed.