How to use Siri on your Mac
Siri is feature we all know too well, world-renowned for its and witty ways and skilful shortcuts. But, many Apple users don't know how to use Siri on a Mac, leading to many missed opportunities to work more efficiently. In fact, app analytics Verto report that whilst it remains the most popular AI assistant, usage has fallen 15% since 2016. Ouch.
Contrastingly, voice-activated technology has rocketed in the past 24 months, with Alexa raising Amazon's sales by 38% and even Spotify jumping on the bandwagon.
So, with that being said, why do the statistics show a decline in use for the most popular assistant Siri?
Are we too impatient, or is it too complex? Many users would suggest the latter, however, we here at MacPaw believe it's more to do with the former.
Siri can help you with almost anything on a Mac, you just need to know how to take advantage of the fancy features.
How to set up, secure, and start using Siri
When setting up a new Mac, or updating the macOS version, you will be asked if you wish to Enable Siri. Highlight the tick box labelled 'Enable Siri' and click continue.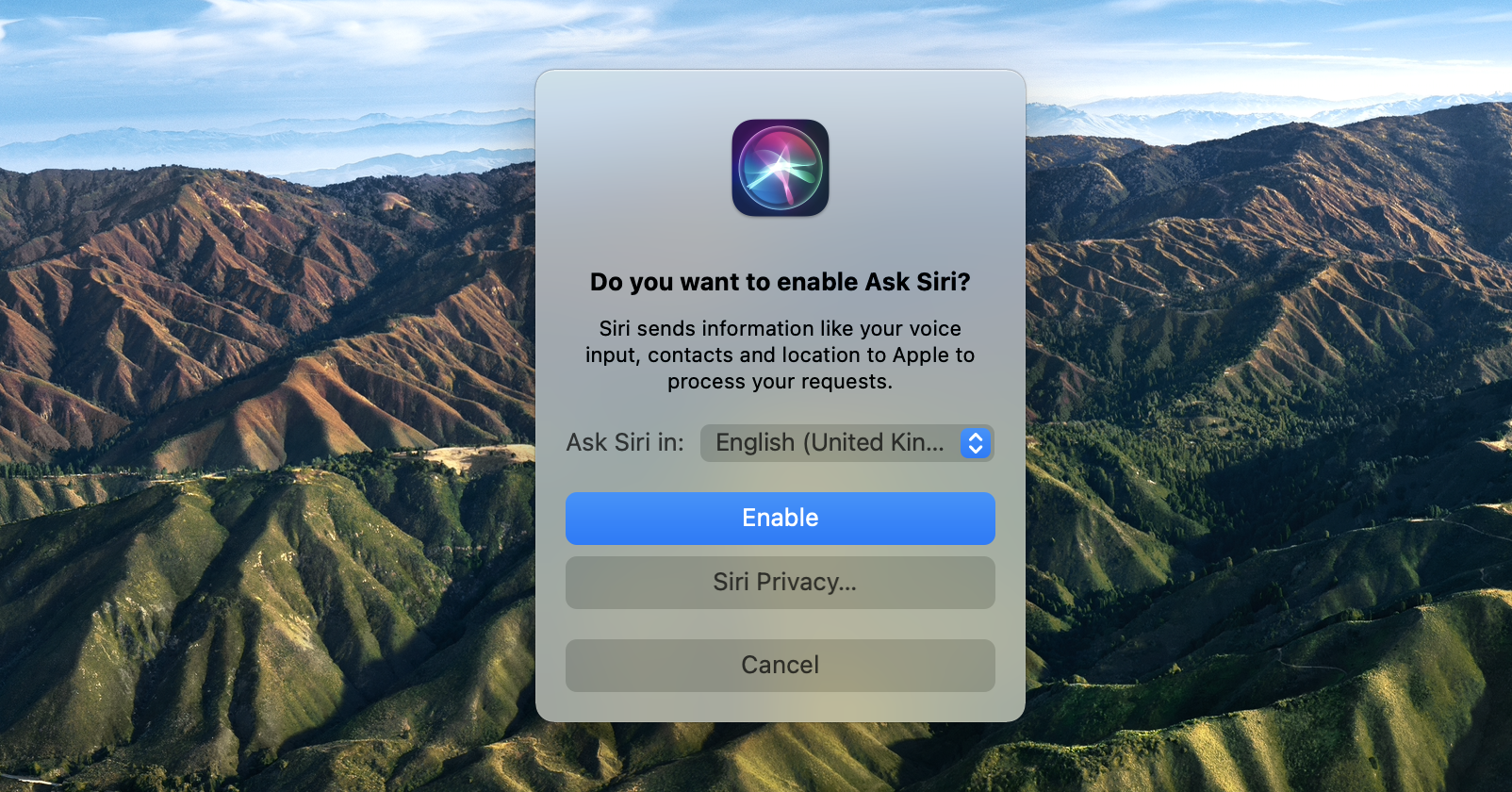 But, what if I missed this step when I was setting up my Mac?! Don't fret, Siri's capabilities haven't disappeared into the abyss. Simply open 'System Preferences', click on 'Siri', and select the tick box beside 'Enable Ask Siri'.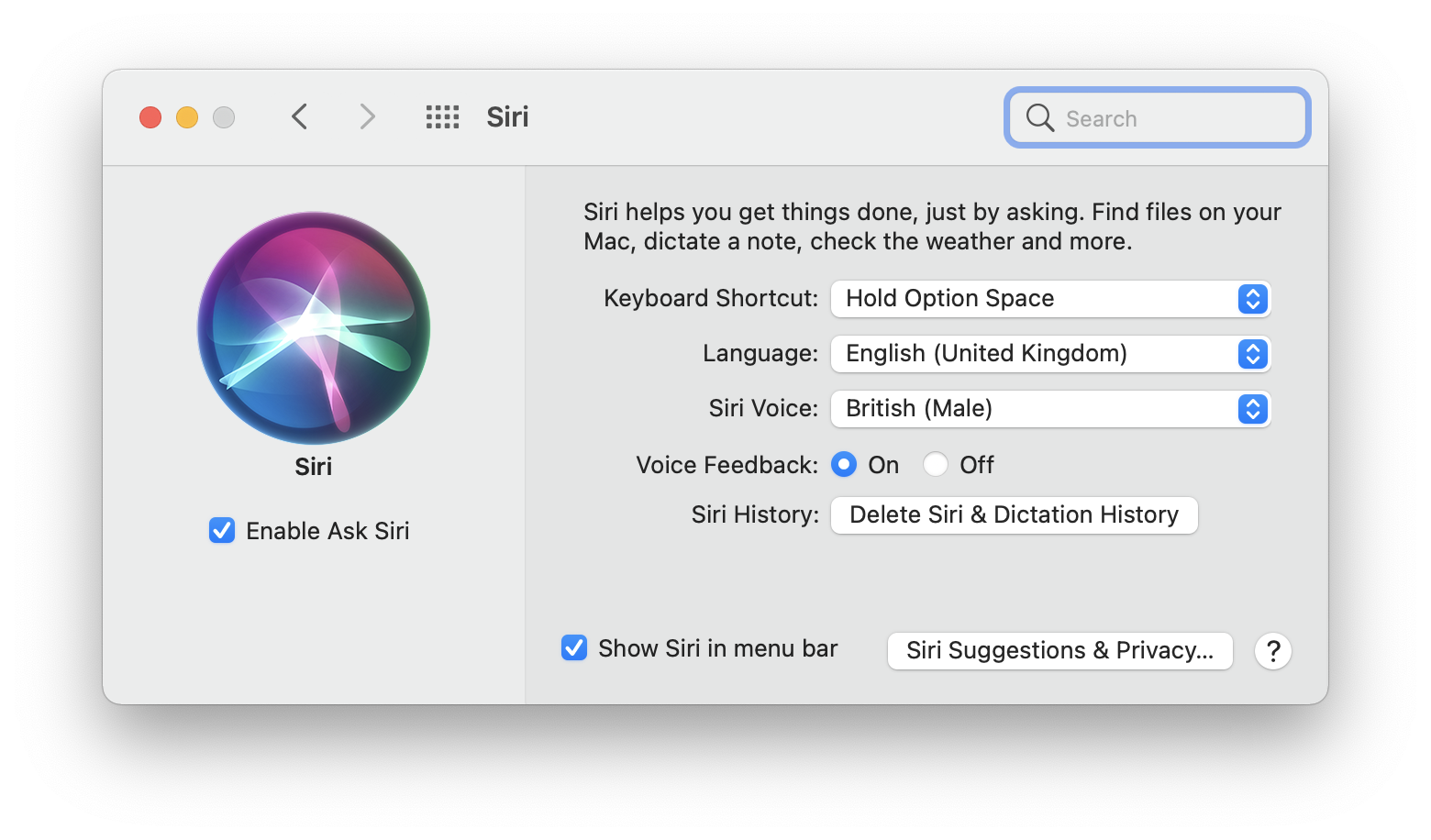 In order to active Siri, there are 5 different ways to get this working:
Hold down Cmd+Space for around 2 seconds (if you don't hold them down you will just trigger Spotlight)

If you're wearing Apple headphones and they're plugged into your Mac, press and hold the middle mic button.
Click the Spotlight icon in the Dock
Double-click the Siri icon in the Applications list of Finder
Click the menu bar icon at the top right of the desktop*
*For Siri to appear in the menu bar, you have to change the system settings. To do this, go to 'System Preferences', click 'Siri', and tick the box that says, 'Show Siri in menu bar'. This way, Siri's icon will be readily available for you to click at the top right of your desktop.
On iPhones, many users trigger Hey Siri through voice activation. You can do this too on a Mac, but it's not a default option.
To do so, it requires modifying the dictation options in Accessibility system preferences, which can be time-consuming and confusing – so we advise just using the keyboard shortcuts or clicking the Siri icon.
To disable Siri, all you need to do is un-select 'Show Siri in menu bar' and 'Enable Ask Siri'.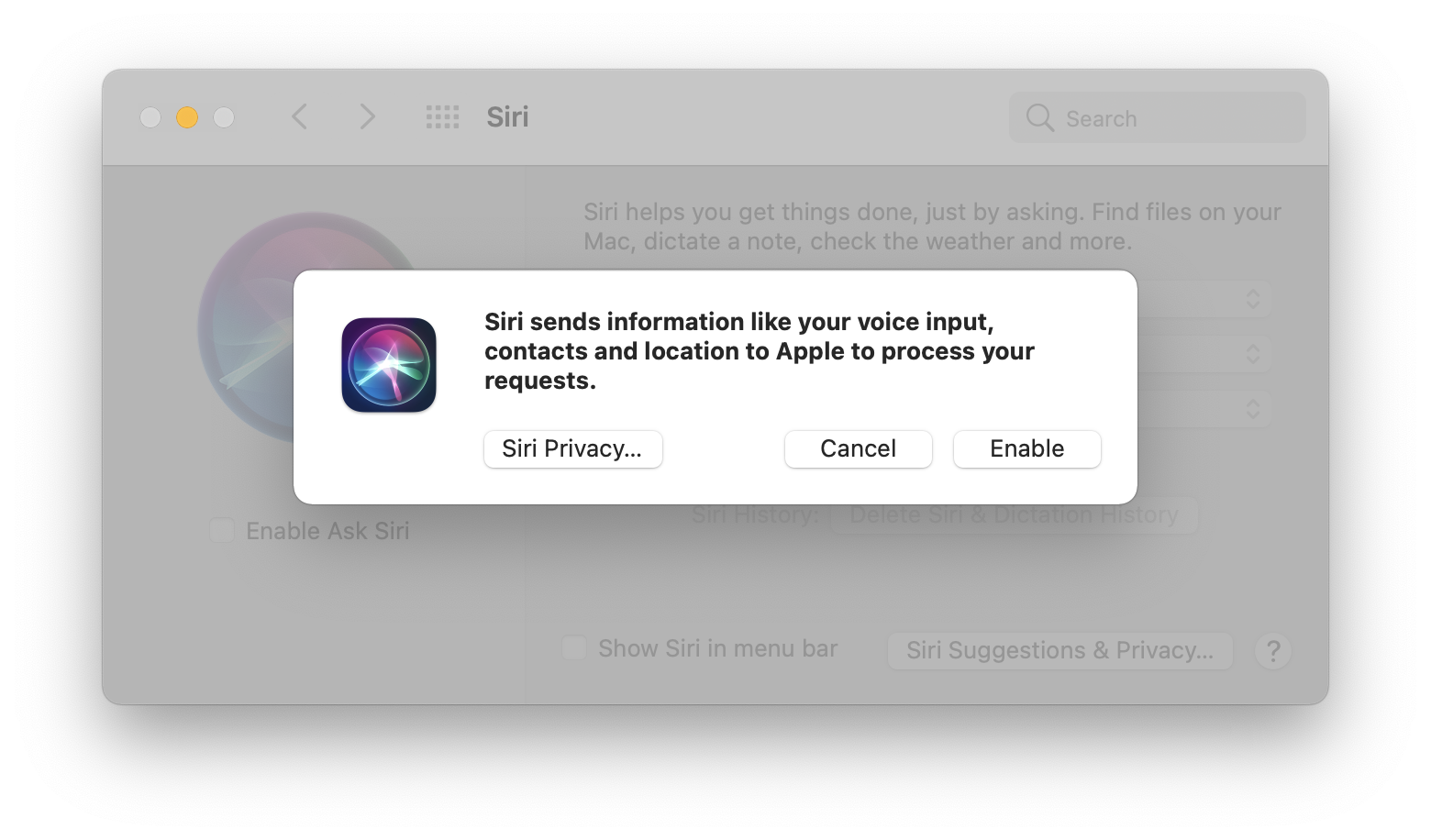 Customize Siri
The default keyboard shortcut triggers for Hey Siri are Command + Space, however, you can create your own custom keyboard combo by simply;
Opening Siri's System Preferences
Clicking on the arrows beside Keyboard Shortcut and choose 'customize'

Choosing the keys you wish to assign to the shortcut (make sure you don't use a combination already in use for another function)
Now, when you wish to trigger Siri, you can use this key combo
Another way of customizing Siri is to change the voice and language to suit your own preferences. There are male and female voices, each with a choice of different accents. So, if Australian lingo is your thing, G'day! You're in the right place.
To change Siri's accent/language:
Open System Preferences
Click the Siri icon
Choose from the Siri Voice dropdown list
What can I ask Siri?
If you're a procrastinator, look no further.
The things you can ask Siri are never-ending, from useful general knowledge to playful puns. He/she is always there to assist you, be it for functional uses or just a good giggle.
Whether you want to know where Guadalupe is or who invented the telephone, Siri has the answers. It's like having a real-life assistant there with you, with an added edge of sarcasm and humour.
If you want to hear Siri get sassy, get Siri to rap, sing a song, flirt or tell a joke, it's simple. Just ask any off-the-wall question and you'll receive a similarly off-the-wall response.
One hilarious answer that circulated social media recently was Siri swearing in Australian, or her feeble attempts at rapping.
Siri's Tricks and Hacks
Yes, Siri can search the web for things, read your messages out-loud or engage in some unconventional conversations, but her capabilities stretch far wider than that.
Control System Settings – simply say "turn off Bluetooth", "Turn on Wi-Fi" or "Make the screen brighter", and Siri will. Anything you can do using System Preferences can be enabled with Siri, just remember, she can't function with Airplane Mode on… But she'll remind you of that should you try.
Gambling – perhaps a more unorthodox feature, Siri can settle disputes virtually. Ask Siri to "flip a coin" or "roll the dice" and he/she'll do exactly that. Perfect for when you don't have a coin on hand, and let's face it, we never do.
Make Reservations –when you ask Siri to "Make a reservation at an Italian restaurant for Sunday at 6pm", she'll give you a list of nearby restaurants, along with their rating, distance and available reservations. Click "Make Reservation" for the chosen place and you'll head right into OpenTable.
Measurement Conversions – euros to dollars, inches to feet, cups to quarts, you name it. She can convert almost anything at the drop of a hat.
The Downsides
It's clear, you can do almost anything with the help of Siri, making day to day life easier. But, as with any terrific technology, there's always lousy loopholes.
We've all heard of that scenario – repeating the call to action over and over to no avail. Siri, Siri, SIRI! It's enough to drive the most measured of us into insanity. Inconsistencies in voice recognition have been an everlasting issue with Siri and show no signs of going away.
Furthermore, Siri doesn't work if you're not connected to Wi-Fi. This brings about a whole host of problems; what if you need to organize your files or get answers to important questions when on a flight with no internet? Having these access boundaries is annoying, and limits Siri's powers in many ways.
This is where Setapp steps in.
Imagine a world where each Mac feature had its own assistant, expertly trained to deal with that particular area – with their own savvy systems and brilliant brains to run your Mac as smoothly as possible. Look no further.
Setapp has a store of over 200 specialised apps - from on-the-go translators to automatic file organizers - there's an app for every job, right on your Mac.
Forget about bad voice recognition and limited access, have a whole host of assistants ready to get to work at your disposal. Try our free 7-day trial today and see how Setapp apps can put the power back into your hands.