The best time tracking apps for freelancers in 2023
When you're a freelancer, time is of the essence. You might get paid by the hour or you might charge per project or on a retainer basis — which gives you even more reasons to make sure you track your work carefully and do it quickly (without sacrificing quality, of course).
How do you manage your time? You only get 24 hours in a day, so being mindful about where your time goes is crucial, especially since working on interesting projects often gets you into the productive state of flow where you completely forget about the passing of time.
There are various ways to track your hours. You can look at the time at the start and at the end of your work session and record it on a post-it note manually, you can use tools like Google Calendar with built-in pings and notifications, or you can rely on time tracking software to automate the process for you.
Needless to say, tracktime apps are the best when it comes to accurately reflecting the amount of time you spend working. So let's explore the best time tracker apps out there and see which ones suit your workflow the most.
What is time tracking?
Time tracking refers to the activity of recording the hours you've worked as a freelancer on a specific task. The idea behind tracking your time is for you to know how much you should bill, be able to estimate your future workflow and availability, as well as manage projects in the most efficient way possible.
There are different kinds of time tracker apps available on the market today. Some just calculate the hours worked, others transform hours into revenue, yet others integrate tightly with your full-featured accounting software, which allows you to record expenses, subcontractors, overtime, and more.
So how do you choose the best time tracking app for you?
How to choose a time tracker
Choosing the right time tracking software often comes down to why you need to track your hours in the first place and what you're looking for the software to help you in.
For example, are you primarily looking to manage your overtime or to monitor your subcontractors, or to clearly see the profitability of your projects?
If you just want to log time by yourself, there are quite a few free time tracking apps available. On the other hand, if you need to bring in a team of people to work with you, submit timesheets and expenses, and invoice clients too, your time tracking efforts can cost quite a bit.
What makes great time tracking software
It's likely that once you settle on a given time tracking app, it's going to become one of your most used tools and you're going to stay with it for a while. Moving hundreds or thousands of tracked hours later on is not going to be a fun experience. So we need to choose wisely!
Tracktime apps can be quite expansive, meaning they quickly go from simply tracking your hours to invoicing, estimating, reporting, and even accounting. That said, when looking at your time tracker app options, consider the following criteria:
Live timer. The core of any time tracking software should be a timer you turn on and have it record your hours in real time.
Time edits. It's inevitable for your time tracking to not be accurate right from the start. Everyone occasionally gets distracted or forgets to turn the timer on or off. You should be able to adjust your time. Some apps can even detect when you've been idle and remove the extra time automatically.
Detailed reports. Although you might think you don't need reporting to start, evaluating how much time you spend on projects, especially against their budgets is what is going to keep your freelance career thriving.
Custom invoices. Again looking a bit into the future, integrating time tracking and invoices can be a great time saver. This also means you might not need expensive accounting software to get your business off the ground.
There are, of course, other requirements for time trackers that you might have — this list is just meant to get you started.
Pick your perfect time tracking app
Since we now know how to choose a time tracker you need as well as what makes great time tracking software, let's explore the best time tracking apps of 2023, so you can pick the one (or try several first) that works perfectly for you.
Be Focused: Easy countdown timer for daily tasks
When you're just starting out and keeping your projects small, it might be that all you need is to be able to track the tasks you do every day, so you even know exactly how much time you devote to your work.
Be Focused is an easy-to-use menu-bar app that allows you to do just that. Employing a super-productive Pomodoro technique (25 minutes of work for every five minutes of rest), Be Focused allows you to type in your tasks for the day, specify the amount of Pomodoro intervals each task is going to take, and simply get to work. Some nice reporting features to review your week (or month) are available as well.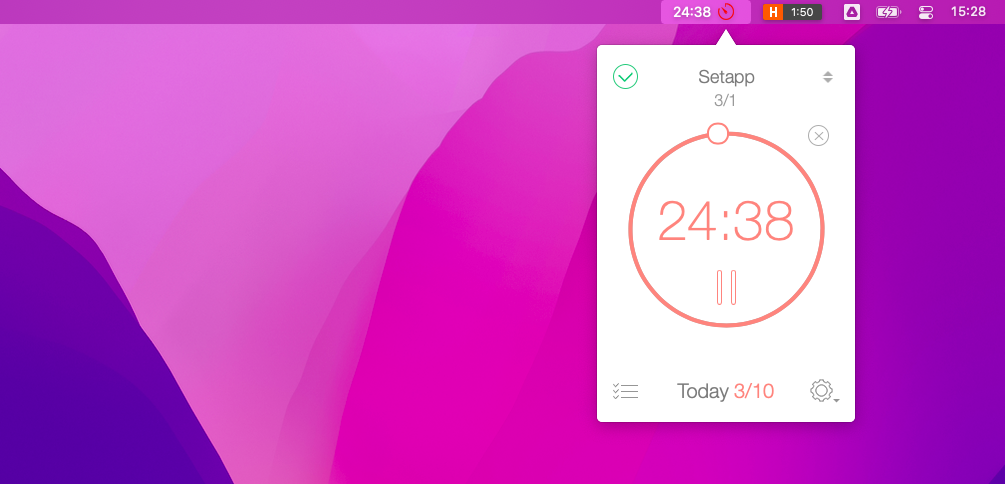 Pros:
Easy to use
Non-distractive
Good design
Cons:
Timing: Track everything in your life
Somewhere on the opposite end of the spectrum from Be Focused sits Timing, a wonderful app for automatically tracking every event in your life.
Timing is a smart time tracker, meaning you don't need to manually input anything or even start the timer — it does everything on its own, continuously updating your personal productivity dashboard with everything you've spent time on: apps, documents, websites, etc. When you're at your computer, Timing keeps track of your every minute.
If you want to expand Timing functionality even further, you can add custom projects with specific tasks and even team members, so everyone stays on the same page.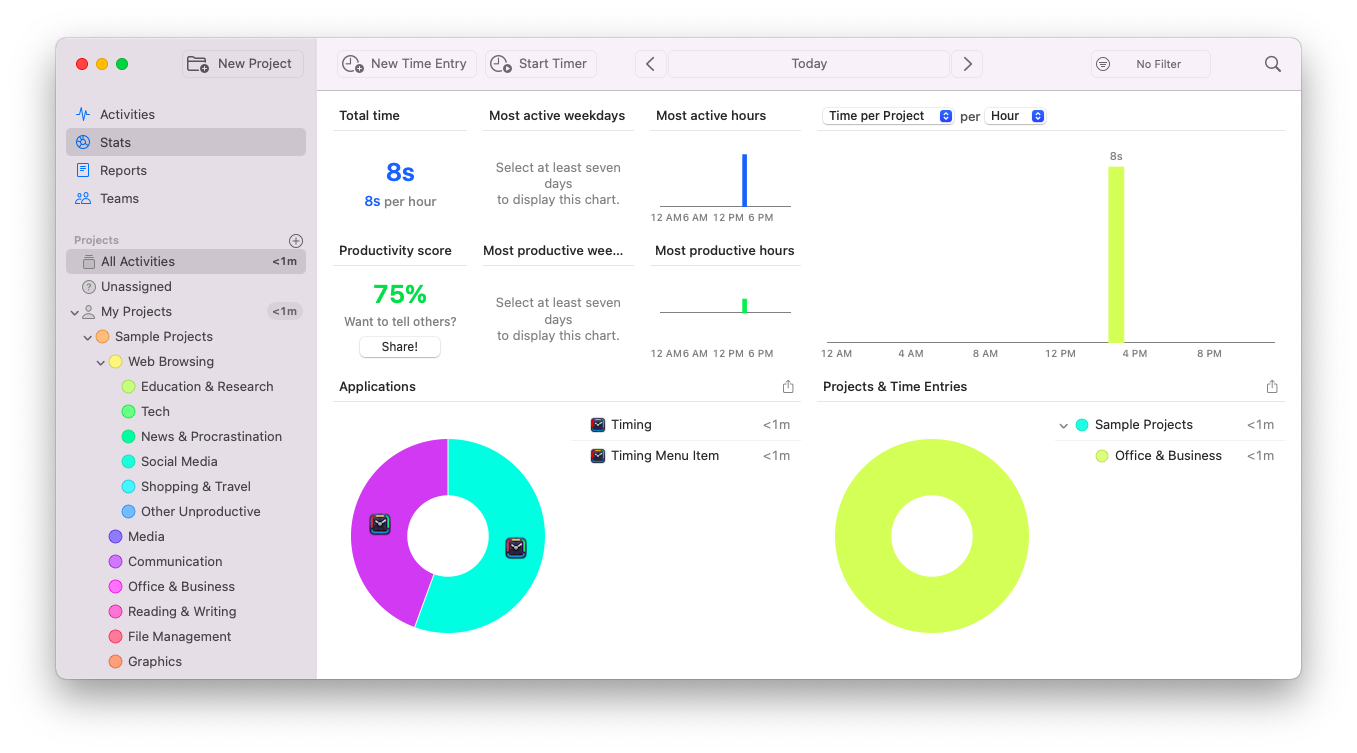 Pros:
Automatic time tracking
Extensive reports
Custom entries
Cons:
Recording too much information for some
Timemator: All-in-one time tracker
If you're looking for highly capable time tracking software that you don't need to micromanage, you might not find anything better than Timemator.
Timemator is a full-featured time tracker app that works on all of your devices. Instead of tracking every move, you can set specific triggers (e.g. when you open Sketch or Microsoft Word) after which the timer will start. Then you don't have to worry about how to track your hours — just start working!
You can also manually start the time tracker and organize your tasks as you see fit. Reporting is extensive and detailed, and the whole design is quite seamless and pleasant to use.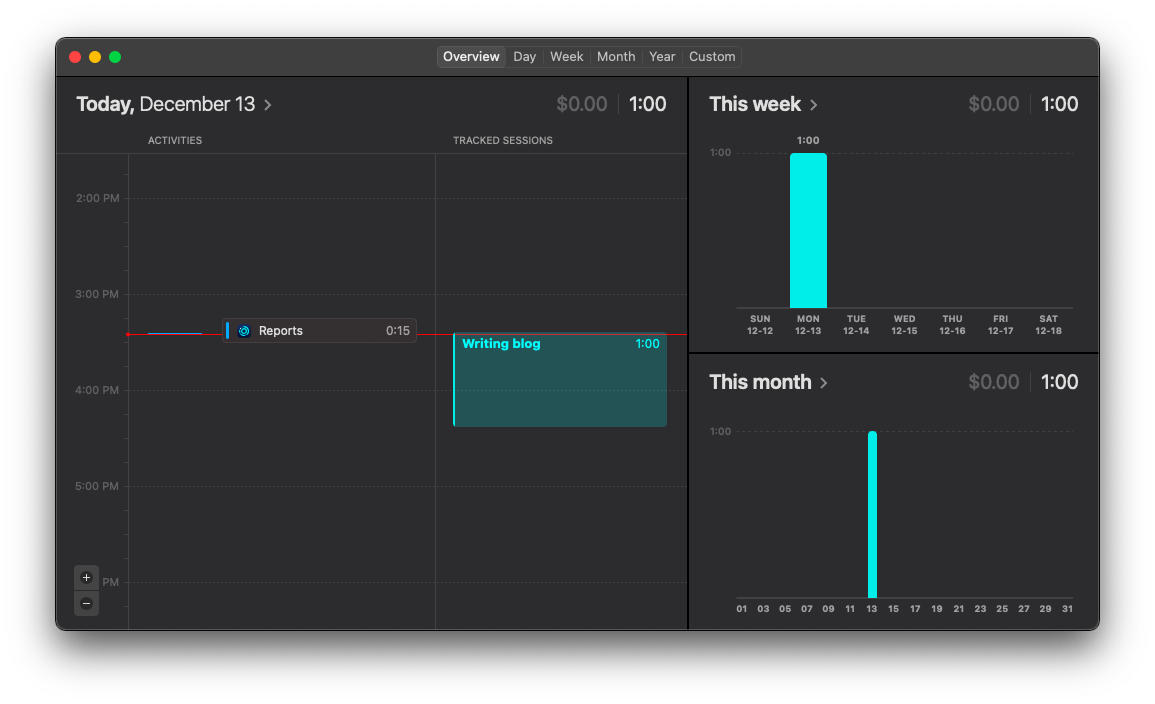 Pros:
Precise auto-tracking
Support for mobile devices
Detailed reports
Cons:
Time Out: Track your activities and breaks
In the modern culture of constant overwork, sometimes it's the breaks you have to worry more about than tracked hours.
Time Out is a sleek app that helps you set healthy boundaries with your work by scheduling your breaks ahead of time. You can also set your breaks to trigger specific actions, like music or app launch.
At the same time, Time Out can also track your actual activity and show detailed reports for how you spend your day.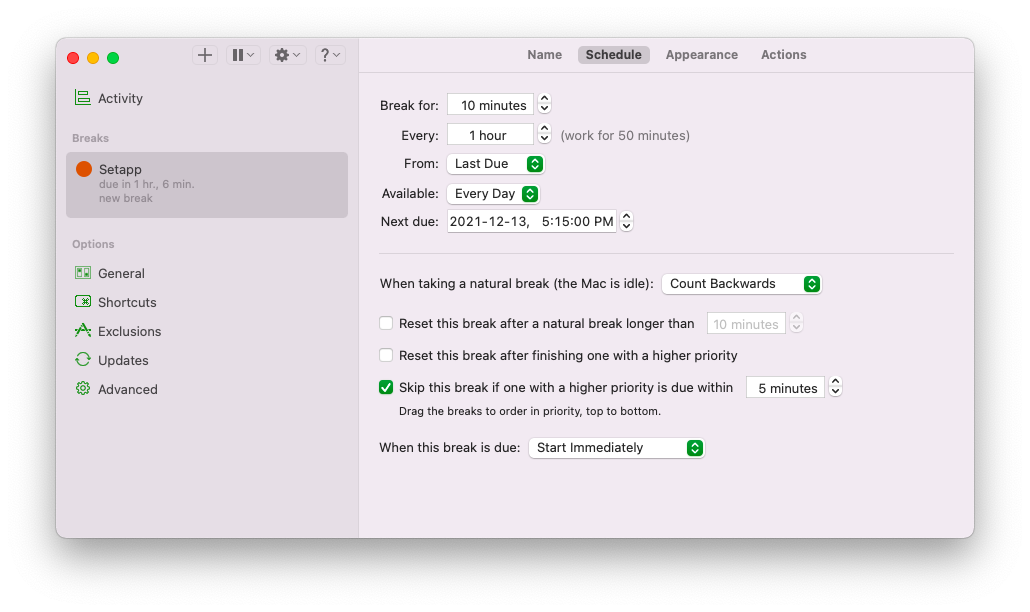 Pros:
Developing healthy work habits
Automatic time tracking
Cons:
Toggl: A free time tracking app for freelancers
Simple time tracking doesn't have to be expensive. In fact, it doesn't have to cost anything at all with Toggl.
Toggl is one of the most popular time tracking solutions for freelance workers, not least because it offers a generous free plan, where you can track unlimited projects, clients, and tasks.
Available on all possible devices, including browser extensions, Toggl is easy to start from anywhere. It also detects your idle time and can work on a Pomodoro schedule.
The downside of Toggl is that if you want to use more advanced features like billable rates, detailed reports, and estimates, you need to pay $9 a month. Project forecasts and time tracking audits would put you on an even more expensive $18 a month plan.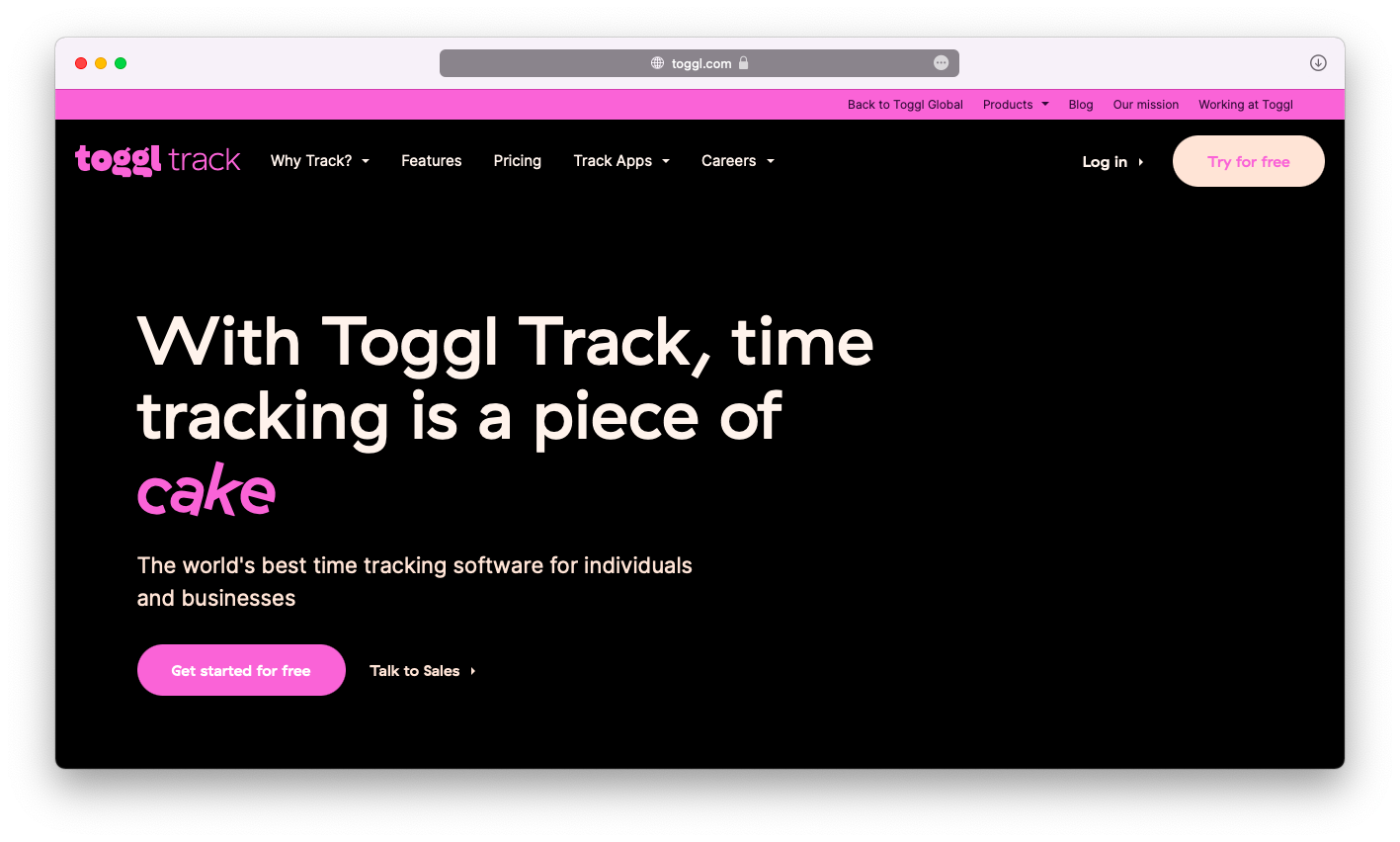 Pros:
Available for all platforms
Automatic time tracker
Pomodoro timer
Cons:
Harvest: Perfect time management for small teams
Most time tracking apps you can use on your own, but few work well in a team setting, often turning into a mess of data pretty quickly.
Harvest makes time tracking as clean as it can be, with support for team timesheets, which are approved by admins, as well as expenses, estimates, budgets, billable hours, and more. One of the best Harvest features is the ability to bill clients with custom invoices — no accounting software integration required.
The app also works on all major platforms: Mac, Windows, Android, iOS, and the web. The downside, however, is that the free tier is limited to one user and two projects.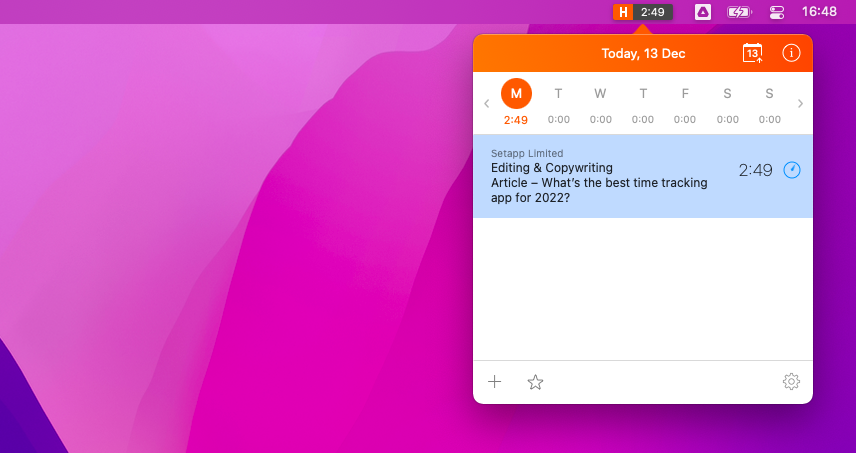 Pros:
Invoicing
Billable rates
Desktop and mobile apps
Cons:
Forest: Have fun time tracking on iOS and Android
Not all apps have to be all business. If you require just a slight time tracking update from recording your hours on pen and paper then Forest might be just right for you.
Forest is a gamified focus app for iOS and Android that grows a literal tree once you start the time tracker. Every 30 minutes of focused work means the team at Forest will plant one tree. If you switch away from the app, however, your tree building efforts will disappear.
Other than a fun and environmentally friendly environment, the app doesn't really have any other features. But when you just need to sit down and concentrate, there might be nothing better.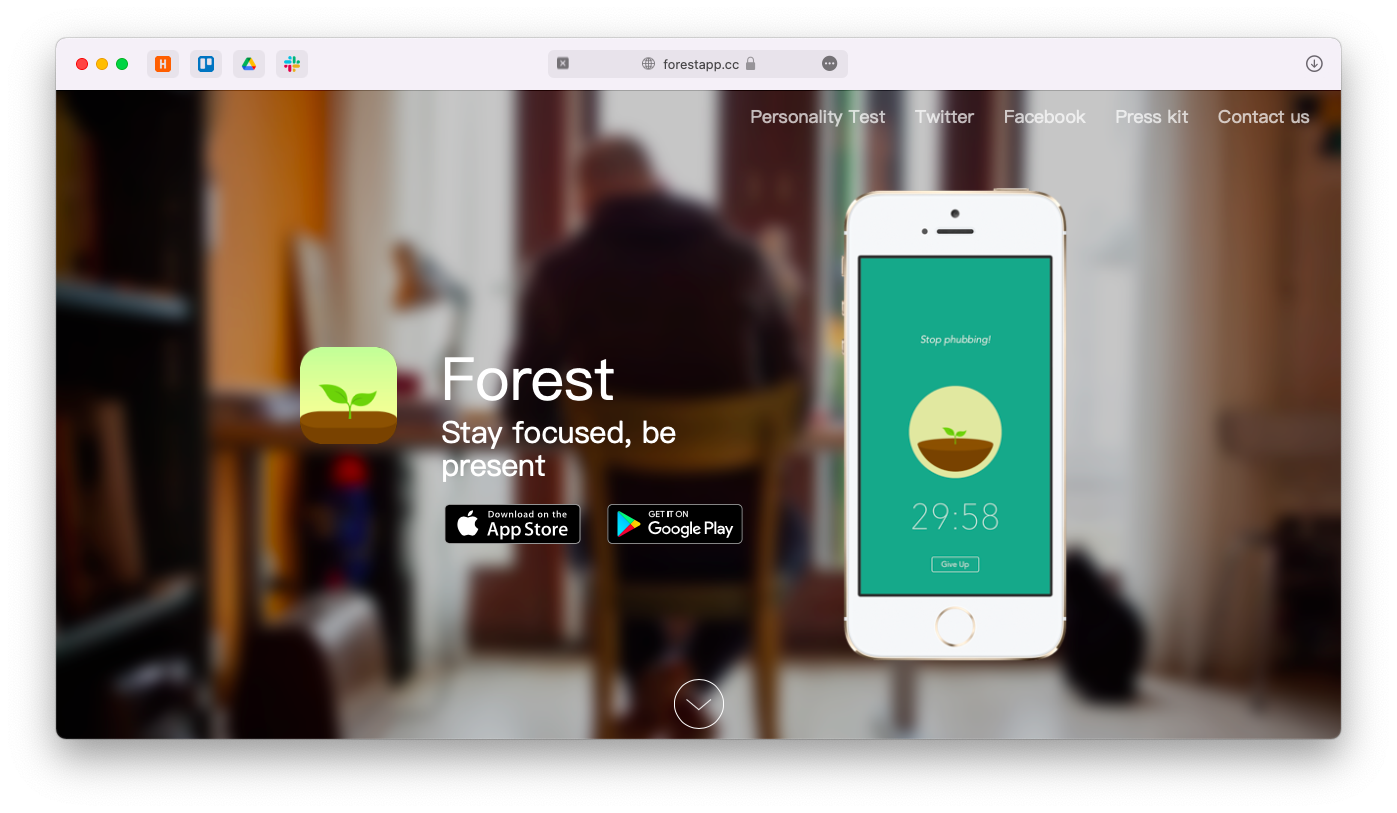 Pros:
Fun and focused experience
Environmentally friendly
Cons:
No reporting features
No projects, clients, or tasks
RescueTime: A true productivity assistant
When focused work really becomes a priority, RescueTime has all the tools to help you out. You can trigger Focus Sessions, which will block distracting apps from your Mac. RescueTime also detects when you shift away from your work and nudges you to get back into flow.
Connect your calendar with RescueTime, and it will personalize your focus goals for you based on how your day looks. Its smart coaching algorithm will suggest the time slots to use to get your most important work done.
After your productive work day, RescueTime will show you in-depth reporting of what went well and what you can get better at the next day. There are no work-specific use cases, however, if you want to specify tasks, billable rates, and projects.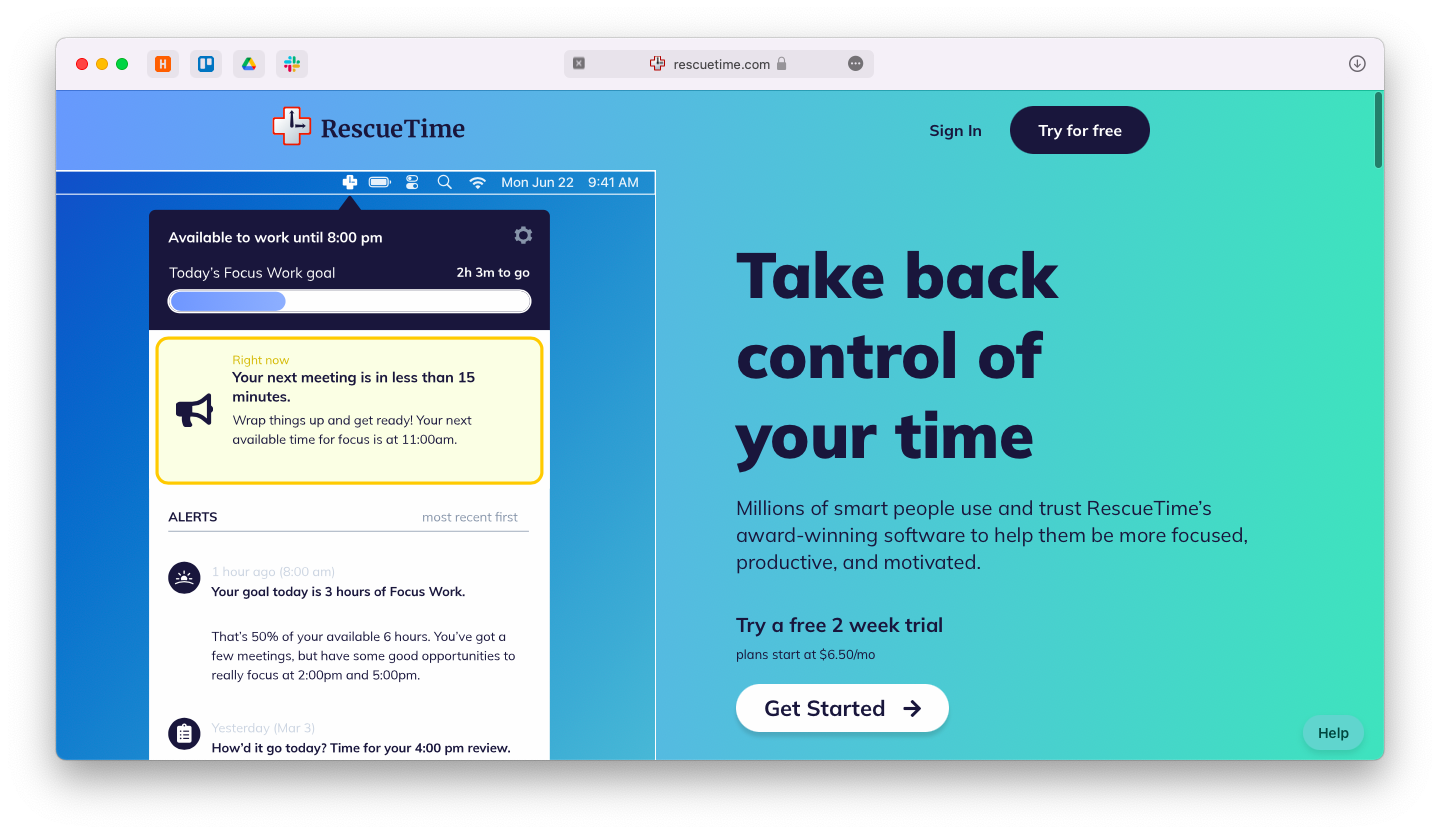 Pros:
A focused environment
Smart suggestions to get more done
Blocking distractions
Cons:
Not suitable as the only project management tool
As you can see, you have plenty of choice when it comes to picking the right time tracker app and improving your productivity. Start small with Be Focused, make sure to take proper breaks with Time Out, track all the activity with Timing, and manage projects with Timemator.
Best of all, Be Focused, Timing, Timemator, and Time Out are available to you absolutely free for seven days through the trial of Setapp, a platform with more than 230 best-in-class Mac and iOS apps ready to make your team more productive in no time. Try every Setapp app on the platform today at no cost and see how much more effective you can be.