Professional goals: how to set them and examples
This app can also be found in Setapps for TeamsSetting professional goals for yourself can help you stay focused on your overall career trajectory as well as growth in your career, both personally and professionally.
Professional development goals are one of the best ways to set milestones for a desired job title, or earnings. Tracking your progress and having routine check ins with your plan are great ways to ensure you succeed professionally, which can help you achieve personal growth as well.
We'll show you how to set work goals that are achievable, what it takes to set good professional goals, provide some professional development goals examples you can use today, and some best practices for setting personal goals for work and at home.
What Are Career Goals?
Setting goals for work doesn't need to be limited to your daily to-do list. You can – and should – set goals for your overall career, and some milestones you'd like to achieve at the company you're with. Even if you plan to move away from the company later, setting goals can help you accomplish goals that look great on your resume.
But just what are professional goals? Professional or career goal can be just about anything you like. It could be a promotion, a raise, finishing a side project, or even making your way to a different team within the company. Some even set goals to help them achieve their dream job at a company they admire.
Why career development goals are important
Let's say you want to work at Microsoft someday. Without goals, how would you go about working there? If you wanted to be a software engineer at Microsoft, discovering what it takes to achieve that is your first priority. Understanding what Microsoft is looking for in a software engineer is critical, but so are taking the steps at your current job, or taking the right path in your education.
Setting goals that facilitate your getting that dream job are steps toward your end goal. Without those early steps, you may never get hired at Microsoft because you didn't do what it takes to earn a spot at the company.
How to set goals
First, consider the desired result. If you want a raise, what steps do you need to take to get there? You may want to discuss with your manager first to understand what's necessary to earn a raise.
Consider each step along the path to your raise as a goal you must achieve. Perfect attendance for three months may be requisite, so make that a goal. All the things it takes to get a raise are goals along your path, so be sure to list each out individually so you fully understand what it takes to earn your raise.
Best Tools to Achieve your Goals
Diarly
Whatever goals you set, logging your journey and achievements is important. That's where Diarly steps in.
Diary helps you journal your achievements and stay on track to your ultimate goal. It makes your Mac home to your ideas, frustrations, achievements, concerns, and ultimately a celebration of what it took to achieve your goals. Diary can help you set incremental daily goals, use bullet lists or checklists in your entries, and the interface can be customized to suit your needs.
When you're on a team that is trying to achieve a goal as a group, Diarly can be critical to your workflow. The app, along with hundreds of others, is available free in Setapp for Teams, a subscription-based platform that allows teams to use the same suite of apps to sync their efforts no matter how large or small the company is.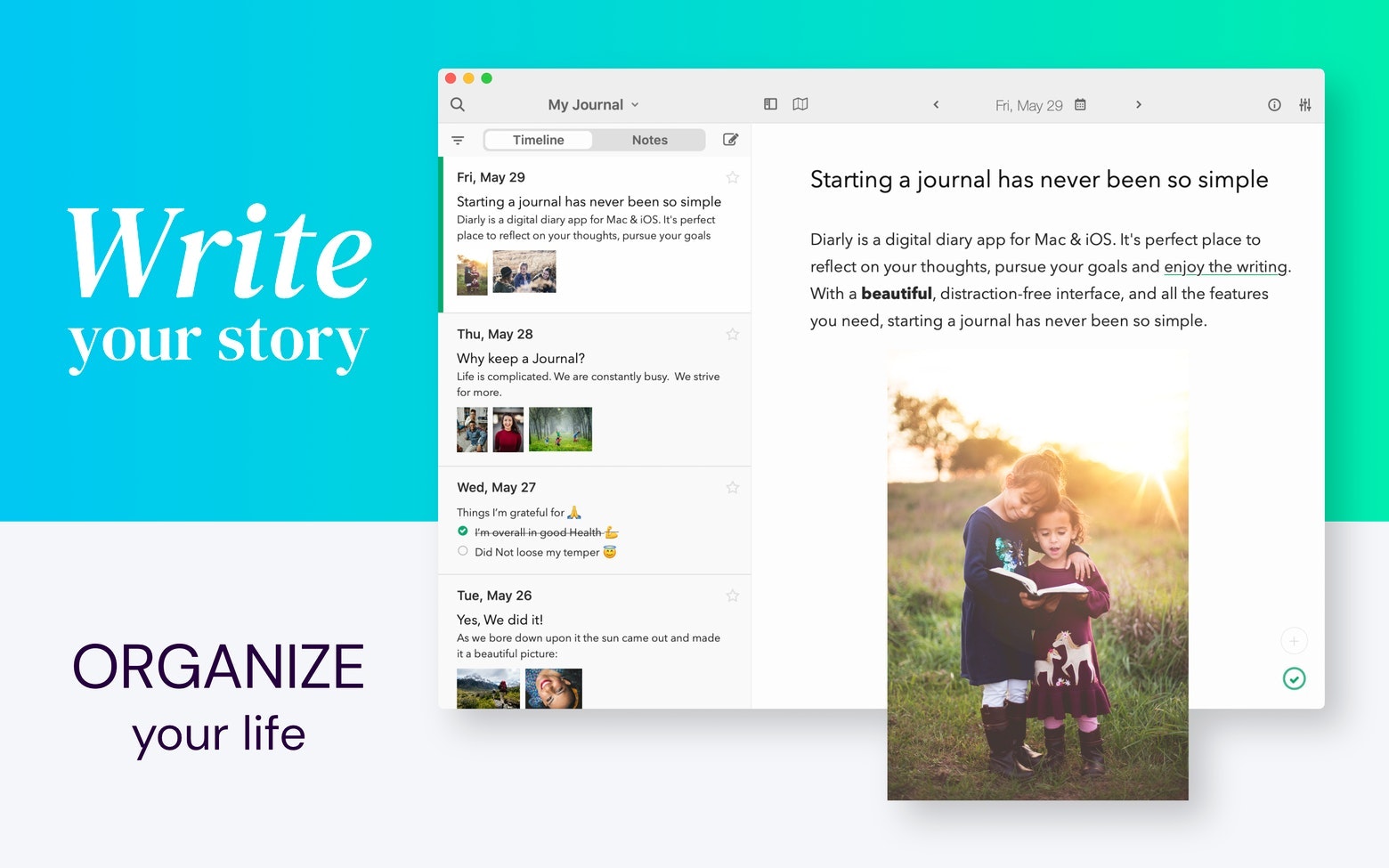 2do
Sometimes, goals are best realized as a series of to-do lists. If that's something you're interested in, you need 2Do. This app can also be found in Setapps for Teams where you can find a lot!
2Do supports as many lists as you'd like to create, and each task in your list can support a wide variety of add-ons. You can add notes, attach images, or take a voice note in the app. Each list supports tagging, too – a really handy option when you've got several items across multiple lists that all link back to a common goal.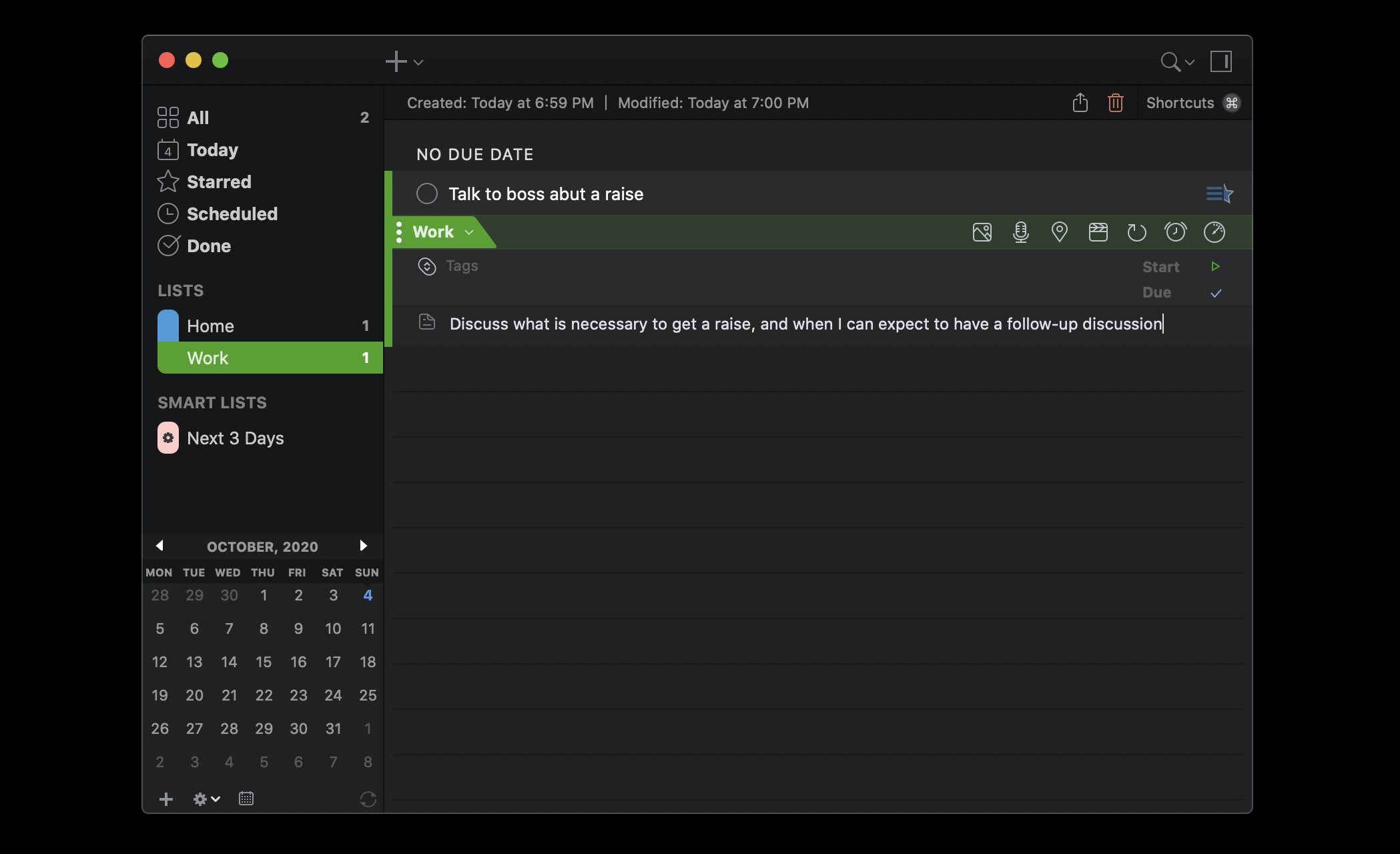 MindNode
A larger goal in life or at work can often be complex. MindNode helps you visualize your goal, and decipher all the smaller tasks that will help you achieve what you want to do. The mindmapping app focuses on an overall goal, then lets you list the subtasks associated with that goal in a satellite view. Each subtask can be linked to other tasks if they're related or dependent on one another.
The idea behind MindNode is to provide a visual representation of your goal, the steps necessary to achieve your goals, and the ability to revisit your map often and reorganize if necessary. As you accomplish tasks, you'll likely need to edit your MindNode map.
MindNode is especially useful for teams, and can also be found in the Setapp for Teams catalog of apps. With nearly 200 apps available in the Setapp suite, a Setapp for Teams subscription seems like the perfect choice to ensure all teammates are working toward the same results.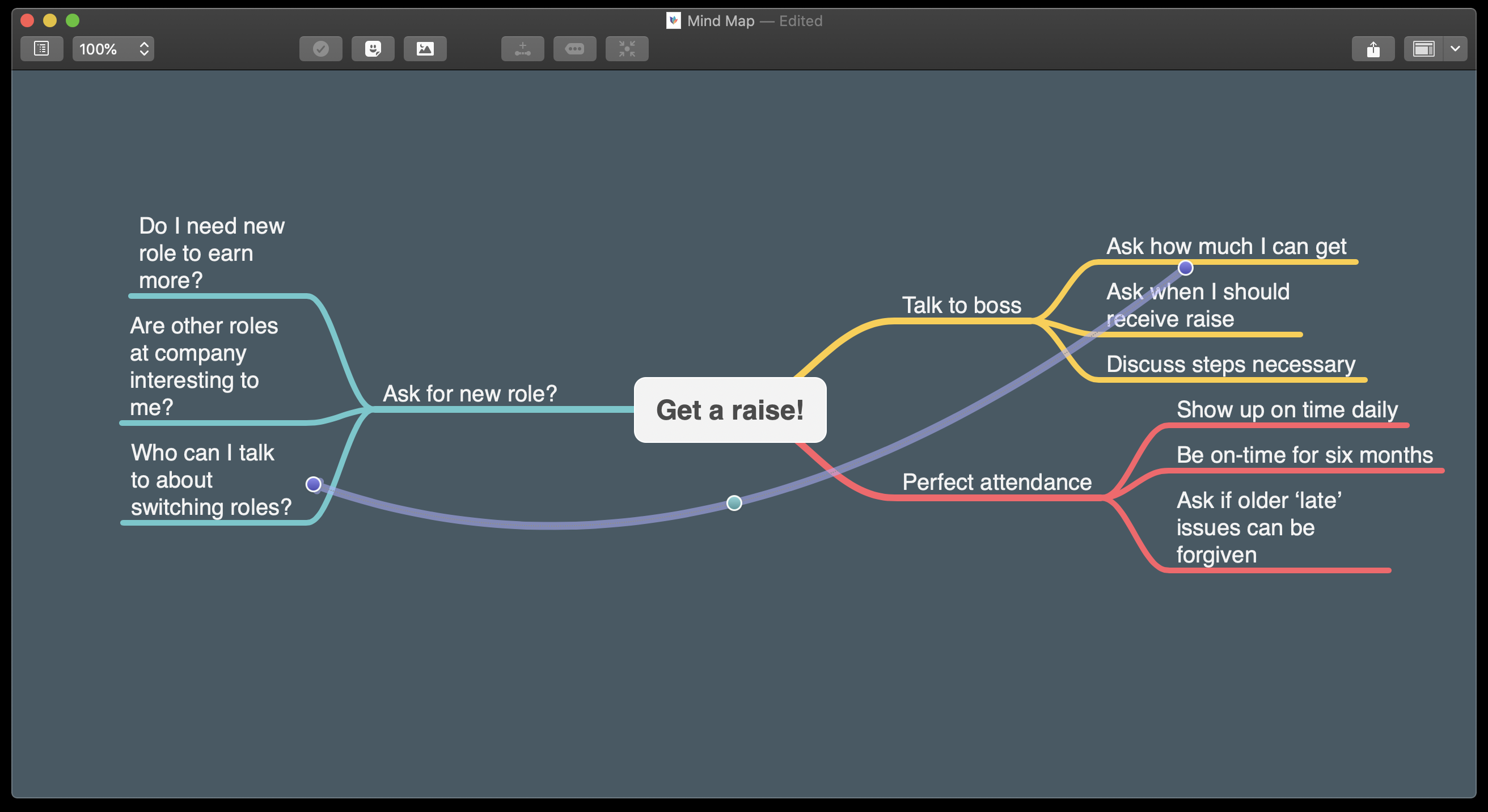 Be Focused
Listing your goals is one thing – staying on-task to achieve them is another. That's where Be Focused is so useful. Be Focused is another awesome app found in the catalog of Setapp for Teams, which has nearly 200 apps available for everyone on your team!
Be Focused lives in your Mac's menu bar and lets you set time aside to work towards your goal or cross things off your 2Do list. You can determine the scope of your work, how much time is necessary, and Be Focused will set a timer that keeps you responsible for the task you're trying to accomplish.
If tracking your progress is important, Be Focused has a handy reporting function that shows you how long you worked on particular tasks. You can also tag your tasks if you're working on multiple goals to keep reporting relevant to your goals.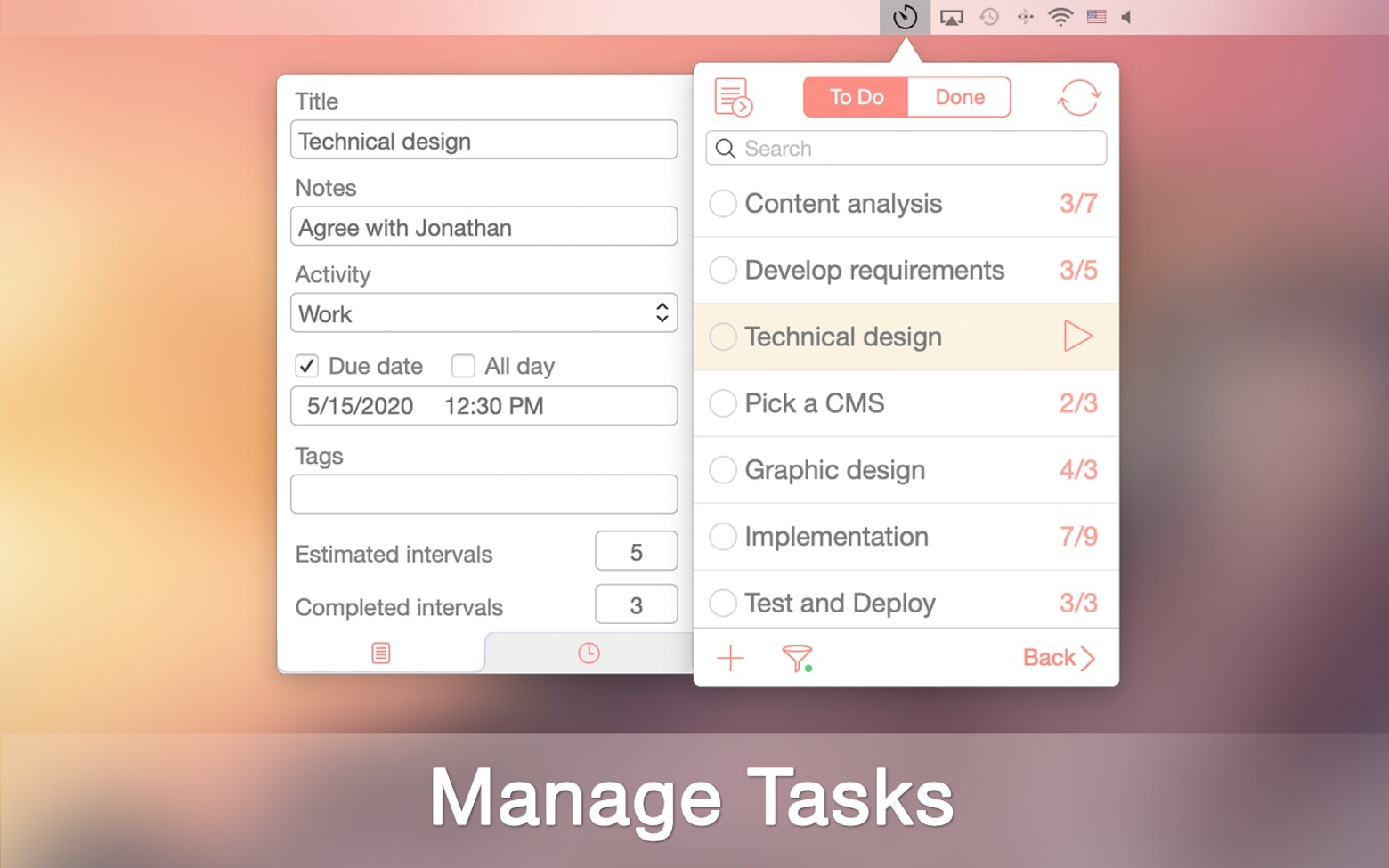 Top 10 Examples of career development goals
Here are some common examples of professional goals:
Improve Your Time Management Skills. Many of us want to improve our time management, which is why apps like Be Focused and 2Do are so handy. Staying on-track and focused on the task at hand can automatically lead to increased productivity and better time management.
Increase earnings. Everyone wants more money, right?! Setting this as a goal is really common, and listing it as a goal of yours keeps you focused on getting that raise instead of just hoping for it.
Improve presentation skills. Public speaking, even in front of small groups, can be daunting. Set this as a goal, and take the steps necessary to become more comfortable in front of crowds.
Improve your communication skills. Learning to organize your thoughts before speaking is a skill many lack, which means it can make you stand out from the crowd. Set this as your goal and shine in your next interview, presentation, or chat with your manager.
Get a promotion. Do you think you're ready to take the next step in your career? Set it as a goal, and consider what you may need to do to facilitate that promotion.
Learn a new tool. Different tools for work may make you more productive, and can lead to increased productivity. Knowing how to use a new service or platform may also be critical to earning that promotion you want!
Develop your teamwork skills. Working with a team can be hard sometimes, but learning how to be a better teammate is critical for increased productivity for yourself and others.
Enhance Your Work Life Balance. Working too much can be draining on you personally, so setting a goal to have a better work-life balance is smart. Don't burn yourself out!
Identify your Strengths and Weaknesses. Considering where you need to improve, and what strengths you have that may help you be better where you're weak, shows emotional intellience and will make you a more well-rounded person.
Become a mentor. When the time is right for you to mentor those more junior than you, consider what traits make a good mentor, and how you can be one to someone else.
Conclusion - Setapp for Teams
Setting personal or professional goals may sound silly, but it's not. Logging what you want and taking the steps necessary to achieve your goals is really important, and can make the difference between wanting something and having it at your fingertips. Raises, promotions, and team achievements don't just happen – you have to earn them.
Whether you want to set personal goals or milestones for your team, Setapp for Teams is an incredible service with over 190 apps available for free during a 14 day trial period. In addition to MindNode, 2Do, Be Focused, and Diarly, you'll have unlimited access to nearly 200 other incredible apps – all for free! Setapp for Teams supports single billing and licensing no matter how large your team is, ad-free apps across its platform, JAmf deployment and support, and is available on any Mac.
When the trial period ends, Setapp for Teams is only $9.99 per user, per month, and $7.99 per device. It's an incredible bargain, so don't hesitate. Give Setapp for Teams a try today!