How To Easily Get An Apple Music Student Discount
It's undeniable that no student can go through school without being completely submerged in music. How else could you sustain all-night study sessions, motivate yourself at the gym, and throw a good party?
We all know that the times of buying CDs, MP3s, and records (unless for archival purposes) is long gone. The convenience and affordability of streaming music has completely taken over. For the price of a few cups of coffee a month you can have access to such services as Apple Music, Spotify, Deezer, Tidal, Amazon Music Unlimited, YouTube Music, and more to entertain you non-stop.
If you're not yet sure which music streaming service to use — Apple Music for Students is your best choice. You get over 50 million songs, native compatibility with your iTunes collection and Apple devices, as well as access to the well-curated Beats 1 Radio, where stars from Elton John to Travis Scott share their favorite albums and tracks.
In addition, you can also be eligible for the Apple Music student price — 50% off. How? Let's dive in!
What Is An Apple Music College Discount?
When anyone registers for Apple Music, they get a three-month free trial and pay $9.99 a month after that. But if you join the Apple Music student membership — you can get up to six months free right from the start, plus 50% off a month ($4.99) for up to four years. Even better, those years don't have to be consecutive at all.
So what kind of students are eligible for this Apple Music discount? Nearly everyone! You just need to:
Be an active student

Be in progress of getting your bachelor or graduate degree

Have an .edu email or a valid student ID card
There are two ways of how you can get an Apple Music student discount: iTunes or the UNiDAYS Apple Music partnership.
Getting an Apple Music discount via iTunes
Whether you use Mac or Windows, you can get student Apple Music through the iTunes app. On iOS and Android though, download the Apple Music app first. For the purpose of signing up, iTunes on a laptop or desktop is easier, so let's start there.
To sign up for an Apple Music student discount:
Open iTunes and select Music from the dropdown menu in the top left

Navigate to the For You tab

Click Choose Your Plan

Verify Eligibility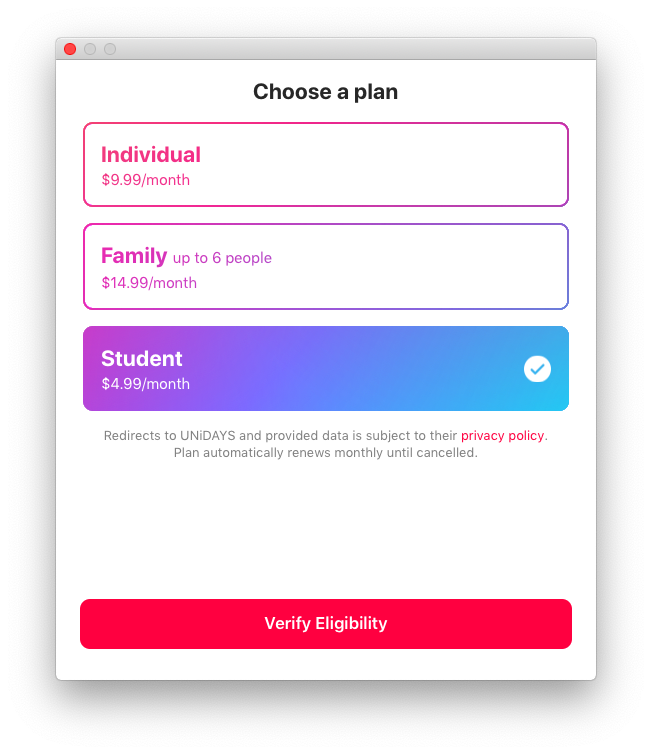 Next, iTunes will redirect you to the UNiDAYS Apple partnership website to make sure you fit the requirements for the discount:
Simply enter your email and university ➙ Continue

If you already have a UNiDAYS account, select "Already verified with UNiDAYS?" and type in your email and password to authenticate
Once the process is over, you'll be redirected to iTunes to start your trial. Alternatively, you can complete the signup exclusively through UNiDAYS.
Signing up for UNiDAYS Apple Music discount
If you already have an account with UNiDAYS or the iTunes process doesn't work for some reason, you can try the UNiDAYS-only signup:
Go to myunidays.com

Click "Join now"

Enter your email and password ➙ Join now

Verify your information and click Continue

Search for Apple in deals and locate the Apple Music student membership

Hit "Get now"

Redeem code

Copy the code and click Launch Website
To complete the process, simply follow the instructions on the Apple site. If you have any problems getting verified on UNiDAYS automatically, you can contact their customer support team to do it manually as well.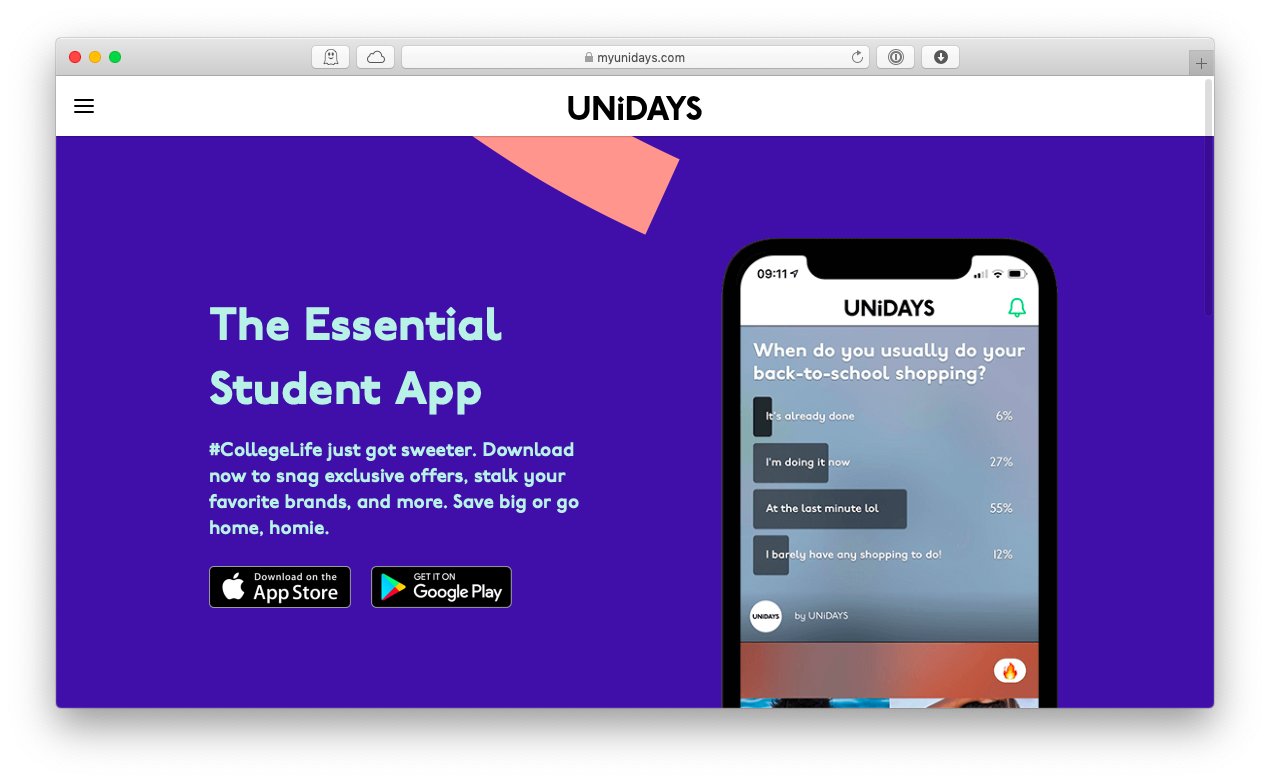 Note: You need to be at least 16 years old to qualify for the UNiDAYS discount, and your parents can't get the deal for you.
Better student deals on apps you'll love
As discussed, music for students is everything. But to successfully pass your four years of studies, you need so much more. Think of all the note-taking, calculating, reporting, learning, writing, and presenting you'll have to do. Wouldn't it be nice if one place covered it all? Luckily, there's Setapp.
Setapp has been a student savior for years. In a nutshell, it's a Mac platform with over 150 essential apps for students at one affordable monthly price. Think of Setapp for apps as analogous to Apple Music for songs.
You can literally find everything you need here, without spending time on searching, paying for, and reviewing some random apps online. Whether it's task management, budgeting, downloading YouTube videos (gotta have some time off too) — Setapp has it all. Let's look at some examples.
Boom 3D is a godsend for every audiophile. First of all, it lets you exceed the max speaker volume on your Mac that's set by default (*the sound of parties coming*). Then it simulates the surround sound experience using the equipment you got, whether it's studio-quality headphones or just built-in MacBook speakers.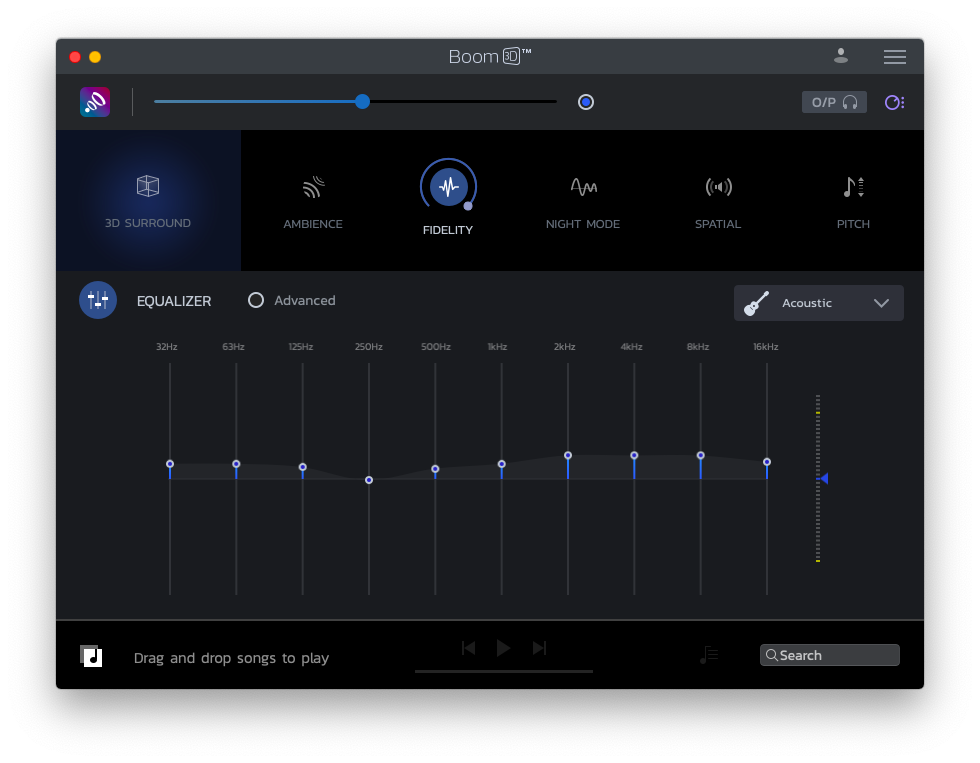 After you're fully set up, you can further tweak each track via an intuitive equalizer to get the exact sound you're looking for, or simply control the playback through the mobile companion app. If you find yourself constantly switching between your headphones and an external speaker, or other Bluetooth devices — try ToothFairy.
ToothFairy is a simple utility with a goal of saving your dozens of hours every year. For some reason, managing Bluetooth devices on Mac is much more difficult than it needs to be, so ToothFairy makes it right:
Simply launch the app and click the plus (+) icon

Add all the active Bluetooth devices ➙ Select

Set unique menu bar icons for each device. Done!
Now, instead of going into the jungle of System Preferences, you can simply connect to and switch between your Bluetooth devices from the menu bar. Moreover, a distinct icon will instantly tell you which device is connected to your Mac at the moment.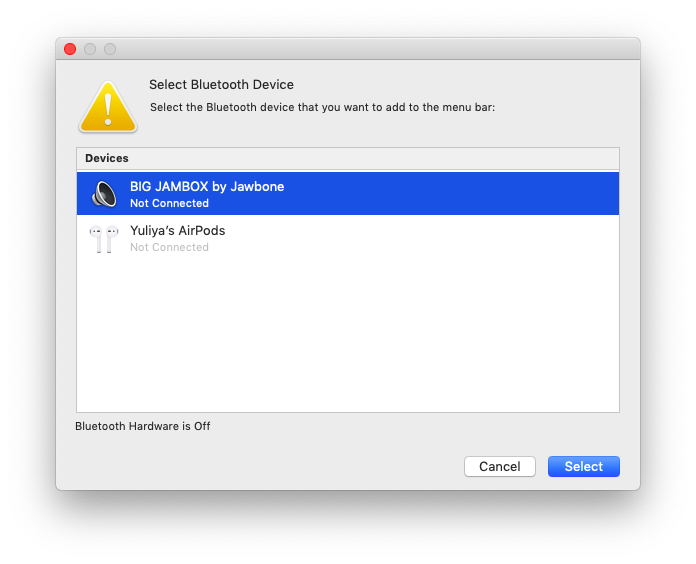 Sounds good, doesn't it? And if you're wondering whether Setapp offers a student discount — you bet it does! Enjoy 50% off by entering your .edu email! So go on and save: first by getting an Apple Music college discount, second by signing up for Setapp. Now you're ready to fully absorb some higher education.
Best of all, Boom 3D, ToothFairy, and over 150 Mac apps on Setapp come with a free seven-day trial, so you can download each one and see the full value in having on-demand access to the best-in-class software. And why not start with music?