Best Ways to Format a Hard Drive for Mac
There are quite a few reasons you'd want to know how to format a hard drive for Mac. Whatever your needs, knowing the proper way to format your hard drive or external drive is key for proper file storage, sharing, and keeping your data safe.
In this article, we'll discuss some of the key reasons you'd be formatting Mac HD, how to format harddrive on Mac desktops or laptops, how to format a portable hard drive for Mac (an external drive), and ways you can keep your data safe without losing any important documents.
Reasons When You Might Need to Reformat a Hard Drive?
Formatting hard drives for Mac – your Mac's built-in drive or an external drive – presents several opportunities to reflect on what you're doing, and why. Not only can hard drives be formatted in several unique formats, there are also a few ways to go about it.
You should also consider why you'd want to format HDD for Mac. All too often, people believe they should format or reformat their hard drive to solve minor issues, which just isn't necessary to solve their problems. But there are times when formatting or reformatting are the right moves, like these:
Selling your computer. Sure, you can clear all data on your Mac, but it's not always a full wipe-down of your hard drive. We keep a lot of sensitive personal or work documents on our computers, so it's important that whomever you sell your Mac to doesn't get their hands on it. This is one important reason you should know how to format hard drive for Mac.
Using a new external hard drive. We tend to think of external drives as a device to plug into a Mac and start loading files onto. For many, that's true. For even more of us, knowing how to reformat external hard drive Mac laptops or desktops will use before loading files onto it is critical. The drive may come unformatted, formatted in a way that makes it unusable to your computer, or with a format that makes it difficult or impossible to store your files.
Sharing an external drive. Those of us who have an external drive shared with Windows machines know formatting can be critical to productivity. Older Windows files often require a format external drives simply don't ship with; knowing how to reformat external hard drive Mac and PC computers share is vital in these circumstances.
How to Choose File Format
Before you format Macintosh hard drive or external drives, consider which file type you should use. This choice comes down to how you work, which computers you use, whether others need access to the files, and if older file types are important for your workflow.
Here are the most popular file types for Mac, and how to choose which is right for you:
APFS (Apple File System). The latest file type from Apple arrived with macOS High Sierra, and is the right choice for users who only use Macs. It's efficient, reliable, and can encrypt files. It's also not the right choice in many cases. APFS only works with High Sierra or later, won't open on Windows or Linux machines, and only works on SSD, Flash, or hybrid drives. But if you're all-inon the latest and greatest from Apple – hardware and software – APFS is a good choice.
HFS+ (macOS extended). HFS+ is the precursor for APFS, and Macs with macOS older than High Sierra (or OS X, of course) will use HFS+ by default. HFS+ hard drives can be encrypted much like APFS, and Windows machines can open HFS+ files with ease. But Windows can't write to HFS+ files, and this file type doesn't work with Linux.
FAT32. This file type can be read and written on Macs, Windows PCs, and Linux machines. For those who are often sharing files between operation systems, FAT32 is the best option. Just keep in mind FAT32 can't be encrypted and has no other security features. File size is also limited to 4GB and FAT32 tends to create disk errors more often than other file types.
ExFAT. This file type has all the same characteristics – good and bad – as FAT32 but can create and store files larger than 4GB.
NTFS. Windows default file system is readable by macOS devices, but your Mac will not be able to write to NTFS files natively.
How to Format an External Hard Drive
You may be asking "how do I reformat for Mac external hard drive now that I know which file type I need to use?" Don't worry, we've got you covered! Follow these steps carefully:
Plug the external drive you want to format into your Mac
Launch the Disk Utility app on your Mac
On the left side of the Disk Utility Window, select the external drive you want to format (Note: You should create a backup of all files before proceeding. We discuss the best way to do that below!)
At the top of the Disk Utility window, select "Erase"

In the popup that appears, select a new name for your external hard drive
Choose the disk format you want your external drive to be (Note: Your Mac will choose the option it thinks is most appropriate. The drop-down menu has other options.)

Choose the "scheme" you want to use to reformat your external drive
Select "Erase" in the popup window
How to Partition External Hard Drive on Mac
Partitioning an external drive for use with your Mac is actually very simple! Once you've followed the direction above closely (including backing files up) you can create a partition. Know partitions can only be created on freshly formatted drives with no files or folders added – and only if you choose "Apple Partition Map" under the "Scheme" menu.
If you've erased an external drive and used the "Apple Partition Map" scheme, here's how to partition your external drive:
With Disk Utility open, and your external drive plugged in, select "Partition" at the top of the Disk Utility window
Choose how large you want your partition to be

Select the format you'd like your partition to be
Tap "Partition" in the new window that appears
Choose "Done" when Disk Utility tells you the operation was successful
Before you erase, format, or partition an external drive, it's important to know it's in good condition. To keep your Mac and all external drives in tip-top shape, use CleanMyMac X.
CleanMyMac X helps monitor your computer for malware unnecessary junk while optimizing your Mac for speed and better performance. Simply plugging your external drive into your Mac and selecting the "Smart Scan" module in CleanMyMac X will scan both drives.
If you want to focus on your external drive, choose the "Maintenance" module in CleanMyMac X, and select your external drive. This performs a through scan of your drive and ensures there are no broken files that can cause errors. If CleanMyMac X finds any issues, it even helps repair your drive so it can be partitioned and formatted without any problems. Also, read some information about how to create a clone of your Mac.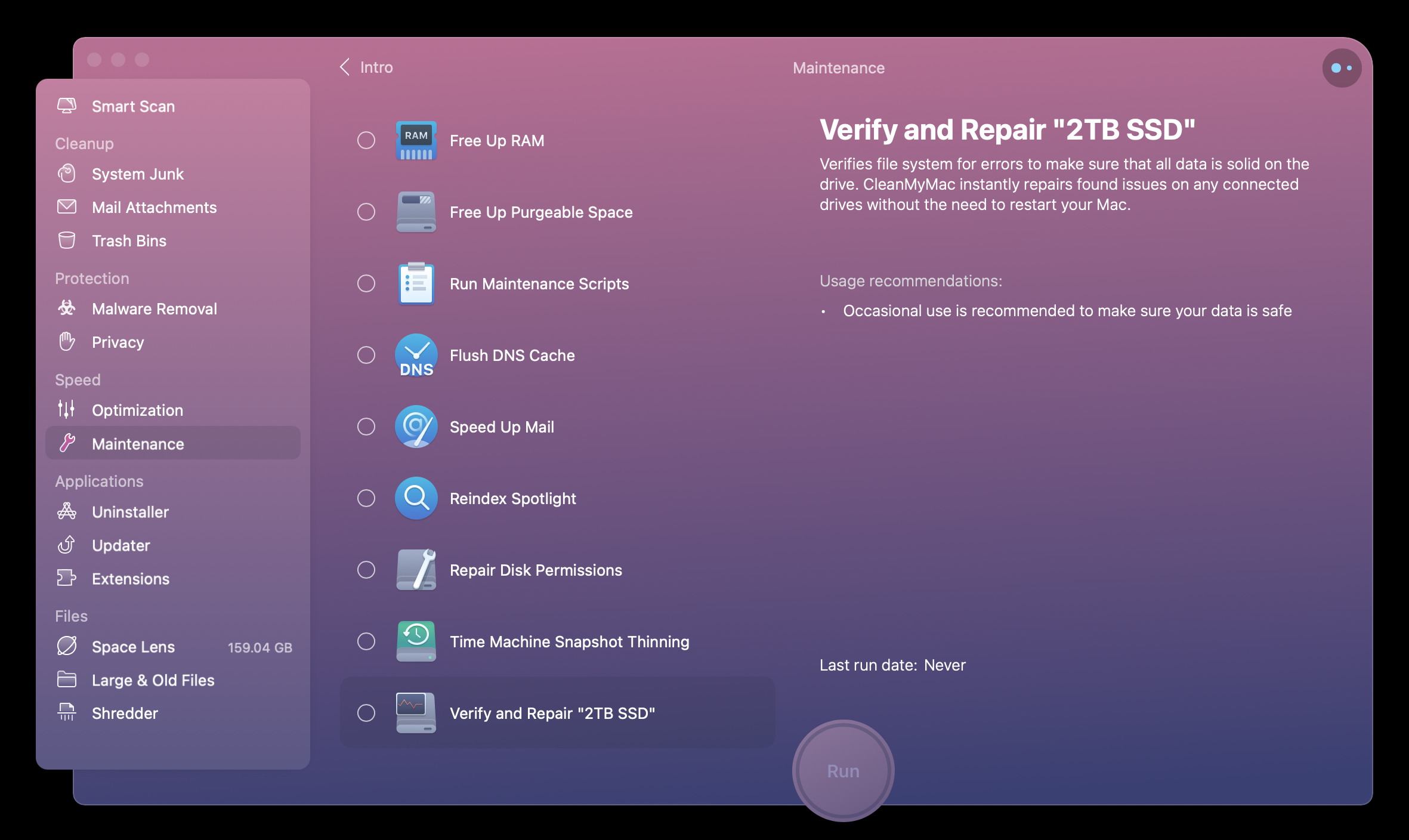 Backup Your Files Before Reformatting
In the directions above, we advise you to back your files up so you don't lose anything when formatting an external drive on your Mac. The best app for this is Get Backup Pro.
Get Backup Pro for Mac provides full control over your backups. You can schedule backups to occur any time you like, and Get Backup Pro lets you choose which folders are backed up. It's a great option for those of us who use external drives often, and routinely store new files on them. Now, you can leave your external drive plugged in and use Get Backup Pro to ensure the drive is backed up to your Mac or another external drive.
Backing files up is critical, but you're almost sure to run into a scenario where your Mac can't locate the file you're looking for. It's not lost, per se, it's just in a spot your Mac isn't looking at. That's where Disk Drill comes in handy.
Disk Drill for Mac searches your hard drive and external drives for files that may be hiding. It retrieves data seemingly lost, no matter what caused the file to become hidden in the first place. Whether the files were corrupted, you removed them unintentionally, or Disk Utility returned an error, Disk Drill can help.
Disk Drill is particularly handy for those who format their disks in a new file type – like going from APFS to FAT32. Files can become corrupted or missing; Disk Drill can help you retrieve them as it supports all popular formats for the Mac.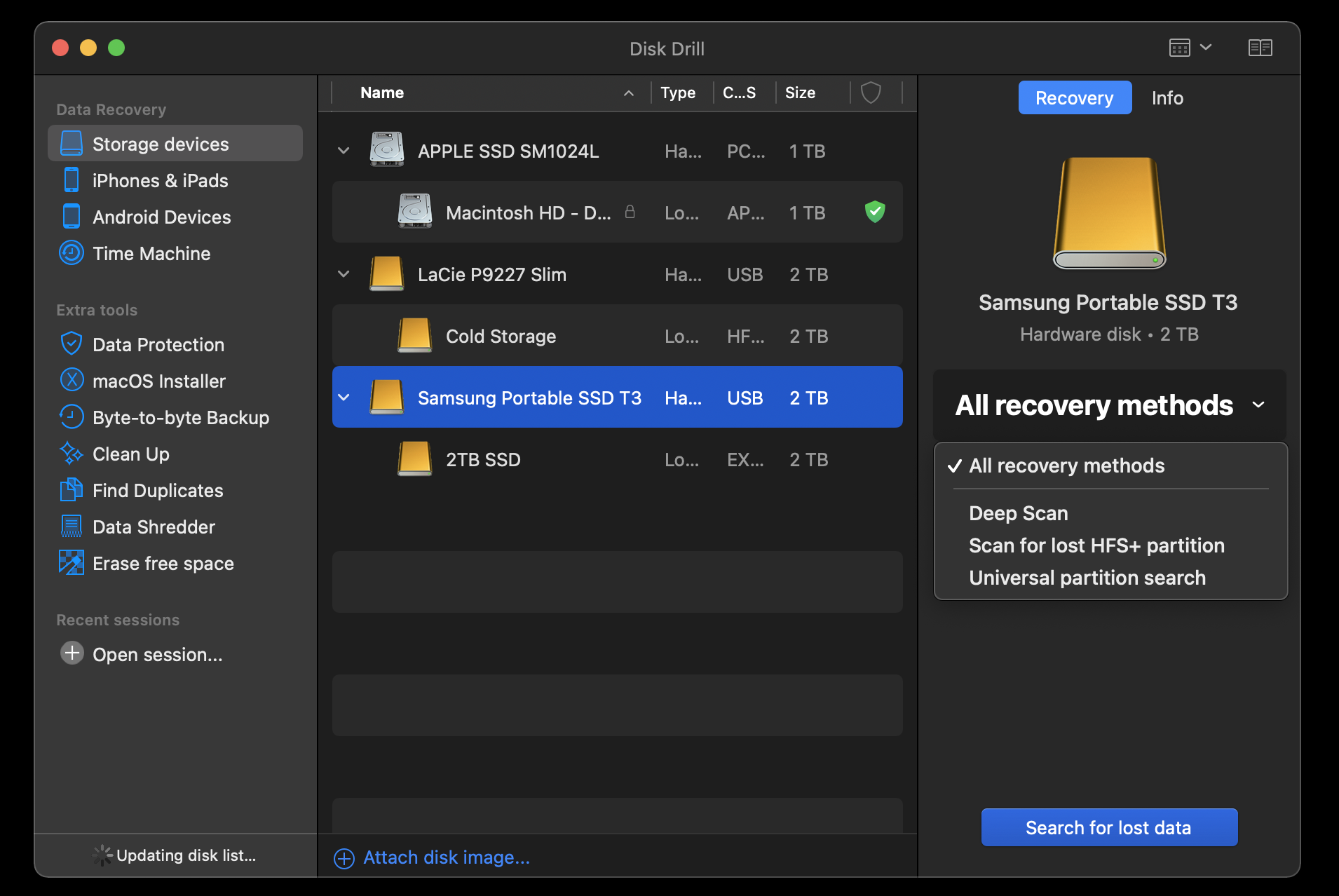 Conclusion
Formatting a hard drive on your Mac can be daunting. Disk Utility is not an app many have used, and even seasoned pros miss entire steps when formatting drives.
The worst part of it all is formatting can't be reversed; that's why it's critical to follow our directions carefully. The last thing you want to do is make an unforced error because you skipped steps or looked past some settings.
The first thing you want to do is maintain your drive and back up any data, which is why we recommend Get Backup Pro and CleanMyMac X. These apps are the perfect combination for fostering an environment for your external drive where the disk is error-free and the files are always backed up.
If files go missing, Disk Drill can get you sorted in no time. Disk Drill finds just about any file your Mac can't, and is the perfect app for finding files that were hidden deep in a file system when backing your external drive up.
All three of these apps are available for free during a seven-day trial of Setapp, a suite of over 210 incredible native apps for your Mac. During your free trial, you can test all the apps in the Setapp catalog at your leisure, and without any restrictions.
When the trial ends, continued access to Setapp is merely $9.99 per month. It's a sensational bargain for unlimited access to hundreds of incredible Mac apps, so why wait? Give Setapp a try now!