The best VPN for Mac today
If there was a word to describe the state of our digital lives in 2023, it would be "privacy." We're truly more concerned about exposing our personal information today than ever before. All because services we rely on every day, such as Google and Facebook, are always hungry for more of our behavioral data to feed into their advertising engines. Even our ISPs (internet service providers) are selling information to marketers. So a lot of people said "enough" and turned to VPNs.
A good VPN (virtual private network) is essentially a cluster of servers spread out worldwide and it solves the problem of unsecured connection by encrypting the signal between your Mac and one of its servers of your choosing before it hits your ISP or any other people.
So what exactly are the benefits of using a VPN client for Mac? There are quite a few:
Protect your private information online from snooping advertisers

Prevent hackers from seeing your data while you're using unsecured public networks (e.g. in a cafe)

Add an extra layer of online security (in case someone would ever want to get access to your Mac)

See geographically restricted content (e.g. US-based Netflix) by directing your traffic to a server in that country
Seems quite useful, doesn't it?
You might also wonder whether there's a built-in VPN already on your Mac. And if you're new to VPNs, the answer is not really. While you could manually start a VPN connection, you'd need your own server to funnel it through — some large organizations actually use that feature for their corporate networks, but it's out of limits for most people.
But if you want to get all the benefits that VPNs provide, let's then go over all the factors that are important in choosing the best VPN service for your Mac.
How To Choose The Best Mac VPN
Since privacy has become a popular issue, it's no wonder that the proliferation of Mac VPN clients happened at the same time. There are, however, some aspects by which you can pick the best VPN app for you.
Servers. Simply put, the more servers your setup VPN on Mac has the better. You get more choice of countries to pick and browse from, although a curated selection is sometimes better than the sheer number, since you'll probably not use most of them, but some of them you'll use a lot.
Price. Cheap VPNs often provide the same service for less money. So why not? However, beware of the best free VPN for Mac marketing calls — running VPN servers costs money, so if they are not taking it from you, they are more likely to actually be selling your data too.
Speed. The closer the VPN server is to your location the faster your signal can reach it — resulting in faster internet speeds. So reaching a US-based server from Canada would take much less time than from, say, India.
Interface. Some VPN clients are enterprise-grade and complex, some are simple and user-friendly. Some have a lot of features, some don't. Pick the one that's right for your goals.
Device support. It's important to check that your VPN on Mac also works for iOS, Windows, Linux, Android, and anything else you or people you share the VPN with are using.
In addition, before you inquire about how to setup VPN on Mac, you might wonder how safe is it to use a VPN? The truth is while using a reputable VPN is absolutely safe, you're still entrusting your traffic to a third party, so make sure that it doesn't log any of your activity, which should be spelled out in its privacy policy — a good idea to give that document a scan before you install the app.
Now, ready to see the top picks for the best VPN 2023?
| | | | | | | |
| --- | --- | --- | --- | --- | --- | --- |
| Servers | Dynamic | 5,500 | 3,000 | 6,500 | 3,200 | Custom |
| Monthly Price | $16.95 | $11.95 | $12.95 | $10.95 | $12.99 | $60 Per License |
| Speed | Normal | Fast | Normal | Normal | Fast | Custom |
| Interface | Intuitive | Tricky | OK | OK | OK | Tricky |
| Device Support | All Major Devices | All Major Devices | All Major Devices | All Major Devices | All Major Devices | Mac |
Interface: ClearVPN
When it comes to selecting your first VPN service, you want something that is naturally secure, reliable, and fast, but also something that gets you what you want right away. That's where ClearVPN is a clear winner.
ClearVPN is the most user- and beginner- friendly VPN out there — all thanks to having one-click shortcuts for everything you need to do. Unlock Netflix streaming in the US? Click! Change your IP? Click! Protect your Mac from malware? Just click once and it's done.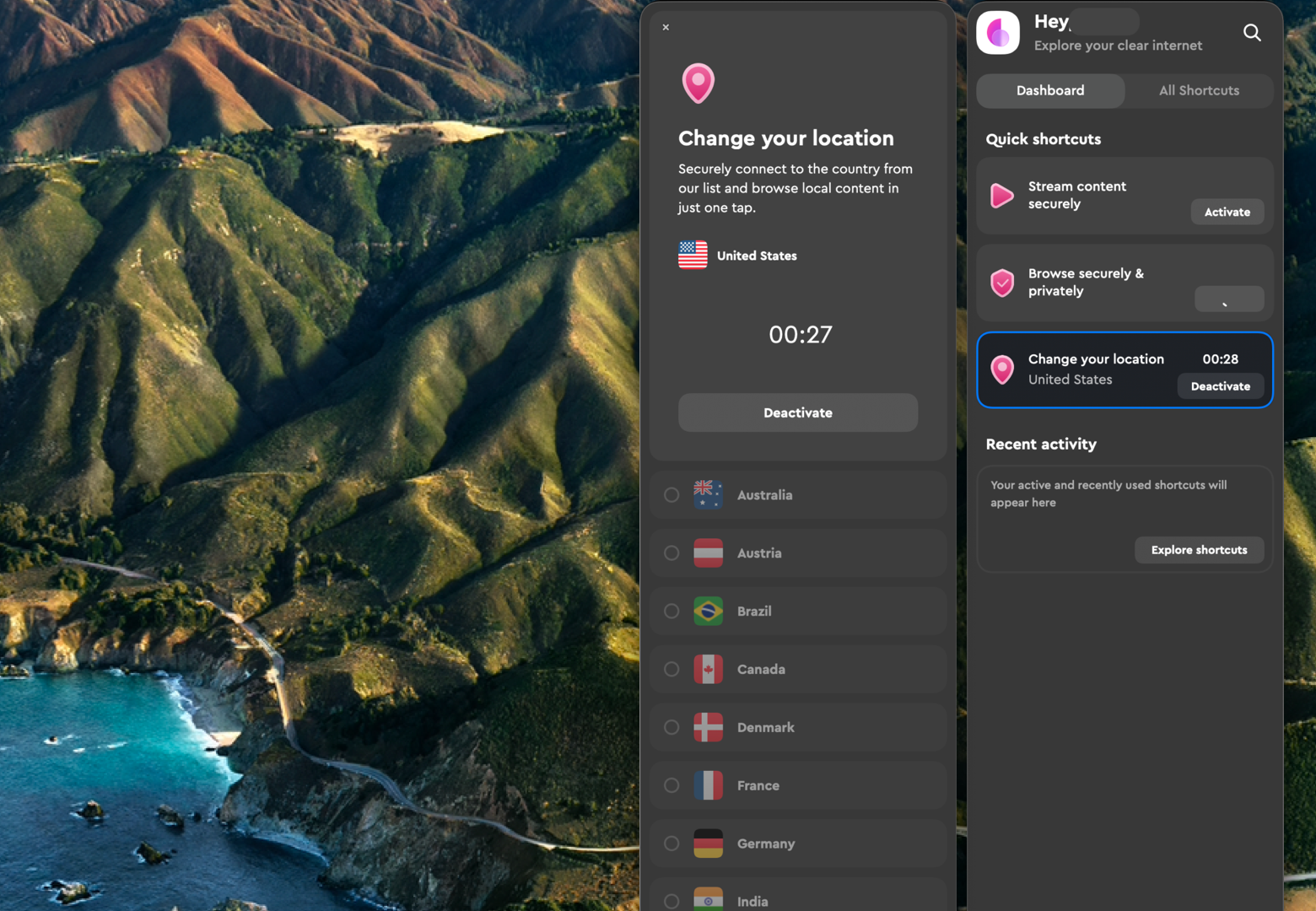 Pros
Mac and iOS. ClearVPN is available for Mac and iOS devices through Setapp membership. So that you have all the content you want, anywhere you go!
Servers worldwide. Rely on ClearVPN's servers located across a variety of countries in North America, Asia, and Europe (especially Eastern Europe, which most VPNs miss).
Shortcuts for everything. With a single click you can configure your VPN for a specific goal, be it online gaming or safe chats. No other VPN does that.
Gorgeous design: Most VPNs are purely functional and hard to navigate. ClearVPN is intuitive and effortless to use.
Cons
Just released. Unlike other VPNs on our list, ClearVPN has just launched and may lack some specific technical functionality.
Premium pricing. ClearVPN is more expensive than many alternatives if you get it as a standalone app, but comes at a steep discount as part of Setapp.
Security: NordVPN for Mac
While NordVPN is a good VPN client for Mac all around, it especially excels in providing an extra layer of security, known as the Double VPN — which encrypts all your data twice by passing it through two of their servers, in addition to other offerings like a secured chat and web proxies.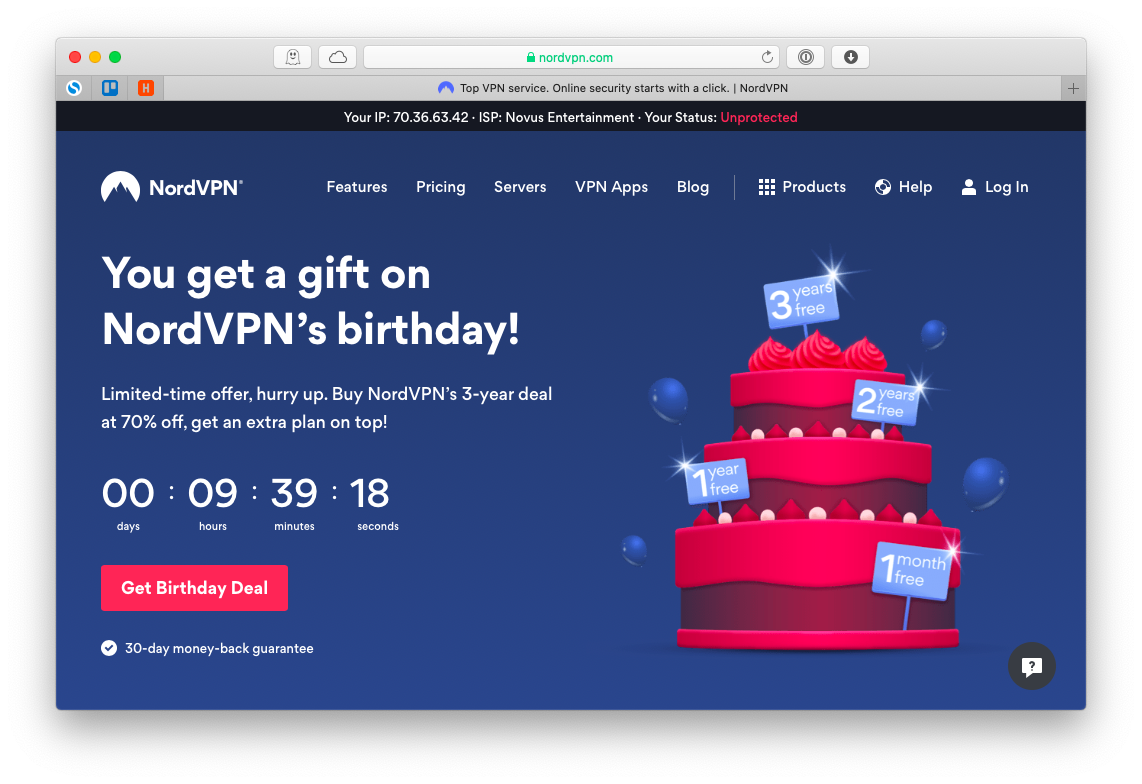 Pros
Double VPN. Two levels of security make sure your identity is never revealed to anyone.
Server availability. NordVPN has more than 5,500 servers in 59 countries.
Cons
App design. Both Mac and iOS apps could explain settings and features more intuitively.
Ease of use: ExpressVPN
One of the most famous Mac VPN clients, ExpressVPN is also a strong contender across all categories, but its true trump card is how easy it is to use. Just get the ExpressVPN download for Mac, choose the destination country, and simply click to connect.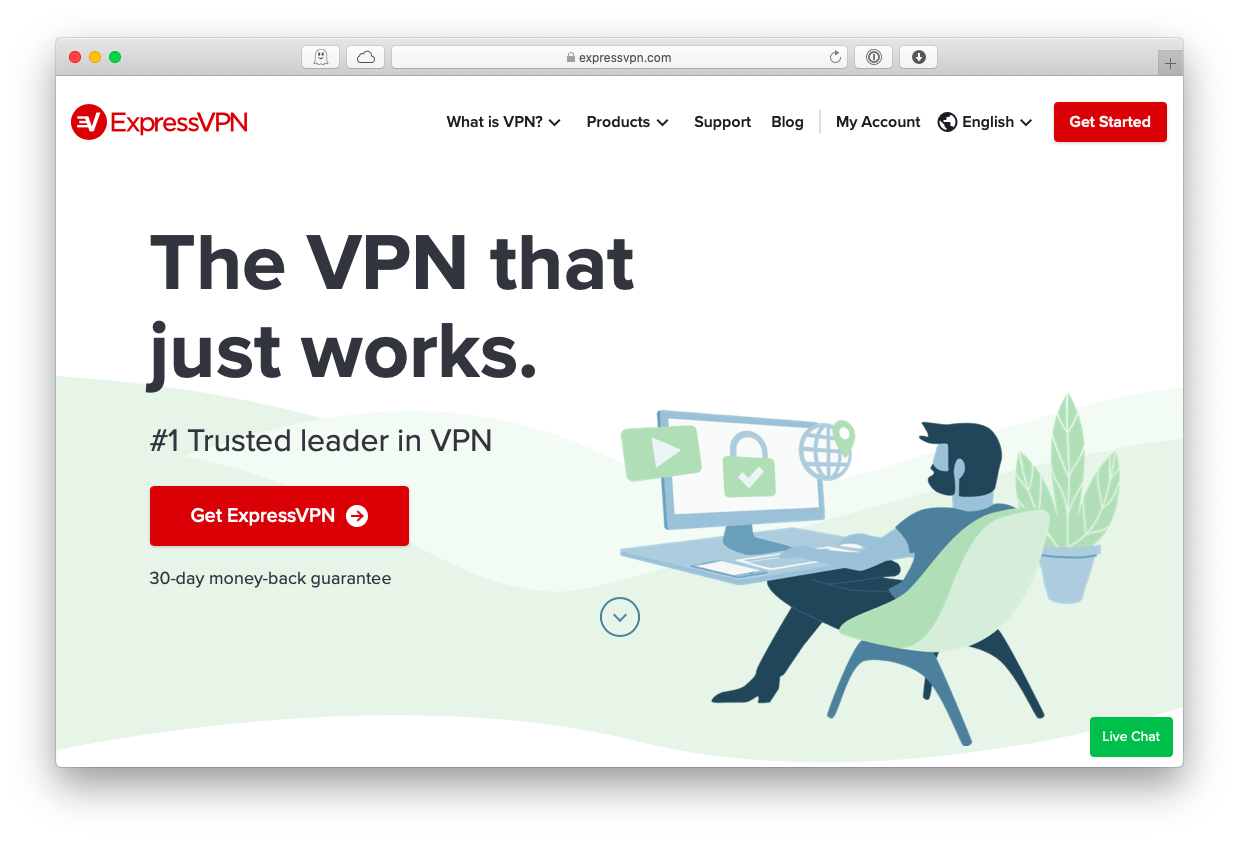 Pros
Number of countries. ExpressVPN has servers in 94 countries, which is more than enough for any task.
Click to connect. Getting VPN to work is as straightforward as possible.
Cons
Lack of features. ExpressVPN is great for changing server locations but struggles to offer something more.
Affordability: PureVPN
If you were originally looking for the best free VPN for Mac and now realized it's not such a good idea, but still want to get access to cheap VPNs from time to time, you should try PureVPN.
PureVPN has all the essential features of the best VPN service (servers in more than 140 countries) while still being able to undercut them all on price, so you can get a good VPN for as low as $3.33 a month.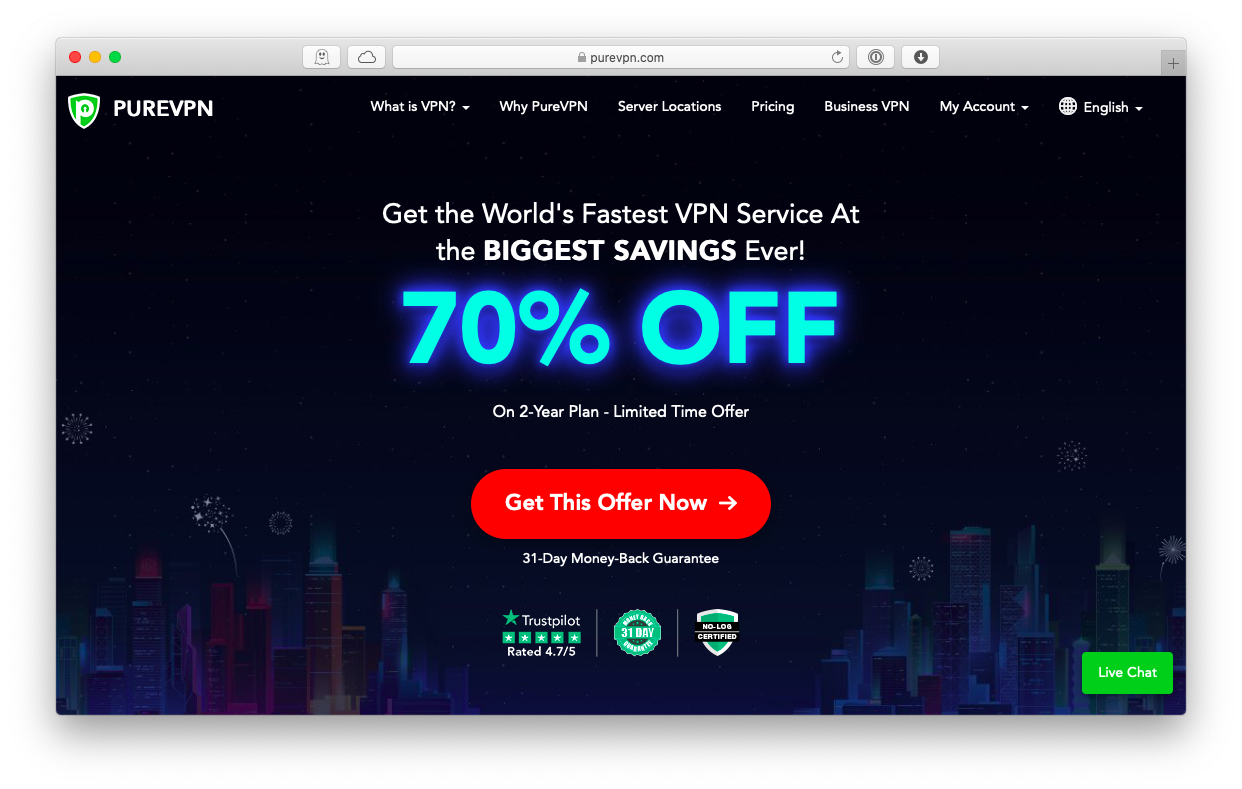 Pros
Frequent promos. While PureVPN is already reasonably priced, from time to time, it offers promos for as low as $0.99.
Cons
Pushy sales. Trying to find a certain feature is sometimes more difficult than it should be due to sales and marketing copy.
Missing pro features. PureVPN does the basics well, but lacks some extra configurations available in other apps.
Speed: Hotspot Shield
For some people, security is desirable, but speed is non-negotiable. How fast the best Mac VPN client is depends on the number of servers, their processing power, and their positioning with relation to your actual location.
Hotspot Shield manages to ace all of those and comes out on top when compared to other Mac VPN clients, mostly due to its proprietary VPN protocol called Catapult Hydra, which solves a lot of latency issues that affect the industry, especially cheap VPNs.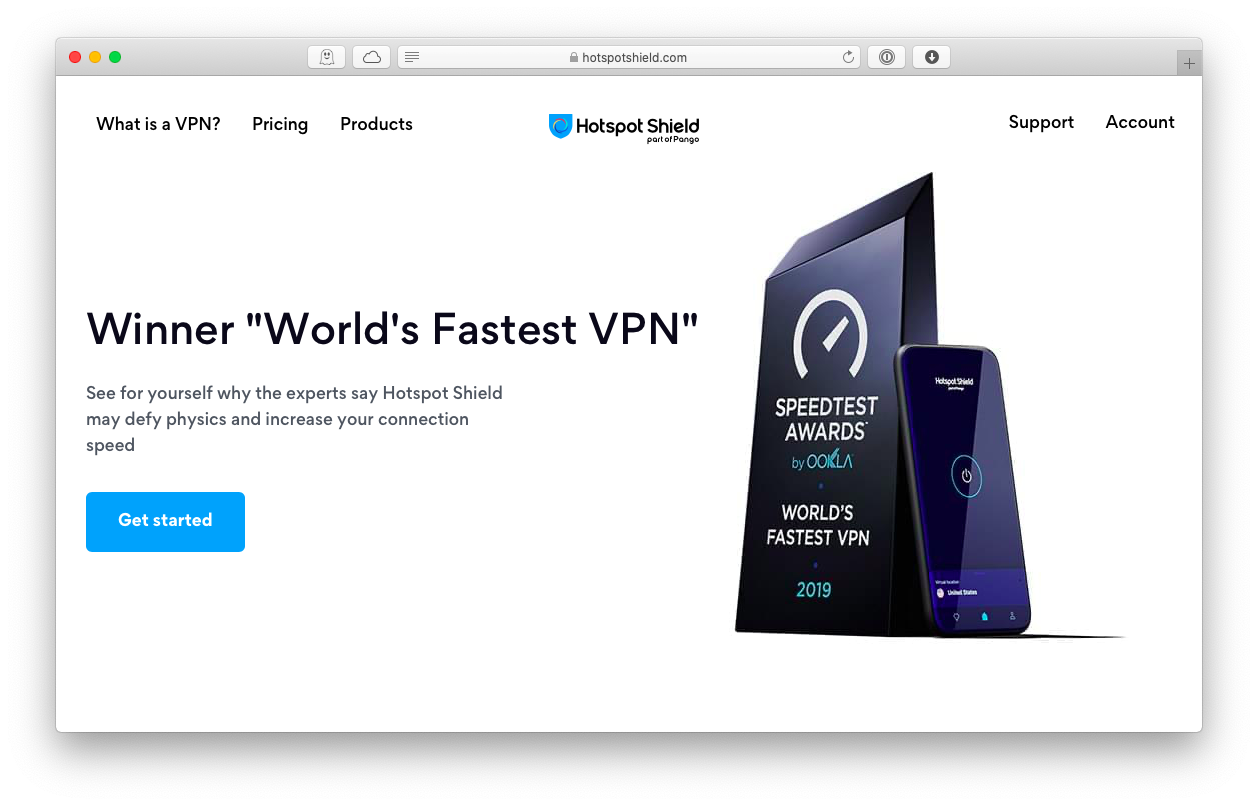 Pros
Very fast. Every time you use Hotspot Shield, the connection is instant and downloads are as fast as they could be.
Long trial. You can try Hotspot Shield for 45 days for free.
Cons
Privacy statements: Difficult-to-understand log policy.
Versatility: Shimo
If you're not sure which best Mac VPN factor to prioritize, or you want flexibility, there's no better way to go than Shimo.
Shimo is one of the best VPNs for Mac on the market, simply due to its flexibility. While a full-featured VPN in its own right, it also allows you to add VPN accounts from OpenVPN, Cisco IPSec, PPTP, and lots of other protocols. What's more, Shimo doesn't limit your connections and makes it possible to set automatic triggers for types of networks or geographic locations. And it's so easy to use too — no technical background required!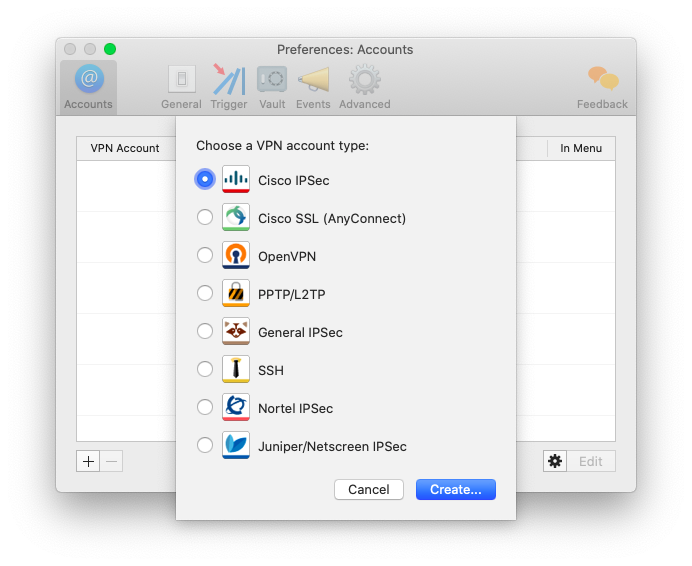 Pros
Any protocol. Shimo is the only VPN app that makes choosing your own protocol as easy as possible.
Multiple connections. With Shimo, you can have two, three, or more conversions at the same time.
Cons
Tricky configuration. Shimo requires some manual configuration before you can use it. Best for people already familiar with VPNs.
How to properly test VPN speed
It might be that Hotspot Shield is the fastest VPN client for Mac you can use. But, as was pointed out above, the speed you get might differ based on your location and the proximity of company's servers. So you could in theory end up with a different client working better for you. The question is how do you test the speed properly? First, you need TripMode.
TripMode is a great app for controlling all incoming and outgoing traffic to your Mac. It's especially useful for reducing data usage when hotspotting or when you're in a place that has very minimal WiFi connection.
For our VPN testing purposes though, TripMode allows us to block all processes from accessing the internet, except for the best VPN app you've chosen. That way you'll be able to get a real picture of what the real VPN speed is.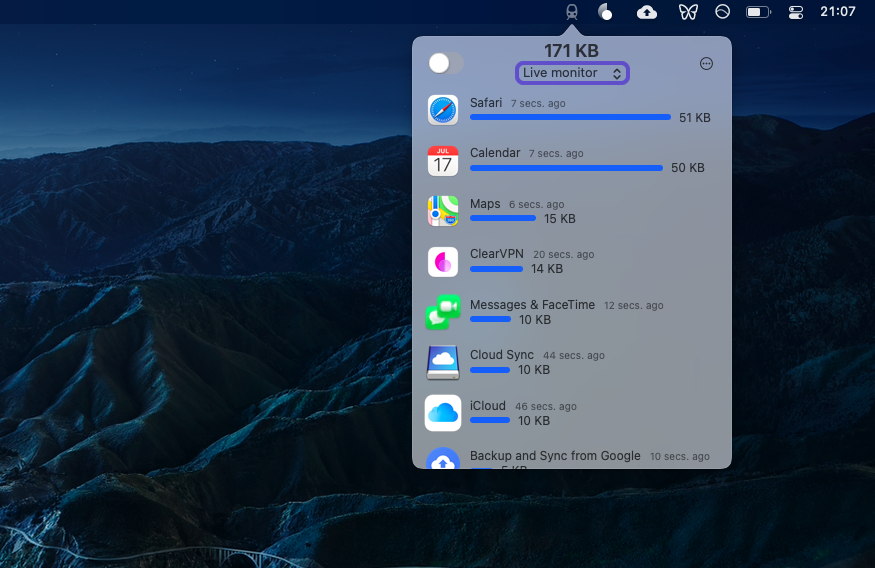 What's the best Mac VPN in 2023?
In the end, which VPN service should you choose? There's no doubt that the best Mac VPNs play an important role in keeping your private life, well, private and helping you avoid dubious geographical restrictions when it comes to access to content.
Make sure you pick one that suits your needs the most. For us, if you want something that works right out of the box, on any of your devices, get ClearVPN. If you need extra flexibility and options, go for Shimo. And test both while having TripMode turned on.
Best of all, ClearVPN (Mac and iOS), Shimo, and TripMode are available to you all at once for free during a seven-day trial with Setapp, a platform with more than 220 best apps for your Mac, from recovering data (Disk Drill) to managing projects like a pro (Merlin Project Express). Try them all today at absolutely no cost!