All You Need to Know About Apple Pencil
The Apple Pencil (or iPencil, to some) is the only official stylus from Apple for use with iPads. It's remarkably responsive, leaving all other stylii in its wake. There is even a dedicated set of tools for developers who want their apps to work with Apple Pencil, with Apple adding features every year at its annual developer's conference, WWDC.
Here, we'll discuss everything you need to know: how to charge Apple Pencil, how to use Apple Pencil with your favorite apps, how to pair Apple Pencil to an iPad, and what you can do with iPad and an Apple Pencil.
What is an Apple Pencil
Apple Pencil is a wireless stylus released by Apple in 2015. Originally round, Apple Pencil now has a flat side, which makes it much easier to tote around with an iPad.
While the Apple Pencil was originally released for use with the iPad Pro, it now works with all modern iPads, connecting to an iPad via Bluetooth.
Apple Pencil 1st gen also had a removable cap at the end for charging, which was changed with the second iteration of Apple Pencil introduced in 2018.
Reasons to use it
As styli for iPads go, Apple Pencil is easily the best of the bunch. Apple's unique developer tools for the Apple Pencil make it a class above anything else.
For artists, Apple Pencil is almost a must have if the iPad is in use. It has low latency for sketches and acts like a brush when the proper tools are chosen in a drawing app. The pencil and screen are both sensitive to force, so a stronger stroke will produce a thicker line.
iPads automatically pair to Apple Pencils, too, making it as easy to use as picking it up. Once the Apple Pencil hits the screen, it starts working immediately. The second generation Apple Pencil pairs immediately after its magnetic link to the side of an iPad has been broken.
Apple Pencil is also good for these scenarios:
Email. You can power through an email inbox with Apple Pencil. Swiping emails into the garbage or dragging them to another folder is incredibly easy with Apple Pencil.
Touching up images. Appel Pencil is excellent for adjusting fine points in a picture with image editing tools. The iPad is smart enough to discern fingers from the pencil itself, too, so you can zoom with two fingers and go back to editing with the pencil.
Taking notes. Apple Pencil's low latency makes it an excellent note taking peripheral for iPad. You can sketch diagrams and use your own handwriting, and all your notes will be saved digitally.
Reading. The Apple Pencil is less intrusive than your finger, so swiping through an article or book is a much better experience on an iPad.
Marking up documents. Signing forms, adding notes to a paper or PDF – both are much easier with the Apple Pencil.
How to set up Apple Pencil
Knowing how to connect Apple Pencil to iPad depends on which Apple Pencil you have. If the end has a detachable cap, it's a first generation Apple Pencil, and is compatible with these iPads:
iPad (8th generation)
iPad mini (5th generation)
iPad (7th generation)
iPad (6th generation)
iPad Air (3rd generation)
iPad Pro 12.9-inch (1st or 2nd generation)
iPad Pro 10.5-inch
iPad Pro 9.7-inch
To pair a first generation iPad with these models, remove the endcap and plug it into the Lighting port on the iPad. You should only need to do this the first time you use the Apple Pencil with an iPad.
The second generation Apple Pencil, compatible with the iPad Air (4th generation), iPad Pro 12.9-inch (3rd generation) and later, and iPad Pro 11-inch (1st generation) and later, only needs to be magnetically connected to the iPad. Simply lay the flat end of the Apple Pencil against the side of your iPad; once it clicks into place, it has been paired for the first time.
Apple Pencil is excellent for touching up images, and one of the best apps for managing photos on your iPhone is Gemini.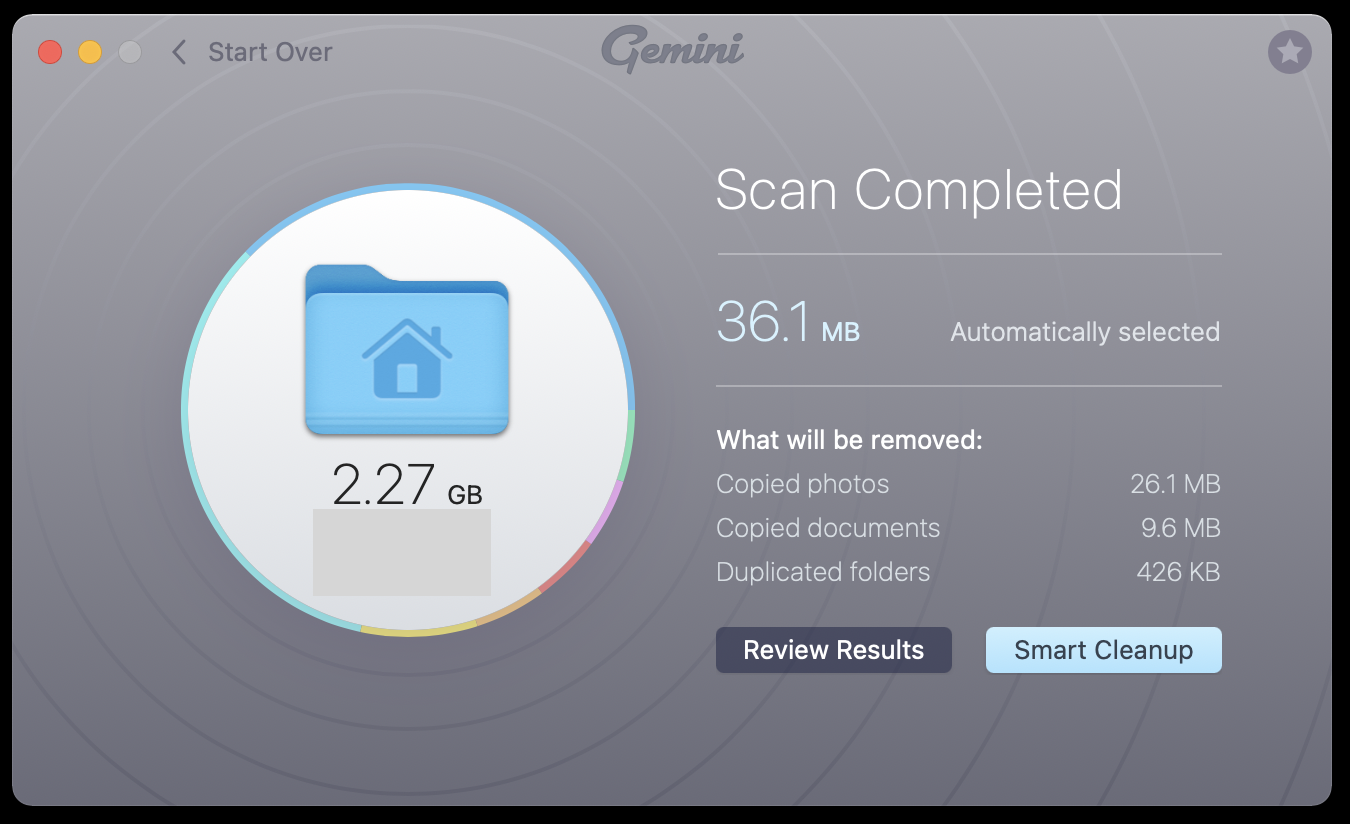 With Gemini running in the background on your iPhone, it finds duplicate images you may not realize you have in your Photos app. This helps you clear up precious iCloud storage space; images take up a lot of room!
Here's how to manage duplicate, blurry, or unwanted pictures with Gemini:
Open the Gemini app on your iPhone
Choose a category (similar images, duplicate images, duplicate videos, screenshots, notes, blurred images, and an "other" category) you'd like to delete duplicates from
Select "delete all" at the bottom of the screen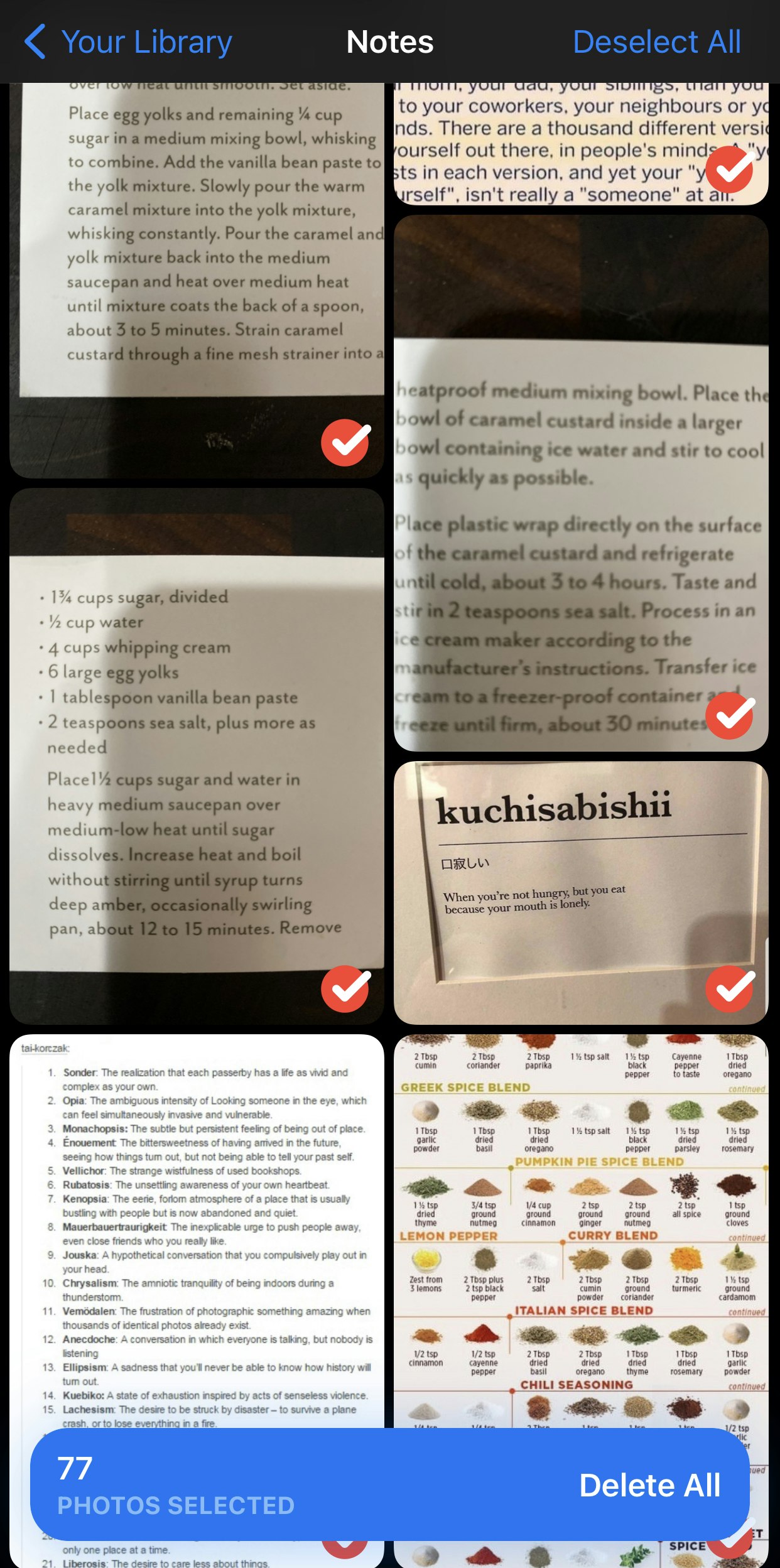 How to connect iPencil to iPad
Once your Apple Pencil is paired to your iPad for the first time, connecting it to the iPad is as simple as using it. For first generation Apple Pencils, simply start sketching on the iPad screen and your iPad will connect to the Apple Pencil via Bluetooth.
Second generation Apple Pencils will connect to an iPad once they're removed from the side of an iPad. Once the magnetic bond is broken, your Apple Pencil will pair. There's no need to know how to turn on Apple Pencil, either, as it's powered down unless it connects to your iPad.
If you're going to put Apple Pencil to iPad for sketching, give Tayasui Sketches a try. Though Tayasui Sketches is a macOS app, it does support Apple Pencil when using iPad as an input device. You can sketch on the small screen, and see it on the big screen in real time!
Tayasui Sketches has a wide range of tools available, meeting any artistic endeavor you have head-on. A massive array of brushes and pen styles as well as a full color palette can deliver exactly what you need. There are also a host of tools for creating shapes, filling areas with color, blurring parts of your drawing, and even a ruler for drawing perfectly straight lines.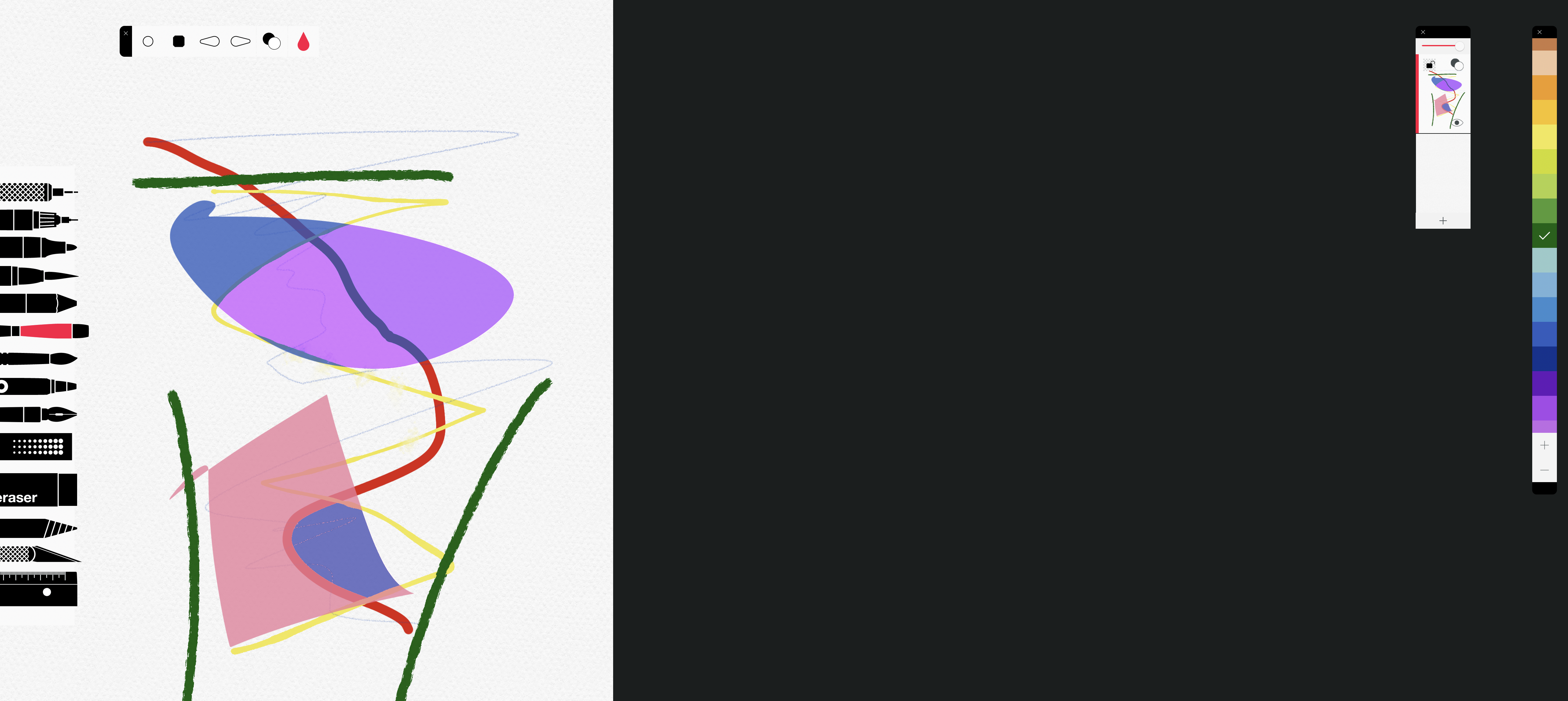 How to unpair the Apple Pencil from your iPad
Many people ask "why does my Apple Pencil keep disconnecting?" It may be that the iPad has unpaired from your Apple Pencil and is having trouble reconnecting.
Solving this can often be as simple as upairing the Apple Pencil from iPad and reconnecting. To unpair an Apple Pencil from an iPad, follow these steps:
Open the Settings app on your iPad
Select "Bluetooth"
Next to Apple Pencil, tap the "i"
Select "Forget This Device"
In the popup, select "Forget Device"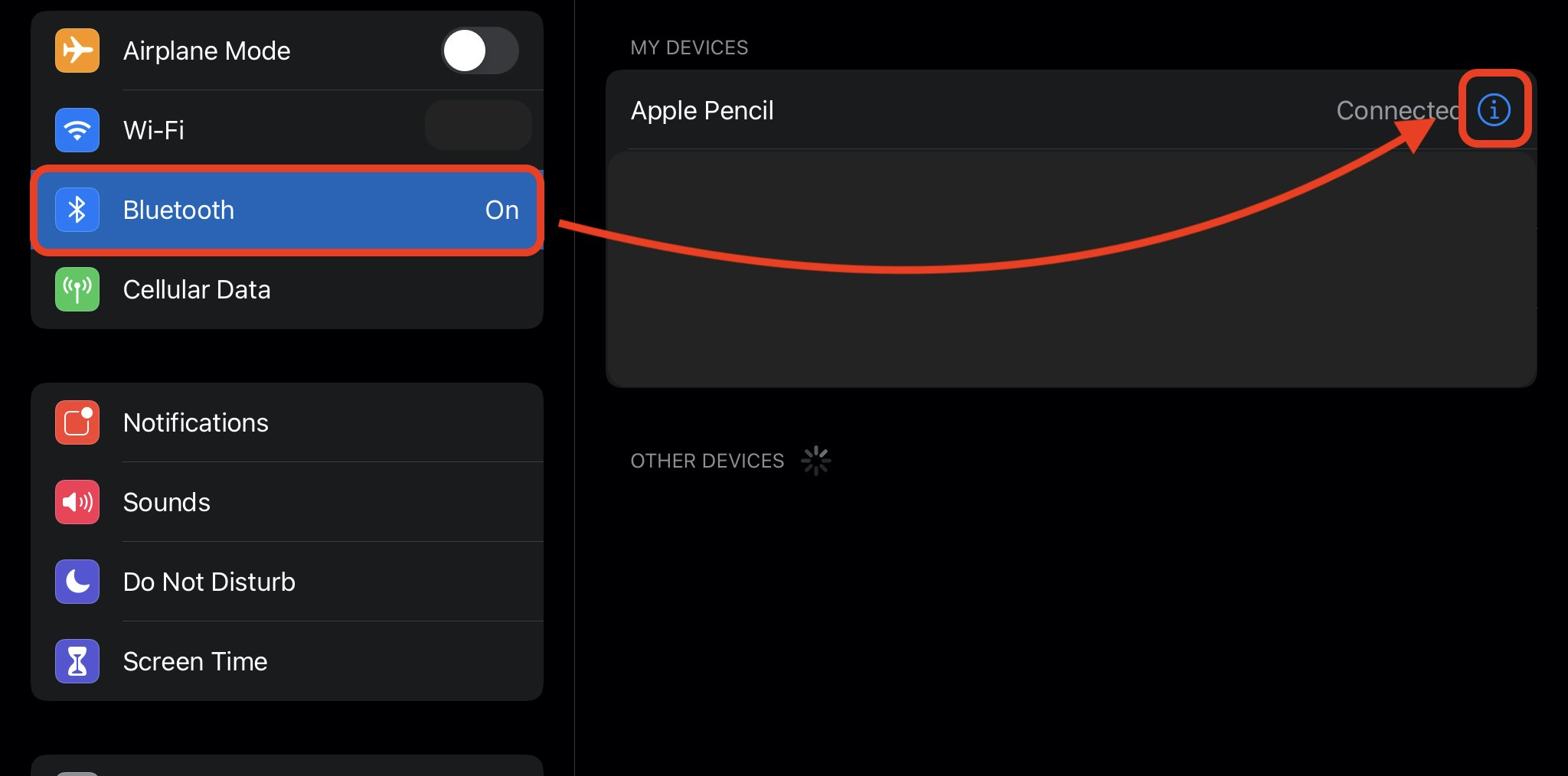 How to charge iPencil
Charging your Apple Pencil is as simple as connecting it to an iPad. Here are the steps for the first generation Apple Pencil:
Remove the end cap from your Apple Pencil
Plug the Lightning connector on the Apple Pencil to your iPad's Lighting port
Leave Apple Pencil plugged in for an hour or so to fully charge
For the second generation Apple Pencil, simply make sure it has a magnetic connection to the side of your iPad; this not only secures the Apple Pencil, but charges it wirelessly!
How to check pencil's battery
You may be asking "how do i know if my Apple Pencil is charging?" Knowing how to check Apple Pencil battery status is also important.
The easiest way to see if your Apple Pencil is charging is to check the Today view on your iPad. It has a widget for battery life, and includes your iPad and Apple Pencil. Simply hold your iPad in landscape view, or swipe right from the home screen to check your Apple Pencil battery status.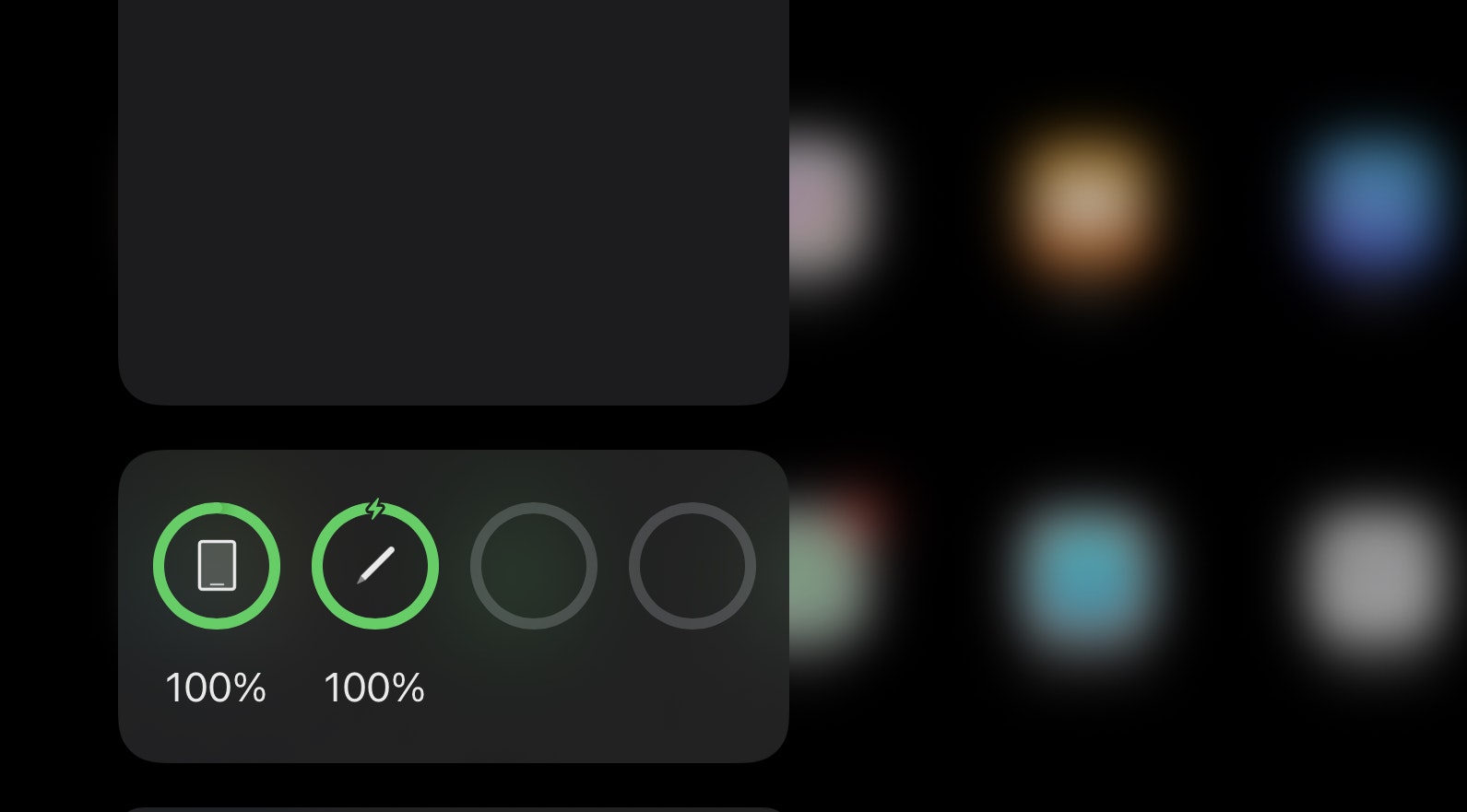 Fix common problems
As great as Apple Pencil is, it's not without its issues. Here are fixes to common problems with Apple Pencil:
It won't charge. If your Apple Pencil won't charge, disconnect it from your iPad, then reconnect it. If the problem persists, you may need to take it to an Apple Store.
It's not responsive. If your iPad isn't responsive to an Apple Pencil's input, head to Settings > Bluetooth to make sure it's connected. If it's not, tap "Apple Pencil" to connect your iPad to the Apple Pencil.
It's slow. If your Apple Pencil latency seems slow, close the app you're using and connect your Apple Pencil to the iPad by plugging it in or connecting it wirelessly via magnetic charge. Allow it to rest for a few moments, then try again. If the Apple Pencil is still slow, you may need to replace the tip with one of the tips included with your Pencil.
It loses connection. This may be an iPad problem. If this occurs frequently, restart your iPad.
Apple Pencil is a sensational addition to your iPad, and worth every penny. While a bit pricey, there's simply no better alternative.
Tayasui Sketches is a great app for the Mac, and shines bright when using an iPad with Apple Pencil for input. A common use for Apple Pencil is touching up or editing images, and Gemini is your best bet for eliminating duplicates before editing any picture.
Both apps, along with almost 200 others, are available for free during a seven day trial of Setapp, a leading suite of productivity apps for your Mac. During your week long trial, you can use all 190+ apps in the Setapp suite for free, and when the trial is over, continued access to the massive Setapp catalog is only $9.99 per month.
It's an incredible deal, so don't hesitate – give Setapp a try now!