How to stop Google Chrome notifications on your Mac
Google Chrome is the most popular browser in the world, with millions using it daily to access the web on desktop and mobile. Because it's so powerful, it also has a ton of bells and whistles, some of which can be annoying.
Notifications are one such annoyance. You're working away on your Mac, and Chrome just keeps pinging you to pay attention to something on the web. It's so frustrating!
Instead of ignoring the notifications, we'll show you how to turn off Chrome notifications, ways to manage Chrome notifications, and how you can keep your focus ad stay productive.
How to stop notifications from Google Chrome
Google Chrome doesn't make it easy to stop notifications from pinging you on your desktop, which is understandable. It's a convenience feature, but also keeps people tied into the app.
Luckily, we know exactly how to stop Chrome notifications. Here's how:
Open Google Chrome on your Mac
Click the three-dot menu on the top right corner
Select "Settings"

Select "Privacy and security" on the left side of the window
Choose "Site Settings"
Scroll down until you see "Notifications"
Click "Notifications"
Make sure "Sites can ask to send notifications" is toggled off
Under the "Allow" section, right-click on sites you allow notifications from and select "Remove"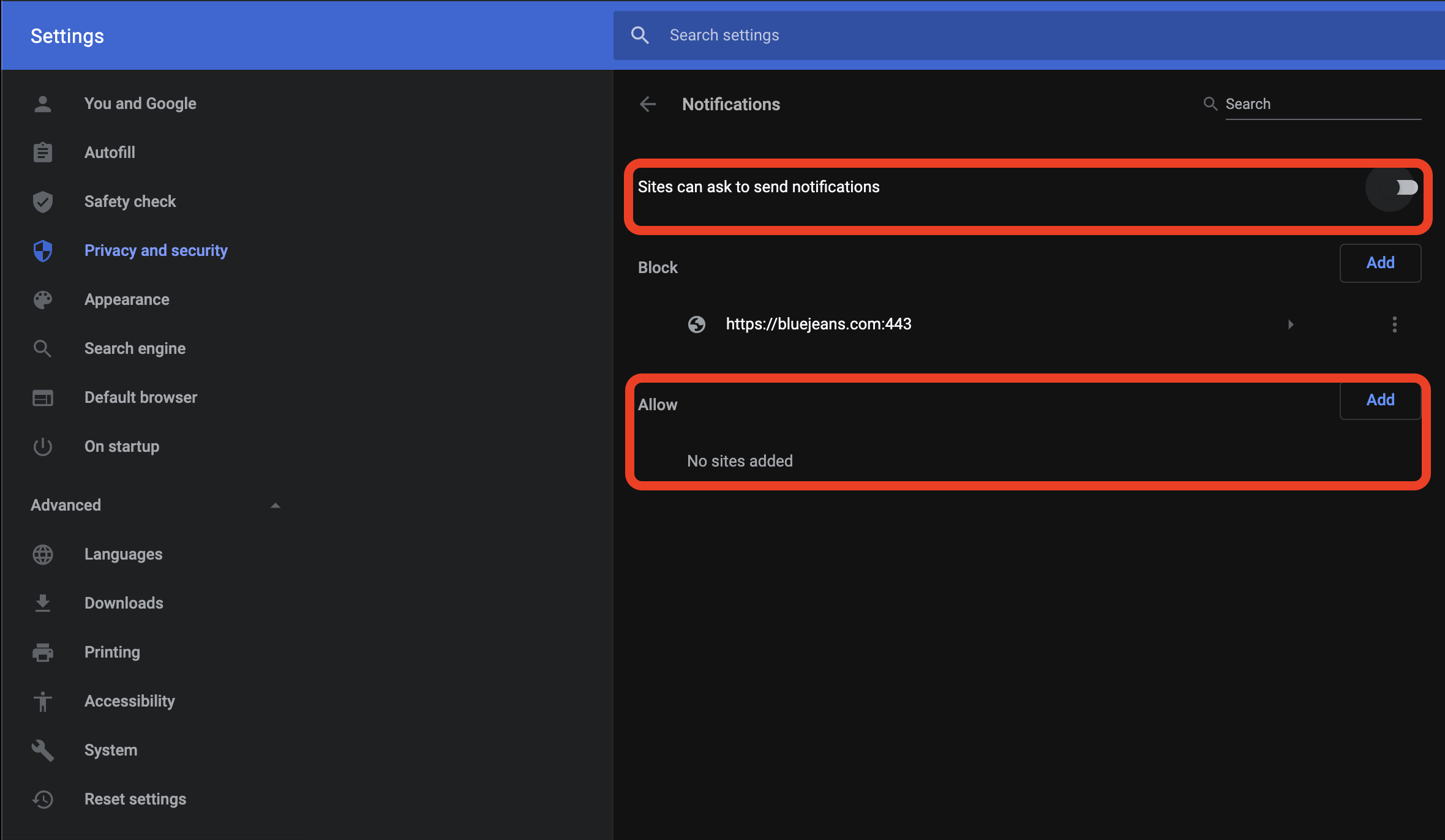 We should all be more diligent about our web browser maintenance, and CleanMyMac X is one of the best apps to assist with this. The app has a module that makes clearing your browser cache simple. Here's how it's done:
Open CleanMyMac X on your Mac
On the right side of the app window, select "Maintenance"
Select "Flush DNS Cache"
Select "Run"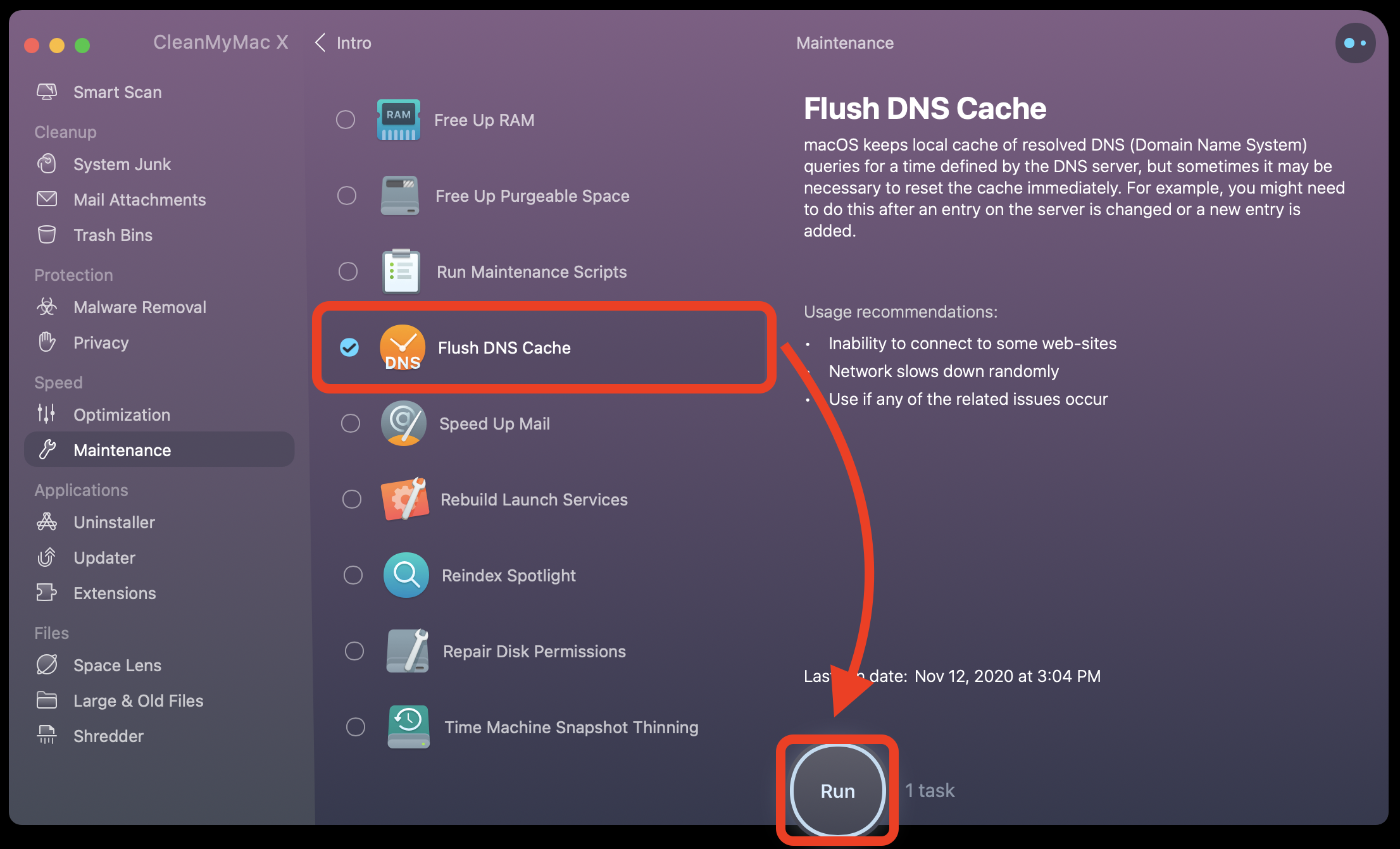 How to turn off notifications in Safari on Mac
Maybe Safari is your browser of choice. If so, you can still control notifications to suit your needs. Here's how to turn off notifications for Safari on Mac:
Open Safari on your Mac
From the menu bar, select "Safari"
Choose "Preferences"
Select the "Websites" tab at the top of the popup window
Select "Notifications" from the left side
Toggle notifications off for any website you'd like to block notifications from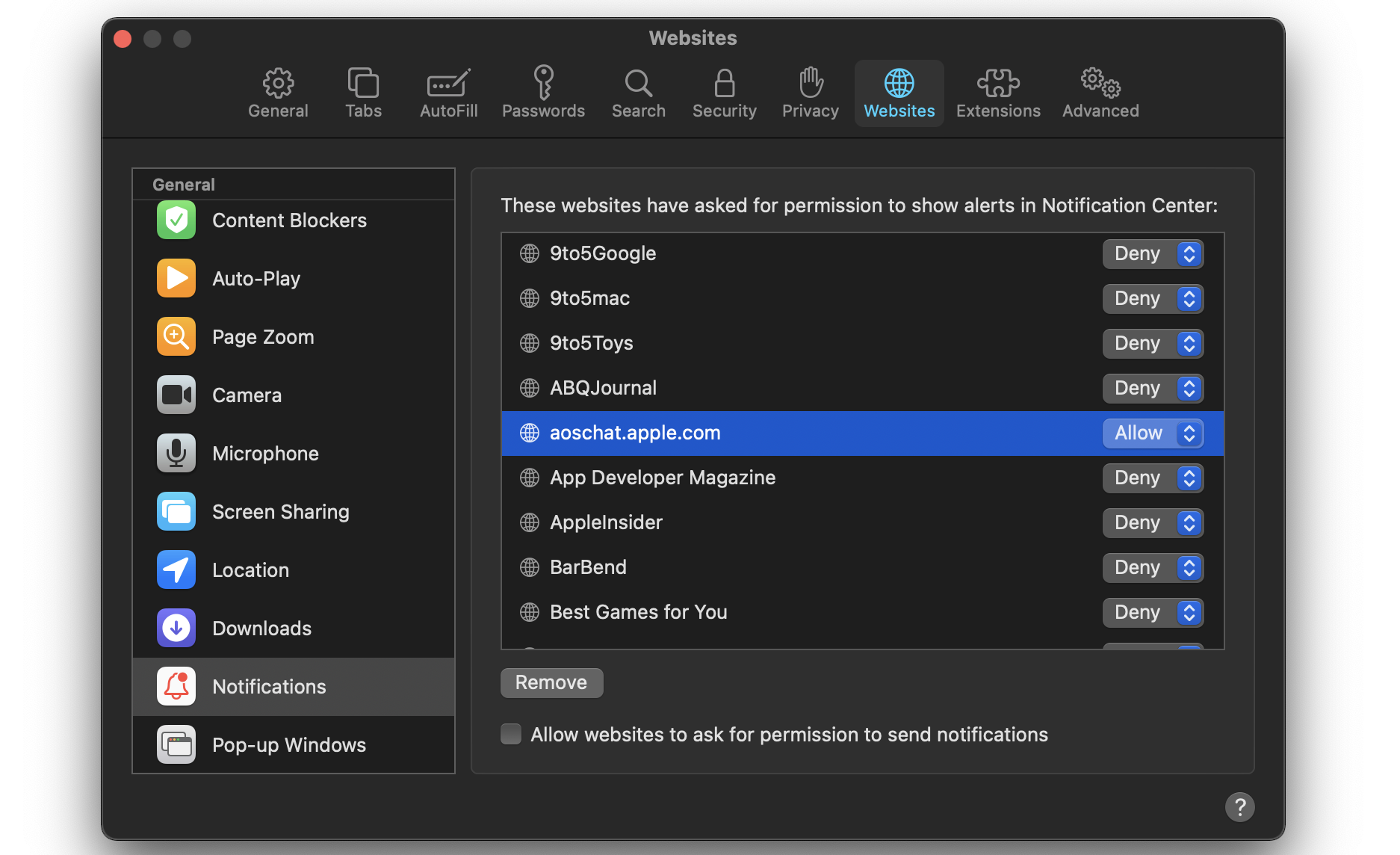 Controlling notifications can be a binary choice: you either allow or deny them from websites. But what about the middle ground, where you want notifications, but not all the time? That's what Focus is for.
Focus is an app that allows you to turn it off and on as you like, and set a timer for the duration you don't want to be bothered. Focus is meant for those times of the day where you need to drill down and get things done, and notifications or popups interfere.
You can block notifications from websites, but also other apps. It's great for those times when powering through email or other tasks is critical. You can even add any website you want to Focus, giving you the ultimate granular control over your notifications. Here's how:
Open Focus on your Mac
From the menu bar, select the Focus icon
Choose "Preferences" from the menu
Choose "Blocking" at the top of the window
At the bottom of the window, select the "+" icon
Add the URL of the website you want to block notifications from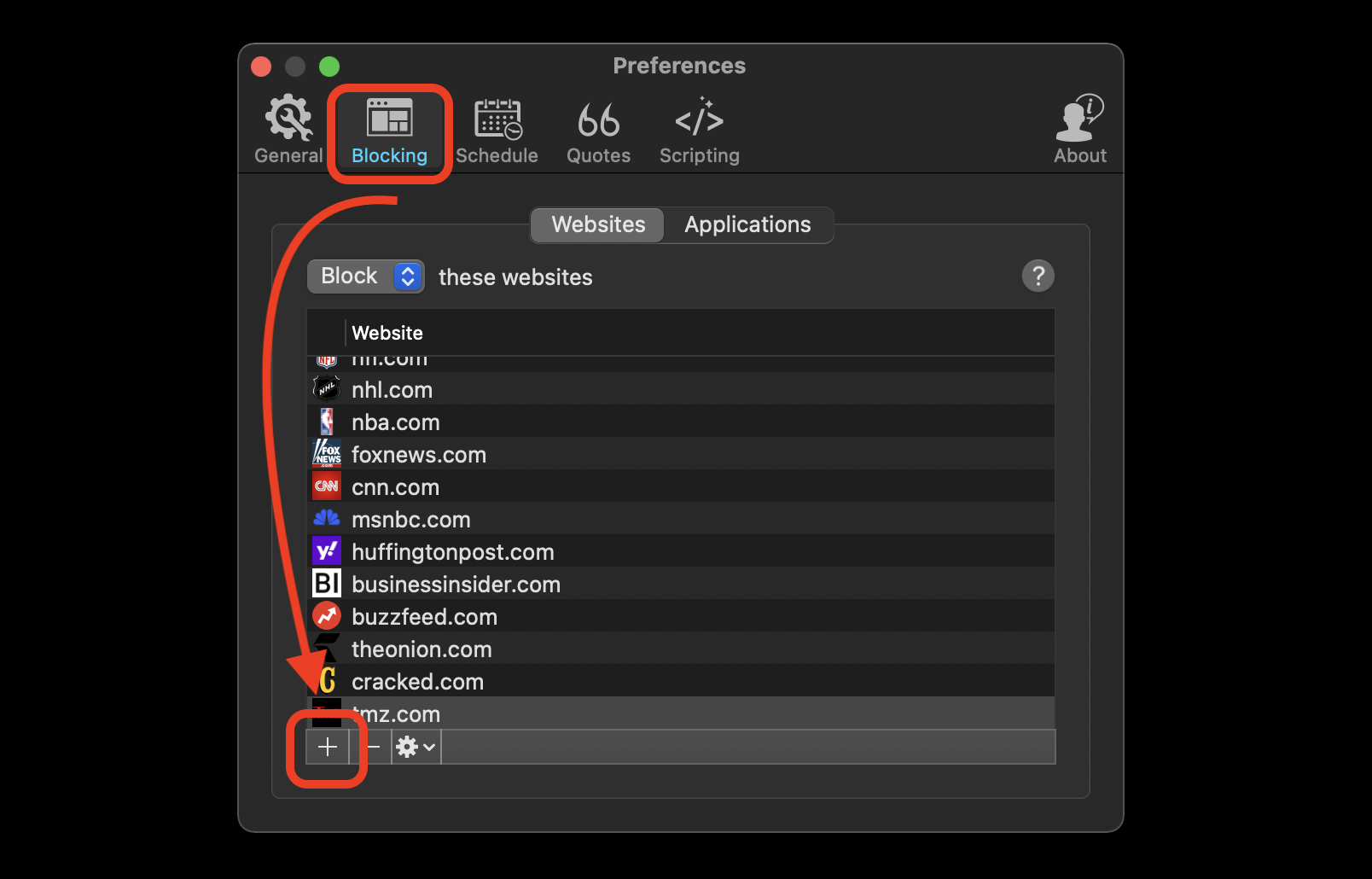 When you turn Focus on, it will block notifications from any website you have added to the list. If you like, Focus even lets you set up a schedule, perfect for those who use personal computers for work.
Notifications are almost always annoying. Even those sites you've chosen to allow notifications from often get overzealous and send too many popups your way. Chances are, you just don't need to know as much info as they're sending your way!
That's why managing notifications is so critical. Chrome and Safari are among the most popular web browsers for Mac users, and this article shows you exactly how to manage notifications in each browser. It's also advisable to use CleanMyMac X to keep your Mac operating its best.
Finally, Focus is an excellent third-party app for blocking sites without altering your settings. Rather than block notifications, you can use Focus to block the noise out while you get work done.
Both Focus and CleanMyMac X are available for free during a seven-day trial of Setapp, an amazing suite of nearly 220 Mac and iPhone productivity apps spanning a wide variety of categories, genres, and use cases. When your trial of Setapp ends, continued access to the full Setapp catalog is only $9.99 per month – an awesome deal for so many apps, so why hesitate? Give Setapp a try now!