How To Turn Off Keyboard Light On Mac
For years, MacBook keyboards have been heralded as the best in the business. Standard size, low profile, reliable mechanisms (apart from the Butterfly models), gorgeous typography, and beautiful backlighting — all contributed to the popularity of Apple's Magic Keyboard.
Out of all the features, keyboard backlighting has probably raised the most eyebrows and received the most praise. Mac keyboard lights not only illuminate the perimeter of each key but also shine directly through the letters and symbols, making typing at night simple and easy on the eyes. What's better, backlit Mac keyboards automatically turn on in low-light environments and turn off in bright ones.
There are, however, instances when you don't want to turn on keyboard backlighting. So here are a few easy ways to turn your laptop keyboard light off.
Why Turn Mac Keyboard Lights Off?
Even though most people find a lot of value in having keyboard backlights turned on at night, this feature is not without downsides.
When you turn off the lights in a room to watch a movie, for example, you don't want your Mac keyboard light to distract you from what's happening on the screen. Similarly, when you know all the keys by heart and have no problem typing blindly, even at night, you might not want to light up keyboard and drain your Mac's battery life. Finally, if you notice that you have a light keyboard during the day — it's just a pure waste of energy.
So let's dive into what you specifically need to do in these situations.
How to turn off keyboard light on Mac
There are two essential ways to turn keyboard lights off: temporary and permanent. The temporary and the most accessible one is to use the keyboard itself:
Find the row with the F keys on your keyboard (top row)

Locate the F5 key with a small line and dots around it

Press and hold the F5 key or just tap it a few times. You'll see an indicator on your screen showing how the brightness is decreasing.
However, with time you'll find your keyboard brightness returning to its default value. To make whatever changes you've set permanent:
Click on the Apple logo in the menu bar ➙ System Preferences

Select Keyboard (or just click Option + F5)

Uncheck "Adjust keyboard brightness in low light"
In the same window, you also have the option to set Mac keyboard lights to turn off after a certain period of inactivity (from 5 secs to 5 min).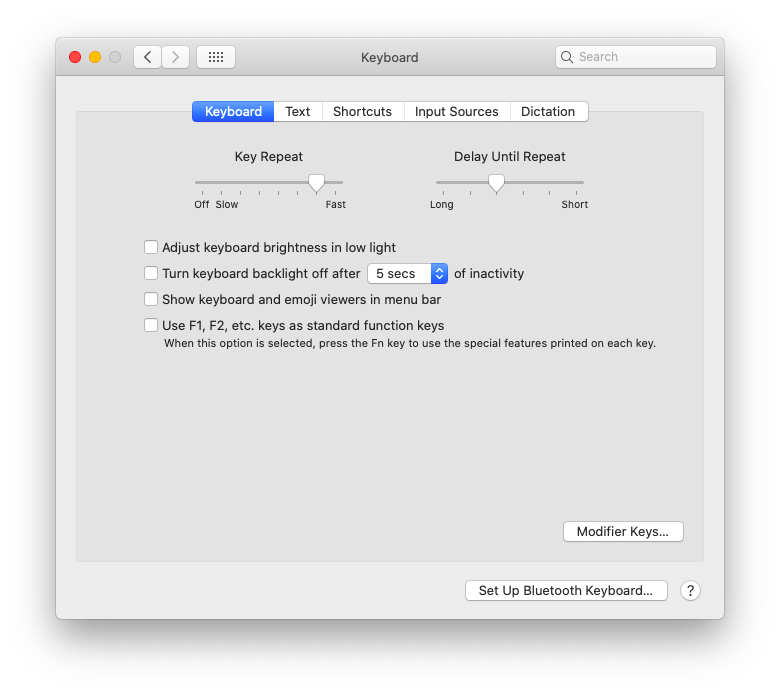 If you're using one of the latest MacBook models equipped with a Touch Bar, you might not see the F5 key or the correct icon to decrease the keyboard backlight due to the buttons contextually shifting. In this case, look for a few standard icons (such as screen brightness and volume) at the right end of your Touch Bar. There should also be a left-pointing arrow beside them. Tap the arrow to expand the Touch Bar and reveal the standard icon set. Then follow the directions above. If you still don't see the keyboard backlight icons, click on your desktop or open Finder to reset your Touch Bar.
How to turn on keyboard light on Mac
After you learn how you can turn off laptop keyboard lights, you might also wonder how to turn on backlit keyboard on Mac when you need to.
The process is largely the same, but in reverse:
Tap or hold F6 to increase brightness

Use Option + F6 to open the Keyboard System Preferences menu and see if you need the "Adjust keyboard brightness in low light" option
The "increase keyboard brightness" button is also present in the standard Touch Bar, right after the "decrease keyboard brightness" one.
How to fix backlit Mac keyboard not working
Sometimes, even if you follow all the directions above, you might find that your light keyboard keys are not working and your Mac displays a lock icon when you're trying to use them.
Most commonly, the lock icon appears when your Mac can't accurately detect the lighting conditions — when your lighting sensor is in direct sunlight, for example. Since the sensor is located right next to your MacBook's front-facing camera, just try to move your Mac to a shade.
The next step is to take over the laptop keyboard light control:
Open the Keyboard menu in System Preferences (use Option + F5 or F6)

Turn off "Adjust keyboard brightness in low light"

Move the keyboard brightness up or down manually
If none of the above corrected the issue, you might need to reset your SMC (system management controller), which is responsible for lots of low-level tasks on your Mac.
To reset SMC on a MacBook with the T2 Security Chip (present on models from 2018 and newer):
Turn off the computer

Hold Control + Option + Shift for seven seconds

Keep holding the three keys and add the power button too. Hold all four keys for seven more seconds and release.

Turn your Mac on after a few seconds
To reset SMC on older MacBooks without controller devices:
Turn it off

Hold Control + Option + Shift keys

Hold the power button too

Keep holding for 10 seconds

Release all keys and turn on your Mac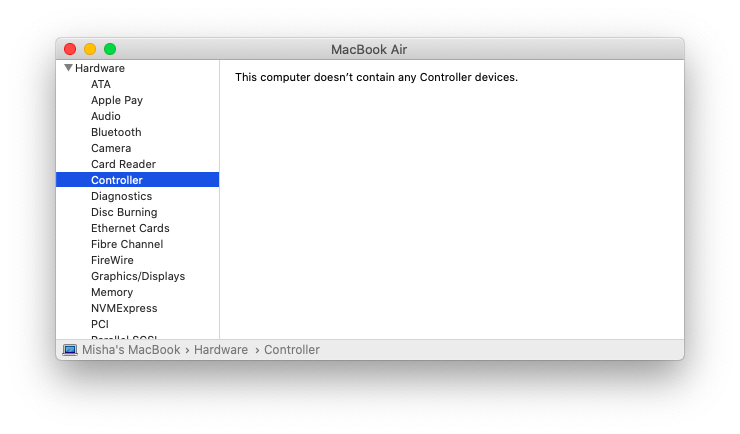 How to control your Mac remotely
While following all of the above should get your laptop keyboard lights working, there's also another way to manipulate virtually any option in your Mac — with an effortless tap on your phone.
Remote Mouse is a simple but powerful Mac (also iOS and Android) app that combines the versatility of your keyboard and mouse to control any software or feature on your Mac. Use your phone's volume buttons to change your Mac's volume or flip through the slides in a presentation. Waive your phone in the air to move the cursor on your desktop. Activate dozens of commands by voice throughout your day and even easily switch between your Macs — Remote Mouse is the ultimate controller you need.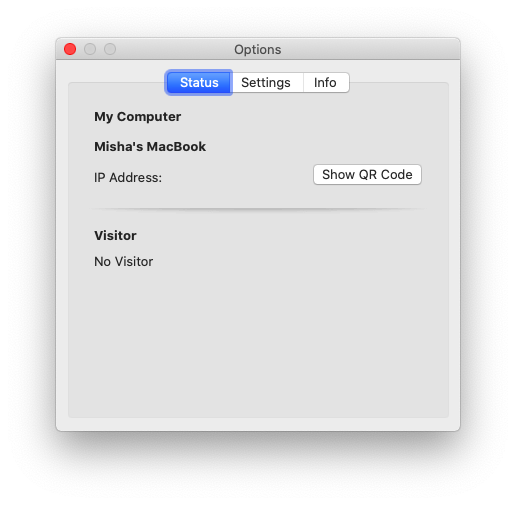 How to work on Mac faster with shortcuts
While you can use your mouse to click through anything you want your Mac to do, it's highly inefficient. Since you're most likely repeating lots of the same actions every day again and again (copy-paste, close the app window, etc.), it pays off greatly to find or create keyboard shortcuts for them. It's estimated that people who use shortcuts all the time, save up to eight working days a year compared to mouse-clickers. Luckily, there's an easy way to bridge the gap.
Mouseless is an interactive cheat sheet for every keyboard shortcut in every Mac app you use. But it not only simply gives you the shortcut list but also creates quick training sessions, so you can internalize using new shortcuts faster. Just refer back to the app a few times a day and you'll find yourself being much more productive even after your first week.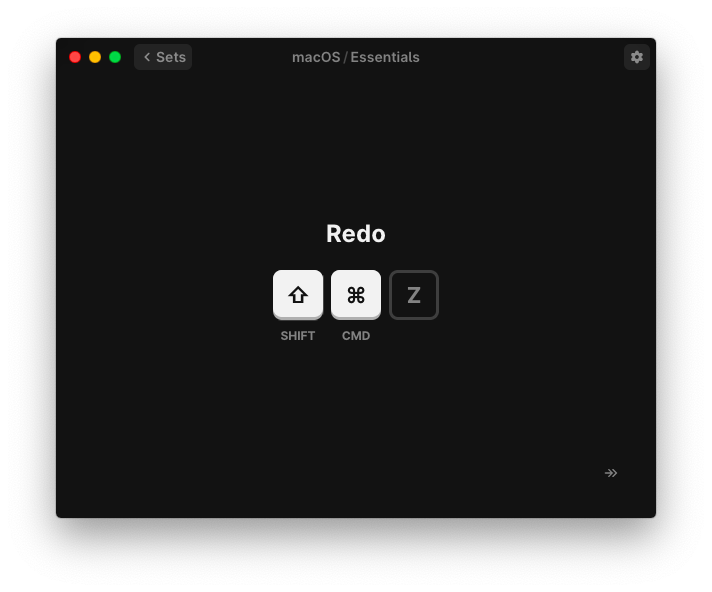 By now you see it's really easy to turn off keyboard light on Mac using a few keys and options. And if they don't work, make sure to troubleshoot right away. Even better, you can turn your phone into an input device as well with Remote Mouse and learn even more outstanding shortcuts with Mouseless.
Best of all, Remote Mouse and Mouseless are available to you absolutely free for seven days through a trial of Setapp, a platform with more than 170 time-saving Mac utilities and apps, from task managers (GoodTask) to distraction dimmers (HazeOver). Try them all today at no cost and see for yourself!