How to recover files from a USB flash drive
USB flash drives are a great way to store data — they're cheap, portable, spacious and versatile, allowing you to quickly save your folders and files, and access them on another computer.
But one thing they aren't is indestructible. Flash drives, like any other kind of Mac hardware, can become damaged or corrupted, putting all of your important data at risk. Here, we'll show you how to rescue your files if the unthinkable happens.
Why USB Flash Drives Go Bad
The more you use a flash drive, the more likely it is that one day something bad will happen — particularly so if you use your USB device across different computers.
Failure due to physical damage is easy to spot but more often than not it's something going on the inside of the device that's the problem.
Here are some of the common issues that affect USB flash drives:
Unsafe USB ejection
Connecting the drive to a system that's infected by malware
Downloading an infected file to the device
Mac fails to recognize the drive
An error message displays when trying to access data
File structure damaged
Accidental deletion of files
Files unable to open
If you've experienced any of these problems, you've every right to feel panicked. Can a broken USB be fixed? Don't give up hope, there's a high probability that you can get your files back.
How to get permanently deleted files back?
What happens to files deleted from a flash drive? Accidentally clicking Yes when prompted to delete a file isn't uncommon. And while it appears on the face of it that your file is gone forever, it's actually just buried deep within the flash drive. Too deep for you to find without the help of some specialist software like Disk Drill (more on that below), but it's there.
So, the answer is, yes — data that has been permanently deleted from a flash drive can be restored.
Can you recover files from a broken USB drive?
If your USB flash drive appears to be broken, there are a few quick recovery methods you can try.
First of all, try connecting the USB device to another port on your Mac. If it works on another port, then the issue is with the port and not your device.
If the flash drive isn't recognized in any port, try connecting it to a different Mac. If it works on there, then the issue could be related to your USB drivers. To check for updates, open up the Mac App Store and click on Updates.
You can also try a System Management Controller (SMC) reset — a well-known troubleshooting fix for USB issues.
Follow these instructions to reset the SMC on an iMac, Mac Mini, or Mac Pro:
Shut down your Mac
Disconnect the power cable
Press and hold the Power button for 5 seconds and release
Reconnect the power cable and boot up the Mac as usual
If you're using a MacBook, the method is slightly different:
Shutdown your MacBook
Connect the power adapter
Hold Shift + Control + Option and the Power button at the same time
Release the keys at the same time
Boot up your system as usual
If the flash drive is being recognized but your files aren't available, you can try performing first aid using Disk Utility:
Go to Spotlight > Disk Utility
Click on the USB flash drive from the list on the left, then click First Aid
Click Run
First Aid checks the volume for errors and attempts to fix them. If this doesn't work, you'll need the help of a third-party recovery tool like the aforementioned Disk Drill.
What is the easiest way to recover data from a USB flash drive?
The easiest way that we've found to recover files from a USB flash drive is Disk Drill, the most premier Mac recovery software around.
Disk Drill does all of the heavy lifting for you. All you need to do is install it and follow these instructions:
Connect your USB flash drive
Launch Disk Drill, leave the first three boxes checked and give it permission to scan your drive (you'll need to enter your administrator password to do this)
Select your drive from the list and click on the Recover button next to it. Disk Drill will scan your drive in search of files.
Select your deleted file from the list and choose a location to store the file
Click on Recover and Disk Drill will put the file right back where it belongs
If the Recover option can't be used after a scan, Disk Drill can also perform a Quick Scan or a Deep Scan to scan drives at binary level and recover your data that way. Whichever option is required you can be sure Disk Drill will bring your files back to life.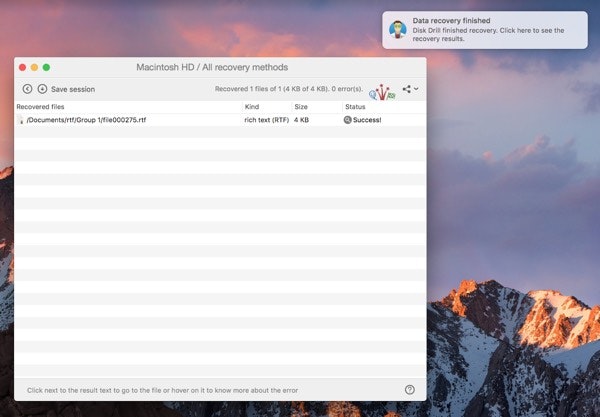 To safeguard yourself against corrupted USB drives, make regular backups of your files to the cloud or other external hard drives. If the worst does happen and files that were saved only on a flash drive can't be accessed, test your USB ports and run First Aid via Mac's Disk Utility. If those things don't work, don't panic: Disk Drill has your back.
Best of all, you can download and try Disk Drill for free on Setapp, a platform with more than 150 high-end macOS utilities and apps. Keep your hardware and software in shape without effort.