What is iCloud Keychain app and how to use it
If keeping up with numerous logins and passwords required for registration on the ever-increasing number of websites and services you use is threatening to turn into mission impossible — it's time to learn what is iCloud Keychain. This Apple password manager is a true life-saver when it comes to creating complex secure passwords and, what's more important, remembering and storing them in a secure place.
Understanding what is Keychain is also important because it not only helps with passwords — it automatically saves and auto-fills things like credit card details (including shipping info), WiFi logins, social media account names, and more. You can even create secure password-protected notes in your iCloud Keychain on Mac.
Thanks to iCloud, what is stored on your Apple Keychain is synced across all your iCloud devices and hence instantly available to you.
How To Set Up iCloud Keychain
Setting up your iCloud Keychain is a fairly straightforward process that involves little more than simply checking a couple of boxes in Preferences tabs. To get your Apple Keychain up and running:
Enable Keychain on Mac

Activate autofill in Safari

Remember to repeat the above for each iCloud device you want to connect to your Apple Keychain
How to enable iCloud Keychain on Mac?
Apple Keychain is built into your computer — so all you really have to do is enable Keychain access on Mac to start using it:
Go to System Preferences in the Apple menu

Click on iCloud ➙ check the box next to Keychain on the right

Enter your Apple ID password ➙ OK

When you first enable Apple Keychain, it asks if you want to create a 6-digit security code used to verify your identity and authorize additional devices into your Keychain. Create code ➙ Enter

Re-enter your iCloud Keychain security code ➙ Next

Enter a mobile number that could receive text messages. This number can also be used as an option to verify your identity should there be questions as to who's trying to access you Apple Keychain. Click Done.
When you enable iCloud Keychain on a new device, all your currently enabled devices will receive a request to approve the new device joining your chain. Approve the request to complete your Keychain setup.
To disable iCloud Keychain, simply uncheck the Keychain box in iCloud Preferences.
How to enable iCloud Keychain in Safari?
Now that Apple Keychain is enabled in your iCloud, you need to turn it on in Safari as well — that's where most of its work will be happening. To get your Safari ready to work with iCloud Keychain:
Launch Safari from your Dock

Click on Safari in the menu bar ➙ Preferences

Navigate to the AutoFill tab

Check the boxes next to all the categories you'd like to be autofilled for you

Congratulations, your Keychain app is now ready for action!
How to generate passwords with iCloud Keychain on your Mac?
Apple Keychain app is designed to create strong unique passwords. If you're not particularly good at it or simply don't want to be bothered with keeping track of your logins, iCloud Keychain will take that weight off your shoulders. Once you set everything up, suggested password will simply pop up anytime your account wants to use the iCloud Keychain — automatically.
Whether you go with a Keychain-supplied password or your own, iCloud Keychain will remember and autofill it for you every time you sign into the same account on any of your iCloud devices in the future. Just make sure that AutoFill on "User names and passwords" is enabled in Safari on those devices too.
How to view saved passwords on Mac?
You can easily check a saved password and username in Safari:
Click on Safari in the menu bar ➙ Preferences

Navigate to Passwords

Enter password for your Mac (not your Apple ID password)

To see the password you're looking for — go to the corresponding account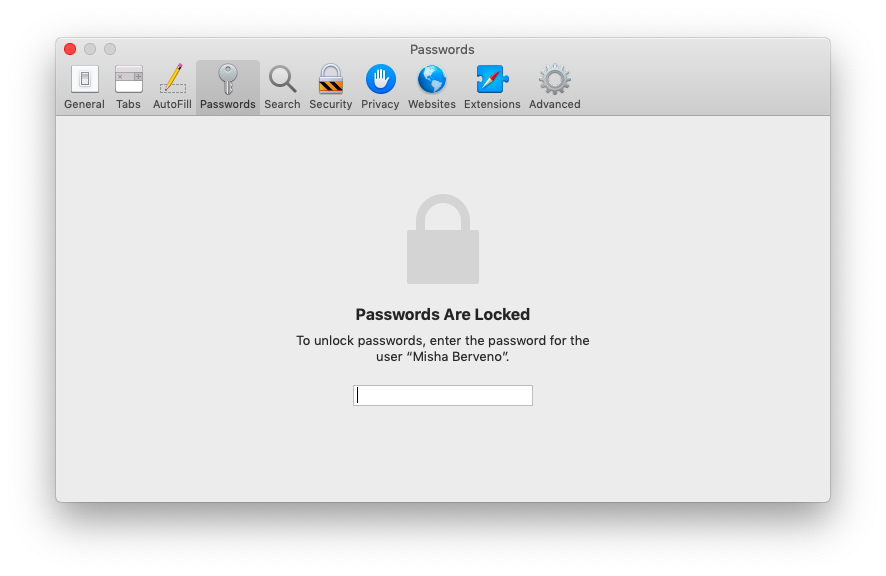 How to add or remove credit card details in iCloud Keychain?
The easiest way to save your credit card details with iCloud Keychain is to follow the prompt when you pay for something in Safari. iCloud Keychain will ask if you want to save your credit card info for future use.
Or just add credit cards manually:
Select Safari in the menu bar ➙ Preferences ➙ Autofill

Click Edit next to Credit Cards ➙ Add

Enter your card details ➙ Done

To remove a card from iCloud Keychain, simply choose the card you want to remove and click Remove.

How to reset Keychain password on Mac?
Your Apple Keychain password grants you Keychain access on Mac and is set to match the login password for your Mac. If you change the login to your account on Mac, you'll be asked to reset Keychain password as well during the next login. Simply follow the instructions to update Keychain password so that it matches your Mac's login again.
If, however, you forgot Keychain password and can't provide the old Mac Keychain password to set up your new one — that's unfortunate news. You won't be able to access the information in the old Keychain and will have to start a new one. As frustrating as this is, it's good from a security standpoint — because what is a Keychain password if not your protection against intruders who don't know your login. Which brings us to the idea of having a secondary password manager as a backup. Especially great if it comes with additional features, like Secrets.
Secrets is a digital password organizer that generates strong passwords based on the requirements of the app or website you register with, signs you up into your accounts in both Chrome and Safari, allows to import passwords from other managers, and syncs info across your devices with iCloud.
More importantly, Secrets is good with safekeeping your credit card details, bank info, and confidential notes of all kinds, as it uses industry-standard PGP encryption, backs your account with recovery key, and has an automatic locking feature in case you lose your laptop.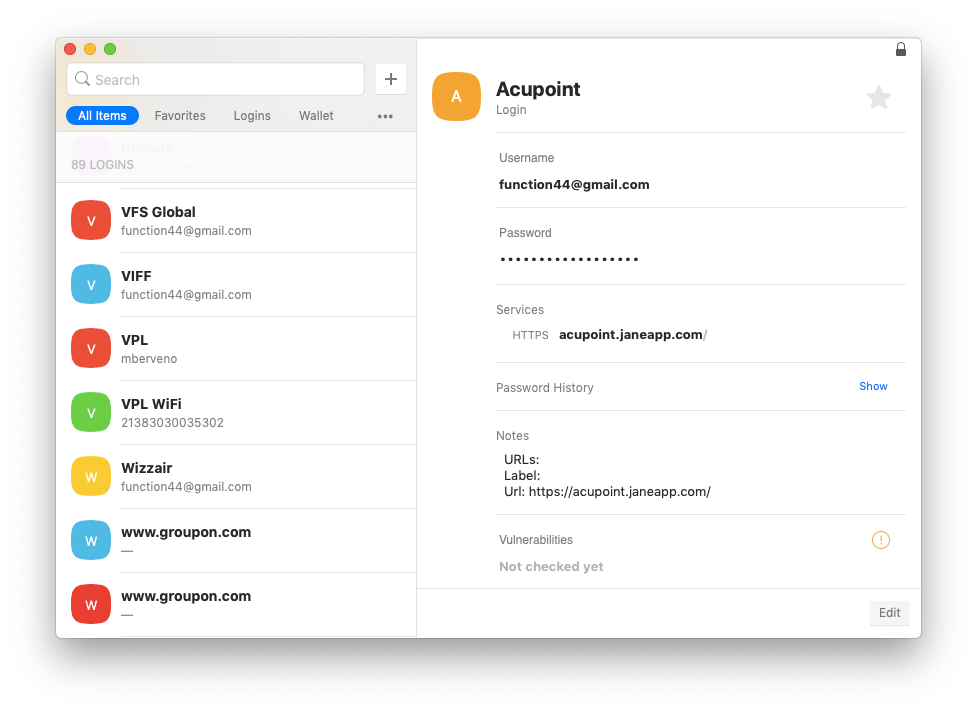 How safe is iCloud Keychain?
When you trust a third-party app with information as sensitive as your credit card details or account logins, it's only natural to question its safety. Well, iCloud Keychain aims at a maximum from a technical and privacy policy standpoints:
Apple Keychain data is encrypted with 256-bit Advanced Encryption Protocol certified by military, government, and international organizations

Keychain uses end-to-end encryption which provides the highest level of security possible: your data is encrypted while in transit, is stored in encrypted format on iCloud, and is only available to you. Not even Apple has access to it.

Apple has the resources and commitment to have designated security researchers looking for flaws and fixing them fast. So if you keep your device software up to date, you know you're doing the best to keep your iCloud Keychain safe.

Plus, iCloud Keychain also helps you follow good security practices, such as using a different passcode for every service, because it creates highly complex passwords for your accounts
You also might be concerned about privacy on public WiFi. To tackle this consider using a VPN (Virtual Private Network) that serves as a secure tunnel between your device and the internet. Here, there's no better than Shimo.
Shimo is a VPN manager for Mac that's created to protect your data by providing an anonymous, safe, and restriction-free internet access. Shimo supports all major VPN protocols and offers military-level security with 256-bit AES encryption and two-level authentication.
What makes Shimo great is that it requires no special technical background to get your secure networks, yet at the same time offers advanced features, like allowing for multiple connections using different VPN protocols at the same time or scheduling special trigger conditions based on network configuration, geolocation, or encryption type.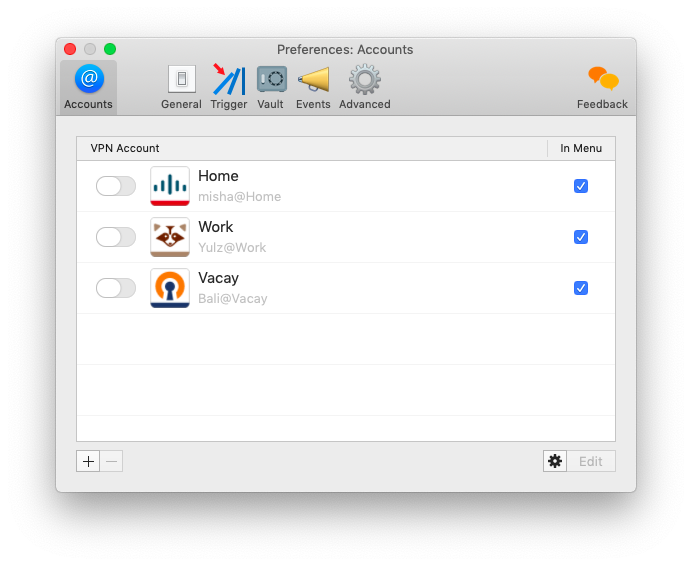 Best of all, both Secrets and Shimo are available for a free 7-day trial through Setapp, a platform of more than 150 handpicked powerful Mac apps that give you efficiency, security, and peace of mind. So if you need to step one level up from iCloud Keychain, Secrets and Shimo are your best bet — there's no reason not to try when all your logins that are at stake.