How to find and edit any passwords on your Mac
Passwords are the backbone of secure web browsing and makes using apps far safer. When you have an account for an app or website, it almost always means you have a username and password for that service.
But what do you do when you need to edit your login items? Passwords on Mac are not always easy to find. We'll show you how to find passwords on Mac, view and edit your Safari saved passwords, and show you some apps that help you store password securely and use any app or website with increased security.
How to find any password on a Mac
So where are passwords stored on Mac? All of your passwords are stored in an app named Keychain Access. It's a macOS app that Apple builds into every Mac. It's a local copy of your iCloud keychain access; if you're on macOS Big Sur (11.0) or later, iCloud keychain access and the Keychain Access app are essentially one in the same.
Keychain Access is your best option when you need to find passwords on Mac. It's easy to find the app, but be aware that it stores login items for apps that you may not want to delete or alter. Microsoft apps, as an example, are easily disrupted if you delete any keychain access items.
When you want to edit or view your passwords on a Mac, Keychain Access is the default app. Here's how to find saved passwords on Mac using Keychain Access:
Open Keychain Access on your Mac
On the left side of the app window, select "local" or "iCloud" to discover login items
You can use the search bar at the top right of the app window, or scroll through the list to find the login you're looking for
When you find the profile you're looking for, double-click to open it
Select the "Show password" option at the bottom of the popup window
Enter your Mac's password if prompted
This is how to see passwords on Mac with Keychain Access.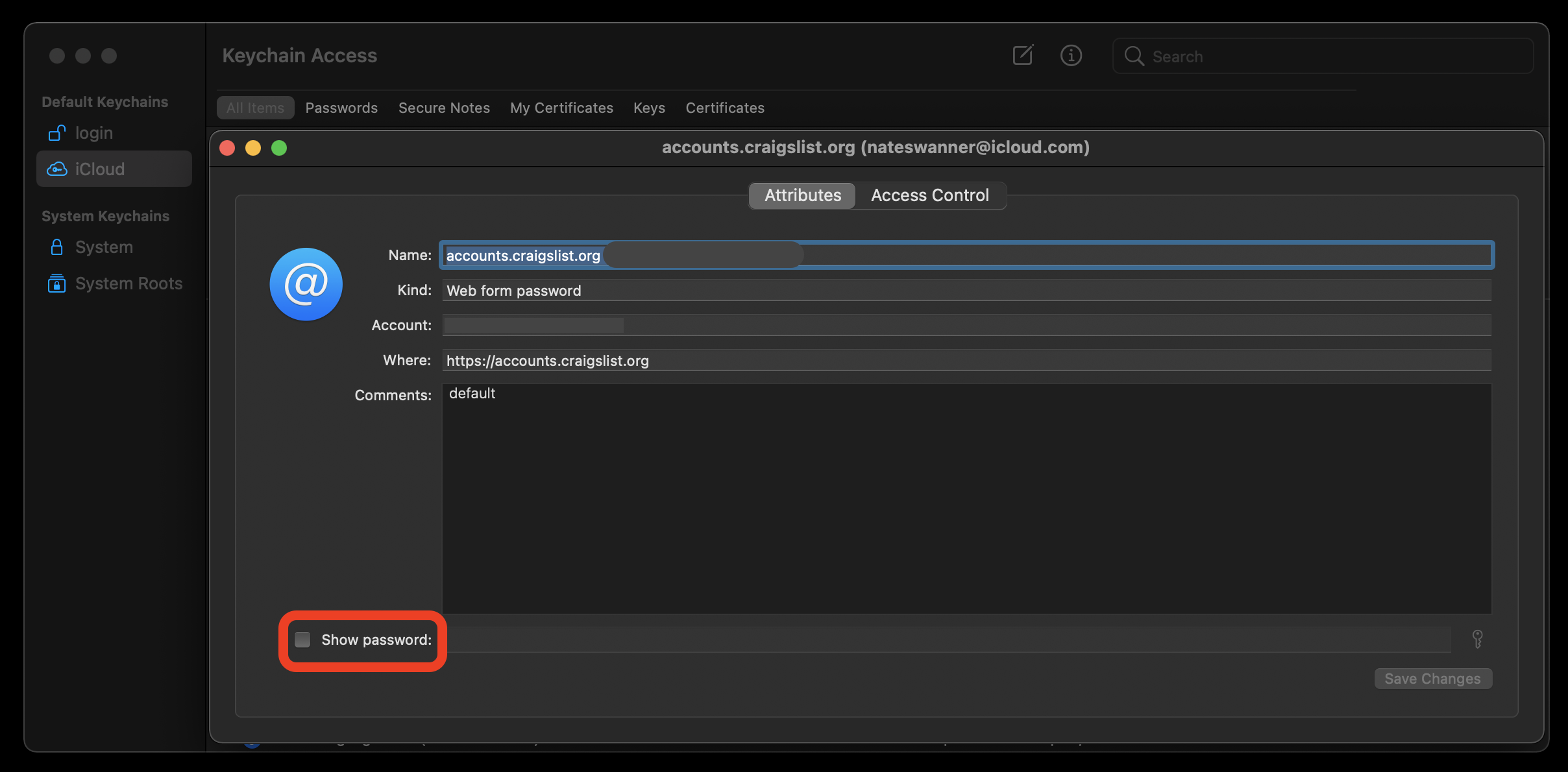 Keychain Access, like many built-in apps for macOS, is a bit clunky and difficult to use. A better option is Secrets.
Backed by PGP security, Secrets allows you to safely and securely store login items, credit card data, and other personal info. It can import from other popular password apps, or you can create your own credentials. Secrets has a secure password generator so you can create the most secure logins possible.
Secrets is also a much more user-friendly app than Keychain Access, and lets you save favorite logins, and alerts you to weak passwords you may want to change. Secrets can autofill usernames and passwords on the web, and has browser plugins to help you create and save credentials with ease.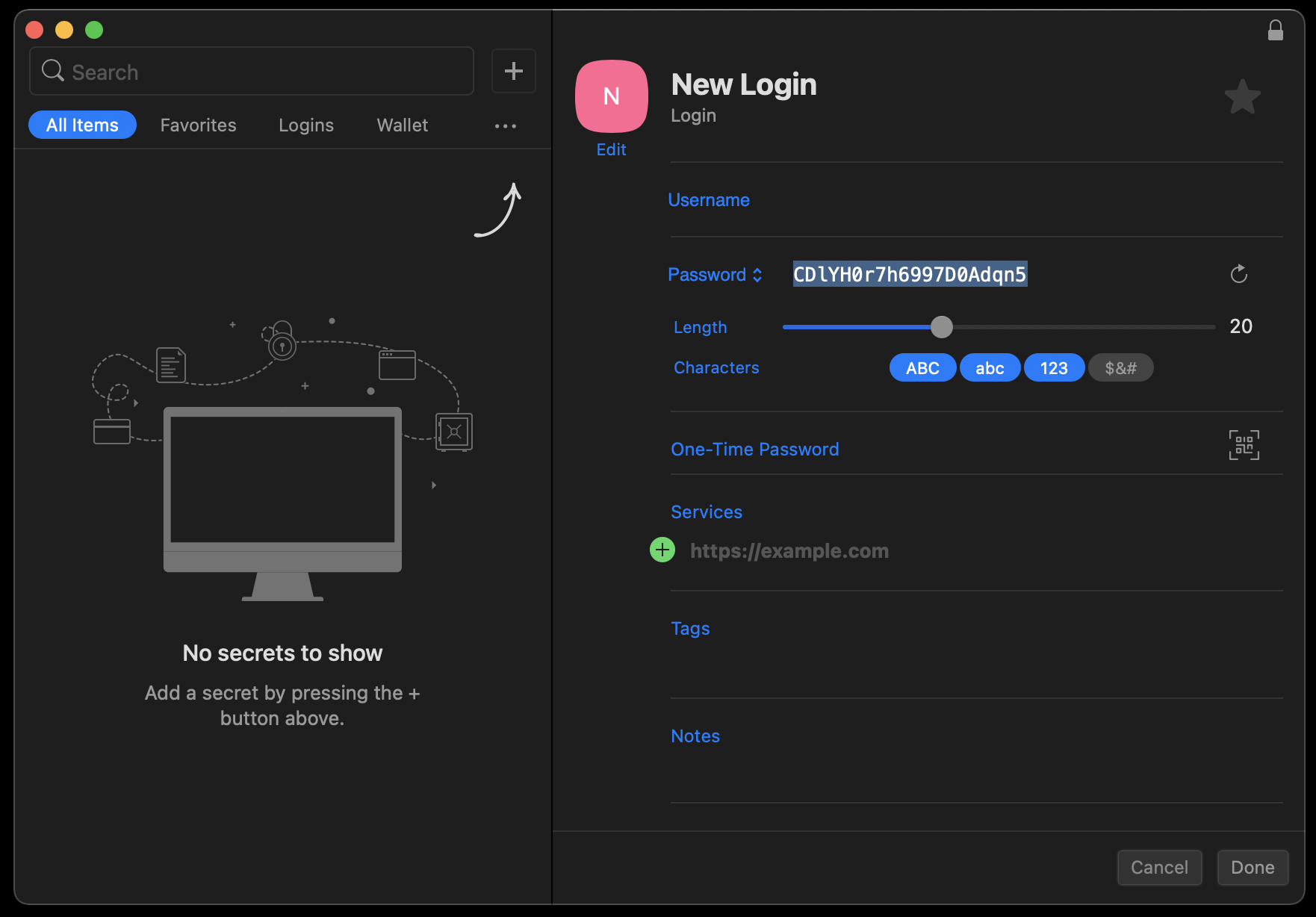 How to view and edit passwords saved with Safari
To view saved passwords Safari on Mac has all your online credentials stored. Keep in mind that knowing how to find saved passwords on Safari only shows you login credentials for websites; native apps or services won't display in Safari's password vault.
Finding passwords in Safari is simple. Here's how to do it:
Open Safari on your Mac
From the menu bar, select "Safari"
Choose "Preferences"
Select "Passwords" on the top of the popup window
Login to your Mac using a password, Touch ID, or your Apple Watch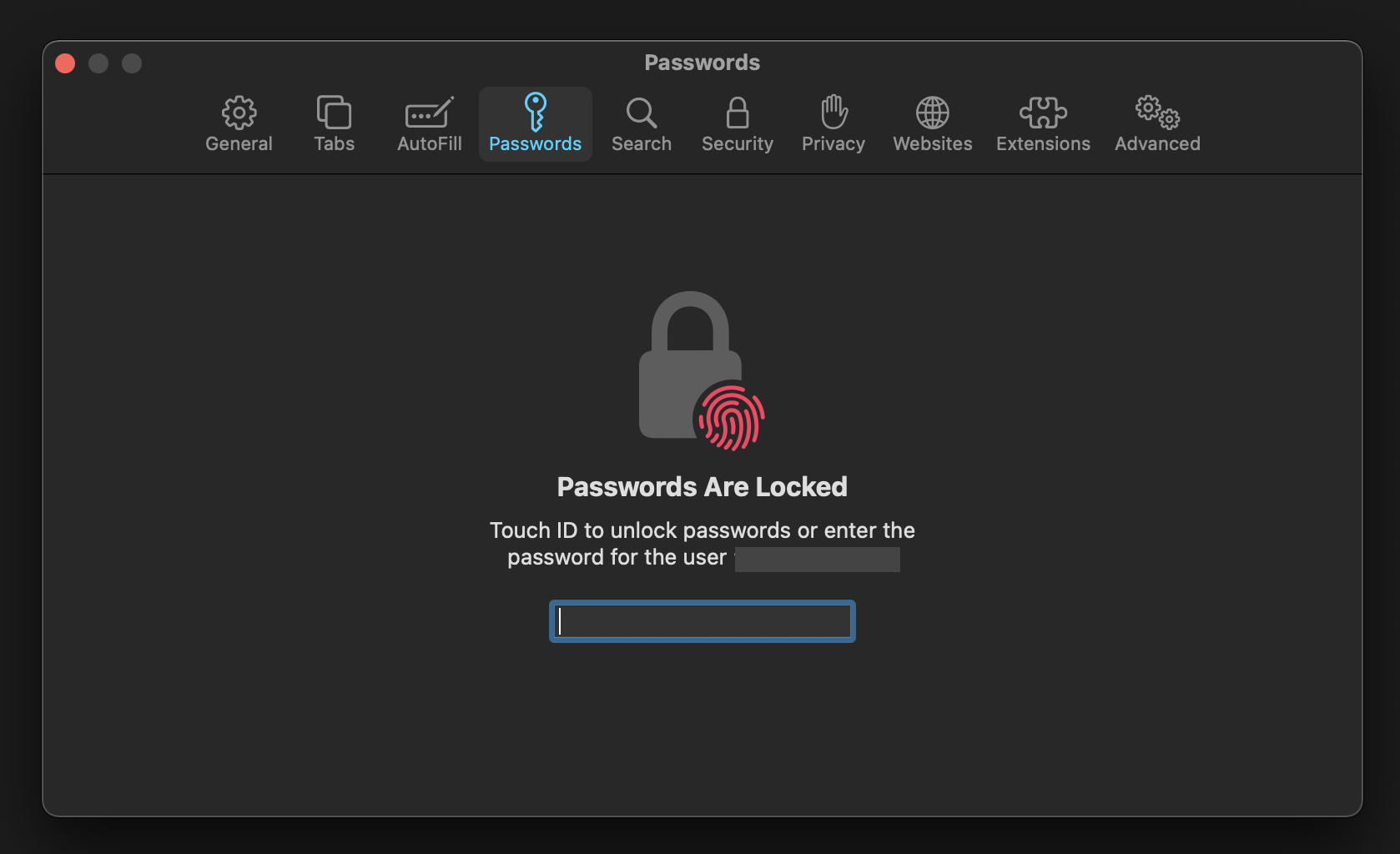 To alter any password, simply double-click the login item and enter a new password in the new popup, then click "save."
Saved passwords are convenient, but having a browser save your passwords and fill them automatically is not the most secure way to browse the web. A better, more secure method is to use two factor authorization, and the best Mac app for that is Step Two.
Step Two creates temporary, time sensitive secondary passwords for sites that support time-based one-time passwords (TOTP) for two-step verification. Step Two syncs with iCloud, and has an iPhone app for use across all your devices.
All accounts are cards in Step Two, and clicking them creates a new temporary password to use on websites supporting TOTP.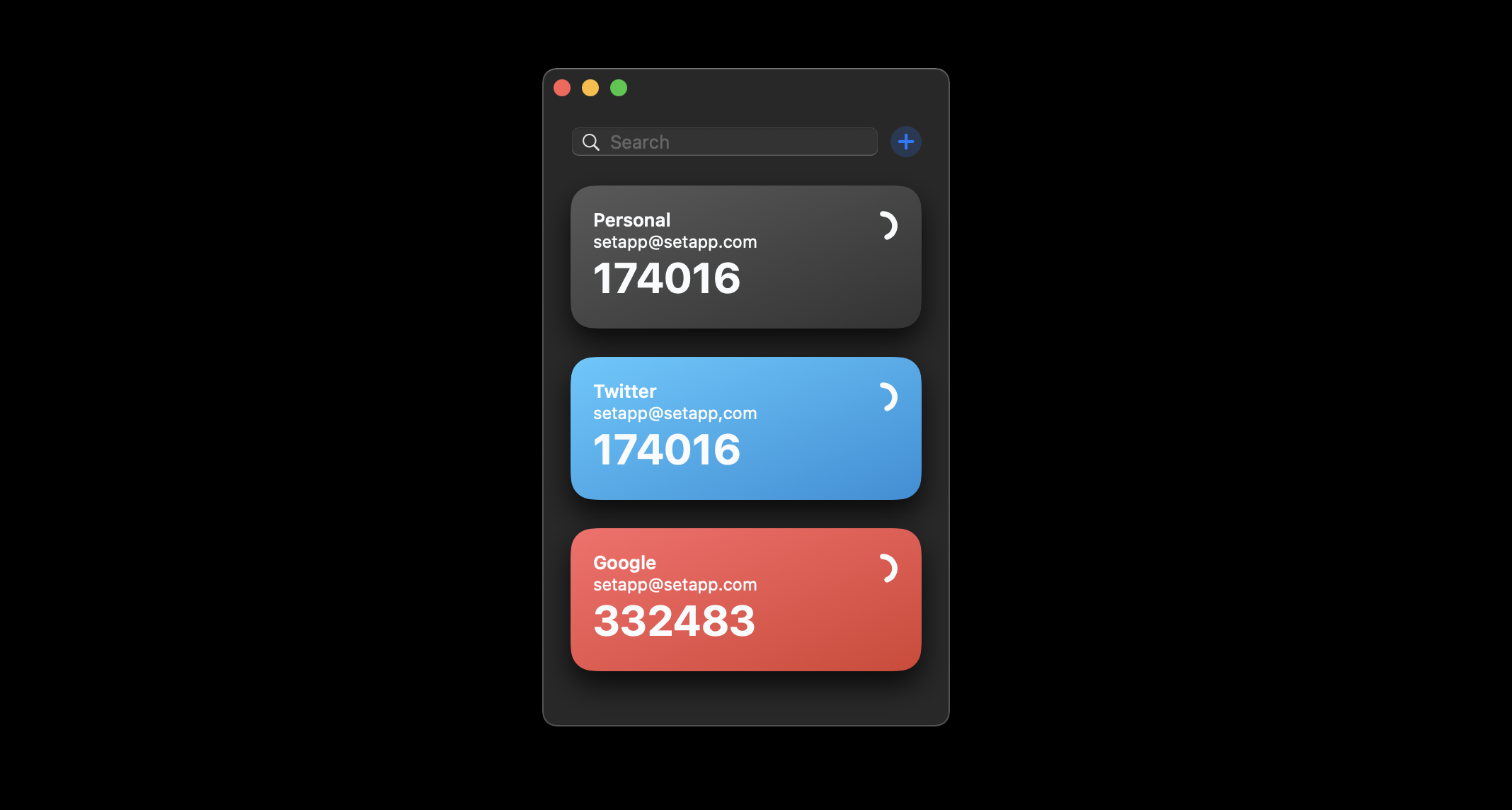 Bonus tip: Control your Mac with ease
Keeping track of what your Mac is doing is critical to maintaining peak performance. Instead of guessing why your Mac may be slowing down at times or force quitting apps randomly, use iStat Menus.
iStat Menus lives in your Mac's menu bar, displaying CPU and memory performance in live icons. Clicking the iStat Menus icon brings up a menu that shows you exactly what's happening in real time, like CPU performance, and a historical view over the past few moments.
Hovering over any real time graph will surface how your Mac has been performing for the last hour, and you can choose to view historical data for the last 30 days if you desire. iStat Menus is a sensational app for discovering everything you need to know about your Mac's performance without having some fussy app window open all the time.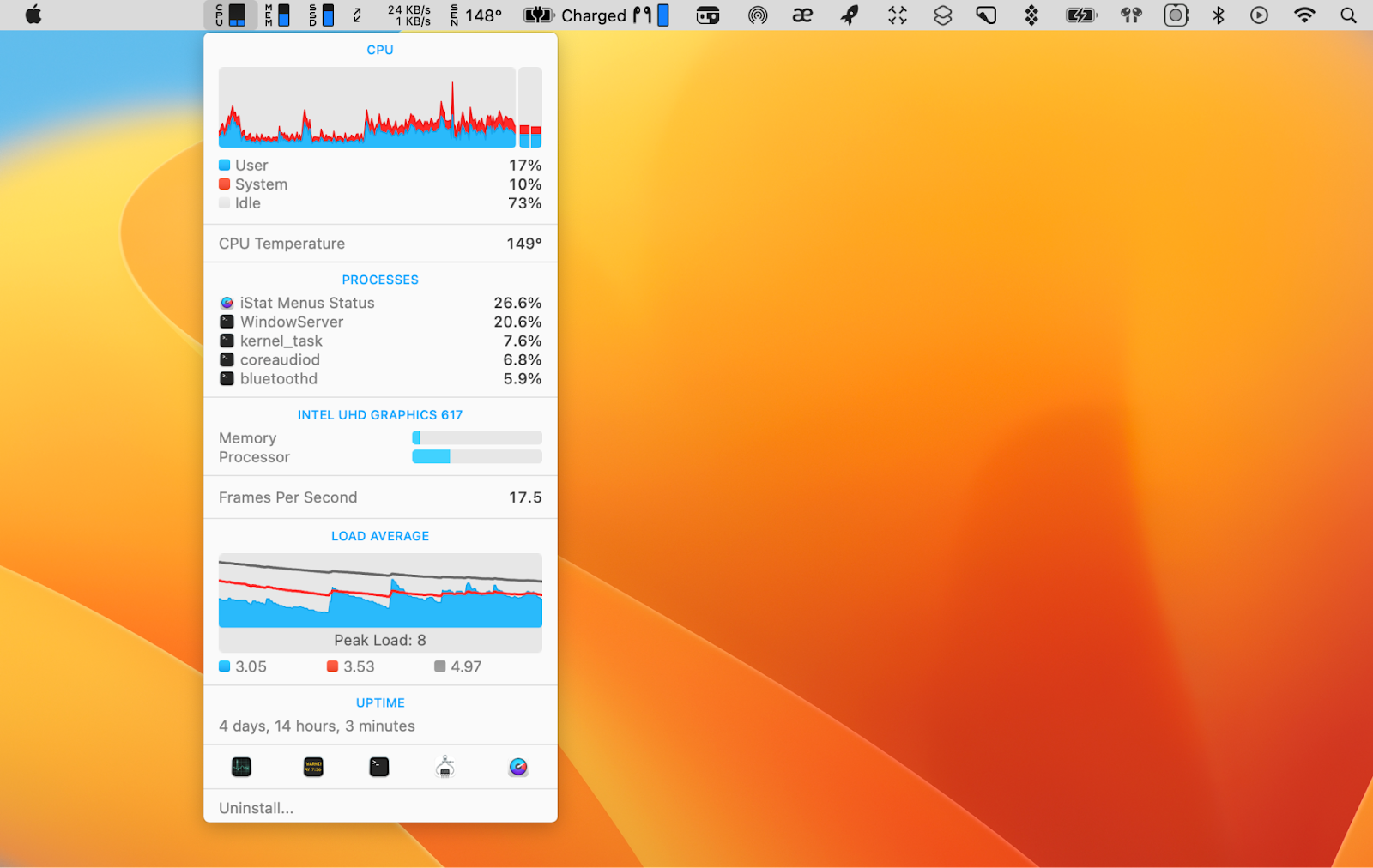 Your Mac menu bar can get a bit cluttered with so many icons, but you can manage them! Bartender for Mac is a simple app that lets you hide and resurface icons with a single click, keeping your desktop as minimal as you want.
Bartender helps keep you focused by hiding icons, but you have full control over what's hidden and what stays active. In the Bartender app, select "Menu Bar layout" and drag icons from the "hidden menu bar items" view up to the "shown menu bar items" to keep icons active at all times. Icons like iStat Menus can stay on the menu bar, while icons you rarely click can stay hidden behind Bartender's three-dot menu.
You can also control how often Bartender fetches updates for icons while on battery, which helps your Mac's battery life – something we all understand is an issue!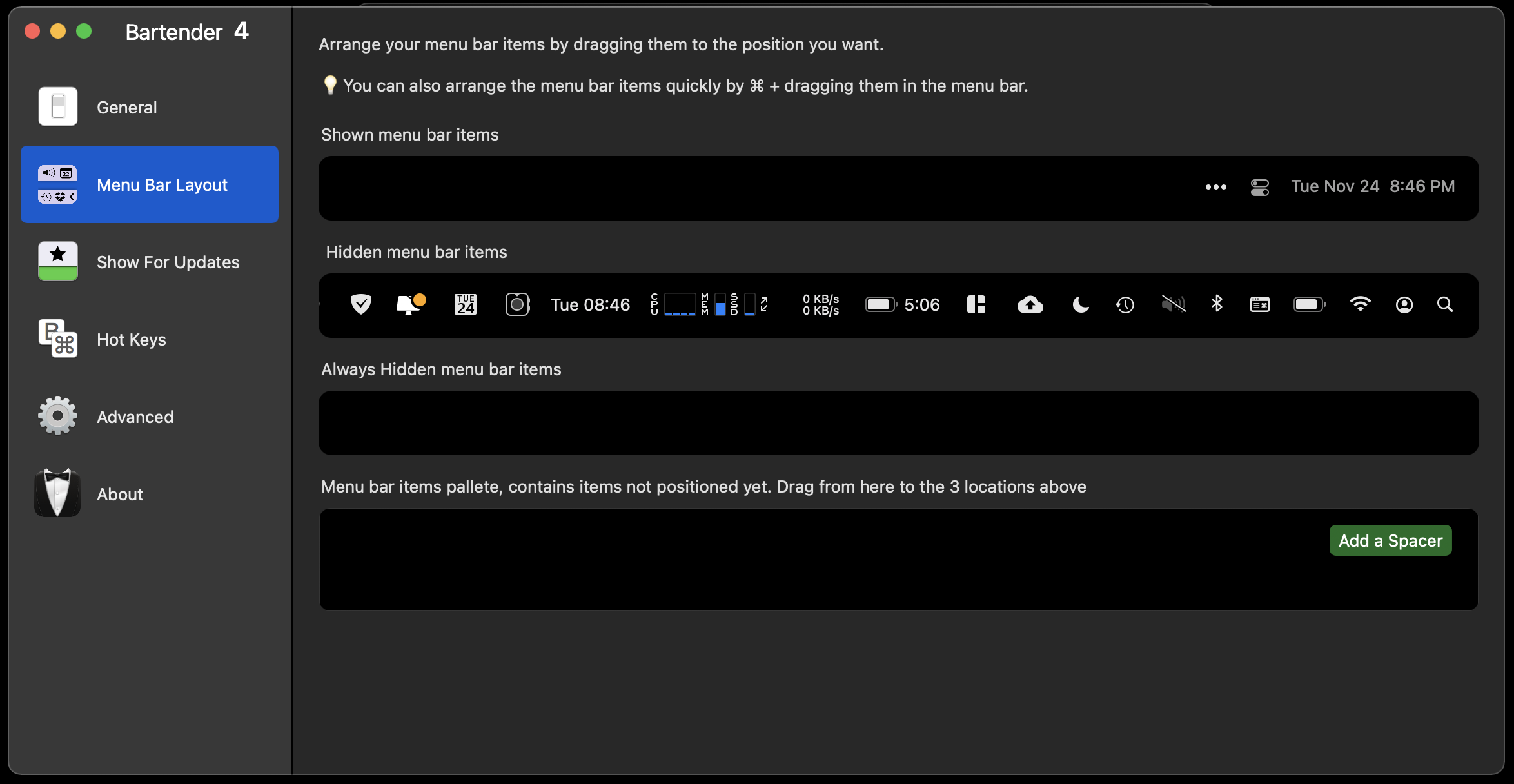 Knowing how to see saved passwords on Mac for any site or app is critical for troubleshooting, and useful for times you need to manually edit a password. Though convenient, iCloud keychain doesn't always sync perfectly, and you may need to edit passwords yourself.
This is also why we prefer Secrets and Step Two for logging in to websites and apps. Having full control over your login items is the best way to stay safe in a connected world, and these two apps are the best one-two punch around.
All of the apps mentioned here – iStat Menus, Secrets, Bartender, and Step Two – are available for free during a seven day trial of Setapp, the world's best suite of productivity apps for the Mac. In addition to these four apps, you'll have access to nearly 200 other incredible apps for the Mac, all available for free during your trial period.
When your free week of Setapp ends, continued access is only $9.99 per month. It's an amazing deal, and the best subscription you can get for your Mac, so why wait any longer? Try Setapp now!