How to change Apple ID password easily
It's fair to say that the whole Apple universe runs around your Apple ID. You use it to make changes to your profile, to buy something from iTunes, to log into iCloud, to sync devices together, and much more.
The problem is what do you do if you forgot Apple ID password? Or you might've written it down somewhere but need to use it from a friend's computer, for example?
In that case, knowing how to reset Apple ID password will be of great help. Great news is you can reset Apple password from any device and even online. Let's see how it's done.
How to do an Apple ID password reset
The most straightforward way you can perform an Apple ID reset is through the appleid.apple.com login or iforgot.apple.com website:
Click "Forgot your Apple ID or password?" on appleid.apple.com or just visit iforgot.apple.com
Type in your AppleID ➙ Continue
Select to use Apple ID reset of password
Choose to Get an email ➙ Continue ➙ Done
In the email you receive, click "Reset now"
Enter and confirm your new password
Hit Reset Password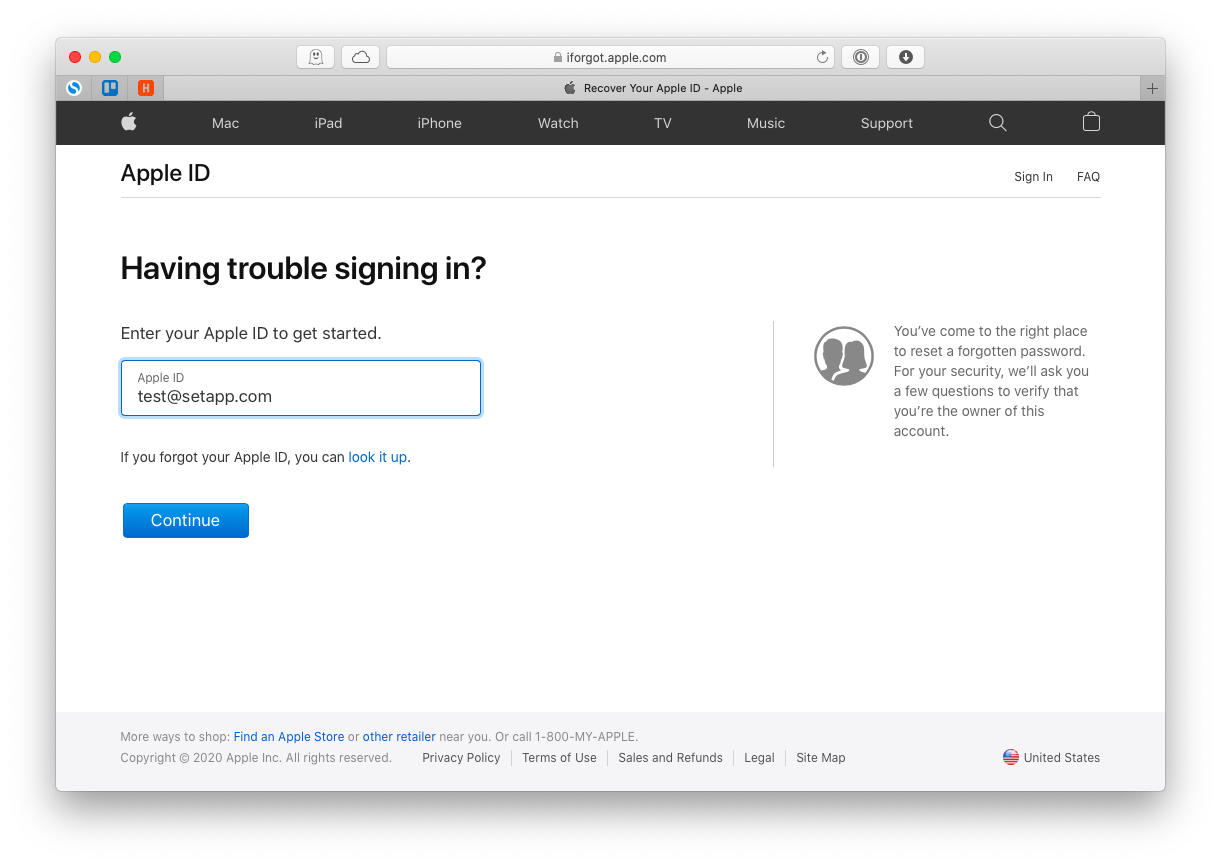 Not sure what's the email associated with the Apple ID forgot password process? You can find that too:
Visit iforgot.apple.com
Click on the "look it up" link
Enter your first name, last name and the backup email address, and click Continue
If successful, you'll be redirected to a page with your Apple ID displayed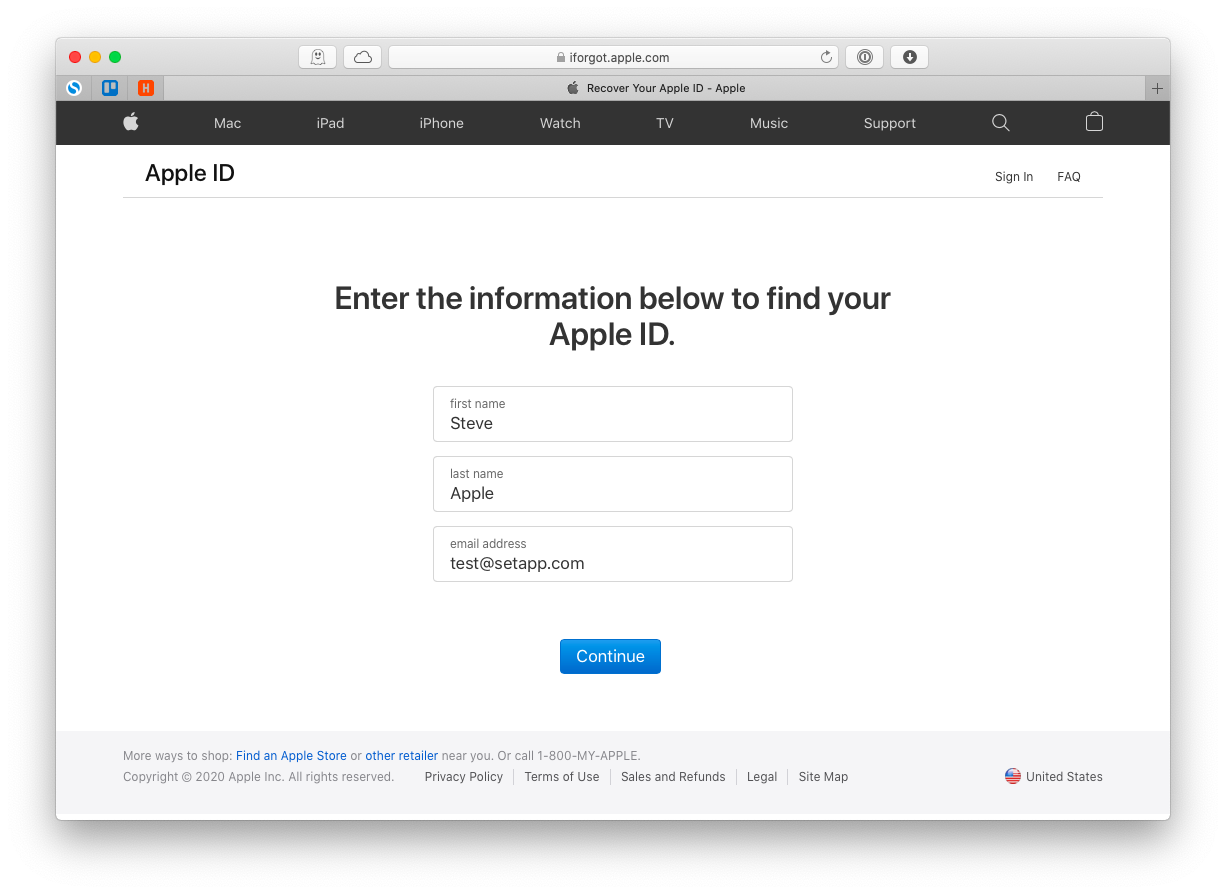 Alternatively, you can also locate your Apple ID on your iPhone (or iPad) and Mac, if you're logged into iCloud. On iPhone:
Open Settings
Scroll down and tap iTunes & App Store
Find your Apple ID at the top
On Mac:
Launch System Preferences ➙ Apple ID
See your Apple ID email under your profile picture and name
How to answer Apple ID security questions
If you forgot Apple password, you can also choose to "Answer security questions" during the reset Apple ID password process instead of having a recovery email being sent to you. Here's what you need to do after that:
Verify your birthday ➙ Continue
Type in replies to the two security questions you've chosen when you set up the appleid.apple.com login. Make sure they are word for word. Click Continue.
Select and confirm your new password
Click Reset Password
In case you don't remember answers to your security questions or just find them confusing (or outdated), don't forget to change them later through appleid.apple.com. In the meantime, if you can't answer correctly, reset Apple ID through your email as shown above.
How to use two-factor and two-step authentication
Usually, when you log in to an online service such as appleid.apple.com, you're only required to enter your email (or username) and password, and you're in with just one step. Today, that's no longer considered secure by the majority of web security experts. After all, most of the username–password combinations are fairly common, so it's easy for hackers to find (or even buy) them.
To have a truly secure appleid.apple.com login, you need to use a two-factor authentication (2FA), which sends a unique and time-sensitive code to your registered device (either iPhone or Mac). Or, if your Mac runs macOS 13 Ventura, use Passkeys — secure sign in method that lets you get authorized using Touch ID. With Passkeys, you don't even have to remember passwords!
If you've turned on the 2FA earlier, your Apple ID password reset process will look a bit different:
After you enter your Apple ID at iforgot.apple.com, you'll need to type in the number associated with your account ➙ Continue
You'll receive a notification on your trusted device, asking whether you allow the password to be reset. Tap Allow.
Type in your passcode ➙ Done
Enter your new Apple ID password twice ➙ Next. Click Done.
Before Apple introduced the two-factor authentication system, it had another one they called two-step verification, which used a permanent (as opposed to temporary) 14-character recovery key as an additional step in resetting your password. If you lost the recovery key, you simply wouldn't be able to reset your account. Needless to say the system wasn't overly secure and Apple switched to the current 2FA soon after. Now, with iOS 16 and macOS 13, Apple goes even further with password-free sign in available with Passkeys.
How to change Apple ID password on Mac
A great feature of the Apple ecosystem is that you often have a few ways of doing something and can choose the one most convenient for you. In the case you forgot Apple ID password, for example, you can reset it online but also from your Mac, if you're logged into iCloud there. Here's how to do it:
Go to System Preferences ➙ Apple ID
On the left-side panel, click the Password & Security tab
Select "Change password…"
Enter your Mac password and choose Allow
Type in your new Apple ID password twice
Click Change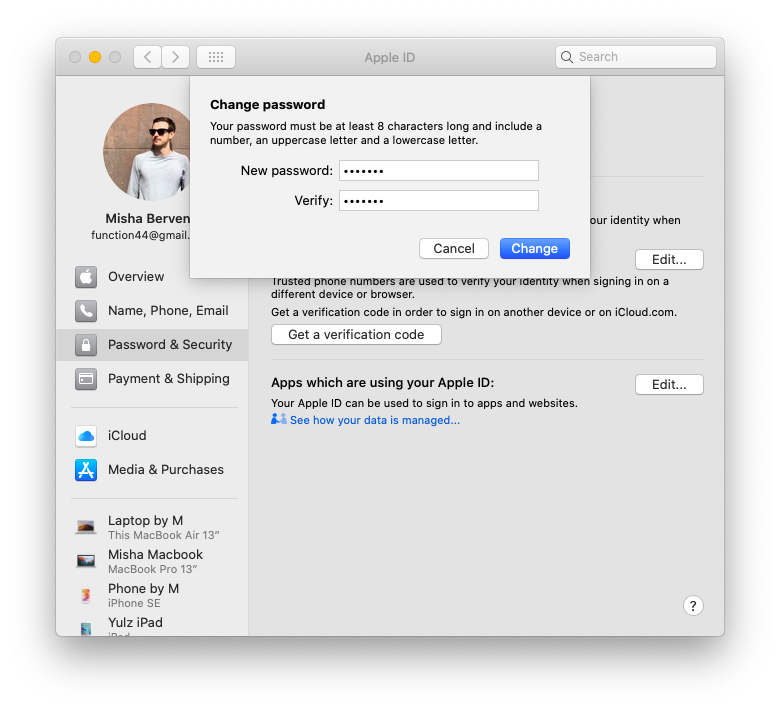 How to change Apple ID password on iPhone
Similarly to Mac, you can go through the Apple ID forgot password process on your iPhone as well, which is also much easier than doing so through the website. Here's how:
Open Settings
Tap on your name to open Apple ID preferences
Tap Password & Security
Select "Change password"
Enter your iPhone's passcode ➙ Done
Type in your new Apple ID password twice
Choose Change
How to remember and keep your passwords secure
As you can see, being in a situation where you say "I forgot my Apple ID password" is not fun. It's easy enough to find out how to reset Apple ID password, but could be difficult to implement, especially if you still have the old two-step verification system in place or don't remember the answers to your security questions.
The central problem in forgetting your password is not having a robust system in place. Even if you succeed in changing your password today, you're likely to forget it later on. Why not just introduce a simple way to manage all your passwords from all your apps and services in one place?
Secrets is an intuitive password organizer for all of your devices. It automatically creates strong and unique passwords (via a browser plugin), and saves them in a secure, PGP-encrypted vault. Even more, Secrets can also store your credit card information and other private notes, so you can access them at any time without compromising your security. Most web security experts today agree that using a password manager is the safest way to navigate the web.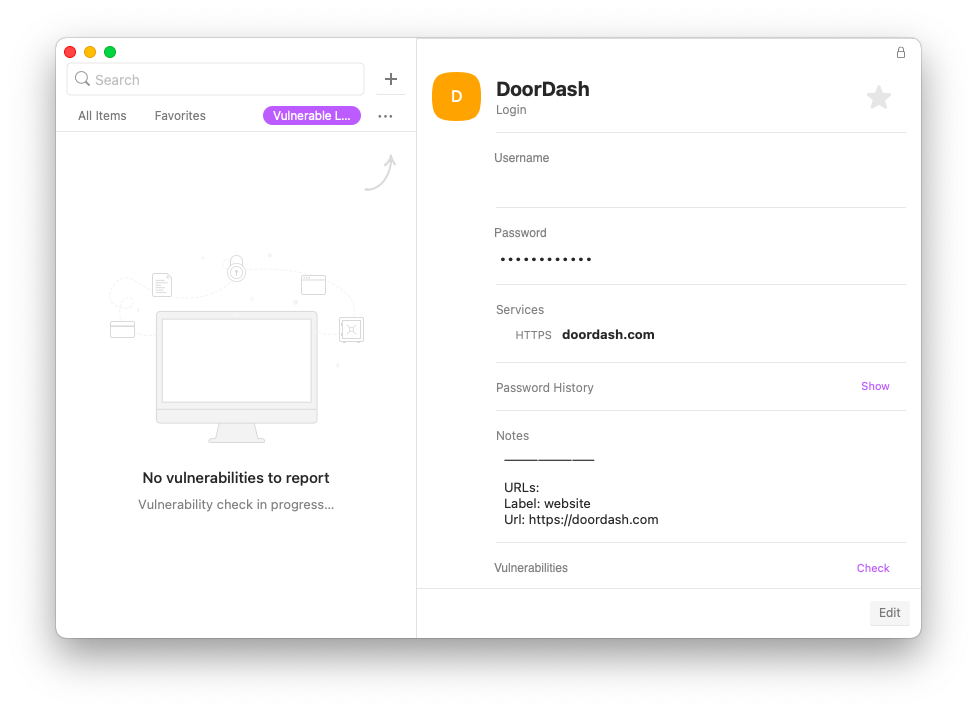 How to properly set up your 2FA
While a password manager is the best way to keep your login information secure, there's an additional layer of safety you can use as well — the two-factor authentication (2FA) mentioned above.
An Apple ID reset is not the only place 2FA can be used. In fact, most modern web apps today recommend you turn on the 2FA feature by default, which is going to send a code to one of your devices every time you log in. But how do you manage them all?
Step Two is a lightweight utility that keeps all of your 2FA codes in one simple and beautiful window. You can easily add new apps with a QR code scan, change card colors, and rename accounts as you see fit. More than that, Step Two is backed up in iCloud and accessible on all your devices too. It's the perfect way to make sure none of your accounts ever get into bad hands.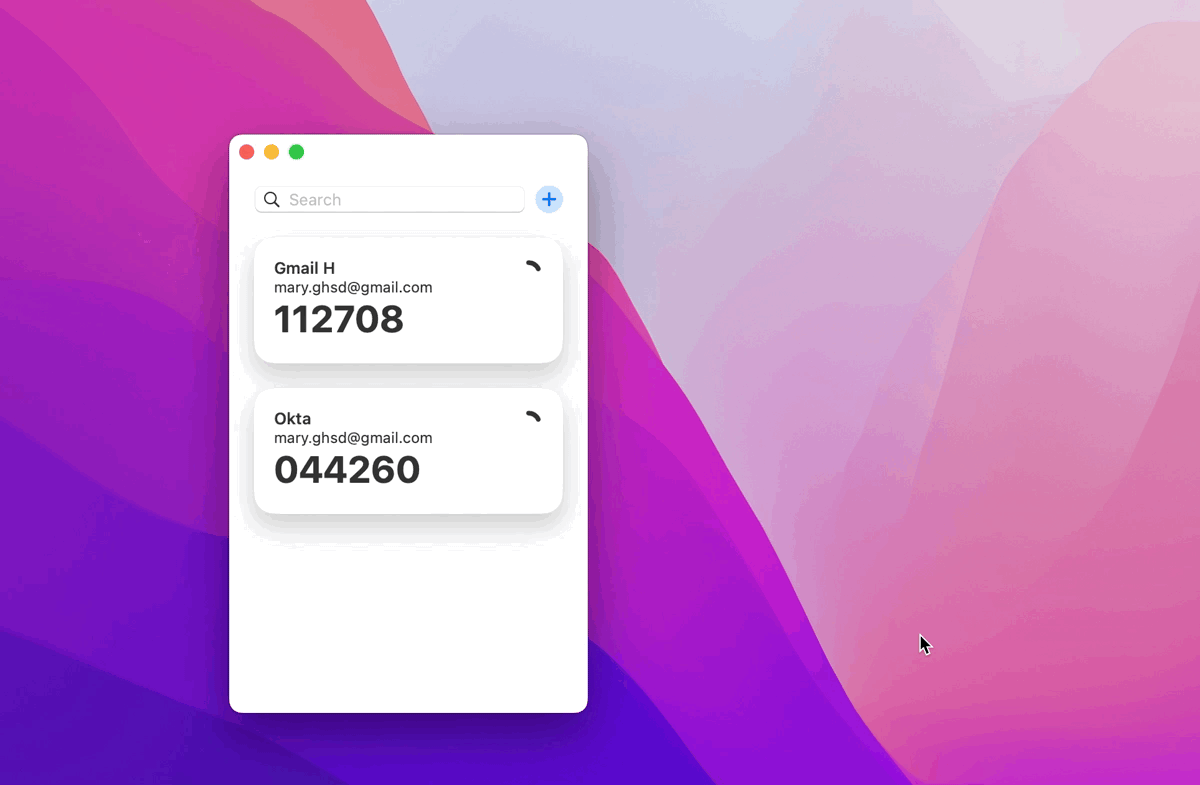 Seems like 2FA is just an extra step on your login journey? You can disable two-factor authentication anytime. However, do note that it might make your Mac more vulnerable.
Pareto Security is an essential tool to stay on top of your security settings, making sure you have the best possible protection enabled and detect every vulnerability as soon as possible. Here's how it works:
Open Pareto Security

Click Run checks

Review the results (you'll have to fix all the things that are marked with orange).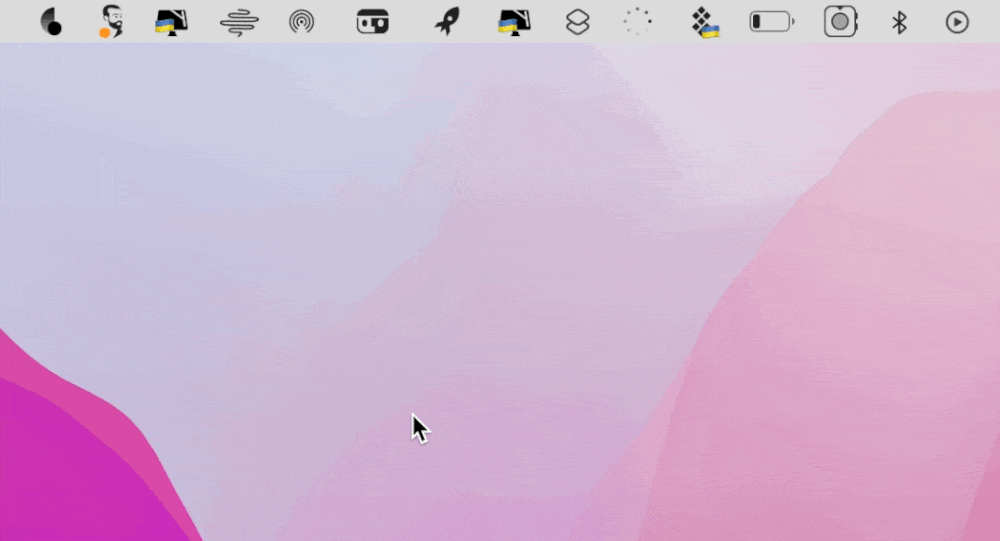 As you can see, there are plenty of ways to reset Apple password, whether it's online, via Mac, or via iPhone. However, it's much more important to ensure that you never forget or lose your Apple ID ever again. To generate and save all your passwords in the same place, use Secrets. If you want to set up 2FA, get Step Two. And if 2FA is too much trouble, feel free to disable it — but do install Pareto Security to keep tabs on your security settings.
Best of all, Secrets, Step Two, and Pareto Security are available to you at no cost for seven days through a trial of Setapp, a productivity platform that has all the essential Mac and iPhone apps, from the perfect calendar (BusyCal) to brilliant mind-mapping software (MindNode). Try every single one today for free and see for yourself!