iMac vs MacBook Pro: Which One To Buy?
When you think about getting a new computer today, almost without a doubt your eyes are set on a Mac. Apple's desktops and laptops (and tablets and phones) have always been good, but also have reached new heights lately, with the inclusion of gorgeous Retina screens and blazing-fast Intel Core i9 processors.
So when it comes to buying a new Apple machine, you have a tough choice to make: should it be an iMac or MacBook Pro? Even though both of them differ wildly on price, power, design, and intended use cases, it's not immediately obvious which one you need more. Luckily, this guide offers a step-by-step breakdown for you to make the right decision.
When To Choose MacBook Pro or iMac
Let's start by saying that there are no losers in the MacBook Pro vs iMac standoff. They are both capable machines and you likely wouldn't regret choosing either one. But some differences still remain and are worthy of a closer look.
Naturally, the first thing you might notice is that iMac vs MacBook Pro is essentially primarily a desktop vs laptop question. But also much more than that. You could easily get some portability when you buy iMac if you also get an iPad. Alternatively, some screen real estate is an easy upgrade for a MacBook Pro if you purchase an external monitor.
Even within the iMac category, there are 21 and 27-inch models, with lots of possible modifications in each one. Likewise, MacBook Pros currently have 13 and 16-inch models, which you can upgrade to astronomical prices if you wish to do so. Time to compare all this variability side by side.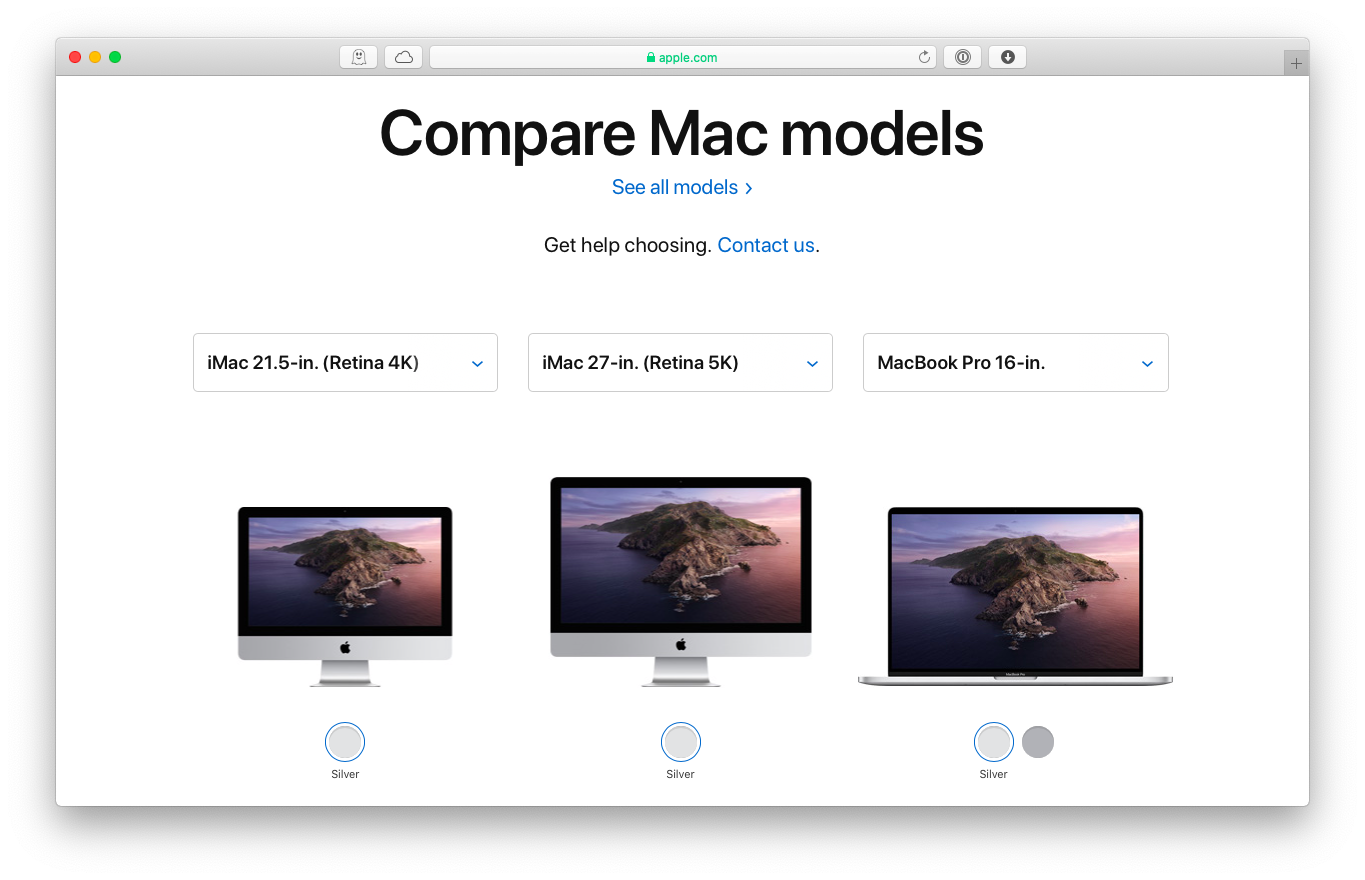 Design
To choose MacBook Pro vs iMac, ask yourself how do you actually use your computer most of the time. Do you sit at the same desk at home or at the office? Do you have to switch between meeting rooms all day long and frequently travel overseas? This answer might already inform your decision, since iMac and MacBook Pro were originally designed with different use cases in mind.
Visually, iMac or MacBook Pro is a matter of preference. Both machines are stunning, made of high-grade aluminum, with sleek minimalist silhouettes — true examples of industrial design at its peak.
Ergonomically, however, neither get their full marks. Typing day in and day out hunched over a laptop is not recommended, so if you use your MacBook at home or work for long periods of time, you should consider getting a proper stand and an external keyboard. Interestingly enough, iMacs are not completely ergonomic either and, due to lack of vertical adjustment, can't be placed at eye level without being propped with a stand or a stack of books.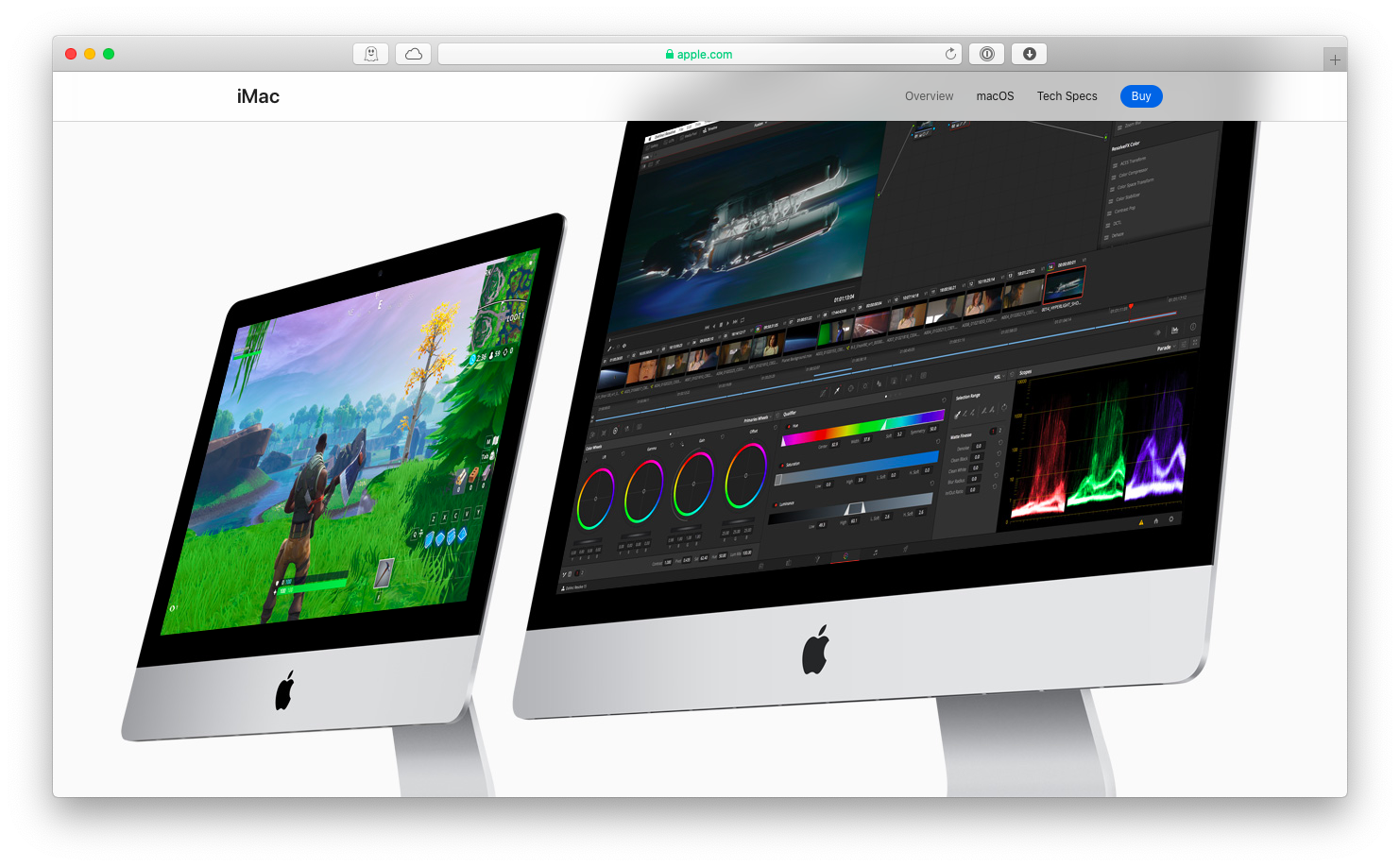 Processing power and RAM
Since both iMacs and MacBook Pros get virtually the same chips (adjusted for size), the latest being the ninth generation of Intel Core i9, they are on equal footing when it comes to comparing their potential power output.
Currently, 27-inch iMacs offer 6-core i9s with Turbo Boost and anywhere from 3 to 3.7 GHz computing frequency. Surprisingly, 16-inch MacBooks are not too far behind, offering either the same 6-core processor with 2.6GHz, or an 8-core one with 2.3 or 2.4 GHz. To put this in perspective, the Geekbench test measures the performance of a 3.6 GHZ iMac as 1246, and 2.4 GHz MacBook Pro as 1122. Pretty close.
What might, however, dissuade you from getting a maxed out MacBook Pro is the way it handles heat. There have been reports with the latest top-of-the-line models going into Turbo Boost mode too often and heating up, which could lead to their decreased lifespan and just be plain annoying. Low and mid-tier models seem to be fine.
As for RAM, new iMacs and MacBooks come with either 8 or 16 GB of 2666 MHz DDR4 memory, and are both configurable up to 64 GB at extra cost.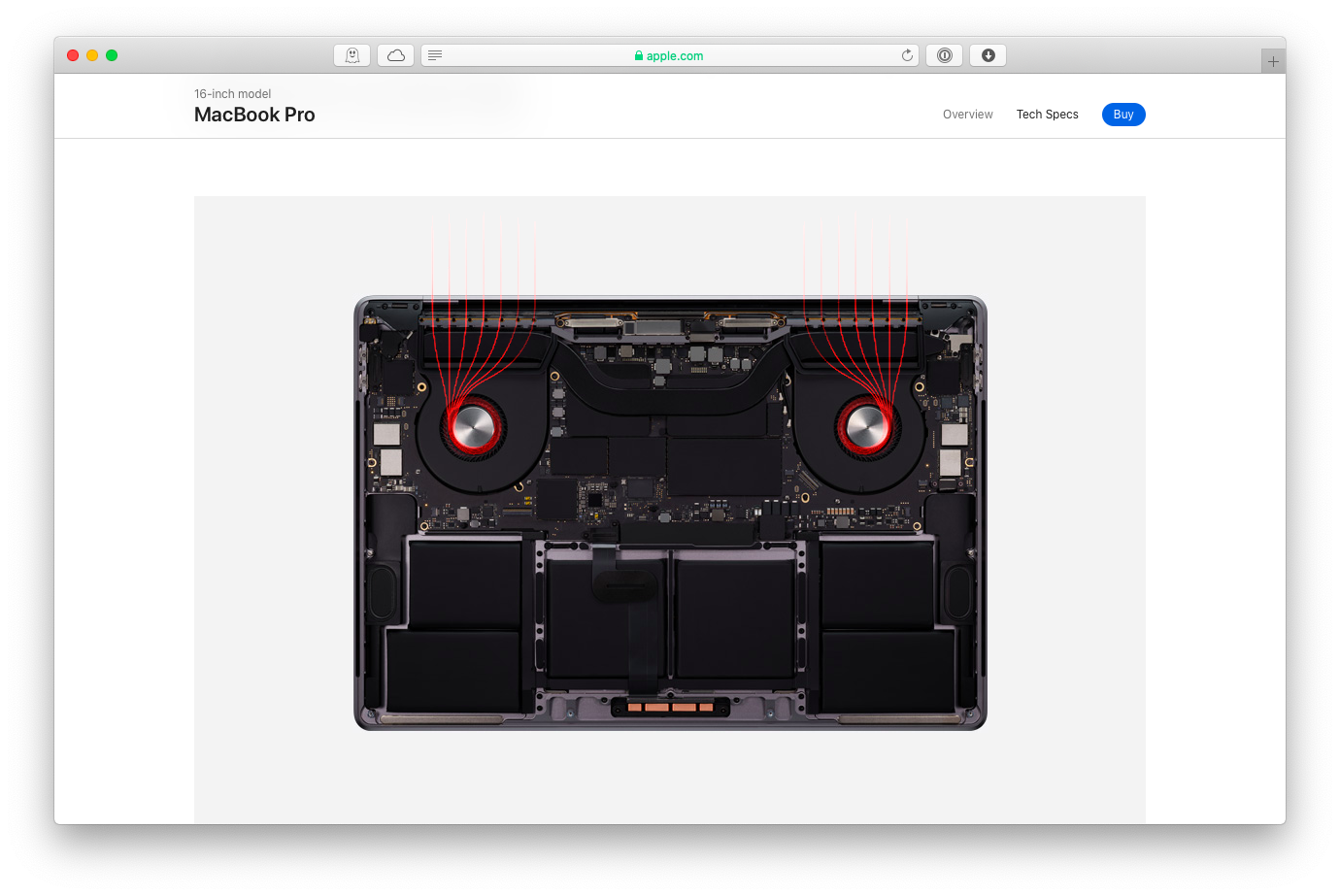 Screens and graphics
If there's anything that Apple computers have always been unanimously praised for that would be the quality of their screens. Innovations in resolution (Retina, Liquid Retina), brightness, and color accuracy (P3 wide color gamut, True Tone) are nothing short of outstanding. It's hard to compare MacBooks to iMacs here — they are both winners. And if you need some more screen real estate for your MacBook, you can always get an external monitor.
Those interested in graphics processors, MacBook Pros come with AMD Radeon Pro 5500M with either 4 or 8 GB. iMacs get a leg up here with Radeon Pro 580X or Radeon Pro Vega 48, both with 8 GB of memory. That said, users who don't directly work in graphically intense fields won't notice any difference.
For gaming, it might be better to look into iMac vs iMac Pro, or even build your own PC, once you find out how much iMac Pro costs.
Storage
You might think that when it comes to storage, iMac would take the prize. But you would be wrong. By default, iMacs come with 2 TB Fusion Drives. What is iMac's Fusion Drive? A mix of HDD and SSD storage. And upgrades to pure SSD are costly, maxing out at 2 TB.
MacBook Pros, on the other hand, are equipped with 1 TB of SSD by default, which you can upgrade up to a whopping 8 TB (costs $2,200 though). Still much better.
Available ports and accessories
By now, you've probably heard the dongle story — various examples of how many extra adapters you need to buy for your MacBook Pro to have access to widely used connectors, since the laptop only features four USB-Cs. Some people will then be delighted to find out that iMacs still have four USB-As, two USB-Cs, a Gigabit Ethernet port, and an SD card slot.
One more thing to consider is keyboard dependability. While the new 16-inch MacBook features revamped scissor keys, older 13 or 15-inch models still have butterfly keyboards, which are prone to breakage. Since all MacBooks come in unibody design, keyboard repairs can be really costly, and iMacs might seem more future-proof in that sense.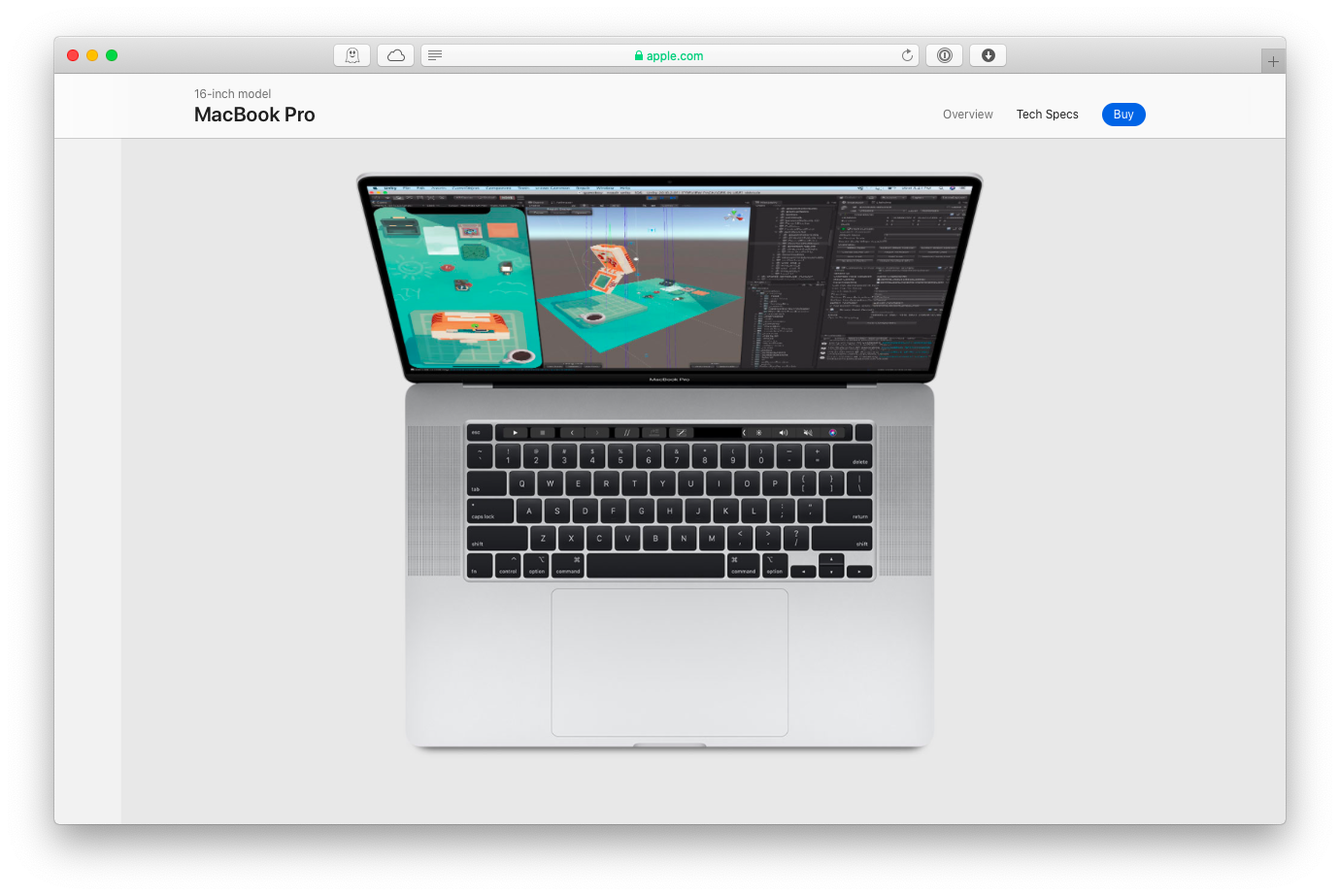 Price
While it might seem that iMacs would cost more than MacBooks — they are truly large and powerful machines — the opposite is actually true. Looking at the default builds offered by Apple, the most expensive 27-inch iMac ($2,299) costs less than the entry-level 16-inch MacBook Pro ($2,399). After all, you do pay for all that portability.
How to make your MacBook last longer
If you do decide to get a MacBook to be able to work from anywhere you want, your top concern for its longevity should be making sure its battery will serve you for as long as possible. Indeed, there's a way to get 20% more battery life out of your MacBook right now.
Endurance is a must-have utility for all MacBook owners. Living in your menu bar, it seamlessly monitors flash plugins, hides background apps, slows down your processor when not in use, checks taxing apps, and much more. You have the option to customize when exactly does Endurance kick in to maximize its benefits for your situation.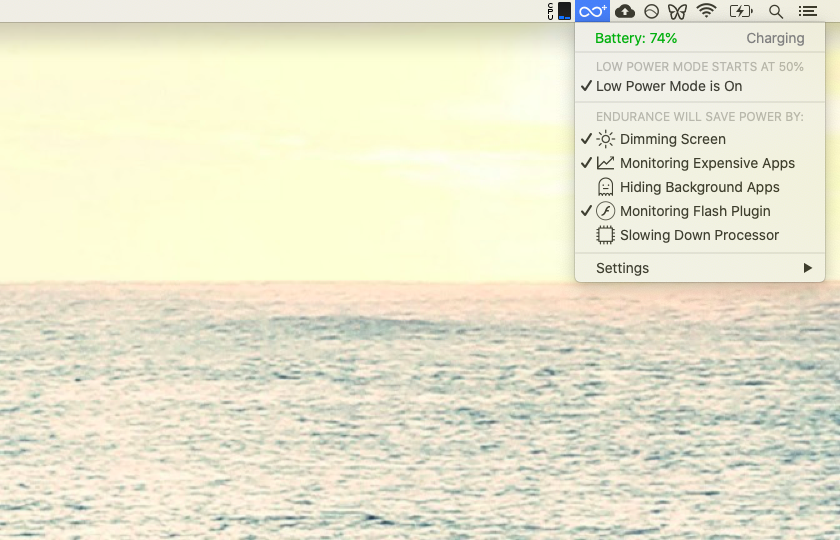 How to monitor the state of your Mac
Even if you have a new iMac or MacBook Pro, knowing its vital performance indicators can help you detect weak spots or problems early on and, hopefully, resolve them while you're still under Apple's warranty. Conversely, knowing what your old Mac is struggling with can point you towards something you should fix in your new setup (e.g. add more RAM or get a better graphics card).
iStat Menus is the ultimate Mac monitoring solution you need. Not only does it give you detailed graphs on your CPU and GPU performance, it also shows your RAM load, sensor temperature, disk state, network health, and more. All visually laid out for you just a click away in your menu bar.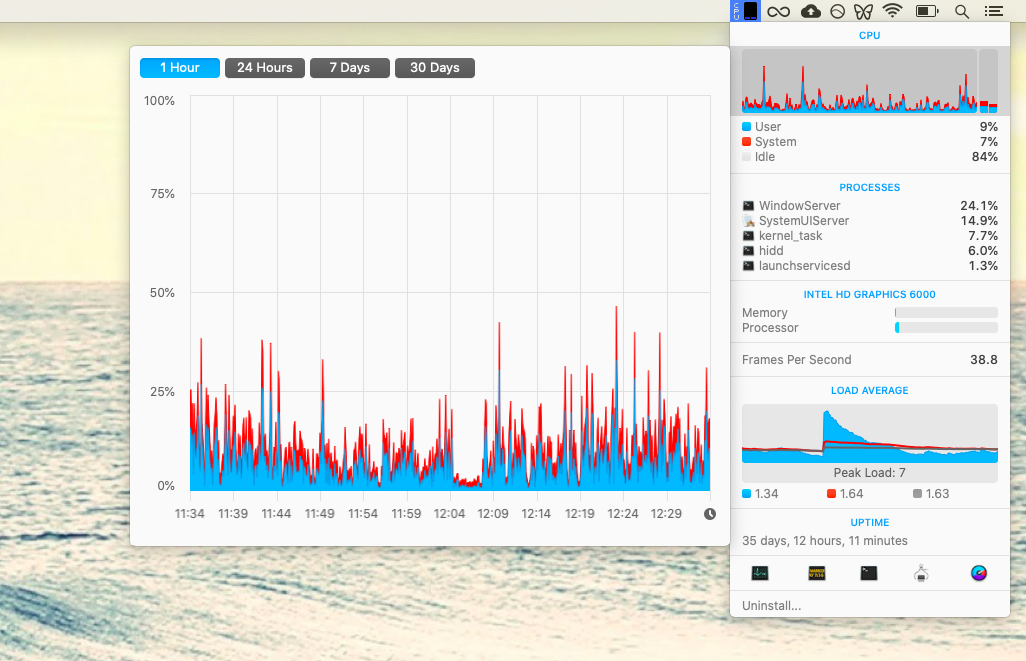 How to make your Mac run faster
It's no secret that with use your Mac will become slower and less responsive. Cache from apps, user and system logs, broken login items, rarely used large files — all will accumulate and tax your system. To get your Mac back to its brand new state, you need a proven automated solution.
CleanMyMac X is one of the most popular optimization utilities in the world. In just one click, it rids your Mac of every useless file clogging up your system, checks your Mac for malware, and runs maintenance scripts to generally speed things up. In addition, CleanMyMac X offers comprehensive privacy scans, the best-in-class uninstaller, a visualized comparison of bulky files and folders, and much more in a safe, secure, and intuitive environment.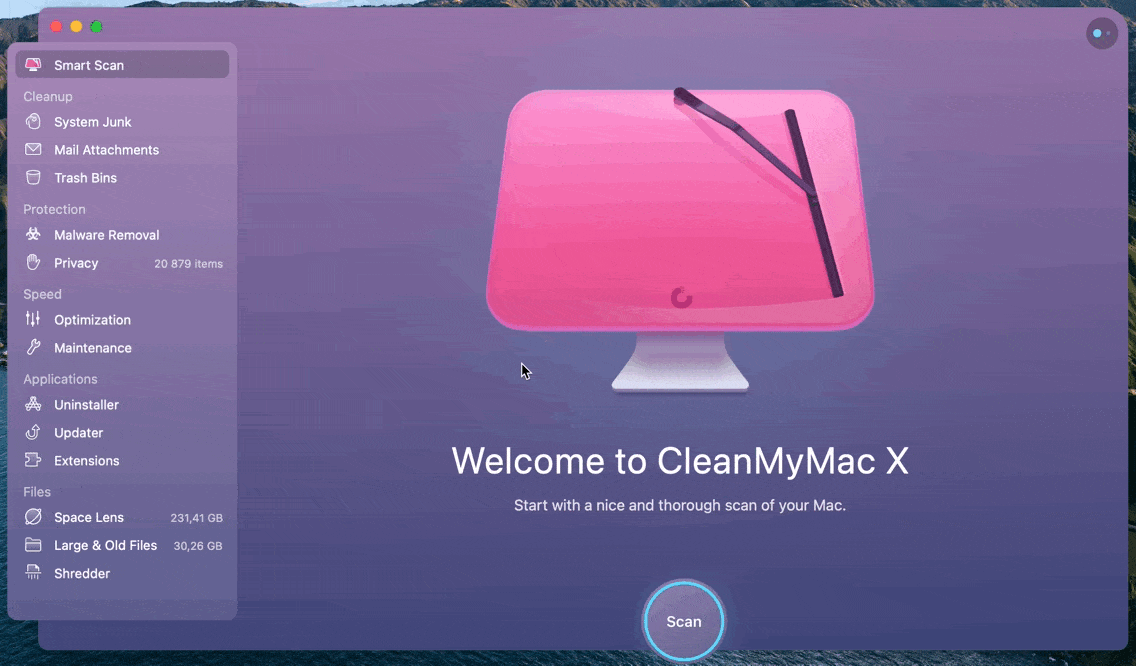 Comparing design, power, memory, storage, screens, accessories, and other computer components, by now you probably know whether it's a MacBook Pro or iMac that you're planning to buy. Regardless of your choice, make sure to prolong its useful life with Endurance, monitor its performance with iStat Menus, and keep the whole setup optimized with CleanMyMac X.
Best of all, Endurance, iStat Menus, and CleanMyMac X are all available to you at no cost during a seven-day trial of Setapp, a platform with more than 170 essential Mac apps for any task at hand, from staying concentrated (Be Focused) to professionally editing photos and videos (CameraBag Pro). Try Setapp free and experiment with new possibilities — sky's the limit!