Apple Pro Display XDR and best alternatives in 2023
If you use a MacBook, MacBook Air, or MacBook Pro for work, you've certainly thought about getting an external monitor at some point. Which is a 100% correct idea. Spending eight-plus hours every day hunched over the laptop on your desk won't do your health any good long term. So a high-quality monitor is a must.
Naturally, the first thing that comes to mind here is the iconic Apple Cinema Display, which embellished the desks of most creatives for nearly over a decade. This Mac monitor was, however, updated in 2011 with the now ubiquitous Apple Thunderbolt Display.
Apple's first Thunderbolt monitor was a beautiful and sturdy 27-inch LED screen. But after a few weak updates, it too, unfortunately, got discontinued in 2016 without any immediate successor. Although it's possible to buy an Apple Thunderbolt Display secondhand today, it's not a really good idea, since its specifications are quite outdated. Finally, in 2019, Apple released its brand new Thunderbolt 3 monitor — Apple Pro Display XDR.
What's Good And Bad About Apple Pro Display XDR
Unlike all previous Apple monitors, Apple Pro Display XDR is positioned as the ultimate creative machine in the top price bracket, starting at $4,999 for the base model. Wow.
What do you get for that price? The specs are truly outstanding. Let's start with the 32-inch Retina 6K display, delivering up to 1600 nits of brightness (compared to about 300 in regular monitors), a 1,000,000:1 contrast ratio, and close to a billion colors. The dynamic range of this Apple screen is so broad that it far surpasses HDR (high dynamic range) and reaches XDR (extreme dynamic range).
Overall, Apple Pro Display XDR is stunning and can not only be used for Mac Pro but also be a great companion MacBook Pro display or even an extra iMac external monitor. The only downside is, of course, the price. While, $4,999 is what you start with, you could pay $5,999 for a model with nano-textured glass and $999 more for a Pro stand.
The top-tier cost of the Apple monitor 2019 model makes sense for professionals who rely on accurate color representation in their daily work, but seems to be overkill for almost everyone else. Luckily, there are lots of non-Apple displays on the market today as well. Why not explore some more options?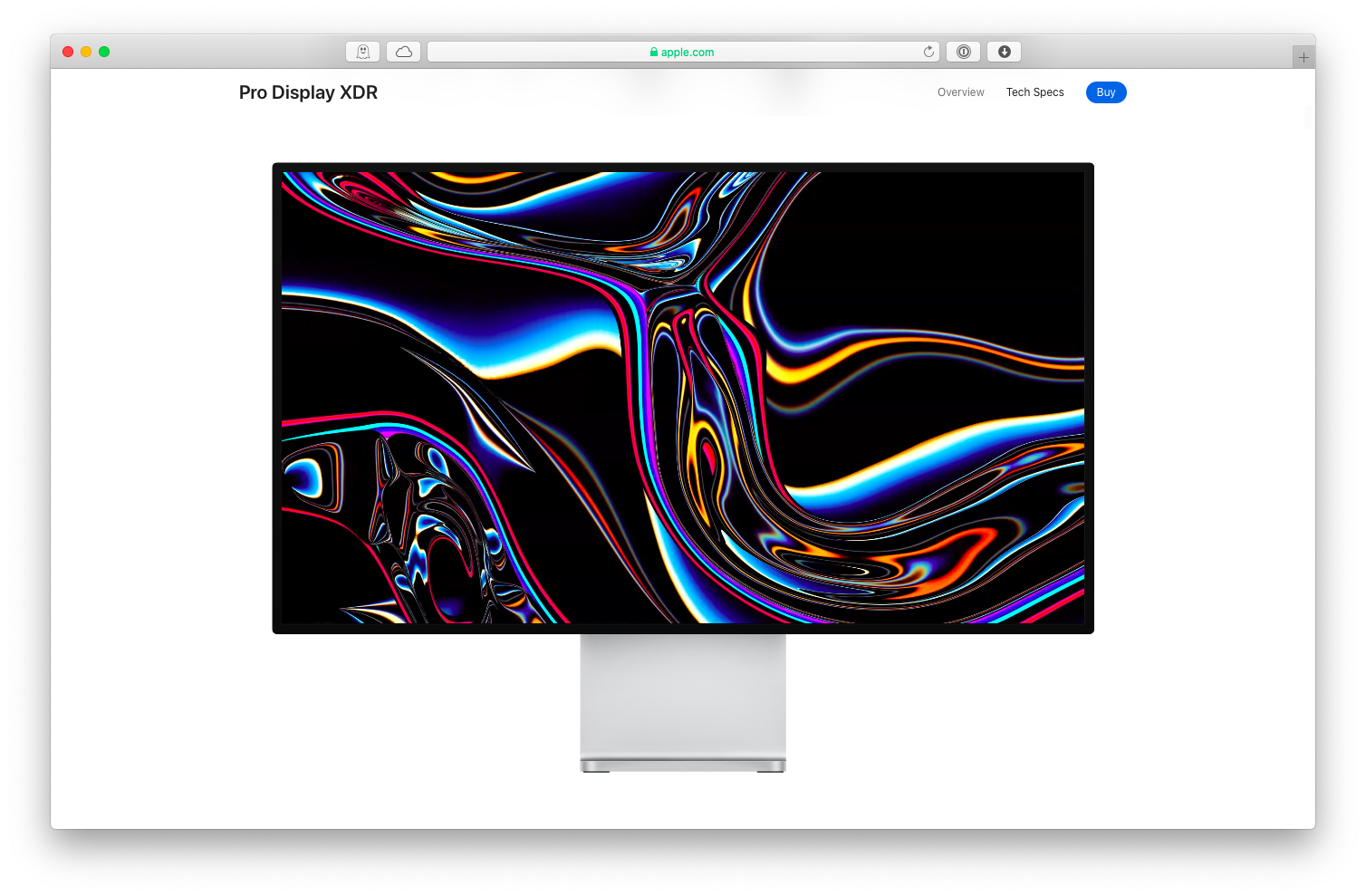 Close competitor: Dell UltraSharp 32-inch 8K Monitor
Those who really like Apple Display Pro but wished for a higher resolution at just a bit of a lower price would really love Dell's 8K monitor. The same 32 inches here deliver a breathtaking 7,680 x 4,320 resolution. Although the contrast ratio is only 1,300:1 compared to Mac display's 1,000,000:1.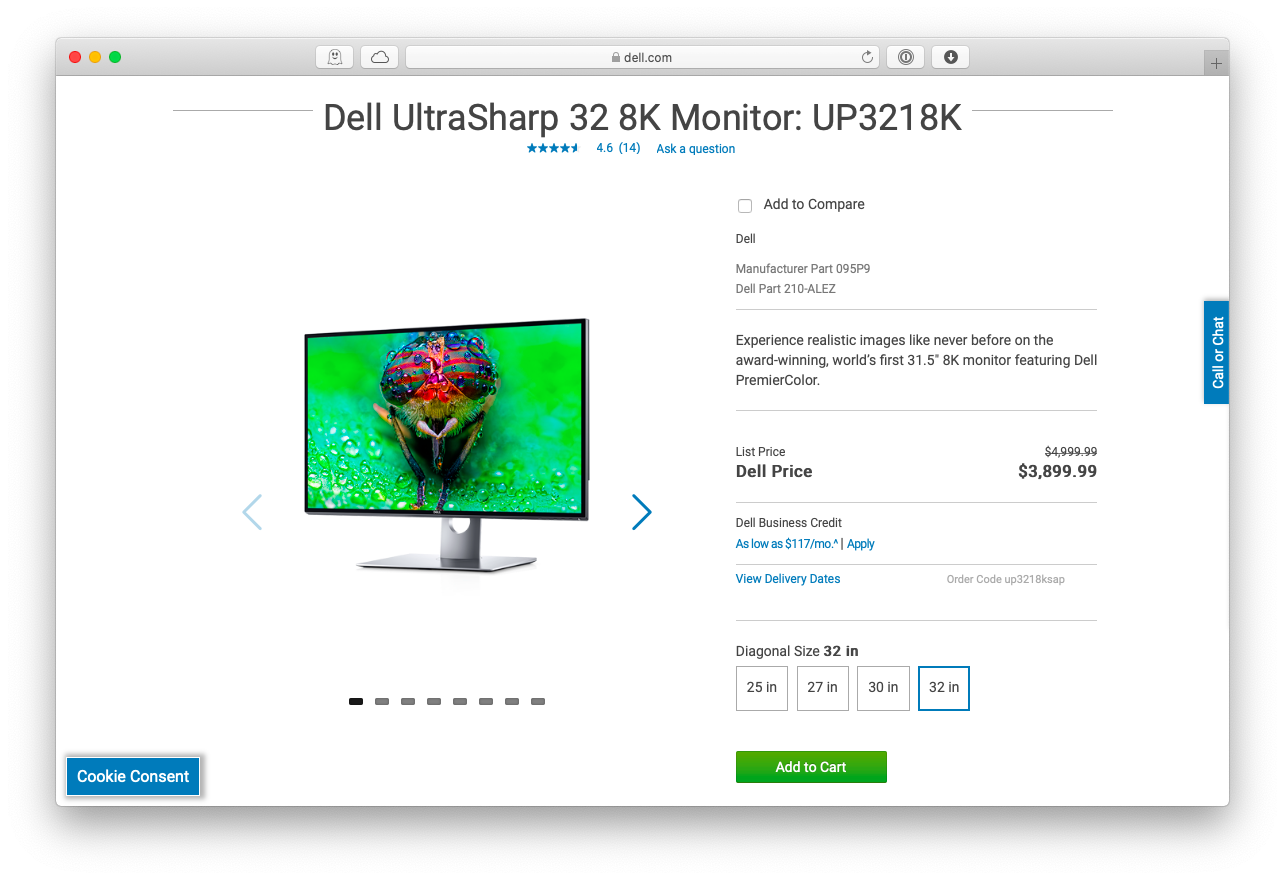 While MSRP on Dell's monitor is set at $4,999, most retailers sell them for somewhere between $3,499 and $3,899. Thus the screen fits in the niche between Apple 5K monitor that iMac has and Apple Display Pro XDR, and is also targeted at creative professionals.
Ultrawide: LG 34-inch 5K Nano LED Monitor
If you don't need an 8K monitor (there's in fact not much content yet made for 8K) and really enjoy having lots of screen real estate, why not take a look at LG's 34-inch UltraWide 5K display.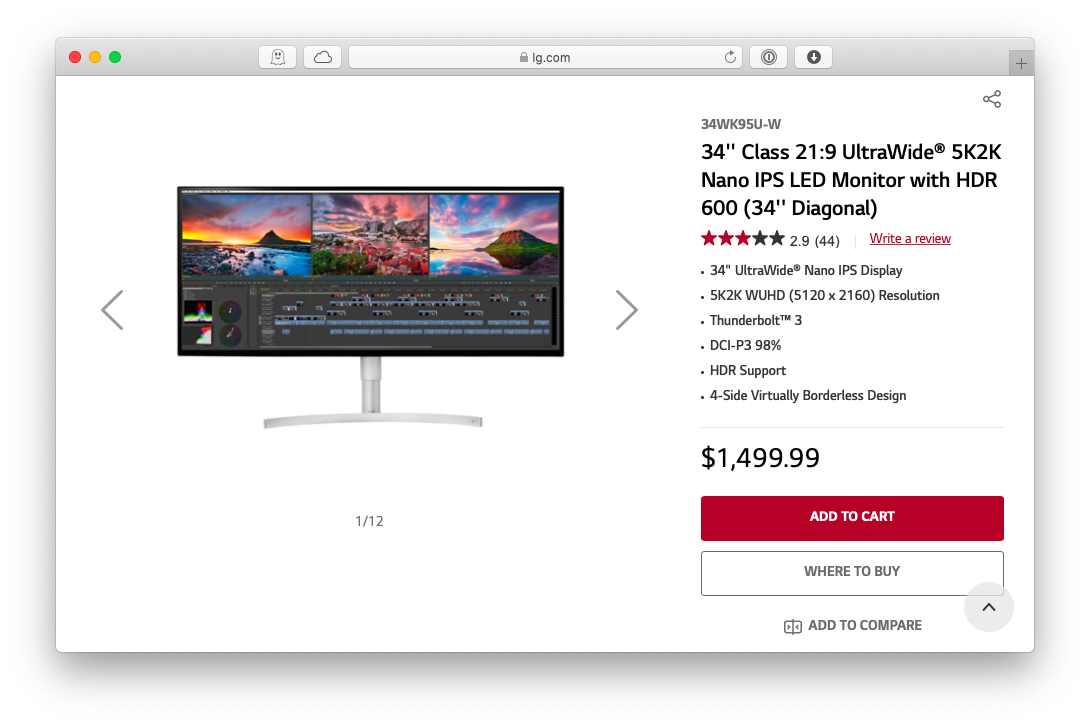 This Thunderbolt 3 monitor features two HDMI, two USB-As, and one DisplayPort ports, as well as a headphone jack to make a perfect MacBook Pro display. The screen has an impressive 60 Hz refresh rate and 600 nits of brightness. All in all, a good investment at $1,499 MSRP.
Workhorse: LG 24-inch UltraFine 4K Monitor
When you just need a monitor that does its job really well, look no further than LG's 24" UltraFine 4K.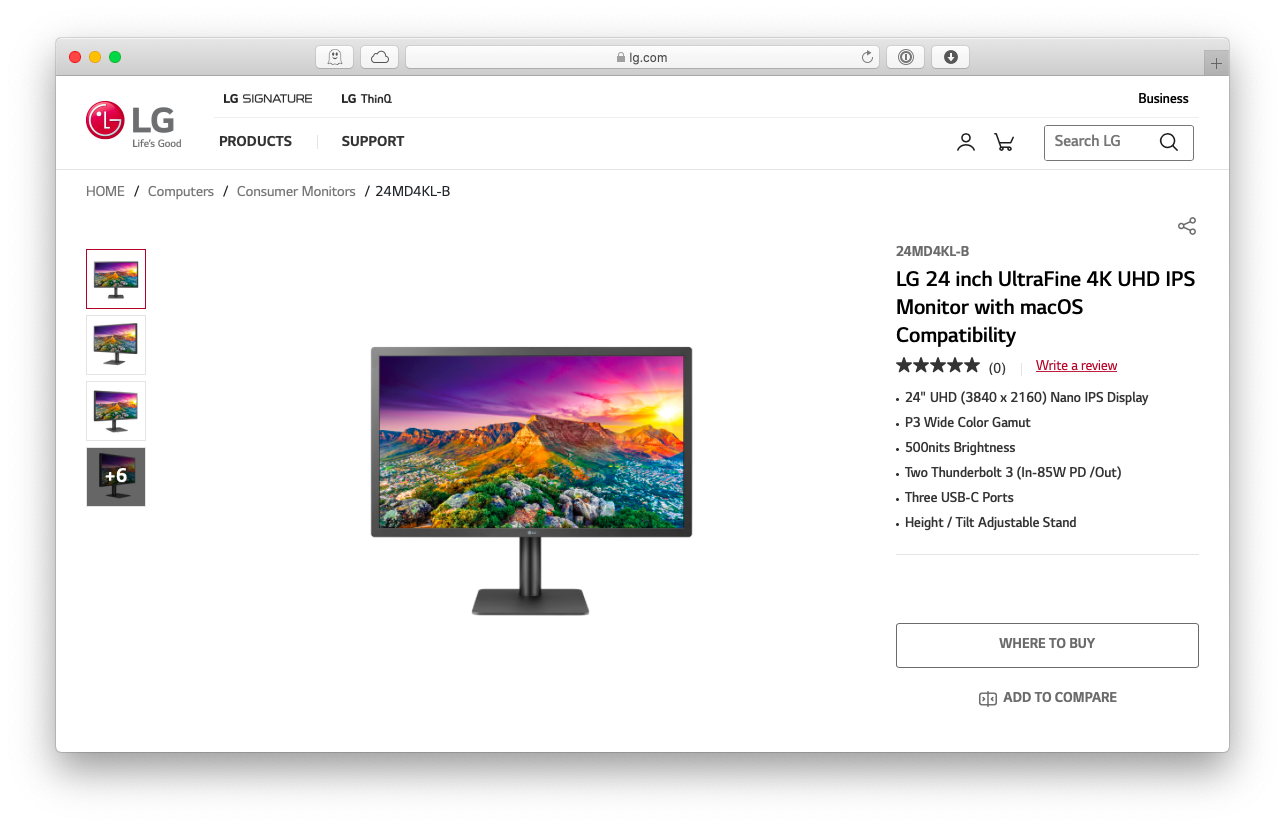 Besides giving you a beautiful 4K picture, this screen features three USB-C ports for all your external devices and 85 W power supply to become the perfect Mac display for any need. The price is reasonable too, somewhere around $700–800.
On budget: BenQ 27-inch GW Series Monitor
Some of you will see the prices above and go into shock mode — after all, you just wanted something simple to get the job done, not spend a laptop-worthy sum on a Mac monitor.
In this case, what you need is a BenQ GW Series display. Its 27-inch LED screen has a 2560 x 1440 resolution that gives you 77% more working space than regular HD monitors — certainly good enough for all everyday needs. The most impressive part, however, is the price. BenQ GW Series is one of the most affordable Mac displays and retails for just about $280.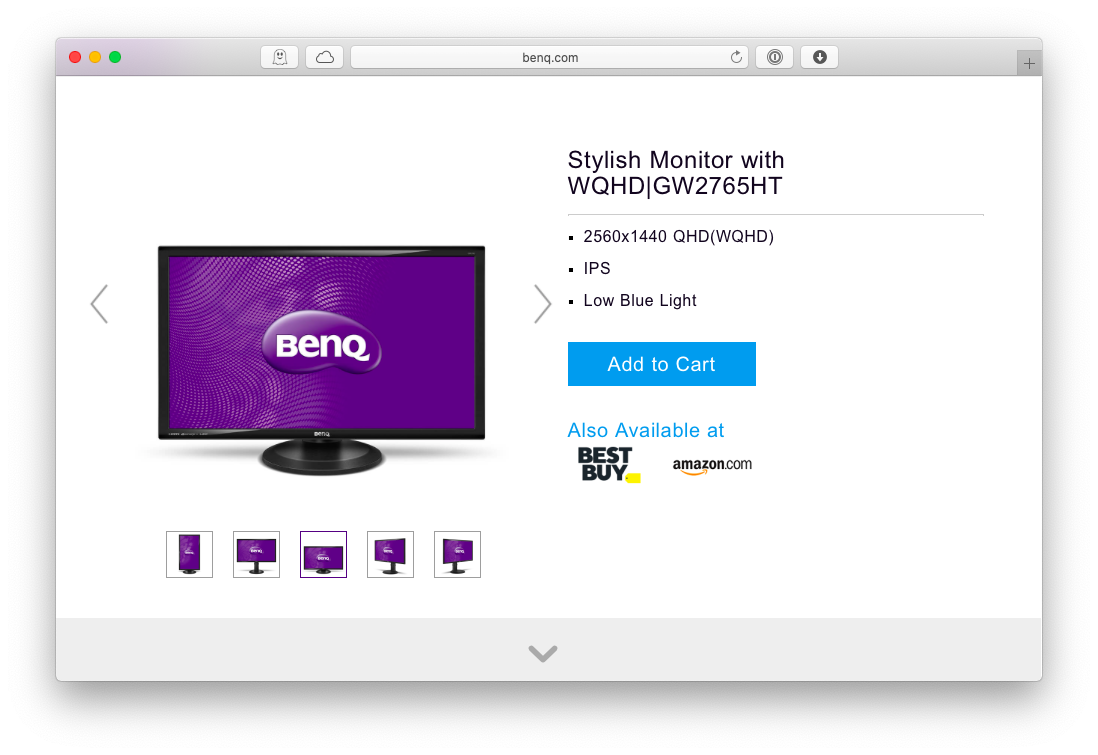 So, here you go, the choice is yours, whether you're ready to go all in with the Apple screen, take it down a notch with Dell, embrace the UltraWide with 34-inch LG, get to work with UltraFine 24-inch LG, or save some money and settle for 27-inch BenQ.
But since you're interested in great Apple displays intended mostly for designers and creative professionals, it might be that you could benefit from a few essential apps that any designer would go crazy about.
Essential creative apps for every designer
It's no secret that all designers cherish the typography on their Macs. Sadly, the built-in Font Book utility comes up short a lot. The absence of a customizable display of fonts and live comparisons make it hard to choose the perfect font. That's where designers should try Typeface.
Typeface is a simple app that does a lot — giving you full control over how your collection of fonts is displayed. Mix system and custom fonts together, write any phrase to test the one you need, and group the best ones to use in a client project, all with ease.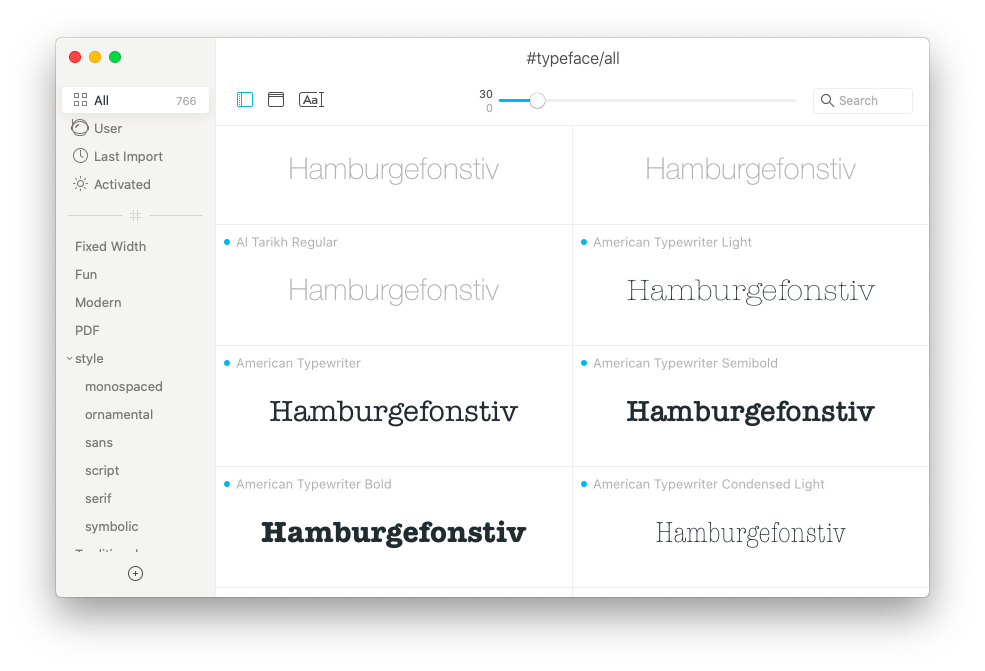 Aquarelo is another tool every designer needs, but not every designer knows exist. When beginning work on any project, it's not too hard to come up with two primary colors. What's much more difficult is to create a full palette out of them. Aquarelo does exactly that, giving you an easy way to generate up to 15 gradations between any colors, which you can input directly with HEX codes or using a color picker.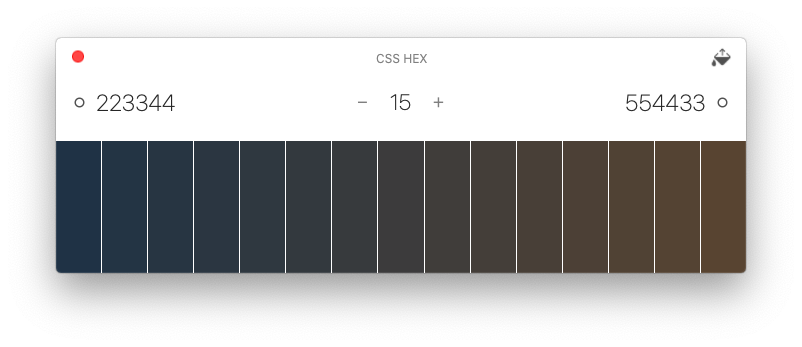 Goldie App is a must for those obsessed with grids. This tiny menu bar utility lets you create designs that follow the most perfect golden ratio. You can use presets or calculate your own grids in seconds, and Goldie always remains just a click away.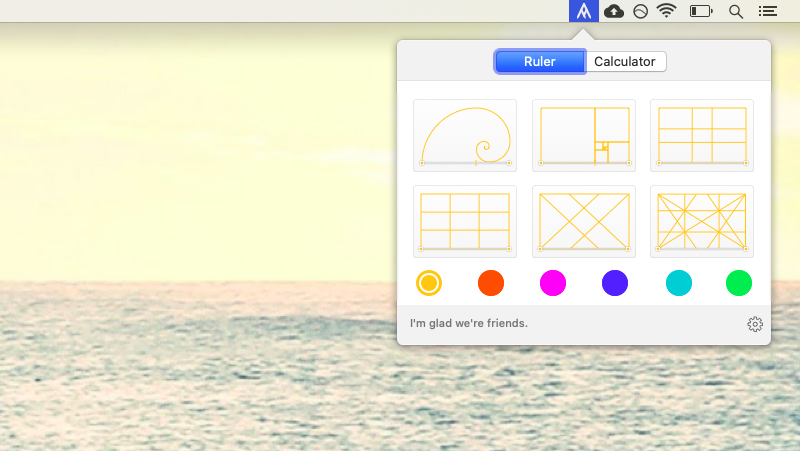 Luminar Neo helps those who would like to spend less time fine-tuning every photo in Photoshop or Apple Photos. It's an essential plugin that leverages the power of AI to make perfect edits, beautiful filters, and automated workflows. Just a few quick steps and your whole day of shooting is perfectly corrected for exposure, contrast, and color.
Simply keeping these five apps on your Mac will considerably simplify your working life: fonts in one place, grid tools handy, colors made for you, photographs edited, and everything version controlled.
Best of all, you can try Typeface, Goldie App, Aquarelo, and Luminar Neo absolutely free for seven days via Setapp, a platform with more than 200 apps that every Mac user would find incredibly helpful, whether it's related to design, writing, managing, or even optimizing your own Mac. Just visit Setapp's website and see for yourself!