The best Microsoft Project for Mac alternatives
Managing projects is at the core of any work we do nowadays. We have to delegate tasks, track progress, communicate, collaborate, keep track of the deadlines, estimate scope, and much more.
Doing so via traditional ways of communication like email or even chat is unfeasible. That's why a whole industry of project management tools exists. They help keep teams on spec, on time, and on budget.
The most popular project management tool in the world is Microsoft Project. It's scalable, powerful, and integrates natively with the rest of the Office suite. Is Microsoft Project available for Mac? Sadly, it's not, and every Mac-based team has to find a suitable alternative. Luckily, there are lots of MS project alternatives for Mac to try.
What is the Microsoft Project on Mac alternative?
It's hard to find a perfect MS Project for Mac OS alternative that would copy all of its functionality one by one. Instead, you should aim to find a tool that essentially substitutes the features you expect and need from MS Project the most.
For some teams that could be Gantt charts, for others — seamless task delegation, etc. Make sure to test a few tools before you commit your whole team to a specific one, since it would be much more difficult to migrate to a different tool later on.
The best Microsoft Project alternatives for Mac
In this article, we'll break down 10 Microsoft Project for OS X alternatives that approach project management from a variety of angles, which will help any team pick the one they need.
Merlin Project Express — our top pick
If you want a tool that resembles Microsoft Project for Mac as close as possible, Merlin Project Express might just do the trick.
Merlin Project Express is made to manage large team projects. You get the Gantt-like overview of all the tasks, assign tasks to every team member, store all the required reference materials as attachments, plan out budgets, and more.
You don't even have to set up every project from scratch. Using customizable templates, get new projects up and running in no time.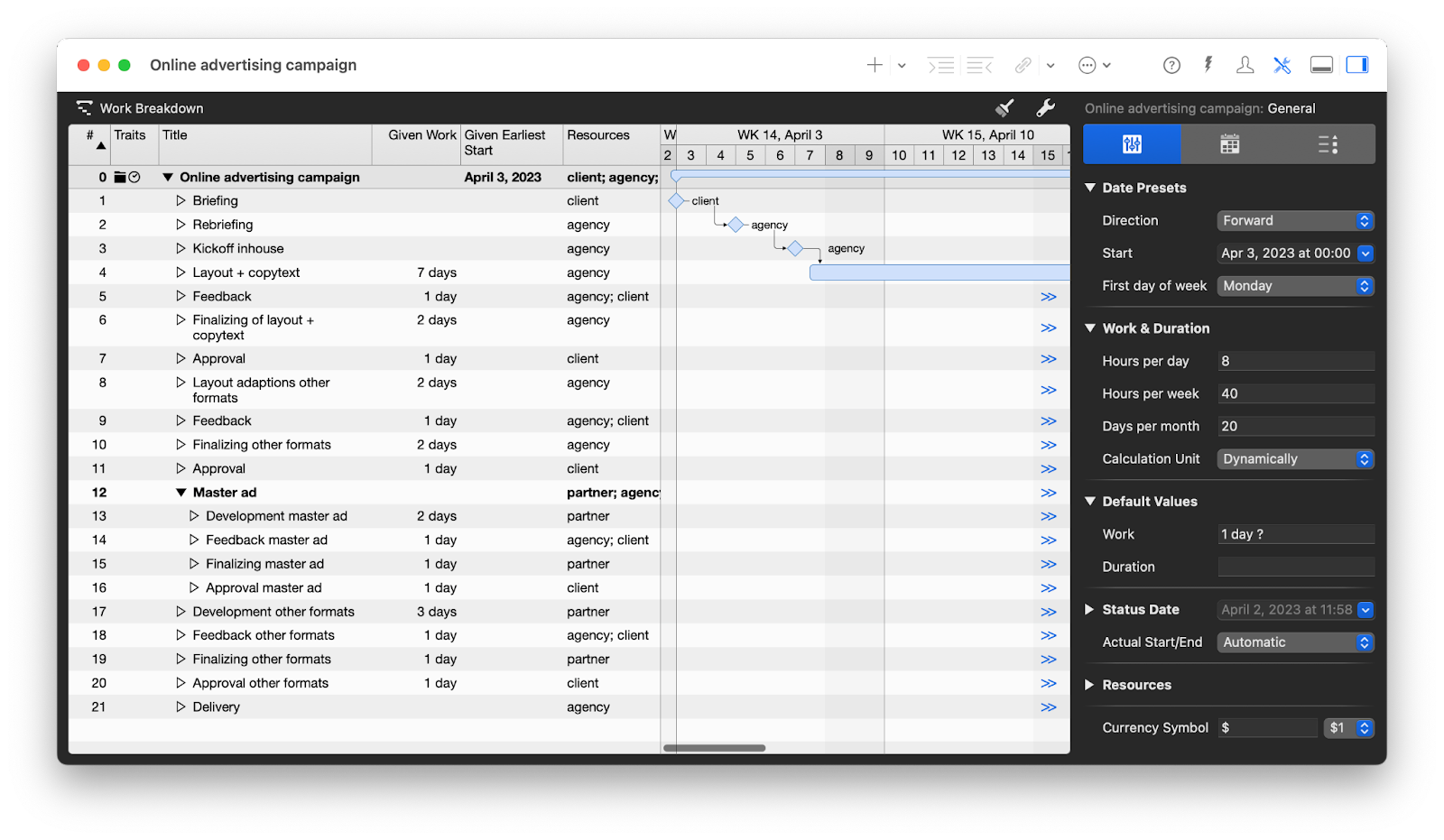 Pagico
A more flexible MS Project alternative for Mac for mid-sized and even personal projects is Pagico.
Pagico is a very visual project manager that helps you keep track of everything from tasks to contact to documents in one place. You can add notes to any part of the timeline and focus on making progress one day at a time. The built-in dashboard visualizes everything that's on your plate at the moment, and you can even group data by tags, so you can, for example, just batch and do all the phone calls at once.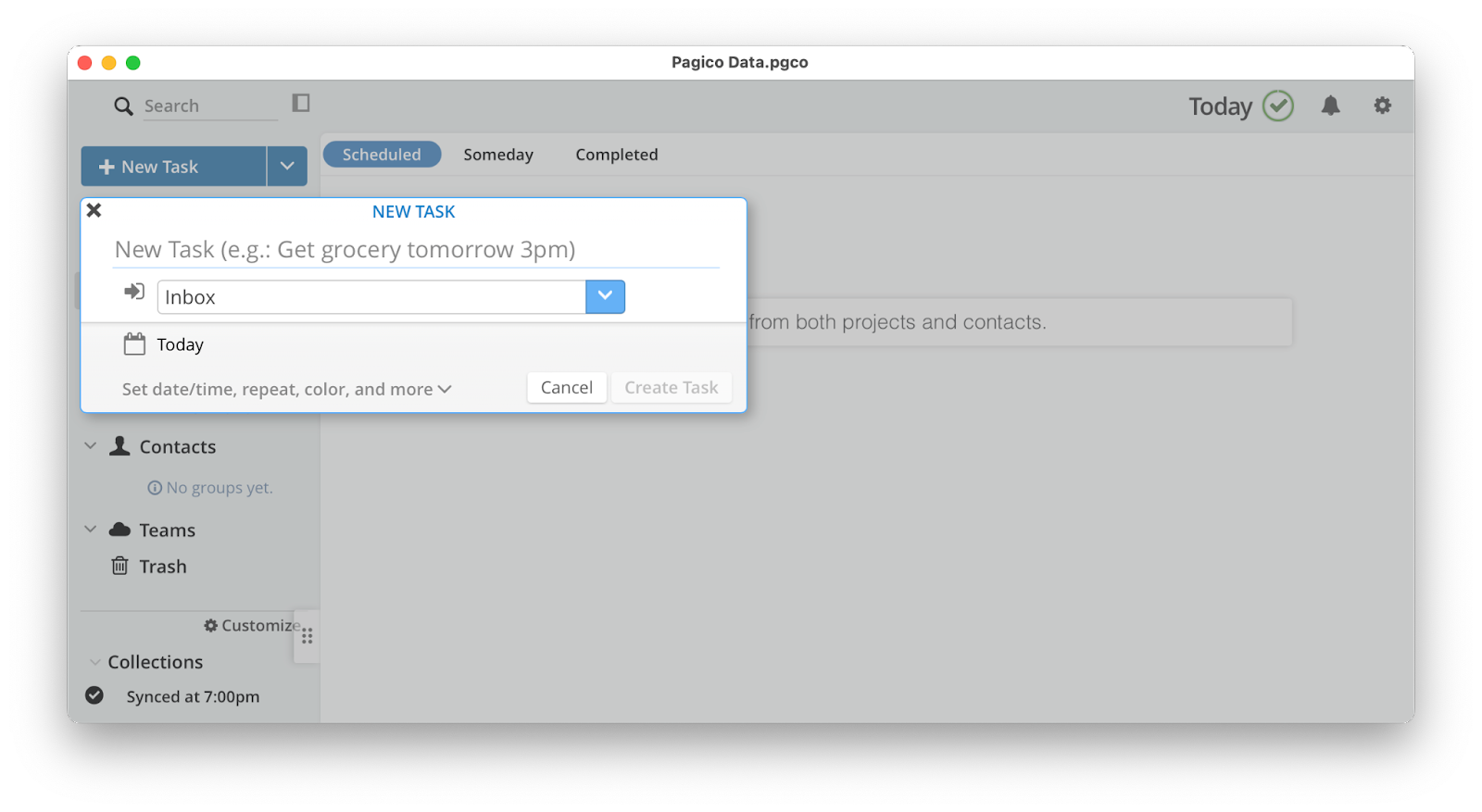 SheetPlanner
Those who are used to planning their work in Excel spreadsheets would love SheetPlanner. This Microsoft Project download for Mac alternative feels like a supercharged spreadsheet, with deadlines, charts, and outlines available at a glance.
Compared to Excel, SheetPlanner allows for many more cell types, such as priority, difficulty, flags, progress, status, and more. It's also easy to switch between different projects and search for the exact task you need.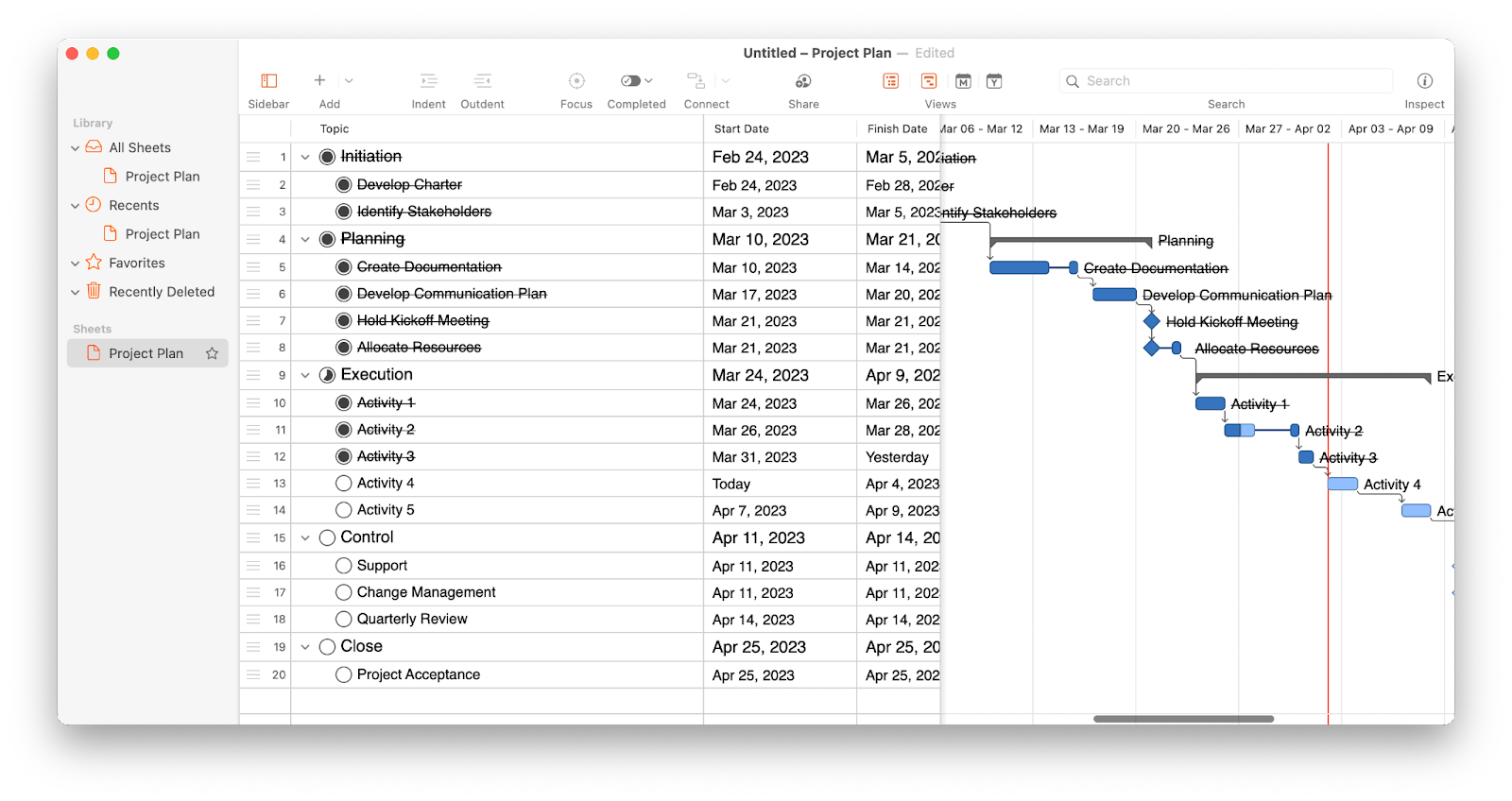 GanttPRO
Some teams can't live without Gantt charts, and for those GanttPRO might be a near-perfect solution.
GanttPRO is a simple but powerful Gantt chart online app that works on any operating system, including macOS. This means your projects are easy to share between team members and external parties (e.g. clients or contractors). Your team can also collaborate on the same document at the same time and see the history of document changes should anyone overwrite something that was important.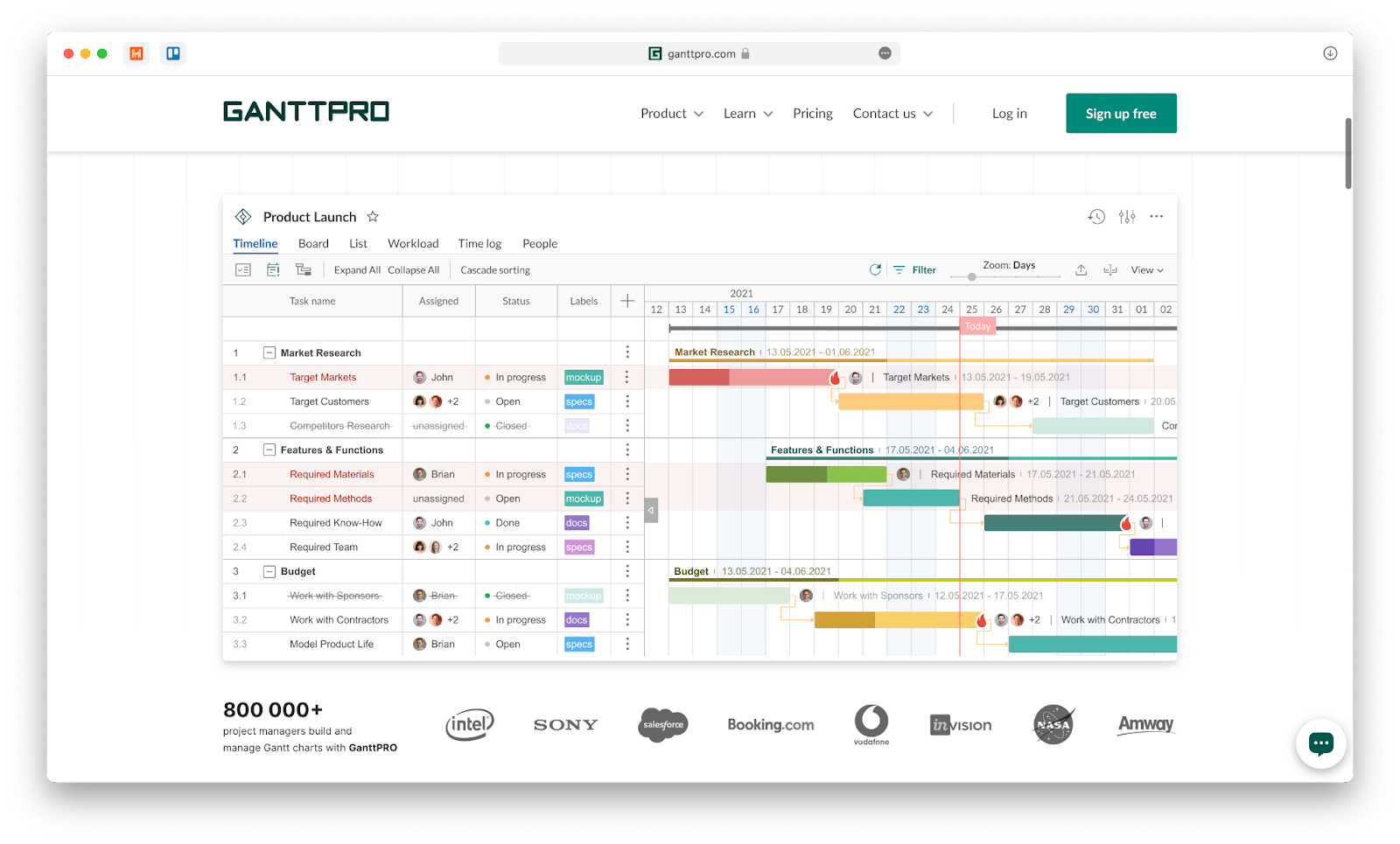 Toggl Plan
If your team already uses a time-tracking tool like Toggl Track, you might be interested in Toggl Plan as well — a simple project planning solution, mostly targeted at agencies and consultancies.
Toggl Plan has both Gantt charts and Kanban boards, which lets you plan everything at a task level but also ensure that the workload stays manageable across the whole team, where no one is over- or under-working.
Changing plans is easy with a drag-and-drop interface and you can also clearly see any scheduling conflicts at a glance right on the Gantt chart.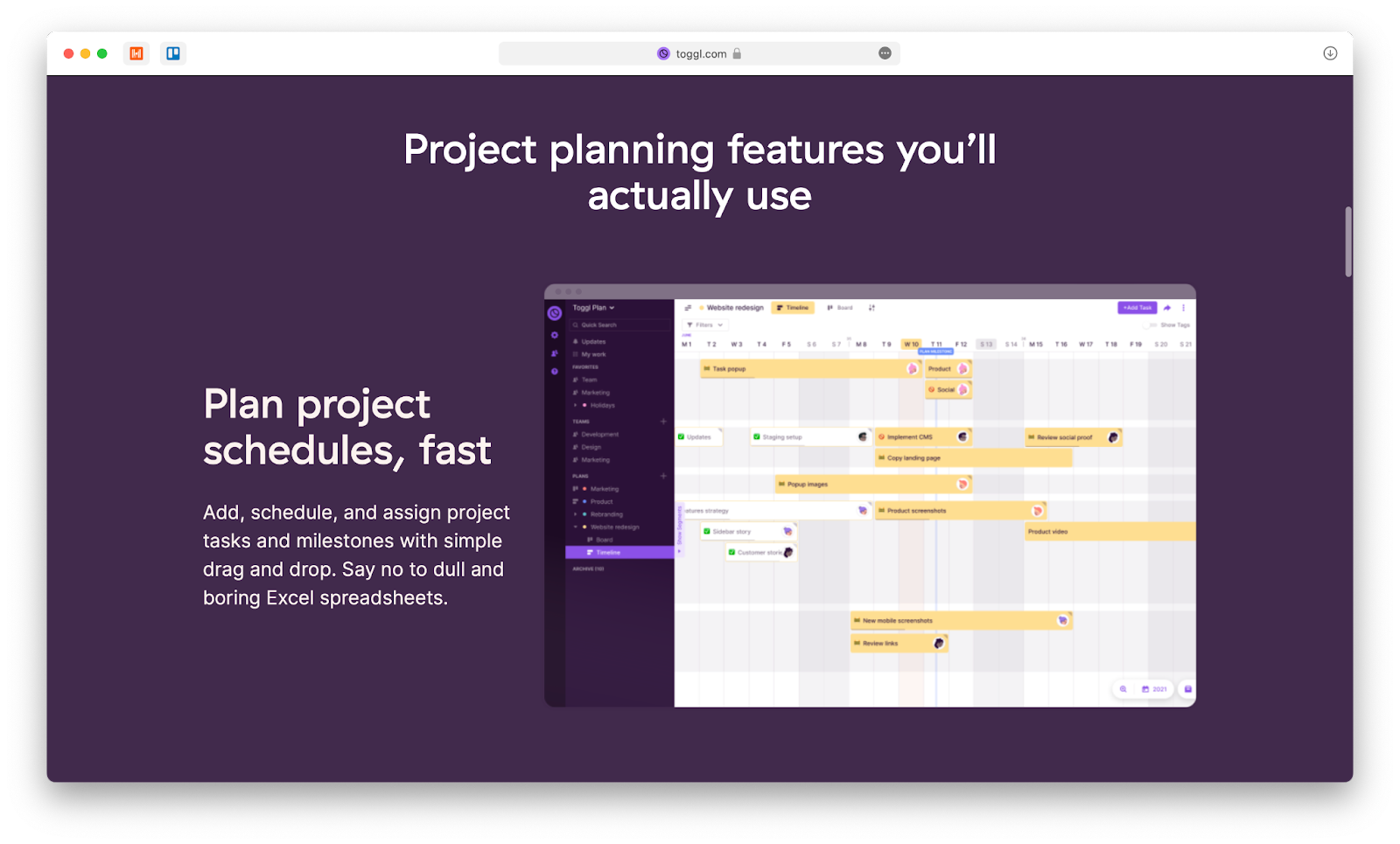 ClickUp
There are some apps that not only help your team with project planning but do so much more, from chat to CRM to documentation. And ClickUp is one of those.
ClickUp is a great option and MS Project alternative for larger teams that want to replace a few tools at once. It features task management, whiteboards, docs, chat, reporting dashboards, and much more. Plus, you have a variety of templates, lots of integrations, easy automation, etc.
So if your team needs a complete overhaul in its project management approach, ClickUp might be a good solution. But if you're only looking for the best MS Project alternatives for Mac, try another suggestion from our list.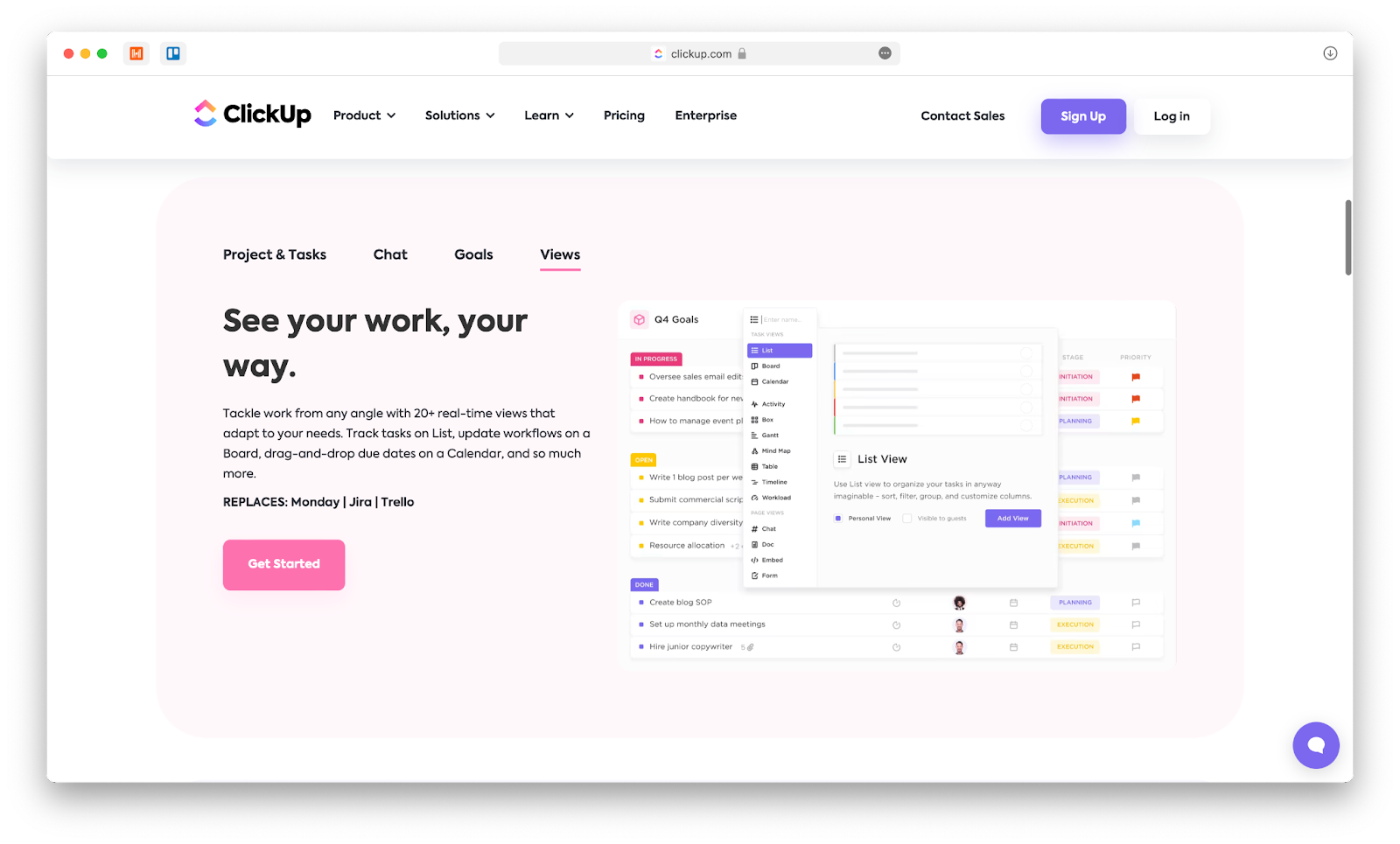 TeamWork
Large consultancies and creative teams often get tired of trying to retrofit project management solutions for their specific needs. That's where TeamWork really shines.
TeamWork is a do-everything project management app designed specifically with consultancies and large agencies in mind. It has features for time tracking, budgeting, resource allocation, and more, so anyone from a developer to account director would have everything they need to get the job done.
The key value of TeamWork is integrating tools at the macro level, so that managers and owners can see the health of every project at any time without running complicated reports.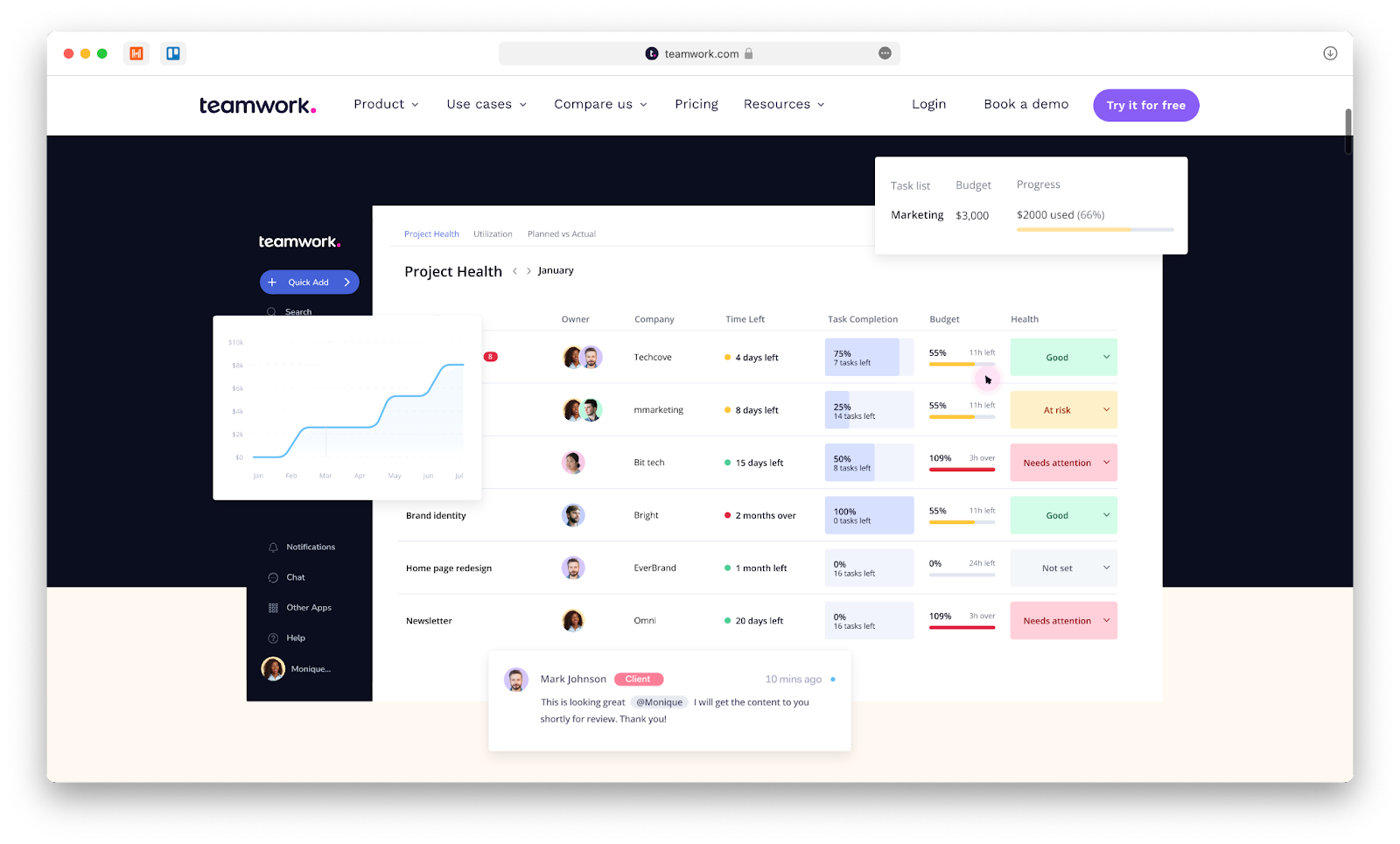 Wrike
You're probably never going to ask, "Does Microsoft Project work on Mac?" if you have a tool like Wrike at your disposal.
Wrike is an agile project management tool that's mostly used by medium- and large-sized teams. It integrates features for strategic planning, resource planning, event management, billing, Gantt charts, Kanban boards, task management, and more.
If you're looking for a tool to keep all departments across the company organized in one place, Wrike might be a good choice for you.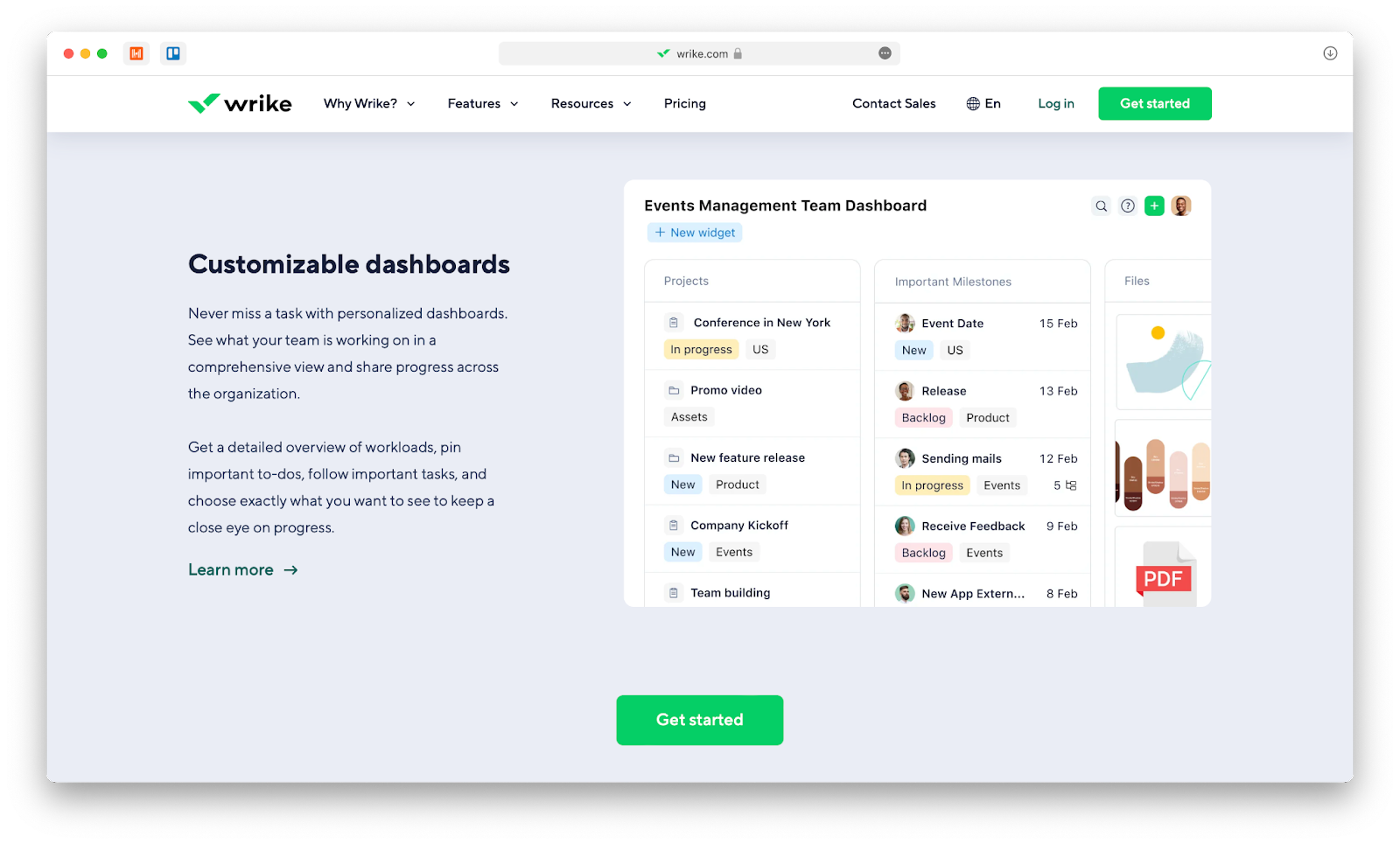 Monday.com
A similar tool to Wrike that got really popular in the past few years is Monday.com.
Monday.com is a management platform for software teams, project management, HR, operations, marketing — you name it. All teams can have their own custom-configured dashboards and planning tools within Monday.com.
From monthly planning to campaign results to task progress, Monday.com combines everything you need to increase productivity across the board.
What's not so great? It's quite a complicated system that would take a long time to set up and manage — thus a better fit for larger teams that can benefit from proper organization.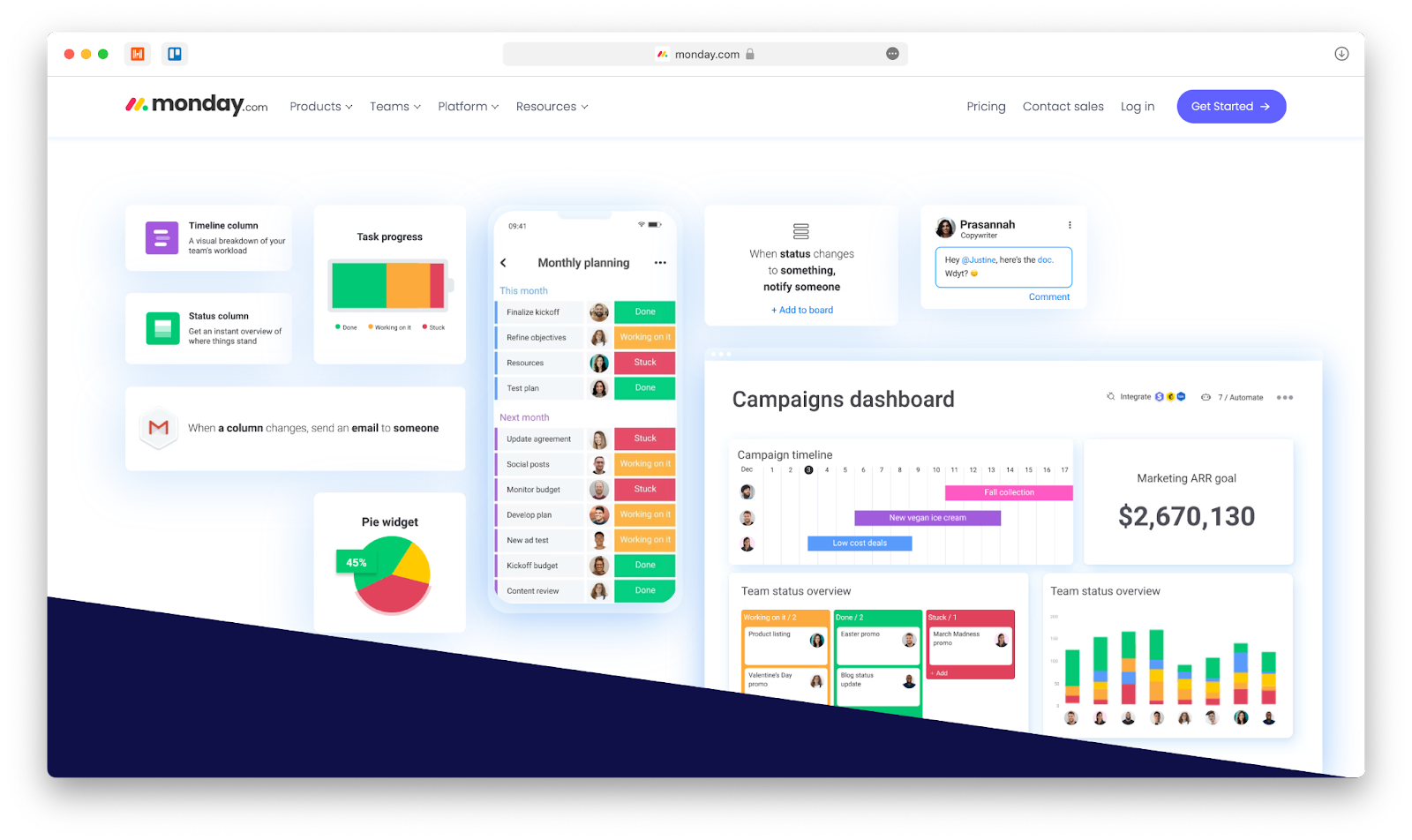 FAQ
Let's review some key questions regarding MS Project alternatives for Mac.
Does Apple have a project management tool?
Apple itself doesn't ship any project management solutions, although small teams can probably get by with email threads and a spreadsheet app like Numbers — which is available for free!
What is the Mac equivalent of Microsoft Project?
There are lots of Microsoft Project for Mac equivalents, depending on which features you want replicated. Our top pick is Merlin Project Express.
How do I open a MS Project file on a Mac?
Lots of MS Project alternatives for Mac mentioned above can import MS Project files. For smaller projects, you can simply copy-paste MS Project information right into the app of your choice.
As you can see, there are lots of options when it comes to finding the MS Project for Mac OS alternative. Merlin Project Express, Pagico, and SheetPlanner are all good places to start.
Best of all, these four apps are available to you right now for a free seven-day trial through Setapp, a platform of more than 240 outstanding apps for Mac and iOS. Try these and lots of other curated options on Setapp at no cost and pick the new favorites for your team.