4K Video Downloader and its best alternatives for Mac
Every power user needs a reliable YouTube 4K video downloader for Mac. Quickly edit videos on your computer, save content from social media, or watch movies offline — video downloaders solve many jobs. One of the best 4K video downloaders is called...well, 4K Video Downloader. While it has everything you need, the free version is very limited.
In this article, we talk about what you can do with 4K Video Downloader and how to find a proper alternative you can use for free without limitations.
4K Video Downloader: main features and capabilities
4K Video Downloader is a Mac app that lets you download videos and playlists in one click, with full control over quality and format. The free plan is limited to 30 single video downloads per day (and only 5 videos per channel). What's more, if you use the 4K Video Downloader free version, you can only run 1 download at a time, which results in slow download speed.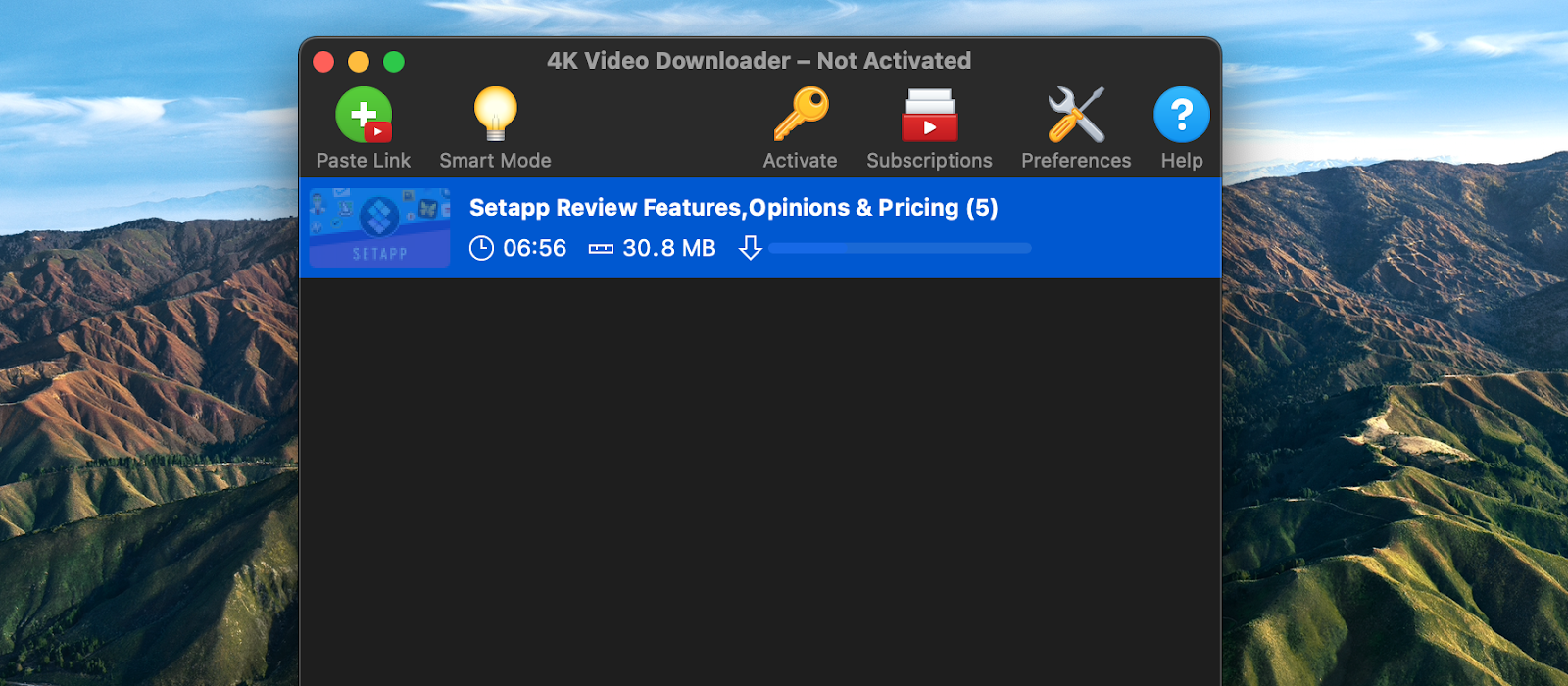 The price of 4K Video Downloader paid plan starts at $12. If you decide to upgrade, you'll be granted access to the full set of features:
Save videos from YouTube, TikTok, Vimeo, Facebook, Reddit, and many other sites
Download videos with subtitles
Download playlists or entire channels
Automatically download videos from YouTube channels you're subscribed to
Enable Smart Mode to always download videos in the same quality and format to the same output directory. Think of it as presets for video downloads
Download private content you have access to from YouTube channels
Convert video to other formats such as MKV, MP4, and FLV, or extract audio from video
Tweak video quality and format (4K Video Downloader can download video in up to 8K).
Here's how to save videos with this 4K downloader:
Open 4K Video Downloader on Mac
Copy the video link from your browser
Paste your link into the app
Click on the Download button.
You might be asked to choose format and quality before the download process begins. If your video is part of a playlist or channel, the app will offer you to download more content from there (but remember, you can only do it with a paid plan).
Best 4K Video Downloader alternatives
4K Video Downloader's best features are unavailable with the free plan. So unless you need something light for occasional use, you'll have to look at the alternatives. There are many utilities that can handle 4K video download on Mac. We've curated a few value-for-the-money solutions you can benefit from. Pick your favorite or try a whole range of 4K downloader options with Setapp.
Legal note: whatever tools you choose to download videos, it's your responsibility to ensure you don't break any copyright rules. Please make sure you have the legal right to download video content (or you're a legal owner of this content).
Pulltube
Pulltube is a great 4K downloader with extra features that might substantially improve your flow. Apart from its key purpose — saving videos from sites like YouTube, Vimeo, Dailymotion, Facebook, and 1000+ more — Pulltube has a trimming tool that lets you trim video before you download it. You can also customize quality, extract audio, or add subtitles in a click.
You can even convert your video to other formats! If you ask us, this is Pulltube's best superpower. After you paste the link to your video into Pulltube, click on HQ in the bottom right corner to see the available formats. Pick the one you need and Pulltube will do the conversion automatically. No need to use online converters or other third-party tools to tweak video format, Pulltube has it covered.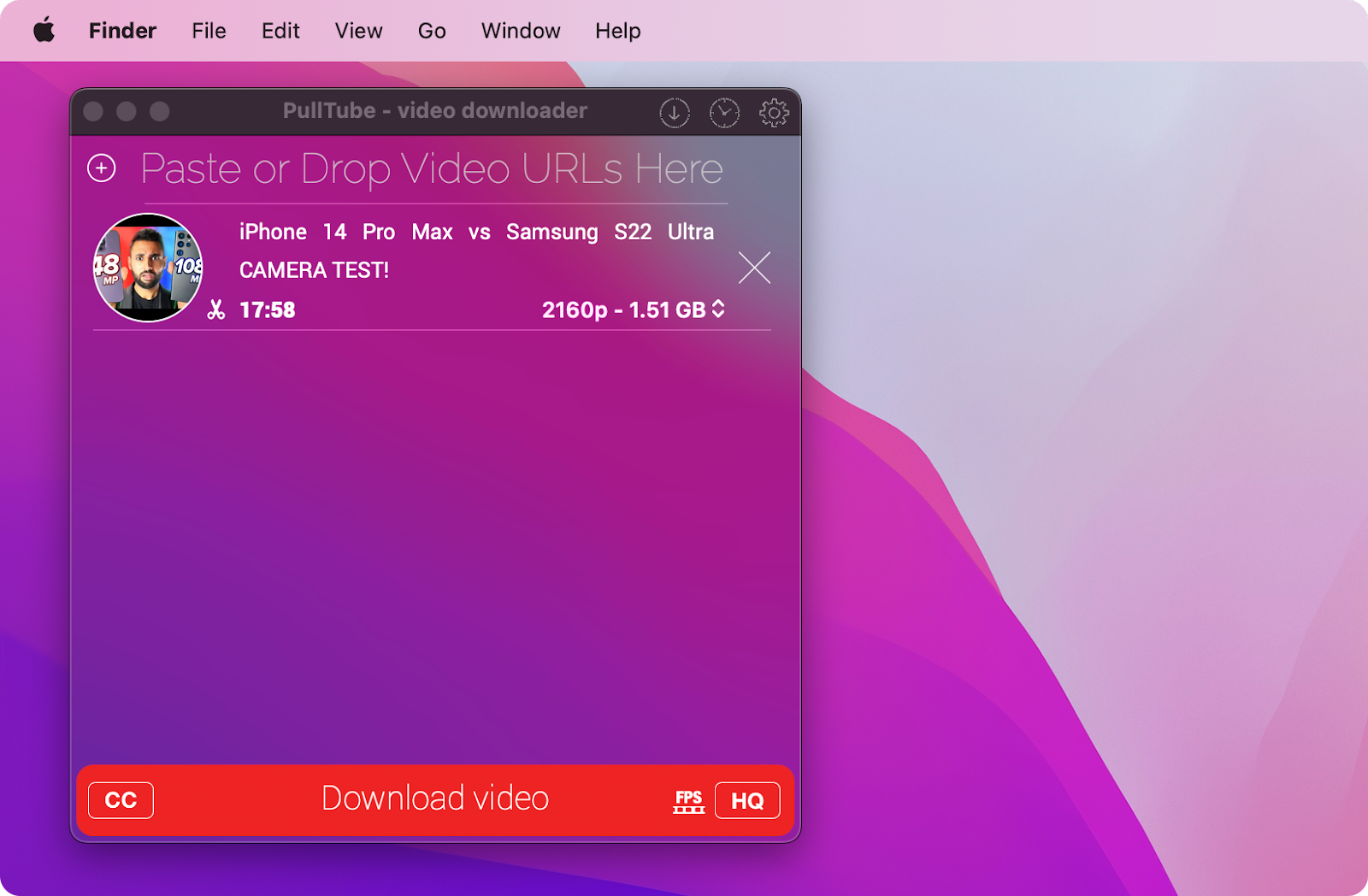 Price: Free for 7 days with Setapp
Best for: downloading a specific part of a video instead of the whole thing; saving videos with subtitles from a variety of sites; converting downloaded videos to other formats.
Folx
If we were to name the fastest video downloader for Mac, we'd say Folx. It can split downloads in up to 20 streams, which basically means you can speed up the download process by 20x times. Customize streams manually or turn on Smart Speed in the lower-left corner to always run your downloads at top speed.
Folx works with YouTube, direct URL downloads, and torrents. Frankly, most people love it for torrent support and built-in torrent search. But it works equally well for all your video download needs. If you want to save a YouTube video, paste the link into the search field, pick the quality, and go. You can also assign tags to your downloads so it's easier to find them in the app.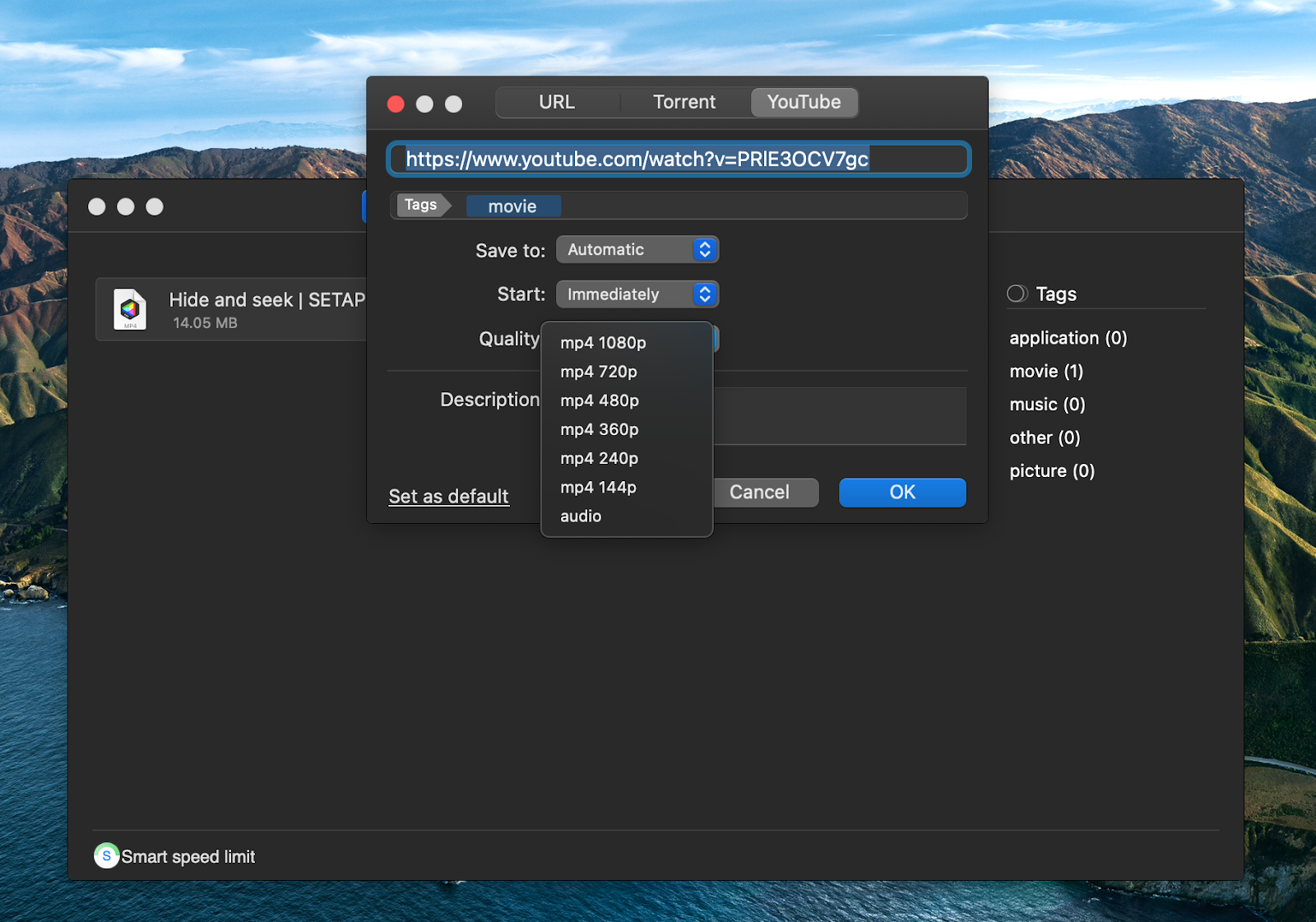 Price: Free for 7 days with Setapp
Best for: torrent and YouTube downloads. Folx is one of the fastest apps for 4K video download, so it works great for saving large files.
Downie
Downie wins in the nomination "most flexible 4K video downloader." It can save videos from 1200+ sites. This means whether you google "4K video downloader Reddit" or "download video from Taiwan's most popular social network," Downie will most likely fit the need.
Best of all, it's very easy to use and gets the work done. Downie offers many ways to save a video — drag and drop it onto the app window, paste the link from your browser, use built-in search or browser extension. Whatever works best at the moment. You can also extract audio from video, customize quality, and track download progress in the menu bar.

Price: Free for 7 days with Setapp
Best for: downloading videos from various sites — video platforms like Vimeo and YouTube or social media like Instagram and Reddit.
Y2mate.com
If you don't need a dedicated app to download videos on Mac, Y2mate.com can help you do the work on the web. It's a free online service where you can paste the link and download the video instantly. You can also customize quality and extract audio from video.
Although Y2mate.com seems a good choice for people who need a one-time solution, the website is packed with ads and popups, so we encourage you to be cautious about what you click on. Sometimes, you can accidentally download a malicious file from such sites.
This is a common problem with all free downloaders and converters (because they usually make money from ads). If you worry about your Mac's safety, CleanMyMac X can help you check Mac for malware after using Y2mate.com. It has a dedicated Malware Removal module that analyzes suspicious files and warns you if there's some kind of threat.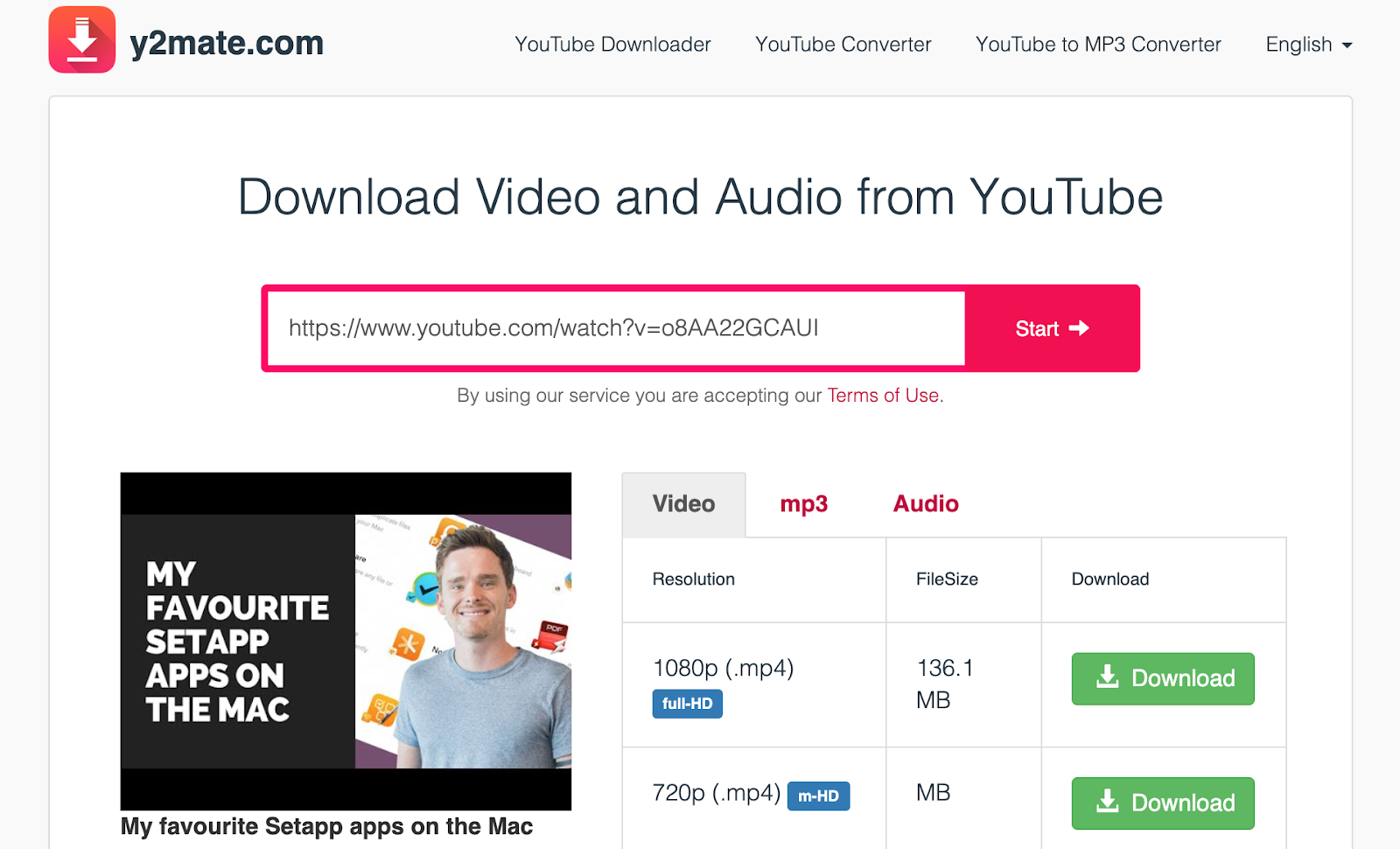 Price: Free
Best for: one-time use; extracting music from video.
Conclusion
If you love 4K Video Downloader, we get you. It's quick, convenient, and does what it says. But if you're not ready to pay $12 for a video downloader, we get you too. Because it just doesn't make sense to buy one-purpose apps if you can have access to every video downloader, converter, Mac cleaner, and any other essential utility with Setapp.
What's Setapp? It's a subscription service that opens access to 240+ Mac and iOS apps, including Pulltube, Downie, Folx, and CleanMyMac X we've discussed in this article. Best of all, it doesn't simply give you tons of apps, it suggests proper solutions based on your context and flow. Free for 7 days, then $9.99 per month.