How to download subtitles for movies and TV shows on Mac
Watching movies and TV shows in foreign languages does you a lot of good. Just think about it: You can get one step closer to learning a new language with every Rick and Morty episode. At the same time, challenges are unavoidable. There are many languages (English being one of them) that are not phonetic at all. It means there's a huge difference between how you pronounce the words and how you write them. So if you don't understand everything that's being said, you're totally fine. Just try adding subtitles to your movies and TV series.
Now, where do you get the subtitles? Whether you watch your content on Mac, iPhone, or a TV device, there are many tools that will help you download and open subtitles anywhere. In this article, we review the best go-to spots for subtitle download and explain how to add subtitles to your video.
Best subtitles download app for Mac
If you're looking into Mac apps, try video downloaders that have support for subtitles. This is a huge win-win, because you can get a movie or a TV show episode with subtitles included, play it on your Mac, or even stream to a large screen. Don't want to download video? No problem, there are video downloaders that allow you to extract subtitles from a movie without saving the movie itself. And we found a perfect app for the job.
Download videos and subtitles with Pulltube
Pulltube is a one-stop Mac app that can download videos and subtitles in a variety of formats. You can choose to download video, video + subtitles, or subtitles only. Even more, Pulltube has a video trimming feature and a built-in converter that will bring your downloads into the right shape, in seconds. Here's how to use Pulltube for movie subtitle download:
Paste or drop your movie link to Pulltube
Once the movie preview appears, click on the CC button in the lower left corner
Select "Download Videos and Subtitles" or "Download Subtitles Only"
Click on the Download button.
Your video and/or movie subtitles will be automatically saved to the Downloads folder. If your file contains multiple subtitles, you can choose to save all or select the specific ones in the Pulltube Preferences. It's also possible to set the app to convert your subtitles to SRT or other formats.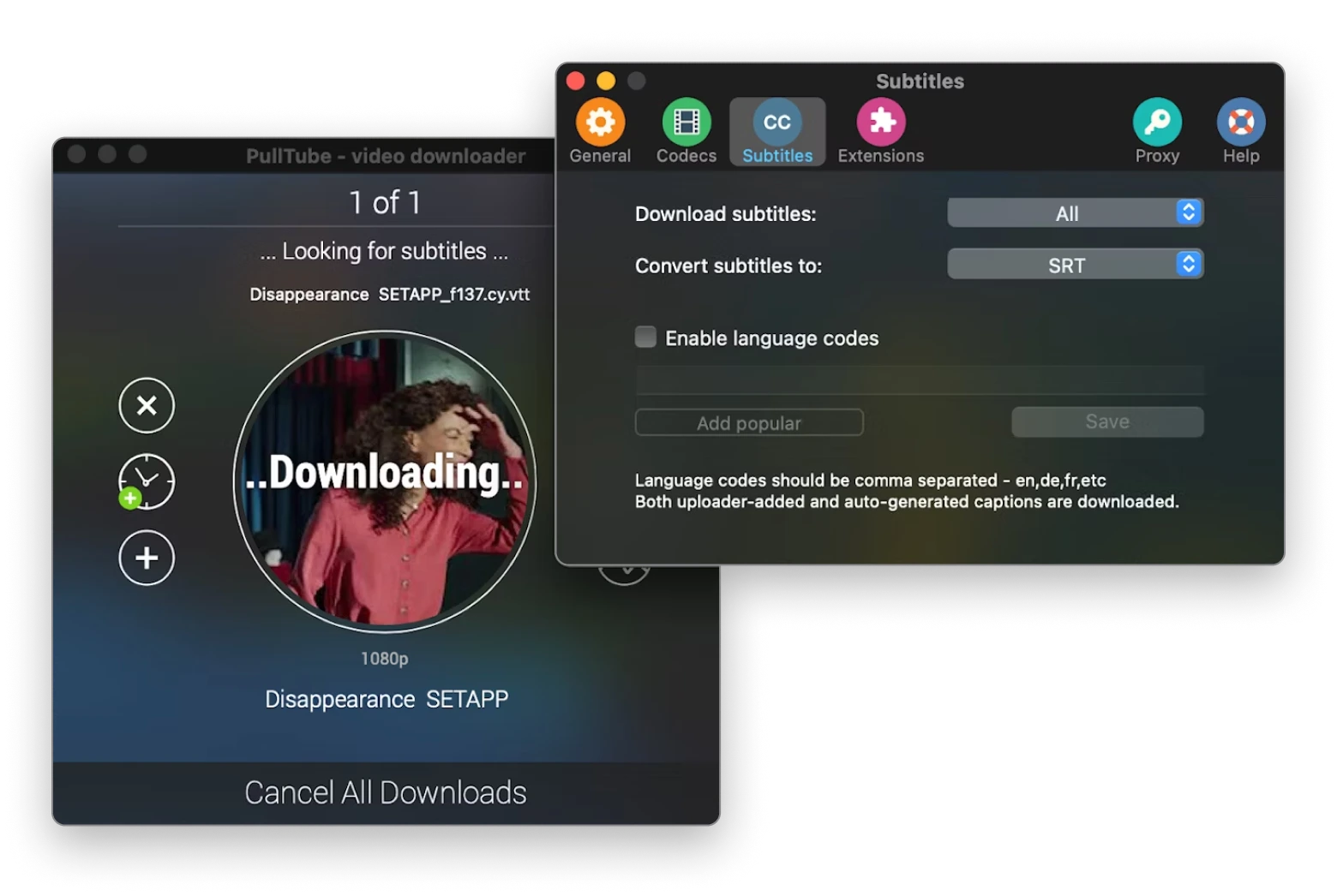 Best websites to download subtitles online
If you have a movie or a TV show downloaded on your computer and you only need to add subtitles, you can search for subtitles online. Here are the websites that are worth checking out.
Download subtitles from Downsub
Pulltube is the best choice for subtitles download via an URL. But what if you don't want to use a Mac app? In this case, Downsub can be a good alternative. It's a website that automatically generates subtitles for your videos and lets you save the subtitles on your computer:
Go to downsub.com and paste your movie URL
Wait a few seconds for Downsub to generate subtitles
Click to download subtitles in TXT or SRT format.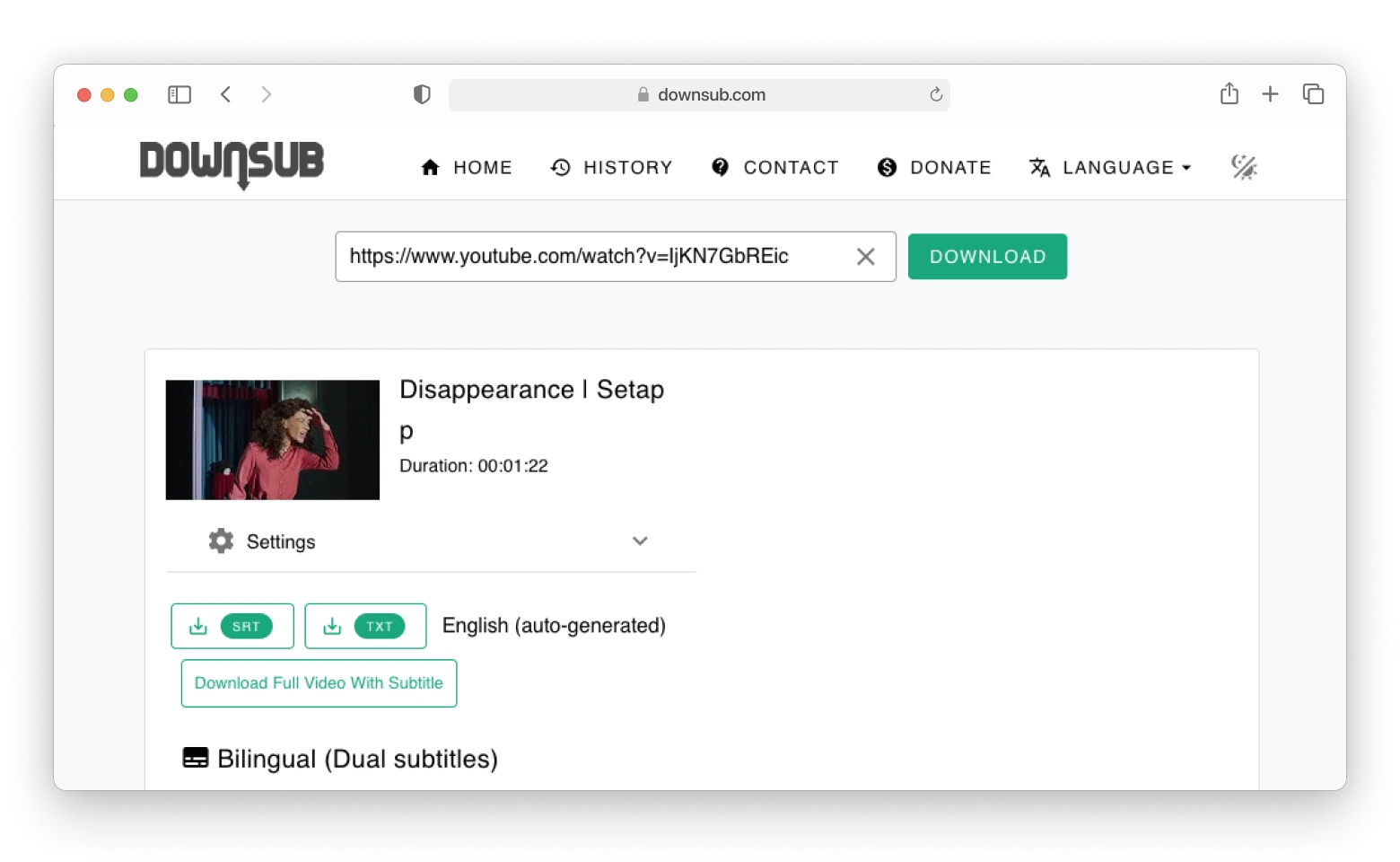 That's it. Add your subtitles to the video, and enjoy your movie night!
Subtitles search on English Subtitles
If you don't have a link to a movie or a TV show episode, Downsub won't work for you. In this case, you should check websites with subtitle repositories such as English Subtitles. This online platform has a collection of subtitles you can search through. All you need to do is enter the name of your movie and click on the Search button. Note that the website will offer dozens or even hundreds of subtitles for popular entries, so make sure you choose the right format and the most optimal file size.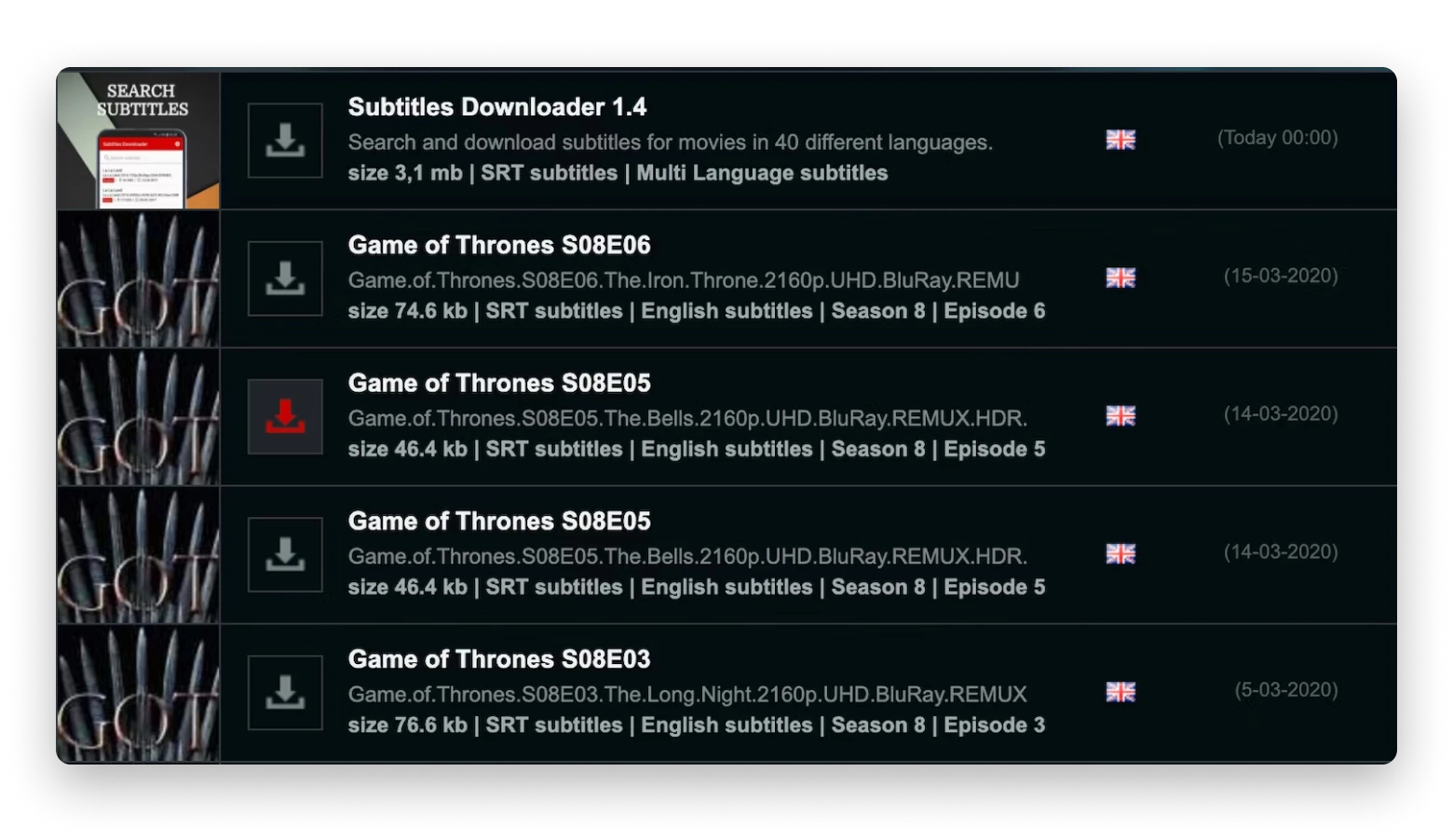 Download subtitles from Subtitle Seeker
Subtitle Seeker is another website that serves as an aggregator of different subtitle download platforms. Although it doesn't have a good search option, Subtitle Seeker is worth checking out. The website usually adds the latest movie releases early on. You'll also find detailed movie and TV show descriptions here.
The problem with most web resources like Subtitle Seeker is that they are cluttered with ads and annoying pop-ups. So it's definitely not the best experience. If you use the mentioned websites for subtitles download on Mac, we recommend using ClearVPN's ad-blocking feature.
ClearVPN is a superb VPN app that prevents ads and trackers from targeting you on the websites like Subtitle Seeker. Not only that, ClearVPN covers many privacy shortcuts — from location change to unlocking streaming services not available in your country. Pick your shortcut before you go online and rest assured you're safe.
How to load movie subtitles and TV subtitles
Now when you know where to download movie subtitles, how do you actually "insert" subtitles into your movie? It all depends on the player you use and whether it works with the format of your subtitles track. Most video players support SRT and TXT tracks, but make sure you check the requirements individually.
Show subtitles in QuickTime
If you want to watch your movie with subtitles on Mac, it's pretty easy. Apple's native QuickTime Player allows to show subtitles in a click — just make sure your video file contains subtitles:
Play your movie in QuickTime
Click on View > Subtitles in the menu bar
Choose the language.
Load movie subtitles on a TV device with JustStream
If you want to play a movie with subtitles on Apple TV, get JustStream, a reliable, high quality solution for streaming and mirroring of your media.
JustStream can handle subtitles in a variety of formats. As long as the video has captions, the app will display them. When casting to Chromecast and Chromecast Ultra, you also have full control over the font, color, and size of the captions.
Open subtitles on your iOS device
Let's say you've downloaded and loaded subtitles on your Mac. How to make sure you can watch your movie with subtitles on other devices? This is where iFlicks comes to help.
iFlicks is a Mac app you can use to import movies to iTunes or Plex, so it's easy to watch them on iOS devices. With subtitles! iFlicks works with both embedded and external subtitles. If the subtitles you download with your video are in a compatible format, the app will process them automatically. You can also download subtitle files separately, and then add them to a movie.
Here's how to set iFlicks to load subtitles automatically:
Add your movie or TV show to iFlicks
Navigate to Preferences in the menu bar
Click on Rules > Add Rule
Create a rule to download subtitles in a selected language for movies and TV shows
Click Ok to save the rule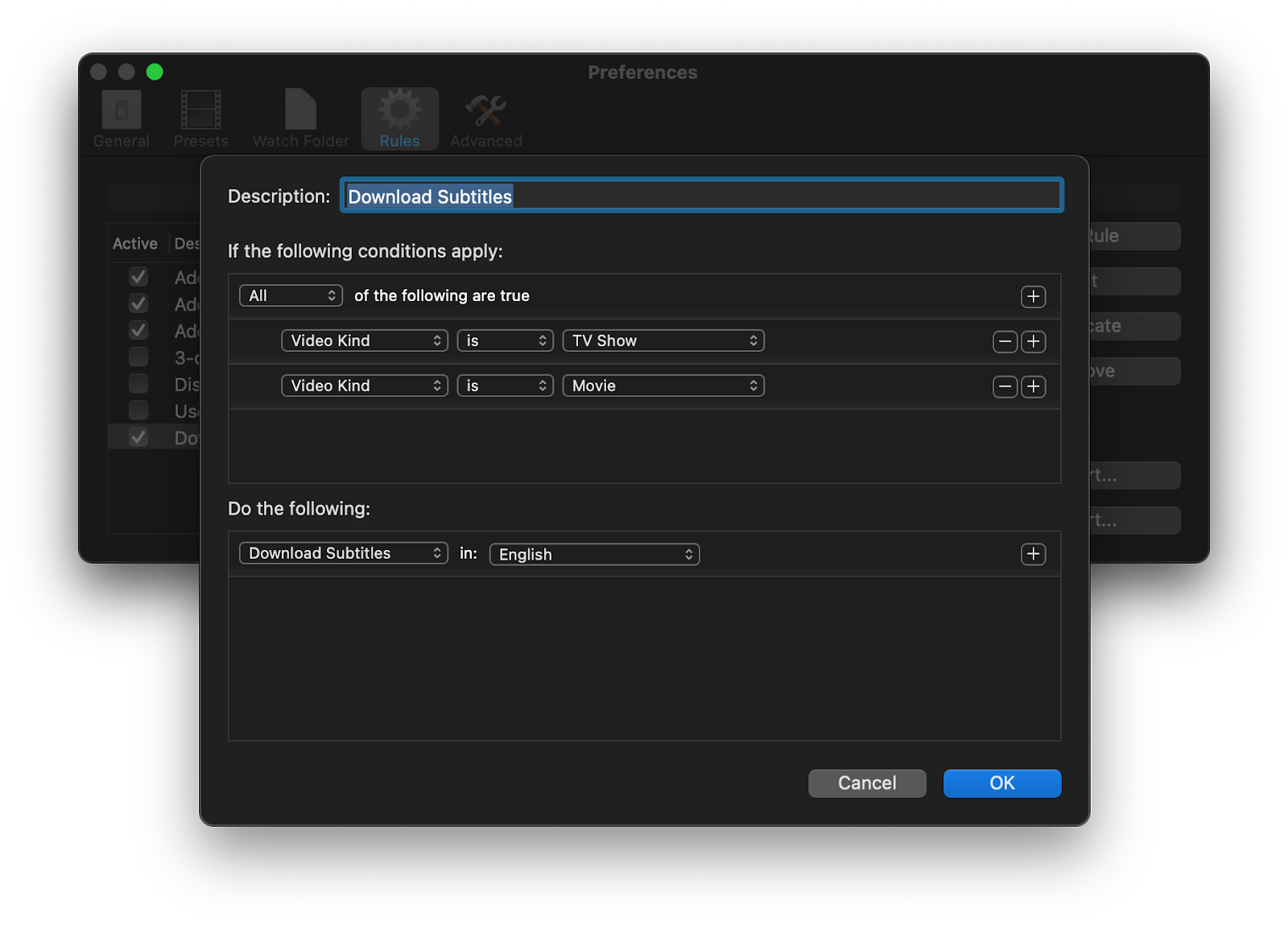 To add an external subtitle file to your iFlicks video:
Add your movie or TV show to iFlicks
Click on the plus button in the lower left corner of the sidebar
Select and upload your subtitle track from Mac
Edit the language and encoding of your subtitle track in the sidebar.
Alternatively, you can drag and drop your subtitle track onto the iFlicks window. Note that you should add subtitles after you've uploaded the video file. Once it's all done, go ahead and open the video from your iFlicks collection on iPhone or iPad.
How to manually switch subtitle tracks in a video
Obviously, not all subtitles are good. Sometimes, the captions might be a bit off or the translation is not accurate. Unfortunately, default players like QuickTime don't give you an easy option to switch between different subtitle tracks. A solution? Get a pro movie player.
Movist Pro is a 4K video player for Mac that can enhance any movie night. It's designed to open and play movies with any custom decoder while consuming minimum CPU. When it comes to subtitles, Movist Pro is the easiest way to manually switch between tracks. And not only that. It allows you to save subtitle presets, place subtitles into letterboxes for visual clarity, or even turn on audio subtitles.
Here's how to get total control over your subtitle tracks:
Play your movie in Movist Pro
Open Preferences > Subtitles
Choose between external, embedded, and remote subtitles
Customize the style of your subtitles.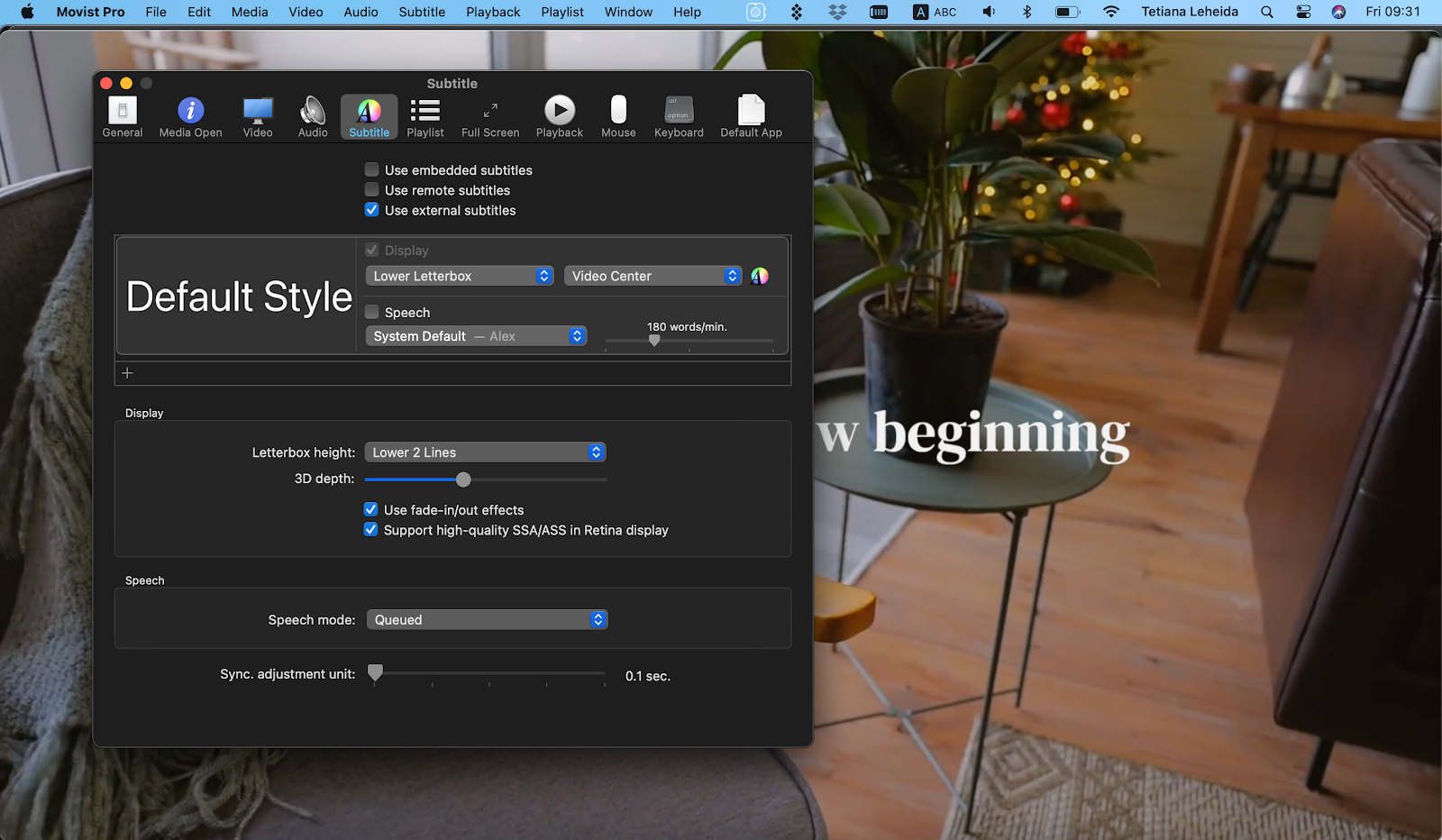 Once you save your defaults, there's no need to dive into settings every time you watch a new movie. Movist Pro will display all available subtitles in the menu bar — just click on "Subtitle" whenever you want to switch tracks or adjust display type.
If you don't have access to Movist Pro, we recommend VLC player. This free open-source video player is a great alternative to QuickTime in terms of subtitle support. Here's how to switch subtitle tracks in VLC:
Play a movie in VLC
Click on Subtitles in the main menu > Subtitle Track
Choose the subtitle file you want to use
To upload new subtitles, click on Subtitles > Add Subtitle File
You can also open subtitles by uploading them along with your movie file to VLC. To change the visual style or subtitles language, go to Preferences > Subtitles/OSD.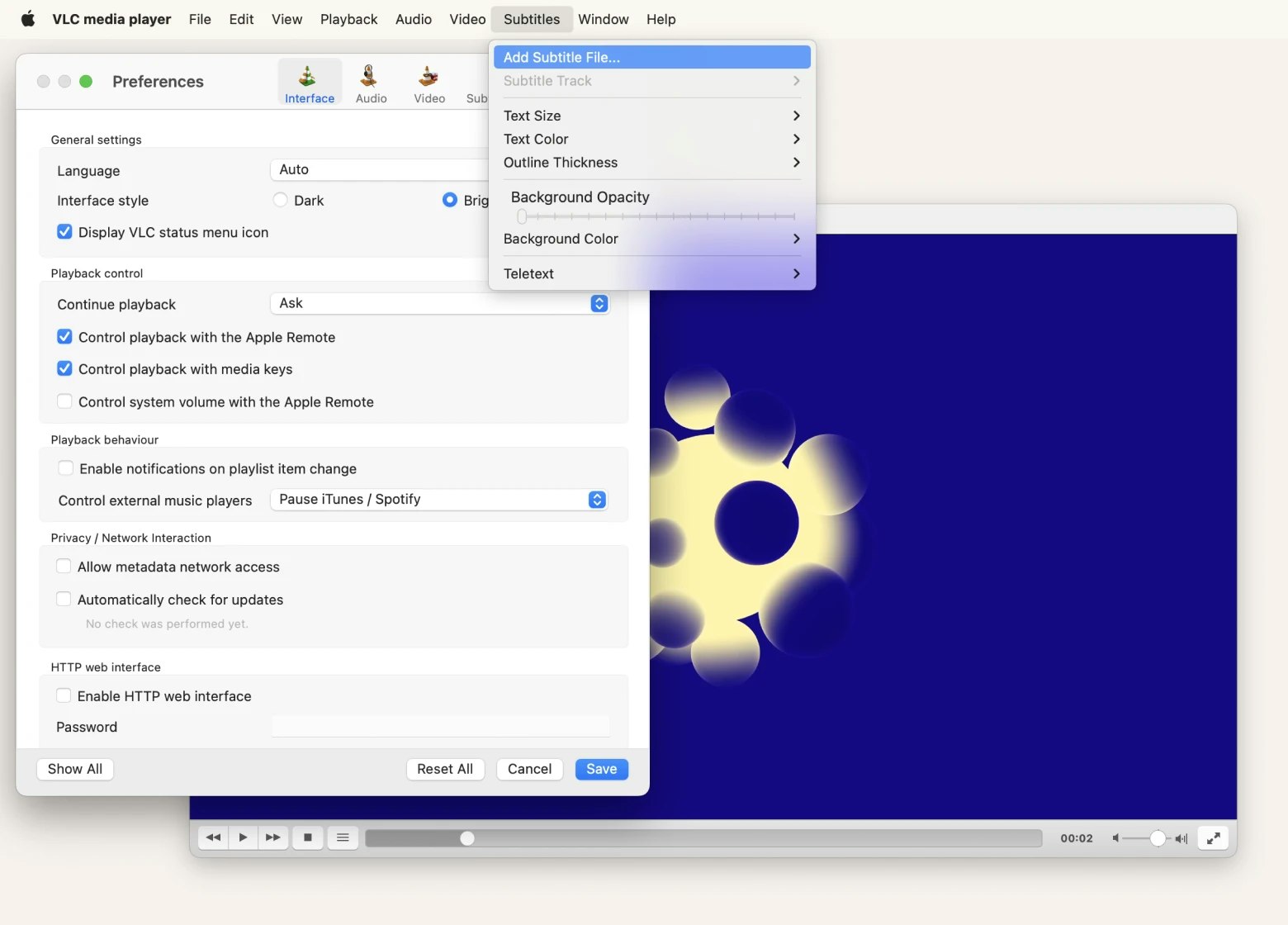 If you're used to native macOS apps, VLC's interface will feel a bit bland and outdated — but it's a decent free tool for subtitles switching. Otherwise, Movist Pro is better in terms of UX, functionality, and ease of use.
Summing it up, the best subtitle downloader and video downloader for Mac is called Pulltube. If you download subtitle files online, try a reliable ad blocker like ClearVPN to ensure a safe browsing experience. JustStream will help you load subtitles and stream content to TV, and iFlicks is the best way to open subtitles on an iOS device. Finally, there's no better app for switching between subtitle tracks than Movist Pro. And you know what's the best thing? All of these apps are free.
Setapp is a productivity tool that gives you an all-access pass to 240+ Mac and iOS apps for 7 days free, then $9.99/month. Get to try Pulltube, JustStream, ClearVPN, Movist Pro, and other world-known software like CleanMyMac X and Bartender for free. Curate apps into workflows and achieve your goals faster. Including the movie goals — they are all important!