How to charge your MacBook without a charger
The average battery life of a MacBook after a full charge is 10 to 17 hours, depending on whether you're using an Intel-based Mac or one of the newer Apple silicon machines. The number of hours a MacBook can stay operational after a single charge lowers if you're using it constantly throughout the day and will also vary based on what you're doing.
Although, as MacBook users, we know to carry a charger wherever we go, most of us have been in a situation when that lifesaving power cord has been forgotten, broken, or misplaced just when we needed it the most.
That's when you begin to wonder how can I charge my MacBook Air without a charger and whether it's possible at all. Well, the good news — it's possible indeed. And even though the solutions outlined below won't make for a permanent fix, they'll help you charge MacBook without charger in an emergency. So let's get right to the "how."
How to charge your MacBook with a power bank
The laptop's battery is its primary source of power, so charging it is crucial to its uninterrupted operation. The most apparent method, which might not come as a surprise to many, is using a power bank as one of the alternate ways to charge MacBook Pro when you don't have a charger.
Power banks today are very common sources of portable energy and can come in handy on many occasions and for a variety of devices. If you don't own one already, it might be a good idea to get one and carry it with you in case your MacBook or iPhone starts running out of battery.
Before you begin charging, make sure your MacBook and power bank are compatible. Check the power bank's voltage, as it needs to be powerful enough to charge a laptop, and that it supports a USB-C port.
So how to charge MacBook Air without charger using a power bank? Simply connect the two devices with a cable and a converter, if needed, and the charging should begin right away.
How to charge your Mac using a USB type C
The ability to charge a MacBook with a compatible USB-C phone charger for Android has been a game changer for a lot of Apple users. This method will take longer, since the wattage of the phone charger likely won't be enough to do the job quickly, but it will get your Mac laptop to a full battery eventually.
Have you already guessed how to charge your MacBook without a charger which originally belongs to it, using a compatible phone power cord instead? The process is very straightforward: connect a USB type C phone charger to your MacBook and plug it into a power outlet on the other end to begin charging.
Turning to this method on a rare occasion is fine, but be mindful of using it too often, because there could be negative repercussions on your MacBook battery. Although unlikely, these risks could include long-term battery damage and battery swelling. The USB-C port may also get loosened over time.
How to charge your MacBook using USB converter
You've noticed your MacBook's battery dying, but don't have the original charger with you. Consider the problem solved if there's a PC nearby.
Another one of alternate ways to charge MacBook Pro is connecting it to a PC with a USB converter cable. USB 3.0 to USB-C converter, precisely. All you need to do is plug the USB end of the cable into the PC and the USB-C end of the cable into your MacBook and the charge will start to flow from the PC into your laptop.
The only caveat to this method would be the accessibility of a PC in such an emergency. Otherwise, it'll work almost as well as charging your MacBook the usual way.
How to charge your MacBook using a universal power adapter
A universal power adapter is the device making it possible to connect your phone or laptop to a power outlet in just about any setting. They usually come into play when you're traveling to a country with a different type of electrical outlet and power supply. In order for your devices to be functioning properly there, you'll need a universal power adapter.
A true universal power adapter will not only make sure the plugs are compatible, but also help convert the type of current available to the type suitable for your laptop. As you might have guessed, using this adapter can become one of the alternate ways to charge MacBook Pro or Air.
Most adapters are made to compensate for the difference in voltage and cycle of the electrical current to charge your devices without damaging their components. However, to stay on the safe side, always make sure it maintains a required voltage coming into your MacBook, otherwise its battery can get overheated and die.
To make it easier for you, here are the recommended specs from the Apple website:
MacBook Air. Battery: 49.9-watt-hour lithium-polymer battery. Charger: 30W USB-C power adapter.
MacBook Pro. Battery: Built-in 58.2-watt-hour lithium-polymer battery. Charger: 61W power adapter or 96W power adapter
How to keep my battery life up for longer on a MacBook?
It's essential to remember that all of the solutions for how to charge your MacBook without a charger are only temporary fixes because they all either have risks associated with frequent use or simply aren't very practical. So if your MacBook charger has been lost or broken, you should look to get the proper replacement sooner than later.
In the case that your charger was accidentally left at home and you're just trying to get through the day with the battery power your MacBook has left, there are a few ways to preserve it for longer. For example, try Batteries.
Batteries is a unique app letting you easily track all devices' battery levels from a single widget. Conveniently monitor the battery life of all your Apple devices, including AirPods, from Today View on your Mac and the app will send you a notification when it's time to recharge.
For the ability to check your MacBook and other devices' battery levels in a single click:
Connect your device
Open Finder and enable "Show this device when on Wi-Fi"
Use the same Wi-Fi network as your computer

AlDente Pro is yet another great utility to keep an eye on the well-being of your MacBook batteries. AlDente Pro will help you set charging limits and turn on heat protection when necessary, so you can work with your charger connected and not worry about the health of your Mac's battery. In case you've planned a long working session with no access to a plug you can use the app's Top Up feature to charge your battery to 100% just once.
To set charging limits for your MacBook using AlDente Pro, simply:
Open the app
Move the slider or type your preferred charge limit

For everyone who has ever wished they could squeeze a little more battery life out of their MacBook — you've got to try Endurance.
Endurance is an app designed to make your MacBook battery run longer, while improving its overall health. With just a few simple energy-saving moves, it extends battery life by up to 20%, so you can get more done between recharges. Set Endurance to start once your battery level crosses a specific threshold or leave it on for better performance.
Endurance is configured right out of the box, so you can just turn it on to instantly extend your battery life considerably, or tweak its settings to get the results you want without any interruptions to your workflow.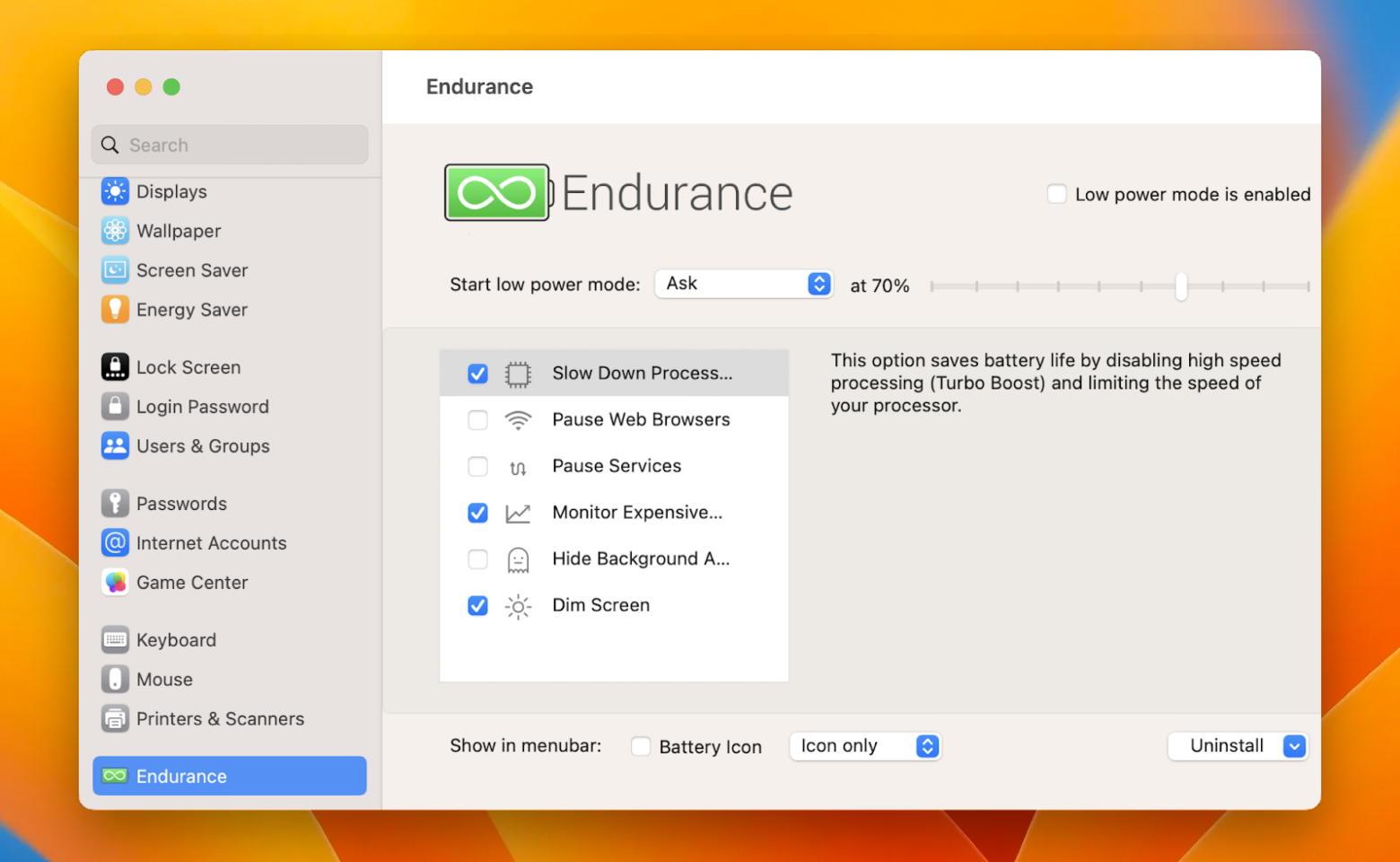 FAQs: How can I charge my MacBook Air without a charger?
In addition to the information above, here are some answers to the most common questions about alternate ways to charge MacBook Pro or Air.
Can you charge MacBook Air with a phone charger?
Yes, you can charge a modern generation MacBook with a phone charger as long as it uses a USB-C cable. However, this method won't work on MacBooks that were released prior to 2016.
Can I charge my MacBook Air wirelessly?
At this time there's no way to charge a MacBook Air wirelessly. Although Apple seems to have wireless charging in its sights for the future, the company has yet to announce a MacBook that can be charged without a cable.
How do I charge my MacBook from my phone?
Simply connect a USB-C phone charger for Android to your MacBook and charge it from the power outlet.
As you can see, although it might have seemed impossible at first, there are a few feasible ways to charge Macbook without charger. It's important to remember, however, that the methods above are temporary solutions and it's best to use an official Apple charger for MacBook, or monitor your Mac laptop charge levels using Batteries and AlDente Pro, and extend available power for as much as possible using Endurance.
Good news! All three apps — Batteries, AlDente Pro, and Endurance are available to you right away at no cost. How? Through a free seven-day trial of Setapp, a platform with more than 230 outstanding Mac and iPhone apps covering every use case you can imagine. Try every Setapp app today and realize your device's full potential!