How to use hidden, time-saving macOS multi-touch gestures
As a Mac die-hard, I used to take a lot of crap from PC-using friends, along the lines of, "How can you use a mouse with just one button?" Never mind that you can use any mouse you want, and never mind that Apple now makes the best trackpads in the business.
No matter what you think of the keyboards on Apple's laptops, their huge, luxurious, Multi-Touch, Force Touch trackpads can't be beat. And macOS includes tons of handy trackpad gestures that you might not be using already. You can left-click, tap to click, select text, sweep every window out of the way to reveal your Desktop files, and so much more.
Even better, Setapp includes BetterTouchTool, which lets you customize the trackpad even further, as well as a mouse or any other input device you can connect to your Mac. If a mouse or trackpad action is taking too long, or somehow hurts your hand—selecting text with a trackpad used to bother me after a while—there's probably a better, faster, easier way to do it. Here's how.
Common trackpad and mouse gestures in macOS
If you've got a Mac laptop, run don't walk to System Preferences and open the Trackpad pane. It's simply packed with gestures you might not be using that can really speed up some tasks on your Mac.
There's no mystery to these options, either. As you mouse over or select each gesture, a video preview on the right shows exactly what will happen. It's definitely worth a few minutes to watch all the previews and decide which gestures could work for you.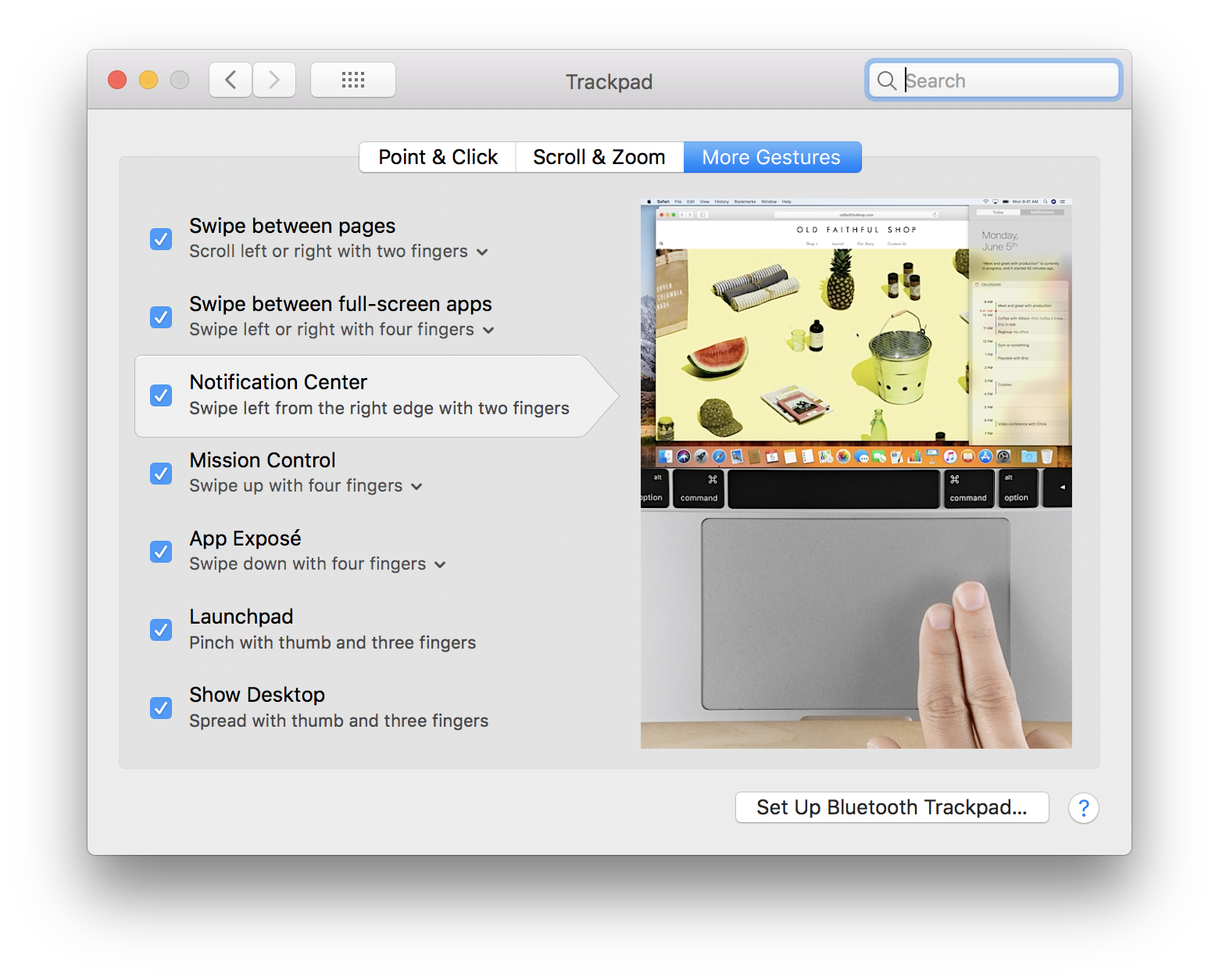 Some gestures even have options you can select in a drop-down menu. For example, in the Point & Click section, you can enable the Secondary Click gesture by checking its box, and then the drop-down lets you choose if that secondary click will be a two-finger tap or a click in a specific corner of the trackpad.
Here are some useful built-in gestures you might not be using. You can enable and customize them in System Preferences > Trackpad.
Look up & data detectors. This lets you select a word and then Force-click (or click with three fingers) to look it up in your Mac's dictionary and thesaurus. Find it in the Point & Click tab.

Tap to click. Check this box and you can click with just a tap of your finger, instead of needing to press down hard enough to hear the sound and feel the haptic feedback.

Scroll direction: Natural. Uncheck this box in the Scroll & Zoom tab if you want scrolling on your trackpad to work the same as it does with a mouse: Swipe up to scroll up, swipe down to scroll down. If this box is checked (and it is by default), scrolling works like it does on your iPhone and iPad: Swipe up to scroll down, and swipe down to scroll up. I uncheck this box within about 2 seconds of getting a new Mac, but it's really a personal preference.

Rotate: When you're editing a photo that needs to be rotated, this gesture in the Scroll & Zoom tab lets you just turn the photo by rotating two fingers on the trackpad. It snaps into alignment at 90, 180, and 270 degrees, but you can stop anywhere you like.

Notification Center. In More Gestures, this gesture lets you open the Notification Center with a quick swipe of two fingers from the right edge of your trackpad, like you're pulling in Notification Center from off the side of the screen.

Mission Control and App Exposé. If you tend to keep too many apps or just too many windows open, you need these two options in More Gestures. Mission Control lets you swipe up with four fingers to see every window you have open, across all apps. Swipe down with four fingers, and App Exposé displays the windows you have open in the current app.
More trackpad options in Accessibility
Strangely, my personal favorite trackpad gesture isn't included in System Preferences > Trackpad at all. It's the ability to select text by dragging three fingers over it, instead of trying to hold down my trackpad with my thumb while dragging my index finger across the text, which tends to make my hand cramp up after a while.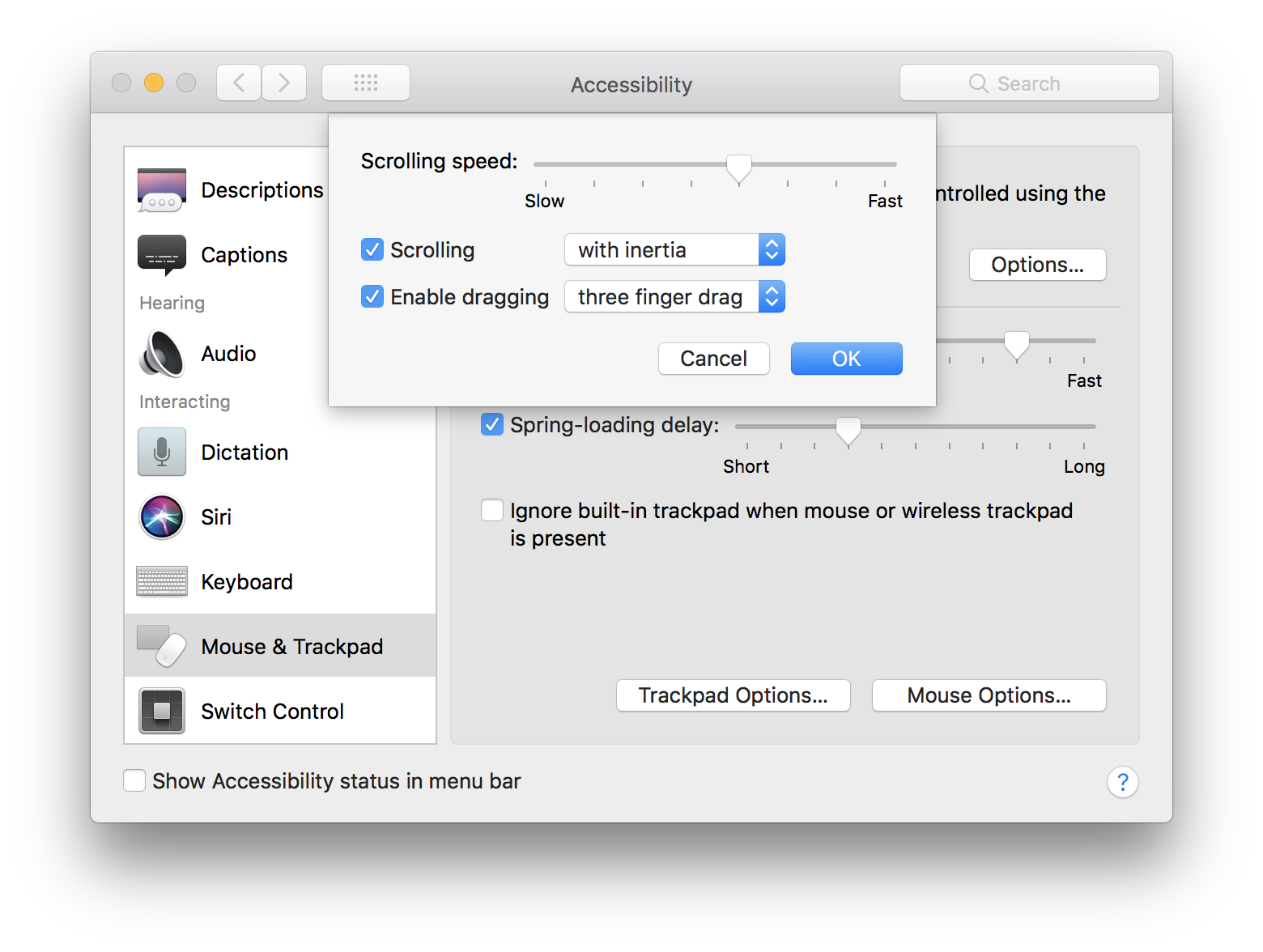 This is found in System Preferences > Accessibility > Mouse and Trackpad. First, you can adjust the double-click speed and specify a delay before folders spring-load when you hold a file over them. But the real magic is found when you click Trackpad Options.
Inside that menu is a checkbox to "Enable dragging" and a drop-down that lets you select "three-finger drag."
It takes a little practice before it's second nature. But that gesture lets you rearrange windows by dragging their title bar with three fingers, plus select text by dragging it with three fingers. Once you have the text selected, you can even drag it to a new place with another three-finger drag gesture.
Control your Mac apps with custom gestures
While System Preferences controls trackpad gestures that work across macOS, you can also create gestures to control features in the apps you use the most. All you need is BetterTouchTool, part of the Setapp bundle.
If you have a MacBook Pro with the new Touch Bar, BetterTouchTool even lets you add app-specific features as Touch Bar buttons, so they're always right at your fingertips. The Touch Bar is contextual, so once you get it set up for each app you use, the buttons on it will change as you move from app to app.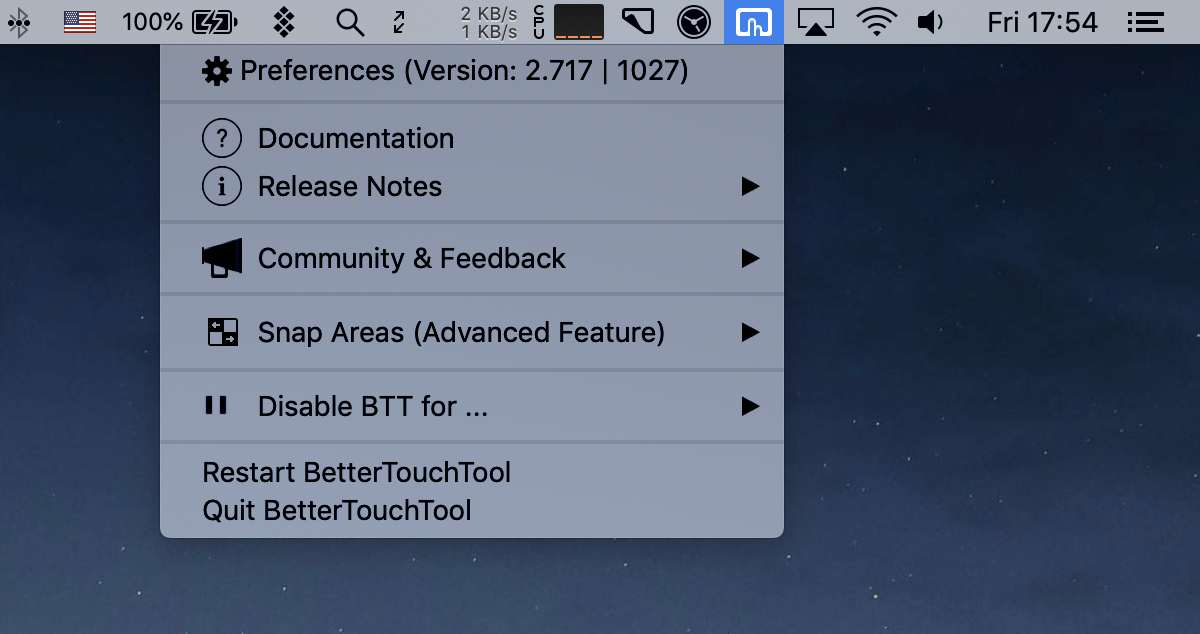 BetterTouchTool lives in your Mac's menu bar, where it can let you set up new trackpad gestures, customize other input devices, and have your windows snap to specific areas of the screen.
How to set up custom gestures with BetterTouchTool
Click BetterTouchTool's icon in the menu bar and open the Preferences. All the possible input devices you can customize are in a black toolbar along the top, including your trackpad, keyboard, Magic Mouse, a graphics tablet, regular mice, BTT Remote (which is a companion app for iPhones and iPads), the Touch Bar, even the Siri Remote. For this example, we'll pick Trackpad.
In the pane on the left, you'll choose which apps will support this new gesture. It can be Global, work just in the Finder, or you can click the plus icon to add other applications on your Mac to this list.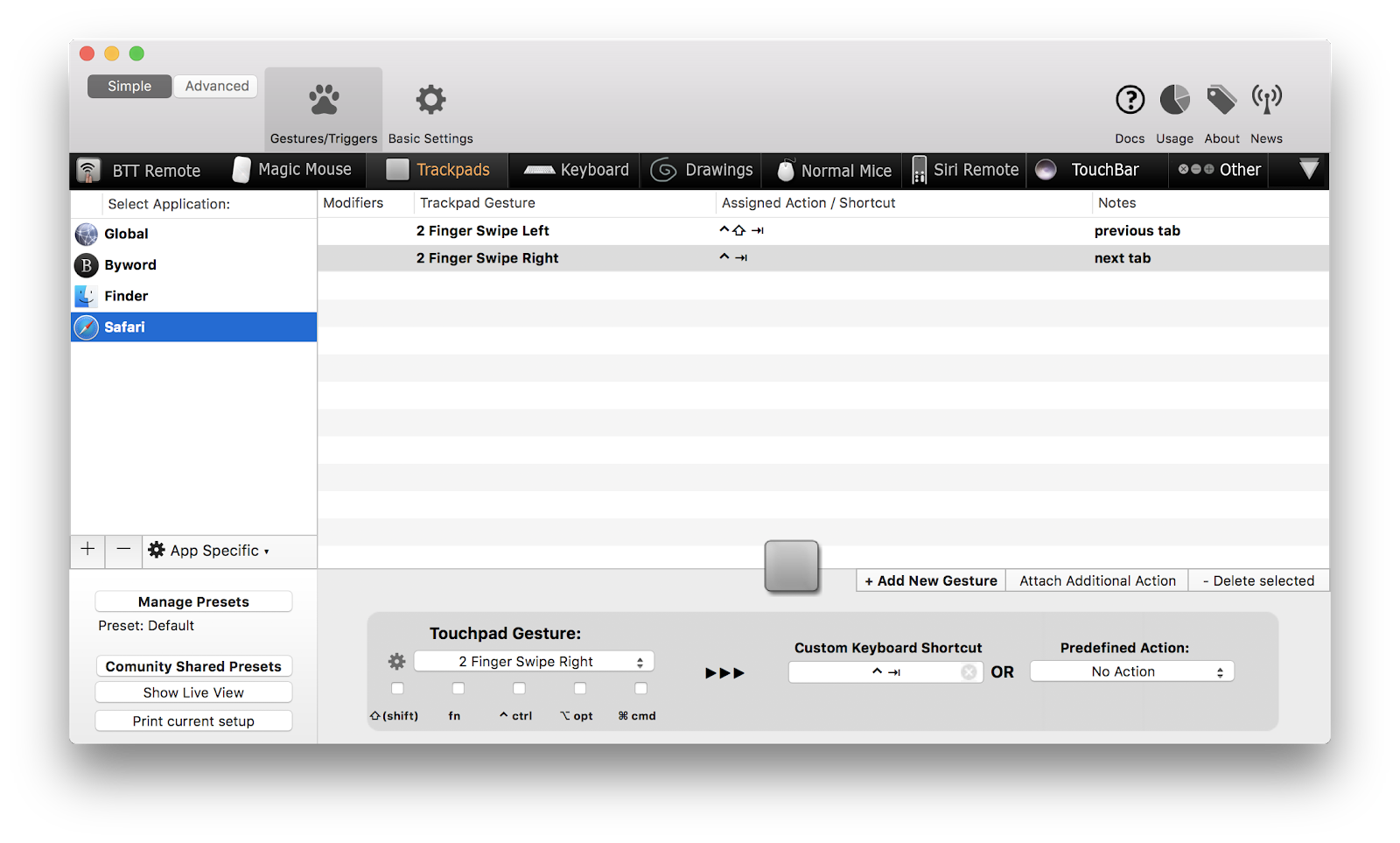 Once you've chosen an app in the left pane, click the Add New Gesture button at the bottom of the main pane. You can pick from a huge number of one-, two-, three-, four-, and even five-finger gestures, or your gesture can be a tapping pattern, or even use Force Touch. You can even specify a modifier key that needs to be pressed at the same time, but if you ask me the whole point of making trackpad gestures is to avoid using the keyboard.
Once you've selected your gesture, you have to tell BetterTouchTool what that gesture should do. If the action has a keyboard shortcut, you can enter that in the Custom Keyboard Shortcut field.
If the action doesn't have a keyboard shortcut already, you can always create a new keyboard shortcut for it in System Preferences > Keyboard > Shortcuts. Go there first to set up a keyboard shortcut for any menu item an application has, and then head back to BetterTouchTool to set up a gesture that can stand in for that keyboard shortcut.
BetterTouchTool's Predefined Action menu includes actions that you might not find in an application's menus, like closing or resizing a window, starting the screen saver, or even summoning Siri.
How to use a drawing as a gesture
In the Drawings tab of BetterTouchTool's Preferences, you use your trackpad to draw a line that you can then assign an action, which makes the drawing into a trackpad gesture.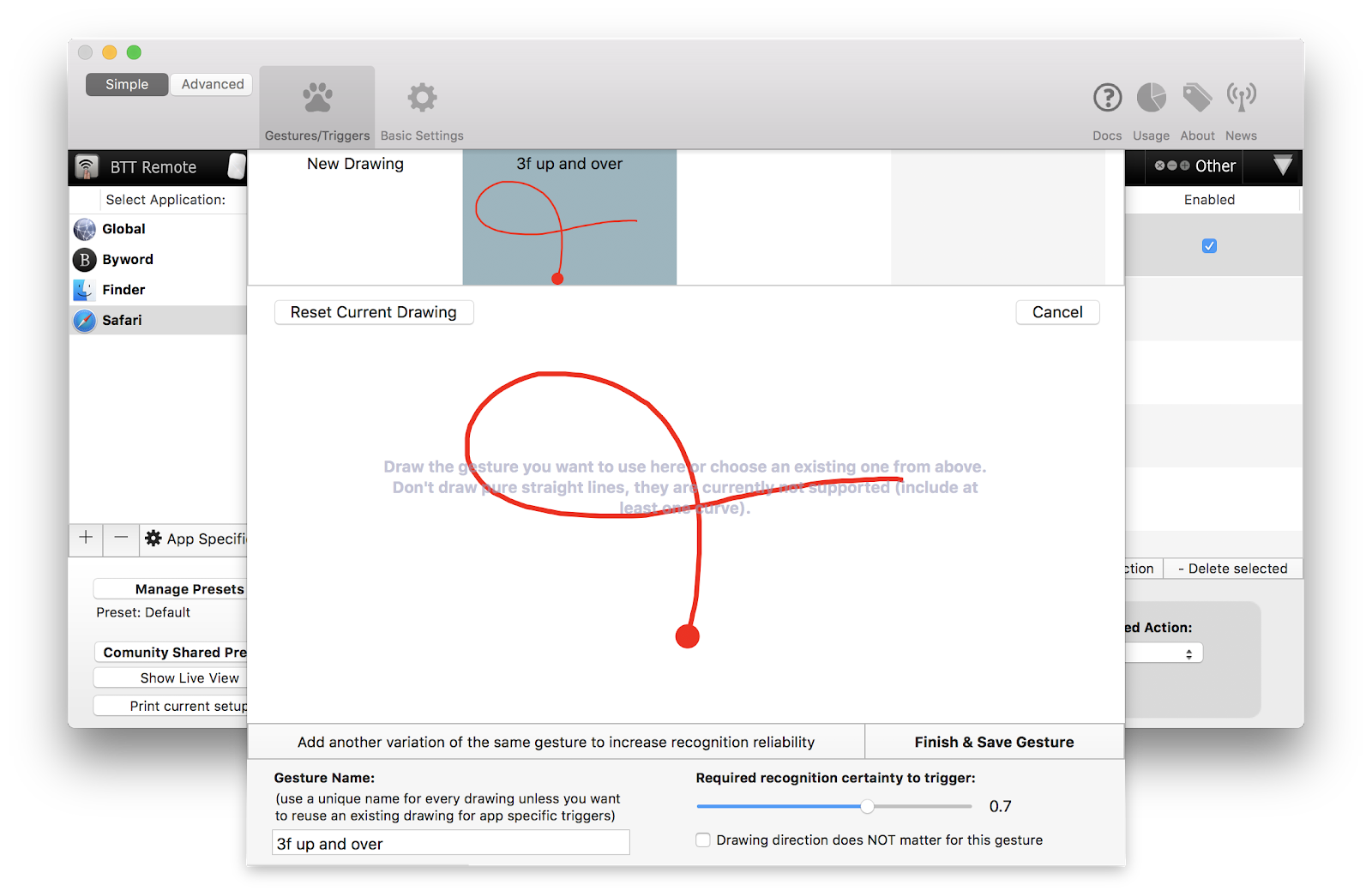 You're even prompted to repeat the drawing a few times, so the software can recognize variations of it. Then you just click Finish and Save before assigning that drawing to a keyboard shortcut or action. This opens up tons of possibilities for custom gestures beyond simple taps and swipes.
How to trigger multiple actions with one BetterTouchTool gesture
Once you've gotten the hang of setting up gestures to perform one action, it's time to level up! BetterTouchTool can let you assign multiple actions to one gesture, which lets you shorten multi-step workflows you do all the time into a single gesture.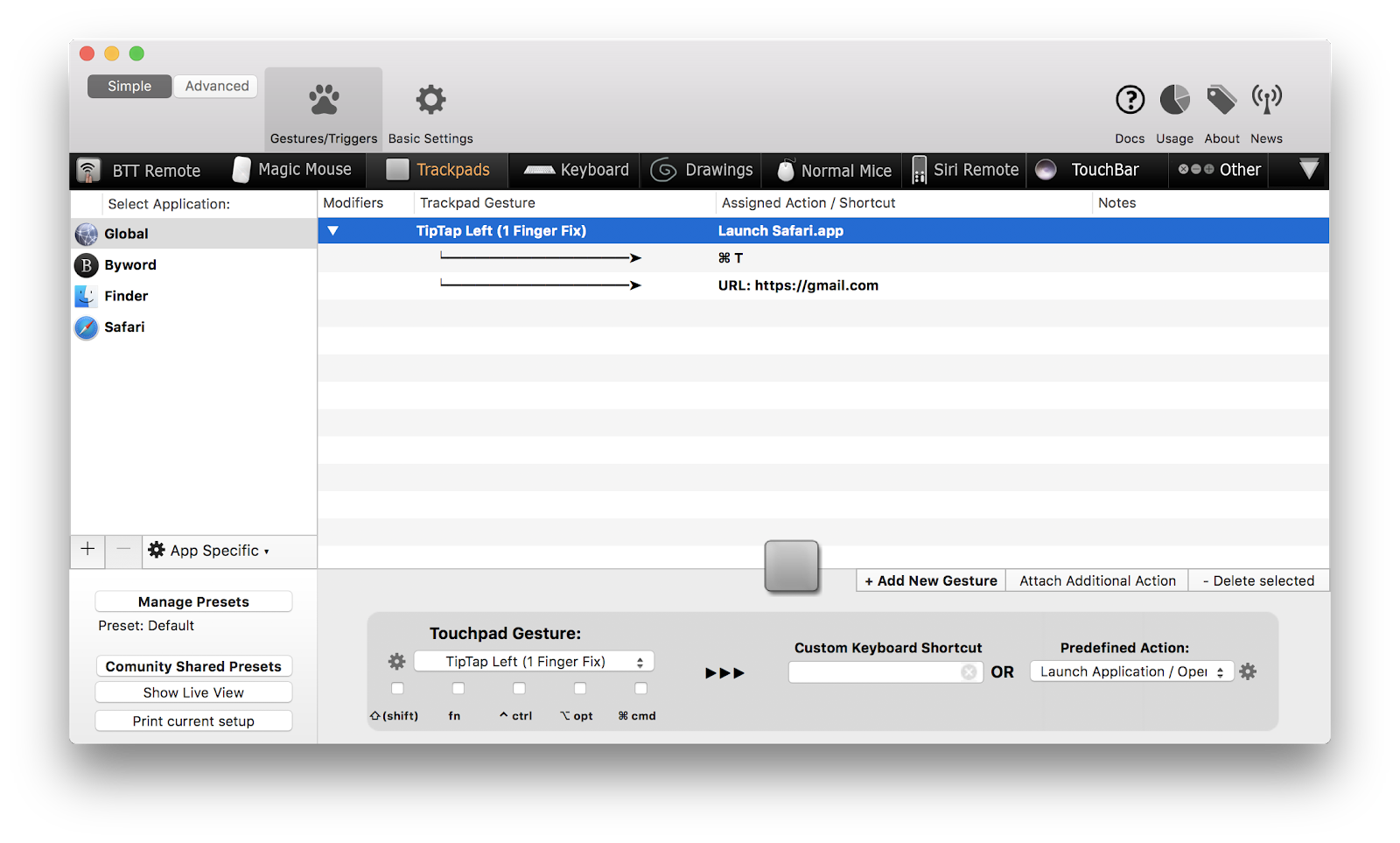 For example, if you want a gesture to open your web mail client in Safari from anywhere on your Mac, here's what you'd do.
In the sidebar on the left, select Global.
At the bottom of the main pane, click Add New Gesture.
In the bottom pane, select a gesture. In this example, I chose Tip Tap Left (1 Finger Fix). A little animation of it appears next to the Add New Gesture button so you can see how it works. This gesture has you put one finger down and then tap a second finger next to it.
In the Predefined Action drop-down, select Launch Application, which asks you to select which application to launch. Choose Safari.
Now click the Attach Additional Action button. This lets you specify another action (predefined or a keyboard shortcut) that will run sequentially after the first one. Enter Command-T in the Custom Keyboard Shortcut field to have Safari launch a new tab.
Enter as many more actions as you need. For ours, that's just a Predefined Action called Open URL, which asks for the URL to open the first time you set it up.
Control your Mac with BTT Remote for iOS
If you get the companion BTT Remote app for your iPhone or iPad, you can even use that device to execute BetterTouchTool gestures on your Mac, as long as they're on the same Wi-Fi network. These gestures are set up in BetterTouchTool's Preferences under the BTT Remote tab.
BTT Remote also lets you access your Mac's file browser and menu bar from your iPhone or iPad too—plus, it can turn your device's screen into a trackpad. This effectively lets you control your Mac from across the room, which can come in extremely handy.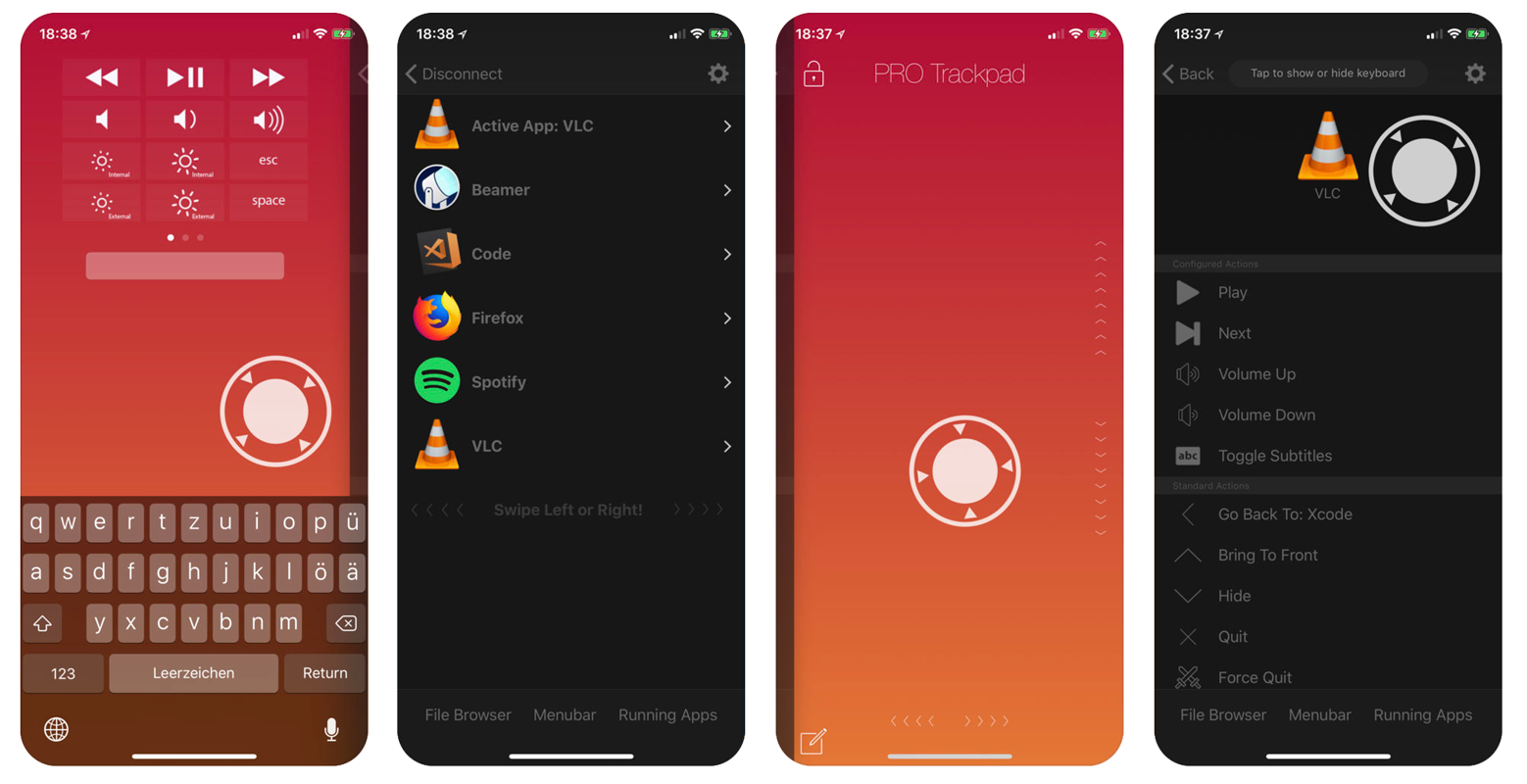 It's especially great if you use your Mac as a substitute TV, because now your iPhone or iPad can be the remote. For example, you could set up a BetterTouchTool gesture for BTT Remote to launch Safari and open Netflix in a new tab. Then just switch to the trackpad and pick a movie.
Another gesture could open your favorite locally stored video file in Elmedia Player (a beautiful video player available in Setapp), take the app full-screen, and turn up the volume. Now your favorite movie is only one tap away. And if you need to turn up the volume more, you can just use BTT Remote to access your Mac's media keys, or the volume control in the menu bar.
Window snapping in BetterTouchTool
One more useful feature in BetterTouchTool is how it can snap your Mac's windows into your preferred places on the screen.
In the BetterTouchTool Preferences, click the Settings gear to enter the Basic Settings, and check the box for Enable Window Snapping. Now when you drag a window's title bar to a corner of your screen, a window outline will appear showing which corner or side of the screen the window will snap into. Drag a window to the top edge of the screen to maximize it.
That's pretty basic, since it's controlled by that single checkbox, with no extra customization. But BetterTouchTool's Advanced Settings have a Window Snapping tab packed with granular controls that will make this feature work exactly the way you want. If you only want half- and full-screen apps, no quarter-screen apps, you can set that up. If you want the half-screen apps to take up 70 and 30 percent of the screen, respectively, rather than 50-50, that's doable too. You can even leave a little empty space between windows as padding.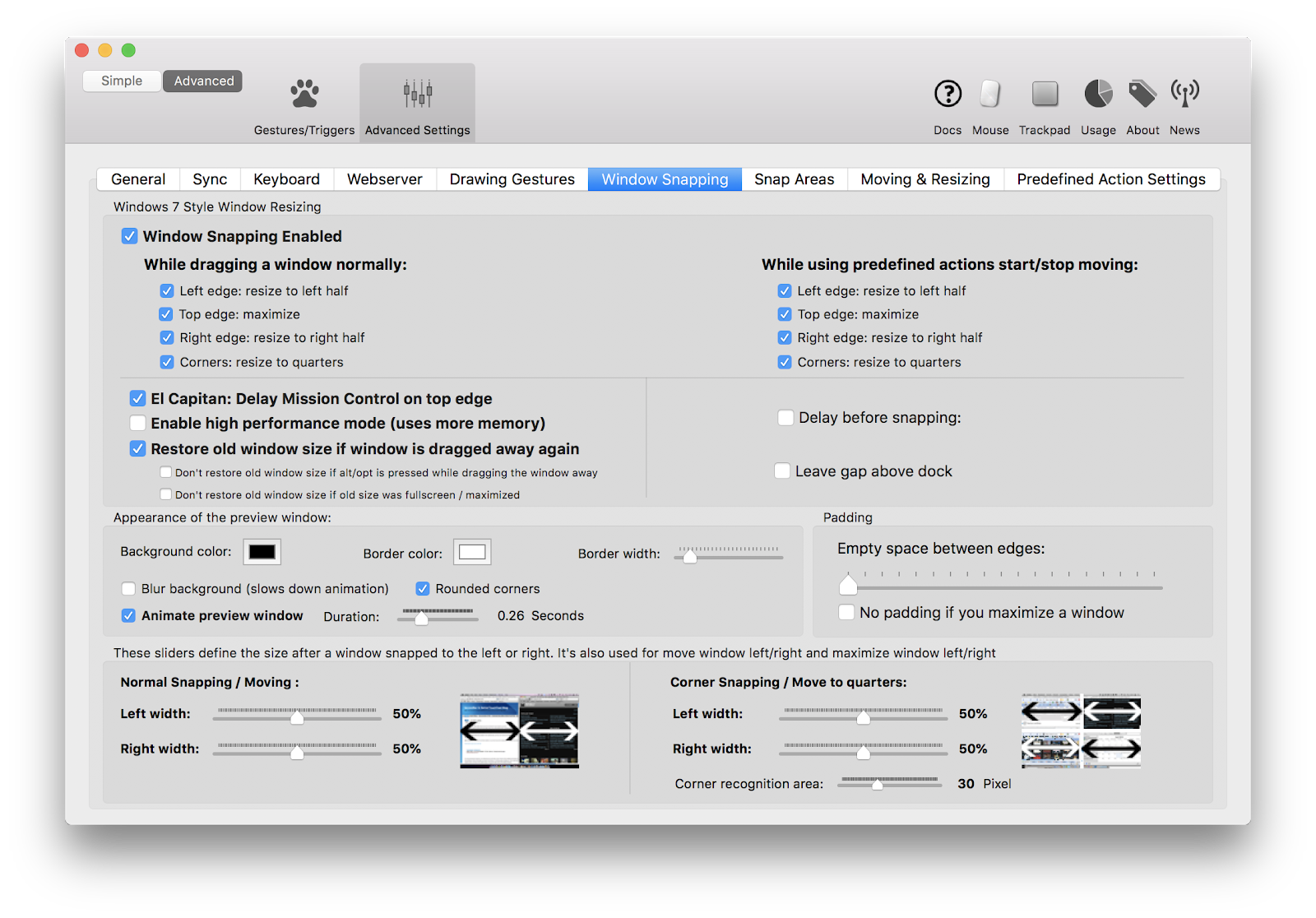 In fact, if you click the BetterTouchTool menu bar icon, you'll find an option called Snap Areas (Advanced Feature) that lets you create new snap areas, using the current window as a template. All these features make it easy to keep your Mac's desktop organized so you don't have to take the time to manually arrange your windows every single day.
Take full control of your trackpad
Once you get going with BetterTouchTool, you'll wonder how you ever lived without it before—the Mac's trackpad can just do so much, and when you get BTT Remote involved to fully control your Mac from your iPhone or iPad, the sky is the limit. In fact, BetterTouchTool is a little like Setapp itself, helping you do more with your Mac than you ever thought you could.