How to fix "the following disk images couldn't be opened" error
Mac is incredibly user-friendly and offers a lot of features. However, sometimes, you might need to download an app from an independent developer or any other tool that, for whatever reason, is not offered in the App Store. In such a case, the app can be supplied as a compressed disk image. The majority of the time, this works flawlessly. But occasionally, you could see the error message "The following disk images couldn't be opened." The most common reasons are the following: disc image file is corrupted, disk image not recognized, or there are no mountable file systems. If you want to know what to do to get rid of the error, this guide is for you.
What is a disk image?
Mac uses a unique image file format called a disk image (dmg) that simulates a physical disk. It has the same capabilities as a physical drive, so you can mount it in Finder, transfer files and folders to it, create clones of it, and burn it to a physical medium like a CD, DVD, or memory stick. They're extracted in the same way as regular disks. The Disk Utility lets you browse among them and even make your own disk images.
Earlier, disk images were used to distribute apps remotely on the Mac. However, they became obsolete with the release of macOS X. On the other hand, they still remain popular for Mac software distribution. This is mostly due to the fact that they give the developer control over how the software is presented when the image is opened. For instance, if you've ever downloaded an application that prompts you to put the binary file of the app into the Applications folder as well as an alias of the folder, you must use a disk image to accomplish this.
Being the exact copies of the source devices that include the files and structure of the original storage mediums, disk images can also be useful in creating system backups and data recovery.
Now that you know how to answer, "What is a disk image Mac?" and how you might be exposed to it while using your Mac, let's finally take a closer look at the warning you might face.
"The following disk images couldn't be opened" troubleshooting
If you're trying to launch a disk image on Mac but receive a warning message like disk image is not opening, consider the following methods to get rid of the problem.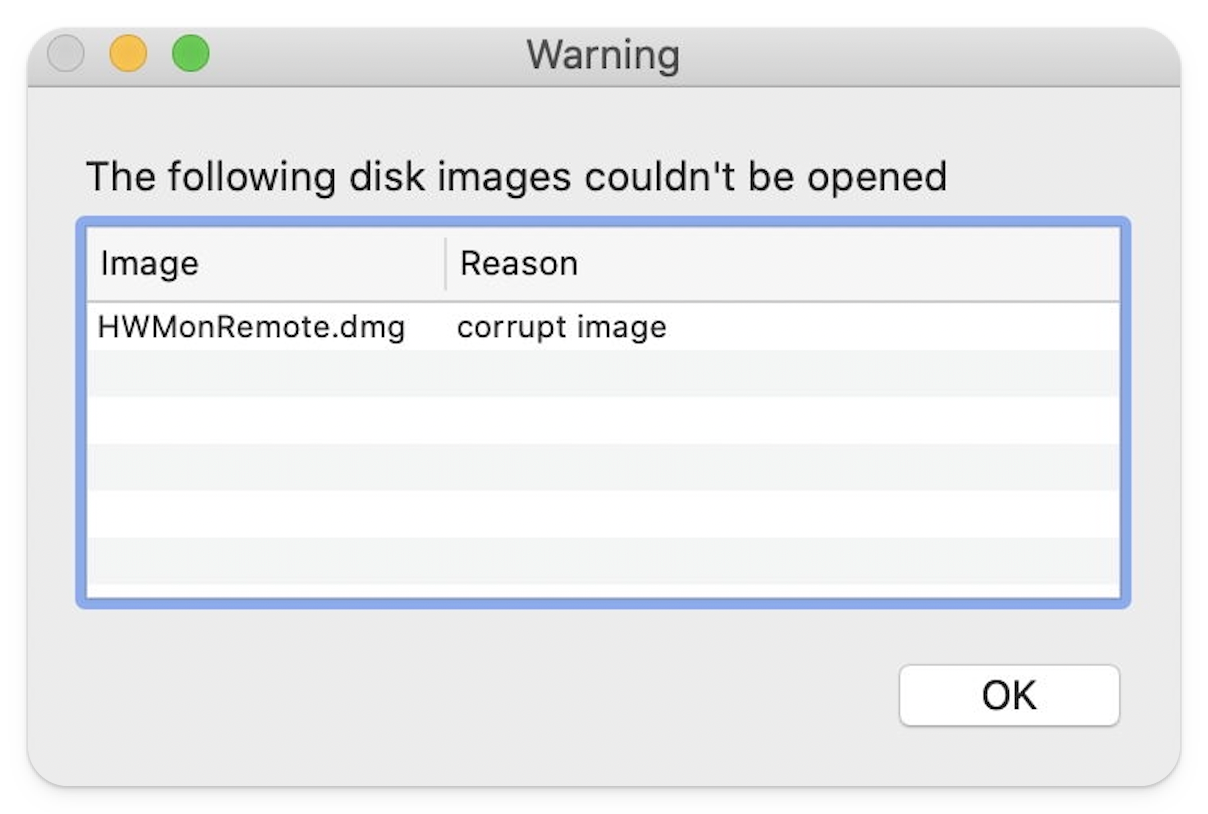 Re-download the disk image
Opening disk image file is impossible if it's corrupted. The corruption may happen during the download because of the unstable network, a malware assault, or other interference. So before re-downloading the disk image, you need to check your network. Once you have the file, double-click it to see if it can now be launched.
Tip: Control the speed of your downloads. A file is downloaded from the internet in a single stream that requires a specific amount of time and megabytes. With Folx Pro, this stream can be divided into up to 20 smaller streams, each of which will finish significantly faster. Your overall download speed will be 20 times faster as a result.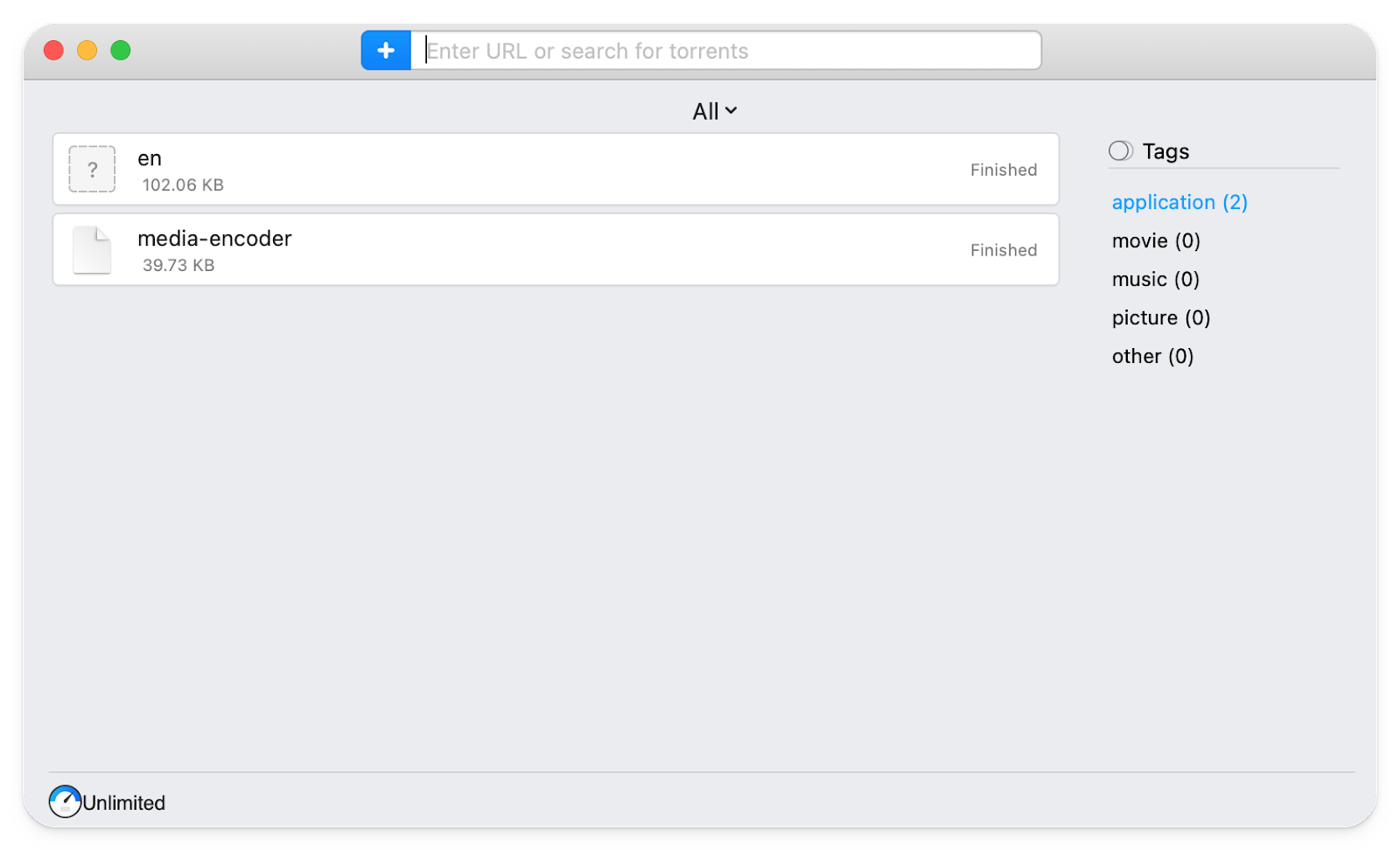 Verify the disk image with Disk Utility
Unfortunately, the "The following disk images couldn't be opened" still may appear when you attempt to open the disk image, even if you re-download it via the stable network. In this case, you should think about whether your Mac's problematic disk image mounter is to blame. To verify the disk image, use Disk Utility. Here are the steps to follow:
In Finder, click Go > Utilities > Disk Utility
Click Images in the menu bar, then choose Verify
Find the disk image file in the folder where it's stored (as a rule, it's the Downloads folder). Click Verify
Click Done after the verification procedure is complete.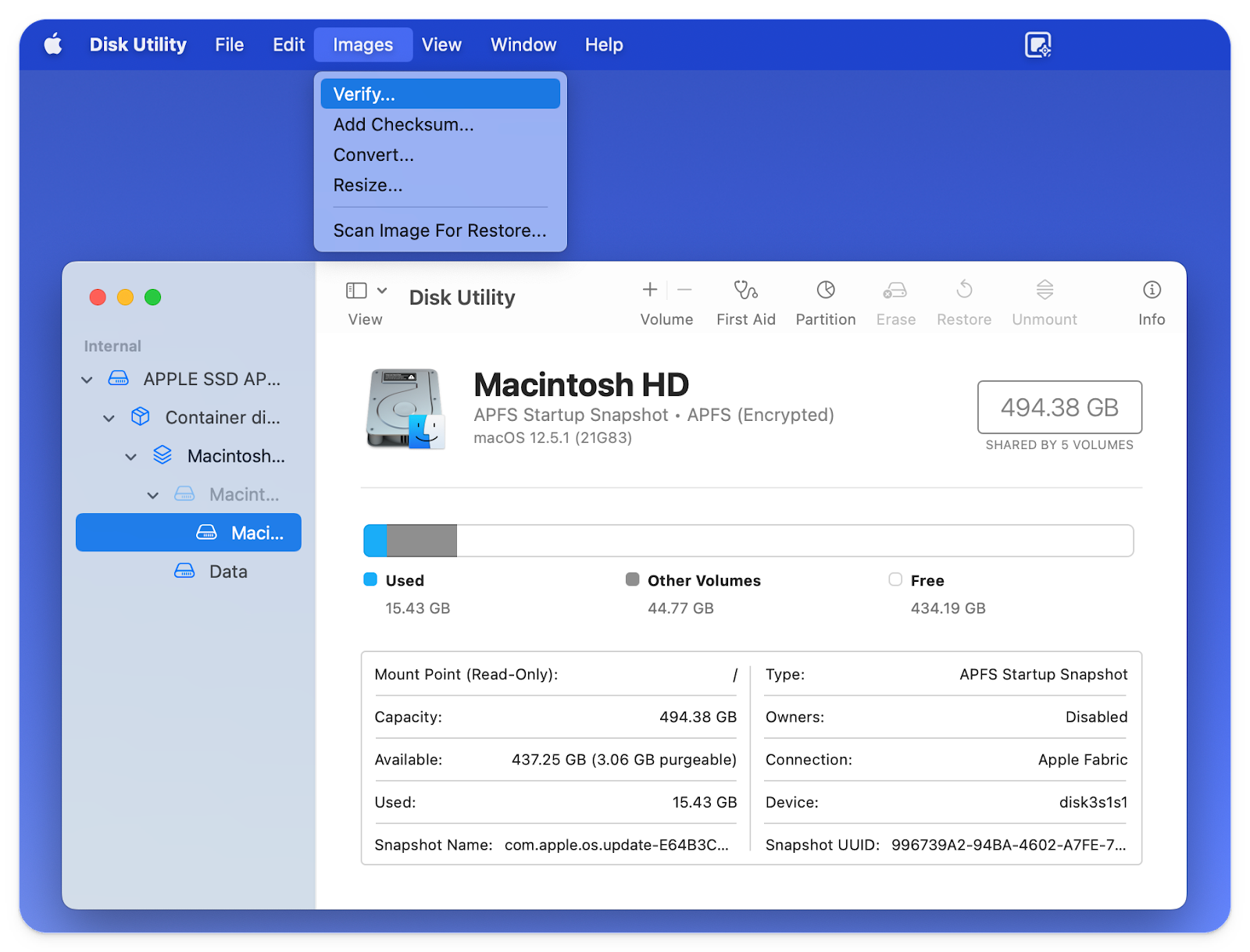 Open the disk image after the verification is successful. Mac image not recognized again? Try the next solution.
Tip: You can create a disk image on your Mac in a number of ways. One of the simplest ones is with the help of Disk Drill. Here's how:
Open Disk Drill – you can download it via Setapp
Choose Byte-to-byte DMG Backup from the left sidebar
Choose the source drive or partition
Then click Create backup
Choose the location where you want the disk image to be stored
Finally, click save to create the image.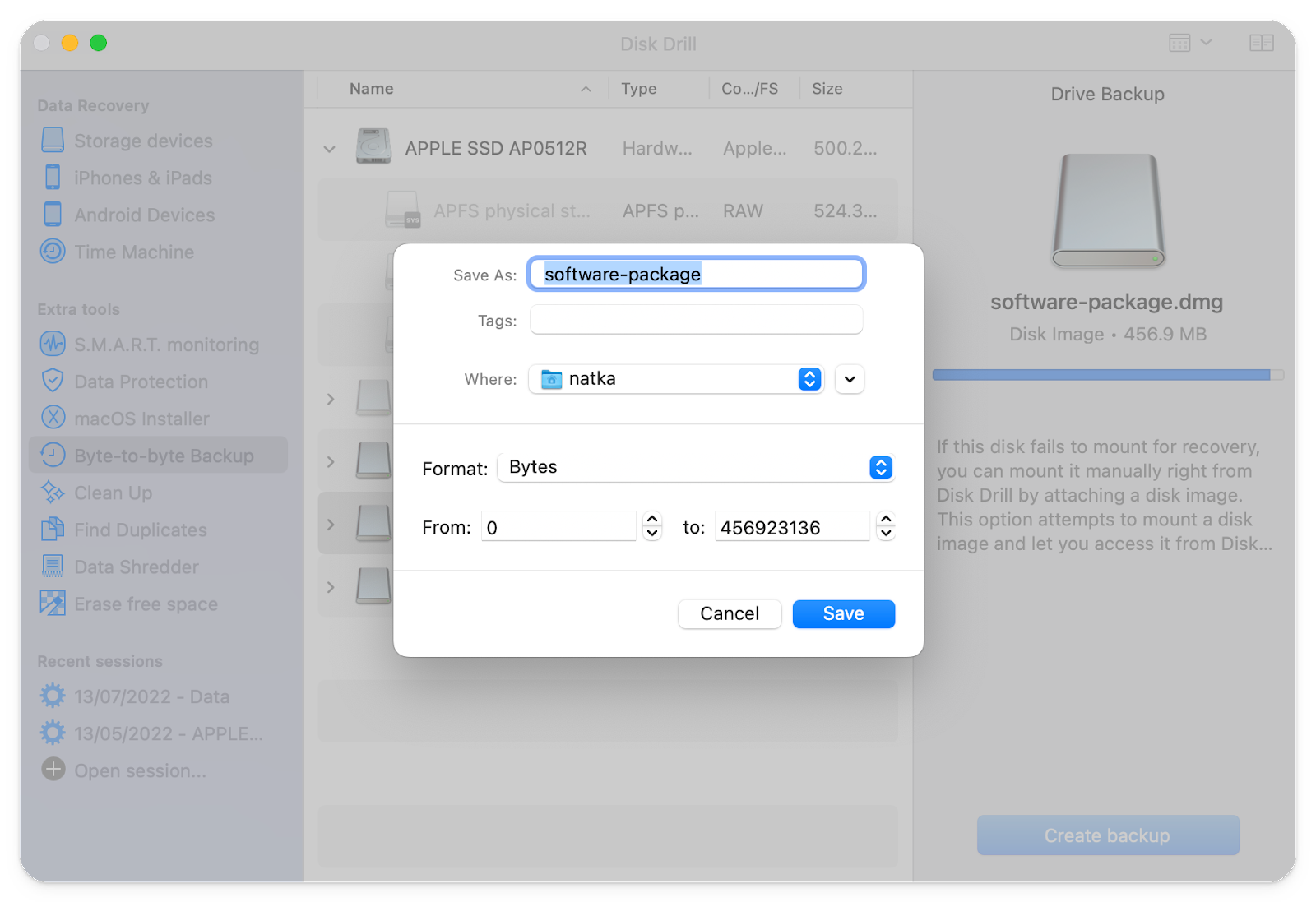 Run maintenance scripts
When a disk image doesn't open, it's possible that your Mac is to blame rather than the disk image itself. On your boot drive, files that have gathered over time may cause conflicts and hinder the opening of disk images or the proper operation of software. Fortunately, there's the CleanMyMac X app that can assist in resolving these issues. It can run maintenance scripts for system optimization, fix disk permissions, and release RAM. Here's what you need to do:
Install CleanMyMac X – you can download it via Setapp
Then open the app, click Maintenance from the left sidebar
Select Run Maintenance Scripts and click Run.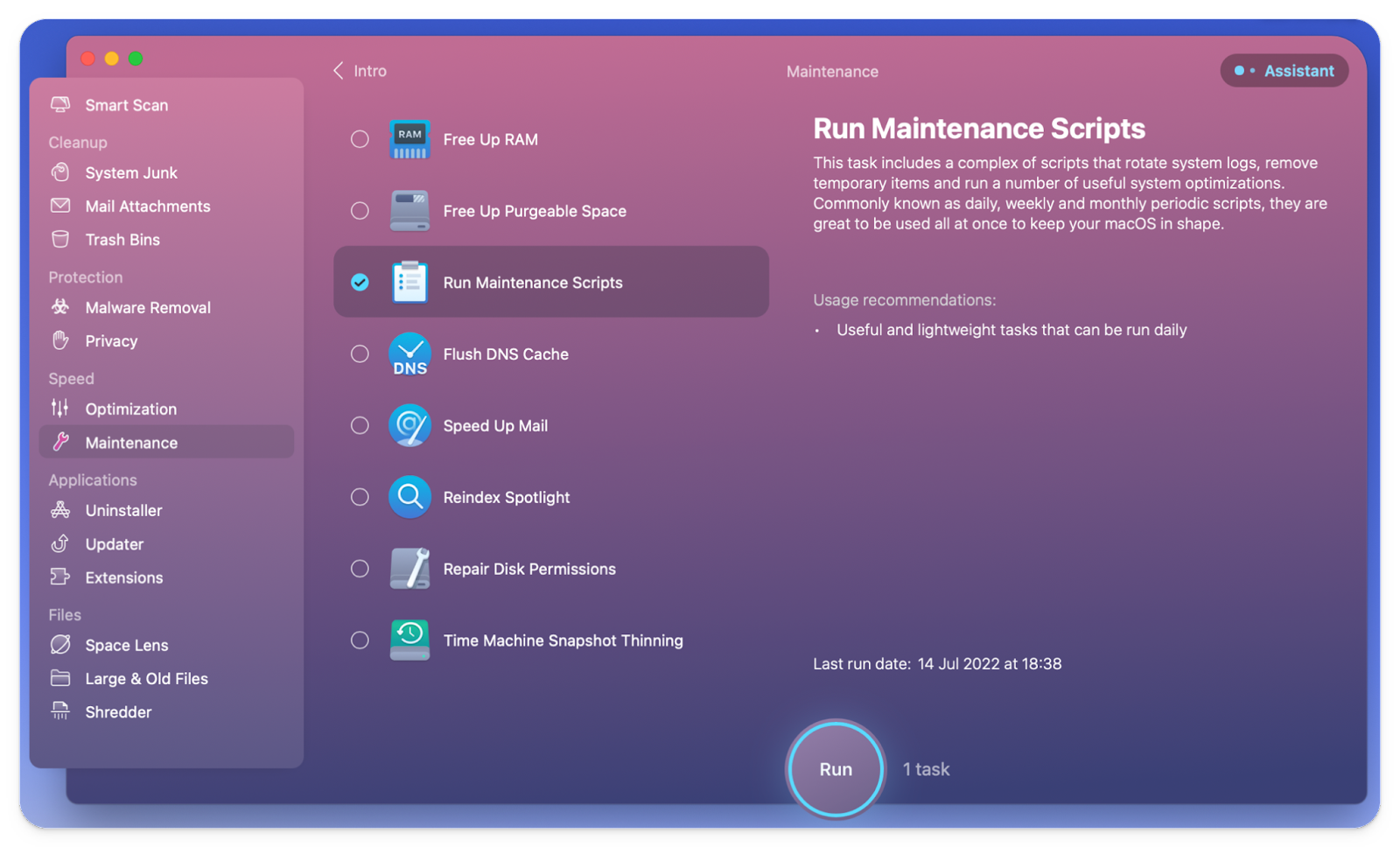 As we've mentioned, running maintenance scripts can fix plenty of errors. So, hopefully, you'll find out that the "disk image is not opening" issue has been resolved once the process is finished.
Disk image can't be mounted
What to do if my disk image can't be mounted? Download the Disk Drill data recovery app.
With its help, you can create Mac disk image (dmg) from any medium (disk, memory card, etc.). This is incredibly practical for future recovery, particularly if the disk you need to use is failing.
You can try attaching the non-mountable disk image with Disk Drill if the disk image could not be mounted (viewed) on your Mac or you're receiving the "no mountable file systems" warning. Here's how you do that:
Choose Attach Non-mountable Images from the File menu in Disk Drill
Then select the disk image file by navigating to its location and clicking Attach. That's it!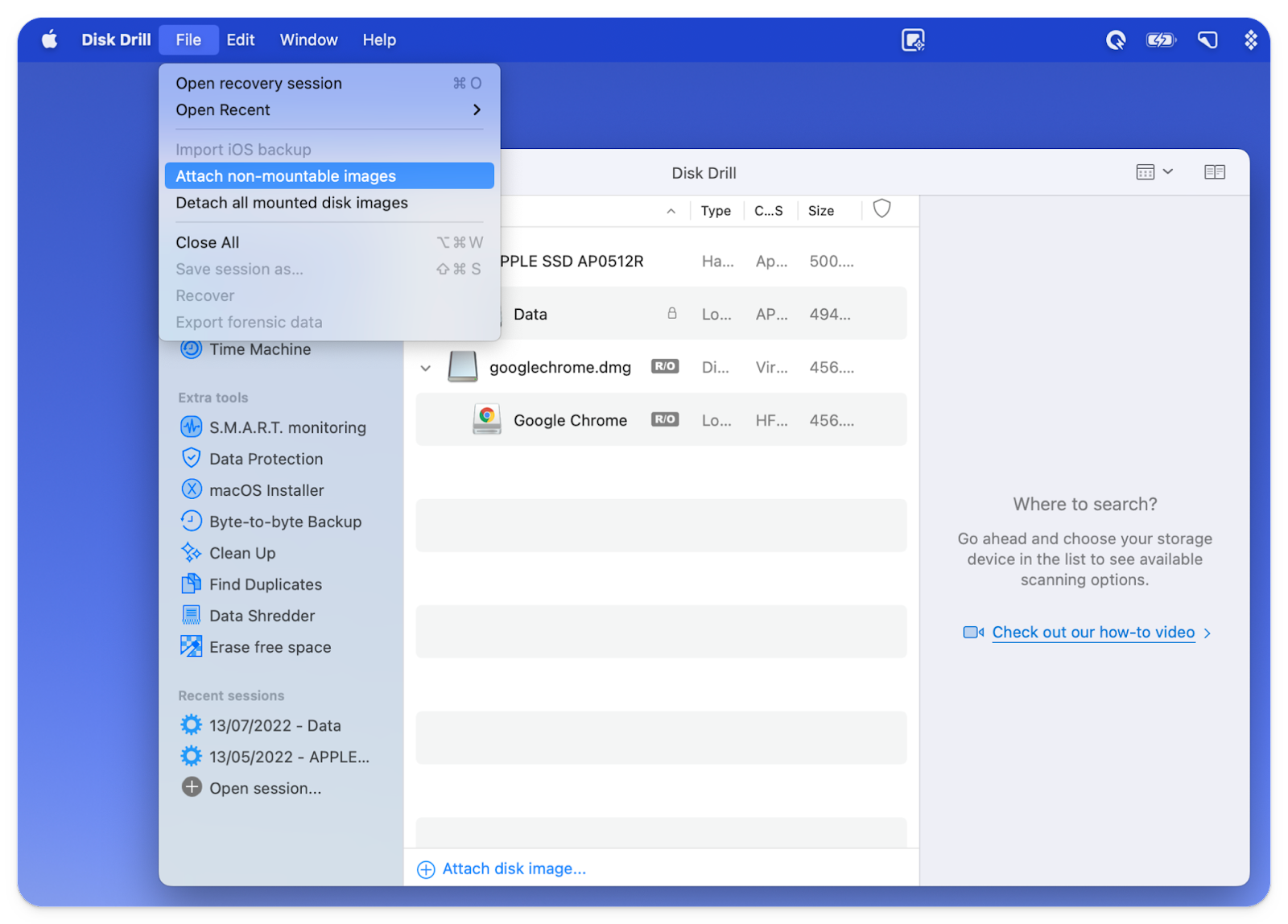 "The following disk images couldn't be opened" resolved
You can occasionally see the error like "The following disk images couldn't be opened" when opening a disk image on your Mac. If it occurs, consider the suggestions from this article to resolve the issue. While one of the most effective methods is re-downloading the disk image (you can do it with Folx to increase the download speed), running maintenance scripts with the help of CleanMyMac X won't hurt in this situation as well. On top of that, we recommend you to use Disk Drill if the disk image could not be mounted (viewed) on your Mac. These three apps can be downloaded from Setapp, a premium platform that unlocks access to multiple Mac and iPhone tools (240 and counting) for just about everything Apple users could need. The best thing: all apps are yours for 7 days free, with no ads and complications.