Deal with macOS 10.15 Catalina problems
After summer comes macOS. This long-standing tradition started by Apple is the most exciting moment of the year — seeing your Macs improve and gain new bells and whistles. In 2019, we're welcoming Catalina, the 10.15 version of macOS named after Catalina island in California. Apparently, it's hot.
The operating system boasts a whole lot of new macOS features like Sidecar, iOS apps porting, and major Photos update. To try the features right away, you can install the 10.15 Beta that's been available since June.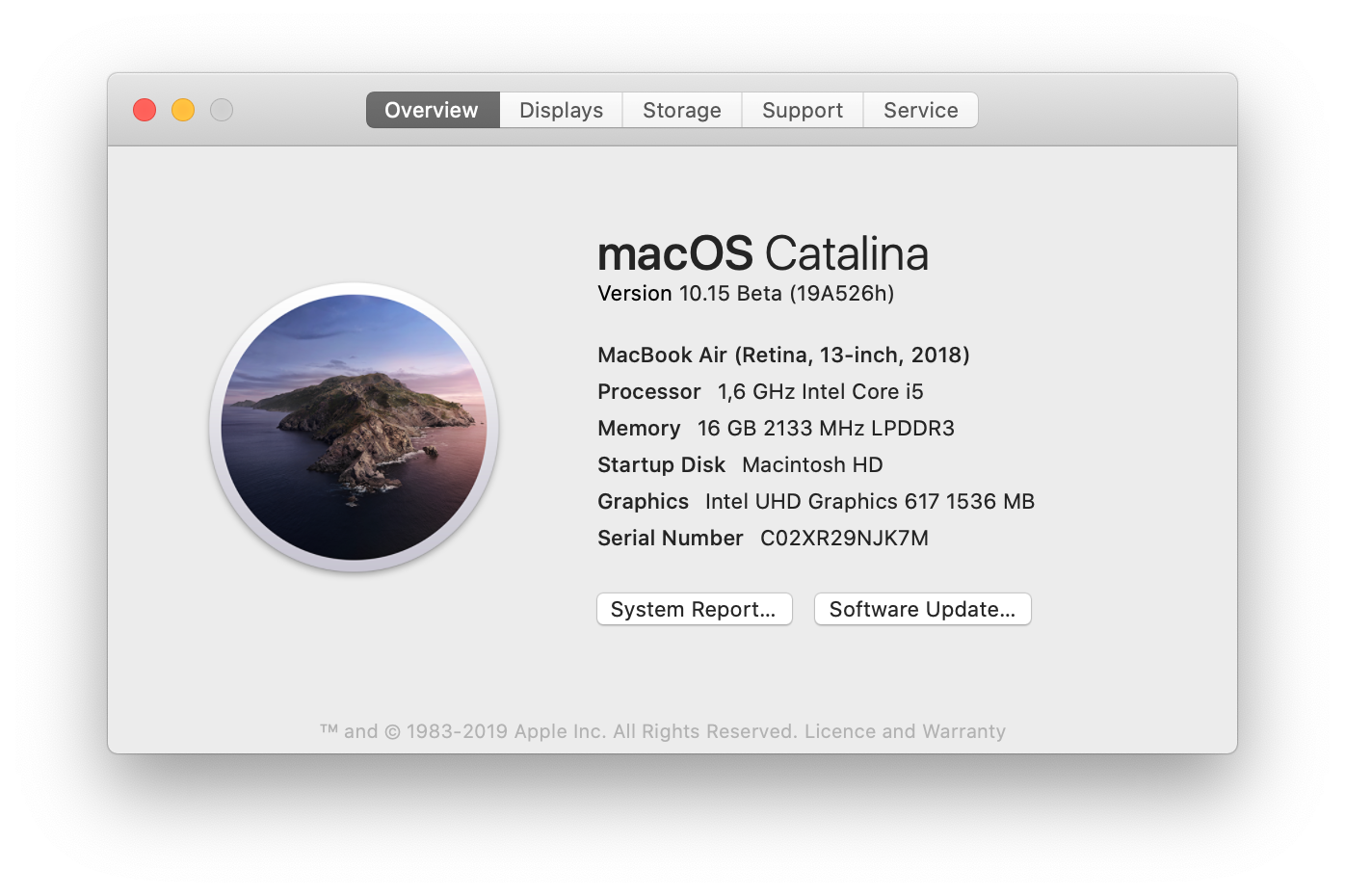 However, be prepared for some troubleshooting. The acquaintance with the new macOS doesn't always go smooth, due to the beta bugs and new functionality that a user is not used to. We've collected the key macOS Catalina problems you may encounter, along with the ways to fix them.
macOS 10.15 Catalina problems and their fixes
Giving up Catalina is a decision you can choose to make. But before rolling back, ensure you use every bit of advice as to how you can fix the common problems. Sometimes, a quick fix can solve your concerns.
Problems with macOS Catalina you can solve:
macOS 10.15 Catalina won't install
This is the classic problem that arises with every macOS beta release: The installation won't start or suddenly freezes before it completes, and you keep seeing error messages.
How to fix:
Before you go ahead to check disk space, try to restart your Mac. Some users report this helps eliminate the problem. Also, if you have the old Mojave updates pending in Software Update, install those first.
Some users reported they were prompted to enter administrator password several times to complete the installation. So it might be something for you to try as well.
In most cases, macOS Catalina cannot be installed on Macintosh HD, because it doesn't have enough disk space. If you install Catalina on top of your current operating system, the computer will keep all the files and still need free space for Catalina. So the easiest fix would be to clean up your system with CleanMyMac X before upgrading. All the system junk, app leftovers, and unneeded files will go away in a minute.
Backup your disk and run a clean install. This will wipe away your current system files, leaving space for macOS Catalina — so yes, this option is for the brave. If you use a solid backup solution, you'll keep your data safe, though. Get Backup Pro is a nice way to do it — unlike Apple's Time Machine, the app allows running bootable backups.
Fix macOS Catalina Sidecar issues
One of the things Mac users are particularly excited about is the new Sidecar feature. It comes as a handy solution for those wanting to expand their workspaces. You can either mirror your Mac's screen to iPad or use your iPad's screen as an extension of a Mac.
If the only reason you're here is because you want Sidecar, we have to warn you it might not work with your macOS beta. Reddit is full of user reports about the feature unavailable on macOS Catalina. Most likely, this is the issue of compatibility.
How to fix:
Here are the ways to fix Sidecar problems:
Get the new iPadOS 13 beta. Unfortunately, macOS Catalina doesn't work with iPadOS 12. So basically, you have to use two betas if you want to try Sidecar before September.

Make sure your Mac is one of the compatible devices. Sidecar works on:
2019 Mac Pro

Late 2018 Mac mini +

Late 2018 MacBook Air +

2017 iMac Pro

Mid 2016 MacBook Pro +

Early 2016 MacBook +

Late 2015 iMac +
Try connecting your iPad with a cable. With Sidecar, you should be able to connect your iPad wirelessly. If this doesn't work in the beta version, the cable might solve the issue.
Battery drain on macOS Catalina
Many of the previous macOS releases were known for battery life concerns — greedy apps, Safari and Chrome draining battery, or power-saving not working. There has been no major battery drain issues reported by the Catalina beta users so far.
How to fix:
Just to make sure you don't encounter the problem as well, here are a few precautions:
Check for apps that use significant energy. For a quick insight, check Apple's in-built Activity Monitor. It shows the "Energy impact" for every application — calculated based on CPU, network usage, and other factors.
Have a solution for battery health monitoring. iStat Menus is a perfect fit if you need detailed analytics on disk activity, CPU usage, battery life, memory load, and much more. The app shows all the data right in your menu bar. Plus, you can customize what's being monitored flexibly.
Use Screen Time to limit the use of apps. This is the brand-new app on macOS Catalina, which helps you live a healthier Mac user life. Set time limits for the use of specific apps or app categories and schedule downtime. The main goal is to track how much time you spend on the computer, but you can also use it to optimize battery life on Mac.
Apps not working on macOS Catalina
In the attempt to speed up your Mac's performance, Apple is killing 32-bit app architecture with the release of Catalina. This means you have to switch to 64-bit, for good. You might see the messages like this when trying to launch an app: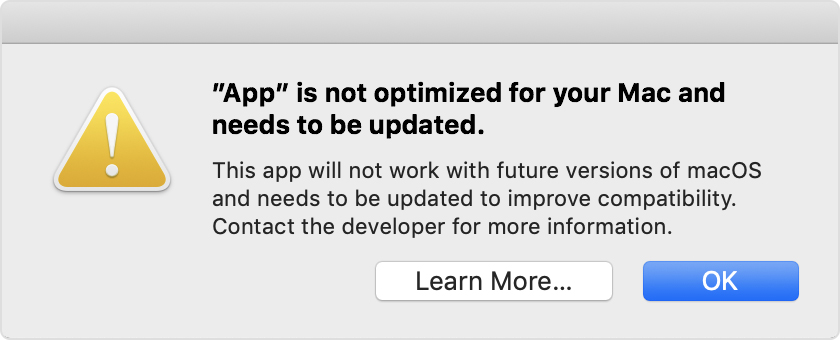 The chances are it's one of the oldies.
How to fix:
CleanMyMac X can pretty much solve every app problem on macOS Catalina.
Use Updater to search available app updates. Maybe the app is not working, because it needs upgrading. If you've missed the update notification, you won't know about this. To solve the issue, CleanMyMac X will show you the full list of apps with available updates from developers. The best thing is you can run a batch update right in the app.
Uninstaller gives you an easy way to reset or get rid of 32-bit apps. The Apple way of checking for 32-bit applications is quite easy: access About This Mac > System report > Applications. However, once you find apps with the outdated architecture, you'll have to go and uninstall each of them separately. The Uninstaller feature in CleanMyMac X simplifies things for you — filter by 32-bit and get rid of each of them.
If there's no particular reason an app misbehaves, try resetting it. Guess what, CleanMyMac X has it covered too. In Uninstaller, click on the arrow button next to the app and choose Reset. As easy as that.
Slowing down and overheating macOS Catalina problems
So here's the thing: macOS Catalina should be faster than Mojave. 32-bit architecture was one of the things slowing an operating system down. It's gone, and so are the issues with slow apps. But beta is beta — you can expect your Mac go slow and overheat anyway.
How to fix:
Too many login items often cause your Mac to go slow. To eliminate the problem, disable apps from launching at startup. Go to System Preferences > Users & Groups > Login Items. Check the apps you don't want to run at startup and click on the minus button.
Reset SMC. This is a universal fix that helps solve the issues with overheating, battery life, slow Mac, and more. The process is pretty simple and doesn't impose any risks of losing your data. To reset, shut down your Mac, but leave a charger plugged in. Hold Shift + Ctrl + Option + Power button for about 10 seconds. Click on the power button and wait for your Mac to start up.
Is macOS Catalina stable?
The short answer is yes — if you use it right. So before you decide to downgrade back to Mojave, make sure you've done the following things right:
Backup your Mac with Get Backup Pro or any other reliable tool before running an installation.
If you still need some of the Mojave functionality that won't be available in Catalina, install the new macOS on partition.
Make your Mac as clean as possible before upgrading.
Get iPadOS 13 if you want to use the Sidecar feature.
Get rid of 32-bit applications, even if this means killing your darlings.
Backup your Music and then empty the folder along with music-related Library caches. The new Apple Music app is still pretty much unpredictable, so you need to ensure you don't lose your playlist.
CleanMyMac X is a solution for many Catalina issues, so you need it — badly. To cut the cost, you can get it through Setapp and receive extra tools like Get Backup Pro and Endurance.
If you want to dive more into macOS Catalina bugs fixed, check out the Reddit discussion.