The much anticipated new macOS update has arrived. It's called Mojave (after the Mojave Desert) and it's a major one, which means lots of new features to get excited about including Dark Mode, which transforms the desktop with a darkened color scheme, Stacks, for organizing even the most cluttered of desktops, and an overhauled Mac App Store. It's an update worth having, that's for sure.
In this article, we'll tell you when you can get your hands on macOS Mojave and how to install it when you do.
MacOS Mojave Release Dates
MacOS Mojave will be rolled out in three stages.
Developer Preview — Available now
Public Beta — Available since late June
Official version — Available for everyone to download in September or October 2018.
If you're a member of the Apple Development Program (or are prepared to pay the $99 to sign up) and have an Apple ID, you can download the developer preview version of macOS Mojave 10.14 now. If you do, be aware that the software at this stage is still a work in progress which means bugs and errors are likely.
The Public Beta version will be available for free for all users with an Apple ID and will be more stable than the current Developer Preview but still riddled with bugs and instability.
If you can wait until fall, you'll be able to install the full and final version for free. This is a better plan as you won't hamper your Mac's performance.
If you're going to perform an install Mojave on your startup drive, you need to check is your Mac ready for Mojave, backup your important data, and, finally, run installer. So, let's preparing Mac for the upgrade to macOS Mojave.
MacOS Mojave compatibility
Before you download macOS Mojave you'll need to make sure that your system can run it. Apple says that the OS will be available for Macs introduced in mid-2012 or later, plus 2010 and 2012 Mac Pro models with recommended Metal-capable graphics cards.
To see how much space is available on your Mac, choose Apple () menu > About This Mac, then click Storage.:
iMac Pro (2017)
iMac (late 2012 or newer)
Mac Pro (late 2013, plus mid-2010 and mid-2012 models with Metal-capable graphics cards)
MacBook (2015 or newer)
MacBook Air (mid-2012 or newer)
MacBook Pro (mid-2012 or newer)
Mac mini (late 2012 or newer)
Hardware requirements haven't changed much since last time:
Required memory: 4GB or more (macOS tends to run best with more memory)
Required disk storage: 4.8GB free space
Сan your Mac run Mojave? To see you Mac's model and how much space is available on your Mac, click on the Apple () logo in the menu bar and select About This Mac
In the Overview tab, you'll see the Mac model and year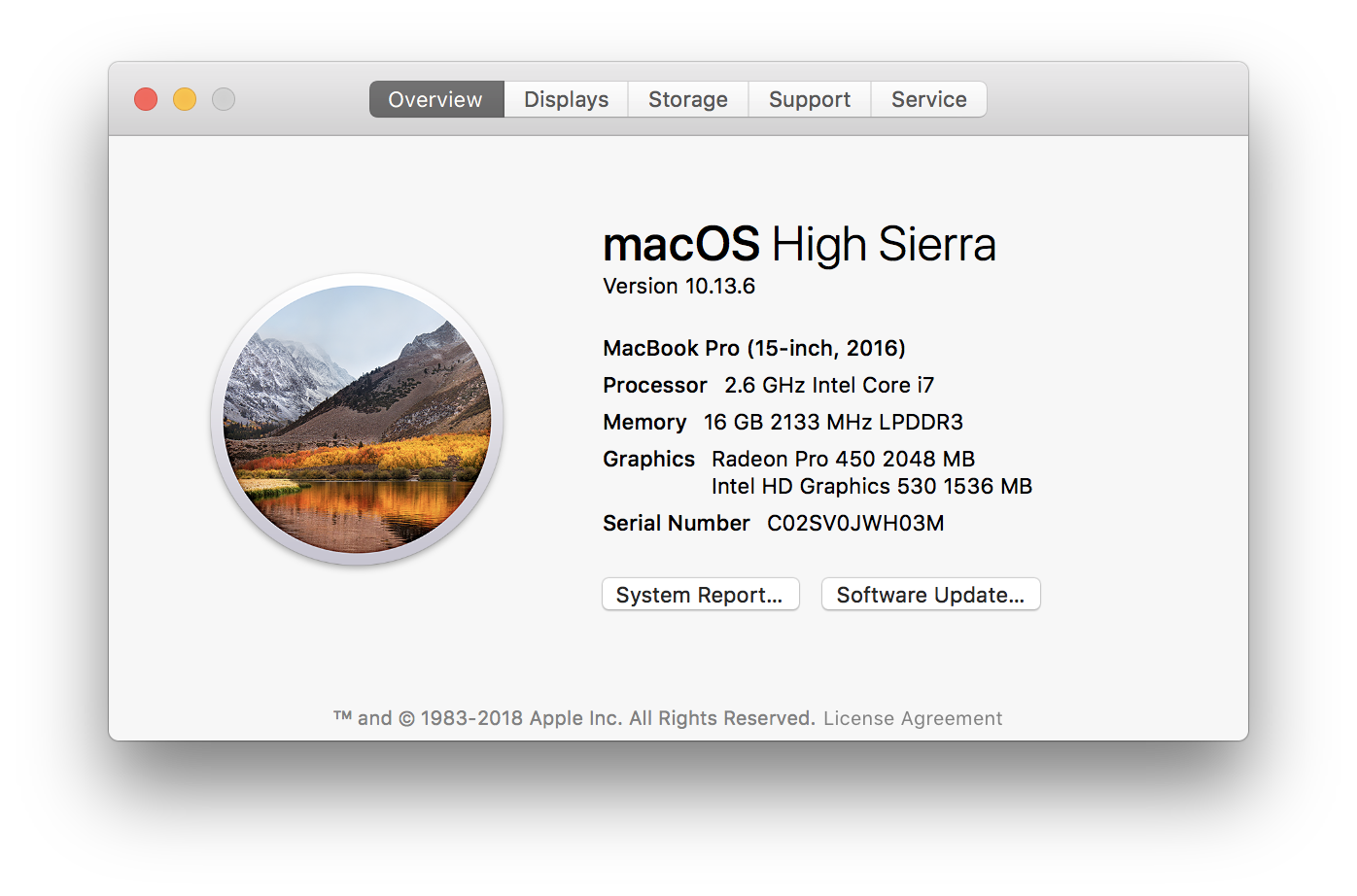 In the Storage tab, you'll check your storage space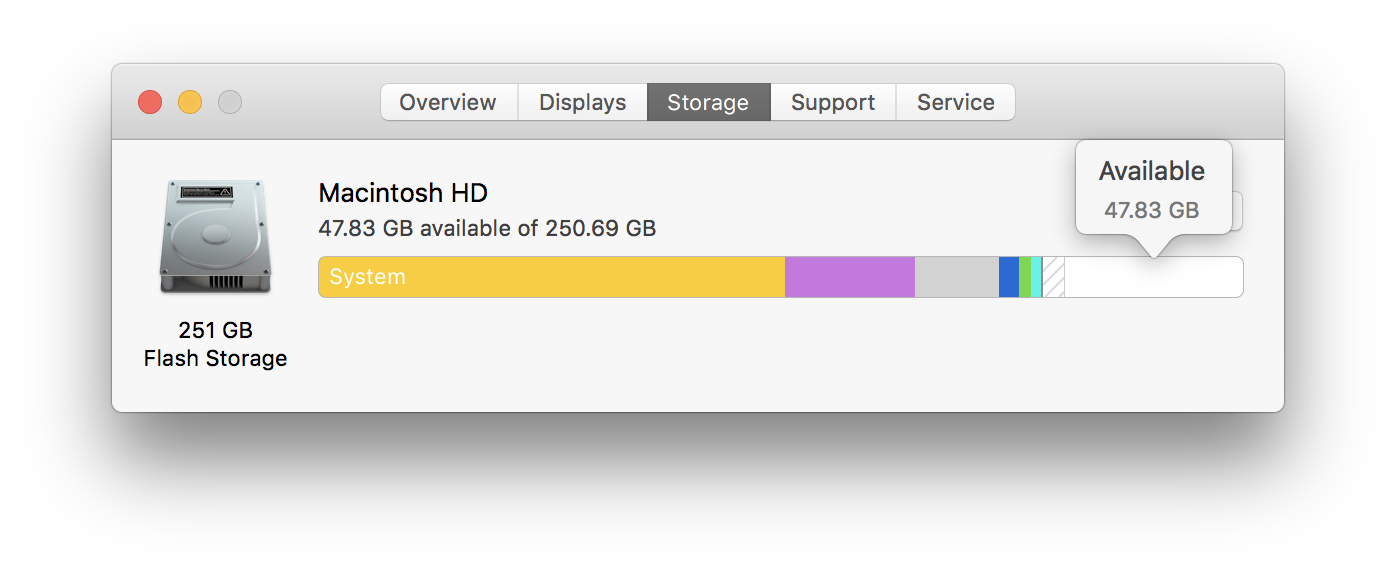 Backup your Mac before installing the new macOS
No matter which version of macOS Mojave you're installing, you should backup your Mac first. You can do this via the Time Machine or with an app like Get Backup Pro (it's more powerful than Apple's Time Machine.)
Note: You need a backup of every important file that you'll want to reinstall on your new macOS. But there's no point in running a straight clone of your previous files: you'll just end up with the same junk floating around your new operating system.
So, before backup clean up your hard drive from junk data, old and useless data, and duplicates. An easy way to go about this is to get a Mac cleaning app like CleanMyMac. It will save to hours of manual file cleanup before the backup. Junk removal with CleanMyMac takes only a few minutes and absolutely safe for your Mac. The duplicate files finder like Gemini helps you to detect duplicate files on any folder, preview duplicate pictures, videos, music, archives, documents, and all other specific extensions, and get rid of useless versions.
You don't need to dig through Internet to search and and download each apps mentioned in this guide, all of them available on Setapp.
How to backup a Mac with Time Machine
Backing up your system with Mac's built-in Time Machine feature couldn't be easier.
Go to System Preferences > Time Machine and check that it's turned on.
Under Select Backup Disk choose a hard drive to backup your system.
Time Machine will then perform automatic backups of your system and store them on your chosen hard drive for easy retrieval.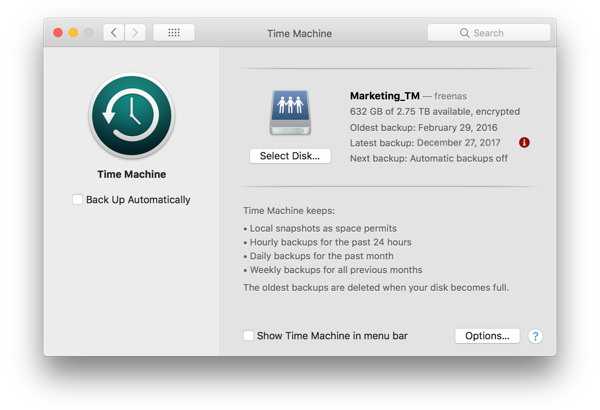 How to backup important data only with Get Backup Pro
Get Backup Pro offers a more comprehensive way to backup your Mac, allowing you to make copies of your system files in four different ways: simple copy, clone, incremental, and versioned. It's a great app to use alongside Time Machine and lets you recover files to any computer — handy if anything goes seriously wrong with Mojave.
The slick user interface of Get Backup Pro makes it easy to use.
Click the + button at the bottom of the project list, then name the project.
Choose a backup destination and select whether you want to store original files and folders, or inside a disk image.
Drag and drop files and/or folders to the list in the main window, then click Start.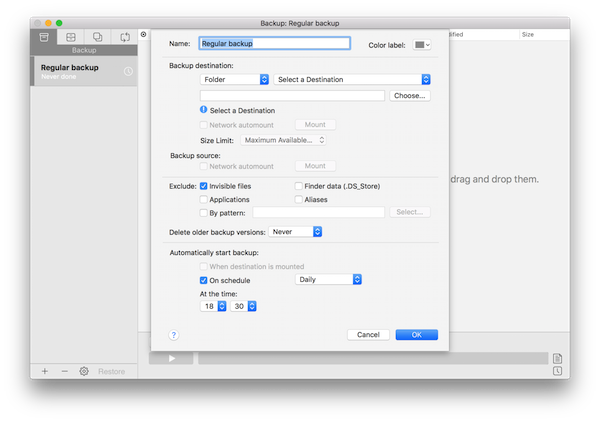 Get Backup Pro is available now from the Setapp collection where you can download it for free with a 7-day trial.
That's all. Now let's start the installation.
How to install the new macOS
If your Mac is Mojave-compatible and you've backed up your system in case something goes drastically wrong, you're ready for the installation.
If you're opting for the Developer Preview you can download it from developer.apple.com. The beta version is available at beta.apple.com.
Given that both of these versions are unstable it's better to install the new OS on an older or unused Mac. If that's not possible, create a partition so that it runs separately to your current OS.
Here's how to create a partition.
Launch Disk Utility, then select the disk you'd like to partition from the list and click Partition.
Click the + button, then choose a size for the partition using the pie chart (you'll need at least 4.8GB for Mojave).
Name the partition, then click Apply.
Once macOS Mojave has downloaded, an Apple terms and conditions window will open. If you're happy with the T&Cs (does anyone actually read those?), all you need to do is select the disk (your partition) you want to install the OS on and twiddle your thumbs while it installs.
MacOS Mojave promises to be the best Mac operating system yet and we can't blame you for wanting to get your hands on it as soon as possible. Remember, though: the early versions of the OS are works in progress — there are bugs and errors that will affect system performance. Make sure you backup your Mac before installing. That warning aside, enjoy Mojave — we think you'll love it.
Get 100+ Mac apps for any job
Sign up to Setapp and try them for free.
Try for free