How to fix iPhone and iPad Cellular Data not working?
If you are trying to connect your iPhone or iPad to the Internet using cellular data but the connection just isn't there, do not panic – there are quite a few solutions that you can try that might very well solve your issue.
Why this might happen
Your cellular data not working may happen for a few reasons. It may be the poor connection in your area or lack of mobile internet coverage altogether, a bug in the system, a physical problem with your device or SIM, or simple forgetfulness to turn on the cellular data or turn off the Airplane Mode. Your device might simply be in need of a software update.
Some of these reasons for your data not working can be easily solved, so let's get to it.
How to fix your iPhone, iPad cellular not working problem
If your iPhone or iPad cellular data is not working, you can try powering down your phone and turning it back on, checking for carrier or system updates, turning cellular data or airplane mode off and on again, and, as the last resort, performing a factory reset.
Let us guide you through all the steps.

Check if your cellular data is turned on
The first thing you need to do when you find data not working on your iPhone or iPad is check if the cellular data indicator in the Control Center is on.
To do that, just swipe down from the top right side of your screen. The antenna icon should be green when cellular data is on: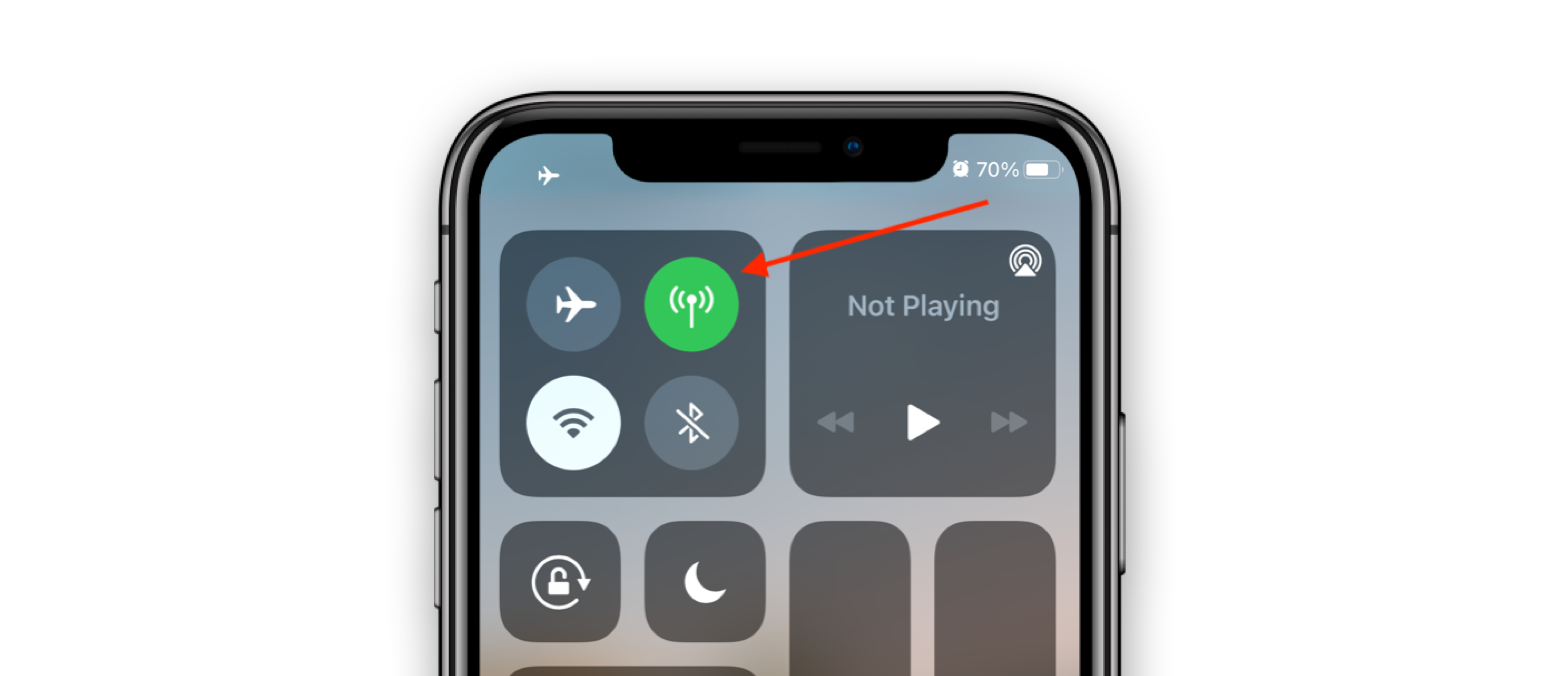 Alternatively, you can open Settings > Cellular and check if the toggle next to Cellular Data (first line) is in the on position:

If the data mode was on on your device, you can try to toggle it to off and turn back on again. This will prompt the phone or tablet to reconnect to the network and might iron out any kinks with your connection.
Check for the 3G, 4G, or LTE sign in the status bar to know if your device has made the cellular data connection with the network:
Turn on and off the Airplane Mode
Another thing to try is checking if your Airplane Mode is on.
Just drag down at the top right side of your screen to open the Control Center and check for the Airplane Mode icon in your connection box, if the airplane icon is orange, the Airplane Mode is on: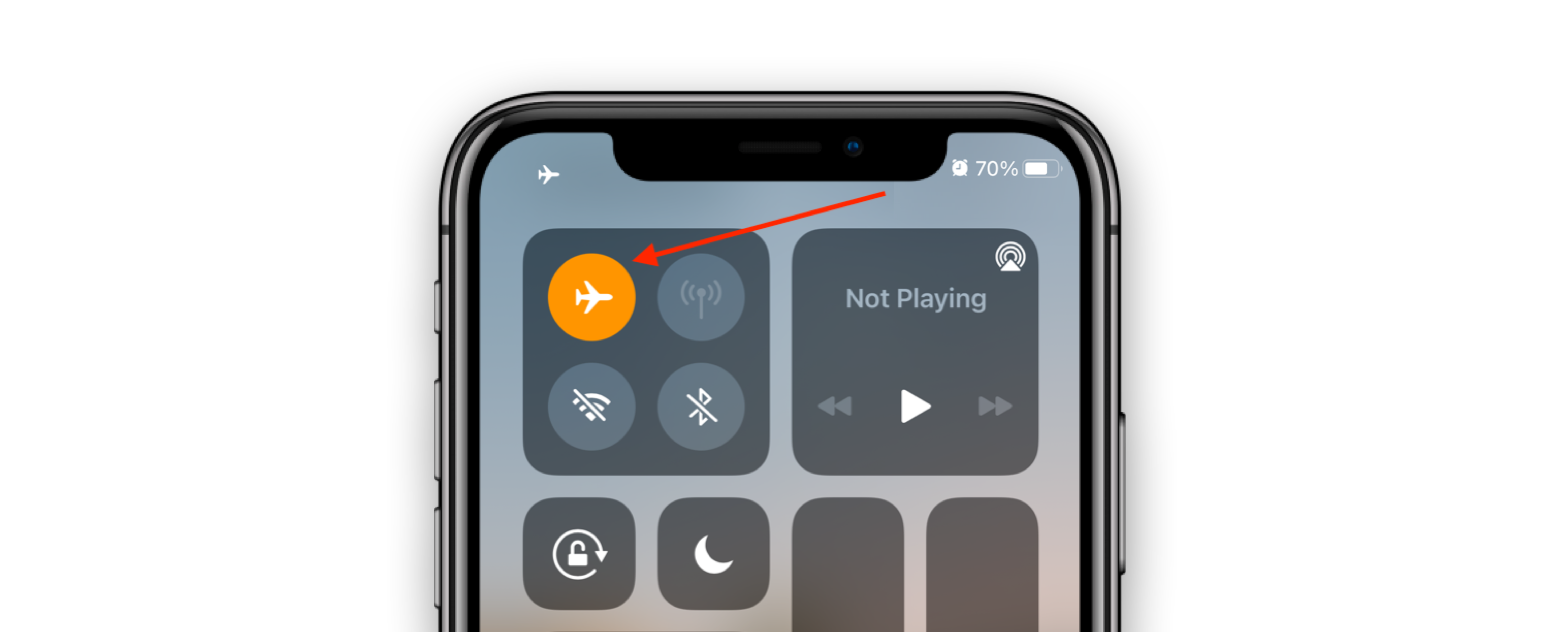 "Why is my data not working?" is something a turned on Airplane Mode can easily answer – turning this mode on automatically disconnects your phone from your cellular connection, cellular data, Bluetooth, and WiFi.
To use cellular data again, just tap on the airplane icon so that it's grey and then tap the antenna icon to turn on cellular data: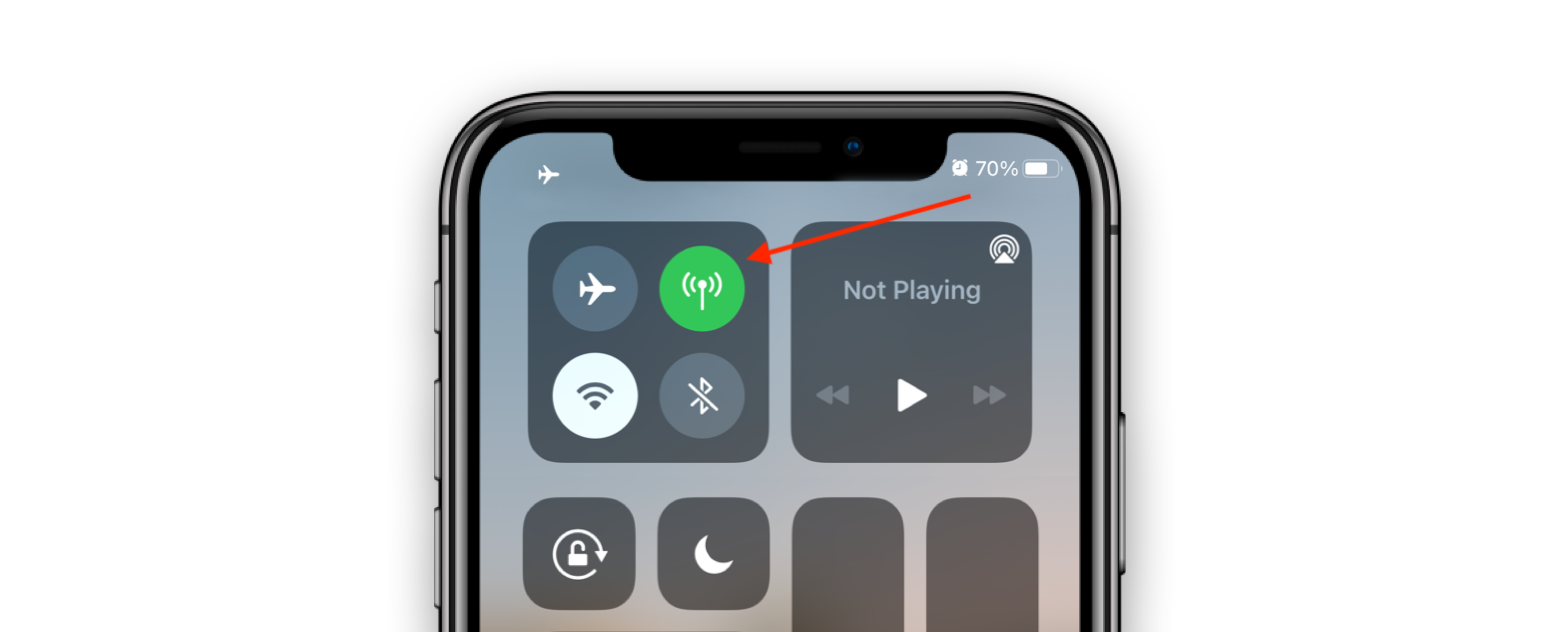 If Airplane Mode was off when your phone's cellular data service was not working, try turning the mode on and off.
Restart your device
If the cellular network is still not available on your iPhone or iPad, try restarting the device.
For your iPad, just press the power button until the power off screen appears, then slide the power off icon right in order to initiate the shut down. For the iPhone, hold and press one of the volume buttons and the side button, then slide to power off.
To turn off either device via Settings, open the Settings menu and go to General. Scroll down to Shut Down: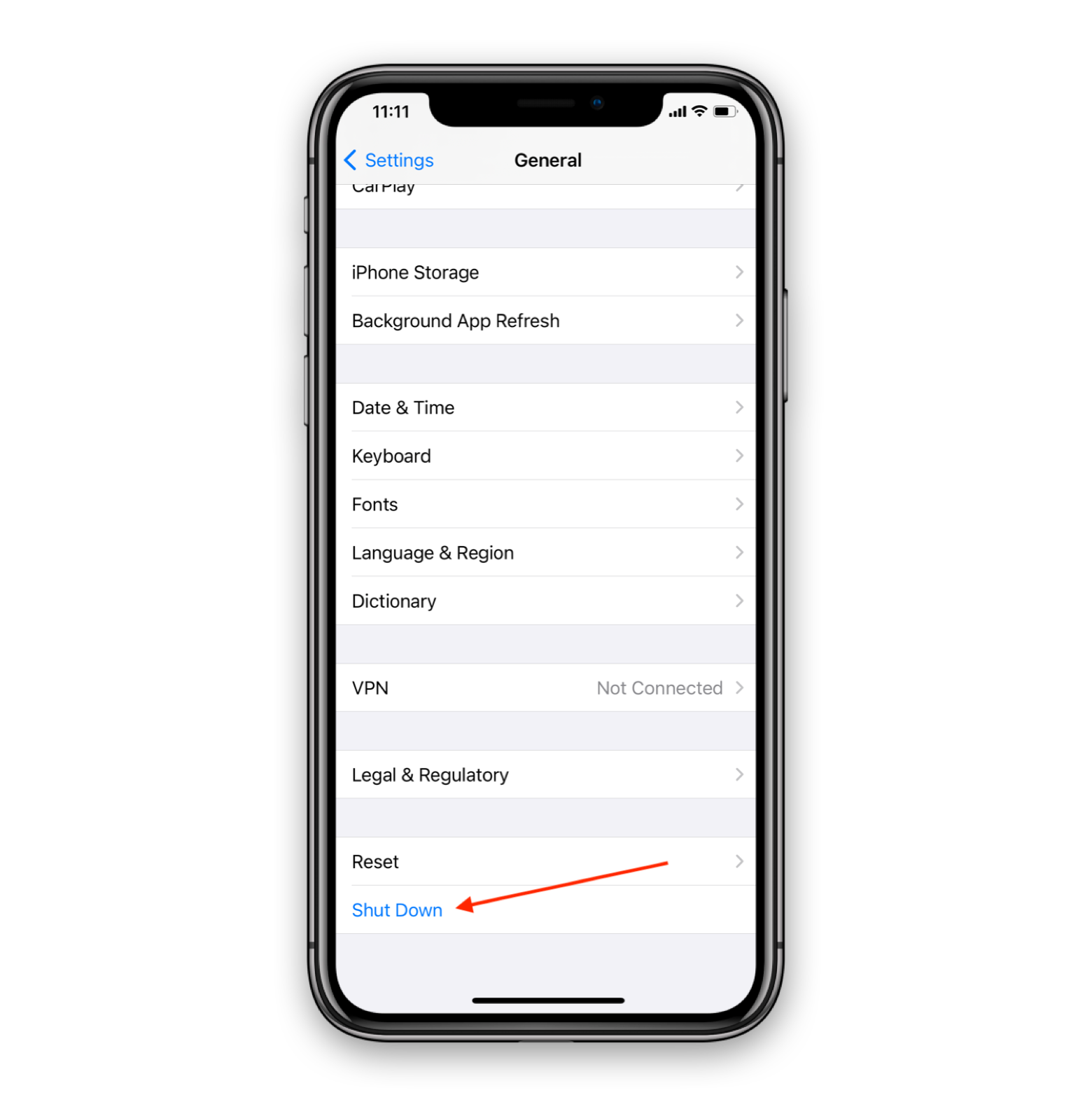 Tap on the option and slide the power off icon to turn off your device: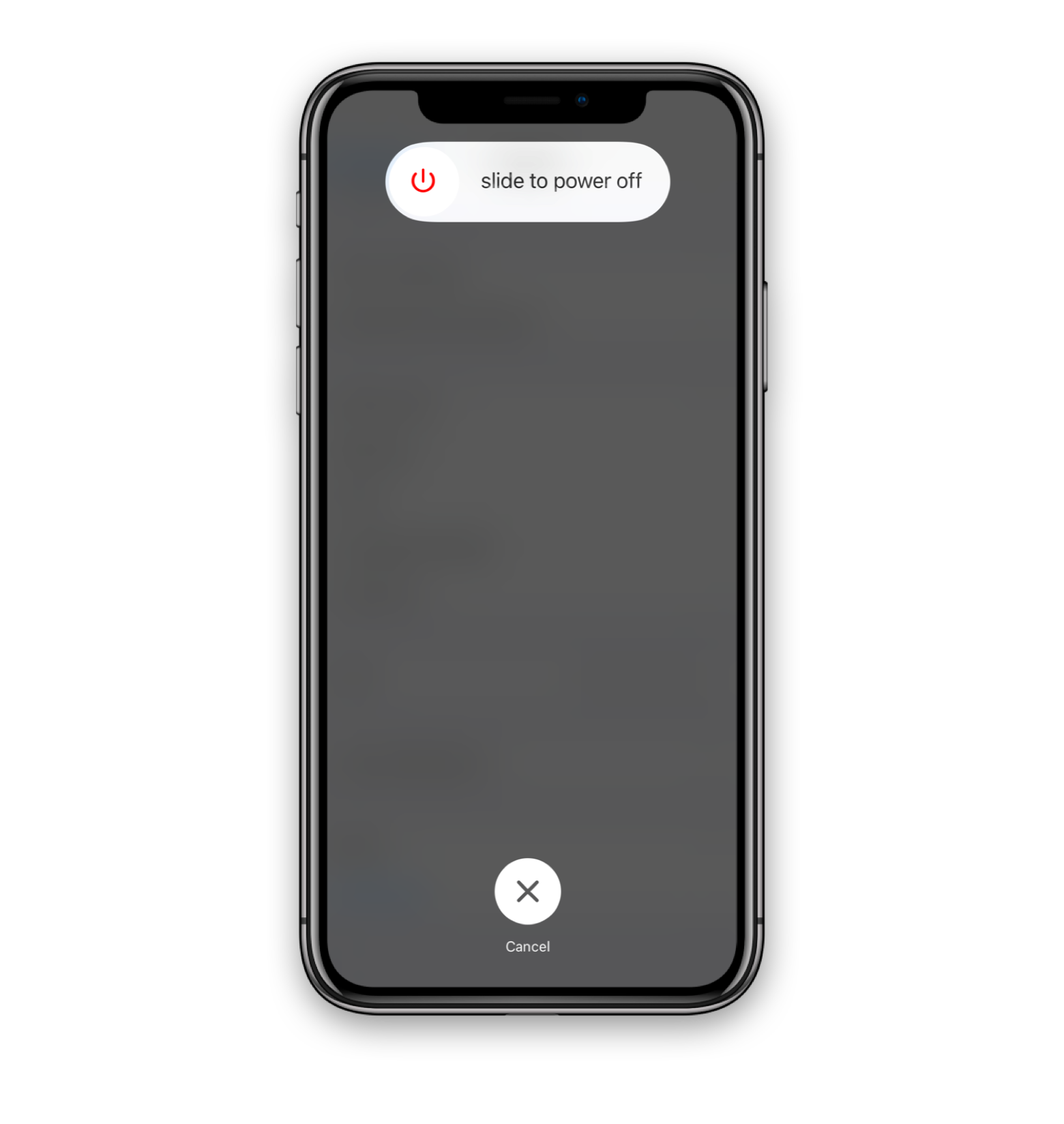 To turn iPhone or iPad back on, press and hold the power button until the Apple logo appears.
Reinsert your SIM card
If you are using a physical SIM in your device, another way to force your device to reconnect to data is removing the SIM and putting it back in.
To do that, follow these simple steps:
Power your device off as shown above.
Remove your SIM.
Put your SIM back into your device.
Turn the device back on.
Your phone/tablet will have to identify your SIM once again, which might solve any minor issues that might have caused your 3G, 4G, or LTE not working.
If you are inserting a new SIM or have never connected to cellular data on your SIM, you need to check with your carrier to find out if your phone is supported or what might be the issue in your case.
Check your Data Roaming settings
One fix we found shared online is rebooting your phone when your Data Roaming is on. Since data roaming abroad can come with a hefty bill, you might not turn on Data Roaming a lot, but if you are at home and not in roaming, you can try this trick and it might work for your issue. Just remember to turn off Data Roaming once you are done.
Go to Settings > Cellular and make sure your Cellular Data is on.
Next, tap Cellular Data Options and toggle Data Roaming on: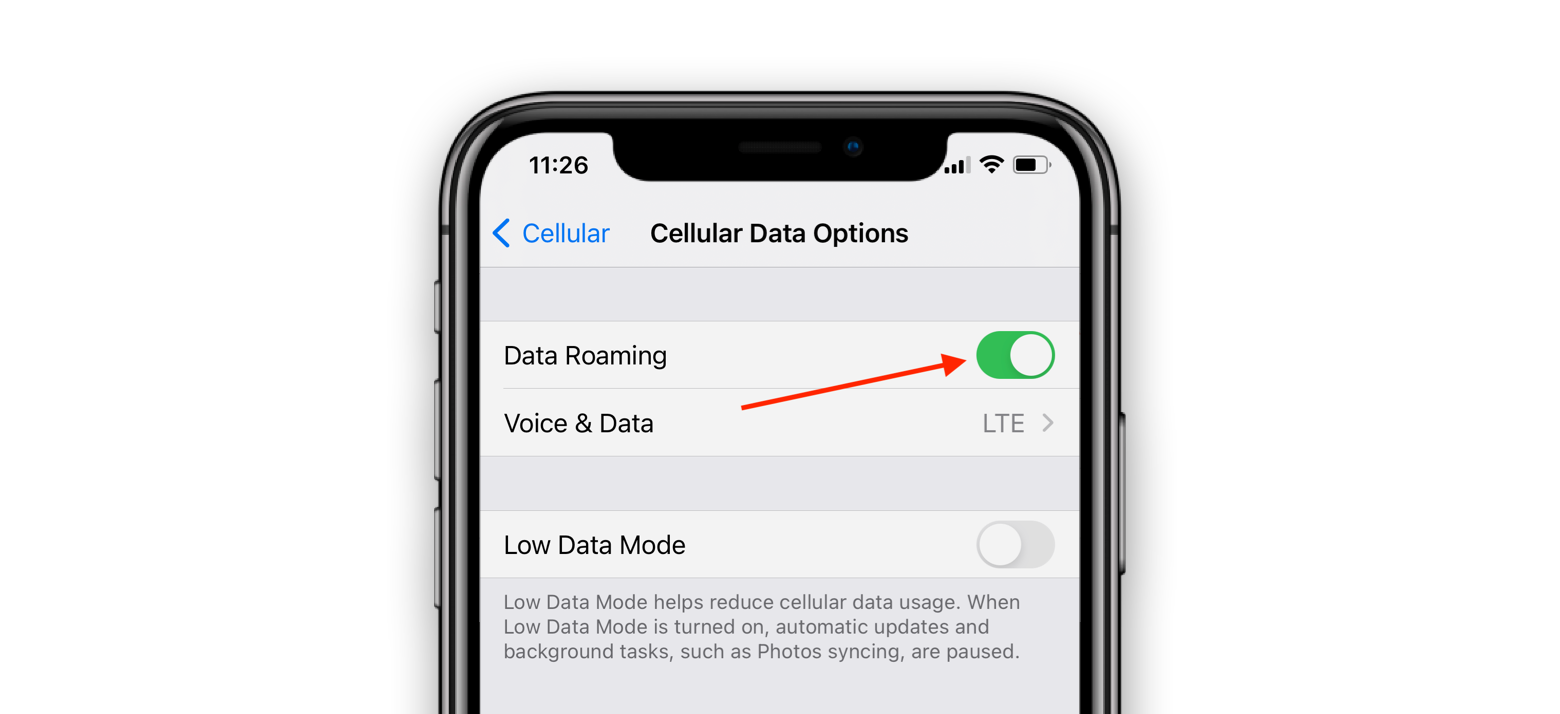 Reboot your device as shown above (Settings > General > Shut Down or press and hold Volume and Side buttons together until power off screen appears, slide the off button to the right as directed on the screen).
Some users have reported this solution to have been the answer to their Why is my data not working? problem.
Check for carrier updates
Even if none of the above steps helped you restore cellular data connection, there are still some solutions you can try.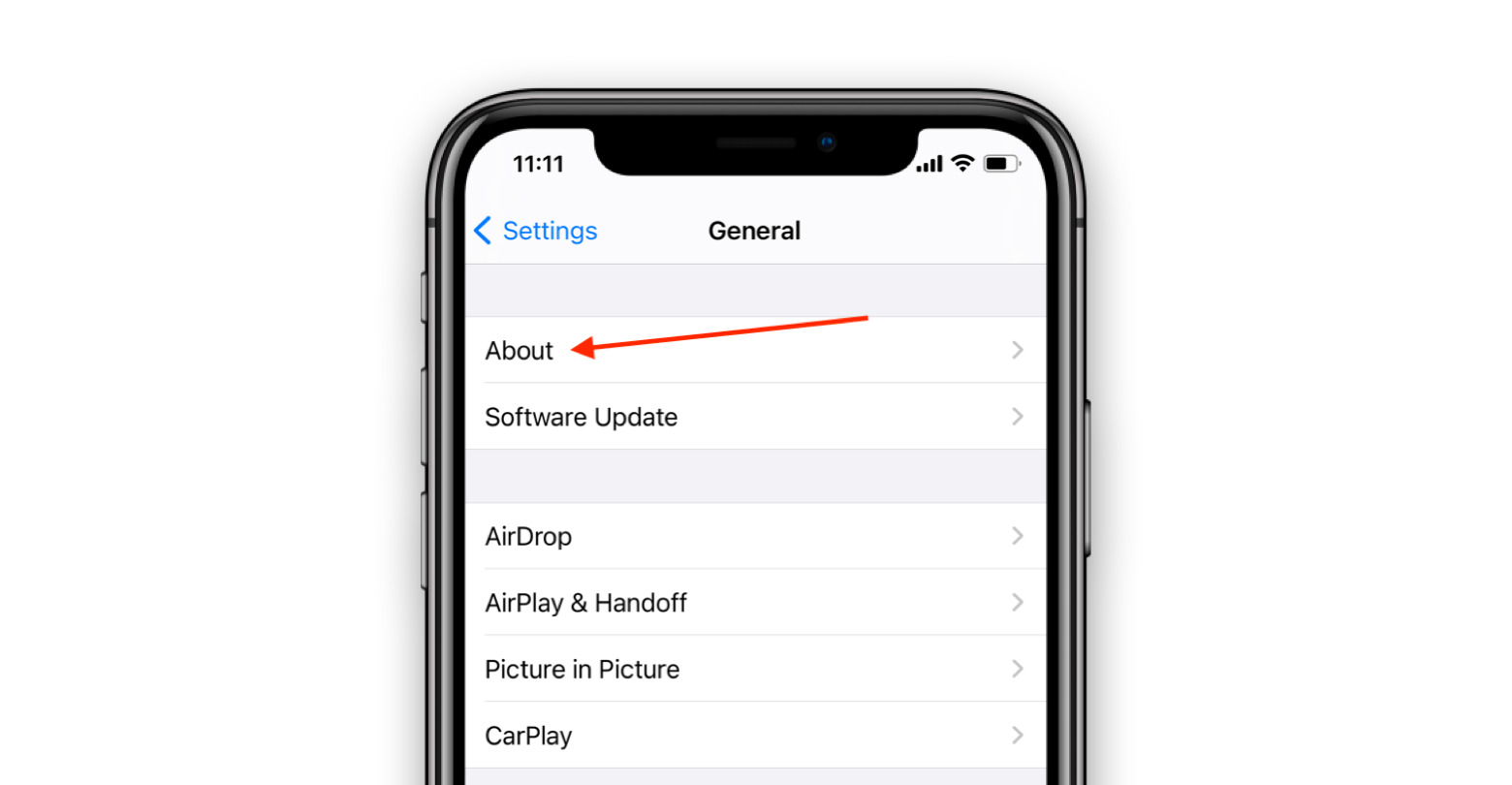 One of them is checking for carrier updates. Just go to Settings > General > About, and if there's a carrier update available, you'll see a popup that says "Carrier Settings Update". Click Update to accept it.
You can also try checking for software updates for your phone or tablet. Go to Settings > General > Software Update (connect to WiFi as this requires internet connection):
Install any latest system updates, if available.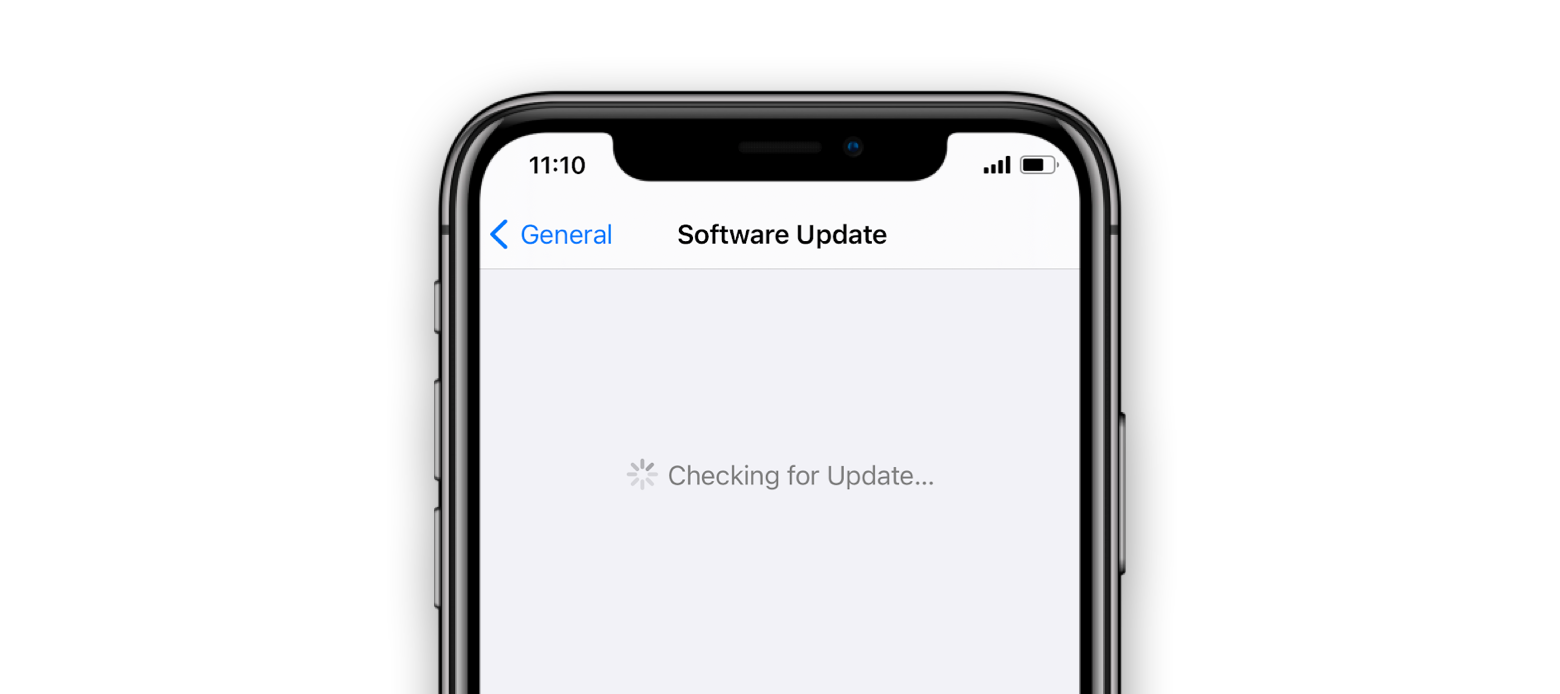 Backup your iPhone and do a Factory reset
Before you go all in and do a factory reset of your phone or tablet (which wipes all your data from the device and may result in loss of important information unless you back it up), you might want to do a network settings reset first. This action will reset all your networks, including WiFi, cellular settings, VPN, APN, WiFi passwords, so make sure you have all the settings and passwords backed up as you will need to re-enter that once the reset is done.
To reset your network settings, go to Settings > General > Reset > Reset Network Settings: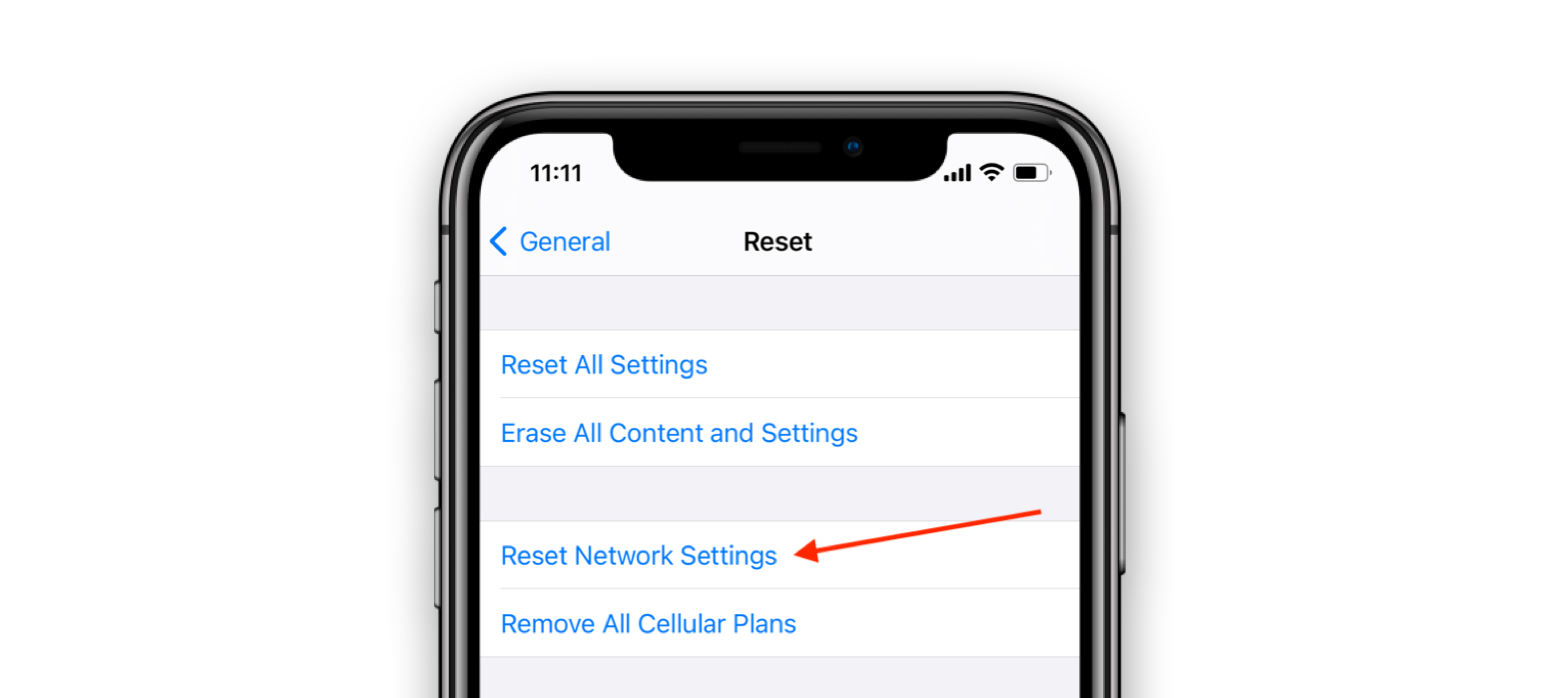 If your device is still not getting cellular data reception, you have a few choices. First, you can take your phone to service right away to get professional help with your issue. Second, you can contact your cellular service provider to see if your account should have cellular data working at this time or if there are any outages. And third, you can backup everything on your iPhone or iPad and do a factory reset.
If you decide to do a factory reset of your device, first create copies of the information on it.
One of the ways you can easily do that is with AnyTrans for iOS, it's a handy app that helps create backups for your phone and quickly restore them to your mobile device. You can even switch between Android and iOS devices. And you can back up your WhatsApp or Viber as well.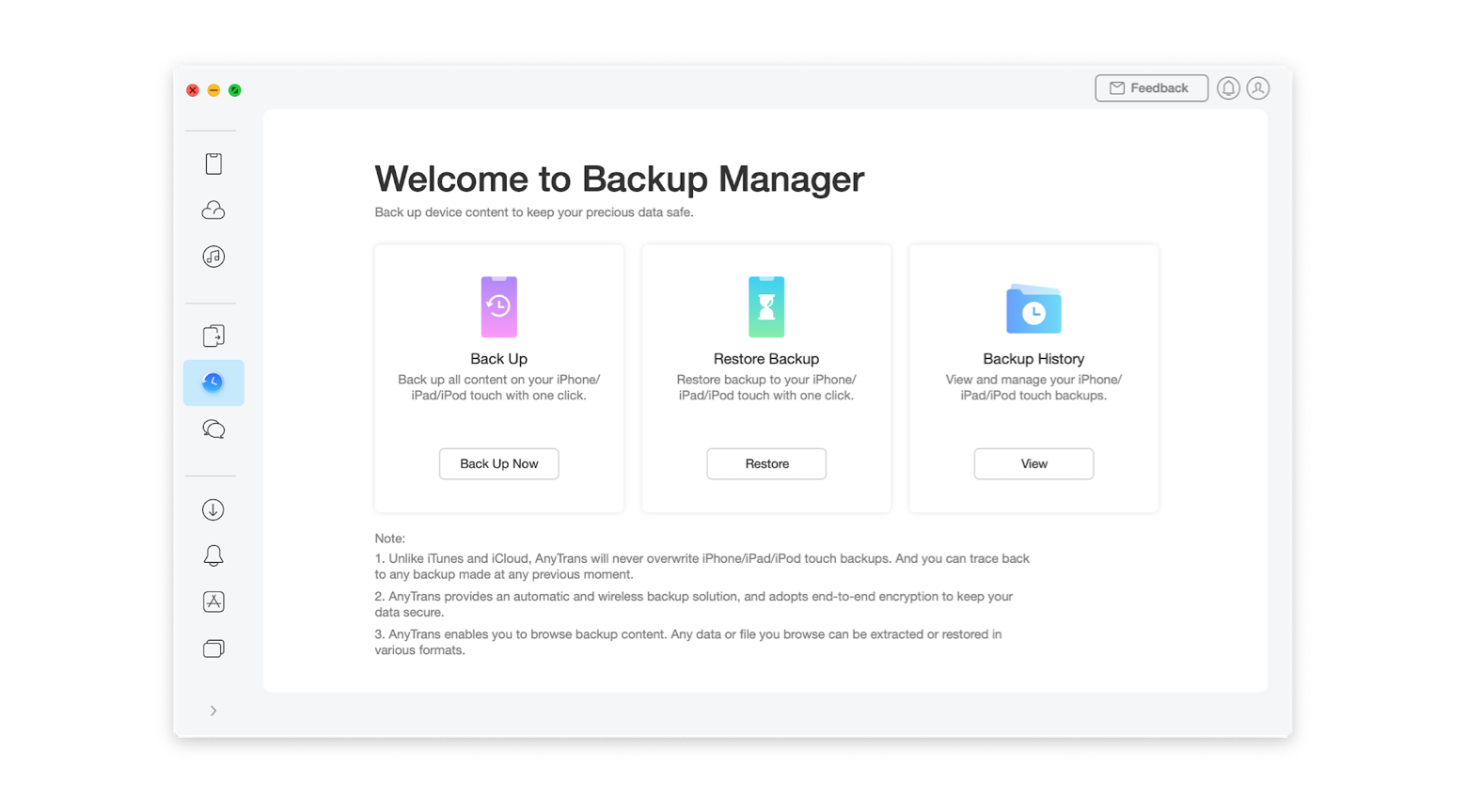 And if your backups prove to be huge in size, there's a solution as well – you can use Gemini to find and delete duplicate files off your device. Got hundreds of nearly identical selfies or landscape shots from your last vacation? Does your dog always do that thing that you can't resist to take a shot of only to end up with dozens of blurry outtakes? Find copies of the same file and similar documents and delete the ones you know you'll never use.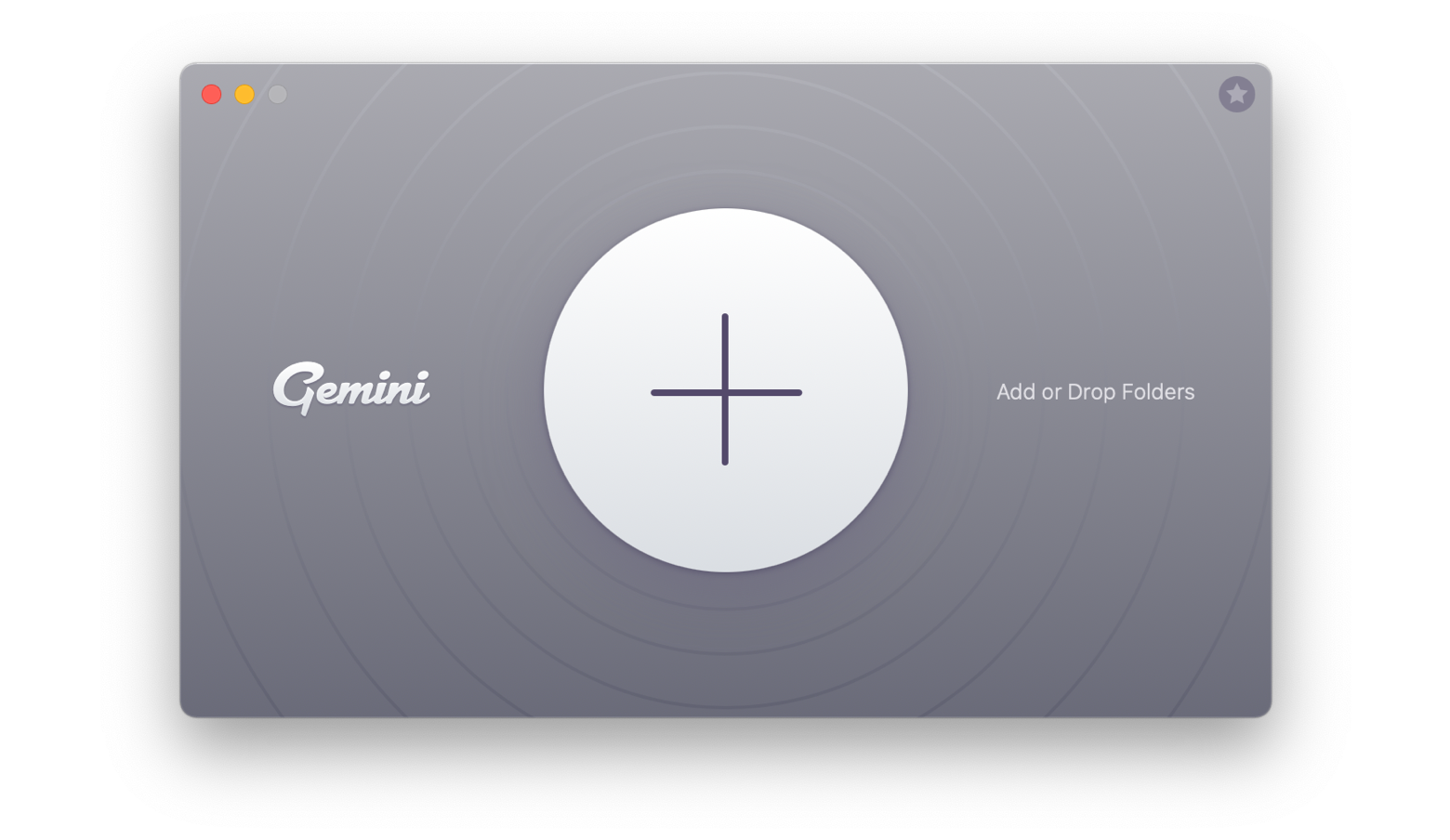 If you want to back your iPhone or iPad up to iCloud and have enough space there to do so, you can turn iCloud Backup by opening Settings, clicking on your name, then iCloud > iCloud Backup and toggling the switch to on. Tap Back Up Now to back up your phone.
Pro tip: Click Learn more… under the iCloud Backup field to find out exactly what information you are backing up.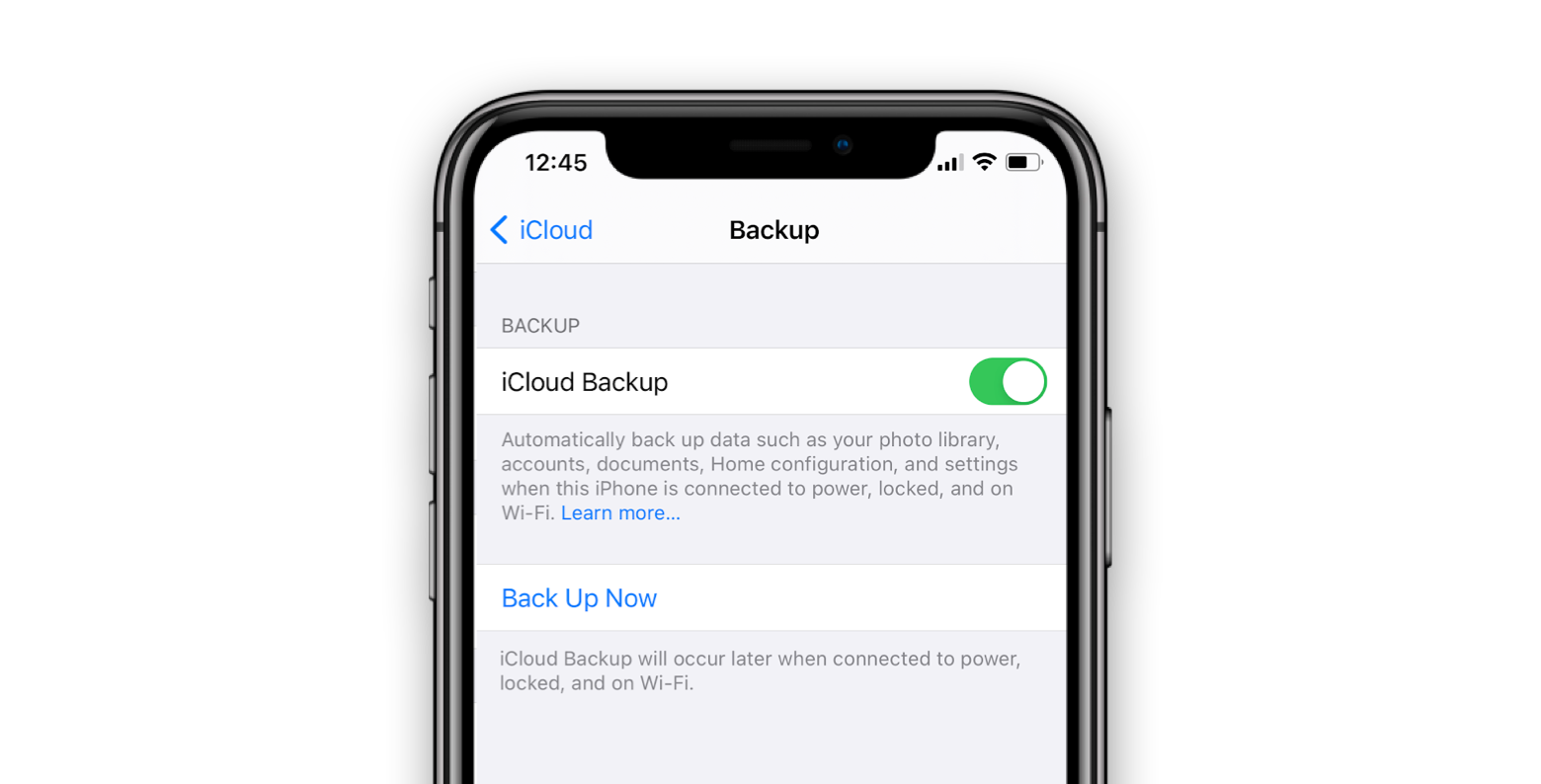 Now that you've backed up your phone and made sure you have all your needed passwords ready to log back in, it's time to reset.
Go to Settings > General > Reset and tap Erase All Content and Settings: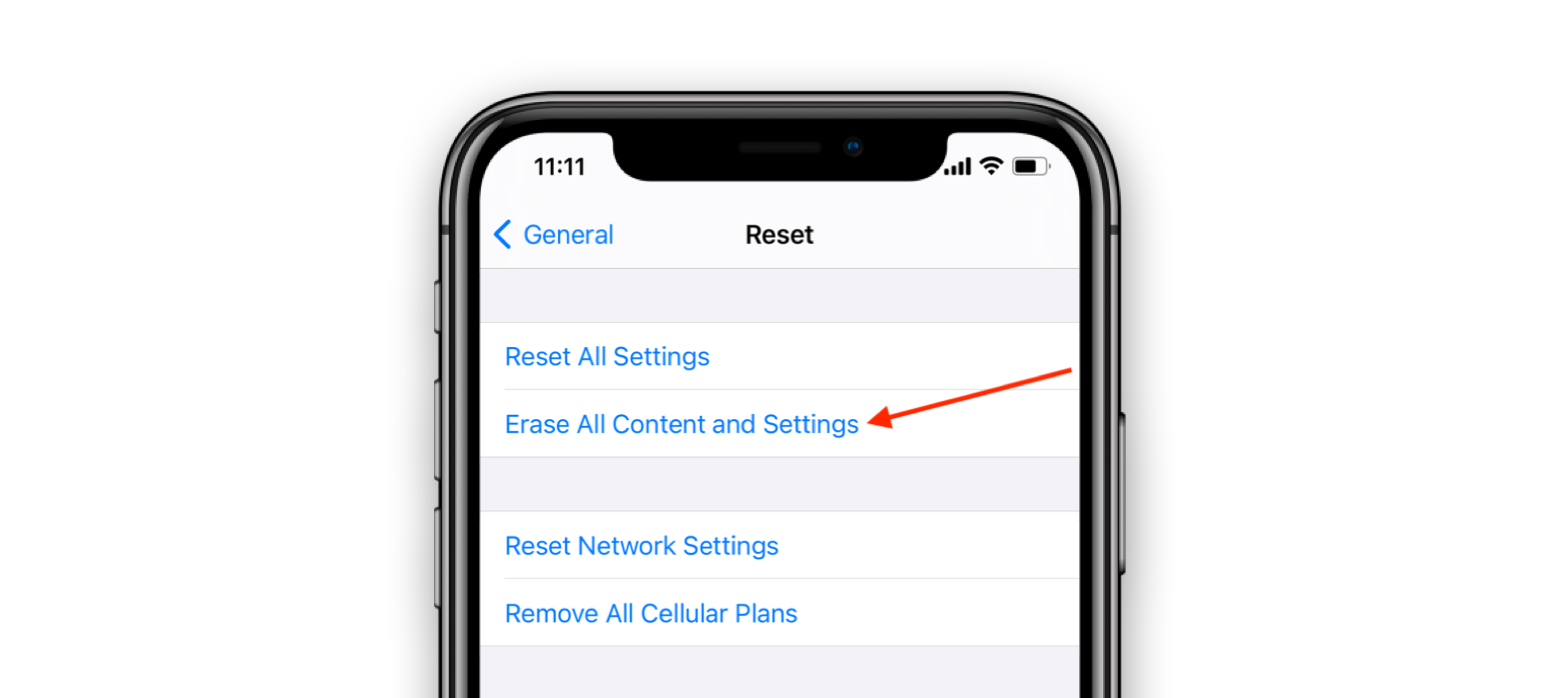 Conclusion
As you can see, when you are faced with a question "Why isn't my mobile data working?", there are quite a few things you can do before taking your device to service or contacting your mobile carrier.
While there are a lot of situations when cellular data outing may be caused by bad network coverage, an outage, some physical damage to your device or SIM, there are also a number of issues that can be easily solved with simple turning off and on or on and off of various phone settings, as shown above. Something as simple as toggling on and off your iPhone's Airplane Mode or cellular data, or getting a software update can solve the issue.
Sometimes your last resort will have to be a factory reset of your device, which can be a stressful thing to do as you have to make sure to back up all your data and have the passwords ready, and then set up your phone once again.
You can use iCloud or apps like AnyTrans for iOS to back up your device. If your backups are getting just too large, you can also employ an app like Gemini, which spots identical or similar files and helps you quickly free up some space.
Luckily, both Gemini and AnyTrans for iOS are on the list of Setapp's 240+ apps for Mac and iOS that help with productivity, task management, writing, blogging, lifestyle and more. You can get one subscription to Setapp and use all the apps in the collection without paying for each one individually. What's more, you can sign up for a 7-day free trial of Setapp and try out all the apps on Setapp before you pay!