What to do when iPhone won't turn on
We spend most of our time on phones. Sending messages, checking WhatsApp, or calling friends became our day-to-day routine.
Seeing a black display of your iPhone in the middle of the day can be stressful and spoil all your plans. Fortunately, it's possible to solve a problem quickly and effortlessly. In this article, we'll talk about possible issues and their solutions. So breathe out, and let's get started.
Reasons why my iPhone won't turn on
The case when an iPhone won't turn on can have a vast amount of various reasons: from the simplest ones like battery drain or freezing to more complicated such as physical damage. Let's dive into the possible issues and explore how to recognize them.
The most common iPhone problem is a discharged battery. It can happen that the phone quickly discharges, and suddenly turns off. This can be due to freezing, overheating, battery wear out.
Even if you slightly hit your iPhone, it might cause some serious physical damage. Carefully inspect the display and charger connector of your phone. If you observe any impairments, then it's time to go to the nearest Apple service center and have your iPhone repaired.
Most of the iPhones are water-resistant, but liquids can still damage some inside details of the device. Although some sources claim that keeping your wet iPhone in rice is a helpful solution, actually, this isn't the best remedy. You should definitely contact the Apple service center.
What to do if my iPhone won't turn on?
First things first, you should define whether the issue is a hardware or a software one. As there are a lot of different reasons for iPhone failure, you should narrow down the problem starting from the most common problems and their solutions. Software problems are easier to detect and solve. If you excluded all the software crashes, then it's time to inspect the hardware ones. Just follow the instructions below step by step to revive your iPhone.
Charge Your Battery
iPhones can suddenly turn off even with a fully charged battery. Here's how to figure out whether it's a charging issue and how to easily solve it:
Plug in the charger and wait for up to one hour. In a few minutes, you should see a charging battery icon on your display screen.
If your iPhone shows signs of life, then everything is alright, and all you need to do is to wait.
If you don't see a charging screen in an hour, then try to carefully check your charger.
Don't worry if you didn't see a charging screen right after plugging in your charger, mostly you should wait a bit longer or just take another charger.
Check your cable and charger
Chargers are fragile, so it's highly recommended to buy a new charger or fix an old one if you observe some bends or cracks. But how to act when your iPhone still shows a black screen and charging doesn't help? Well, it's time to carefully inspect your charger and its components:
Make sure that the charger is plugged in tightly, and isn't damaged or cracked
Check all the charger's components — USB cable, jack, power adapter. They also should be undamaged, and firmly connected.
If the charger visually is in order, try to connect it to your Mac. Sometimes wall chargers don't work for iPhones, but they charge when connected to the computer.
If previous steps don't help, then try a different charger or replace components of an old one.
If your iPhone turned on, then congratulations — the main problem was with the charger, and you should just buy a new one. But if you still see a black screen, then move to the next steps.
Restart your iPhone
Restarting an iPhone is a well-known remedy to various phone bugs. Although it can seem a very obvious and even useless way to troubleshoot an issue, actually it's a good indicator of whether the problem is serious or not.
To make a simple restart hold down the side button for a few seconds. If your iPhone reacted with showing a slider, then you should swipe it to turn the phone off. Most probably it was a simple software glitch and the problem is solved. Otherwise, if the phone didn't react, then you should try a force restart.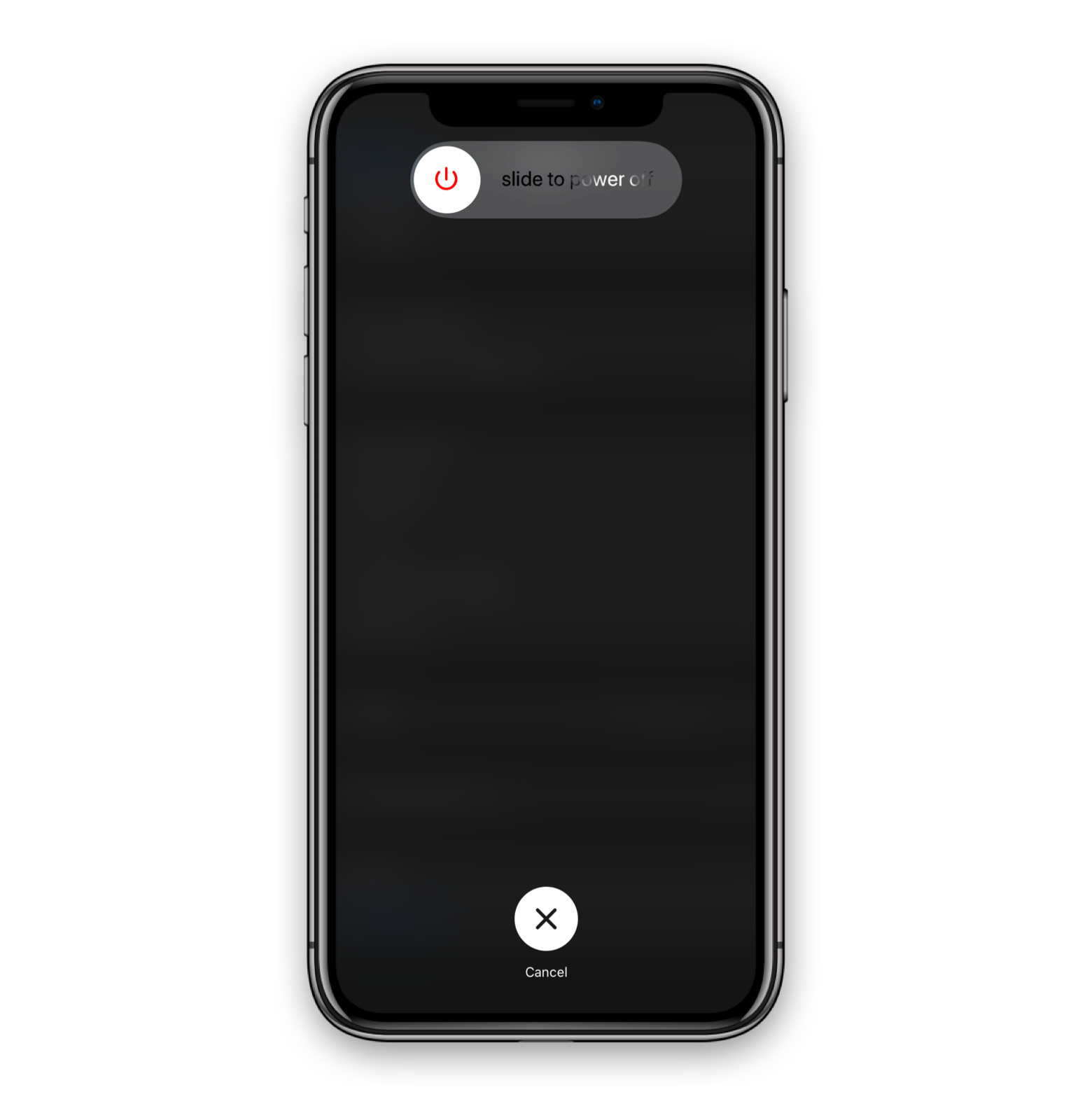 Force restart
A force restart is a great iPhone's feature that allows you to launch your device when standard restarting doesn't work. The procedure differs depending on the iPhone model.
If your iPhone has a physical home button (from iPhone 5 to iPhone 7), then hold down the home button and power button at the same time to do a force restart.
If you have an iPhone from 8 or newer, then press and hold the volume up or down button and power button simultaneously.
After pressing the buttons, wait until an Apple logo appears.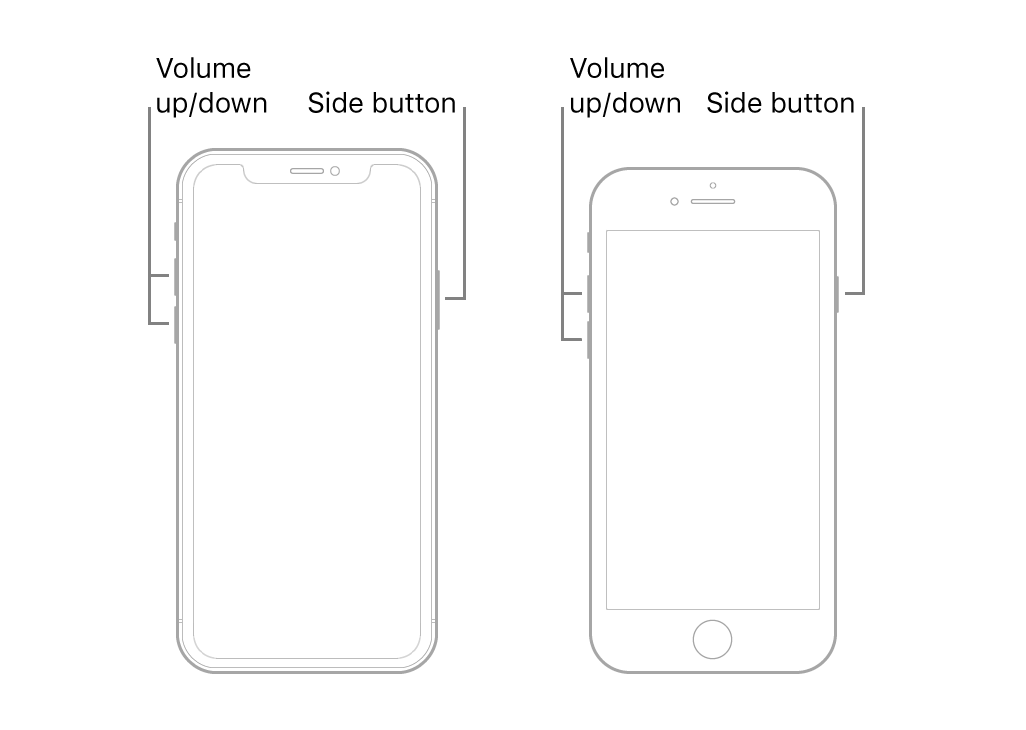 If your iPhone finally turned on, then it was a software problem that caused a black screen. If you've followed all the instructions and nothing happened, you're dealing with hardware problems. In any case, you should do a backup and restore your iPhone.
Do a backup and restore iPhone to factory settings
Before restoring your iPhone to factory settings, make sure that you have a backup of the information on your phone because after restoring, it will be erased. iPhone backup is an essential step that prevents data loss.
You can do a backup using iCloud or your Mac. When your iPhone is turned off, a laptop is the only way to make the data copy.
Connect your phone to your Mac.
On Mac with macOS Catalina, open Finder, on Mac with Mojave or earlier, open iTunes.
Follow the onscreen instructions — enter a passcode, select 'Trust This Computer', etc.
Place the iPhone on the Mac, and wait until it appears in the tab
Click Back up Now
Great, your data is in a safe place.
Now all your iPhone content is transferred to your Mac, and the phone is ready to be restored to factory settings. It should stay connected to the laptop for further steps.
In the same tab as for the backup, click Restore
Select Restore again when it asks for confirmation
After restoring, your iPhone will restart
Does your iPhone already feel like a new one? It should, because now it doesn't contain any info and has the newest iOS version.
A smarter way to do a backup
Backup is a highly important procedure that directly deals with your data. Make sure your data will be safe and sound — entrust responsibility for your personal info to the professionals. AnyTrans is a smart backup manager that safely copies and transfers your iPhone's content to Mac.
Just one click, and your data files on your Mac:
Open AnyTrans
Connect your iPhone to your Mac via USB if it's your first time backup with AnyTrans.
Select Backup Manager tab
Click Back Up Now
Hooray, AnyTrans will automatically copy all content from your iPhone.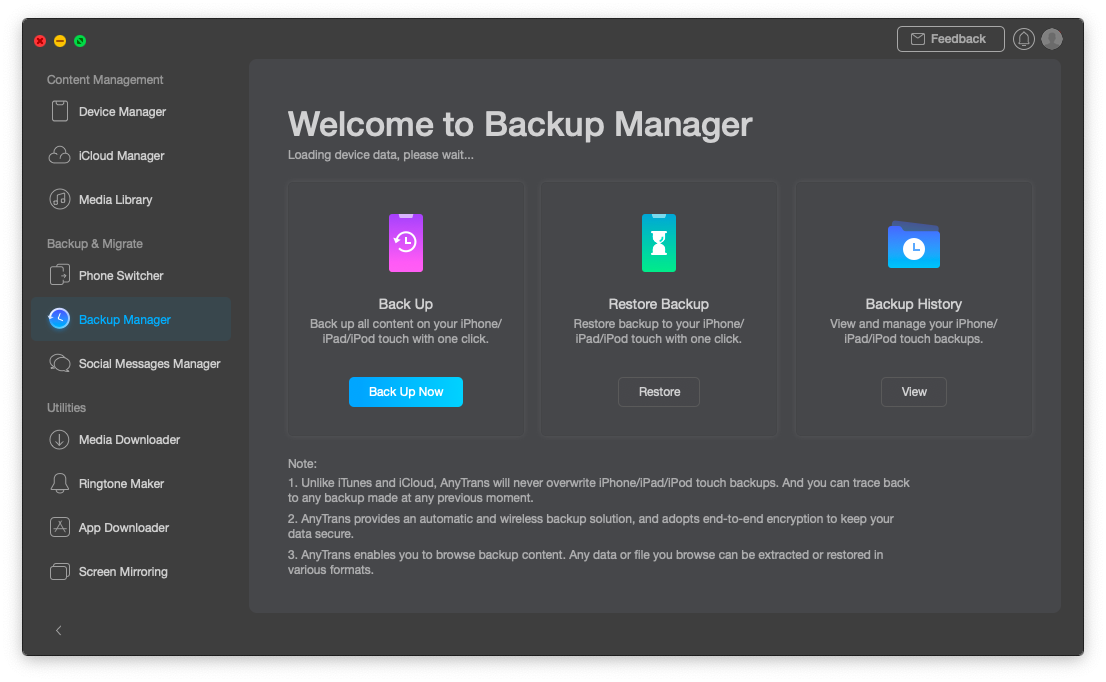 Moreover, not only can you create a new backup for any of your iOS devices, but also extract data from old backups created with iTunes or iCloud.
Put iPhone Into DFU Mode
DFU (Device Firmware Update) mode is the deepest type of iPhone restoring that updates firmware of the phone. If for some reason standard restoring doesn't work for your iPhone, then DFU may help you out. The main difference between DFU and standard restoring is that with DFU you can choose the firmware for your iPhone.
Double-check whether your iPhone has a backup because DFU restore erases all the personal data.
The procedure is easier it seems to be if you follow the next steps:
Connect your iPhone to Mac
Hold down the power button and home button (or volume button if you have iPhone 8 and newer) for 5-10 seconds simultaneously
After 10 seconds, release the power button but continue to hold the home/volume button for another 5 seconds
If the screen stays black, then your iPhone is in DFU mode. Check if there is an alert in iTunes that the device was detected in recovery mode.
To exit the DFU mode, force restart your iPhone.
Check your display
If you've followed all the steps and your iPhone is still turned off, then maybe these are display antics. Examine the screen of the phone carefully, look for some physical or liquid damage. If you found any, then you should contact Apple service and get your iPhone fixed.
An instant option to check whether your iPhone has hardware problems is with the help of iTunes:
Connect your iPhone to your Mac
Open iTunes.
If iTunes recognizes your phone, then most probably it's a hardware issue. You should immediately back up your data and then contact Apple service. In another case, try to restore your iPhone.
How to protect your iPhone from slowing up
To avoid such situations as a black screen, slowing down, and software problems, you should care about the health of your iPhone — free up some space and make a backup of all the data. It's so hard to keep everything in mind. Luckily, there're some time-savers when it gets to iPhone management — Gemini and AnyTrans.
Gemini is a duplicate files finder and remover that can free up a lot of space in a single cleanup. It will instantly detect similar photos on your iPhone and get rid of them, after your approval. No more twenty similar photos of your friend at the beach, Gemini will clear all the mess. Your iPhone will feel much better after such cleaning. Gemini is available both for iOS and macOS so that you can make the life of your Mac easier too.
AnyTrans is a backup manager that makes a file transferring a piece of cake. You can schedule your iPhone backups, and AnyTrans automatically will make a copy of your data without you even lifting a finger.
To put the cherry on the cake, you can easily check and clean all the transferred files on your Mac with CleanMyMac X. The app erases large and unused files and declutters your Mac from all kinds of trash. All you have to do is hit "Run" in the app.
Conclusion
Sometimes we all need to breathe out and reload, and your iPhone isn't an exception. Various software and hardware problems, overloaded memory, liquids, and many other issues may exhaust your device.
Most of the time such troubles can be solved with a good old phone restarting, but sometimes that's not enough. Here such procedures as force restart, restore to factory settings, and DFU come to help.
To prevent various iPhone failures, it's important to make "unloading days" when you backup your phone's content with AnyTrans and then make a files cleanup with Gemini. You can try to do your first iPhone optimization for free because all the apps are on Setapp with a 7-day free trial.