How to disconnect iPhone from Mac
The Apple product line has always been regarded as cutting-edge and at the forefront of its respective industries. However, if there's one thing that makes Apple gadgets superior, it's the "ecosystem" that effectively connects them. No matter what device you choose, this ecosystem unifies most of the apps and functions consumers use on their devices into a cohesive experience.
If you own a few Apple products, you can expect them to work with each other. For example, calls normally routed to your iPhone can, for instance, be made and received from your Mac. It's possible, though, that you don't want to sync your phone and computer. Then how to disconnect iPhone from Mac? Let's look into this.
How could the iPhone and Mac be connected?
Before learning how to disconnect Mac from iPhone, let's quickly see how they can be connected to each other.
The most basic method of connecting Mac and iPhone is through iCloud, which allows you to sync content and backup pictures and other files. Alternatively, you can transfer files from a Mac to an iPhone using a USB-to-Lightning adapter. Apple also provides the AirDrop feature, which enables file transfers between two devices using Wi-Fi and Bluetooth without requiring a direct physical connection.
On top of that, you can enable Handoff and Continuity features in addition to iCloud Sync, which, when properly configured, will allow you to start something on the Mac and pick it up on the iPhone and vice versa. This function also enables the smooth copying and pasting of text and content from one Apple device to another.
Other methods of connecting a Mac and an iPhone include making iPhone calls on a Mac, forwarding SMS messages from an iPhone to a Mac, connecting your Mac to your iPhone's Personal Hotspot, and pairing the two devices via Bluetooth.
10 ways to disconnect iPhone from Mac
Now, we'll cover various methods, including Bluetooth, AirDrop, iCloud, and others, that can be used to disconnect an iPhone from a Mac.
Method 1. Remove Your Mac from Apple ID
As you may know, all of your Apple devices must be signed in to the same Apple account in order for you to use iCloud and its syncing features. So, if you're looking for how to unlink iPhone from Mac, keep in mind that the best thing to do is to remove your macOS device from your Apple account.
To remove a Mac from your Apple ID, follow these steps:
On your iPhone, go to Settings > Apple ID, iCloud, Media & Purchases
Find your Mac/MacBook in the list of devices at the bottom of the screen and tap on it
Then tap on Remove from account
You will now see a message asking you to confirm device removal. Tap Remove.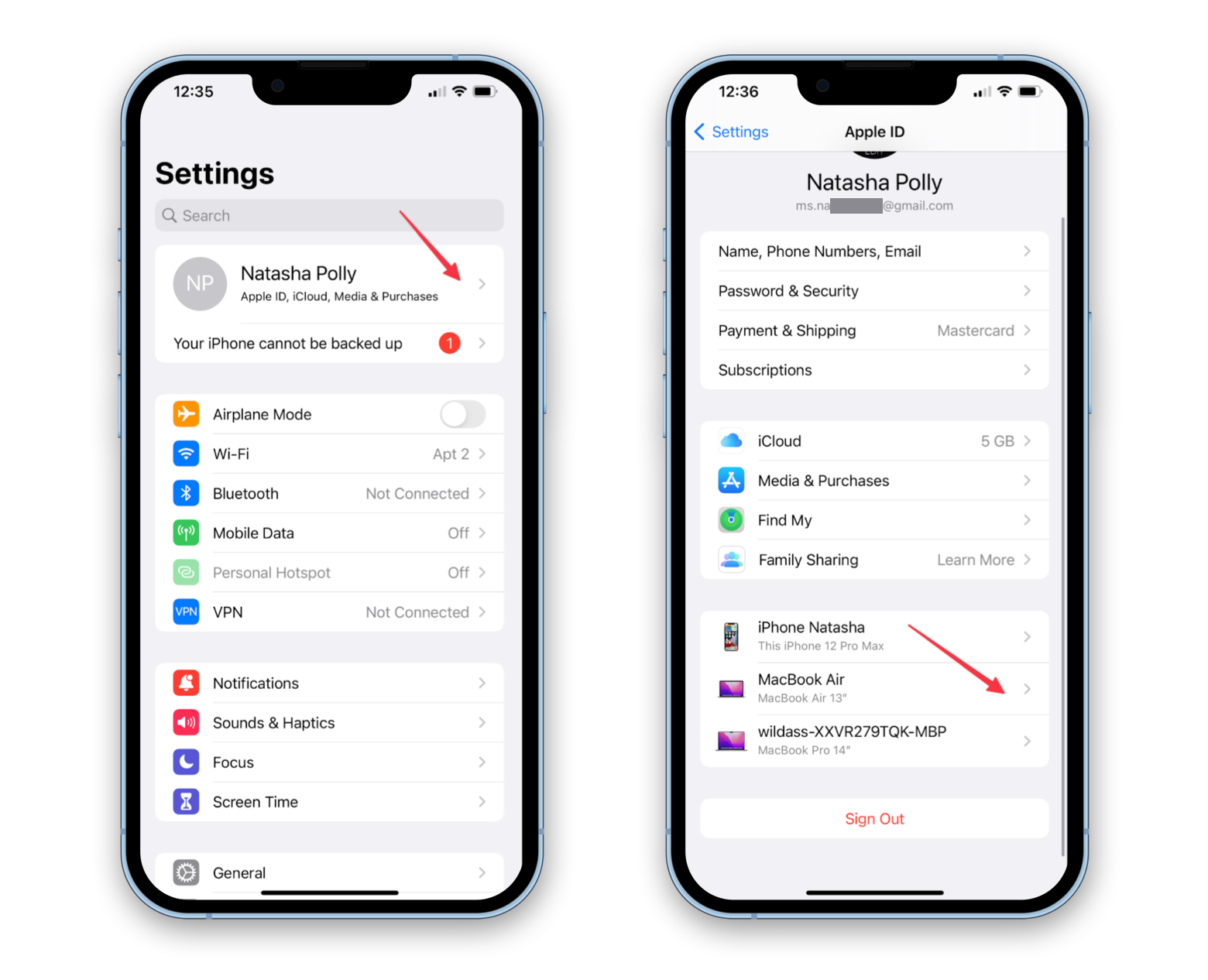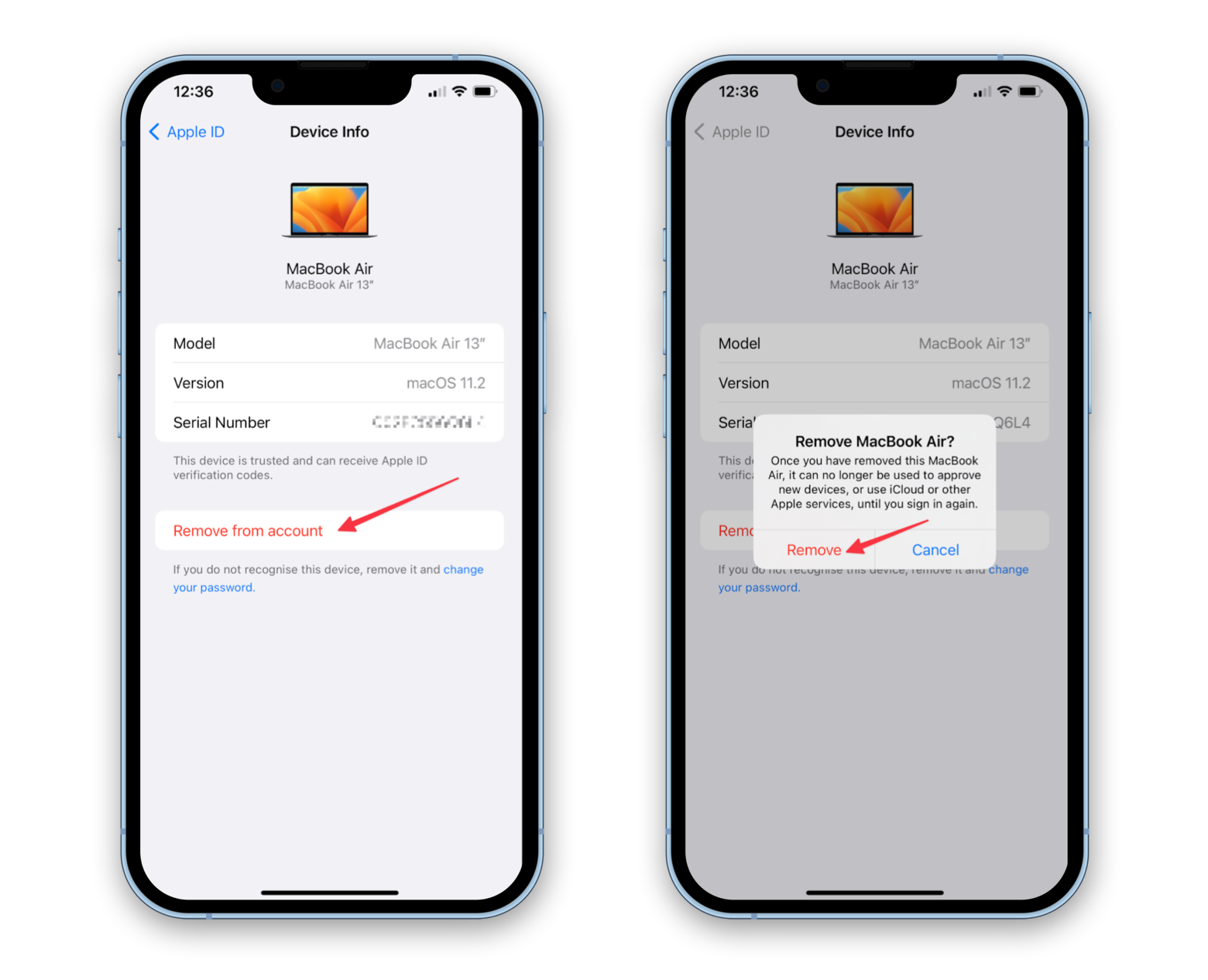 You can also do the same on you Mac. Just go to the Apple menu > System Settings > Apple ID. Then choose the device you want to unpair and click 'Remove from Account…'
If you don't want to completely remove an iPhone from your Apple account but just want to unpair some parts, you can use the methods below.
Method 2. Disconnect your Mac using Bluetooth
To unpair your Mac from your iPhone via Bluetooth:
On your iPhone, go to Settings > Bluetooth
Turn on the Bluetooth toggle
There, you'll see a list of devices. Locate the device you want to disconnect and tap on the 'i' icon next to it
Then tap on Disconnect.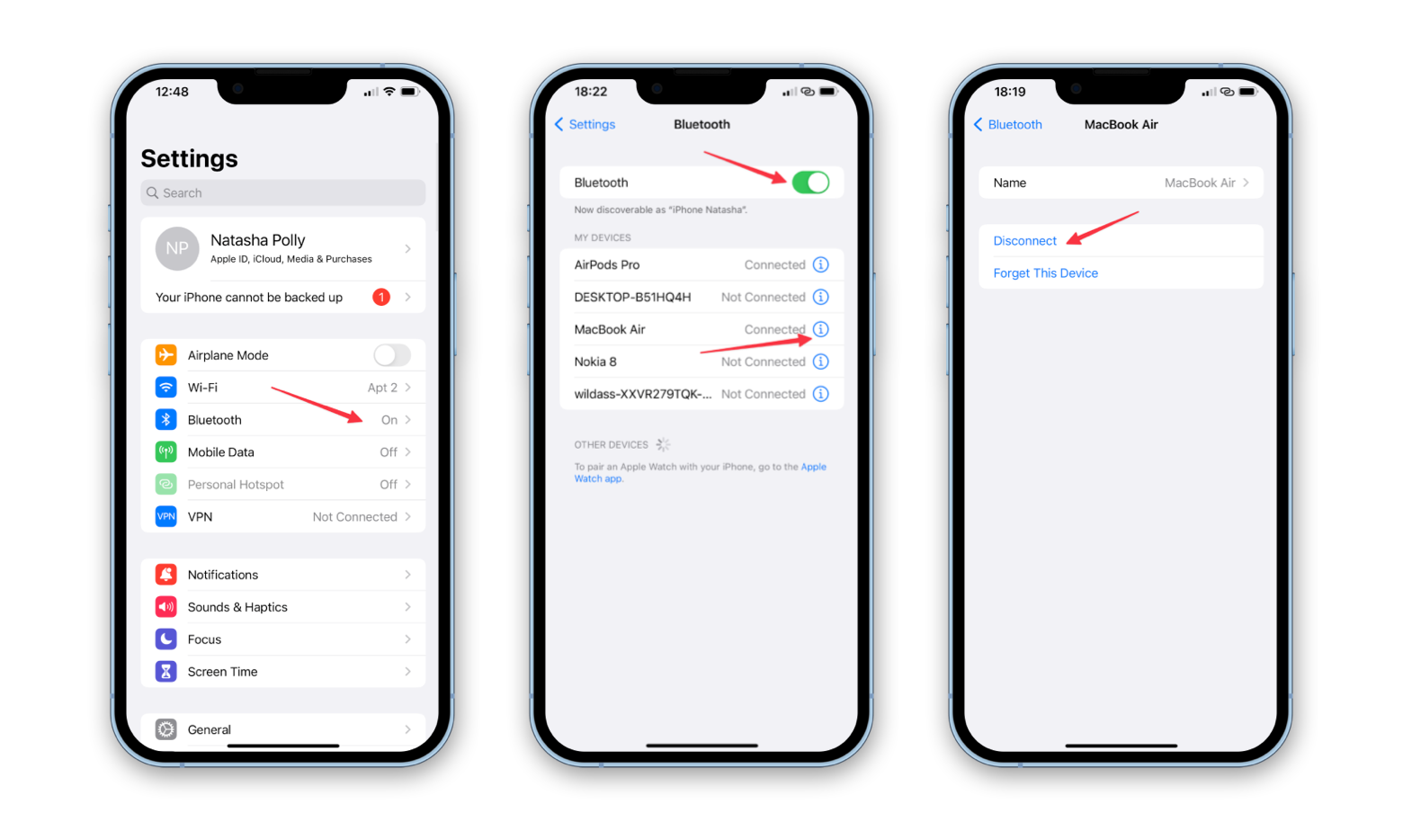 Tip: Control Bluetooth devices on your Mac with a single click. ToothFairy is a Bluetooth assistant you can't live without: connect, disconnect or switch between devices in seconds right from the menu bar or with customizable keyboard shortcuts. Plus, instantly view each device's connection status and battery level instead of digging through annoying menus.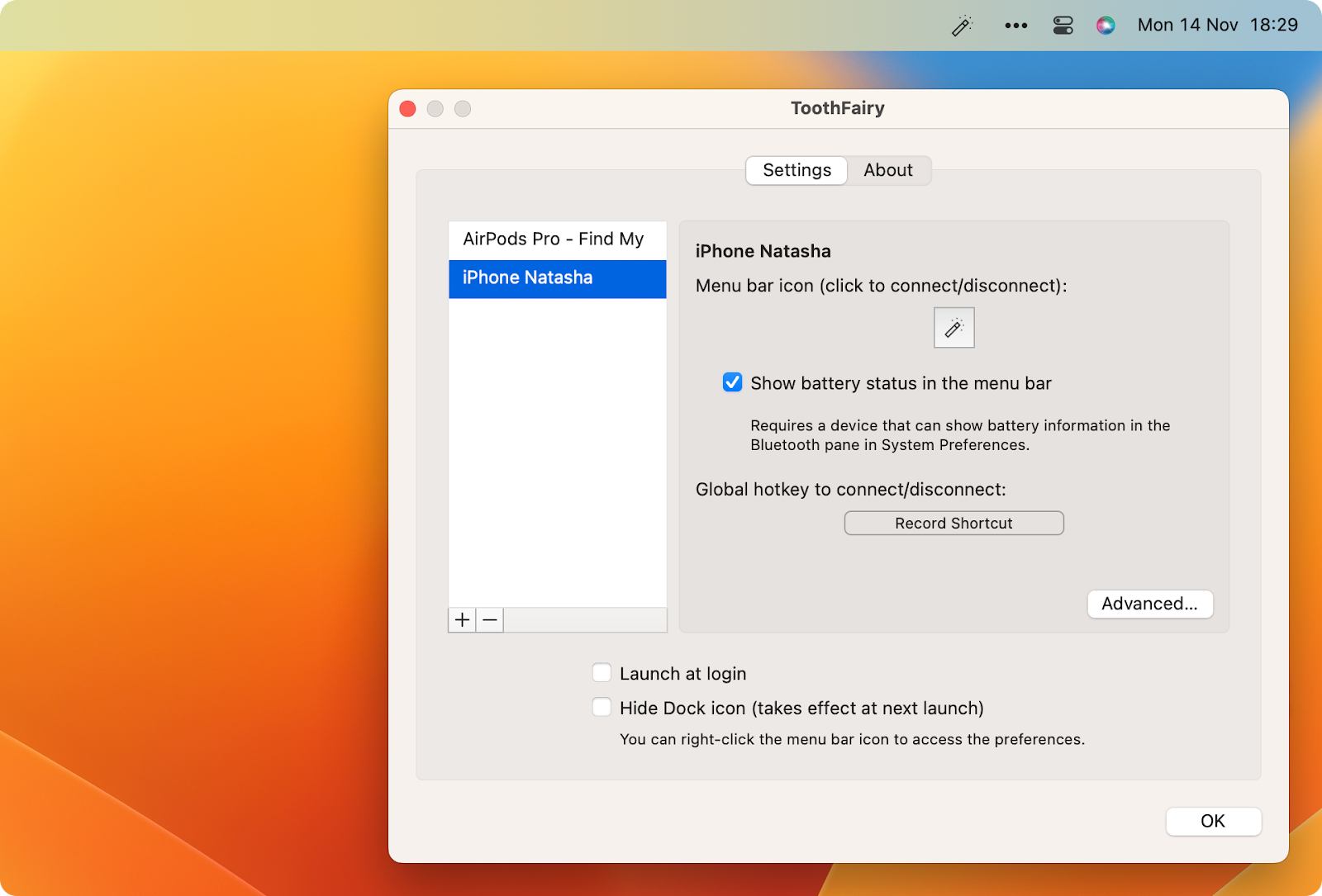 Method 3. Disconnect iPhone from Mac's Finder
If you don't want your iPhone to show up in Finder on a Mac, all you have to do is unplug it from the USB cable. But if that doesn't work, you may have set up Finder to find iOS devices over Wi-Fi.
To unlink your iPhone from Mac:
Choose your iPhone in Finder's sidebar
Then, scroll down to the Options section and uncheck the box next to Show this iPhone when on Wi-Fi.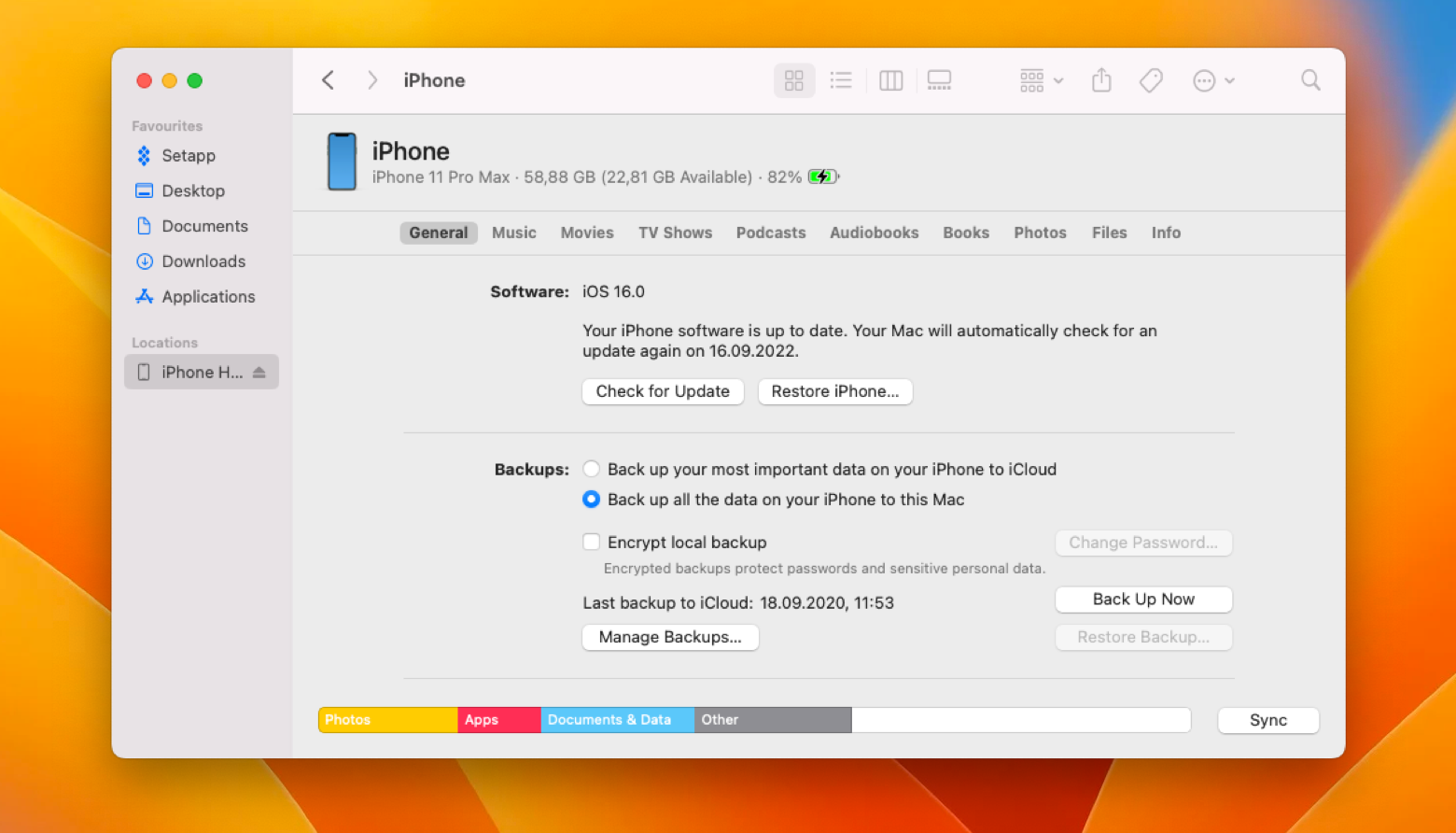 Method 4. Turn off AirDrop
If you don't want your iPhone to show up on your Mac as an AirDrop location, you must turn off AirDrop on your iOS device. To do this:
On your iPhone, go to Settings > General > AirDrop
Tap on Receiving Off. However, keep in mind that it will also stop the iPhone from getting files from other devices via AirDrop.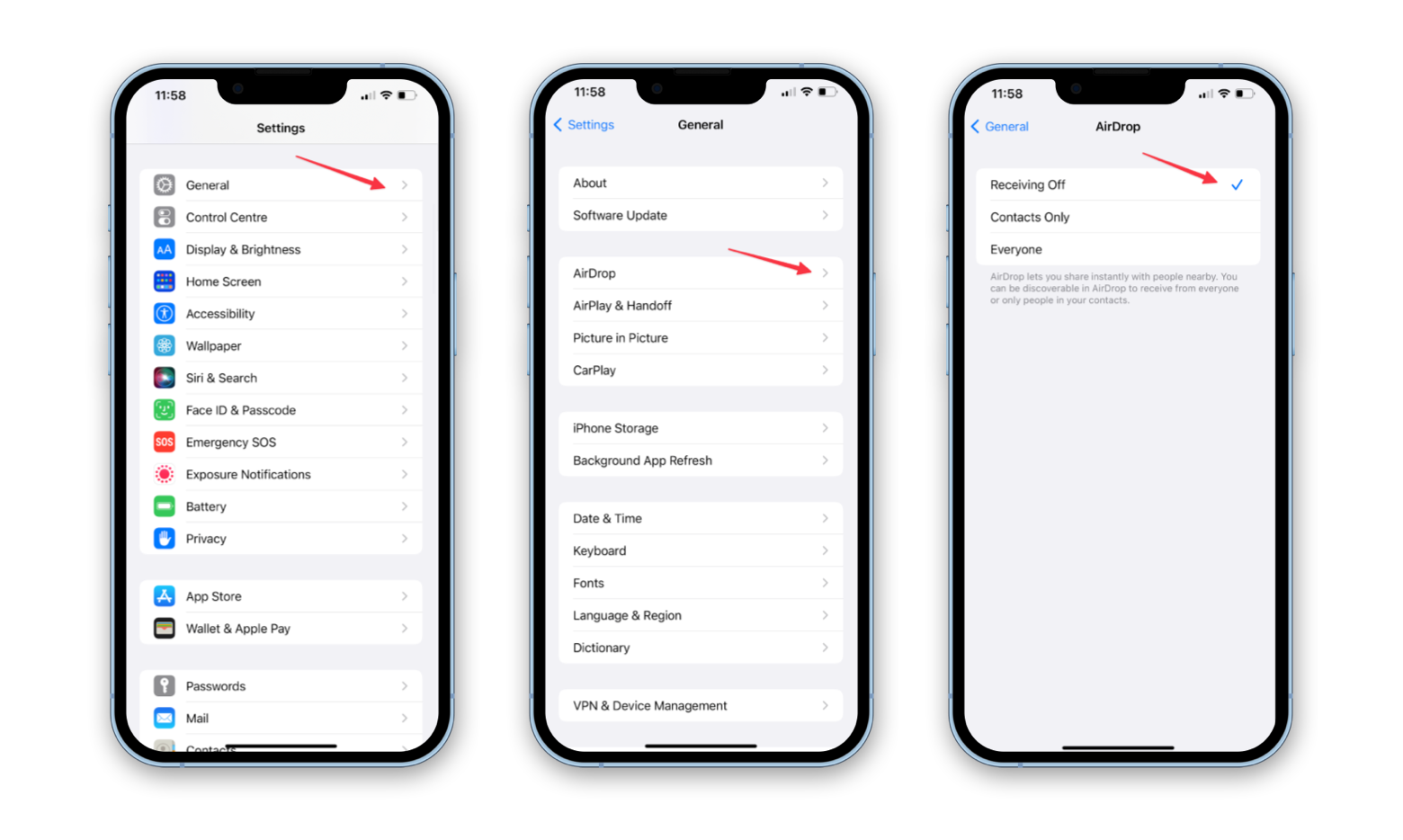 Conversely, you can make sure that your Mac doesn't show up in AirDrop on your iPhone. To do so:
Open the Finder app and click on AirDrop in the sidebar
Then change the setting to 'Allow me to be discovered by: No One.'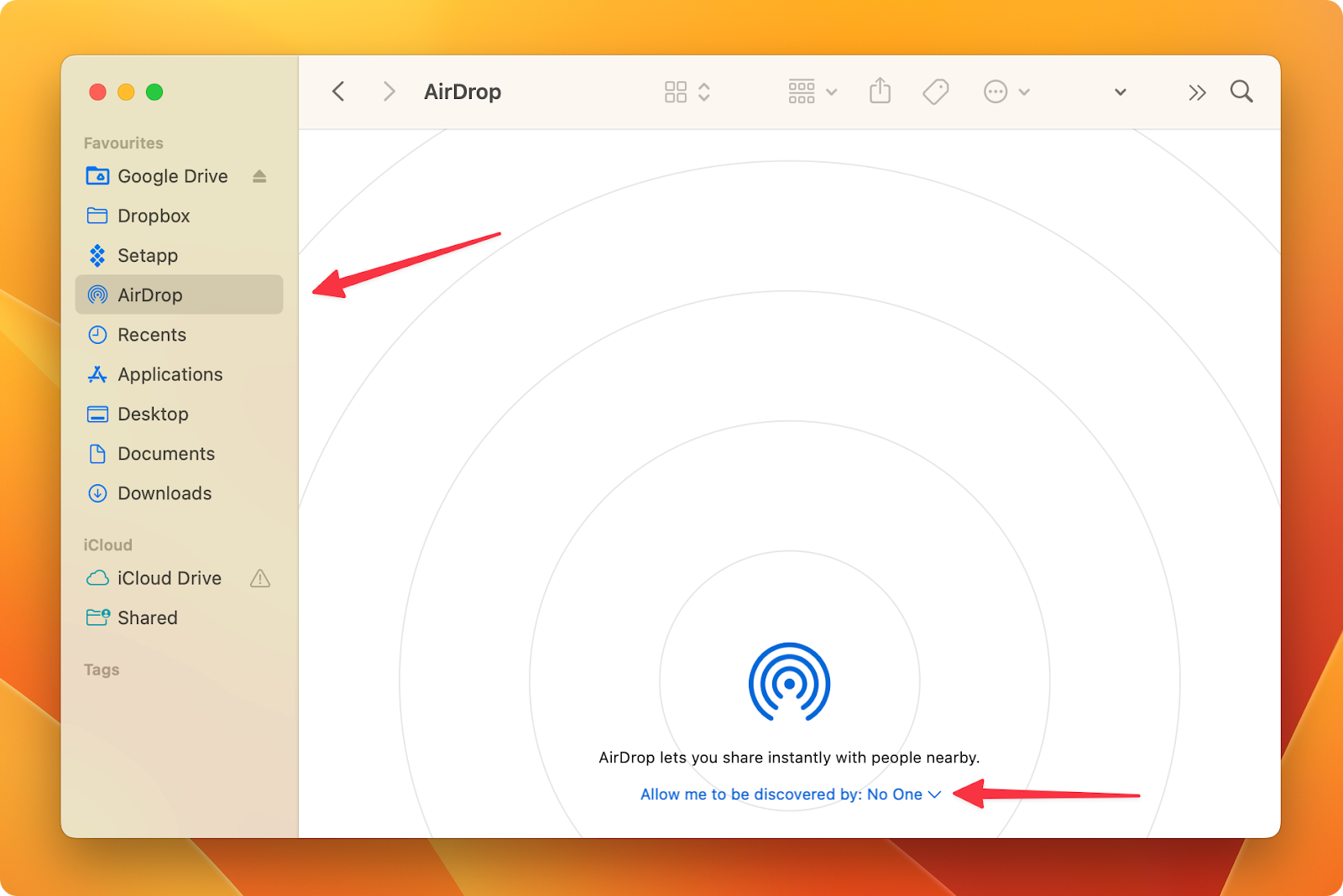 Tip: AirDrop can be a security risk because anyone can send files to your Mac, iPhone, or iPad. Malware could get into your device if someone sent you a file or link that had it. Therefore, you might choose to use AnyTrans as an AirDrop alternative to share files between devices quickly and easily.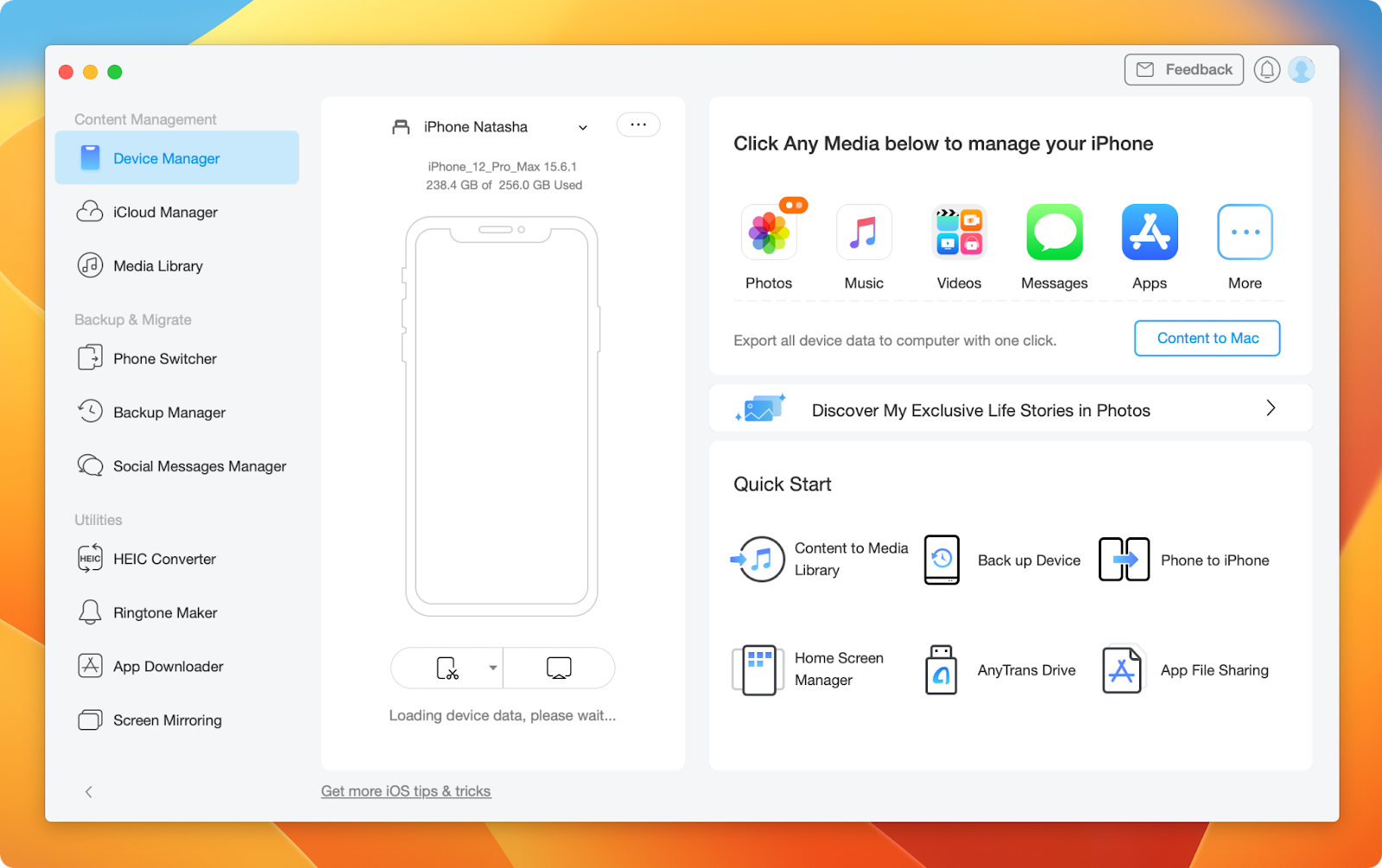 Method 5. Turn off Handoff on iPhone, Mac
When you want to carry on an activity from your iPhone to your Mac or vice versa, Handoff can be extremely helpful. However, the constant visual cues on the Dock may be annoying.
Here's how to disable Handoff on your Mac:
Go to Apple menu > System Settings > General > AirDrop & Handoff
Uncheck the option next to 'Allow Handoff between this Mac and your iCloud devices.' But be aware that disabling Handoff also stops the iPhone and Mac from using the Universal Clipboard.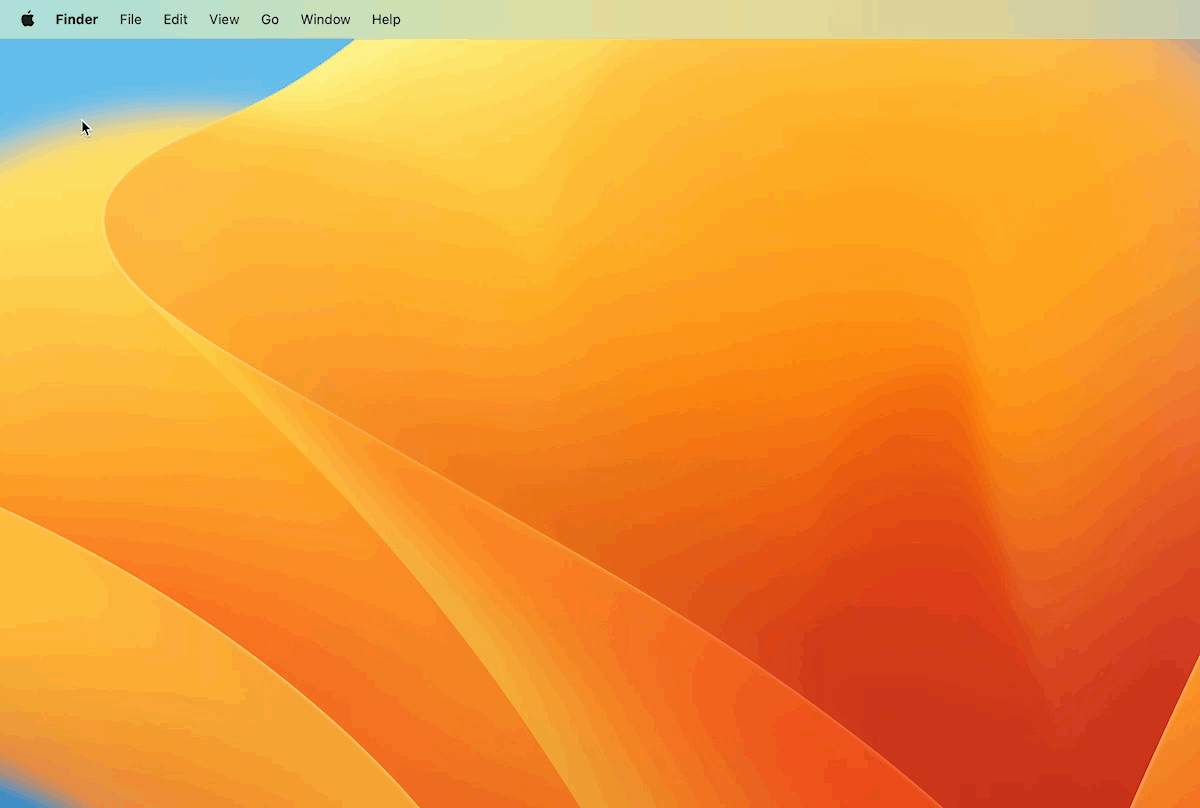 If you still would like to use Handoff on your Mac but just want to stop prompts from your iOS device, follow the steps below:
On your iPhone, go to Settings > General > AirPlay & Handoff
Turn off the Handoff toggle.
Method 6. Stop iCloud Syncing
If you don't want your Mac to automatically sync your images, contacts, and calendar with your iPhone and other Apple devices, you may easily disable this option.
Here's how to unsync iPhone from Mac:
On your Mac, go to Apple menu > System Settings > Apple ID > iCloud
Then, turn off the services you don't need (Photos, Contacts, Calendars, and so on).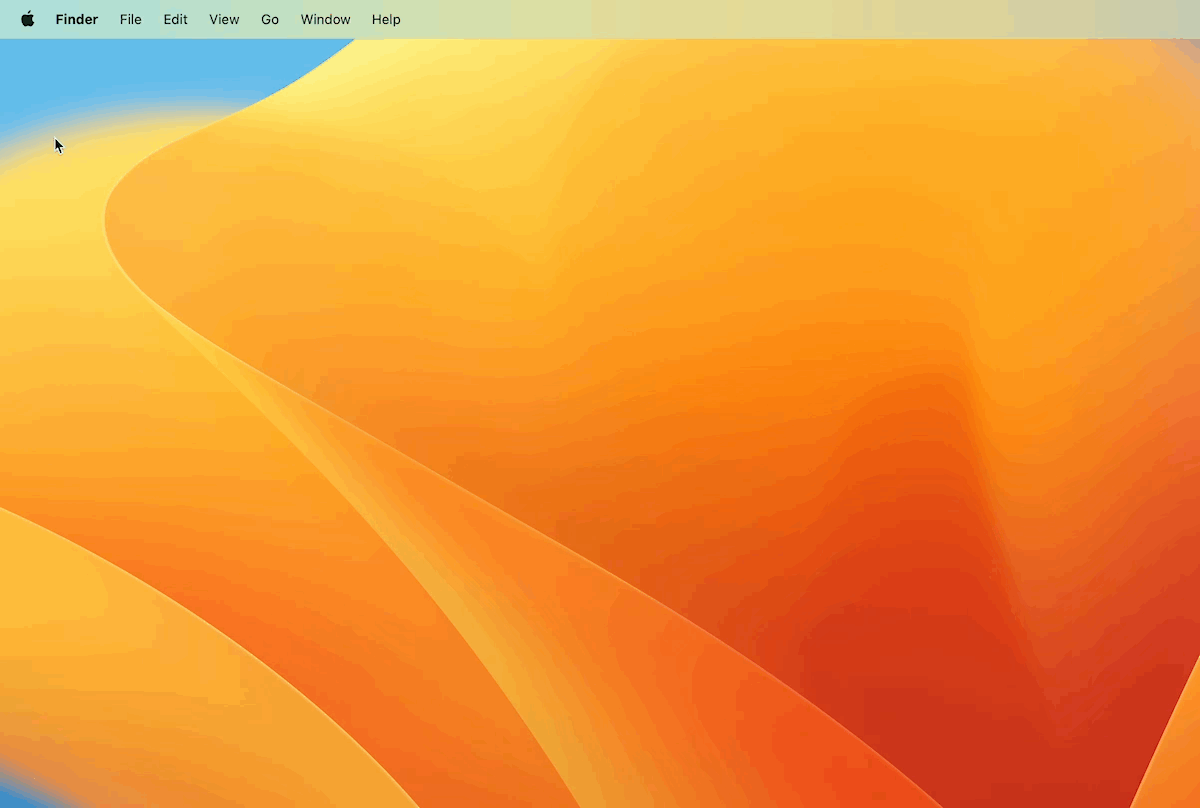 Tip: Running out of iCloud space? Try Dropshare. As the name suggests, it makes it easy to share files by letting you just drop them in the right place. Dropshare works with a number of big third-party cloud apps, but you can also use the Dropshare Cloud (10 GB storage for all Setapp users).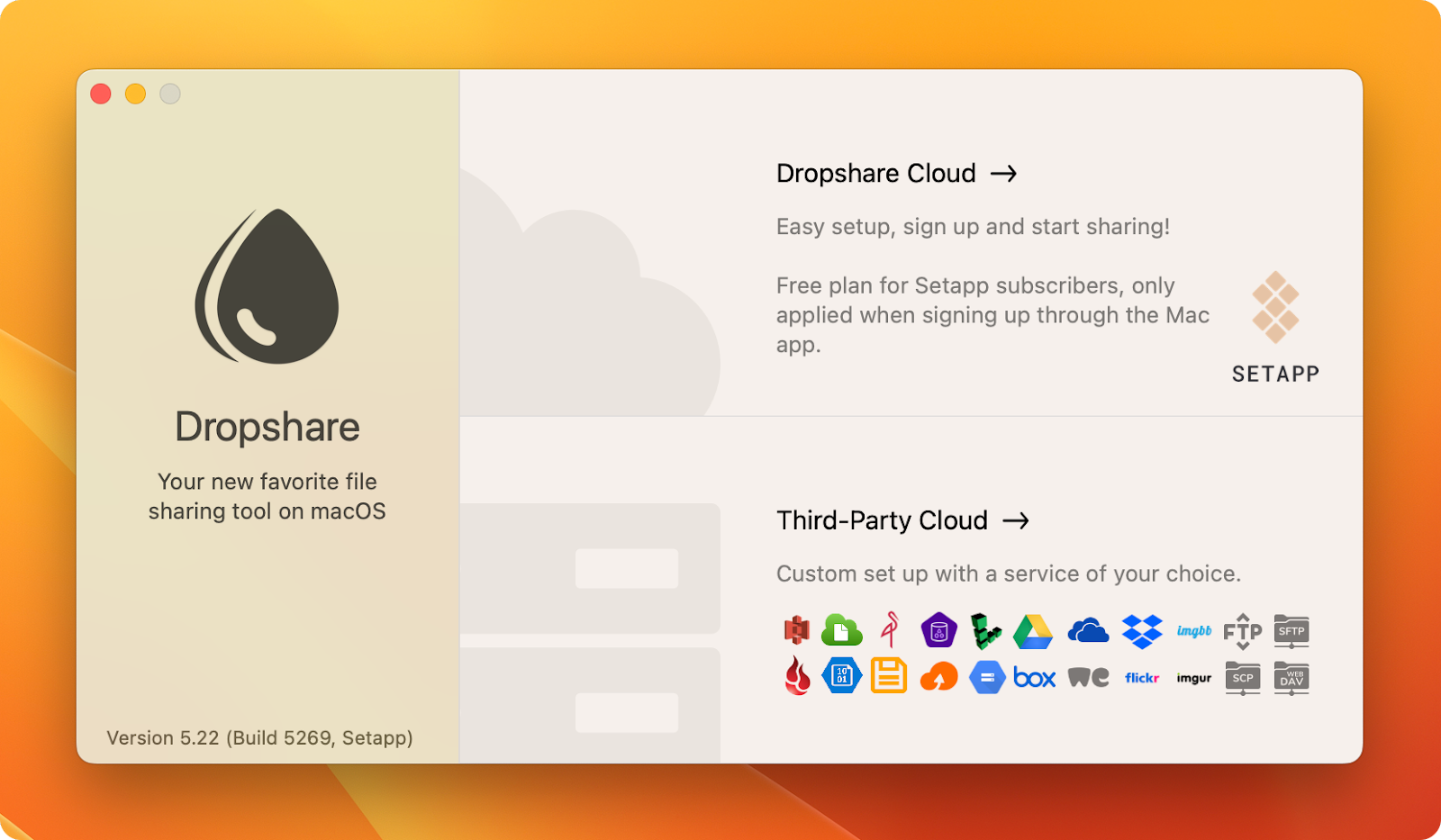 Method 7. How to disconnect iPhone messages from Mac
By default, both text and iMessage replies meant for your connected iPhone are sent to your Mac. If you want to stop that from happening, follow the steps below:
Open the Messages app on your Mac from the Dock
Then go to Messages > Settings and click on the iMessage tab
Then uncheck the boxes next to any phone numbers.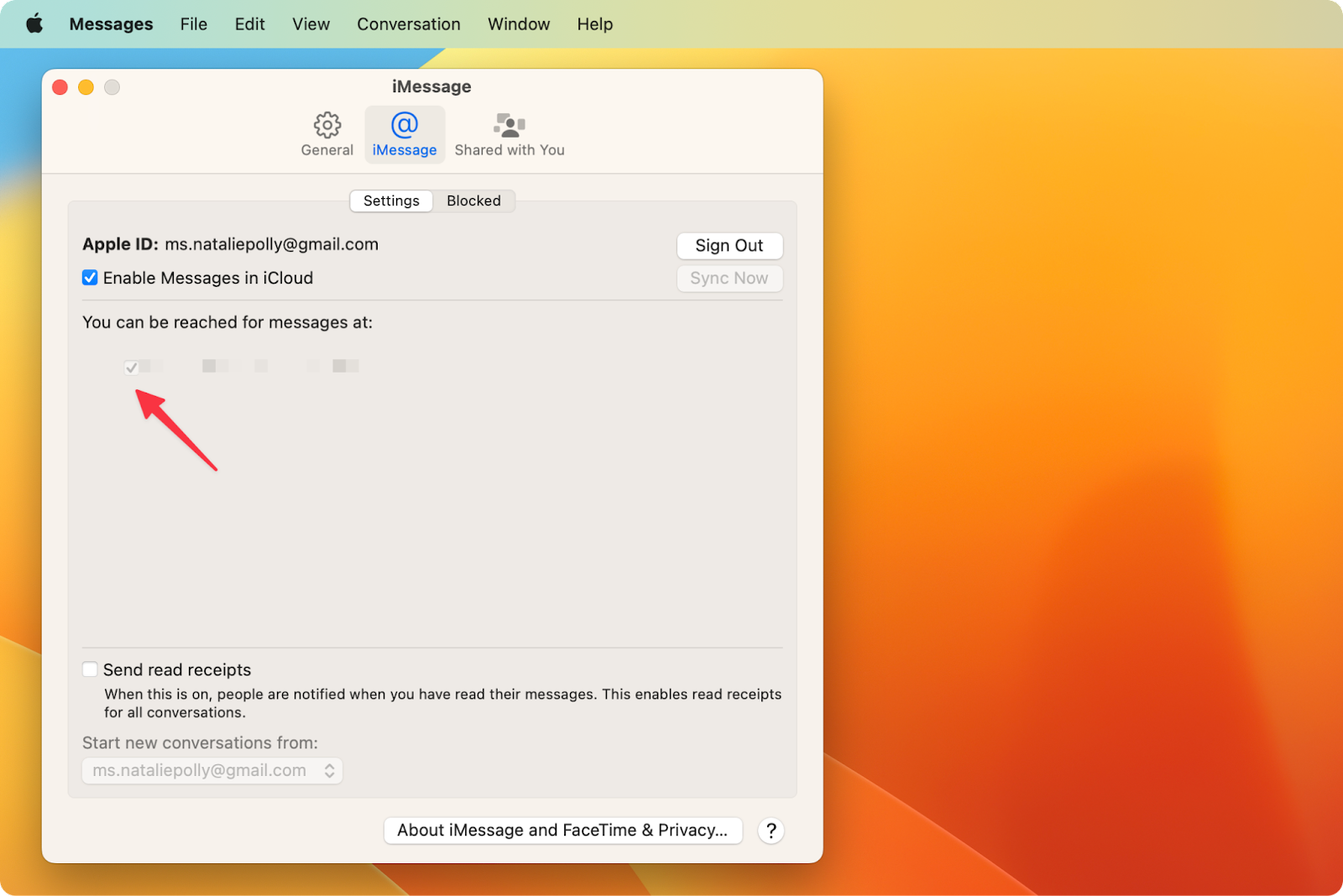 Method 8. Disconnect incoming iPhone calls on a Mac
Frequent incoming phone and FaceTime calls on your Mac may be bothersome.
To disconnect incoming iPhone calls on a Mac:
Open the FaceTime app from the Dock
Then go to FaceTime > Settings
Then uncheck 'Calls From iPhone.'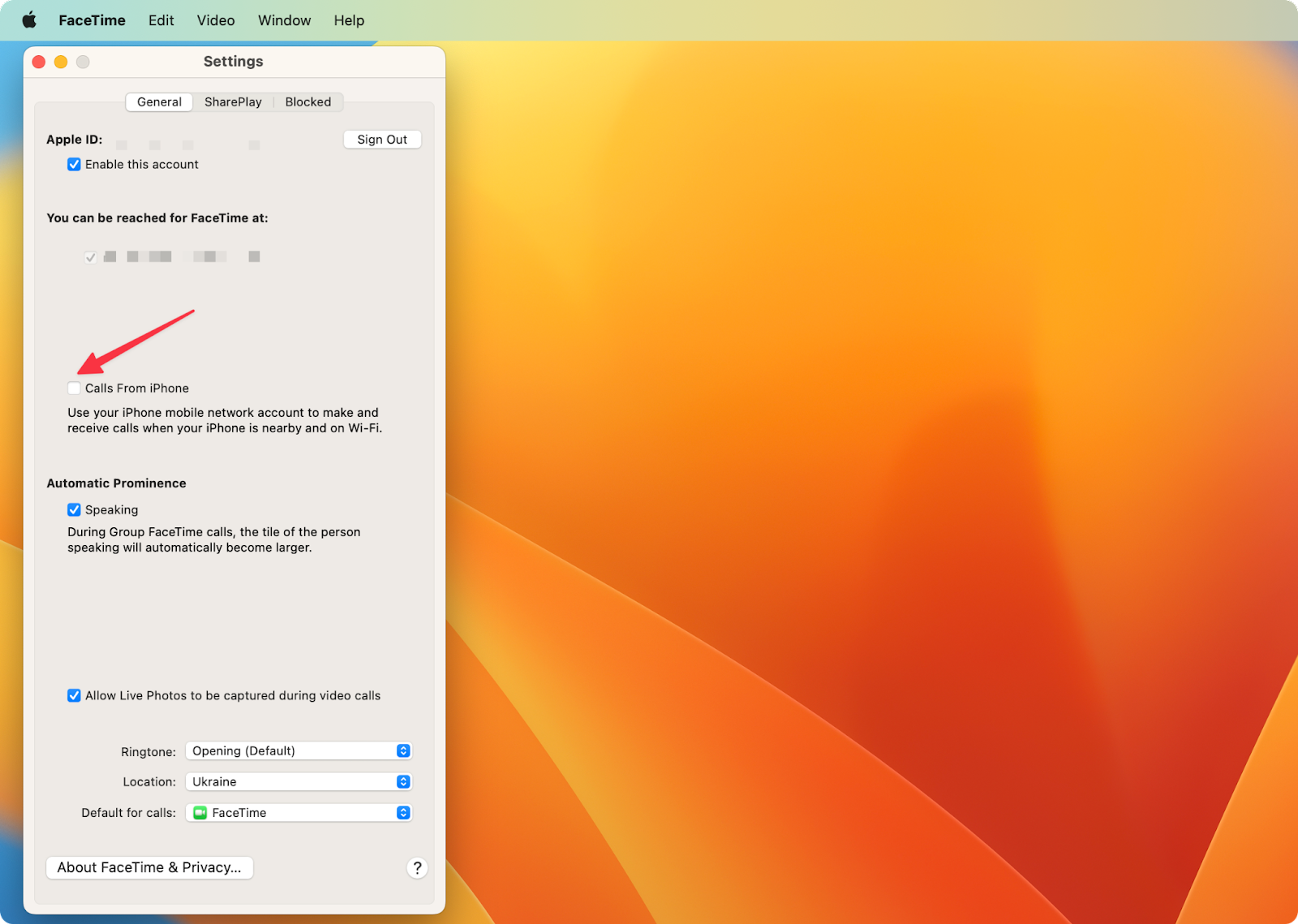 Method 9. Stop an iPhone notes from syncing with your Mac
If you keep important or sensitive information in the Notes app on your iPhone, you should be more careful. When Notes syncs across your devices that family members or coworkers may also use, you risk having other people read, change, or delete your notes.
Here's how to stop an iPhone notes from syncing with your Mac:
On your iPhone, go to Settings > Apple ID, iCloud, Media & Purchases
Tap on iCloud
Locate Notes and turn off the toggle next to it
You will now see a message asking you to confirm your action. Tap Delete from My iPhone.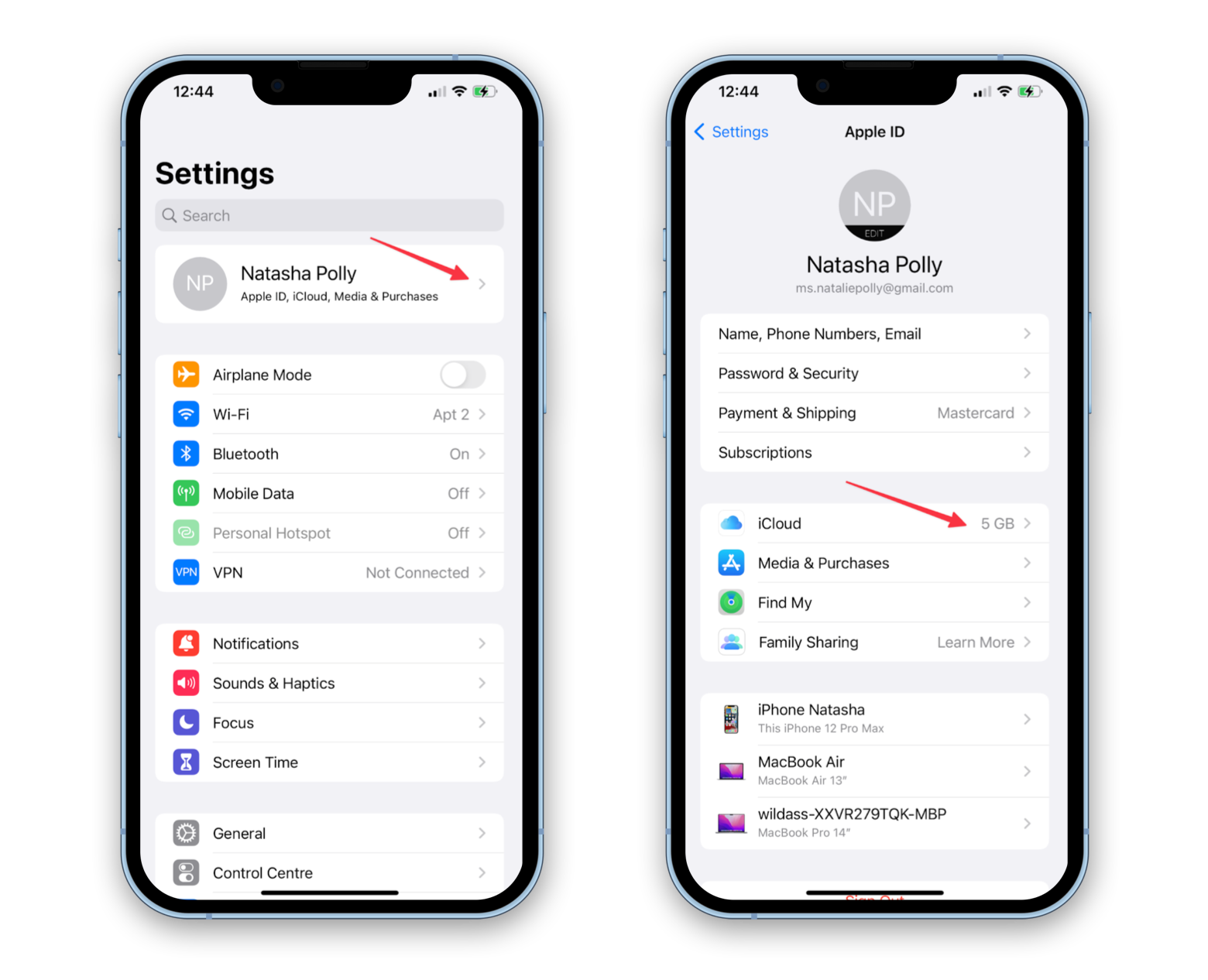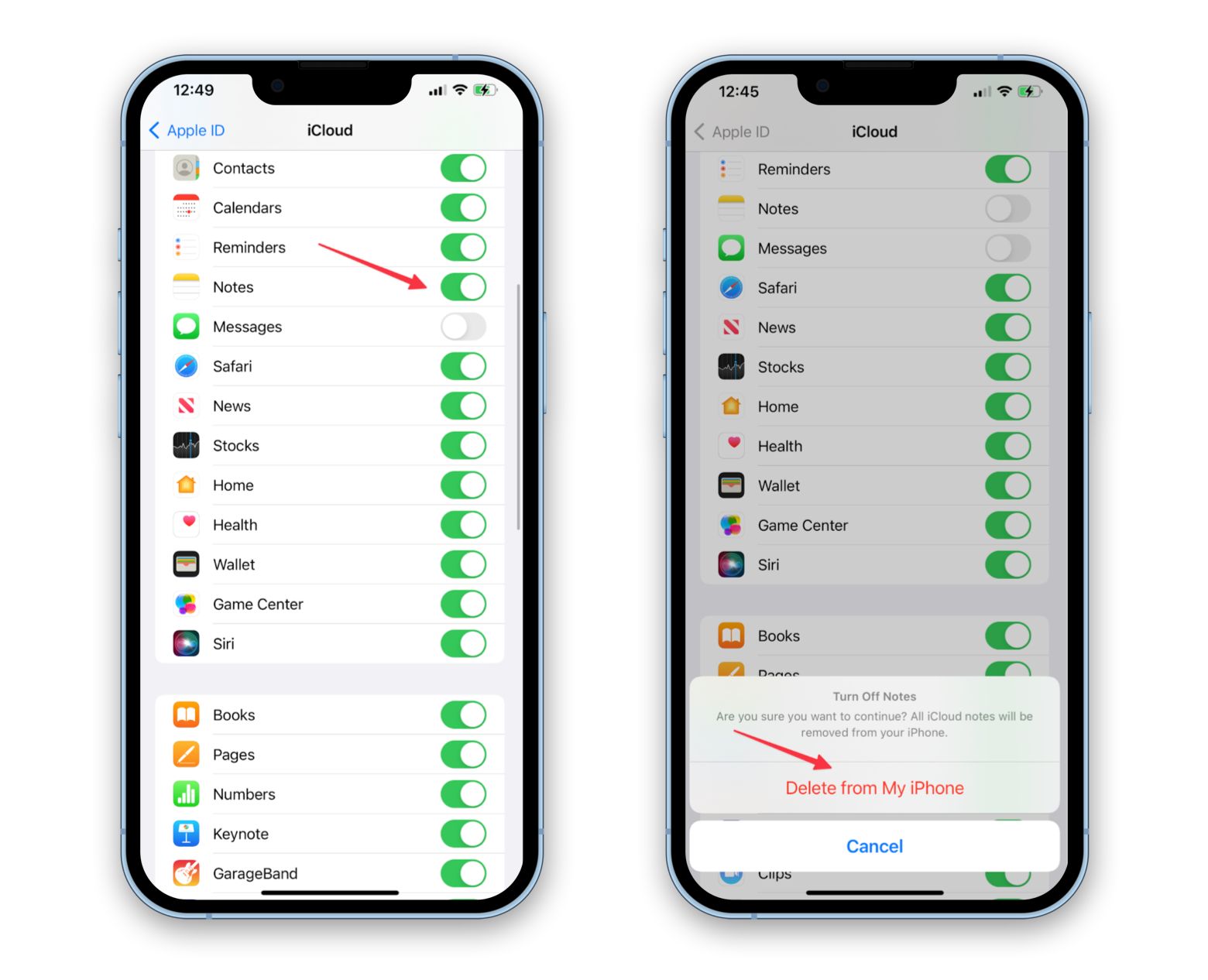 Method 10. Disconnect a Mac from Personal Hotspot
With the Personal Hotspot feature of the iPhone, your Mac can quickly connect to the internet even when there isn't another Wi-Fi network nearby. But if you want to stop using it, you can either click on your iPhone in the Mac's Wi-Fi menu or choose a different hotspot.
You may also want to stop the Mac from always asking you to connect to your iPhone. To do that, go to System Settings > Network > Wi-Fi from the Apple menu. Then, uncheck the box next to 'Ask to join hotspots'.
How to unpair iPhone from MacBook: final thoughts
There is a tight relationship between iOS and macOS thanks to their seamless integration. This means that you can easily do tasks such as note taking, file management, chatting, and more on both your iPhone and Mac. This seamless flow is fantastic from a practical and comfort standpoint. What, though, if you've decided to cut down this deep integration, perhaps out of concern for your privacy or some other cause of your own?
As you finish reading this guide, the question, "How to disconnect my phone from my Mac?" is no longer a problem. We've covered various possible cases, such as disconnecting your devices via Bluetooth, AirDrop, etc. All procedures aren't complicated.
One way or another, we recommend that you arm yourself with ToothFairy (to disconnect Bluetooth devices faster), AnyTrans (to move files between Mac and iPhone), and DropShare (to save space). All three are free to try on Setapp, a platform with dozens of apps to solve almost any problem you might face with your Mac and iPhone.