How to turn on hotspot on iPhone
You may not know this, but every modern iPhone has a "hotspot" feature that allows you to turn it into a personal gateway for the internet. It's a great way to connect your Mac to the web when you don't have access to WiFi or a wired internet connection.
The hotspot on iPhone will make your phone 'visable' to other devices, and you're able to connect to the iPhone – and then the web – just as though you were accessing a WiFi connection.
In thi article, we'll tell you how to turn on hotspot on iPhone 11 (and other models), how the iPhone mobile hotspot works, how to use personal hotspot to connect your devices, as well as the apps that keep your Mac performing its best.
What is personal hotspot?
The personal hotspot feature on your iPhone lets you use your iPhone's cellular connectivity as a link to the internet for devices which only have WiFi. Even an iPad with cellular connectivity can use an iPhone's hotspot feature.
Many people use a hot spot iPhone provides to connect a Mac, which does not offer cellular connectivity at all. So long as you have a reliable cellular connection on your iPhone, you can connect a Mac or other device, and use your iPhone the same way you would the internet at home.
Here are a few great reasons to use your iPhone hotspot for a Mac or other device:
Work from anywhere. We've all been there: you're on the go, and you get an email on your phone that requires a detailed response. Hacking a message out with your thumbs on the small screen is a possibility, but it would just be better to have a proper keyboard. With hotspot turned on, you can connect your Mac to the web and email away!
Traveling. Many of us take our iPads and Macs along on vacation to watch movies or TV shows. With an iPhone hotspot you can connect from anywhere and stream Netflix, Hulu, or other streaming services at your leisure.
WiFi goes down. Yes, even when you're home, the hotspot feature on your iPhone can come in handy! Internet service providers often experience interruptions that affect how and when users are able to connect to the internet. With hotspot enabled, you can instead rely on your iPhone's cellular connection to link a Mac to the internet and stay productive.
You can link any device. We're focusing on iPads and the Mac, but your hotspot allows you to link any device to your iPhone so you can connect to the web. Other phones, tablets, computers, or peripheral devices – anything that connects via WiFi is an option for the hotspot feature!
You can use a wired connection. If your Mac is up to date (or your PC has the latest version of iTunes installed) you can connect your computer to the iPhone using a Lightning to USB cable. This creates a wired connection to your phone and the wireless internet.
How to turn on personal hotspot on an iPhone
By now you're probably wondering "how do I turn on my hotspot and do all this cool stuff?" We get it – the hotspot feature is pretty cool!
Here's how to turn hotspot on iPhone 'on' to connect your Mac or iPad to the internet:
Open the Settings app on your iPhone
Choose "Personal Hotspot"

Toggle "Allow Others to Join" on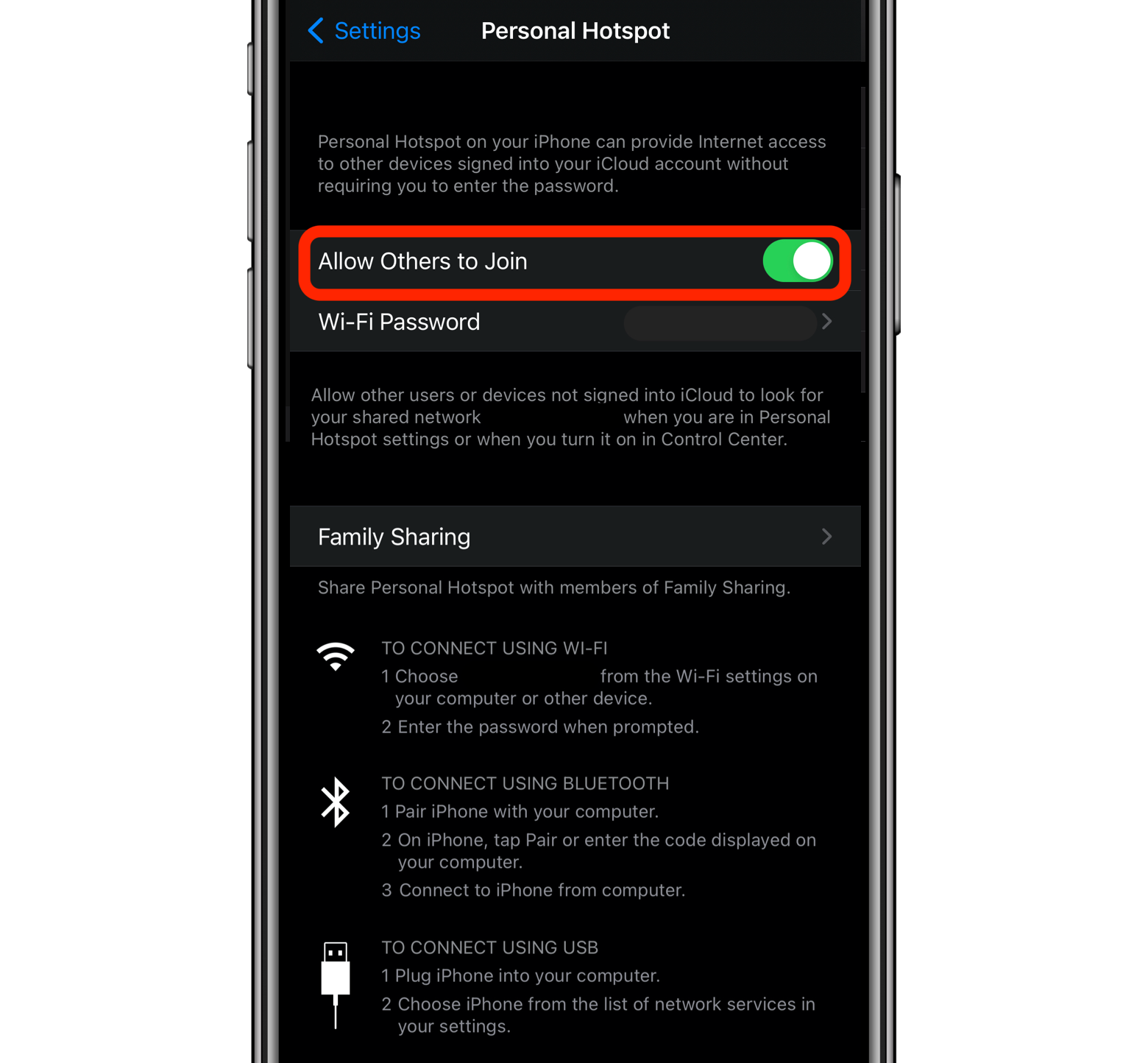 A hotspot connection is rarely as solid as WiFi or a wired connection to a router in your home or office, and your Mac simply doesn't run as smoothly if its storage is occupied by a lot of unnecessary stuff. This is why you need Gemini.
Gemini for Mac finds all duplicate files, folders, and images stored on your Mac and helps you delete them for good. It can even detect similar files, like photos with the same composition, or two files that are hardly unique. Chances are you don't need (or want) both versions on your Mac, and Gemini helps you free up space by removing the files you don't need.
With Gemini, you're always in control. Its algorithm learns your preferences over time, but you can review the items it has selected. Hey, maybe you really do want both of those similar images after all! If you routinely keep similar images of landscapes, for instance, Gemini may recognize that.
Gemini also notifies you if you select all versions of duplicate images. While the app helps you free up tons of room on your Mac, it doesn't want you to delete everything and lose precious memories.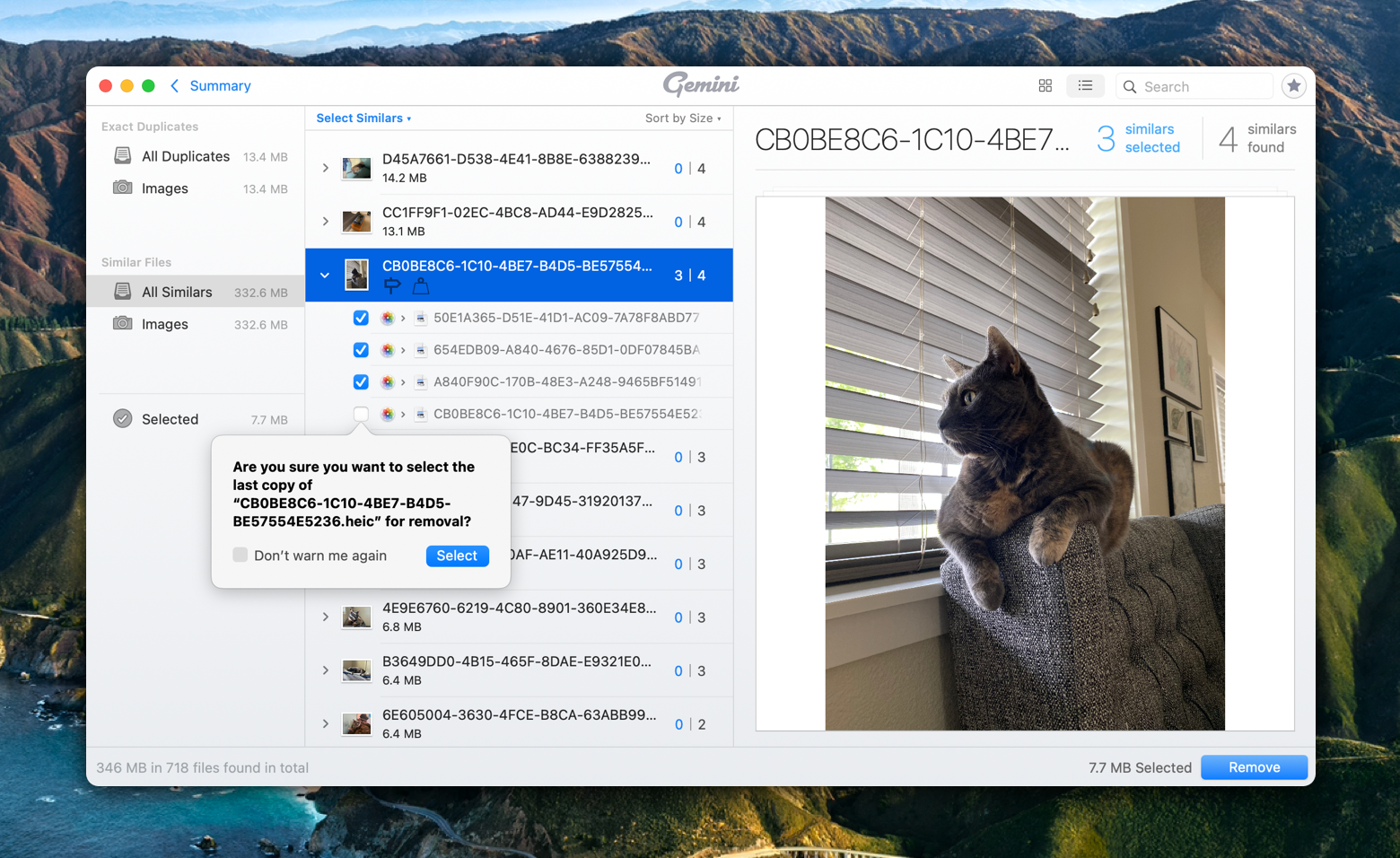 How to use iPhone's personal hotspot with your Mac
Connecting your Mac to an iPhone's hotspot is really easy. One thing to keep in mind before you do: your iPhone doesn't need to enter the password provided when the "Allow Others to Join" option is enabled if your Mac is using the same Apple ID as your iPhone. This applies to other devices with your Apple ID as well. If you want to allow those in your Family group to connect without needing to enter a password, enable it from the Personal Hotspot screen.
Devices using other Apple IDs – or other platforms like PC or Android – will need to connect to the hotspot like it's a normal WiFi connection point and enter the provided password.
Now that you know where is hotspot on iPhone, this is how to connect your Mac:
From your Mac menu bar, select the "WiFi" icon
Select your iPhone under the "Personal Hotspot" category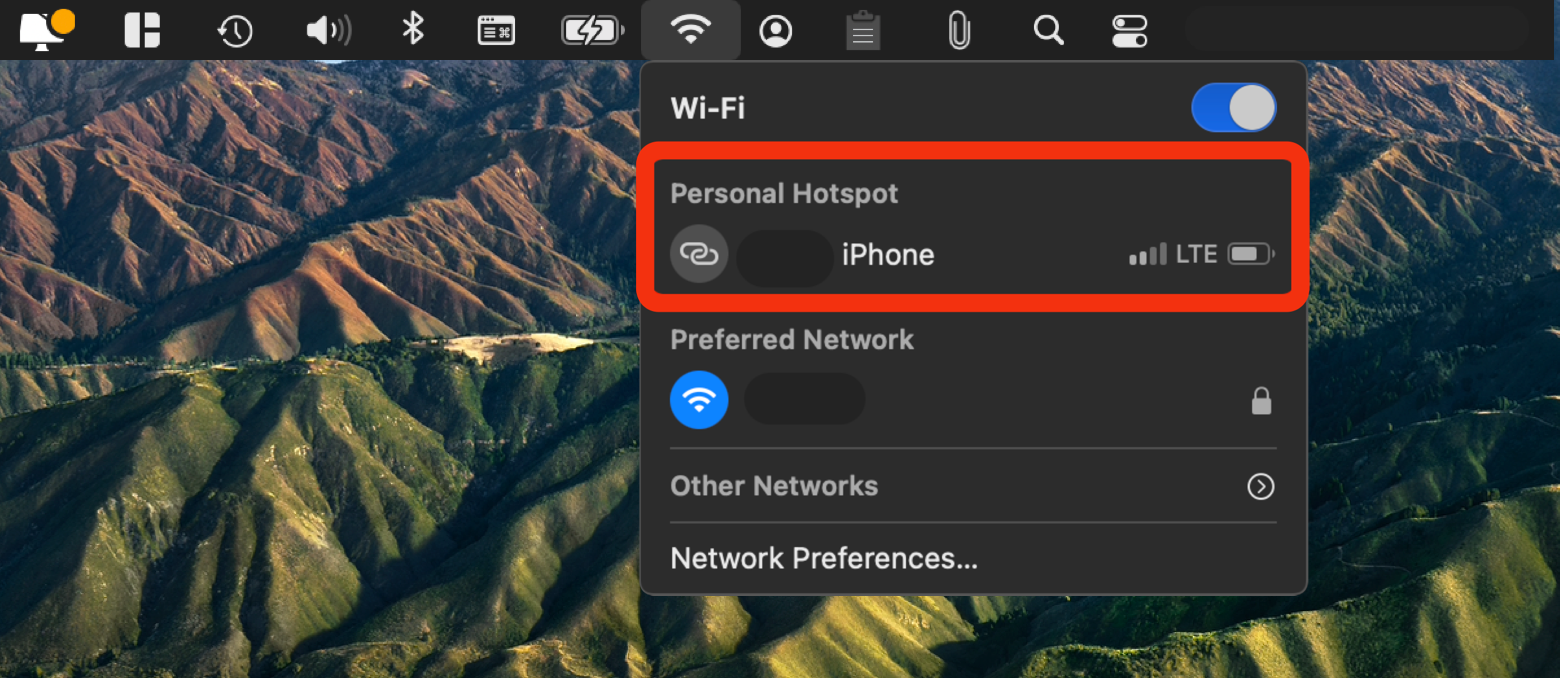 That's all it takes to wirelessly connect your Mac to an iPhone with the hotspot enabled.
As you can tell from the image above, the menu bar on your Mac can get quite busy when you have a lot of apps installed. This is where Bartender steps in to clean up the mess and bring order to your chaos.
Bartender does one thing, and does it exceedingly well: the app cleans up your menu bar, tucking all the various icons behind a single three-dot expandable menu. With Bartender installed on your Mac, you can quickly hide icons and resurface them to access any app or service you need.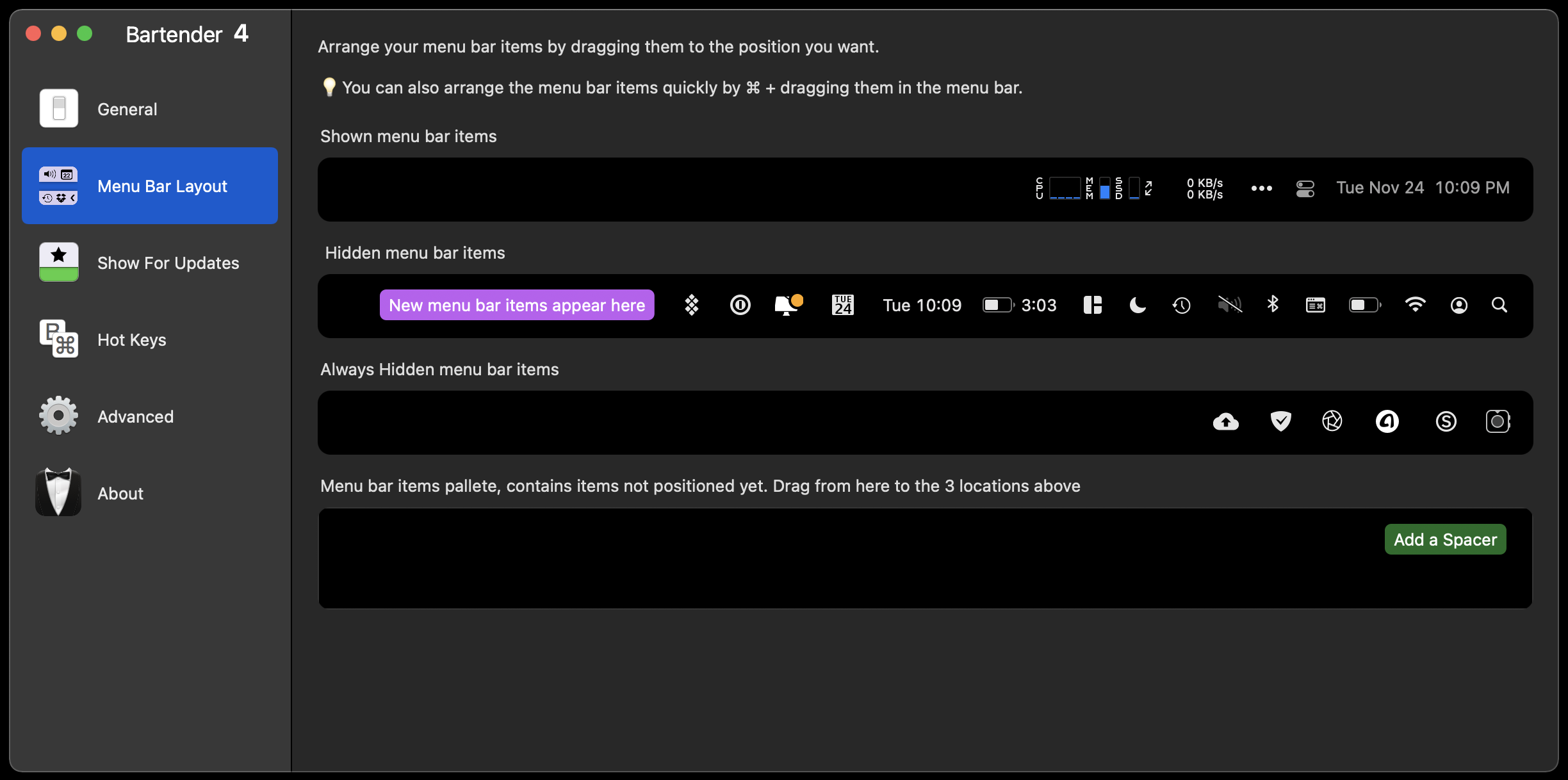 If you find yourself using several apps routinely, Bartender provides the option to use hotkey commands so you can get right to your favorite apps with a few keystrokes. You can even use the arrow keys on your Mac keyboard to navigate through the apps in your menu bar when Bartender is active. If you have far too many apps to keep track of, there's a really handy search feature built right into Bartender.
Another feature Bartender offers your Mac simply won't is the option to reorder icons in the menu bar. You can organize them however you like and develop new muscle memory for quickly accessing apps in record time!
Network connectivity is only one aspect of a performant Mac. You also need to keep your system free of junk, eliminate bothersome and unnecessary apps, monitor your computer for malware, and perform several other tasks like reindexing Spotlight and flushing your DNS cache.
We bet you don't want to do all that yourself, and who could blame you? That's why you need CleanMyMac X.
CleanMyMac X performs routine maintenance to discover unnecessary files, determine potential privacy and malware threats to your Mac, and optimize your computer for speedy performance. But that's just the beginning.
There are bespoke modules in the CleanMyMac X app for malware removal, management of your mail attachments, complete emptying of your trash bins, a dedicated privacy check, and an application uninstaller. When uninstalling apps, CleanMyMac X also finds associated files so you can rid yourself of an app and its data completely.
CleanMyMac X's maintenance module optimizes your Mac, right down to freeing up RAM and rebuilding launch services. It's the best tool for digging deep into your Mac and keeping it running in tip-top shape, all the time.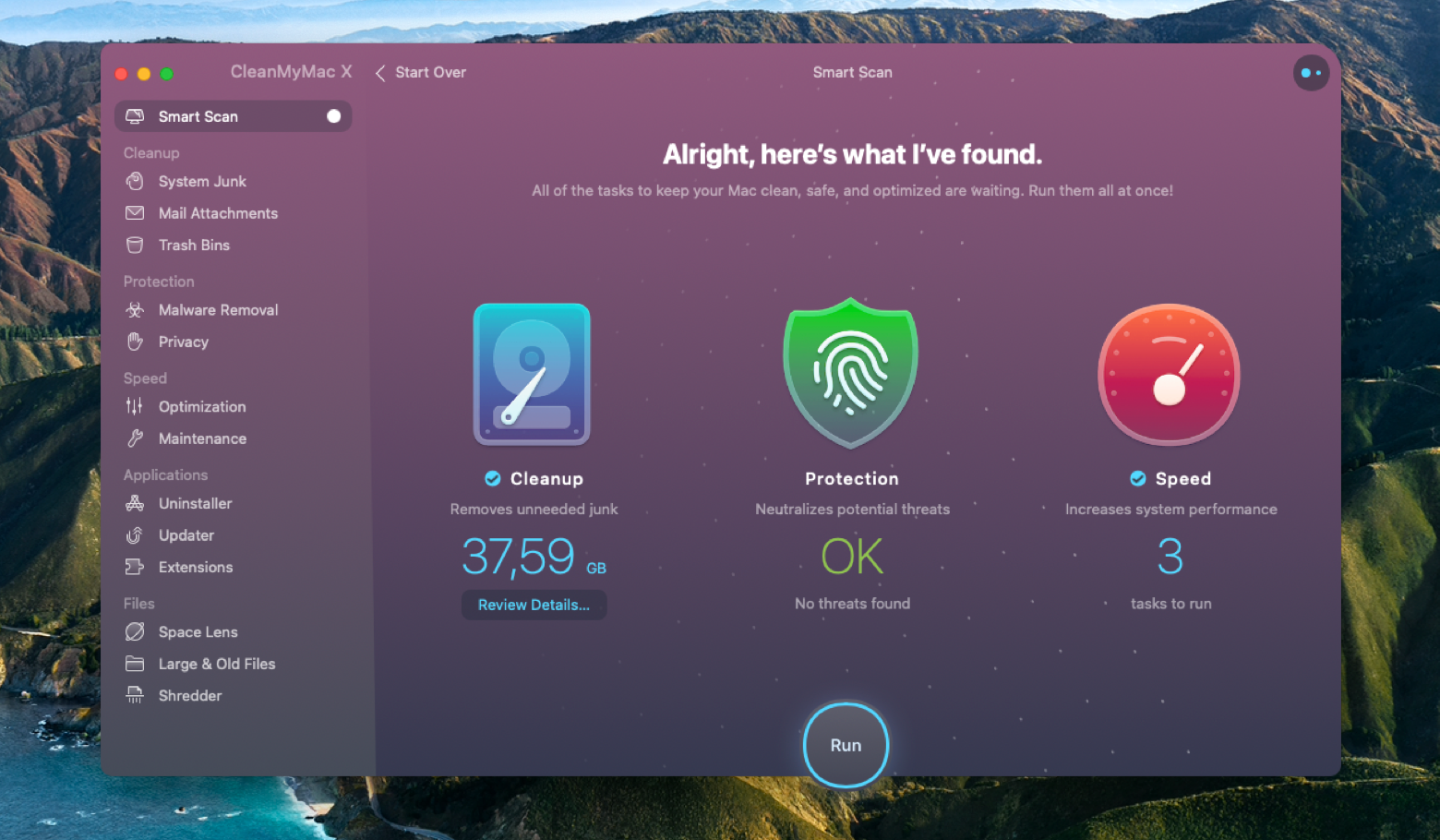 Conclusion
Your iPhone's hotspot feature is sublime. You may not use it often, but in those moments connecting to the internet is the most important thing in your life, you'll be happy Apple built the hotspot feature into the iPhone. It's also handy when traveling in a group; if your device has the best connection, others in your friend's group can use your device as a hotspot to browse the web.
It's important your Mac is operating smoothly, which is why Gemini, Bartender, and CleanMyMac X are such great options for everyone. With Bartender keeping your menu bar tidy, Gemini eliminating unnecessary files, and CleanMyMac X keeping your entire Mac running smooth, you won't have any concerns about connecting to a hotspot quickly, and working swiftly.
All three apps are available for free during a seven day trial of Setapp. In addition to gemini, Bartender, and CleanMyMac X, you'll enjoy unlimited access to the entire suite of over 200 apps in the Setapp catalog.
When your trial period ends, continued access to Setapp is only $9.99 per month. It's a sensational deal, so why wait? Take advantage and give Setapp a try today!