How to transfer MP3 to iPhone from Mac
While MP3 has been the most popular music format for decades, and iPhones have been the best selling smartphones worldwide, for the longest time they haven't been playing well together natively.
On Mac and iPhone, iTunes (now called Music) has been pushing its own AAC format, which was designed to become the successor to MP3 by outputting higher sound quality at the same bit rate. AAC (or M4A) is still the predominant audio format when you buy or download songs from the iTunes Store.
Nevertheless, there are more than a few ways to directly add MP3 to iPhone from your Mac. So if you're wondering how to transfer MP3 from iPhone to computer or vice versa, this guide is for you.
How To Transfer MP3 To iPhone With Music
When you want to add download MP3 to iPhone Mac Music is probably the first option that comes to mind. The Music app first appeared in macOS Catalina (10.15) and is the direct descendant of iTunes, which has now been split into Music, Podcasts, and TV.
If you've used iTunes to transfer songs before, then Music would seem largely familiar in its interface. So here's how to directly add MP3 to iPhone from Mac.
Note: Apple Music subscribers don't need to actively sync their music between devices as it's done automatically through iCloud.
Launch Music from Applications
Connect your iPhone via a USB cable (you might need to unlock it)
Ensure that your iPhone appears in the Music sidebar
Navigate to your library (Songs, Albums, or Artists)
Select any songs you'd like to transfer (hold ⌘ to pick many)
Drag and drop your selection onto your iPhone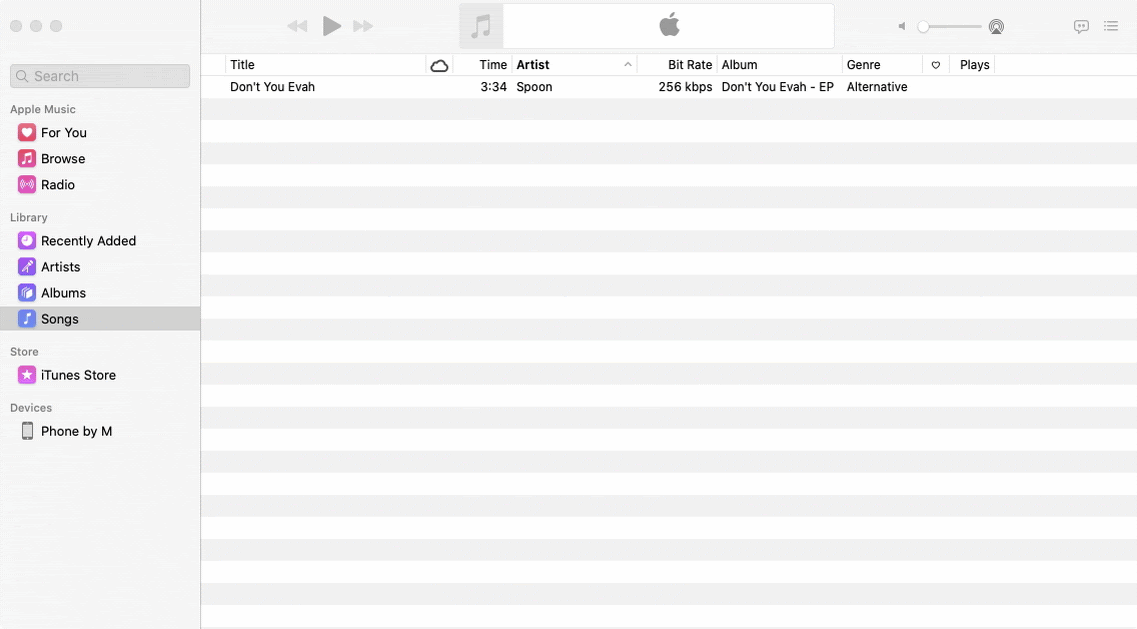 If you have "Sync music onto …" checked, your iPhone might synchronize with your whole library automatically as soon as you connect it to your Mac. Because of that, a lot of people find Music or iTunes confusing. Luckily, there are lots of other ways to directly add MP3 to iPhone.
How to sync music using Finder
For the longest time, iTunes used to be the only way to add MP3 to iPhone. But in the few latest iterations of macOS, Apple has opened the option for files to be transferred using a regular Finder window, which finally answers the question, "How do I transfer MP3 from computer to iPhone without iTunes?"
So here's how to transfer MP3 to iPhone with Finder:
Connect your iPhone to Mac with a USB cable
Open Finder and select on your iPhone in the sidebar
Click Manage Storage… at the top
Switch to Songs
Drag and drop any music from your Mac there to sync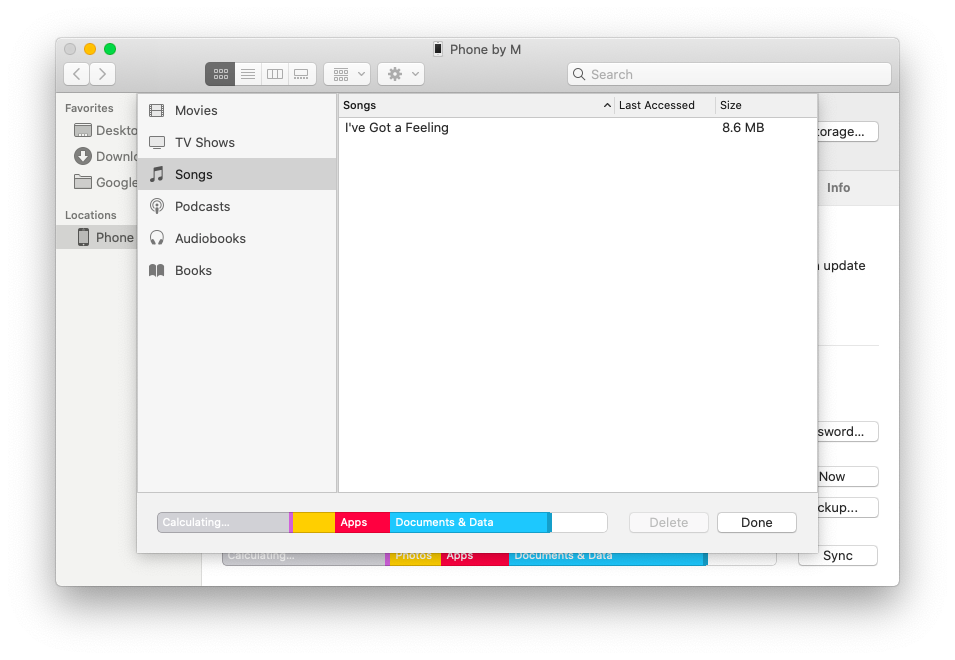 Similarly, you can use Finder to delete any music or other media from your iPhone. But if you'd like to have a more holistic approach to iPhone management, you need to use a different kind of app.
How to manage your iPhone with ease
Knowing how to transfer MP3 to iPhone is important. But there's so much more to managing your smartphone effectively. What about transferring videos or photos, updating backups, moving data to a new phone, mirroring the screen to your Mac, and even changing ringtones?
AnyTrans for iOS can do all that and lots more. A smart alternative to iTunes, AnyTrans makes transferring any kind of files or data between your devices a breeze and is a brilliant solution to the "how do I transfer MP3 files to my iPhone without iTunes" problem.
With AnyTrans, you can ensure that all your devices are seamlessly in sync. It can also back up all your data, including third-party apps like WhatsApp, so you're always ready to switch phones or get your data back if you lose yours. Sounds pretty good, doesn't it?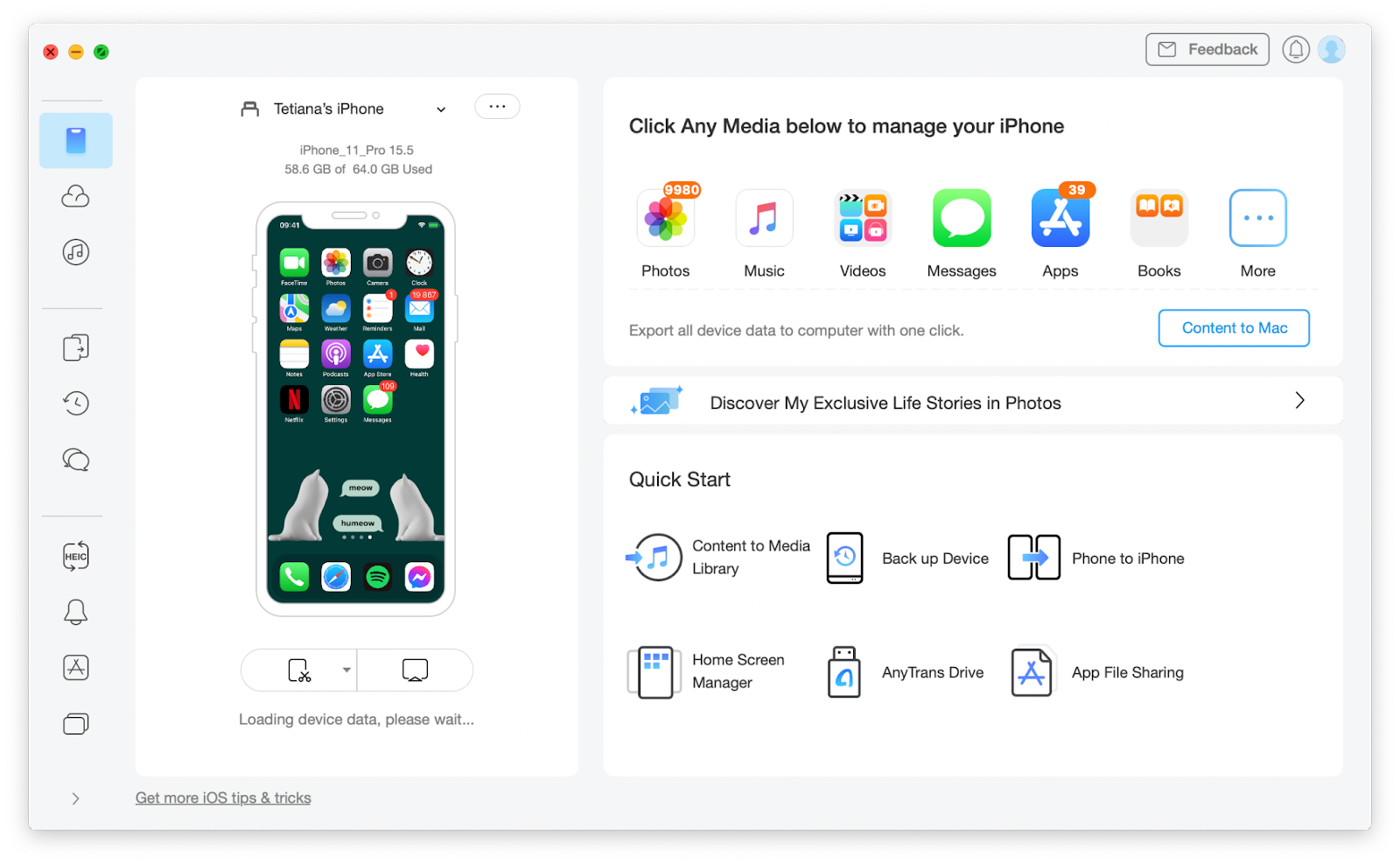 How to add MP3 to iPhone from cloud storage
If you prefer a more direct way of handling your music files, and you don't want to risk the Music app turning your MP3s into M4As, you can bypass the syncing process entirely and rely on the third-party cloud to move your files instead.
All of us today use cloud services, whether it's Dropbox, Box, Google Drive, OneDrive, or something else. Most of them have Mac as well as iPhone apps, which automatically sync all files between each other.
The process for moving files to the cloud is largely the same:
Open Finder and click on the cloud service in the sidebar (e.g. Google Drive)
Drag and drop files from your Desktop into the cloud or specific folder
Open that cloud service's app on your iPhone and download the newly transferred files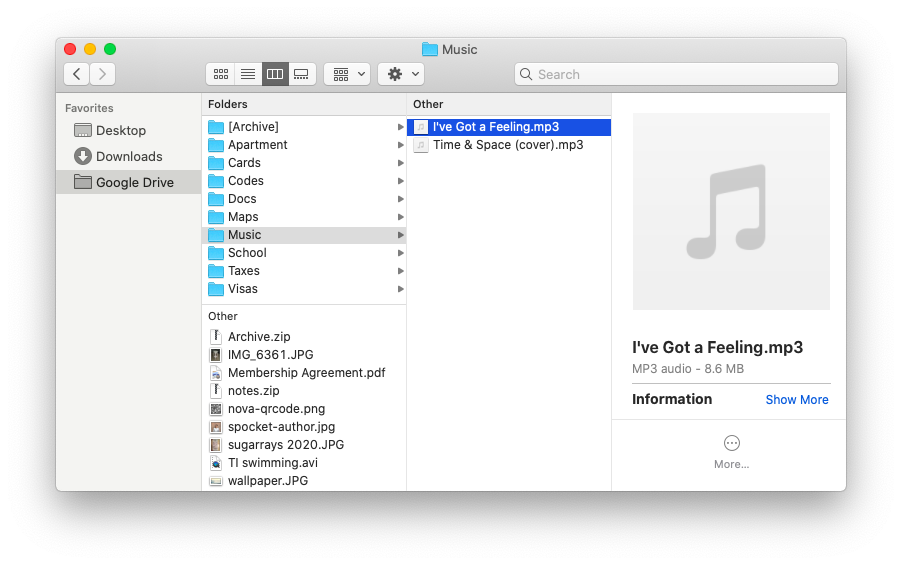 If you use multiple cloud storage apps though (especially on free tiers), this process might get a bit troublesome. So you'd be better off with a unifying cloud storage solution.
Dropshare doesn't only merge all your cloud services into just one icon in your menu bar, it also adds a completely separate layer of features on top, from importing scanned documents directly to your phone to annotating screenshots and sharing files in seconds with automatic links. Finally, you'll be in full control of your files like never before.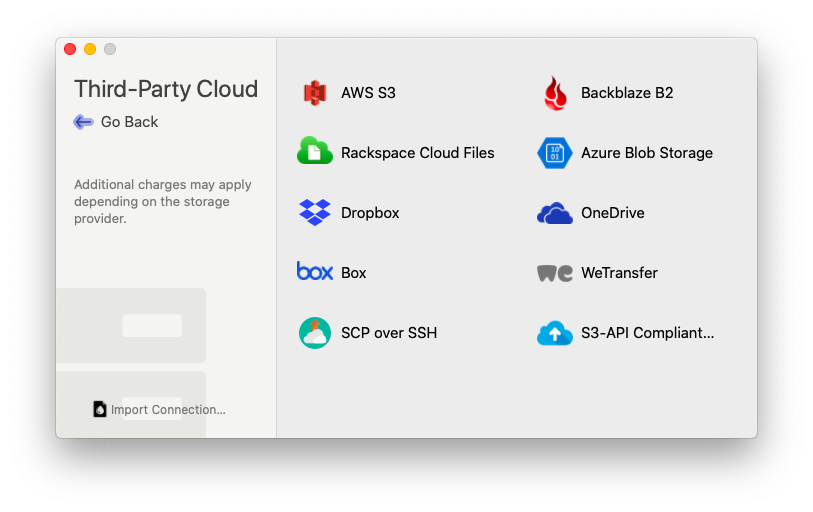 How to transfer MP3 to iPhone through AirDrop
Another way for how to transfer MP3 from iPhone to computer as well as any other files is using the built-in AirDrop feature.
AirDrop is a native service for sending files in all iOS and macOS devices first released in 2011. It uses a combination of WiFi and Bluetooth to transfer data and currently has no file size restrictions.
Here's how to directly add MP3 to iPhone with AirDrop:
Locate the MP3 file on your Mac
Right-click and then select Share ➙ AirDrop
Choose your iPhone in the pop-up window
Accept the file on your iPhone and save it either locally or to iCloud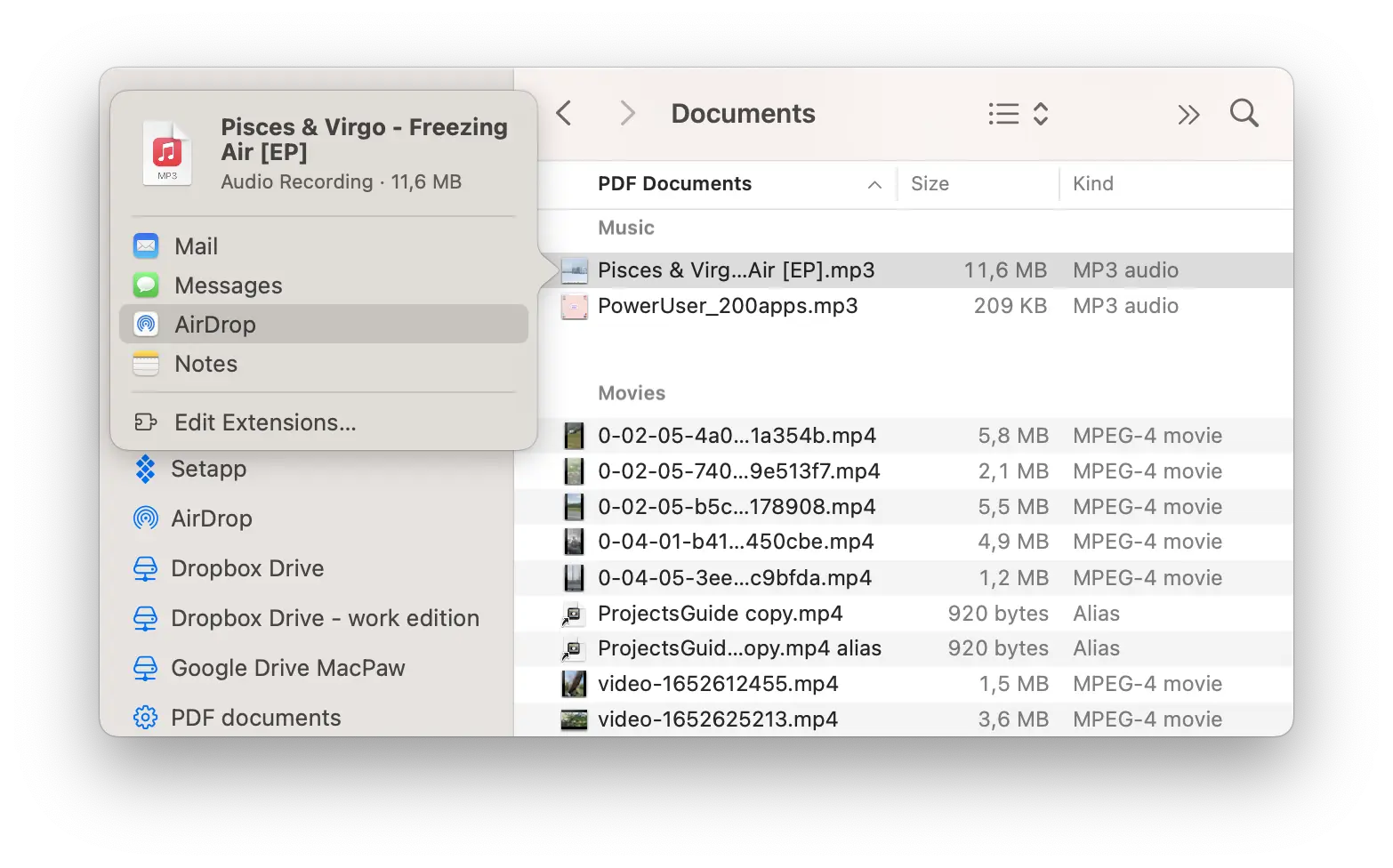 How to sync folders and backups between devices
While we've covered lots of ways of transferring files and even syncing automatically with Music or Finder, there are other ways to keep your information up to date across your devices. By using a file synchronization manager.
ChronoSync Express gives you complete peace of mind when it comes to your files and data by seamlessly managing duplicates across all your devices, be it other Macs or iPhones. Without any manual work, you always have the file you need at your fingertips, and if something happens you have a complete backup readily available on another device as well. Don't want to sync everything? No problem. Just pick and choose files and folders that you need to be monitored. You can even set a custom schedule for when you want synchronization to be performed.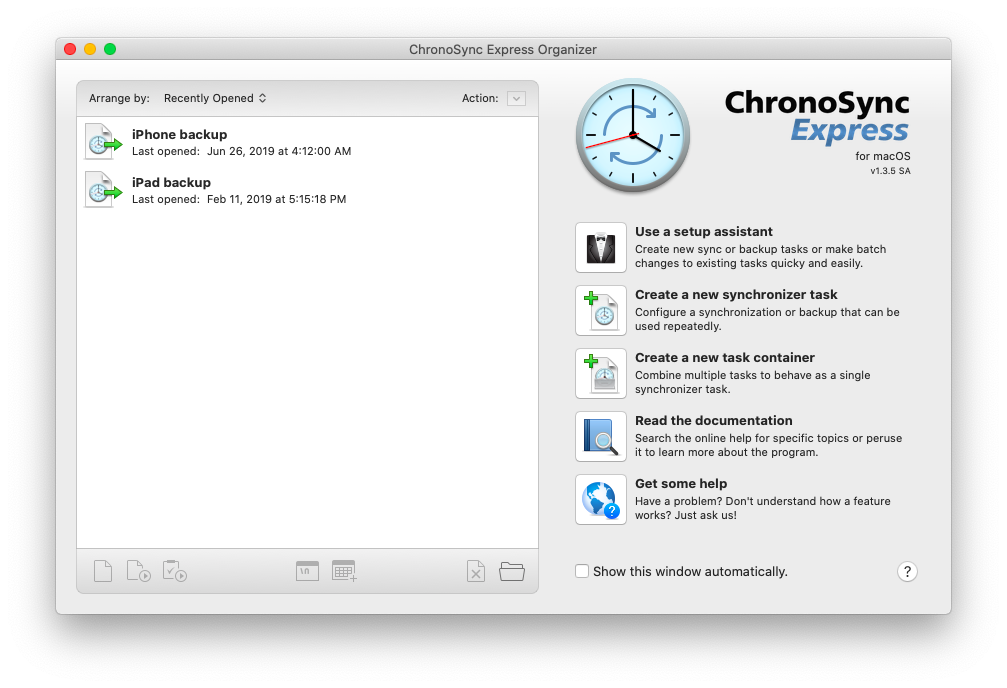 As you can see, you have plenty of choice. It's certainly possible to transfer MP3 to iPhone with Music, Finder, or AirDrop. But why not make your life easier by managing your phone with AnyTrans, combining all your cloud storage in Dropshare, and keeping devices in sync with ChronoSync Express?
Best of all, AnyTrans, Dropshare, and ChronoSync Express are available to you absolutely free for seven days through the trial of Setapp, a platform with more than 240 useful apps that improve on the basic Mac and iPhone functionality. Look through the list and pick your favorites to discover what you've been missing all this time!