How to merge contacts on iPhone
There are many different sources from which you can add a contact to your iPhone other than manually entering it using the Dialer app. If you add a contact from Facebook or WhatsApp to your iPhone, there are some cases where the same number is added multiple times.
Tired of scrolling through multiple duplicate contacts and wasting your time? You can merge and link contacts on iPhone to keep your list neat and tidy. In this article, we'll walk you through all the necessary steps to combine all the information you have about a particular person into a single contact record, making it easier to manage and access.
First, we'll show you how to merge contacts on iPhone. You'll also learn how to link contacts using the Link Contacts feature. On top of that, we'll also cover some tips and tricks for keeping your contacts organized.
So, if you're ready to declutter your contact list and save some time, let's get started!
Merge duplicate contacts on iPhone
Before iOS 16, cleaning up your contacts was no easy task. But if you're running iOS 16 or later, it's a breeze. We'll show you how to get rid of duplicates in a moment. If you just want to delete a contact on your iPhone, we'll walk you through the steps too.
Here's how to merge duplicate contacts iPhone:
Open the Phone app

Tap the Contacts tab in the bottom center

If you have duplicate contacts, a pop-up will appear below your card at the top of the screen

Tap View Duplicates. A list of all duplicate contacts will appear

Tap Merge All at the bottom of the screen. Then tap Merge Duplicates

Your duplicated contacts will then be merged into one contact card each, combining all the unique information from each additional card.
If you just want to review your contacts conveniently and delete duplicates, we recommend doing it using AnyTrans for iOS. This tool helps you manage your iPhone, iPad, and iPod content on a Mac with ease. AnyTrans also allows you to export your contacts in various formats, making it easy to back them up or transfer them to another device.
Install and open AnyTrans on your Mac

Click the iCloud Manager on the left and sign in to your iCloud account

After signing in to iCloud, go back and click the Device Manager on the left

Then click the More button (three dots in a row)

Next, you'll need to scroll down to see Contacts in the left sidebar. Click Contacts

Now you can choose duplicate contacts you want to delete. Click the Delete button.
In addition to contact management, AnyTrans offers other features such as app management, music and video transfer, data backups, and more.
Tip: If you've already started decluttering your phone, why not clean up your photo gallery? Gemini helps you free up space and keep your photos and videos organized. The app scans your photo library and displays a list of all the photos and videos on your device. It easily finds similar and duplicate files and lets you remove those you don't need anymore.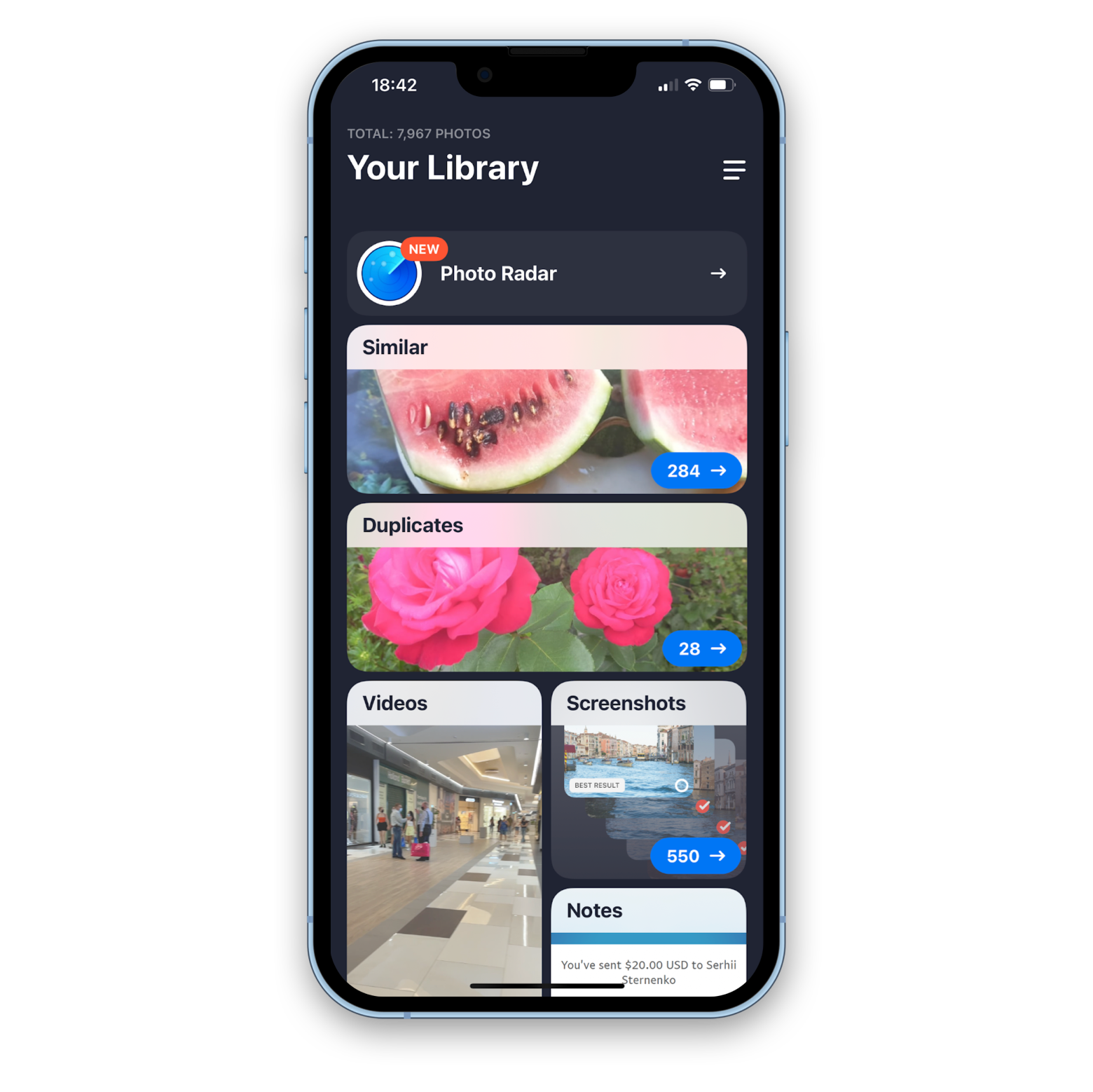 There's also a Mac version of Gemini, so you can easily tidy up your MacBook's photo library too.
What is "Linking Contacts" on an iPhone?
Your iPhone has many interesting and unique features. One of them is Linked Contacts in the iOS Contacts app, and you might be wondering what it is for. Let us explain.
If you have two contacts for someone, each contact may contain different information. For example, one contact might contain their work number, and the other might contain their home number.
If this is the case, you don't want to lose this information by deleting either contact. With the Linked Contacts feature, you can combine them into a single contact.
When you use the method we've described above (merging duplicate contacts), you can merge contacts with the same names. The Link Contacts feature can merge contacts with different names.
How to merge contacts with different names
If you want to link duplicate contacts on your iPhone, here's how:
Open the Phone app
Tap the Contacts tab in the bottom center
Find and choose the contact you want to merge with duplicates
Tap Edit in the upper right corner of the screen
On the Edit screen, scroll down to find the Link Contacts option with a green plus sign next to it. Tap on it

A list of all your contacts will appear. Choose the entry you want to merge with the original contact
Tap the Link option at the top to merge the contacts
Follow these steps in the same order for each additional contact you want to link.
Make sure your iPhone is running iOS 16 or later for this option to work.
Why won't my iPhone merge contacts?
There could be several reasons why your iPhone is not merging contacts. Here are a few possible solutions:
If the contacts you're trying to merge have different information, such as phone numbers or email addresses, the merge feature may not work properly. So make sure the contacts have the same information before you try to merge them.
In case you have multiple iCloud accounts, your contacts may be stored in different accounts, preventing them from being merged. Check your iCloud settings to make sure all your contacts are stored in the same account.
Also, make sure your iPhone is running the latest version of iOS. Updating your iPhone may fix any bugs or issues that prevent the merge feature from working properly.
How to unlink merged contacts on iPhone
What if you just linked the wrong contact? How to unmerge contacts on iPhone? Don't worry! Follow the steps below to unlink merged contacts:
Find your merged contacts on iPhone and tap Edit
Scroll down until you see the Linked Contacts section
Tap the red minus sign and choose Unlink
Finally, tap Done at the top right.
Recover accidentally deleted contacts
It's quite common to accidentally delete contacts on an iPhone. Fortunately, there are ways to recover them. One way to do this is by using the Disk Drill app. Here are the steps to recover deleted iPhone contact cards using Disk Drill:
Open Disk Drill
Connect your iPhone to your Mac via a lighting cable
Then choose your device from the left sidebar
Click the Search for lost data button on the right side of the window
After the search is complete, you can easily review data and recover what was found.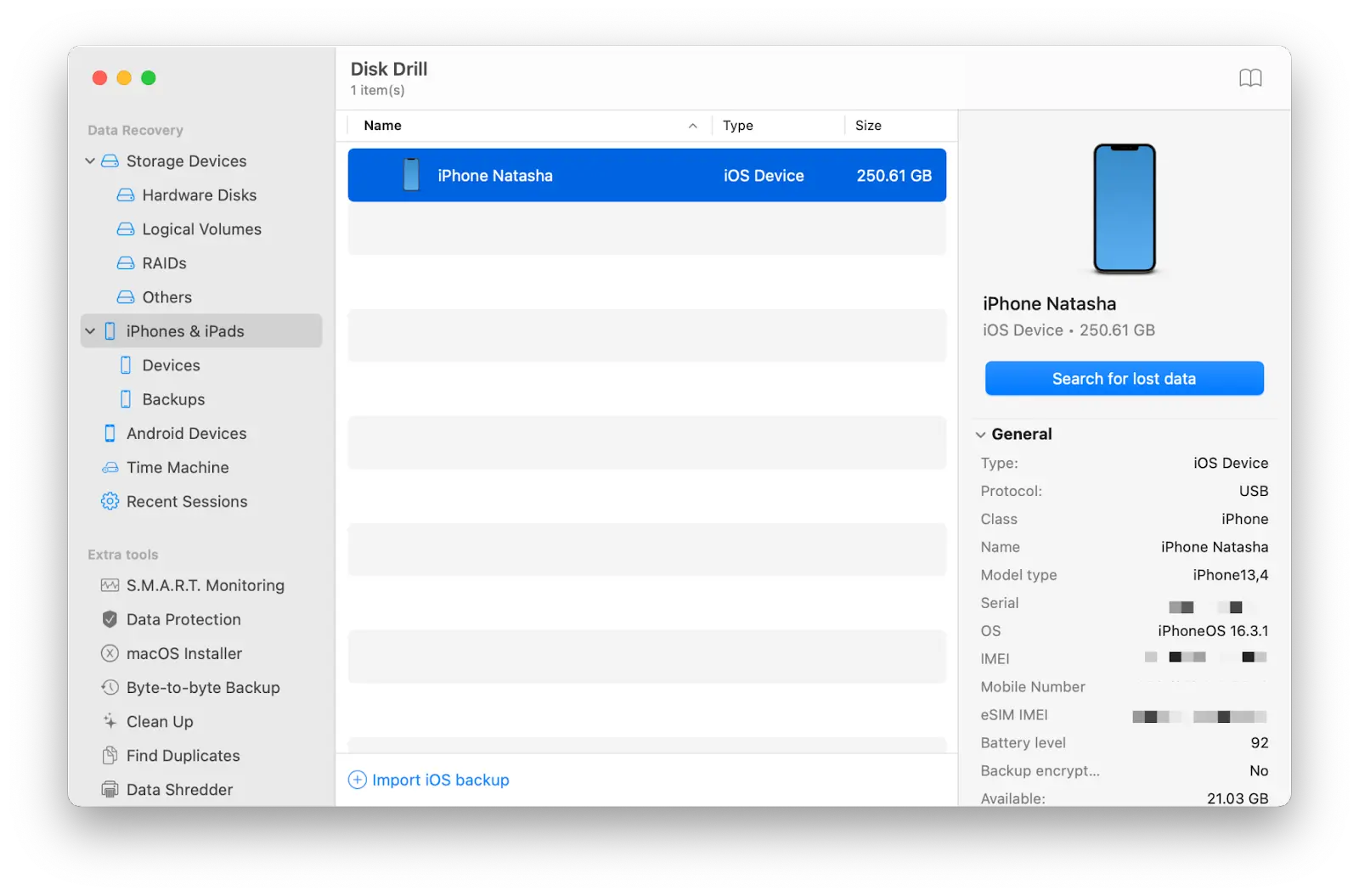 Keep your iPhone content organized
Managing contacts on an iPhone can be a challenging task, particularly if you have duplicate entries. Fortunately, Apple has made it easy to merge and link contacts. The steps in this article will show you how to merge, link, and delete contacts on your iPhone.
We recommend that you keep your contacts organized to save time, reduce confusion, and make communication more efficient. And by using tools like AnyTrans for iOS and Gemini, you can easily manage the content of your iPhone and free up space on it. If you accidentally delete your contacts or any other content on your device, don't worry. Try Disk Drill to recover lost data. The best part: all these and dozens of other awesome apps for your Mac, iPhone, and iPad are available on Setapp. One subscription, 240+ apps at a low monthly fee. After you install Setapp, you have seven days to try all the apps for free and tackle almost any task on your Apple devices.