How to back up iPhone contacts
Backing up your phone contacts is essential. They often contain not only a name and phone number but also email, a person's workplace info, a website, etc. You definitely don't want to lose this information. If you have a backup, you can restore the exact same content to any other device in case of a phone loss or breakdown.
In this article, you'll figure out how to back up iPhone contacts in various ways. Some are fast but clumsy; others are simple and convenient. Let's review them right now. Keep in mind that these methods are suitable for all modern iPhone models.
How to back up contacts on iPhone?
There are a few popular methods to back up your iPhone. For example, the one using standard apps, such as iCloud, iTunes, and Gmail.
On the plus side, backups to the cloud can happen automatically when your device is connected to Wi-Fi. However, some users may have privacy concerns because their contacts are stored on Apple's or Google's servers.
In such cases, it's better to choose other backup methods. For example, you can try AnyTrans, an app that lets you manage and transfer data between your Apple and other devices. You can use it to transfer and back up not only contacts but also music, videos, photos, messages, and more. Your data will be backed up to your computer.
Back up contacts on iPhone in seconds
Let's start with an app that makes your backups quick and painless.
Install and open AnyTrans
Connect your iPhone to your MacBook
Go to Device Manager > Choose the More option
Scroll down the left panel screen and choose Contacts > Choose the Contacts for backup > Tap the To Mac button and set up the exporting format of the iPhone contacts.
Within seconds, your files will be transferred to your laptop. And you're done!
This is cool for at least three reasons. First, it's flexible. If you only need to back up your contacts, you do that rather than copying the entire contents of your phone. Secondly, the original content of the phone will not be damaged when restoring the backup. Third, the app allows you to extract data from old backups created with iTunes or iCloud.
Finally, remember how exhausting it is to keep in mind the necessity of making backups? With AnyTrans, you can take advantage of its built-in Air Backup Manager to schedule regular wireless backups of your iPhone. This way, you definitely won't lose anything.
Backup contacts using iCloud
iCloud offers two ways to back up your iPhone: sync either all your content or just your contacts.
Let's start with backing up all content. It is better that the phone is charged and connected to a Wi-Fi network.
Go to Settings > Tap your name
Choose iCloud > Select iCloud Backup > Turn it on
Tap Back Up This iPhone.
Within a few minutes, all your phone's content and settings will be backed up to iCloud.
The issue with this method is that you will most likely need to have an iCloud+ subscription. Sure, you get 5GB for free, but that's usually not enough when it comes to storing photos, videos, documents, and other large files. To check the remaining free space in the storage, go to Settings > [your name] > iCloud.
To see detailed information, tap Manage Account Storage:
Sync contacts to iCloud
With this method, you will back up contacts iPhone.
Go to Settings > [your name] > iCloud.
Turn on Contacts.
Select Merge when a notification appears asking what to do: Merge or Cancel.



The convenience of iCloud is that your contacts will be synchronized across all the devices that use your Apple ID: iPhone, iPad, MacBook, etc. If you change a contact on one of the devices, it will be updated on all other devices.
Back up iPhone contacts to Gmail
If you use a Google account, here's another good way to save your contacts.
Go to Settings > Scroll down and choose Accounts & Passwords or Mail

Tap Add Account or Accounts if you've already synced a Google Account to your device

Tap Google and follow the instructions > Click Next

Click Save when your account is verified
Turn on Contacts Sync > Save
A Google account allows you to store up to 15 GB for free, which is three times more than iCloud. So, in this case, you can even disable synchronization with iCloud and have all your contacts stored in Gmail. Follow the instructions below:
Open Settings > and go to Contacts
Tap on Default account > Select Gmail
All new contacts will now be stored in your Google account.
Back up iPhone contacts with Finder
If you prefer to manage the files through the computer and use Apple apps, try Finder.
Open a Finder window
Connect your iPhone with a USB cable to the Mac with macOS Catalina or later
Type your device passcode or tap Trust This Computer
Select your device
Click Back Up Now.
That's pretty much it. All the information on your phone, including your contacts, will be backed up.
Backing up looks simple and fast, and it is. However, the other truth is that this method has many drawbacks:
You can't back up separate categories, such as contacts, messages, or photos. You have to make a copy of all content.
You can't edit backed-up contacts or other files.
Finder doesn't back up files you've uploaded to iCloud. Contacts, messages, photos, songs, and videos that are in the cloud won't be backed up to your computer.
Restoring backup will erase the existing content on your iPhone first.
The first three points are frankly inconvenient, but they don't cause problems. The fourth one does. If the backup is not created correctly, you risk losing your files. But here's your life jacket. Install Disk Drill — an app that recovers lost data. It will help in case of data corruption, accidental removal, and disk utility error. It recovers contacts, photos, videos, documents, etc. The app is compatible with Mac, iPhone, iPad, Android, USB, and SD cards.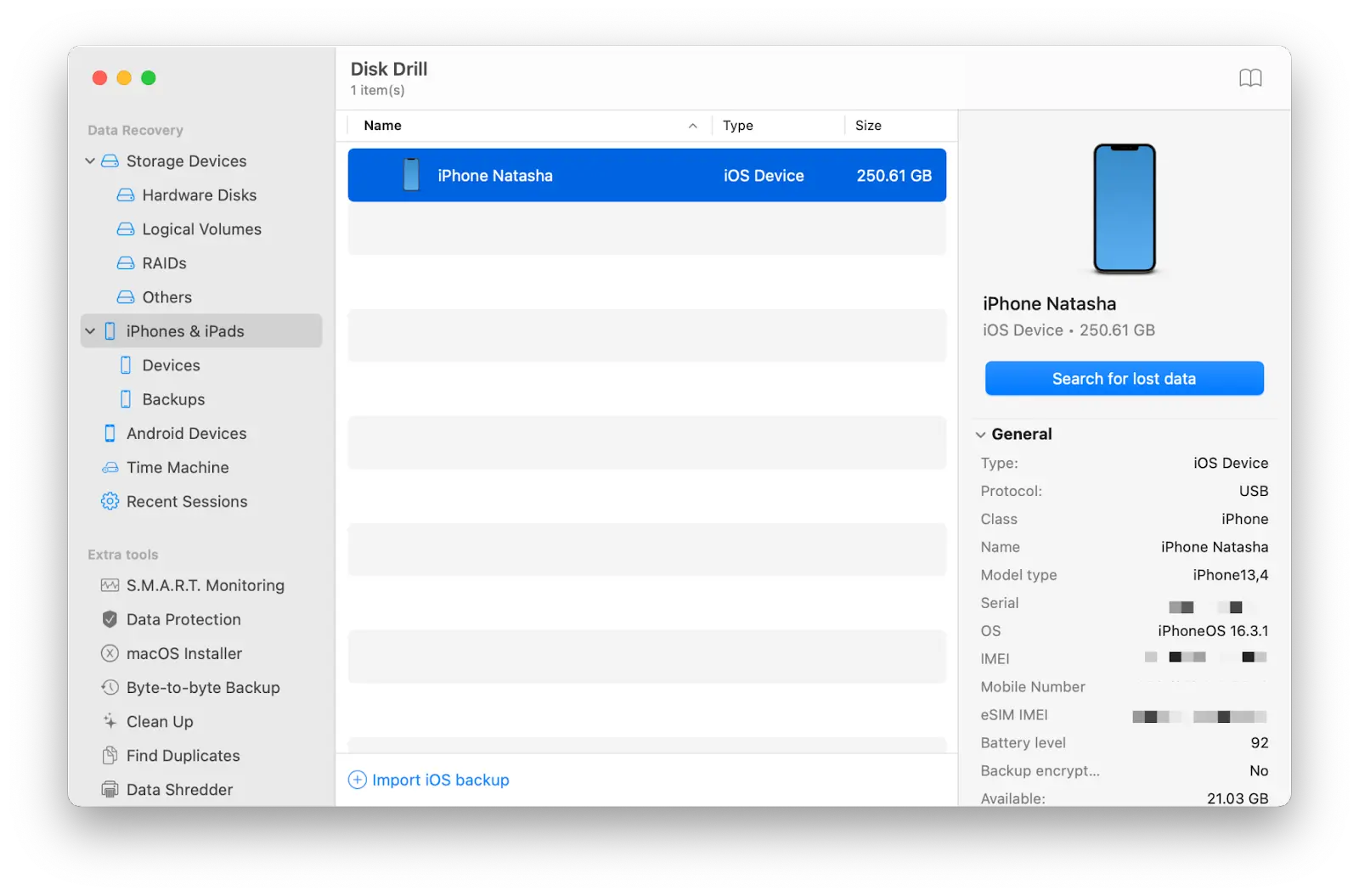 In a nutshell: 4 backup methods and tips for saving data
Let's summarize what we have learned. The most common methods to back up contacts on iPhone are to use Finder, iCloud, Gmail, and the AnyTrans app.
AnyTrans backs up and transfers files from iPhone, iPad, and Mac. You need to install it on your Mac and connect your mobile device. The backup process takes a few seconds. When you decide to restore the backup, the original contents of your phone will not be damaged.
With iCloud, you can back up your contacts only or all of your content. Once backed up, the files will be available on all the devices on which you use your AppleID. To create a backup, you will need free space on iCloud.
Gmail backup is convenient for those who use a Google account. 15 GB of free space is more than enough to store your contacts.
Backing up with Finder is fast but somewhat clumsy: it doesn't allow you to save contacts only (you need to copy the entire contents of your phone), and restoring backup will erase the existing content on your iPhone.
Fortunately, there is a way to solve the latter problem – the Disk Drill app, which restores any lost files regardless of the cause of the loss.
AnyTrans and Disk Drill are available for free for 7 days via Setapp. It is a subscription service that has 240+ apps for Mac, iOS, and the web in one subscription. Give it a try and discover more valuable tools to tackle almost any task.