How to sync iPhone contacts to Mac
Even though we don't do much calling these days (but more emailing and messaging), a contact book remains as important as ever. It's the easiest way to keep the details about the people in your network in one place, have messengers sync their contacts, and never forget about anyone's birthday.
We accumulate contact information over years of in-person and online interactions. Since it's so valuable, it would be a disaster if we ever lost it. That's why syncing contacts between different devices and regularly backing them up is essential.
There are a few easy ways to sync contacts from iPhone to Mac and keep another copy stored elsewhere, from iCloud to USB to third-party apps.
How to sync iPhone contacts to Mac with one click
Wondering how to sync contacts to Mac with 100% certainty, every time? Try a dependable iPhone syncing solution such as AnyTrans for iOS.
AnyTrans for iOS is a complete iPhone manager and a smart alternative to what iTunes used to be. It provides syncing for specific apps (e.g. Contacts), a backup manager, media and app downloader, and image converter. If you want to transfer anything between Mac and iPhone, you can do it with AnyTrans.
Start with AnyTrans by connecting your phone via a USB cable, then select iCloud in the sidebar and make sure to sync contacts between devices. After that, switch to the backup manager and save a copy of your phone on your Mac to never lose any contacts by accident.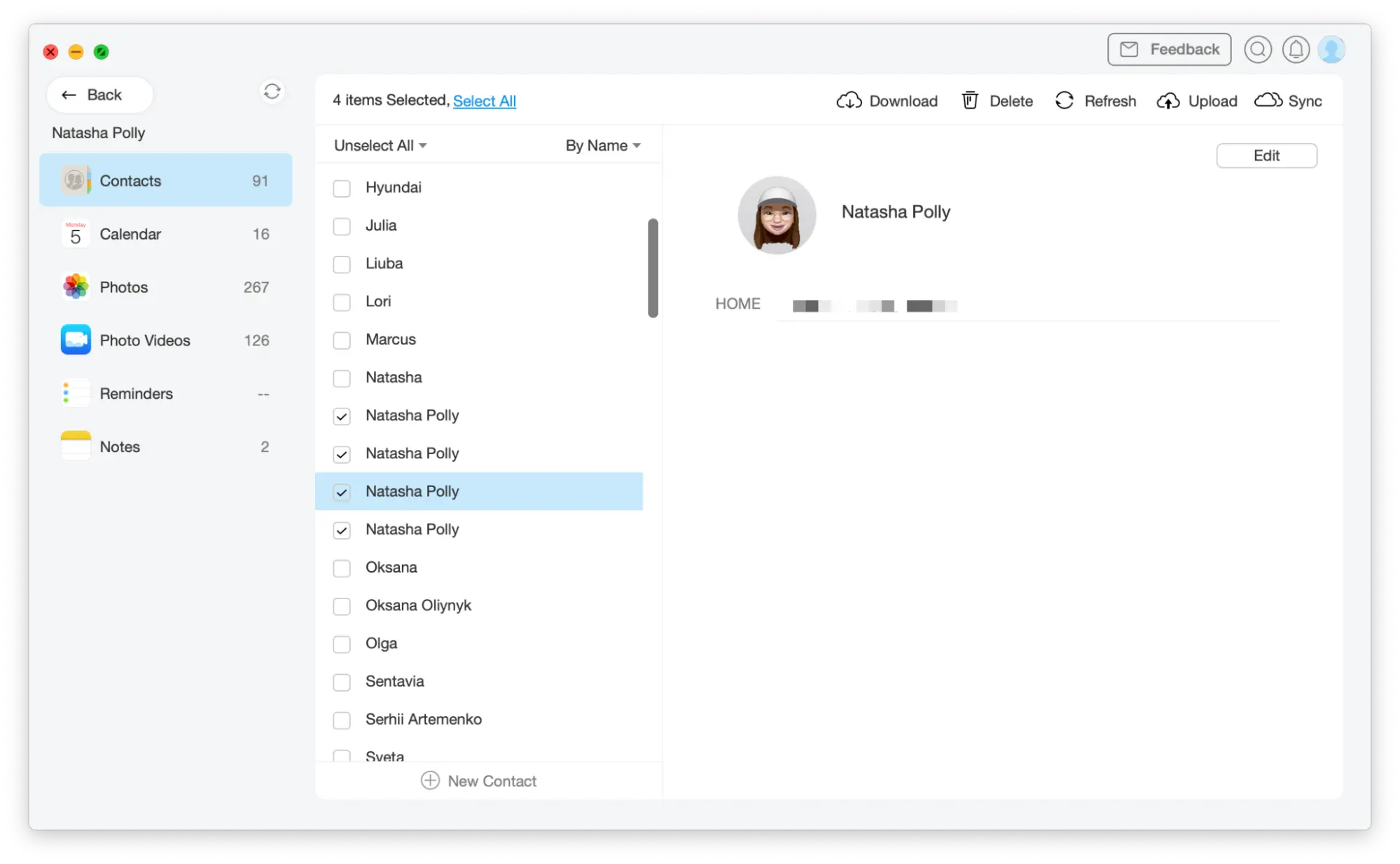 Another way to back up specific files and folders, including contacts, is ChronoSync Express.
ChronoSync Express is the most advanced but easy-to-use sync app for Mac. If you ever need to sync folders, files, or any data between two devices — be it Macs, iPads, or iPhones — you can do that quickly with ChronoSync Express.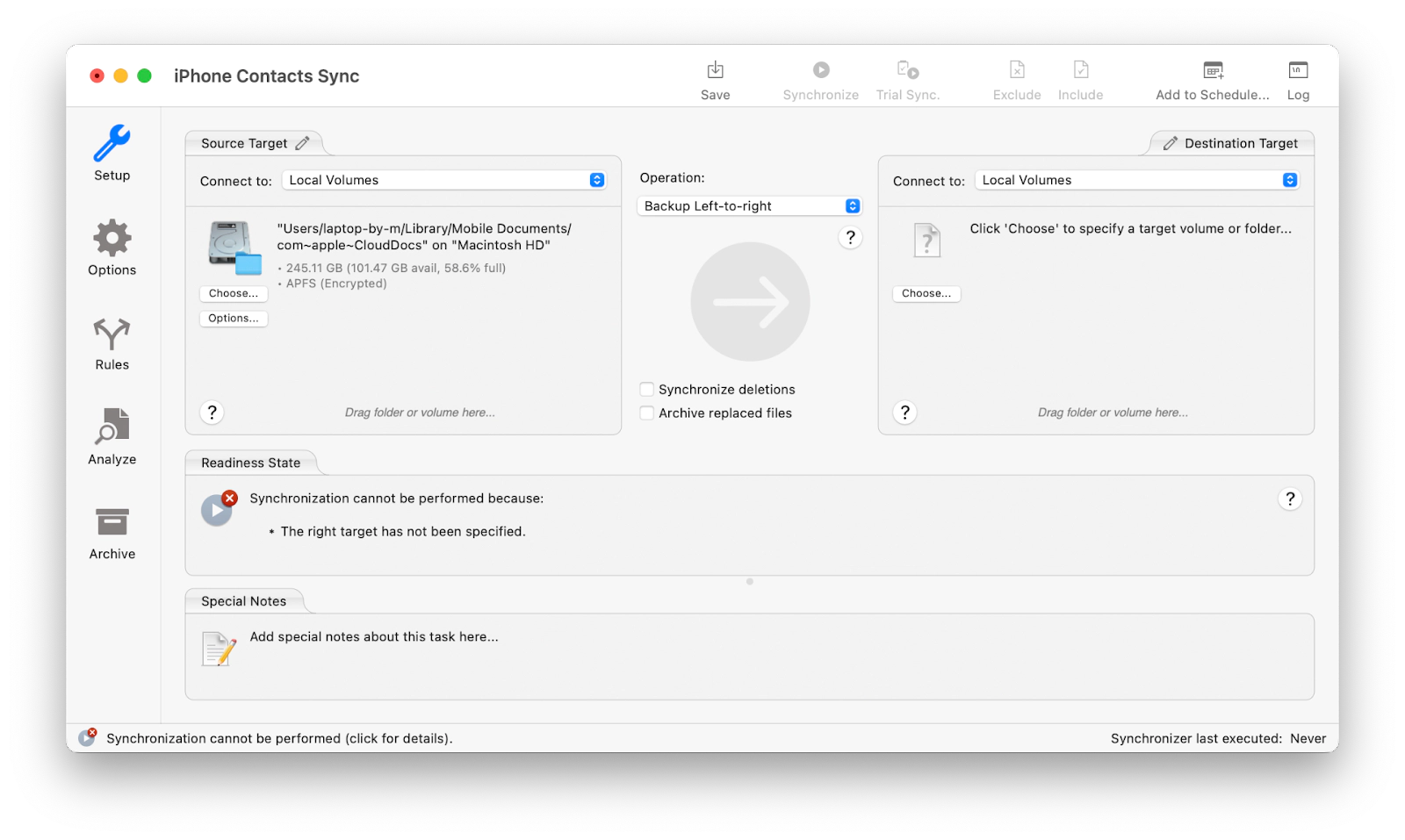 In addition, ChronoSync Express offers backup options to other devices or remote servers, which you can automate with a custom schedule.
How to sync iPhone contacts to Mac with iCloud
Apple provides a simple way to sync all contacts, notes, calendars, reminders, and other files between devices through iCloud (and optionally available on the web).
Note: iCloud provides only the first 5 GB of storage for free. However, higher tiers of storage are available at affordable monthly rates.
Here's how to sync contacts from iPhone to Mac with iCloud:
Go to System Settings
Click on your Apple ID profile
Click iCloud
Scroll down and click Show All
Toggle on Contacts
Merge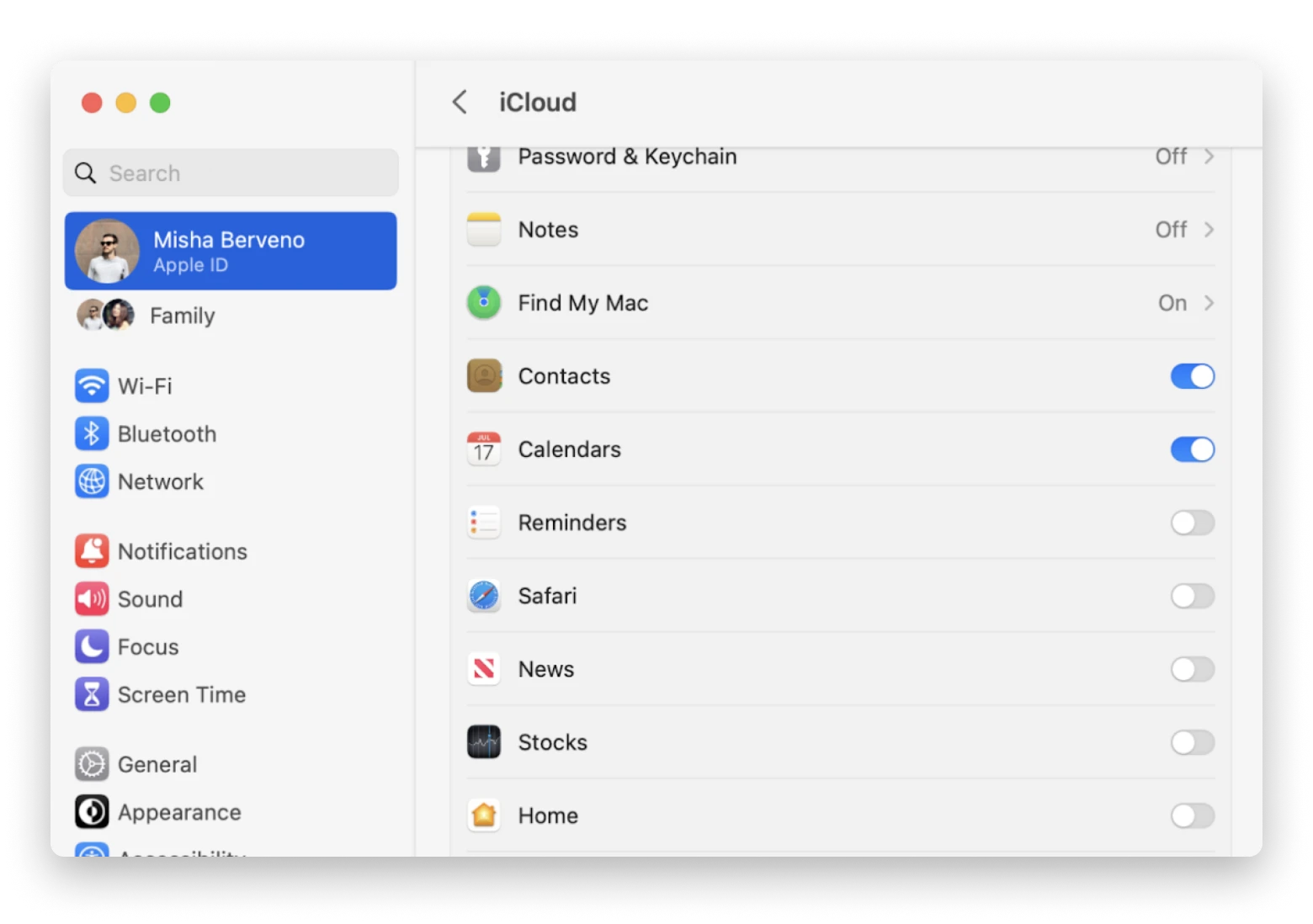 Make sure that Contacts are active on all the other devices that use the same iCloud login, and they will be automatically synced.
Why are my iPhone contacts not syncing with Mac?
iCloud is not perfect, and sometimes you might find your contacts not syncing to iCloud properly.
This might happen for a few reasons:
You have an unstable WiFi connection or are offline
Your devices are logged in under different iCloud accounts
You have no available space on your iCloud Drive
The iCloud system itself is experiencing connection issues
Fixing these problems shouldn't take more than a few minutes.
First, restart your WiFi to make sure your device is online. Then go to System Settings to verify that both devices are logged in under the same account.
When you're in System Settings > [Your name] > iCloud, you'll see how much free space is available in your account. Even if you have free space left, it's a good idea to do a quick scan for duplicate and unnecessary files, and delete them. The easiest way to do that is by using Gemini.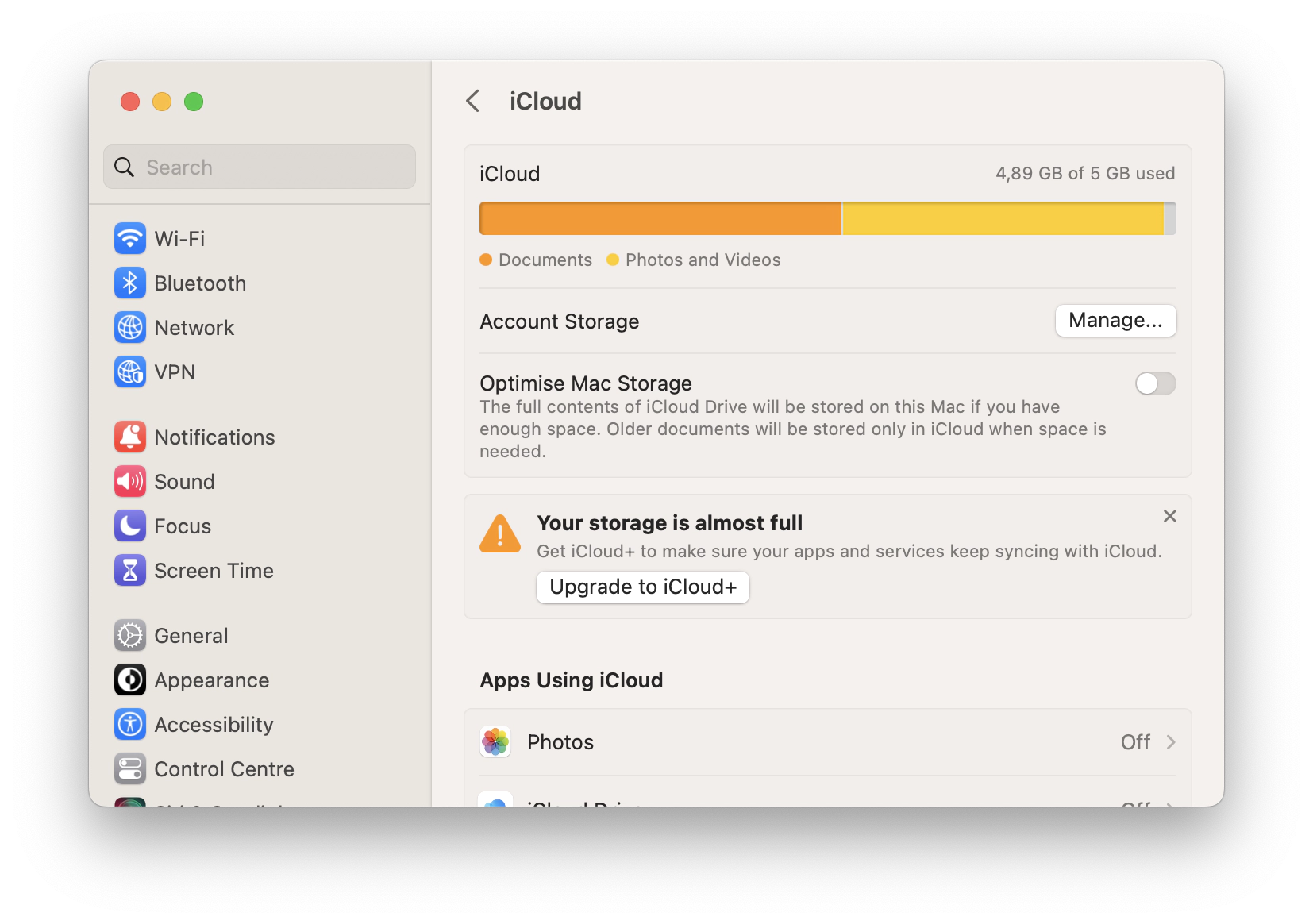 Gemini is an essential app to keep your Mac files in check. It lets you scan any folder on your Mac for duplicate or even similar files and gives you a one-click way to delete them, freeing up space on your hard drive without losing any data at all.
Freeing up space on your hard drive is easy with Gemini:
Launch Gemini
Select the folder you'd like to scan for duplicate files
Scan for Duplicates
Review and remove any duplicate files
Finally, check that the iCloud servers are working at apple.com/support/systemstatus to rule out any cloud-related errors.
How to replace Contacts with BusyContacts
While the default Contacts app on Mac covers the basics pretty well, it feels like an afterthought when compared to pro-level contact managers like BusyContacts.
BusyContacts is a full-featured manager for all your contacts on Mac. You can use it to manually create new address books and contacts or you can simply sync it with the existing Contacts app.
Unlike Contacts, BusyContacts (from the creators of BusyCal) has a list and multi-column view. It also has tags and labels, and enriches contact information with data from social networks. In addition, BusyContacts tracks the latest activity for every contact (e.g. meetings, birthdays).
When you launch BusyContacts it will ask you whether you want to sync information with iCloud. Just click Yes and the data will be seamlessly shared across your devices.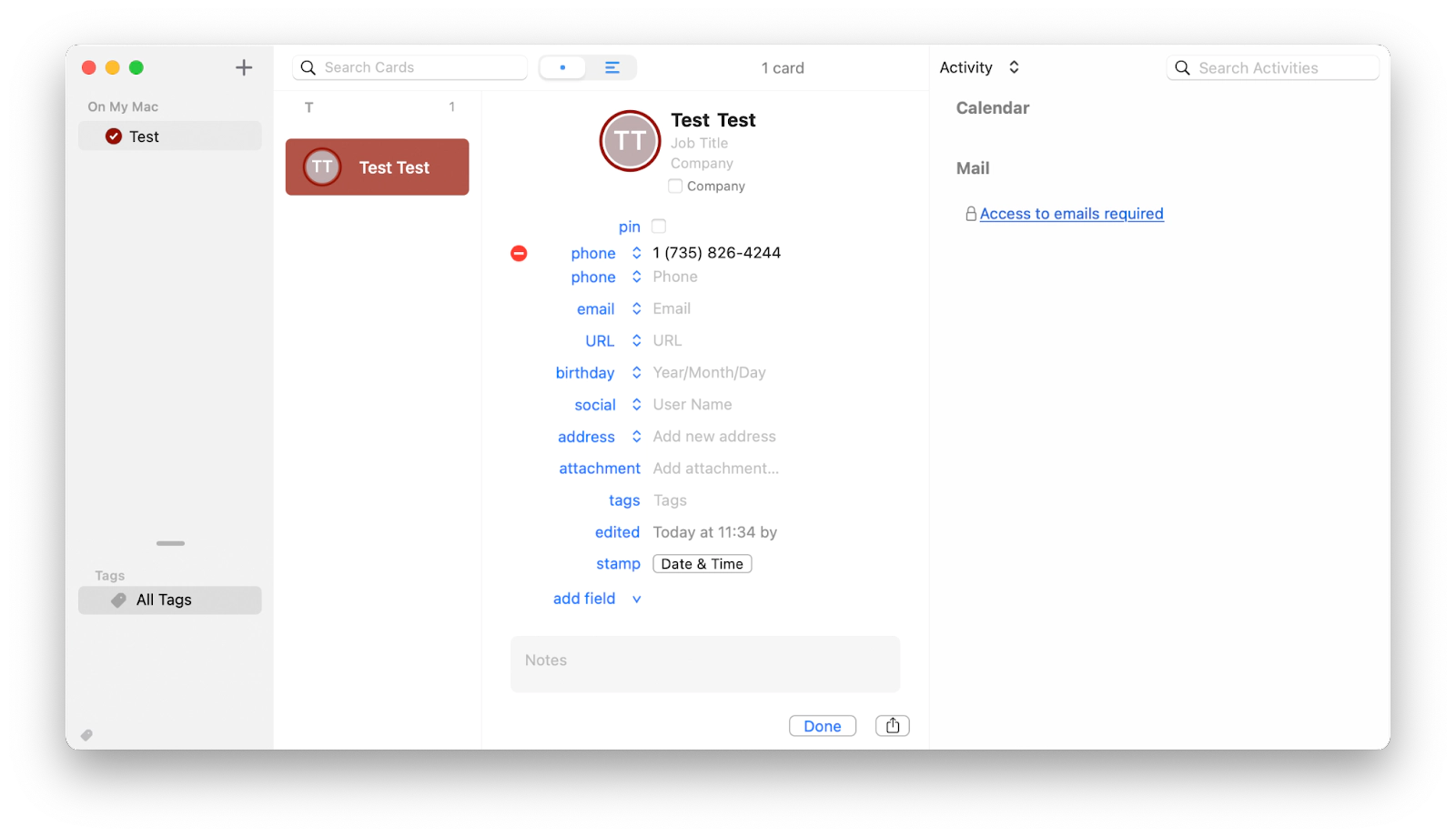 How to remove duplicate contacts after syncing
Even if you know how to sync contacts to MacBook from other devices and you use third-party apps, it's a good idea to sync them with the original Contacts app through iCloud to have one centralized location for all data.
Then you can use Contacts to filter out any duplicates:
Launch Contacts on Mac
Go through the list and delete any duplicate entries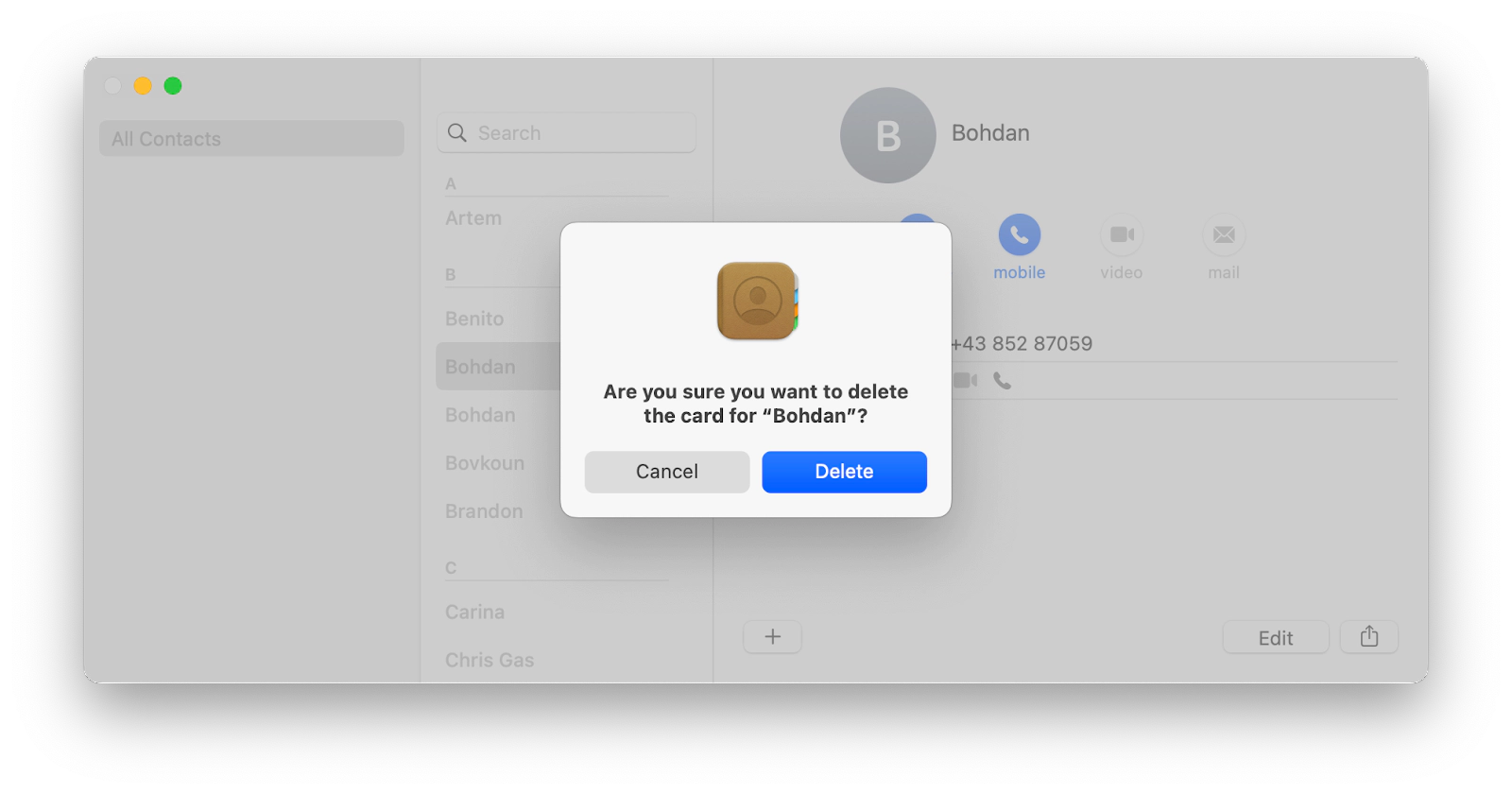 If you've accidentally deleted an important contact — don't worry, you can get it back with Disk Drill.
Disk Drill is the most advanced file recovery app on the market today. When you're trying to figure out how to sync contacts to Mac, it's easy to get some essential contacts removed or overwritten. But no matter the cause of the file loss, whether accidental or disk errors, Disk Drill can help you get the files back in just a few minutes.
To recover contact information after you've deleted it:
Launch Disk Drill
Select your hard drive on Mac
Search for lost data
Recover any files from the Contacts app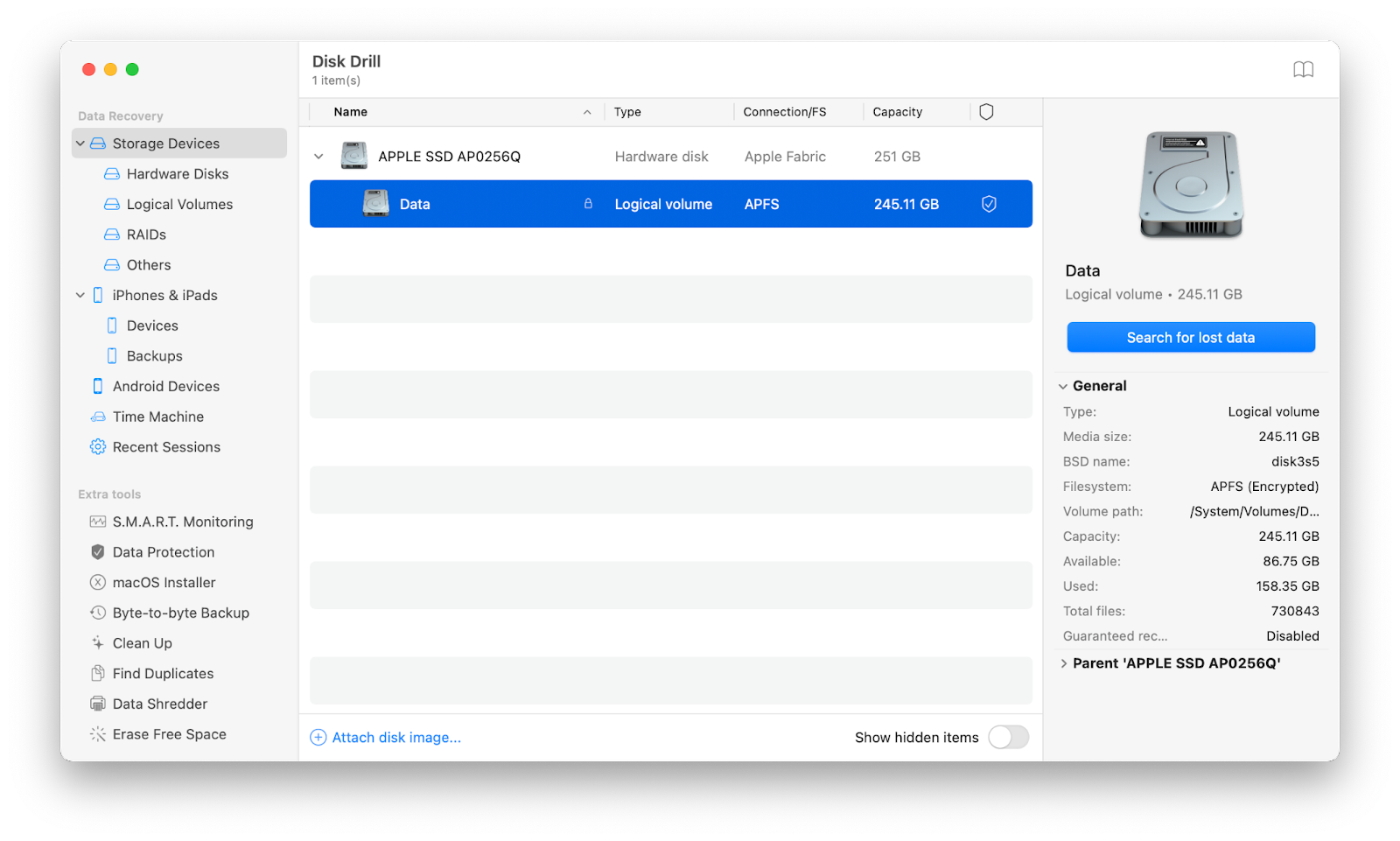 How to sync iPhone contacts to Mac without iCloud
When you know how to update contacts on Mac with iCloud, you might wonder if there are other ways of syncing them as well. Indeed, there are at least four options available to you:
You can find out how to sync iPhone to Mac contacts with Finder
Sync contacts with iTunes (if you use an older macOS)
Sync contacts with AirDrop
Sync contacts through Google or Microsoft accounts
How to sync contacts from iPhone to MacBook with Finder or iTunes
If you want to control when your iPhone and Mac sync, you can sync them from time to time with Finder via USB:
Connect your Mac and iPhone with a USB cable
Click Allow to sync the accessory
Go to Info and click "Sync contacts onto [your device]"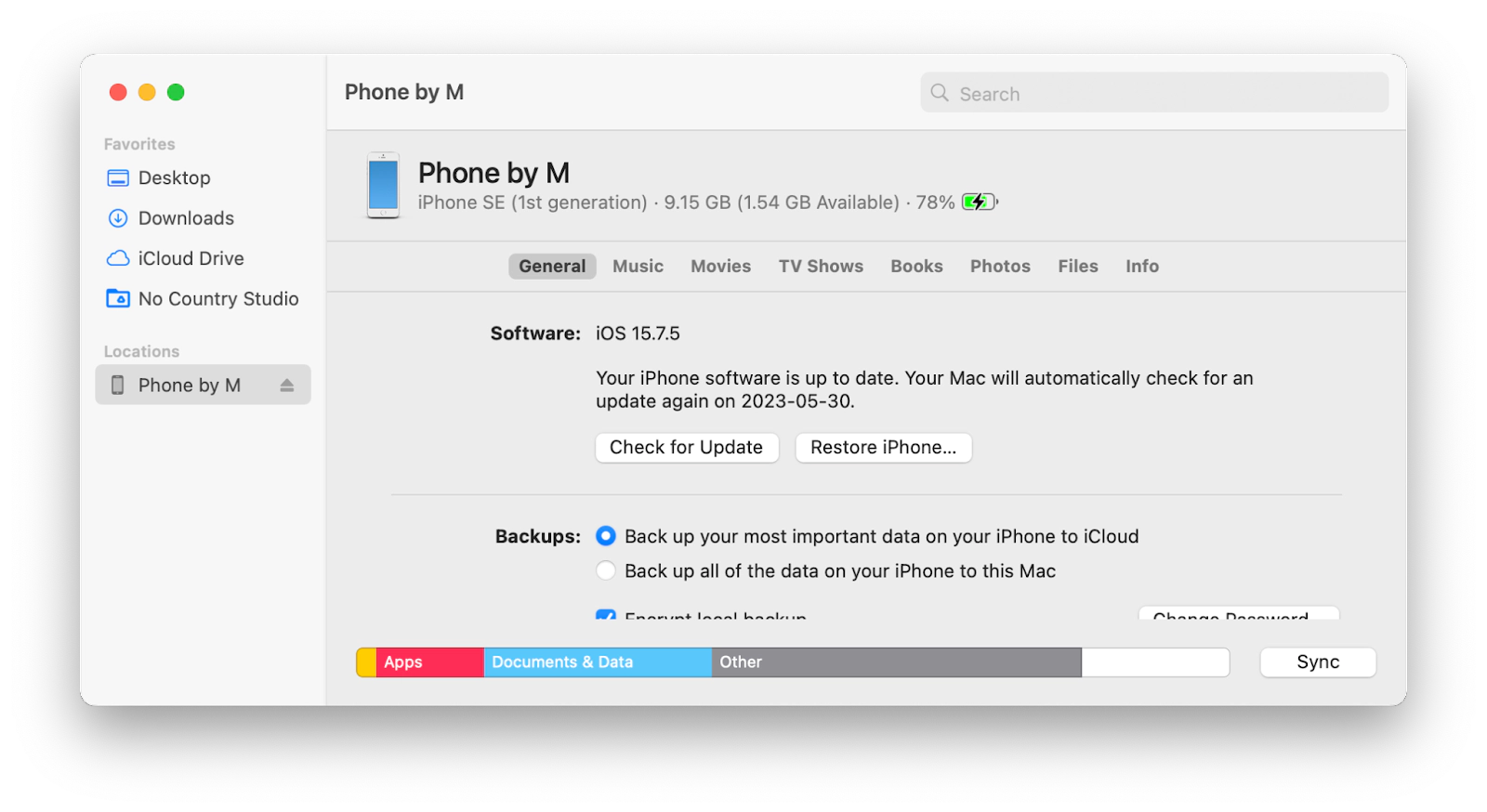 Those who are running older versions of macOS can follow similar steps with iTunes:
Connect your phone to Mac with USB
Allow accessories
Launch iTunes and click Info
Select "Sync contacts"
How to sync contacts to MacBook with AirDrop
If you want to be even more granular and share contacts with other devices one by one, you can do so with AirDrop:
Enable AirDrop on both your Mac and iPhone
Go to Contacts
In the menu bar, select Card ➙ Share My Card ➙ AirDrop My Card
Select your iPhone from the menu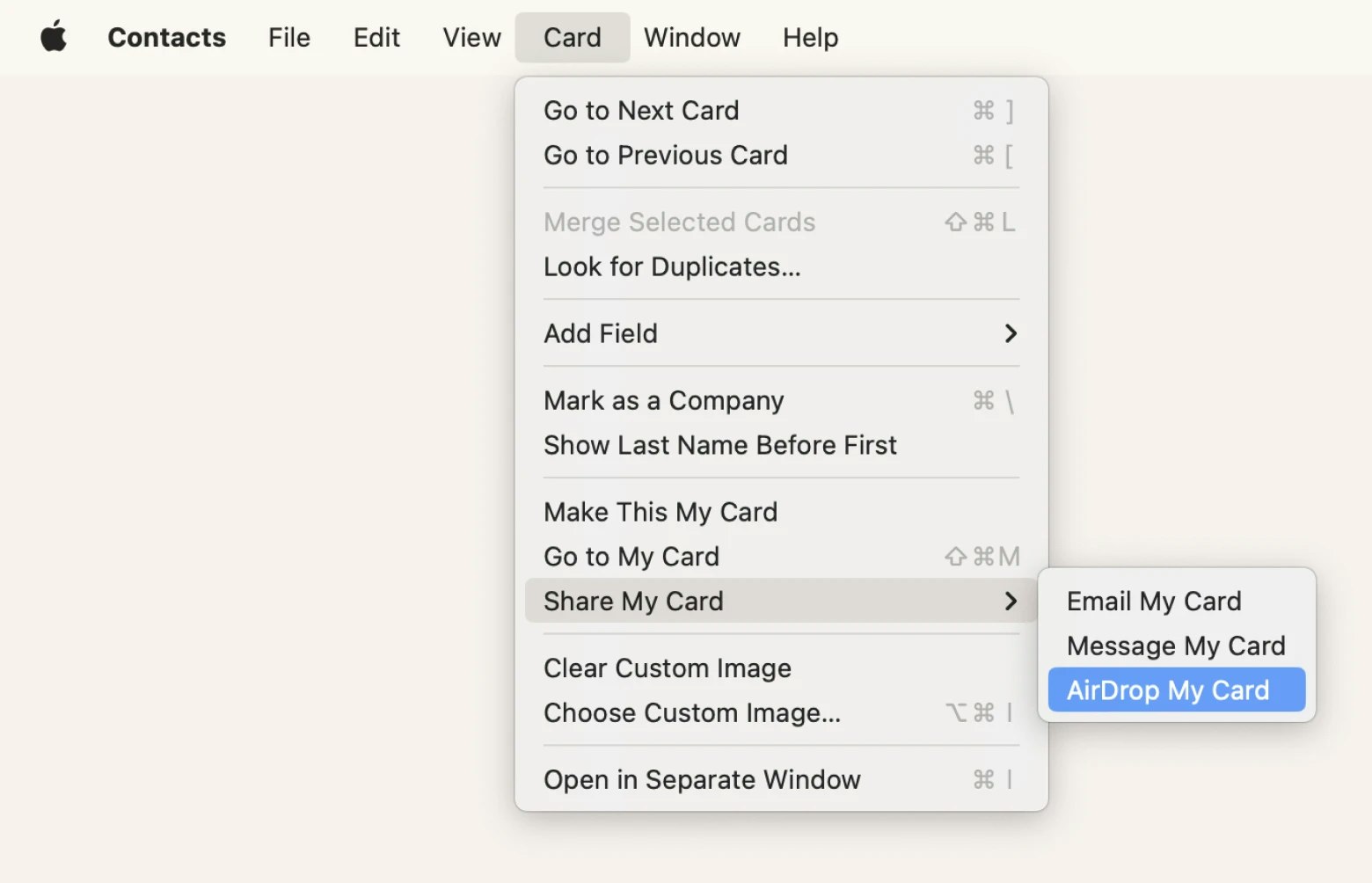 How to sync iPhone to Mac contacts with Microsoft or Google accounts
Those who mostly use Google or Microsoft accounts to store their contact information can easily sync them with Contacts to make them accessible on all Apple devices.
The process for any third-party accounts is the same:
Go to System Settings ➙ Internet Accounts
Select the third-party account you want to sync
Toggle on Contacts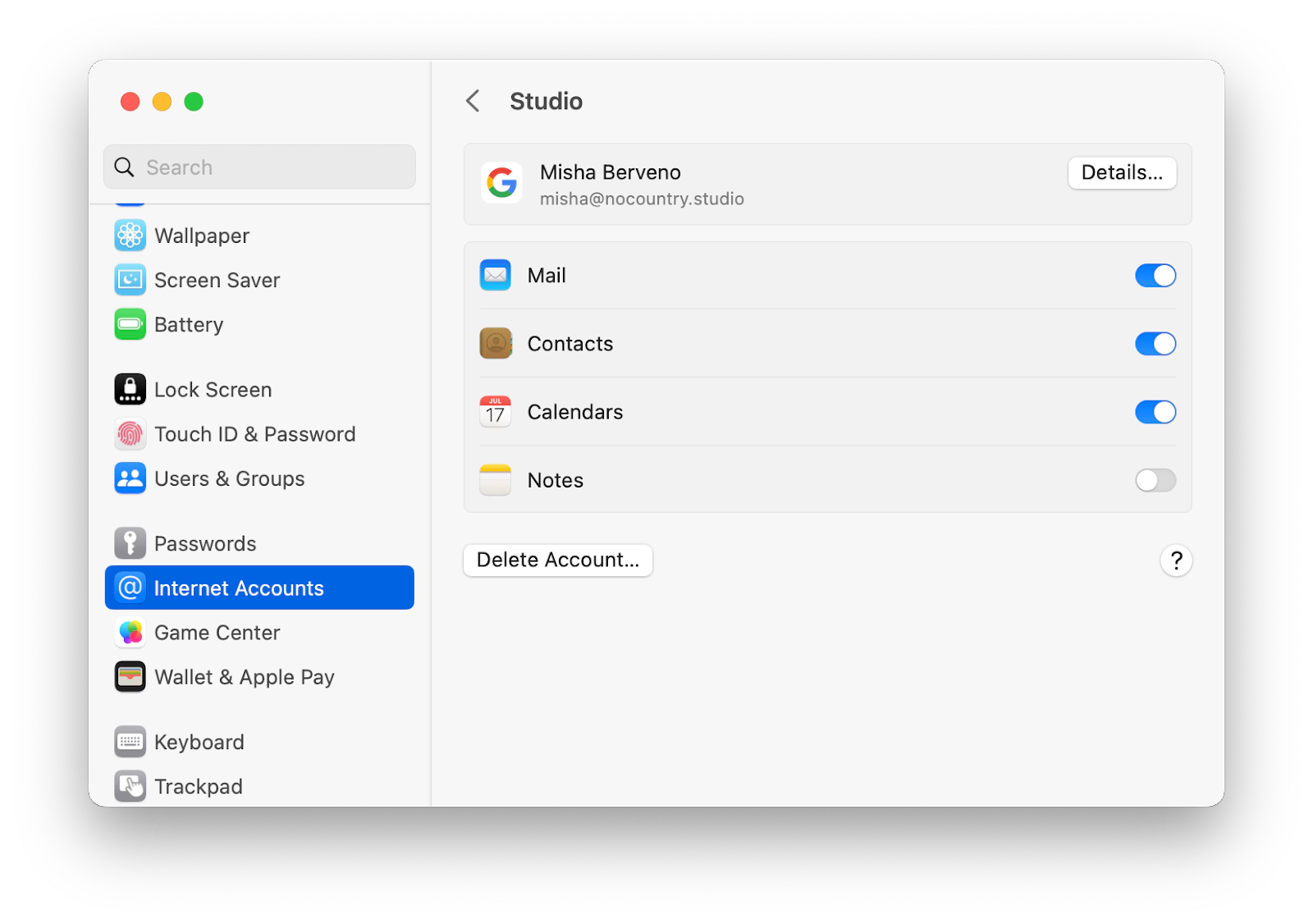 Now you know how to update contacts on Mac and iPhone in various ways and even accelerate the process with an app like AnyTrans. To selectively sync any files and folders on Mac you can use ChronoSync Express. Besides, make sure your contacts data stays clean and has no duplicates with Gemini. You can also update the Contacts app altogether with BusyContacts. And if you happen to delete anything essential, you can get it back with Disk Drill.
Best of all, you can use the apps mentioned above for free during the seven-day trial of Setapp. Setapp is a platform with more than 240 curated apps for Mac and iOS that cover all the aspects of your Mac, from productivity to software development to finances. Try every Setapp app today at no cost and discover your new favorites.