How to upload photos to iCloud
iPhones and Macs are incredibly powerful, but they still live dangerous lives. You might have your device stolen, damaged, or lost — and you certainly don't want all your data gone with it. iCloud can give you reassurance that all your precious photos will remain intact, even if you lose your iPhone, as long as you're syncing photos to iCloud.
In this guide, we explain how to upload photos to iCloud from iPhone or Mac. Plus, you'll learn about a quick way to sync your content across devices and get a helper tool to declutter your library before transferring photos.
Before we dive into detailed instructions, here's how Gemini can help you ensure you're not uploading any duplicate content to your iCloud:

Install Gemini via Setapp — it's available for Mac and iPhone
Scan your Photos library
Review the results or click Smart Cleanup to delete duplicates right away.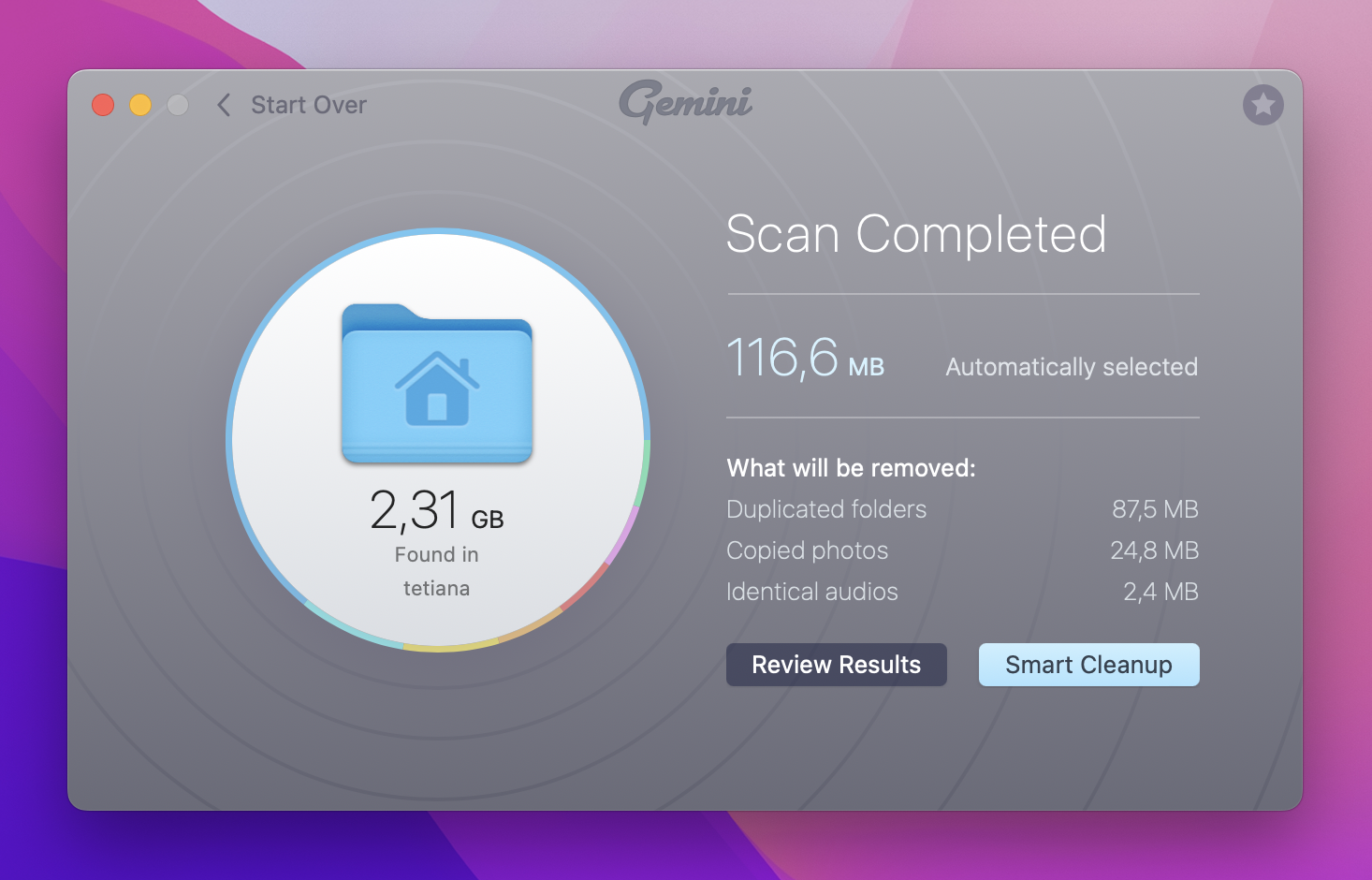 What can go wrong when transferring data on iPhone?
If you're wondering "how to upload my photos to iCloud," don't worry, it's pretty easy. It can be very frustrating, however, to find out you've lost your vacay pics because iCloud syncing didn't function properly on your iPhone. To avoid any trouble in the future, make sure you can satisfy the following requirements:
Your iCloud account has some free space
You're signed in to the right iCloud account on your iPhone
You have stable internet connection
You have iCloud Photos enabled on your iPhone (only if you want to sync all your photos to iCloud).
Let's focus on the last one. What does it mean to have iCloud Photos enabled? Say, you want to know how to upload iPhone photos to iCloud automatically, so you don't have to do any cherry-picking. In this case, you can set your iPhone to upload all photos and videos to iCloud.
This could also be useful for those who have very limited storage on iPhone: by enabling iCloud Photos and selecting "Optimize iPhone Storage," you'll be sending the original full-resolution photos to iCloud, while keeping only small device-sized versions on iPhone. So here's how to upload all photos to iCloud using your iPhone:
Open Settings on your iPhone
Tap your account name
Tap Photos and enable iCloud Photos
If you want to save storage on iPhone, select "Optimize iPhone Storagefr."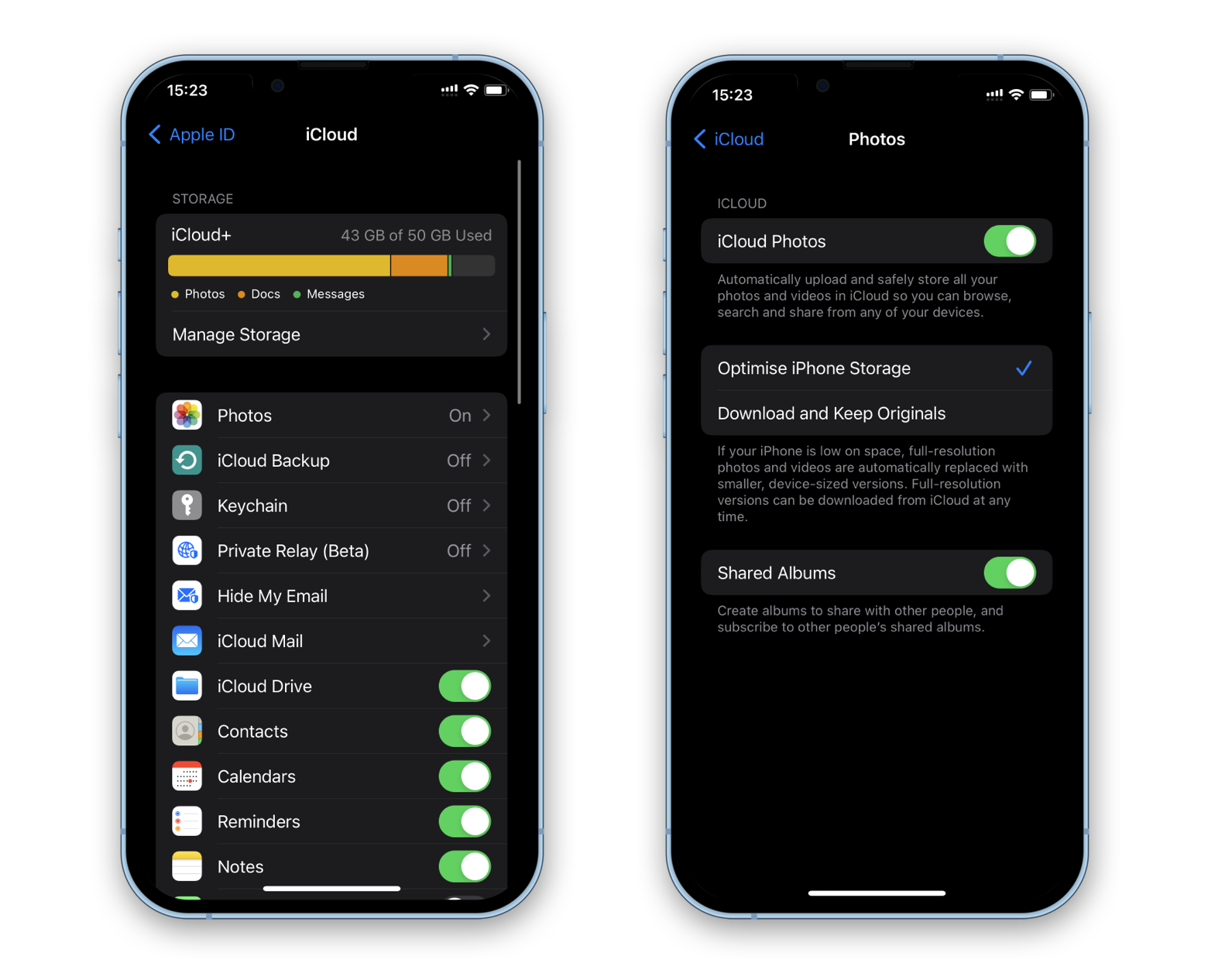 If you want to know how to upload photos to iCloud from iPhone — but only the select ones — there's a solution. Here's how to upload photos from iPhone to iCloud manually:
Open icloud.com in a browser
Sign in to your iCloud account
Go to Photos and tap Upload > Photo Library
Choose the photos from your library and tap Add.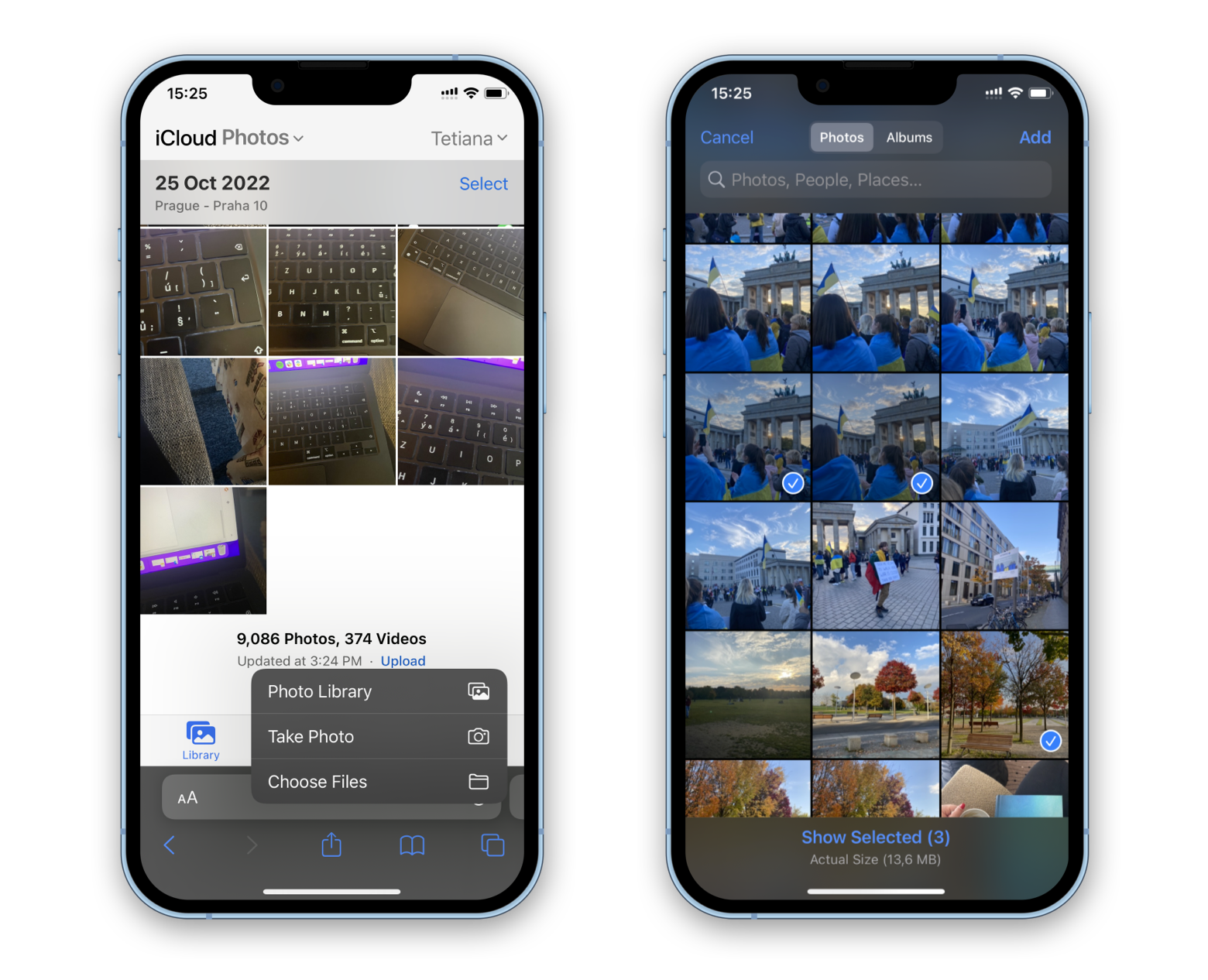 Note that if you delete photos/videos from your iOS device, they will be deleted from iCloud, too. However, there's a way to delete files from iCloud without deleting them from your device. Learn how to delete photos from iCloud but not from iPhone here.
Tip: Avoid the risk of failed iCloud sync with AnyTrans for iOS. Even if you know how to upload photos to iCloud, things might go wrong and you'll need a backup.
AnyTrans for iOS is a content transferring app that can be considered the safest alternative to iCloud syncing. First of all, it lets you back up your phone and save the backup to Mac or an external drive, so you never lose any of your media files, no matter what happens to your iPhone. Plus, AnyTrans lets you move any data from your iPhone to Mac and vice versa, or from an old iPhone to a new one, without tinkering with Time Machine and iCloud settings.
Here's how to move photos across devices with AnyTrans for iOS:
Open AnyTrans for iOS on your Mac
Connect your iPhone to Mac using a cable
Click Photos and select the photos you want to move to Mac.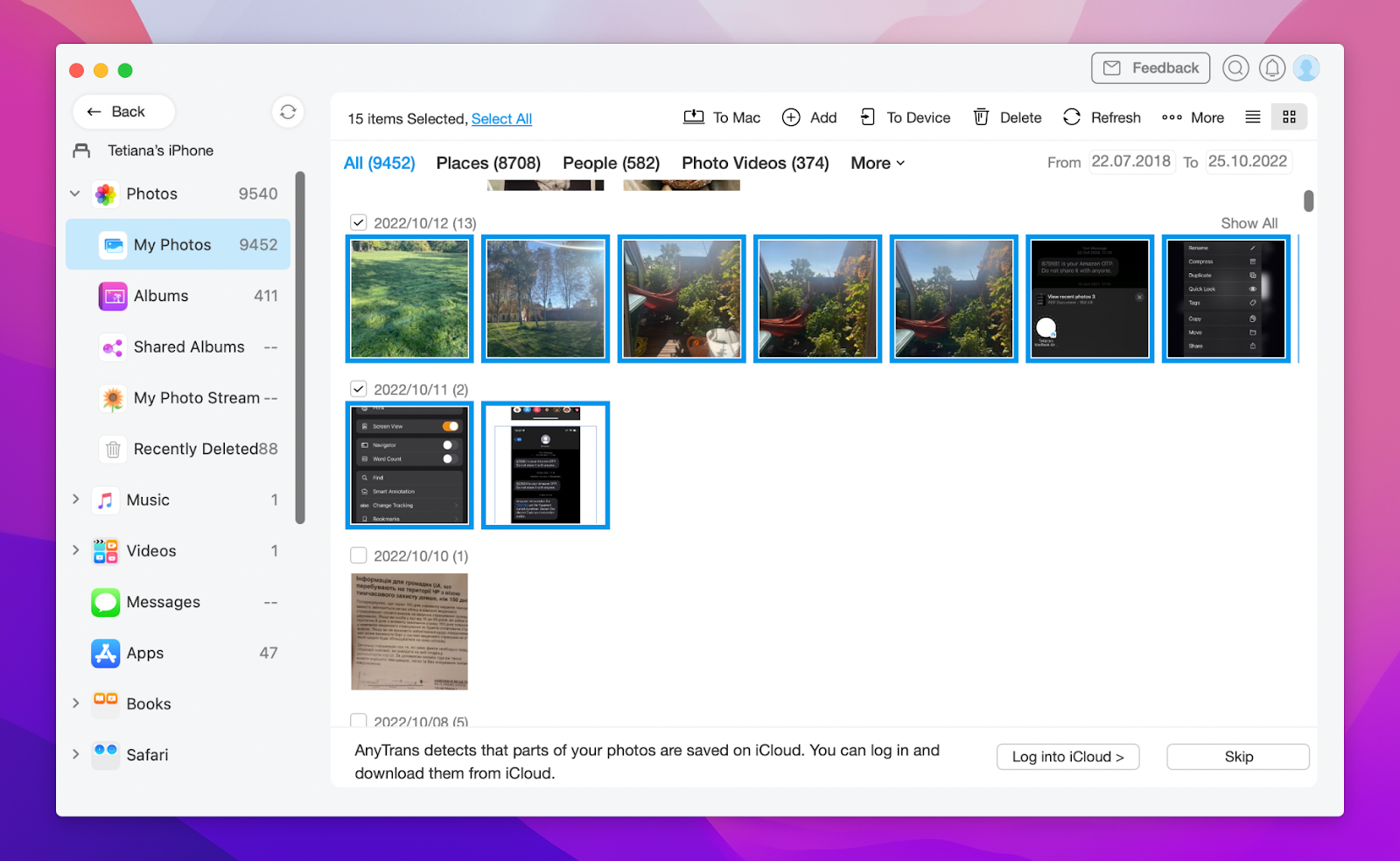 If you want to send photos from Mac to iPhone, drop them on the image of your phone in the Content Manager tab (first on top).
How to transfer photos to iCloud on Mac
If you have the photos that need to be transferred to iCloud on your Mac, you can set up iCloud Photos on your Mac to sync your Photos Library to iCloud:
Open System Preferences
Click Apple ID
Open the iCloud tab and select Photos.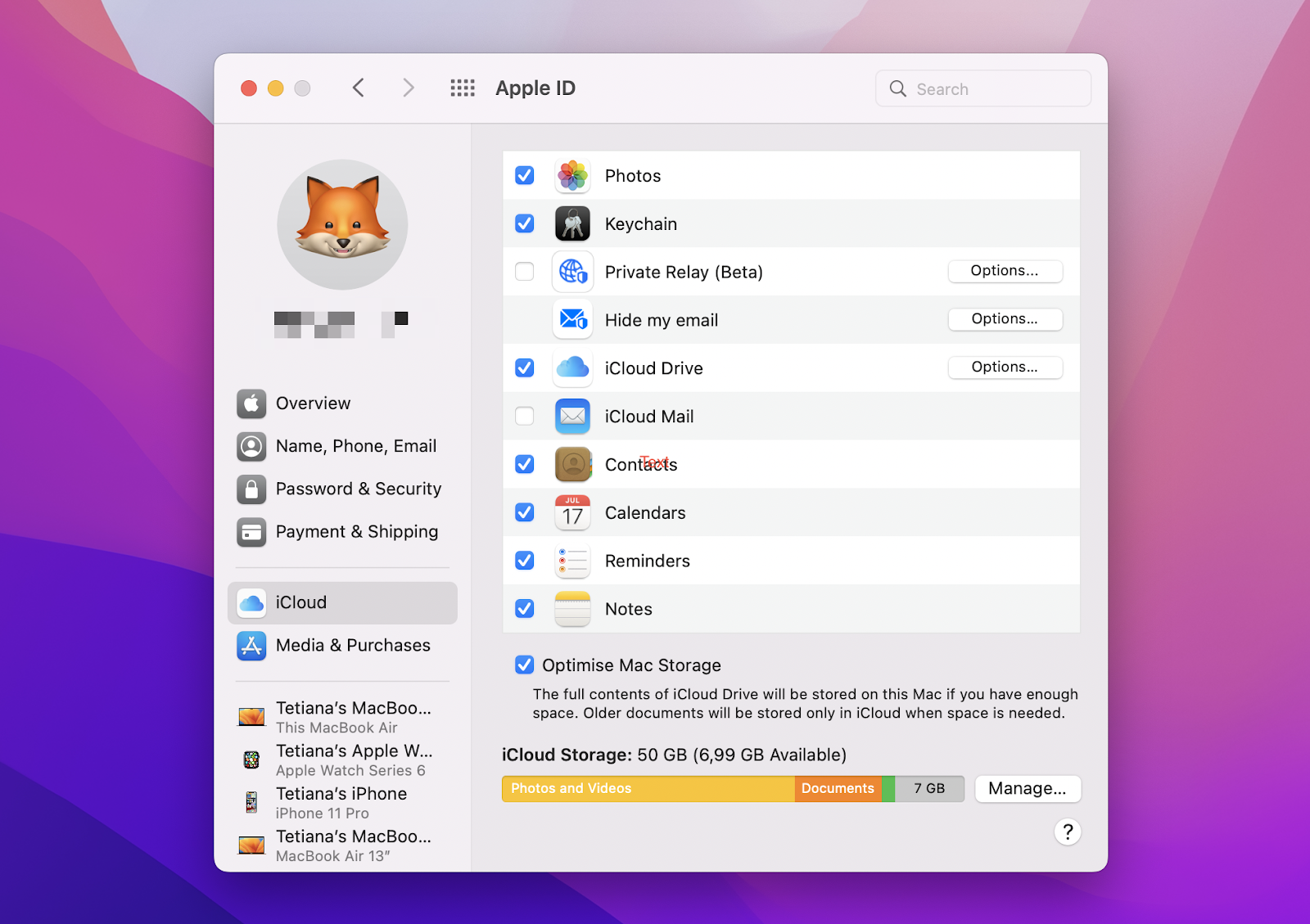 You can also directly upload any media files from your Mac to iCloud:
Open icloud.com in your browser on Mac
Go to Photos and click the Upload button on top
Choose any photos you like from any location on Mac and add them to iCloud.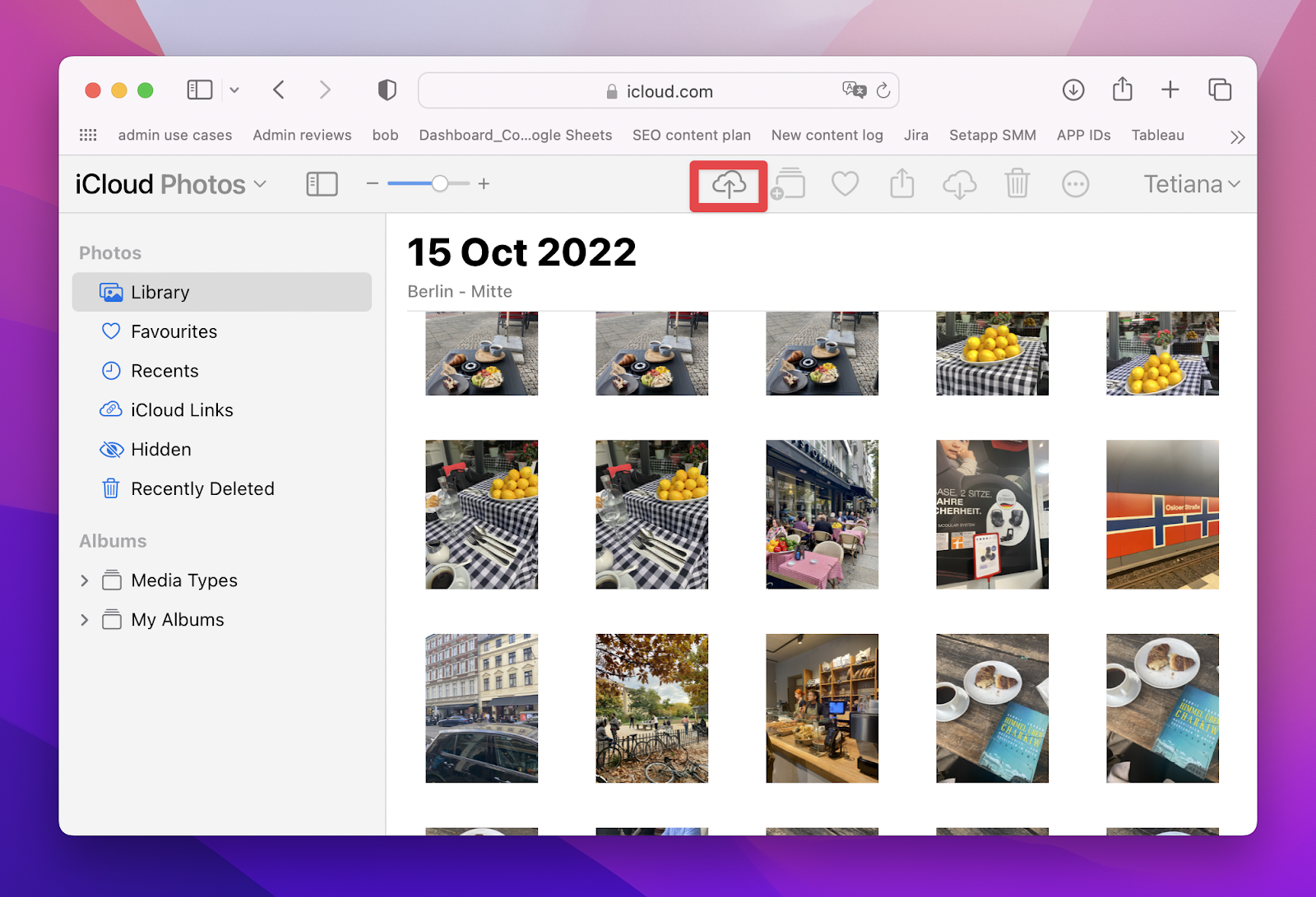 That's how to upload photos to iCloud from Mac. If you're wondering if you can move photos from your PC to iCloud, the answer is yes! However, you need to have iCloud for Windows installed. Here's how to upload photos to iCloud from PC:
Open iCloud from the taskbar and click Open iCloud Settings
Next to Photos, click Options
Select "iCloud Photo Library"
Select "Upload new photos and videos from my PC."
How to upload photos to iCloud: What's the best method?
Although we answered the question "how do I upload photos to iCloud" in this guide, you might still be wondering which method is the best and how you can be sure all your precious photo memories are safely backed up. So here's what we think.
Since most of your photos originate on iPhone, it's smart to sync from iPhone to iCloud. The safest option is to enable iCloud Photos so your photos are synced automatically. But note that iCloud may fail you, unfortunately, if you run out of space or accidentally sign in to the wrong account. This is why we suggest backing up your photos with AnyTrans for iOS — at least the most important ones — and saving them in a secure spot on your Mac or external hard drive.
AnyTrans is available with Setapp, the most comprehensive app subscription for macOS and iOS. By the way, the other apps we mentioned — Squash and Gemini — are part of Setapp, too. You can try all three for 7 days free.