How to create a time-lapse video, step-by-step
Time-lapse is a wonderful way to capture the essence of something, of a scene before you over time. A sunrise or sunset. A busy city scene. The tide, as it goes out or comes back in. Buildings under construction are another popular subject, especially if you've got a good angle to watch one come to life, from the foundations to completion.
A time lapse movie can also be used to capture a journey. Walking through city streets, or traveling on a train, or in a car, from one place to another. So it isn't only a method for capturing stationary scenes.
How to shoot a time-lapse video?
Time-lapse videos are an amazing way to capture a subject over a longer period of time than you would ordinarily take a picture or film something. The good news is, you don't need specialist equipment to create a time lapse video.
Anyone with an iPhone and a Mac can create time lapses, and there are two ways to do so.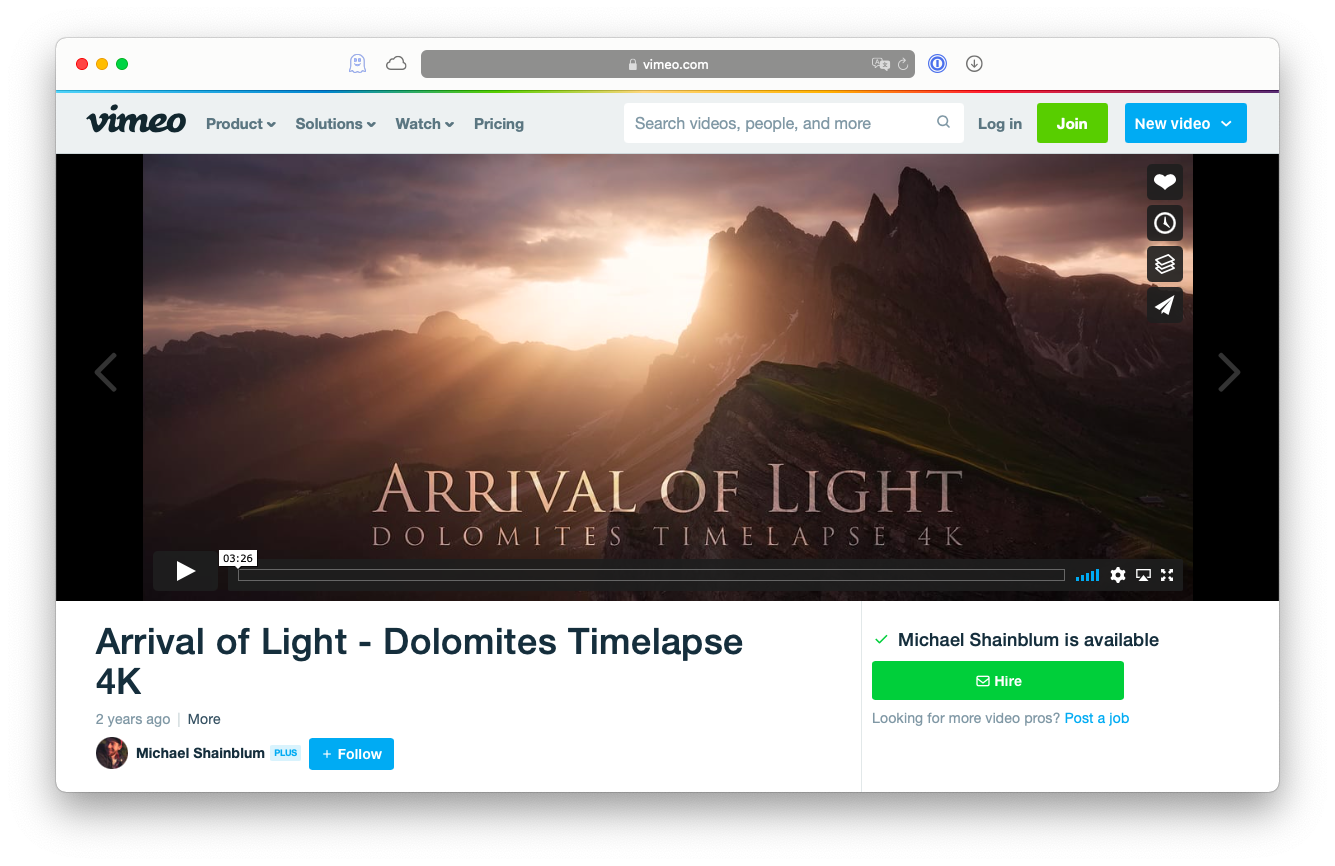 1. Film using Time Lapse mode on iPhone
Since iOS 8, released in 2014, the default iPhone Camera app has had a dedicated feature to capture time lapse movies:
Open the Camera app
Scroll along to Time Lapse
Press the red button to start filming (a tripod might be useful if you plan on filming something stationary over a period of hours or days)
Press the red button again to stop
2. Make a time-lapse video from photos
Another way to create time lapses is by gluing together hundreds of pictures so they make a continuous timeline.
Again, using a tripod or stable surface, you can take multiple (potentially hundreds, even thousands) pictures of the same subject. It's important that your iPhone is positioned exactly the same way, otherwise, the angle of each picture is going to be different, which won't yield the desired result.
Once you have enough pictures to capture what you were hoping for, you need to stitch them together to create the final time lapse video. One way to do that is to download the macOS app GlueMotion. It's the perfect app for time-lapse photographers that lets you batch edit, deflicker, and assemble sequences of images into complete time lapse movies.
You can crop, rotate, flip, and adjust the colors of your photos, inclining the exposure, saturation, or brightness. In a matter of minutes, instead of hours, GlueMotion will combine your photos to create the perfect time lapse video.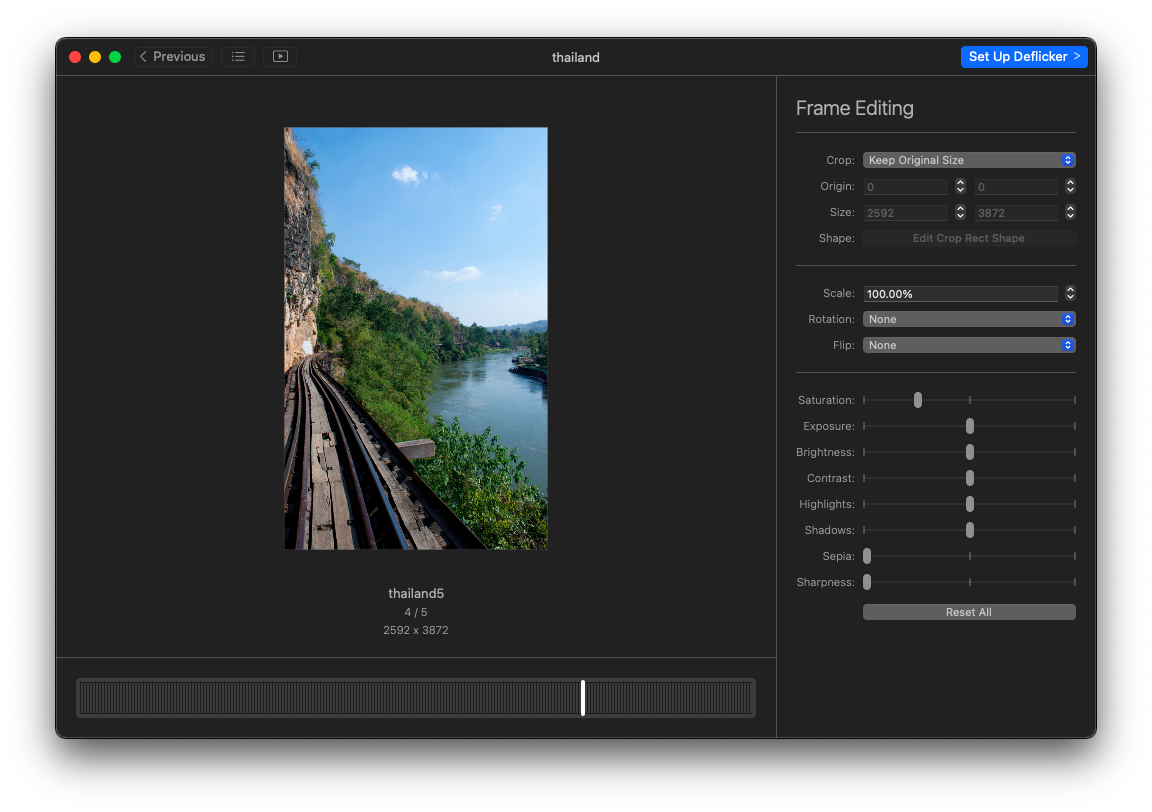 For anyone who's serious about filming a time lapse, you might be wondering, is there a way to gain more control than using the camera app? Yes, thankfully there is.
A time-lapse calculator
You don't have to be a videographer to create a perfect time-lapse video. Understanding the elements of your shots plus some basic math will help you do a good job.
How to choose the right time-lapse intervals?
Intervals reflect the flow of your time lapse. To set the right intervals, you should dive into your setting and analyze how often the scenes change within the setting. Next, choose how you want to display these changes in a time lapse video. So it's all about "feeling" the scene and experimenting with the flow.
Here are a few examples of average intervals between one shot and another:
Sunrise and sunset: 10 seconds
Clouds moving: 5–20 seconds depending on the speed
Crowd and commotion: 5 seconds
Building construction: from 10 minutes to several months
How to choose the right number of frames
The number of frames you use will determine the length of the video. On average, it takes 25 frames to produce one second of a time lapse. So if you need a 5-second video, you'll use 125 frames. As simple as that.
Keep in mind that if you set custom intervals, the number of frames will change accordingly. Let's say you have to create a 10-second time lapse with a 3-second interval. To calculate the total number of frames, multiple FPS (frames per second) by 10 and then multiply that number by 3 (interval) to get: (10 x 25 = 250) x 3 = 750.
Gain more control over your timelapse settings
If you're filming using the iPhone Camera app, there are no speed controls. It films everything at the same speed, with the option to make changes only when you're editing. Unless you download the free Hyperlapse app, which makes it easier to control the time-lapse speed.
When you record using Hyperlapse, it shows you during recording that every 6 seconds it produces 1 second of time lapse video. Once you've finished filming, use the slider in the app to change how slow or fast it plays the final time-lapse video. Further edits and changes can be made if you upload the video to your macOS device.
Another popular time-lapse setting these days is recording how we work on a Mac, whether editing photos or writing something, or coding. Here, the regular approach of filming by camera won't help you — you have to use a specific Mac app instead.
Hustl is the perfect software to showcase your work process. With one click of a button, it records the time-lapse as per your specific preferences. You can adjust the pace, press to pause, tweak aspect ratios, record selected app windows (e.g. Photoshop), set the final speed, and export the result in up to 8K resolution. It's by far the easiest way to create a time-lapse movie on your Mac:
Simply launch Hustl
Click the Hustl eye icon in your menu bar
Drag over the area you'd like to record or select a specific app from the dropdown
Adjust the aspect ratio accordingly
Click "Start recording"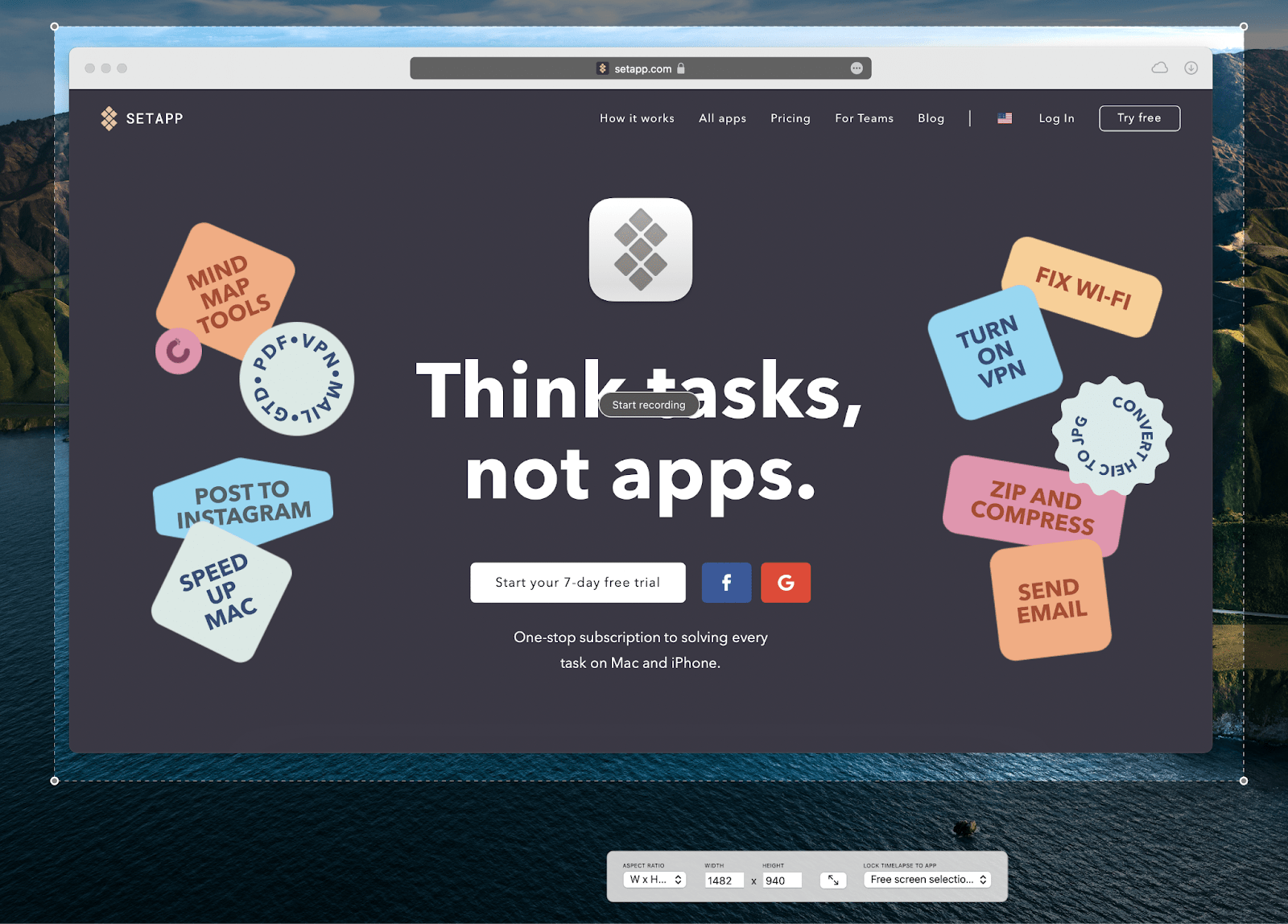 But, back to the other kind of time lapse, instead of recording a video, you can always go the photographic route. Taking multiple pictures and then stitching them together in an editing session could result in a beautiful time lapse video.
Time-lapse photography and editing tips
When you're setting up your pictures, it pays to remember a few photographic essentials:
Position your iPhone in the best location possible to capture the subject. Ideally, use a tripod to avoid balance issues. Keep the iPhone steady.
Use leading lines. Whenever possible, give the viewer a way of coming into the scene, from the foreground to the main subject and into the background.
Frame your scene using the rule of thirds
Take the weather, sky, and lighting conditions into consideration. In some countries, it gets dark really early depending on the time of year. If you've got subjects that are going to move through the frame, such as a train or a plane, make sure you've framed the picture the right way as to capture that movement.
Do time lapses have sound?
Your time lapse movies can feature audio tracks if you want them to. You can easily add audio to your videos in iMovie, Apple's native video editing software, for example. Once you create a time lapse with GlueMotion, import it into iMovie, and start personalizing the sound:
Click on Audio in the top left corner
Toggle between Effects and Theme music or import tracks from your computer
Drag the selected audio clip to your timeline or select a custom range to add a specific part of your clip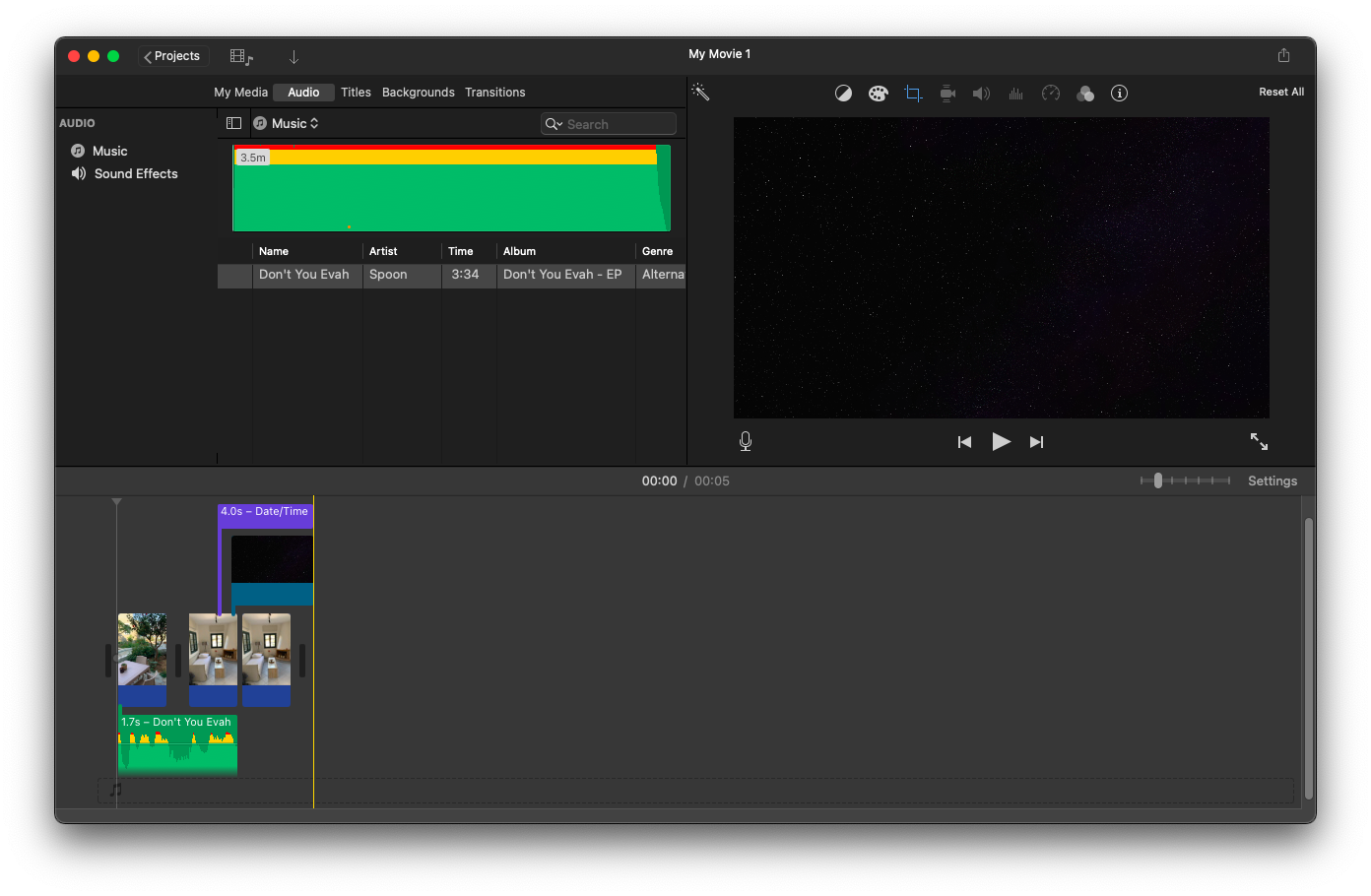 To customize audio in your time lapse video, you can also use professional editing tools like Capto. This app would allow you to change volume, mute, as well as set audio fade in and fade out for a true top-notch soundtrack quality.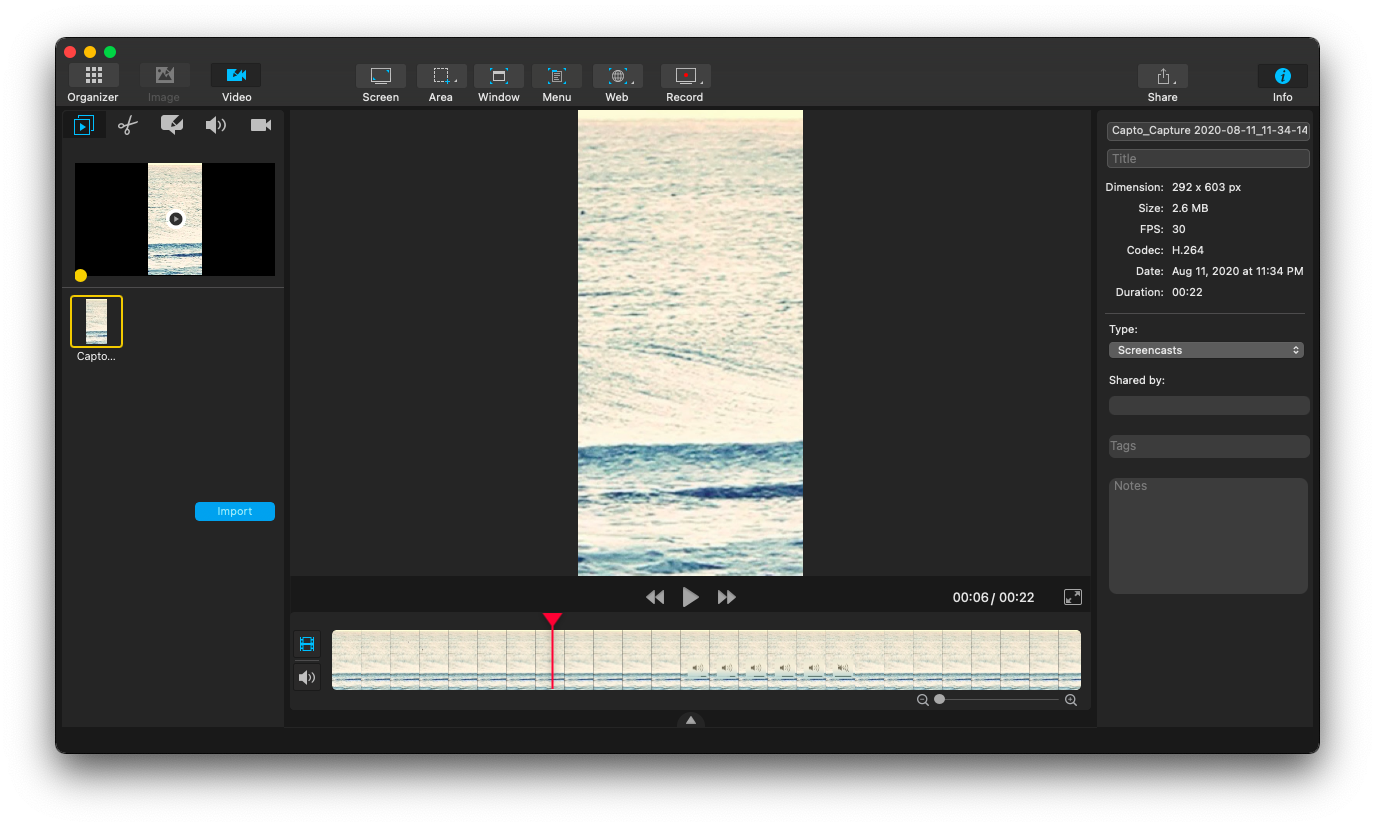 How to turn video into a time lapse
If you don't have time to shoot a time lapse or you're not comfortable spending lots of time picking the right intervals between snaps, go with converting. Video editors like Adobe Premiere Pro allow you to quickly turn a standard video into a nice-looking time lapse or hyperlapse.
Here's how you convert videos in Adobe Premiere Pro:
Import your video and open the Effects panel on the right
Select Posterize time and drag it onto the timeline to customize the frame rate
Change the rate from the default 24 frames per second. If you set FPS to 1, you'll see only one frame per second.
To adjust the speed, right-click on the video and select speed/duration. Increase the speed several-fold so that the frames change at a normal rate.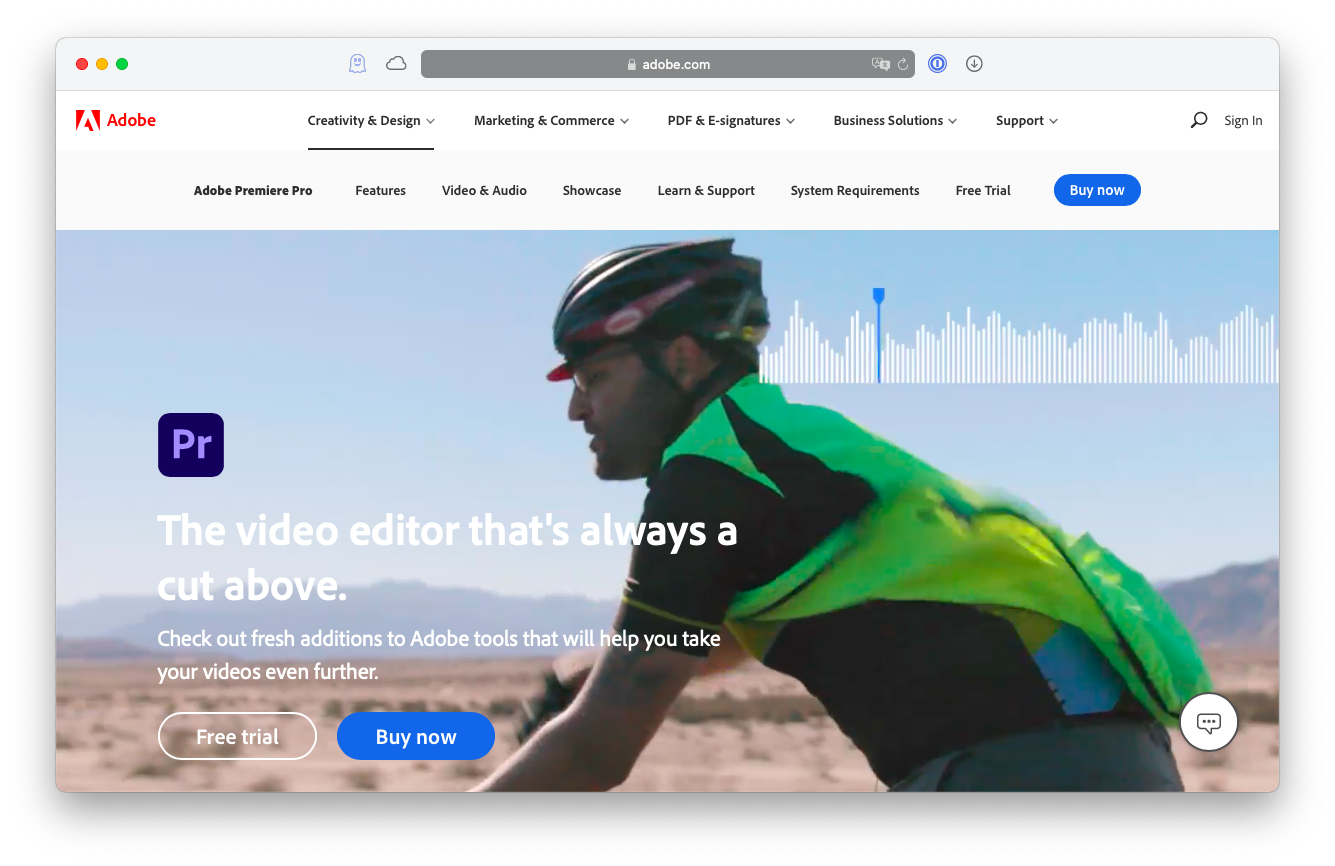 The key mistakes in time-lapse photography
Apart from dos, there are many don'ts that you should be aware of to produce a high-quality time lapse:
Not everything should move. Embrace a clear focus in your time-lapse video – an object or a set of objects that you want to speed up. The common mistake is to make the background move in sync with the foreground.
Apply filters. If you don't play, you don't win. ND filters in a slow time lapse can make a huge difference, so it's a good idea to experiment with effects before you pick the final snaps for your video.
Get rid of flicker. The difference in brightness between snaps which is known as flicker damages the coherence of your time lapse. Even if you do it for the first time, GlueMotion can fix flicker automatically for you.
With GlueMotion, several hundred or thousands of images can be batch edited and successfully stitched together to create the perfect time lapse video.
Once you're happy with the pictures you've captured — there will probably be dozens or hundreds — you can edit them using macOS apps like GlueMotion or Capto when they're uploaded or synced using iCloud Photo Library to your Mac.
Best of all, GlueMotion, Hustl, and Capto are all available to you absolutely free for seven days through a trial of Setapp, a platform with more than 200 Mac apps to cover all of your daily needs. Try every Setapp app today at no cost and see what else is much easier than you've thought.