How to watch The Morning Show on Apple TV Plus
Once you start watching The Morning Show on Apple TV Plus, you'll probably binge-watch the whole thing. So yeah, don't take it as literally a "morning" show. It's a morning-evening-weekend-anytime show.
The release of Apple's subscription-based streaming service became a big thing — mostly because it featured big names like Reese Witherspoon and Jennifer Aniston. Both star in The Morning Show, and the tandem is fabulous. What's so special about the show, and what's the best way to watch it? In this article, we'll debunk the myth that The Morning Show is tied to Apple devices only, as well as recommend a couple of tools that will enhance your binge-watching experience.
What's The Morning Show about?
If you google "The Morning Show Apple TV," you'll find something about "a strong character of a female news reporter," "the abuse of power," and "the "MeToo theme." That's kind of it — wrapped into an impressive performance of Hollywood's best actors.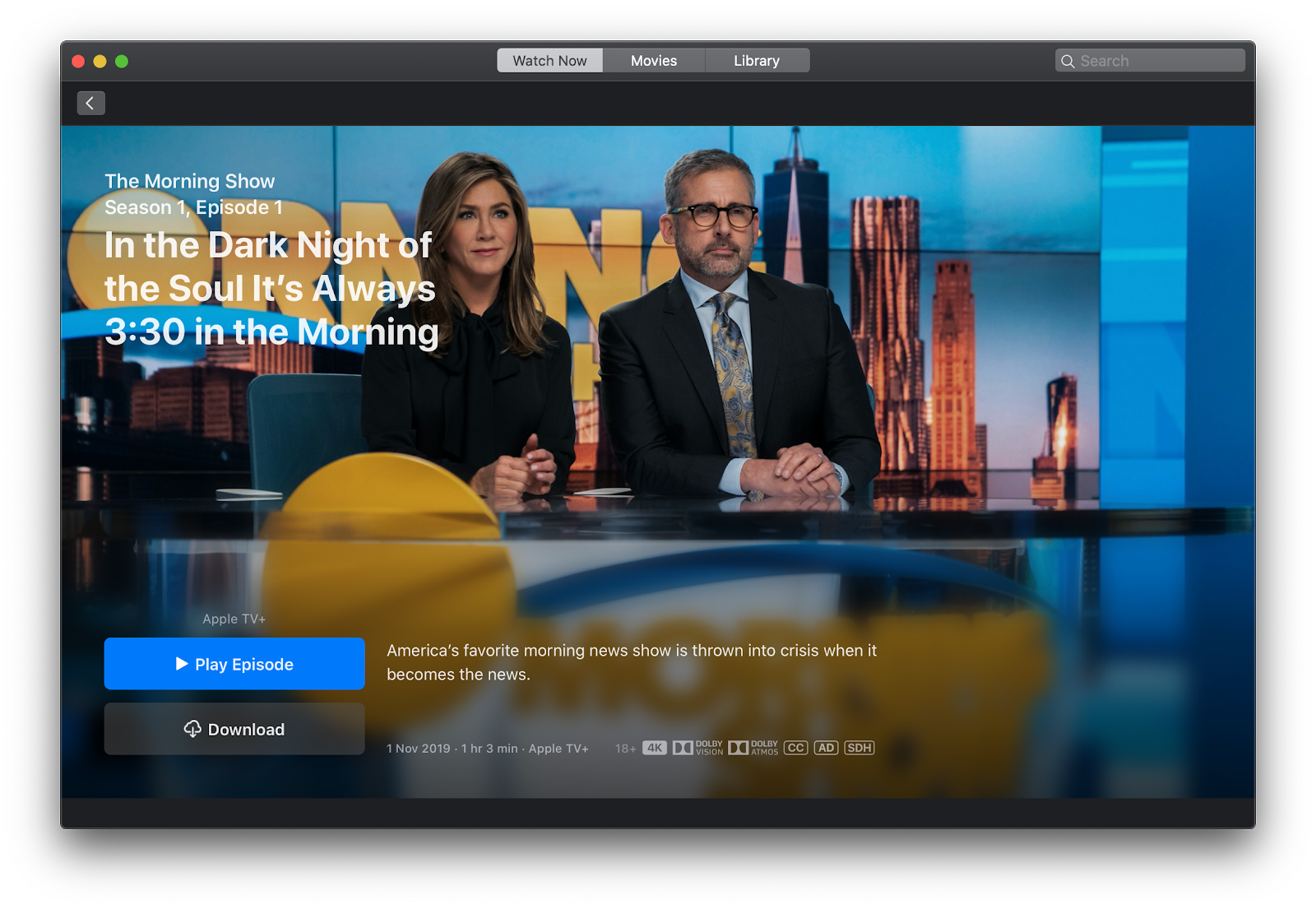 The plot revolves around the behind-the-scenes events of America's most popular morning show. Steve Carell, Reese Witherspoon, and Jennifer Aniston are the central characters, and they are totally killing it. The show offers a controversial view on sexual misconduct accusations. — a shocking, nerve-wracking, portrayal of the modern TV news industry. Yes, too many adjectives in one paragraph. But that's how good the show is.
If you don't want to take our word for it, here are a couple of reviews from Metacritic that showcase the vibe:
"The strength of the series is totally feminine without being feminist."
"Really great show, with every character having a story and a personality, you as an audience can emphasize with their personal intentions and struggles."
"I love that the show has the courage and intelligence to study issues from all sides — even the less popular ones."
How to watch The Morning Show
Apple's originals are available exclusively via Apple TV Plus. The service was released on November 1, 2019. The opening lineup included The Morning Show, a post-apocalyptic drama See, a space saga about NASA, For All Mankind, and a few other remarkable Apple TV shows.
A yearly subscription is free for anyone who purchases a Mac, iPhone, iPad, Apple TV, or iPod touch after September 10, 2019. Otherwise, the Apple TV price is $4.99 per month and $49.99 per year.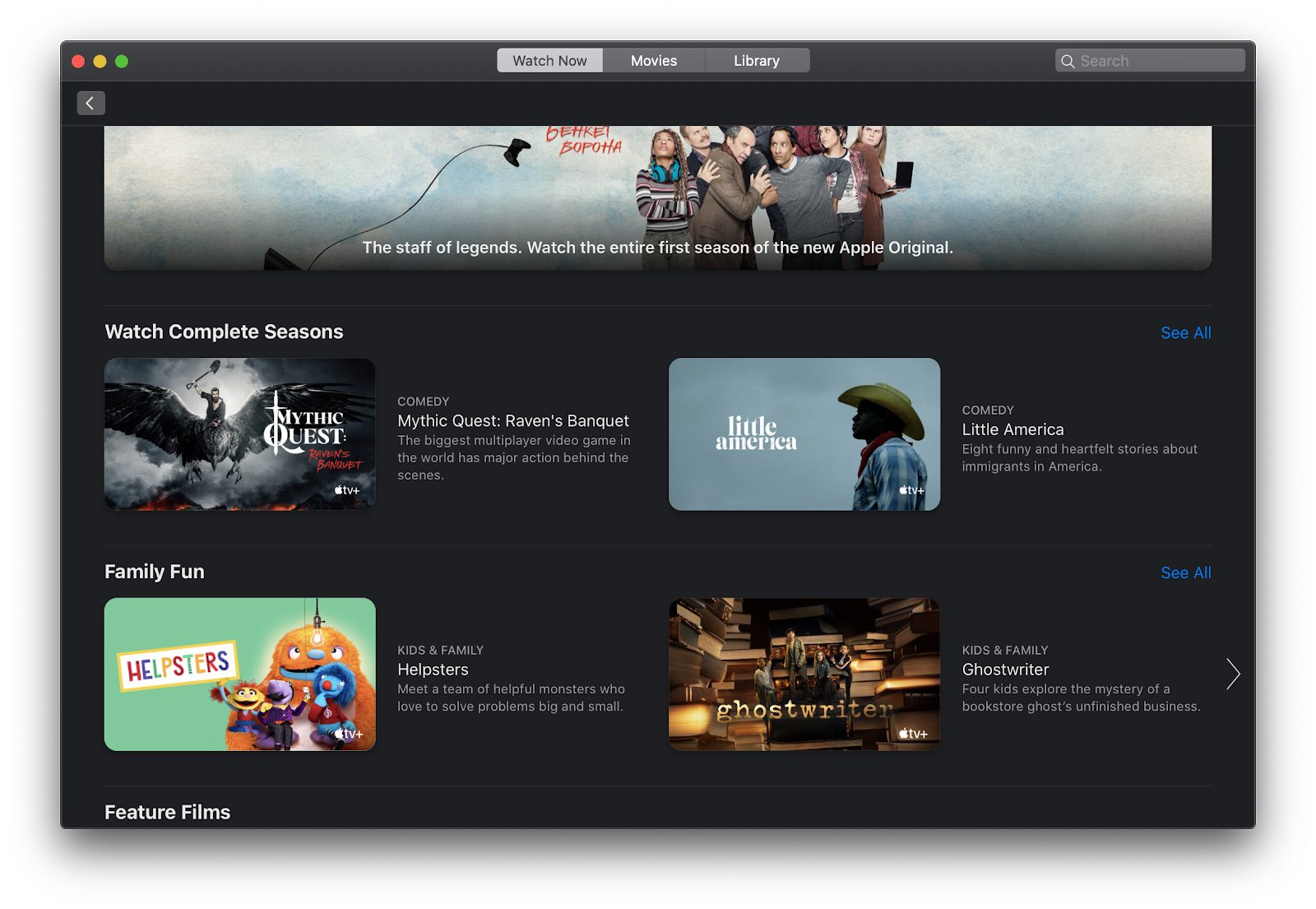 If you want to watch Apple TV Plus for free, you need a new Apple device. So if you've been planning on a new purchase, this might be a win-win. Just so that you can plan your budget cleverly, here are the average prices:
But if it's for Apple TV app only, you won't make any big purchases. And frankly, you don't need to — Apple offers a 7-day trial, which is more than enough to binge-watch The Morning Show episodes. Plus, you can always try a monthly subscription. If the content doesn't excite you (except for The Morning Show — we don't doubt this one), you can cancel anytime.
Do you need an Apple device to watch The Morning Show?
You don't. This is a common misconception many people have about Apple products. Because The Morning Show means Apple, and Apple means Apple devices. In fact, Apple makes things much easier for you. There are at least two ways you can use to stream the Apple TV Plus content anywhere.
Watch Apple TV+ on the web
Luckily, there's a web version of the service. This enables you to watch The Morning Show and other originals in your browser on any device — including Windows PC or laptop.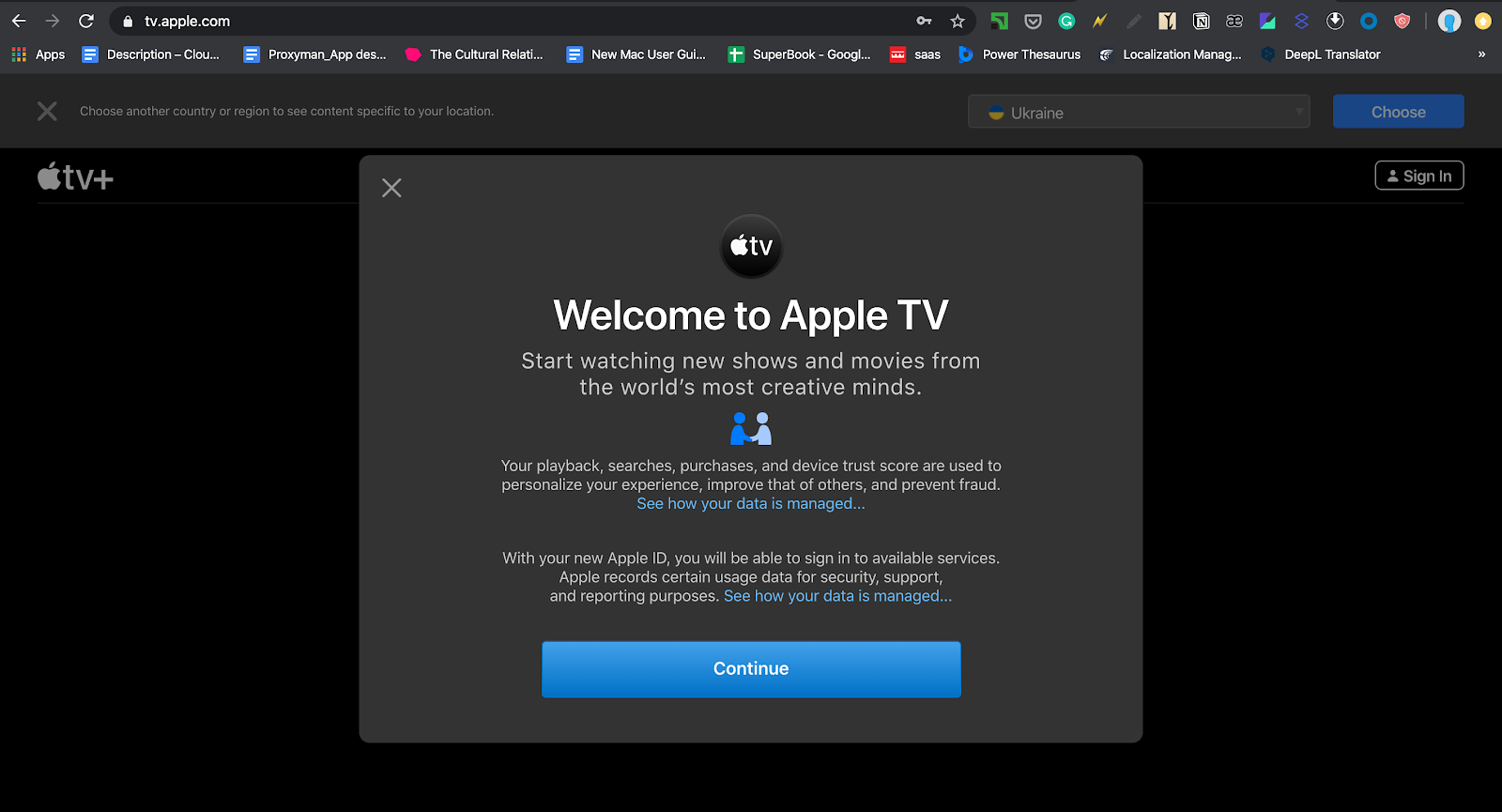 Here's how it works:
Go to tv.apple.com.

Click Sign in the top right corner.

Once you see the pop-up screen, enter your Apple ID. If you don't have an Apple ID, select Create new Apple ID. This will be your case for those who don't use Apple devices.

If you're creating an Apple ID, fill in the details like your email address, name, and country.

Hit Continue once you're ready.

Check your email for a verification code and use it to verify the account.

Add payment details to your account — this is an obligatory step if you want to start a free trial.

Click Confirm on the Apple TV Plus subscription screen. This will start a free trial for you. Unless you cancel the subscription, you'll be charged $4.99 in 7 days.
With an active subscription, you can go back to the sign in page and enter your Apple ID. That's it. You can now watch The Morning Show Apple TV or any other right in your browser. The design is very simple — almost identical to the native app in terms of user experience. So it's nothing like Instagram app versus Instagram web (just in case you were getting worried).
JustStream to take The Morning Show to any screen
If you have a Mac to install the Apple TV app on but the size of the screen doesn't satisfy you, there's a solution. Use JustStream for the job. Basically, it's like AirPlay without limitations. The Mac app works with virtually every type of screen and device you can think of, transferring your content to a larger spot for your convenience.
Just to compare, here's a list of devices you can stream to using AirPlay 2:
Apple TV 4K or Apple V HD (tvOS 11.4+)

HomePod (iOS 11.4)

Compatible Smart TVs with the label "Works with Apple AirPlay"

Speakers with the label "Works with Apple AirPlay."
You can check AirPlay system requirements for more details.
With JustStream, you can forget about every OS and device limitation. The app can be used to stream to Apple TV, Smart TV, Chromecast, and works with all known TV manufacturers like Samsung, LG, Sony, etc. Here's how you set up JustStream for The Morning Show streaming:
Open the app and navigate to its icon in the menu bar

Check whether your Smart TV is turned on

Launch the Apple TV app > The Morning Show

Select the device you want to stream to from the drop-down menu in JustStream

Hit Start Streaming.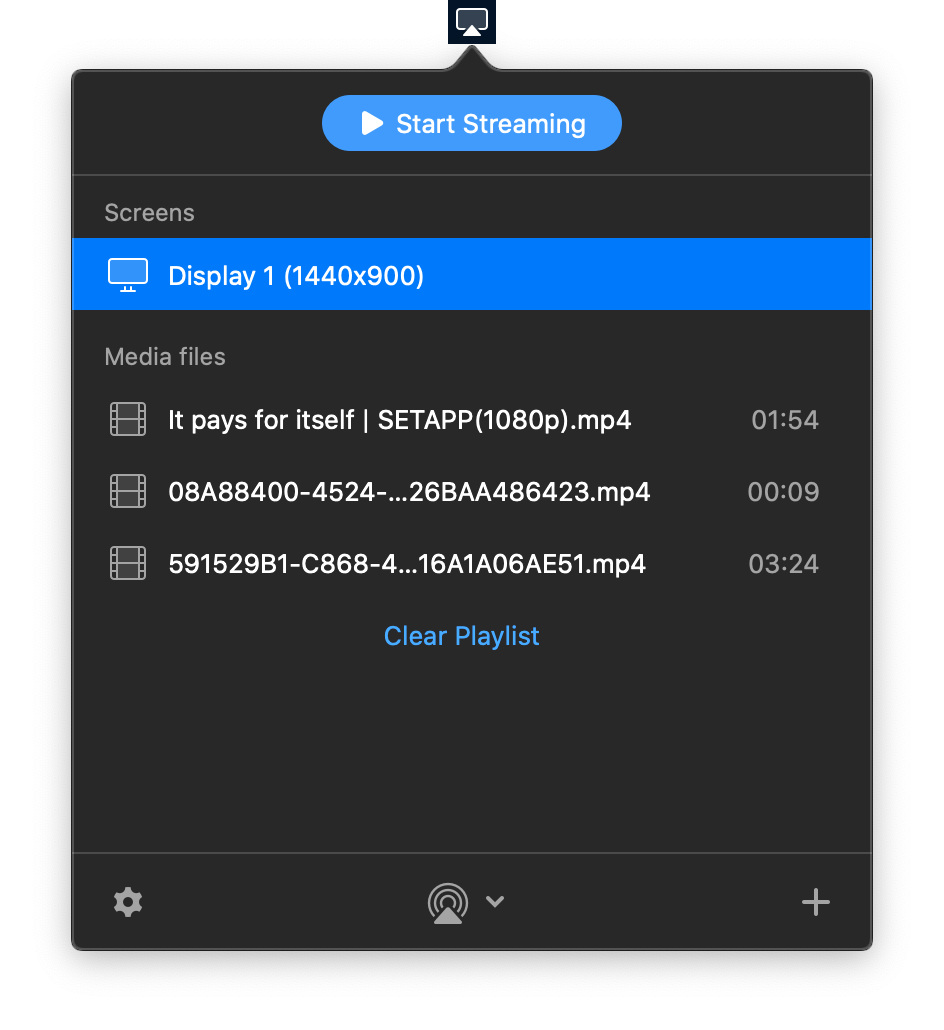 The beauty of JustStream is that you can use it for many purposes. So once you're done with The Morning Show, you'll hardly want to uninstall it. For instance, you can create a custom playlist by adding media files with the plus button inside the app. It's especially useful if you're preparing a presentation for a large audience and don't want to stop once in a while to play specific files. Throw it all into JustStream, and the app will streamline the whole process.
There's a very little chance JustStream won't be able to play your file, because it covers an extensive support of video file formats. What's more, you can customize an output quality — going from 144p to HD and 4K — and even add subtitles. If you're streaming to Chromecast, JustStream enables you to adjust the encoding, fonts, and colors to your liking.
The price of JustStream is $19.95 but you can cut the cost if you use it alongside other 170+ apps on Setapp.
WiFi Explorer for perfect streaming quality
Now you have the tools to binge-watch The Morning Show. Let us consider the question that is equally important — is your network connection stable enough to allow streaming? To ensure it won't let you down in the important moment (maybe you'll have your friends over to watch the entire show together), you'll need WiFi Explorer.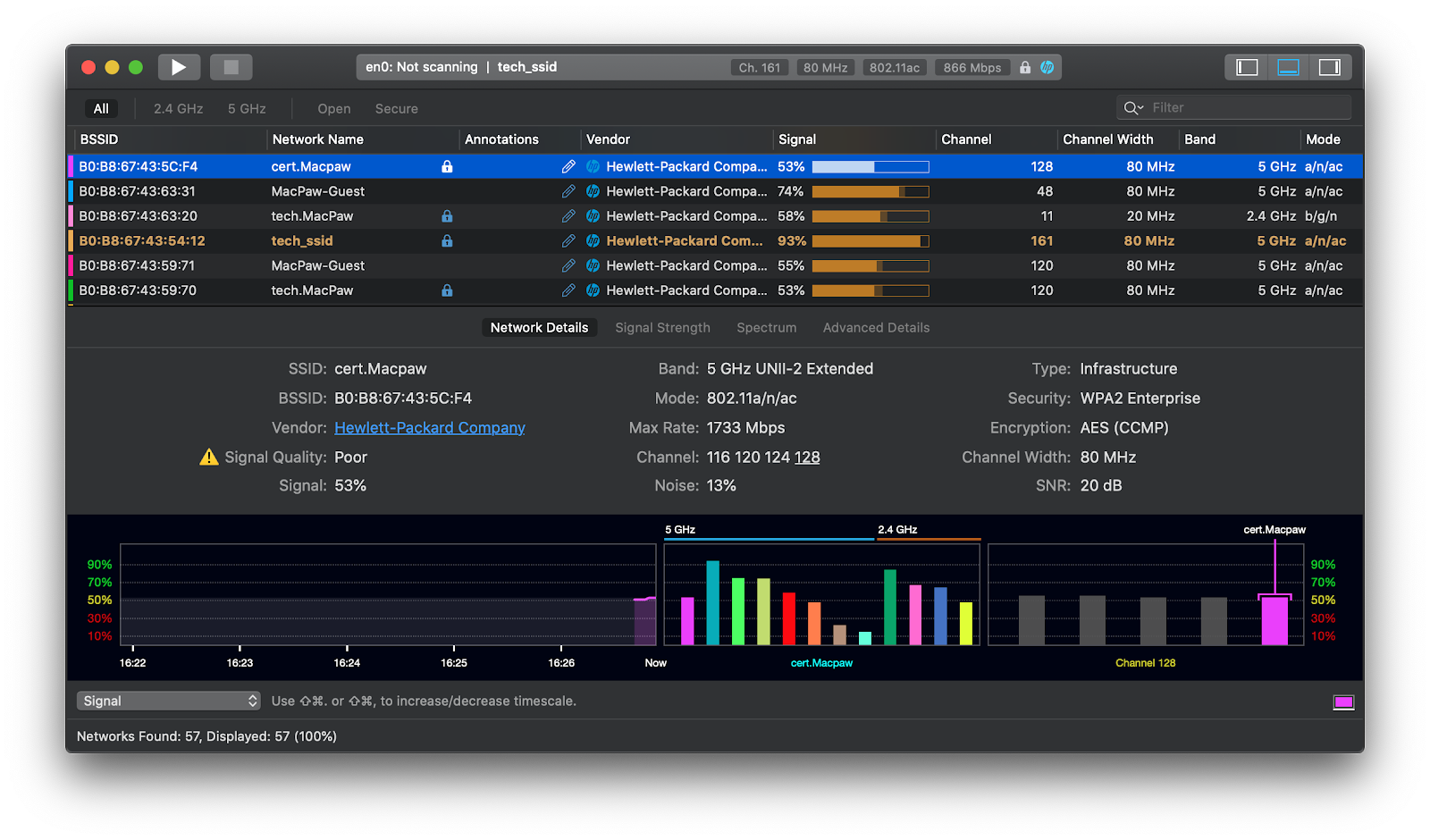 It's a Mac app that cleverly analyzes your network and gives you the chance to fix it if anything goes wrong. Here's how you can use WiFi Explorer to watch The Morning Show without interruptions:
Scan every active network. You don't have to enter credentials or add the network name. Once you launch WiFi Explorer, it will automatically scan every active network around you. Stop the scanning once you see the networks you're interested in on the list, or filter flexibly by signal strength, vendor, etc. This might help you pick the best network in your WiFi environment — in case you're using more than one.
See the details. Click on the name of your network > Network details. This will enable you to peek into how the network performs over time, analyze signal quality, etc. It's the easiest way to know whether you can rely on a WiFi connection in the long term.
Have a complete view of signal strength. If you click on the Signal Strength tab for a specific network, you'll see how it performs compared to other local networks over time. In the Spectrum tab, you can track how different frequencies in your WiFi environment overlap. While all the insights are packed into beautiful graphs, you don't have to be an expert to quickly capture what you need.
Fix what's hampering your WiFi. If things are not perfect, navigate to the WiFi Explorer Help tab in the menu bar. This includes detailed instructions on how to troubleshoot network connection problems. Quickly identify the issue and fix it before the first episode of The Morning Show begins.
Movie Explorer Pro to save favorite shows
Another useful explorer for you. Movie Explorer Pro is a Mac app that keeps your private movie collection in one place. Thanks to Blue-ray support and Smart file indexing functionality, it can scan your digital movies and even old DVDs — bringing everything into a handy catalog. If you're a fan of movies, you'll definitely love this. Here's a short overview of the entire functionality:
Have a movie database created for you. Movie Explorer Pro scans video files on your Mac and maps them to the titles from the internal database. As a result, you'll have an organized collection of movies with rendered thumbnails in one place.
Catalog old discs. We know, it's 2020. But old DVDs are like music on vinyl — they will never get old. Movie Explorer Pro allows you to scan and catalog DVDs, 4K Ultra HDs, and Blue-rays and instantly add them to your collection. You can scan discs using an internal barcode scanner with FaceTime camera or an external USB scanner.
Collect movies, and all the info about them. The app's internal database allows you to store data like cast, crew, and TMDbrating linked to every item on your list. Well, you'll hardly forget the names like Jen Aniston when it comes to The Morning Show — but it's a great perk to have with the old movies.
Create a watchlist that's easy to navigate. Movie Explorer Pro can bring your movies into a watchlist — prioritizing what should be watched first and removing watched items. If your collection grows big, create a custom filter via Query editor. This will simplify search for you.
Share a watchlist. What can be a better gift than a hand-made gift? With Movie Explorer Pro, it's almost hand-made — curated by you, assembled by the app. Share your personal collection via Mail, AirDrop, Notes, and other supported tools. Sync with Trakt. Export as PDF, CSV, or HTML using your custom layout. Or just have your friends over to watch The Morning Show on Apple TV.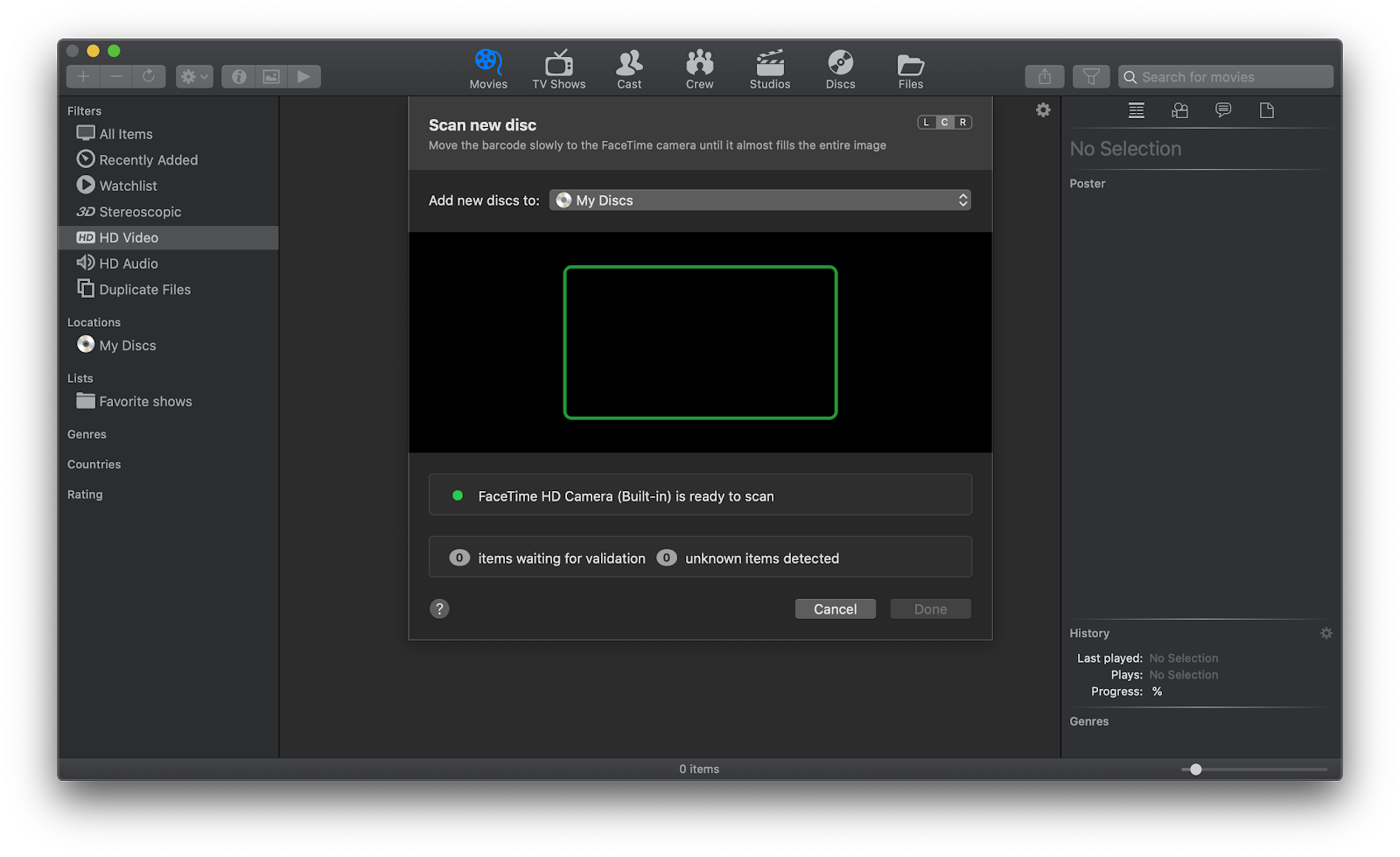 This toolkit is a perfect addition to any streaming service. You can use it to upgrade your Netflixing, Amazon Priming, and any similar experience. Yet, it's not free — and not even affordable if you consider the price of every app: $19.95 for JustStream + $22.99 for Movie Explorer Pro + $19.99 for Movie Explorer Pro = $62.93. It's more than the cost of Apple TV Plus yearly subscription.
The good news is you can use all three apps for a fraction of the cost — provided you own a subscription-based service for Mac apps. It's called Setapp and it covers 170+ powerful applications. JustStream, WiFi Explorer, and Movie Explorer Pro are a part of the Setapp package which costs $9.99 per month and has a 7-day free trial.
Whatever binge-watching journey you choose, don't miss The Morning Show. It's not just Aniston — everything about this Apple original is truly amazing. Pinky promise.