Start Managing Your Money with Setapp's Personal Finance Tools
Now is the perfect time to start using a personal finance app, so when the calendar flips to January 1, you'll have a system all in place.
How to manage your money better
Understanding your cash flow is an essential part of successfully managing your finances. Tracking your expenses, looking at your bank balance, and analyzing your habits are key aspects of financial success.
If you're struggling with money management issues, here are some tips to improve your financial habits. Setapp gives you access to two excellent financial apps, Chronicle and MoneyWiz. Chronicle aims to help you remember when bills are due, so you'll avoid pesky late-payment fees or a dip in your credit rating. And MoneyWiz is a complete budgeting solution that can sync your bank's financial data and help you make and stick to a spending plan.
To make sure these apps stay a working month in and month out, Setapp even offers an annual subscription at a 10% discount from the monthly fee. By converting your Setapp to a yearly subscription, you'll ensure MoneyWiz doesn't suddenly stop downloading your transactions from your bank, and Chronicle doesn't stop notifying you of upcoming bills.
Enter effortless financial planning with Chronicle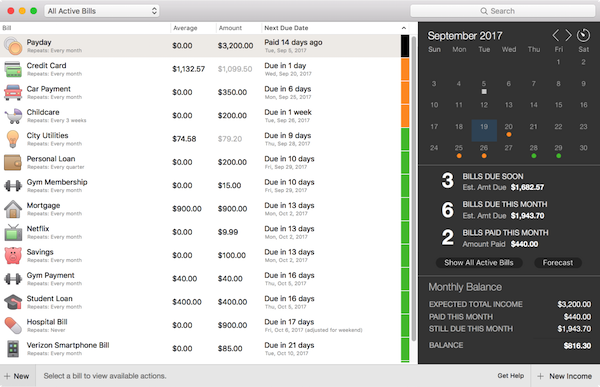 If a total financial overhaul seems daunting—well, first of all, don't worry about it, because I promise it isn't that bad. After all, that's why you're using software! With Chronicle, you can start with a relatively small step that will make a huge difference in your overall financial health: Paying bills on time.
With Chronicle helping you manage your bills, you'll stop paying late fees. You'll have a better handle on your monthly cash flow, which can lead to you stop relying on credit cards. You might even be inspired to cut your monthly expenses and pay off debt faster. And Chronicle is totally painless to set up.
How Chronicle works
Chronicle comes with a handy quick-start guide to get you up and running in just a few minutes. You'll quickly enter the broad strokes about your bills: who you're paying, how much the payment is, and when it's due. Later you can dig into the details screen to fill in the outstanding balance, interest rate, and so on.
Your list of bills is color-coded, so you can see what's overdue (red), what's due soon (orange), what's paid (green), anything that gets auto-drafted (blue), and income coming in (black). On the far right, Chronicle shows how many bills are due soon and how much those should be, how much you're still on the hook for this month, and how that stacks up against your projected income.
Along the bottom, Chronicle has buttons to click to add a new bill or credit card balance, log a payment, view more details or edit a bill, and log new income. There's even a Pay button that launches the built-in browser, so you can pay bills online without having to leave the Chronicle app. It's pretty easy to use, with all the features you'd expect in an intuitive interface.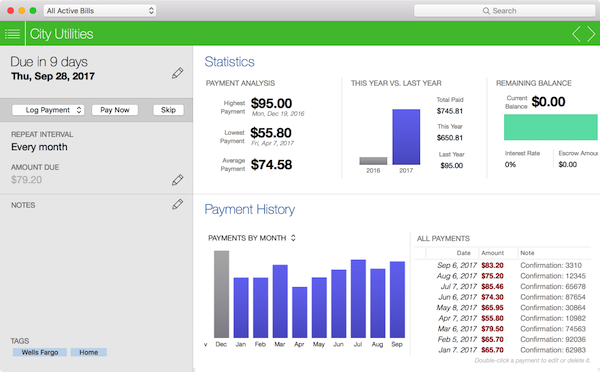 Six key benefits of using Chronicle
Here's how Chronicle will help you build good money habits. It could even save you enough to cover your whole Setapp subscription!
Pay bills on time: Paying a bill late can be so crushing. You might get slapped with a late fee or a higher interest rate. Paying an insurance bill late can even lead to a loss of coverage. So it's pretty important. Chronicle is handy because it reminds you about all your regular monthly bills as well as the ones on odd schedules: Garbage bill due every three months, water bill due every two months, life insurance due annually, all of those weird ones that used to surprise you.
Pay yourself first: If you're trying to save $100 a month, why not pretend it's a bill? Set up a bill that makes $50 "due" each time you get a paycheck. That way, you won't forget, and you'll treat it as an obligation, equally important as the electric bill and the car insurance. Sure, an auto-draft straight from your checking to your savings is more…well, automatic. But Chronicle keeps you in control if you want to decide when that transaction happens every month.
Manage cash flow: Chronicle shows you at a glance how much you've spent on your bills this month, as well as how much left to pay. You can enter your income schedule and log any extra windfalls that come your way, and Chronicle will calculate if you're ahead or behind. This will help you make smarter choices, since you know that if you blow your money on eating out or new clothes, you won't be able to cover an upcoming bill. Cash flow problems can also tempt you to use credit cards until
Pay off credit cards faster: Speaking of credit cards, Chronicle lets you enter the full balance and interest rate along with the monthly minimum payment. As you probably know, if you make only the minimum payment, you'll stay in debt for years, but Chronicle can help you get out faster. You'll be able to see at a glance how much you have left to go, and if your cash position this month will allow a bigger payment. Pay as much as you can and watch that balance fall. You'll save hundreds, maybe thousands in interest by getting rid of the debt as fast as you can.
Look for places to save: When you see all your bills listed out, you might find some painless ways to reduce your expenses. Maybe you can drop down to a lower data plan for your smartphone. Perhaps you forgot you had a separate data plan for a tablet or smartwatch you aren't even using anymore. Maybe you pay monthly for cloud storage or Setapp, but you could save money by switching to an annual payment instead.
Get in the habit of paying attention: Don't overlook the most obvious benefit of using Chronicle—you'll be paying attention! Once you get it set up, it only takes a few minutes to check-in. Once a week or twice a month, you can sit down to pay bills without the anxiety of not really knowing what the big picture looks like. Since Chronicle is a part of Setapp, you have nothing to lose by trying it out—and so much to potentially gain.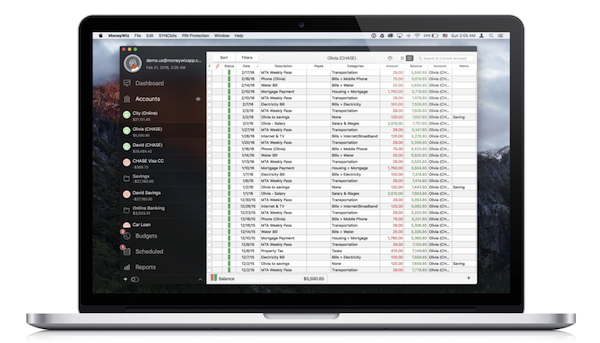 Manage your bills with MoneyWiz
If you really want to whip your finances into shape, MoneyWiz goes even further. Like Chronicle, it can remind you of upcoming bills, but MoneyWiz is a full-fledged budgeting app that can directly pull in transactions from your bank. That way, you can categorize every expenditure and stick to your spending plan.
While Chronicle is set up for recurring bills, MoneyWiz invites you to budget every dollar that you receive or spend. When you get a handle on what you're spending on flexible categories like food, entertainment, and transportation, you'll be able to free up money to meet your goals, like paying off debts or saving for a vacation.
MoneyWiz connects to your bank and downloads your transaction history, which is why it's a subscription-based product—banks actually charge a fee for that connectivity. Your Setapp subscription includes full access (plus, oh, 200 other apps), and you can even convert from a monthly payment to an annual one and save. Plus, paying annually means you know MoneyWiz will work smoothly for the entire year too, and you'll be incredibly organized the next time tax season rolls around.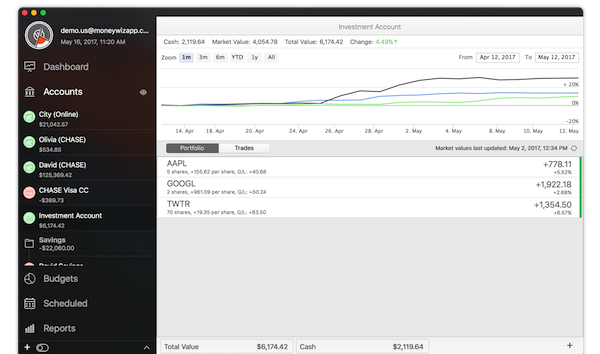 How MoneyWiz works
To get started, you add your accounts to MoneyWiz: cash on hand, checking accounts, savings accounts, investments, whatever you want. The app can download transactions automatically from online banks and PayPal, but you can also opt to enter the details manually.
The Accounts section is where you'll see your transactions. MoneyWiz helpfully categorizes them, but you can always re-categorize any by clicking Options > Edit. Categories come into play when making your budget, in the section below.
In the Budgets section, you can set up budgets: think of these as spending buckets for different parts of your life. Your Home budget might have your mortgage and utilities, and then you have a Food budget where you set a goal for how much you want to spend on groceries and eating out. Transportation could have your car payment, gas, parking, bus pass, etc. Don't worry about nailing this the first time. Just try to sketch out the stuff you spend money on roughly, and you can tweak it as needed—which may happen month to month. Either way, a budget gets an amount of money to spend total, and then you choose which categories need to cover. To rename categories or add new ones, open Settings > Categories.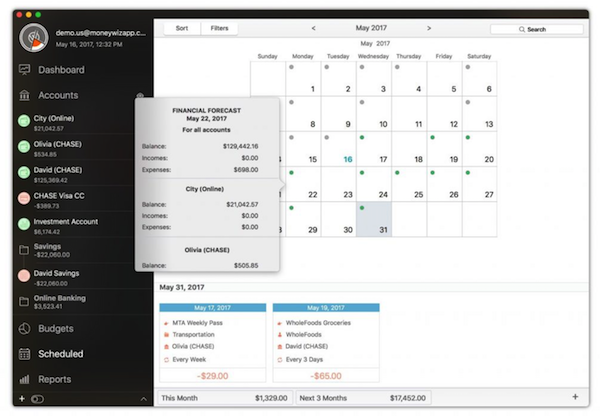 The Scheduled section lets you project income and bills out into the future. If you know your life insurance or car insurance is due once or twice a year, you can store those here. If you get a reliable bonus, that could go here. And all your regular, repeating bills are easy to set up here too. MoneyWiz keeps track of all of this on a calendar and sends reminders.
The Reports section allows you to generate graphs comparing different budgets, drill into categories, see your trends over time, and more. You get a selection of graphs based on how much data and how many budgets you have, and then after you tweak the parameters to get the output you like, you can save a report to run anytime you want.
Why budget with MoneyWiz
MoneyWiz takes the work out of making a budget. Getting the hang of it can take a few tries—not because the software isn't great, just because if you're not used to doing a budget, it's hard to nail down every dollar you're going to spend. But it's worth it in more ways than one. Here's why you should do a budget.
Know where your money's going: I never carry cash because I will fritter it away and not remember what I spent it on. If I use my debit card for everything, I'll have a record of everything, and then MoneyWiz can categorize it all, so not a single latte, movie ticket, or ice cream goes untracked. If this sounds heavy, it's not—it's actually the easiest way to get this data, straight from the bank and dumped into an app that will give you far more insights into your own behavior than the bank's website will.
Look ahead instead of reacting: When you do a budget, each month is a little different. You'll need school supplies in August, extra grocery money for Thanksgiving in November, and so on. If you get in the habit of reviewing your budget before each month starts, these extra little things won't catch you off guard. Plus, next year will be even easier, since you'll be able to compare it to the same month last year.
Pay bills on time: MoneyWiz has an excellent bill calendar that reminds you when every bill is due. It can forecast what future income can cover which bills and notify you before you need to send the payments. Those reminders are also a great opportunity to peek in on your budget for the month and make sure you're on track.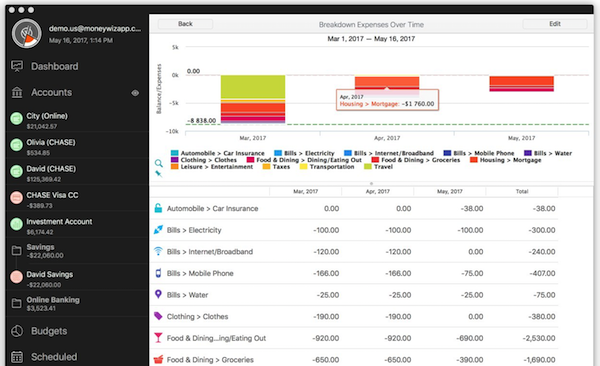 Run reports to find weak spots, or track improvement: MoneyWiz lets you run 11 reports to provide insights into how you spend your money. You can track your net worth over time as you pay off debt. Or look at trend charts to see progress toward your goals.
Work toward big goals: When you budget, you make your money work harder. Small changes in your spending behavior can add up to big chunks of money going toward those huge, important things you really want, like the end of your student loan debt or car payment, a big vacation, the down payment on a home, or maybe just a fatter retirement account. MoneyWiz's Account Balance report can track your progress toward those big-picture goals, and a close eye on your budget can help you make the day-to-day decisions needed to get there.
Stay on the same page as your spouse: Some married couples avoid combining their accounts because keeping track of who's spending what seems daunting. But you can get faster traction toward your goals if you're working together, and MoneyWiz has your back. With cloud sync and apps for all your mobile devices, it can let two people stick to a budget together—just make sure both of you get your voices heard when deciding how much to spend on each category!
Notice fraudulent charges faster: When you start monitoring your finances with an app like MoneyWiz, you're likely to see charges you didn't make, either when you're reviewing your list of transactions or when using the Reports feature to look at spending categories or trends. Paying attention to your money has all kinds of benefits, but one of the biggest is that you'll know right away if dollars start to sneak off.
Be ready at tax time: MoneyWiz's categories and reports will help you be a lot more organized when it's time to do your taxes. You'll be able to quickly tell how much you've spent on medical expenses, donations to charity, childcare, and more. This can save you time as well as money.
---
Technology empowers you to understand your finances and improve your money management skills. Setapp includes both MoneyWiz and Chronicle, including full bank connectivity with MoneyWiz, which is a subscription product itself. Find the right money management app and watch your situation improve.