How to manage Apple subscriptions
It seems like subscriptions are ruling the world. You practically can't buy anything nowadays as a one-time payment — everything requires a subscription and a commitment for an extended period of time. Check your recent credit card statement and you might be surprised to discover that you're literally drowning in subscriptions you had no idea about.
With the introduction of Apple ID subscription manager, Apple tried to rectify this situation by bringing lots of various subscriptions that use your Apple ID, from HBO to Spotify to Apple News+, under a single interface.
The problem is that the Apple subscription manager is quite hidden in your settings as well. So you might be wondering how to check Apple subscriptions or how to cancel Apple subscriptions on Mac, iPhone, iPad, Apple TV, and PC.
What are Apple ID subscriptions?
Go back even 10 years ago, and you'd realize that most of the software we were using we bought outright. As we realize now, this approach had both some benefits and some downsides.
The real downside for customers was a hefty upfront price tag, especially on professional-grade software. For example, Adobe Photoshop cost well over $1,000. But even getting digital movies through iTunes used to be around $20 a pop, which accumulated quickly.
At the same time software developers had to hold back on updates to be able to release them all at once in a new version — all while facing unpredictable cash flows.
With subscriptions, everyone could afford to try a variety of apps that interested them. Photoshop, for example, is now available for as low as $9.99 a month and you can get a near unlimited stream of new TV shows and movies through services like Netflix for about $10 a month.
Developers can also release new software updates as soon as they are ready and plan their growth more adequately, knowing how many subscribers they have.
So it's not surprising that the App Store is now full of apps available on subscription and that Apple has designed a way to manage them all through Apple ID. Even Apple's own subscriptions like Apple One, Apple News+, or Apple Fitness+ operate the same way.
Now, let's see how you can cancel a subscription through the App Store on your devices.
How to manage Apple subscriptions
Another downside of subscriptions is that it's very easy to forget about them while they charge your credit card every month (or year) until you cancel them. Most of us have probably fallen into this trap before.
So knowing which subscriptions are active on your account right now is crucial. Here's how to manage Apple subscriptions on Mac:
Open System Preferences
Go to your Apple ID
Navigate to Media & Purchases
Next to Subscriptions, click Manage…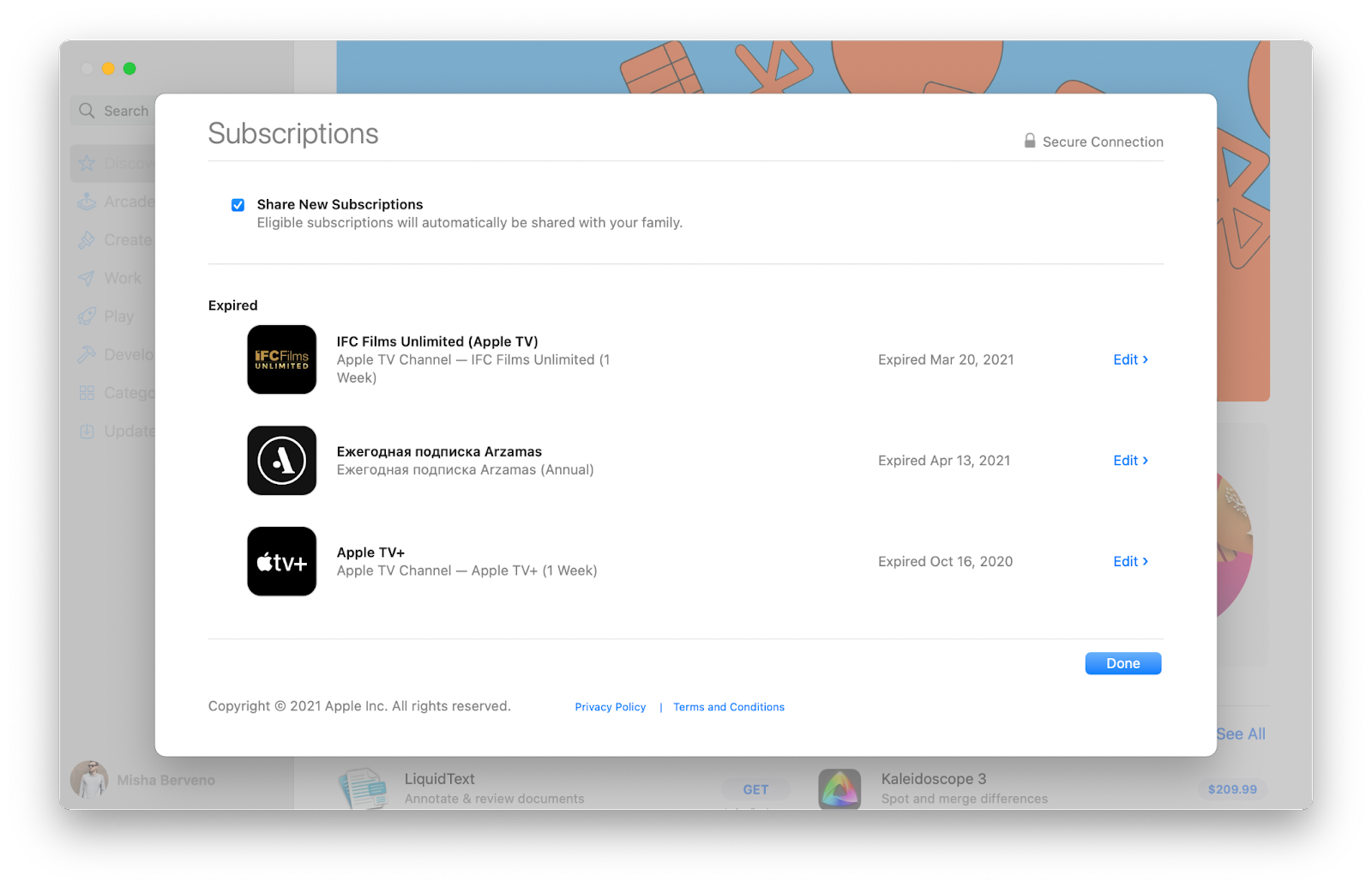 The process for iPhone and iPad is actually the same:
Launch Settings
Tap on your name (Apple ID)
Go to Subscriptions
On your Apple TV:
Go to Settings
Click on Accounts
Proceed to Manage Subscriptions
You might be surprised with the amount of subscriptions currently active under your account. Don't worry, we'll cancel all the ones you don't need in a minute. But, first, if you actually didn't expect to see that many Apple subscriptions, it might be a good sign that you need to start using a budgeting app to keep track of all your bills and finances.
MoneyWiz is the most complete budgeting solution around you should try. It tracks all the outgoing and incoming transactions from your accounts automatically by syncing with your bank to give you a full picture of what's going on with your finances. You can also monitor your net worth and loans (e.g. mortgage) to plan ahead. Finally, MoneyWiz is available across all of your devices for checking your finances on the go. And the apps are so intuitive that no training is needed.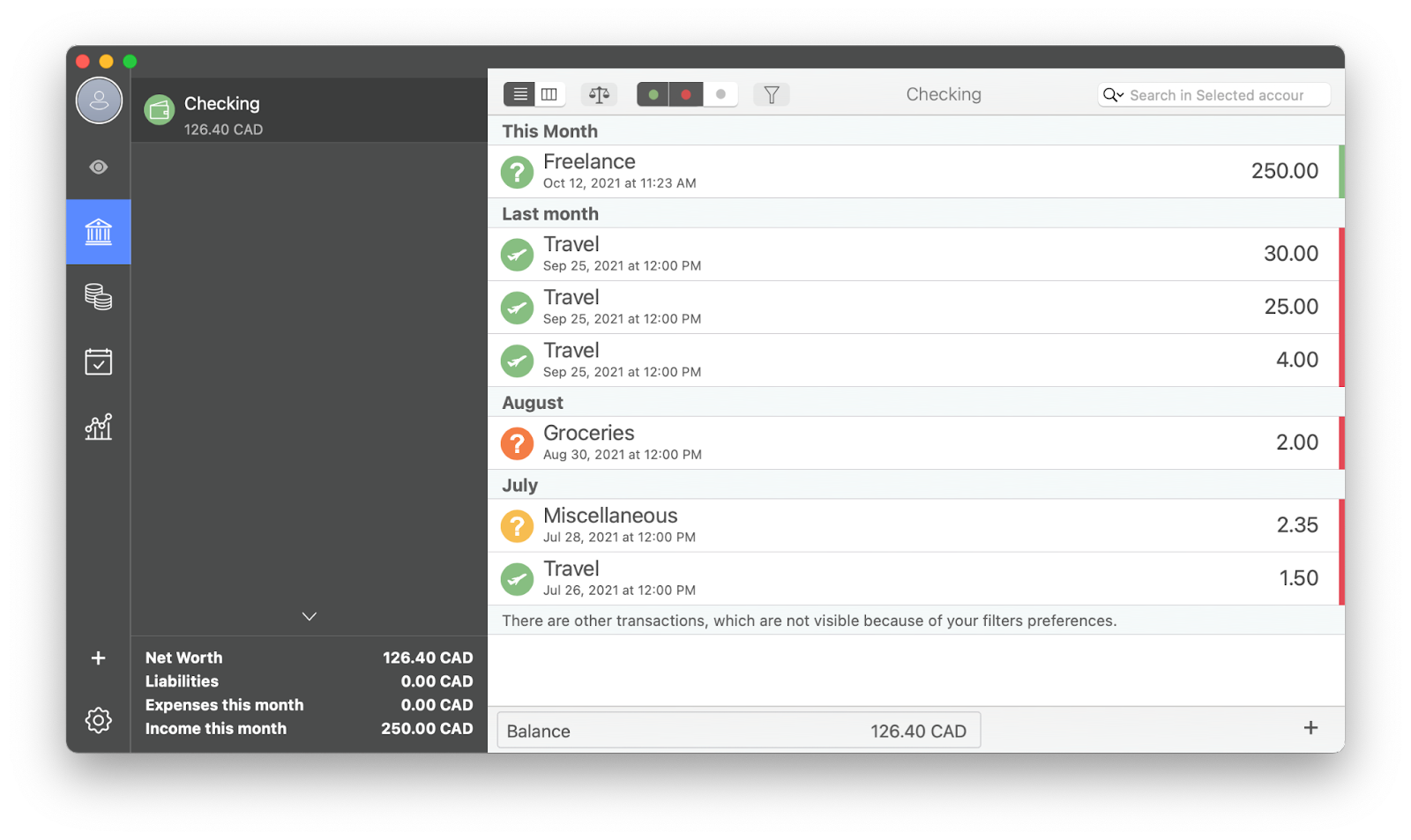 Chronicle is another app for your finances that is designed around making sure you always have enough cash on hand to pay any upcoming bills. Just schedule your regular paychecks and all monthly or yearly bills (e.g. insurance, rent, gym), and Chronicle will let you know immediately if you're short somewhere. The simplicity of Chronicle is really its superpower for getting you out of credit card debt.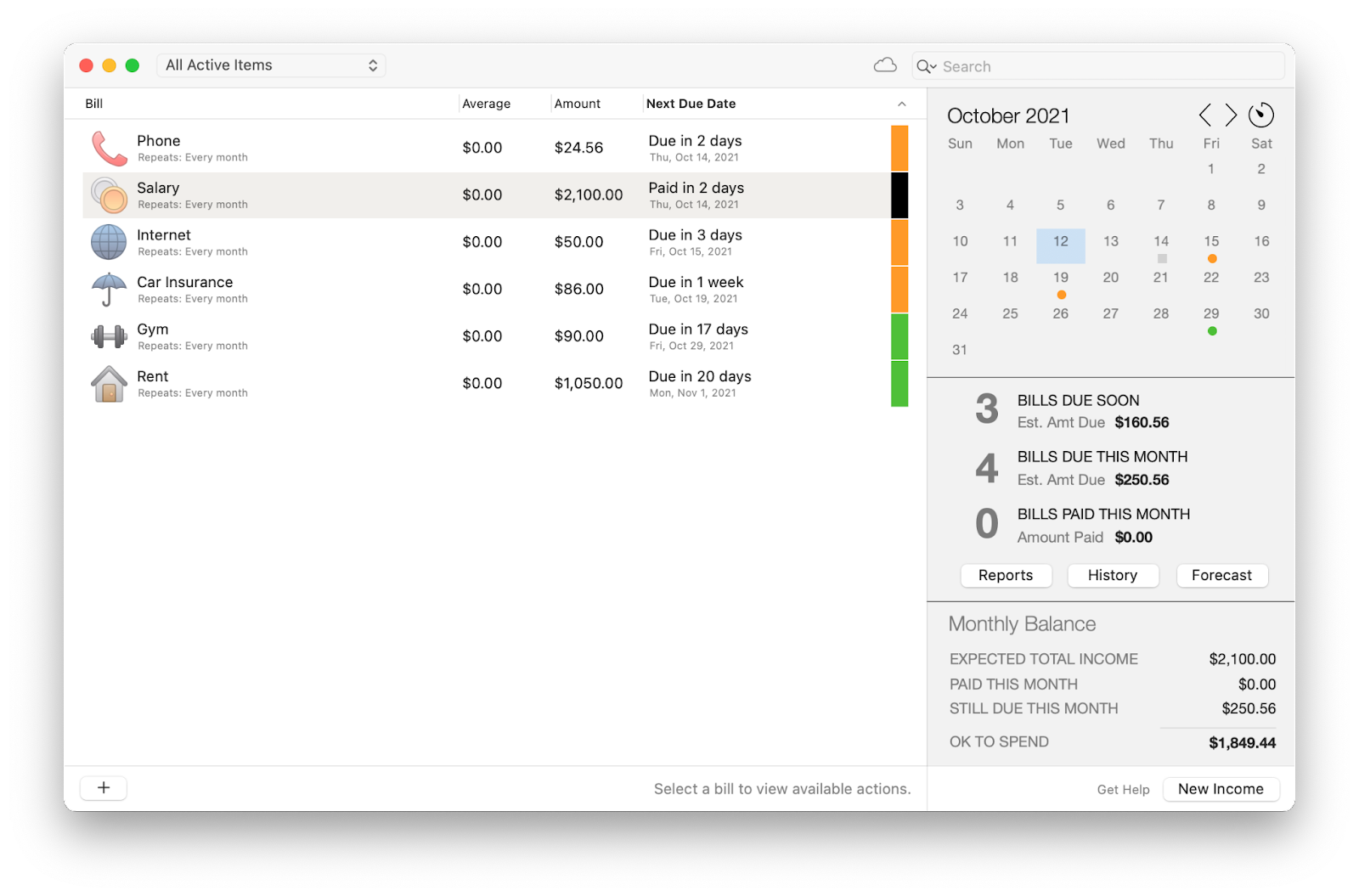 How to cancel Apple subscriptions on all devices
Once you find out what kind of subscriptions you have going on, you can think about cancelling the ones you don't use and don't need anymore.
The process to cancel recurring charges is really similar to the one described above. On Mac:
Launch App Store
Click on your name
Go to View Information
Enter your Apple ID credentials
Scroll down and click Manage next to Subscriptions
Click Edit next to an active subscription
Cancel Subscription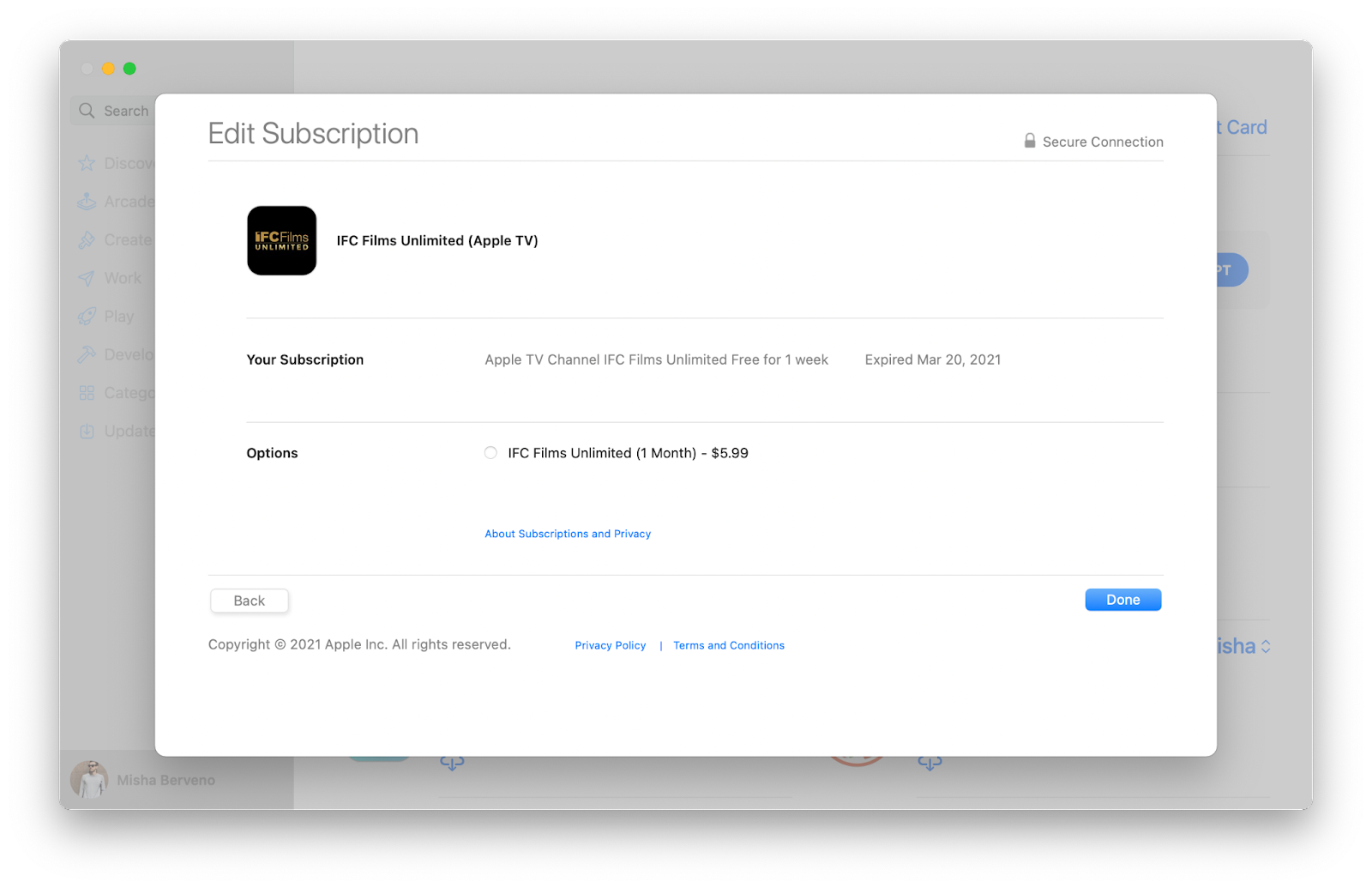 The same way, on your iPhone and iPad:
Launch the Settings app
Open your Apple ID
Tap on Subscriptions
Tap on any subscription to edit it
Then Cancel Subscription
Apple TV has almost the same steps:
Open Settings
Go to Accounts
Manage Subscriptions
Click the subscription
Cancel Subscription
Confirm
If you don't have an Apple device, however, cancelling your subscriptions might be a little bit all over the place.
Most Apple subscriptions can be cancelled through iTunes for Windows:
Open iTunes
In the top menu bar, select Account ➙ View My Account
Sign in with your Apple ID
Click View Account
Scroll down and click Manage next to Subscriptions
Find the subscription to cancel and click Edit
Cancel Subscription
Some specific Apple subscriptions, such as iCloud can be cancelled through iCloud for Windows. Apple Music can be cancelled at music.apple.com. Apple TV+ can be cancelled at tv.apple.com.
If some of these options don't work for you, you can also contact Apple Support and cancel your subscriptions that way.
How to cancel trial subscriptions
It's customary now for most subscriptions to add a free trial period (usually anywhere from seven to 30 days), which you can use to explore the app and see if it's worth subscribing to.
Usually, you're charged automatically for your first month at the end of the trial period. If you don't want to be charged, you need to know how to cancel your trial before it runs out.
To cancel an active app trial, just go through the cancelling process described above using your specific device.

As you can see, learning how to manage Apple subscriptions and cancel them as needed is not difficult at all. And with apps like MoneyWiz and Chronicle, you can get all your finances in order in no time.
Best of all, MoneyWiz and Chronicle are available to you absolutely free for seven days through the trial of Setapp, a unique platform with more than 220 top Mac apps in one place to be used for any task, from scheduling events with BusyCal to sharing any file with others with Dropshare. Try every Setapp app today at no cost and see what a supercharged Mac feels like.