5 Procreate alternatives for Mac: which is best?
If you're an artist, you've probably heard of Procreate – one of the most well-known drawing and sketching apps available on the market. It's a portable art studio that includes such amazing features as QuickShape feature for perfect shapes, 3D painting, 25+ layer blend modes, color naming, continuous auto-save, and many more.
However, there are a few things about this software that prevent some artists from taking advantage of it. In this article, we explain why the Procreate tool isn't for everyone and compare apps like Procreate with each other.
Let's start with a couple of the most important things you should know about Procreate before investing money into it.
Procreate is a handy tool for digital hand-drawn art, but not for graphics. Because it's raster-based, scaling images up and down is difficult. So if you want to make a living as a graphic designer, Procreate shouldn't be your only tool.
On top of that, this drawing and sketching app was designed exclusively for the iPad Pro. Before purchasing the app, check the iOS version of your tablet because only iPadOS 14.4 or newer can be installed on the device. You can also use a Procreate Pocket version on your iPhone.
Is there Procreate for Mac desktop?
The short answer is no. As mentioned above, the app is only compatible with iPads and iPhones. You also won't be able to use it on Android and Windows.
Can you run Procreate on Mac?
Although there is a way to use Procreate on MacBook by "sideloading" the tool on the new M1 chip Macs, Apple is making it increasingly difficult. Recent updates to Big Sur and Monterey have blocked this backdoor for most apps.
With this in mind, we created a list of the best drawing apps for Mac.
Tayasui Sketches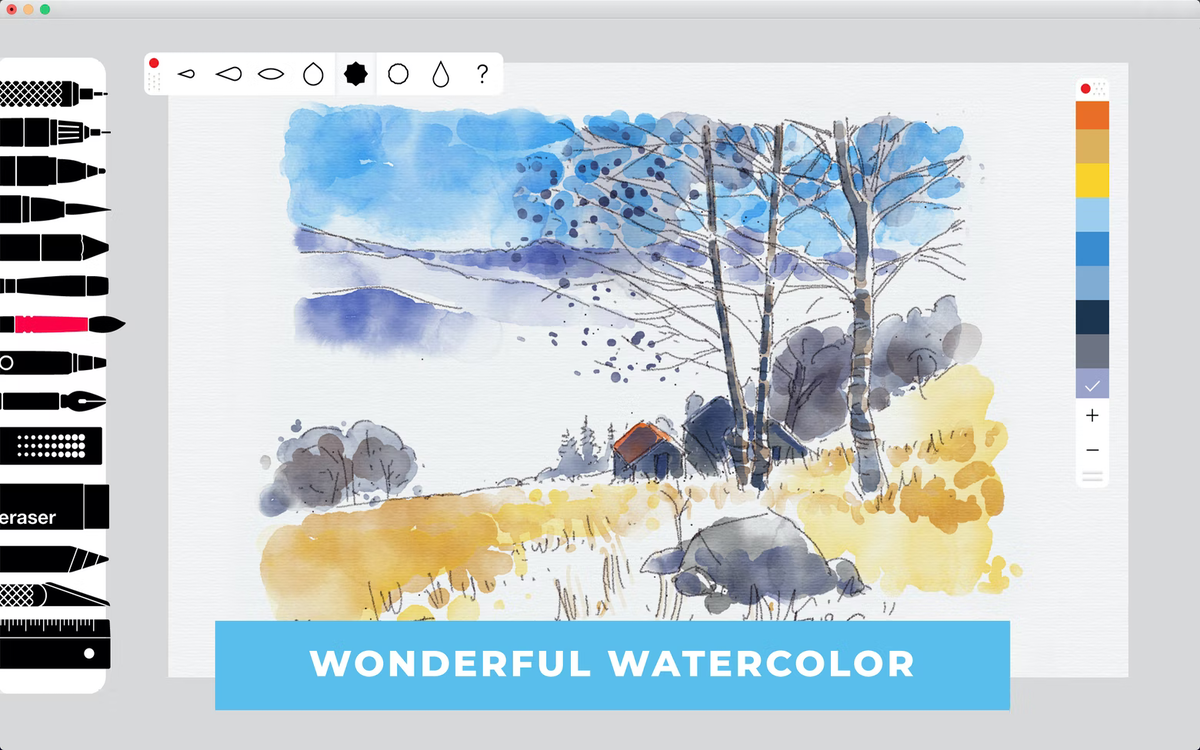 Tayasui Sketches is a beautiful, gorgeously minimal drawing tool compatible with iOS, Mac, and all Android devices. The best part about the app is how simple it is to use, thanks to the clean UI and basic yet powerful functionality.

Tayasui Sketches allows you to experiment with layers in your artwork. You can start with pencil sketches and go to watercolors and more with an unquestionably modest but sophisticated brush selection. There are ultra-thin pens, pencils, markers, calligraphy brushes, a smudging stick, a knife, paintbrushes, and an airbrush among other things.
The software has a beautiful feeling of minimalism about it, which makes it even more appealing to artists.
Tayasui Sketches' top advantages are:
User-friendly design
multiplatform support (Mac, iOS, Android)
pen, pencil, and brush stroke effects that are incredibly realistic
saveable color palettes
Disadvantages of Tayasui Sketches:
No canvas rotation option as you draw
the free version lacks layering
The great thing about Tayasui Sketches is that it's part of the Setapp app collection. By paying $9.99 per month, you get access to 230+ useful tools for Mac and iPhone. For example, Hustl, one of the beloved apps of artists, allows you to record your Mac's screen and turn the recording into a high-quality time lapse.
Krita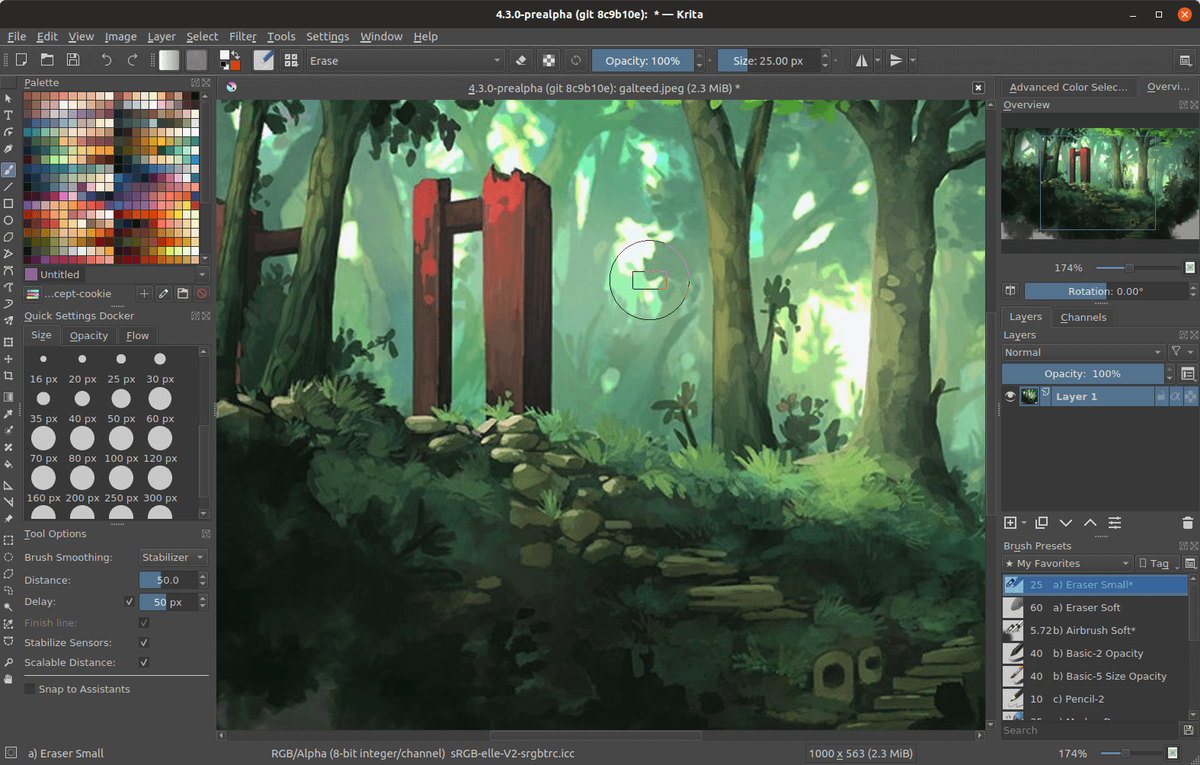 Krita is a free and open-source painting program that may be used by both novice and professional artists. Illustrators, 3D artists, concept designers, and visual effects creators love it because of its rich features and rapid performance. Krita is also widely used in the film and video game development industry.
It comes with a variety of tools for layering, transforming, blending, duplicating, smoothing, mixing colors, and more.
What we liked about Krita the most was its brush engines. You can play with the settings of the brush engines and make your own brushes. Possibilities are endless.
Krita's interface is simple and well-organized but not as clean as Procreate's UI.
Artist and Express are the two versions of Krita. The Artist edition is designed for experienced digital artists who want to produce excellent work while giving their audience more freedom and flexibility. The Express edition, on the other hand, is designed for users who have no prior expertise with digital painting. The tool is compatible with macOS, Windows, and Linux.
Krita's top advantages are:
Flexible interface
100+ professional brushes + unique engines to customize brushes
cost (it's free)
Disadvantages of Krita:
No mobile version of the tool
ArtStudio Pro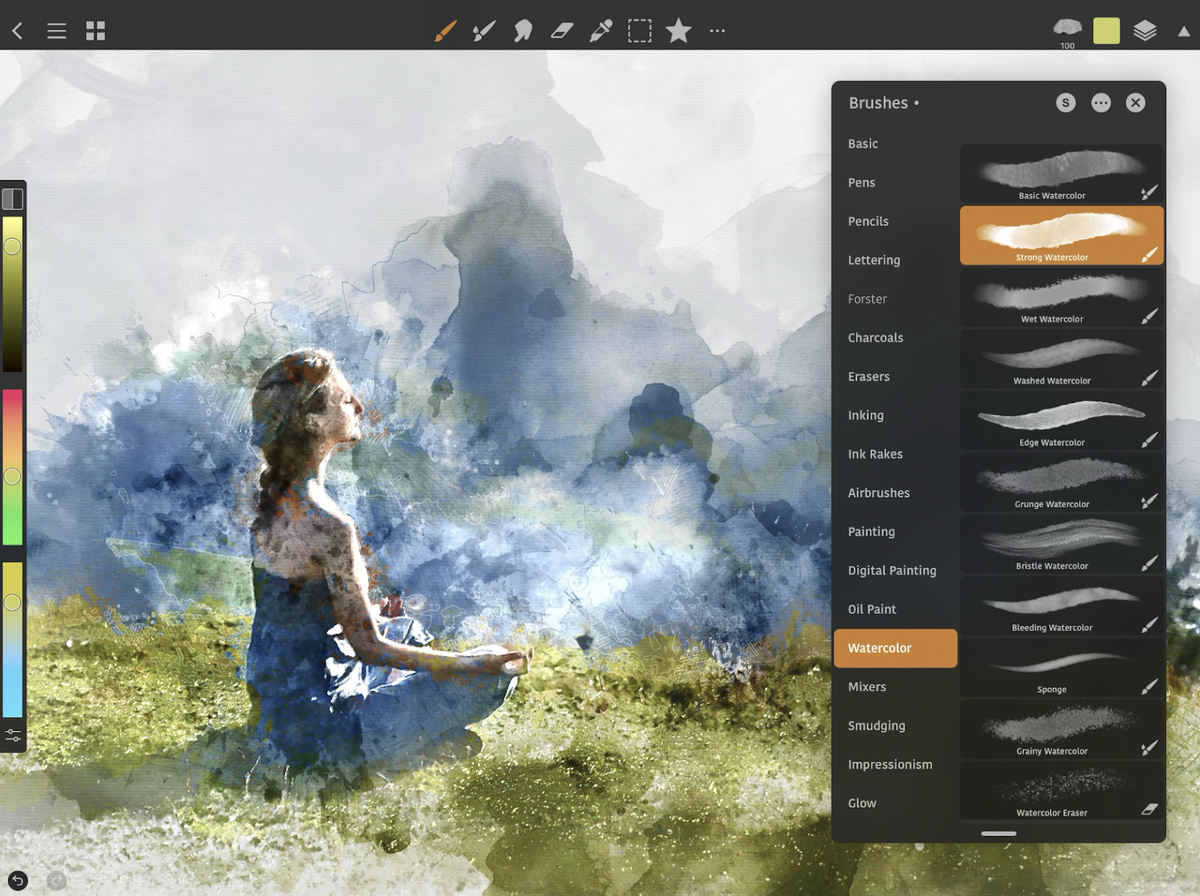 ArtStudio is another great Procreate alternative for MacBook, iPad, and iPhone. It includes all of the tools needed to produce amazing drawings and paintings. Brushes, pens, and pencils all function together smoothly and precisely. You'll definitely like the brush editor with eighty customizable settings. To achieve a level of intricacy and depth, you can create and edit art pieces in separate layers.
The tool can even record a video of you drawing, which can then be turned into a cool time-lapse.
ArtStudio Pro costs $19.99 for Mac and $14.99 for iOS (one-time).
ArtStudio's top advantages are:
Lots of different customized brushes
available for both iOS and macOS
unlimited layers
screen recording
Disadvantages of ArtStudio Pro:
The user interface is not very supportive
no documented set of written guides on all its features
ArtRage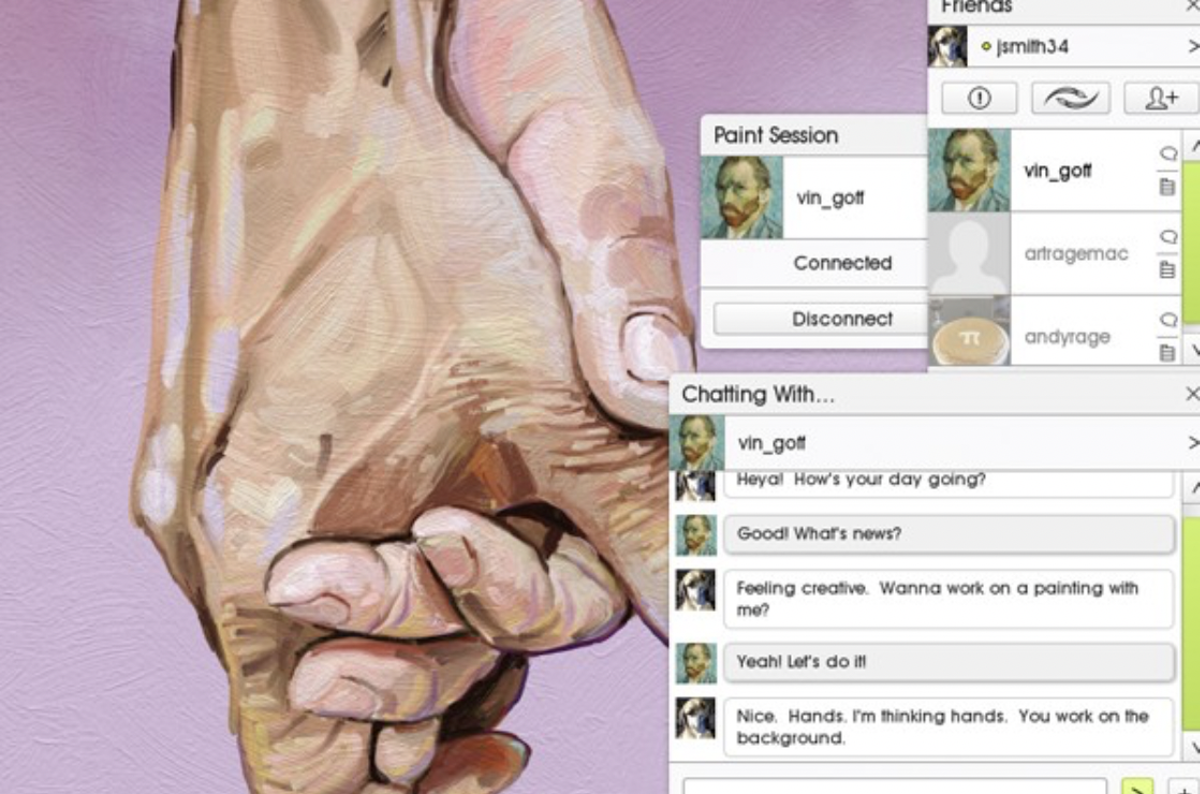 ArtRage is a digital artist's studio that includes a full set of familiar tools that look and work just like the real thing – canvas for thick, expressive oils and soft watercolors, a sketchpad with a complete set of pencils, and a sheet of paper with a stack of wax crayons. The app comes with a small selection of brushes that can be customized depending on your needs, but you can upload brushes created by others.
If you plan to share your work with your colleagues, you'll find the collaboration/sharing tools rather handy.
Artists, illustrators, animators, sketchers, and anyone else who wishes to discover or rediscover the thrill of sketching and painting will love this app!
It's available for Windows, Mac, iPhone, iPad, and Android.
ArtRage's top advantages are:
Stylish and intuitive interface
realistic painting tools
suitable for beginners and experts
multiplatform support
Disadvantages of ArtRage:
No canvas rotation option as you draw
a limited supply of brushes
Photoshop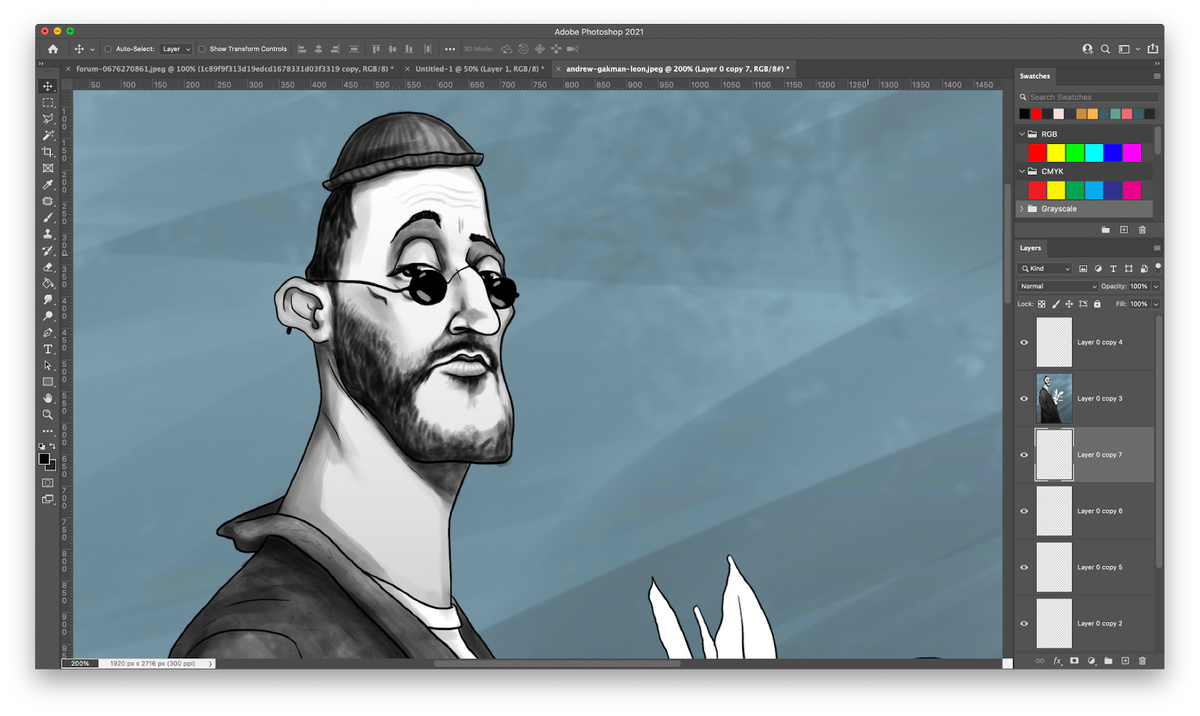 Photoshop is most renowned for its photo-editing capabilities, but it also has tools for a variety of other tasks. It features digital illustration tools similar to Procreate, such as a brush collection and the ability to create numerous layers in a project.
However, while Photoshop allows you to have hundreds of layers, Procreate limits their number depending on the size of your canvas. This means you can use Photoshop to design considerably more intricate and detailed projects.
The tool is available for Mac and Windows, and while most people use it on their computers, it's also available as an iPad app. You can purchase Photoshop on a subscription basis starting at $19.99 per month.
Photoshop's top advantages are:
A wide range of tools that can handle illustrations, graphic design, animation, and photo edits
works on both PC and Mac environments
Disadvantages of Photoshop:
Expensive app with a monthly fee
the learning curve for understanding all of the tools and functionalities is quite steep
Best alternatives to Procreate for MacBook: our top picks
So here you have a list of the most commonly used painting apps for Mac instead of Procreate. Tayasui Sketches, Krita, ArtStudio Pro, ArtRage, Photoshop – all of them offer a wide range of features and capabilities to help you bring your creative vision to life.
While all are flexible and great to work with, it's important to know which one is right for you. Luckily, some of them are completely free (Krita), others can be tested during a trial period. For example, Tayasui Sketches is part of the Setapp app collection. In addition to this tool, you can take advantage of 230+ apps (including Hustl) to solve any tasks related to creativity, productivity, blogging, task management, security, and more.
Try Tayasui Sketches for free for a 7-day trial period with your Setapp subscription.