Is sideloading apps on iPhone and Mac safe?
Whether you want to be more productive, learn a new foreign language, or simply book a carshare: you're likely to find the app for any task. However, sometimes you just can't run the same apps on your MacBook as on your iPhone. On top of that, if you're new to iOS after having just switched from an Android smartphone to an iPhone, one of the questions you might have is if you can install iOS apps that aren't available on the App Store.
In this article, we'll talk about sideloaded apps on your iPhone and Mac, figure out more about the risks of using this tactic, and review the ways to sideload software.
What is sideloading?
Device manufacturers and OS developers recommend you to exclusively install programs from the official marketplace, although most of them also provide the ability to sideload software if you understand the risks (malware, privacy issues, etc.) What does sideload mean?
When it comes to desktop apps, you can easily download and install software from other sources than Microsoft Store and Mac App Store. Android too, lets you install programs from third-party sources by enabling an option from the Settings app. At the same time, Apple is against the practice of installing apps on an iPhone without using their approved App Store or software distribution channel. This practice is called sideloading.
What's the reason to sideload an app?
The key reason for anyone to sideload an app onto their gadget is the fact that the user's required software isn't available through official channels. Though there are many various explanations for why a specific application isn't in the official app store of your device, it is only part of the story.
According to our Mac developer survey 2022, 29% of developers distribute apps exclusively outside the App Store, and here's why. The app might not adhere to the specified app store's requirements, for instance, or the creators could not want to pay the app store commission. You also won't find apps for video game emulation or torrenting in the Apple App Store since these violate Apple's policies.
Are sideloaded apps safe?
Numerous sideloading cautions will be displayed, both on your device and on websites that provide information about it. This is because you should be aware of the security risks associated with sideloading apps. Sideloaded software can include malicious code that could damage or even brick your device because it hasn't been reviewed and approved by the Apple App Store. The hidden malware can make your smartphone a member of a botnet, steal your data, or add more advertising to your web browser and other programs.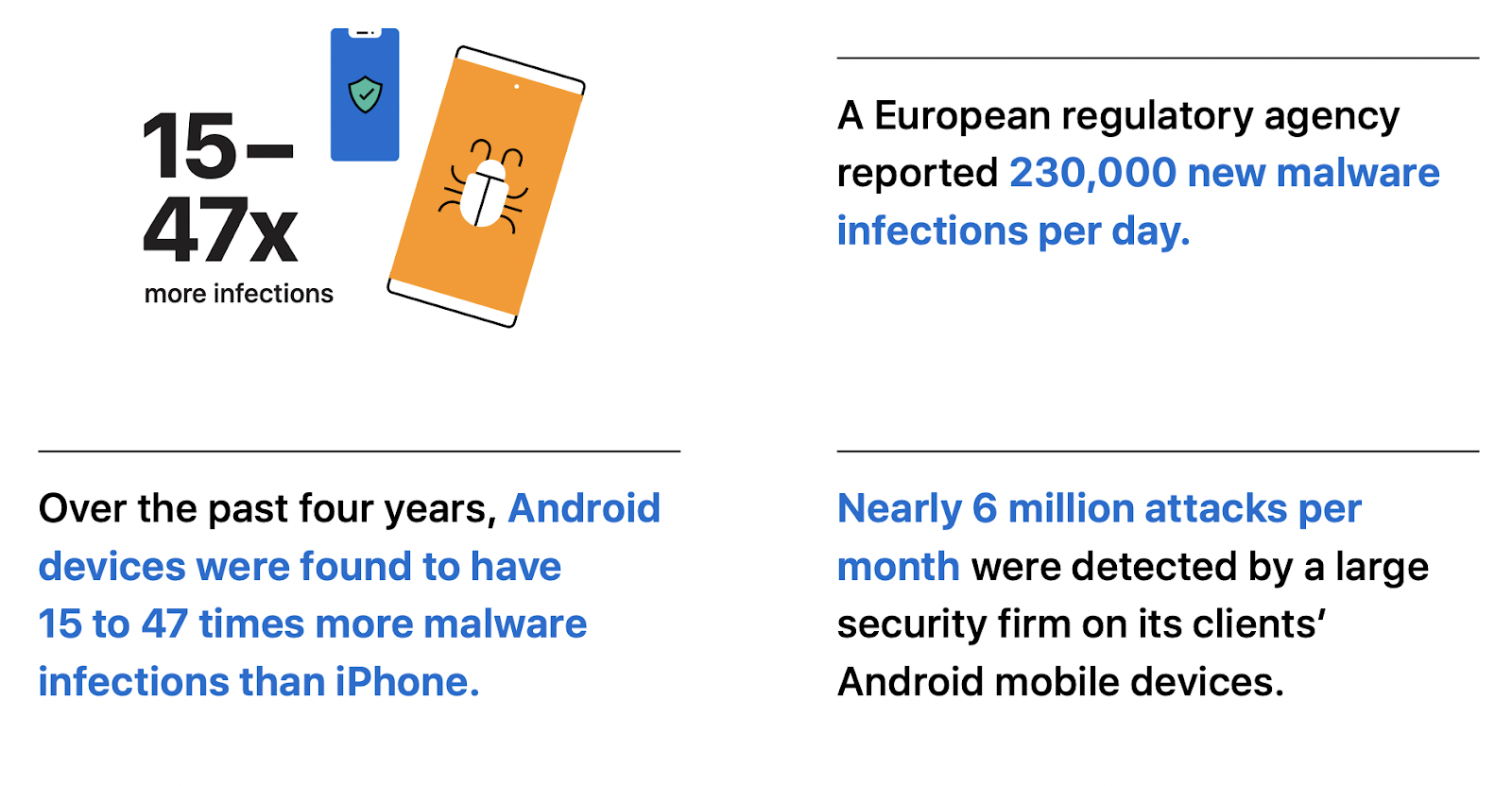 Apple malware figures against app sideloading
How to sideload an app on iPhone
Now that you understand the process of sideloading and the risks associated with it, you can decide if you want to proceed. Keep in mind that you must first enable the use of unknown sources on your iPhone in order to begin sideloading. To sideload an app on iPhone, follow the steps below:
Go to Settings > General > Developer Mode
Turn on the switch
Once Developer Mode is enabled, you can install software from sources other than the official App Store.
You can install apps on your iPhone outside of the App Store using dedicated tools. We will not dwell on the step-by-step instructions here because the process is easy and straightforward. Instead, we better focus on a more interesting case explaining how to sideload Mac apps that are only available on iOS.
How to sideload apps on Mac M1
Suppose you want to book a carshare, for example, and you need to do that with an app. Sometimes, you can't do that on the website or on your MacBook because there is no macOS app, but you still could install the iOS app on a computer. Of course, you still have to use your phone at some point. For instance, if you want to actually unlock the car when you pick it up. But it makes more sense for you to book the car via your computer while you're at the office.
So if you have a really killer app on your iPhone that you'd love to be able to use on your Mac, with Monterey and the M1 chip, you can actually do that! Let us show you how:
Go to the ‌Mac App Store‌ and click on your profile icon in the left bottom corner
Choose iPhone‌ & ‌iPad‌ Apps tab located under Account
Then choose the app from the list and click the download button.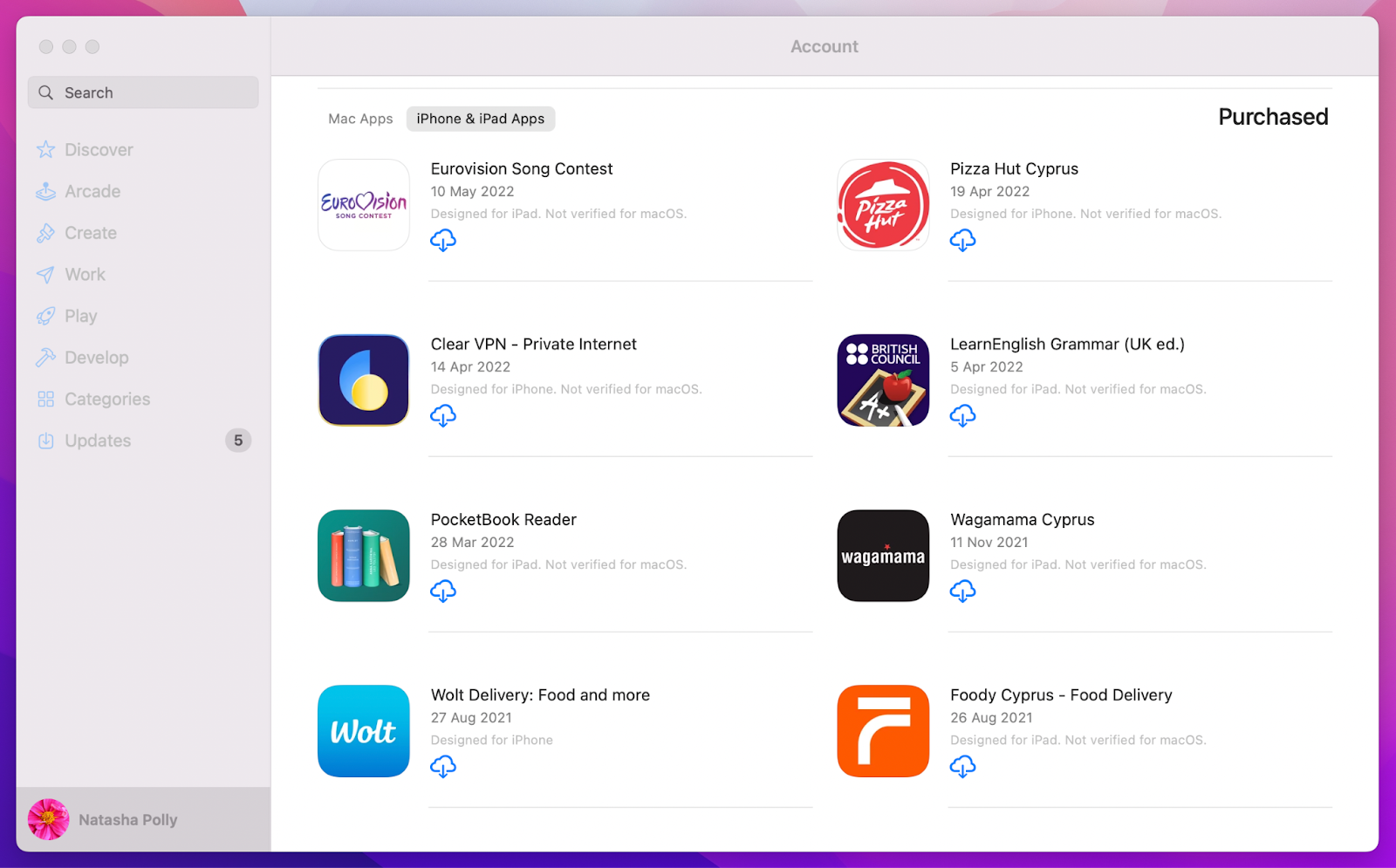 You can access the app from the Launchpad or the Applications folder on your Mac.
Alternatively, you can search the app on your Mac App Store directly. Then switch to the iPhone & iPad Apps tab and download the desired software.
We also suggest you try Unite, the tool that can turn any website into a Mac app.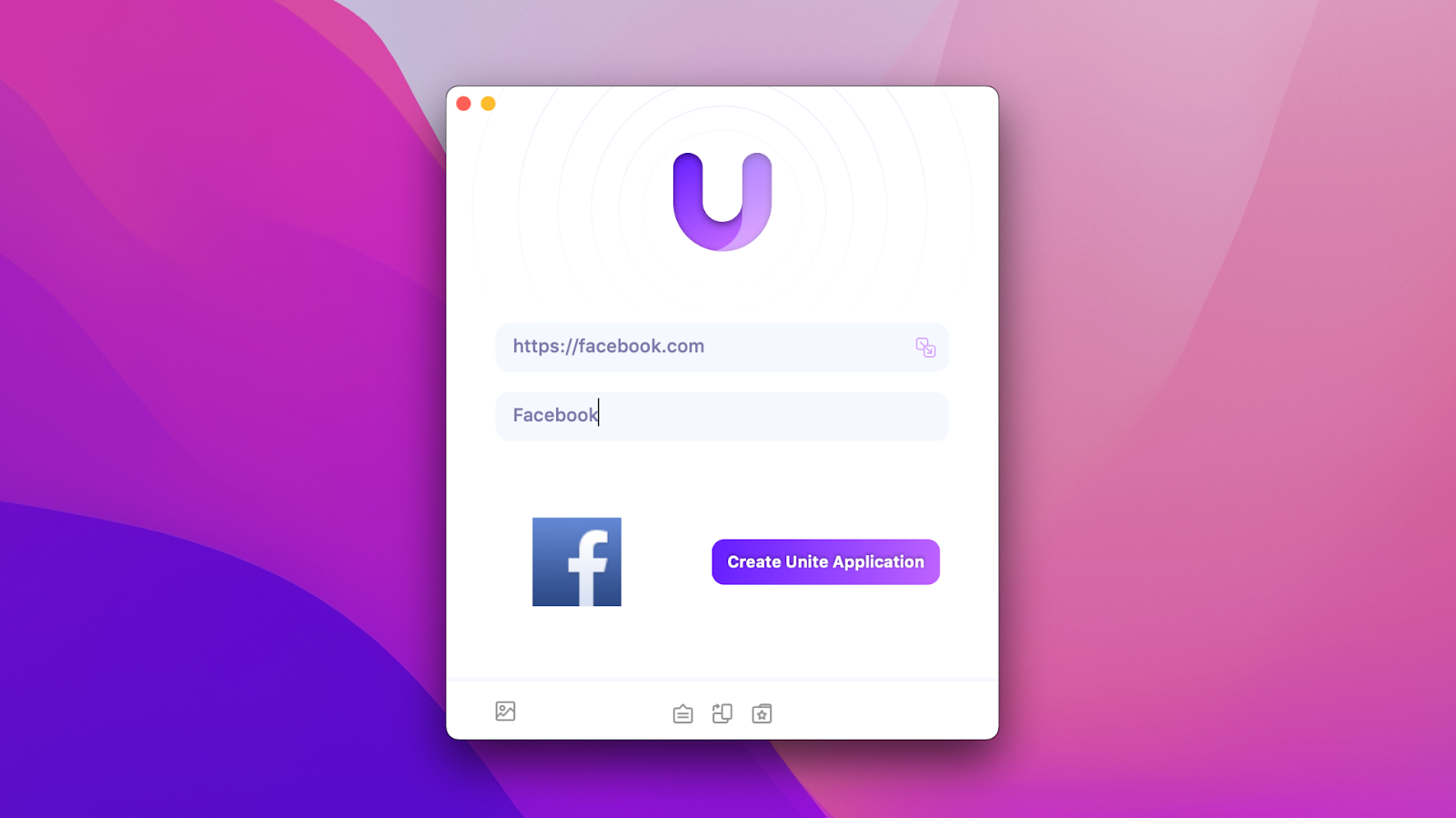 The best thing: you don't have to learn coding. Simply enter the website URL and type in the app name. Done!
How to manage sideloading apps
If you're wondering how to transfer apps (and other files) from iPhone to Mac and manage them all from one place, our choice is to use a reliable managing tool for all Apple devices. It's AnyTrans.
The app supports transferring everything between iPhone/iPad/iPod and computer (PC and Mac supported), including apps, music, messages, movies, contacts, photographs, etc. In order to browse iPhone apps on the computer as needed, you can obtain a backup of iPhone apps, including app files and purchases. Here's how to transfer iPhone files to your Mac:
Open AnyTrans on your Mac
Connect your iPhone to the computer using a USB cable
Click Device Manager in the top left corner
Click Apps to enter the apps manager page
Select the apps you want to download to your Mac, then click the To Mac button.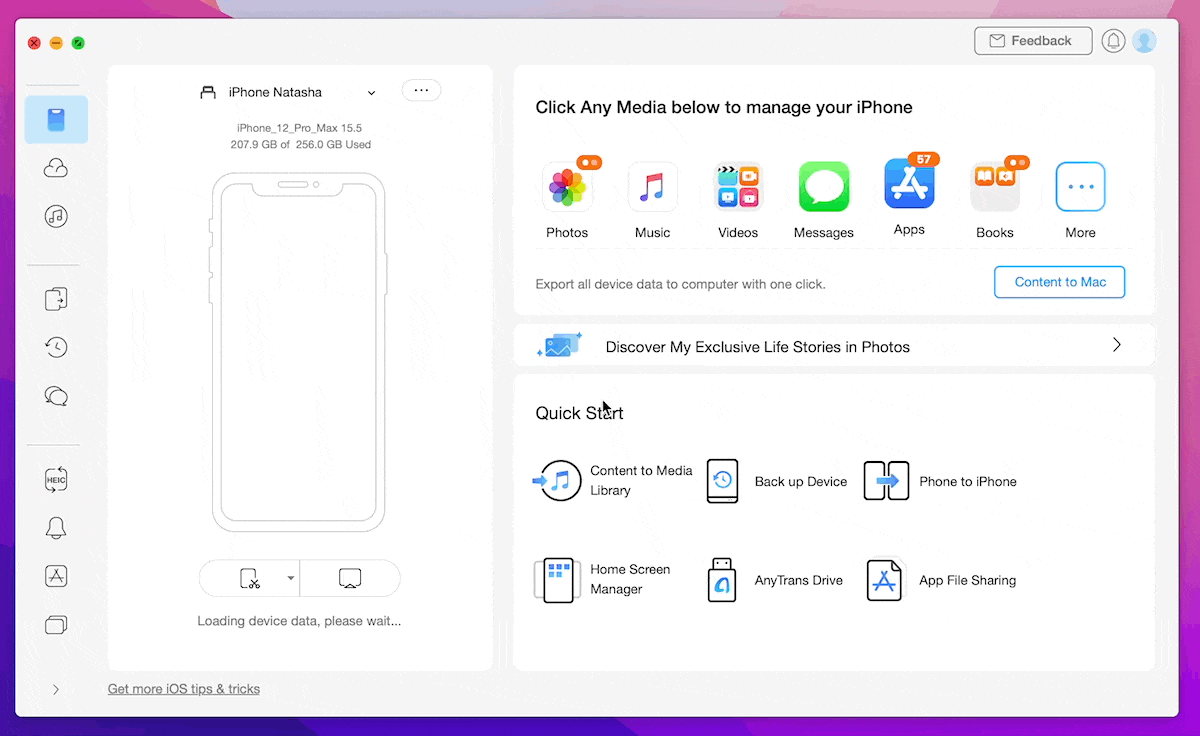 After downloading is finished, AnyTrans will save the app in the .ipa format, which you can either save as a backup or try to install on your Mac with the M1 chipset.
Sideloading made easy
We hope this guide was helpful in teaching you how to sideload apps more securely with ClearVPN. Whenever your VPN is activated, it will encrypt your data so that no one can intercept it. Hopefully, you also discovered a great all-in-one tool for managing all your Apple devices – AnyTrans. If you want to try these and 230+ other powerful apps for your Mac and iPhone, subscribe to Setapp. 7 days free, then $9.99 per month.