Everything you need to know about Apple Sidecar
One thing Mac users have wanted for a long time is a touchscreen. With Sidecar Apple added that feature without changing the Mac's hardware at all.
Instead of limiting the desktop to the Mac, using the iPad as second monitor for any Mac provides a ton of extensibility as well as a touchscreen environment. With Sidecar iPad users with an Apple Pencil can even sketch and interact with Mac apps in a completely new way.
Here, we'll tell you everything you need to know about macOS Sidecar, how to use Sidecar for your Mac and iPad, and how to keep your Mac running its best.
What is an Apple Sidecar?
With the addition of Sidecar Mac gains a second screen. Sidecar is a feature baked into macOS and iPadOS that allows users with both devices to link the two wirelessly, or wired. When linked, the iPad becomes a second screen for the Mac; you can shift apps to your iPad, and orient it to your main Mac screen just as you would any other external monitor.
Best of all, you can still use iPad apps while running Sidecar on your iPad. The iPad second screen scenario Sidecar presents doesn't limit what you can do on iPad – it only adds to the Mac's functionality.
Sidecar compatibility
Here are the Macs that support Sidecar:
MacBook introduced in 2016 or later
MacBook Air introduced in 2018 or later
MacBook Pro introduced in 2016 or later
Mac mini introduced in 2018 or later iMac introduced in late 2015 or later iMac Pro introduced in 2017 or later Mac Pro introduced in 2019
Here is a list of the iPads that can take advantage of Sidecar:
12.9-inch iPad Pro
11-inch iPad Pro 10.5-inch iPad Pro
9.7-inch iPad Pro iPad (6th generation or later)
iPad mini (5th generation) iPad Air (3rd generation)
Requirements to using Sidecar
If you want to use iPad for a Sidecar mac OS second screen setup, here's what you'll need to do:
Make sure both your Mac and iPad are signed in with the same Apple ID
For wireless connectivity, have Bluetooth enabled on both devices
Be sure both devices are on the same WiFi network for wireless connectivity
Ensure your Mac and iPad are fully charged or plugged into a power supply
Keep devices within 10 meters of each other
Be sure your Mac is running macOS Catalina or newer
How to set up Sidecar on Mac
Setting up a Sidecar environment on your Mac is simple. There's no software or apps to download. So long as you are on macOS Catalina or newer and your iPad is also running the latest iPadOS build, Sidecar is already part of your setup!
Enabling a Sidecar environment starts with your Mac. Here's how it's done:
From the Mac menu bar, select the Apple logo
Select "System Preferences"
Choose "Sidecar"

Select the iPad you want to connect to and settings you prefer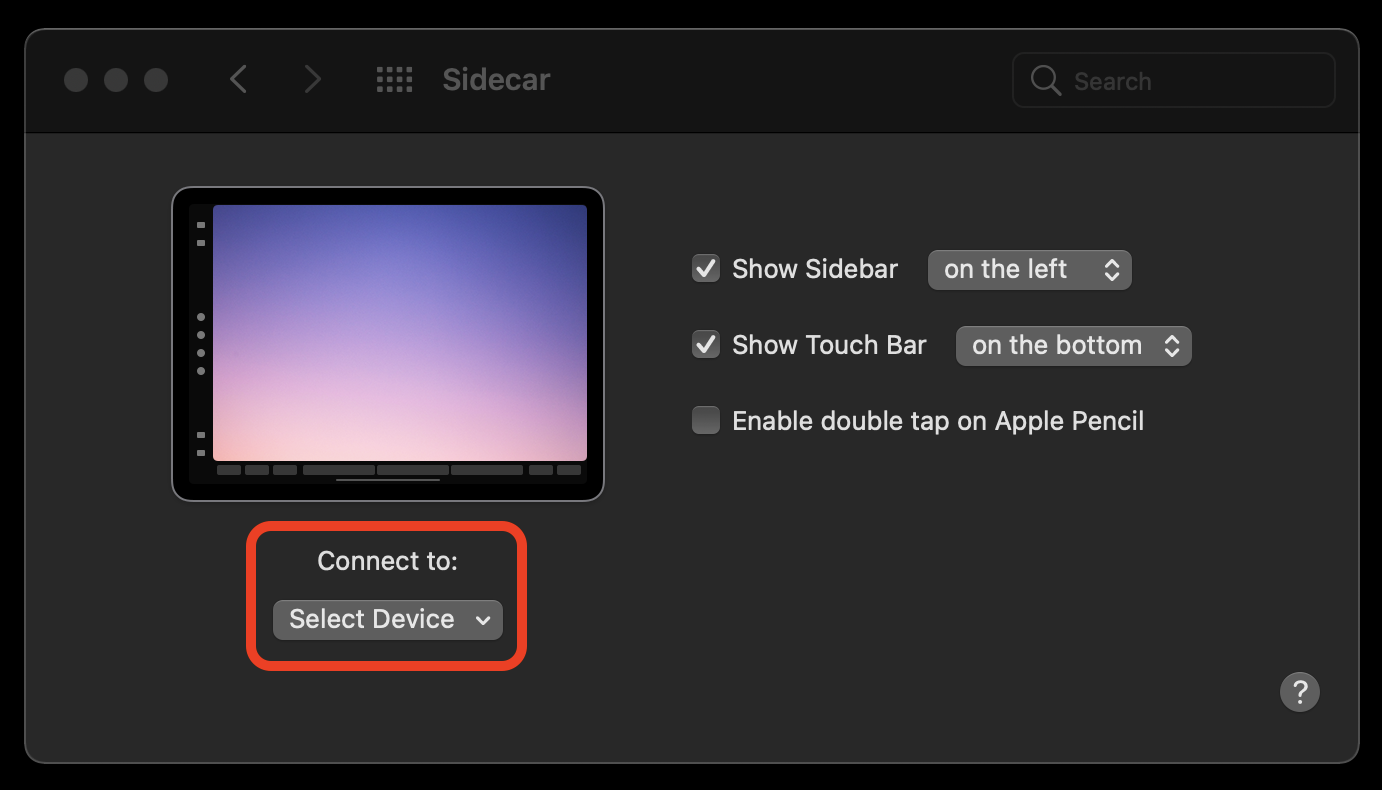 That's it! Now the iPad you connect to will become a second display for your Mac.
For those on macOS Big Sur, you can click the control center icon in the top right corner of the Mac menu bar. Select Displays, then choose the iPad you want to connect to. You can also link to an iPad using Sidecar wirelessly from a Mac by selecting the Airplay icon in the menu bar, and choosing the iPad from the available devices list.
Sidecar is best when your Mac is performing its best. Remember that a second display, Apple or not, is still taxing your Mac's hardware. It has to keep the connection stable and communicate with your iPad. Even if you choose a wired connection between the two devices, your Mac has to monitor and accept inputs from your iPad.
This is why CleanMyMac X is so critical. It tidies up your Mac's system, digging deeper into your Mac's settings and files than any other app or service available. It monitors for malware, offers to discard unnecessary files, and helps you reset those settings that may be causing your Mac to operate slowly. The last thing anyone wants is lag, so use CleanMyMac X to keep your Mac running smoothly and Sidecar working perfectly.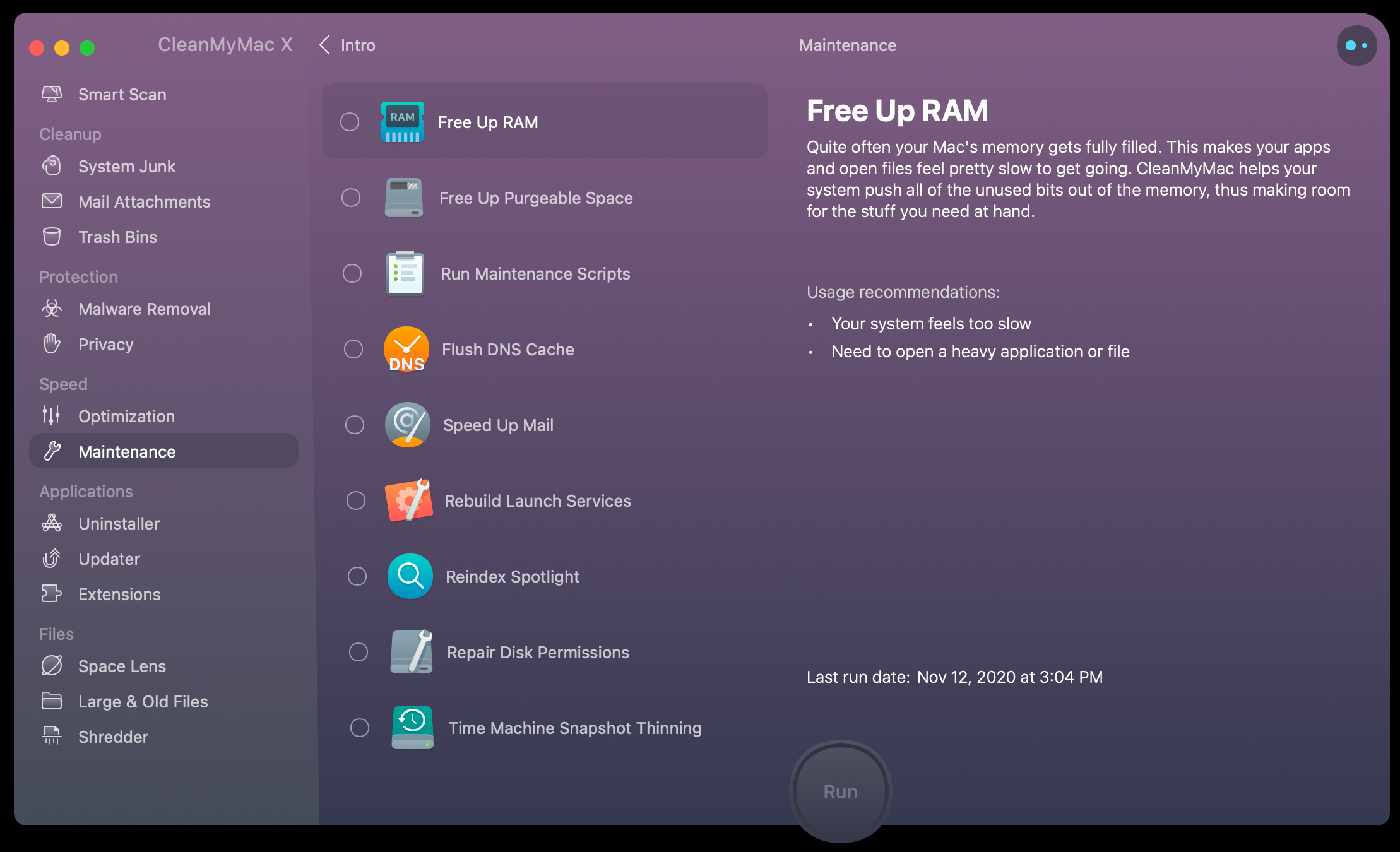 How to set up Sidecar on iPad
So long as you've got a compatible iPad and are running the latest version of iPadOS, there's no setup required. Like macOS, iPadOS has Sidecar functionality built in.
You don't even need to do anything on your iPad to start or stop a Sidecar session. Once you've linked an iPad to your Mac for use as a second display, it becomes passive; all Sidecar sessions begin and end on the Mac.
What are the features in Sidecar?
Sidecar isn't just a feature that lets you shove some apps off onto the iPad. It's a totally immersive environment that adds a paradigm Mac users have not experienced yet.
The main draw for Sidecar will always be as a second display for Mac apps, even if you only use it as a monitor and still interact with apps using your Mac's keyboard or trackpad. But there's a lot more Sidecar has to offer
Touch Bar feature in Sidecar
In Sidecar, you can display the MacBook Touch Bar on your iPad. This is particularly useful for those who don't have MacBooks with Touch Bar. Any app with Touch Bar features can display those toggles on the iPad with Sidecar.
Touch Bar on the iPad is also a much more familiar interface for many. The Mac has never quite gone all-in on touch interfaces, and the Touch Bar is widely derided by Mac enthusiasts. Now, you can have the best of both worlds.
One feature every Mac has is the menu bar, and that can be just as cluttered and confusing as the Touch Bar. This is why you should download Bartender.
Bartender provides a quick and simple way to customize your Mac menu bar, hiding all the disparate icons behind a single, familiar three-dot menu. Clicking the menu will surface all of your menu bar icons, which can be easily reordered with Bartender, too.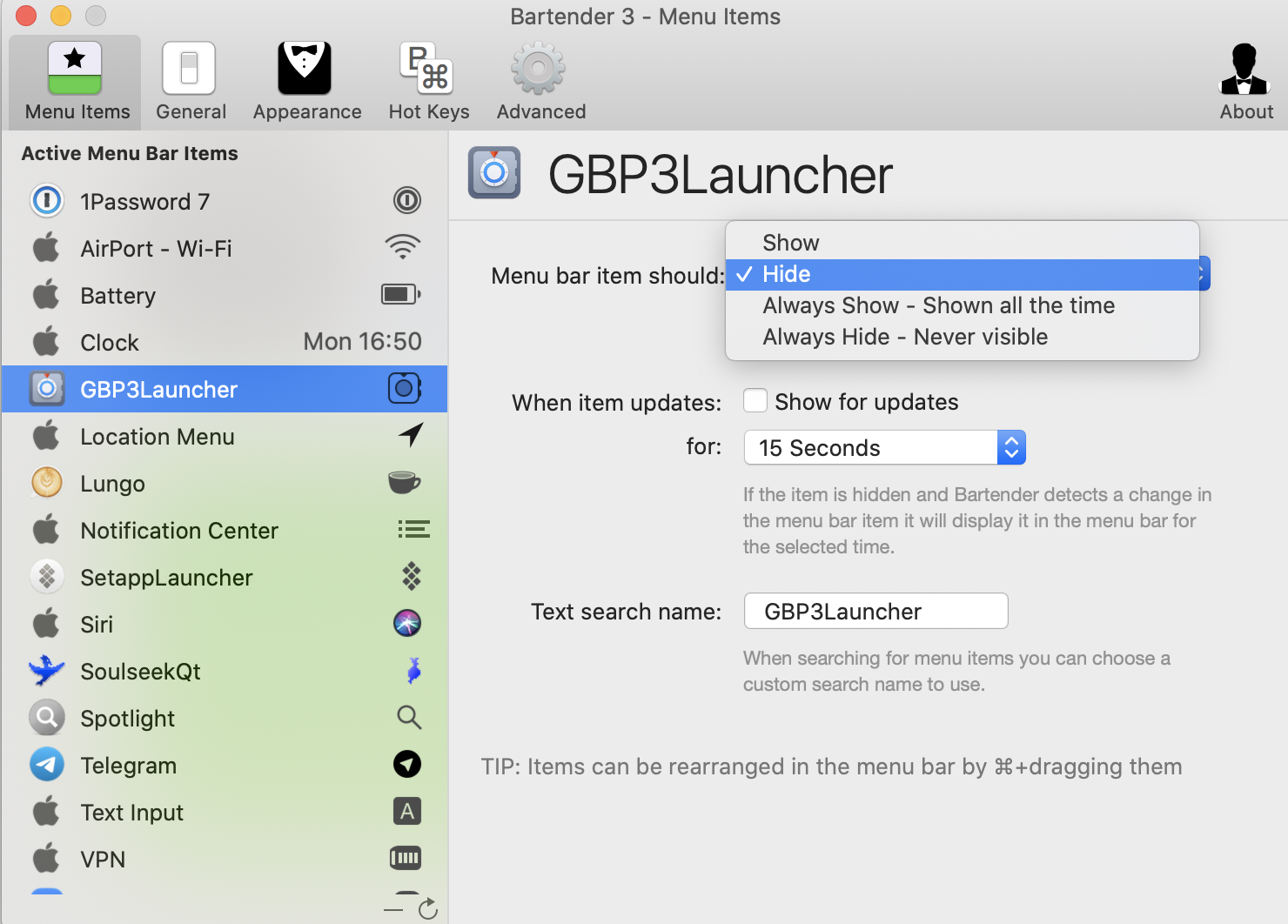 There's also a really handy search feature in Bartender, which is great for those with so many icons they forget which app each represents! If you're a keyboard warrior, Bartender has a customizable hotkey action that will open its menu with a few keystrokes. Once you open Bartender up, you can toggle through icons with your Mac's keyboard arrow keys.
How to use Apple Pencil with Sidebar
Using your Apple Pencil with Sidebar is just as seamless and simple as it is with your iPad. Simply use your Apple Pencil as you normally would on the iPad, and your edits will show up on the Mac app you're using.
Apple Pencil in Sidecar is essentially like a mouse pointer; you can do things like edit images or markup documents. Apps like Pixelmator and Notes also allow for sketching with Apple Pencil.
If you use double-tap on your Apple Pencil for iPad, Sidecar can support that as well. It's a feature in the Sidecar menu within System Settings on your Mac; simply enable it, and your Sidecar Apple Pencil session will appreciate the double tapping capability of the Apple Pencil.
Which apps support Sidecar
Sidecar mirrors your mac display. That means any Mac app will work with Sidecar. Some have unique capabilities; photo editing apps, for instance, would benefit greatly from Sidecar when used on an iPad with Apple Pencil.
By default, any Mac app can be moved to your iPad screen, and interacting with it there – either with Apple Pencil or by touch – will be just like interacting with it using a mouse or trackpad.
iPad apps can also be used with Sidecar. Simply swipe up from the bottom of your iPad display to bring up the dock or navigate to the home screen. You can also use iPad apps floating over your screen, just as you can when using iPad apps natively.
How to control your Mac with ease?
Your Mac running at its best is key to the best Sidecar environment, and there's no better app for monitoring your Mac's performance than iStat Menus.
Living in your Mac menu bar, iStat Menus keeps a watchful eye over your Mac's CPU, network, sensors, memory, and disk space to help you understand what your computer is doing at any given time. The app shows you what your Mac is doing in real time, and has as much (or little) context as you want.
Clicking the iStat Menus icon in the menu bar brings up a menu with an overview of your Mac's current performance. Hovering over any section surfaces a sub menu with even more details about the items iStat Menus monitors, and hovering over any section in the sub menu brings up a chart with a historical view of your Mac's performance in that area.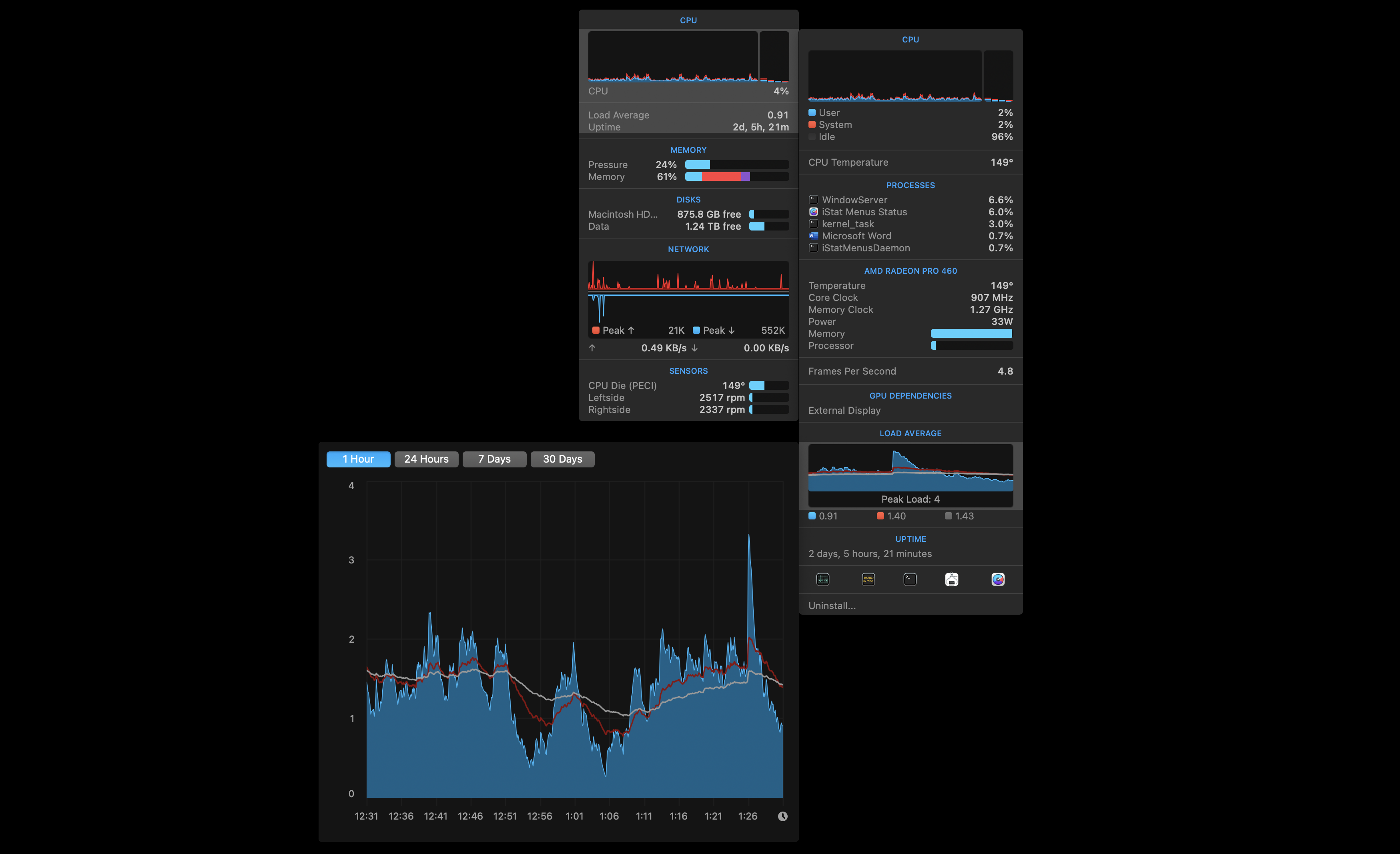 Sidecar is a really handy feature. It's really handy for navigating your Mac with a remote iPad; you can interact with apps directly on your iPad, almost making your Mac the second display!
As a mirrored display, your iPad may be smaller than your Mac, and one of the small pain points is the menu bar displaying on your iPad. It's what makes Bartender so handy; you can tidy up your menu bar and it allows your iPad environment to look less cluttered, too.
CleanMyMac X and iStat Menus are both great for identifying and remedying Mac performance issues, and keeping your Mac running its best. There's simply no better tandem available for macOS.
All three of these apps are available for free during a seven day trial of Setapp, the world's best suite of productivity apps for your Mac. In addition to these three sensational apps, you'll get immediate and unlimited access to the entire Setapp suite of nearly 200 apps for the Mac spanning dozens of categories and unlimited use cases.
When your trial ends, continued access to the entire Setapp catalog is only $9.99 per month; an incredible deal, so why hesitate? Give Setapp a try now!