How to check Apple charges on my account
Apple is known for its products and services, which have become a staple for many families across the country. The company is now recognized not only for their hardware, but for their success in the digital world as well, with Apple Music and Apple TV+ together gathering over 110 million subscribers.
Usually, you don't own just one Apple device, or use only one service, you probably have a few on your hands, and that can mean more chances of losing track of your Apple bill charges. Monthly subscriptions, accidental online purchases, and other unknown payments can get your finances jumbled and make you wonder: "Why is Apple taking money from my account?"
If you've ever asked yourself this question, read on for details on how to check your Apple store purchase history and figure out what you've been getting charged for.
What is the apple.com bill usually issued for?
Sometimes it's just one-time payments to apple.com/bill or itunes.com/bill that you can't remember or explain, other times you may learn you've been paying Apple for something every month.
Whatever the case may be, here are the most common cases for when apple.com bill is issued:
Purchases made from iTunes or App Store. Apple charges the credit card linked to your Apple ID account every time you buy an app, game, movie, music, or a similar item.
Renewals of Apple Service subscriptions. Similarly, your linked card will be charged to pay for any subscription services, like iCloud Storage, Apple Music, Apple TV+, or Apple Arcade.
In both cases, apple.com bill charges may be small, easy to miss, and likely to be forgotten among numerous other payments that come off your card every month. If you'd like to find out which card is linked to your Apple ID account, go to Payment & Shipping from the Apple ID settings on your device.
There is an unwanted apple.com bill charge in my account
We've all been there, opening the bank statement and seeing odd Apple charges on my account. It's not a comforting feeling if you don't know what you've purchased, so here is how you can get to the bottom of what that mysterious Apple bill is about.
There are a few ways to find out what was purchased:
Check your email. That should be the first and easiest step to solving the mystery. Apple sends a detailed invoice for every apple.com/bill or itunes.com/bill charge on your account. Log into the email associated with your Apple ID and search by the date of the charge, the sender — Apple, or by simply typing the word "invoice."
Call Apple's billing department. Their number goes with every Apple bill charge on your bank statement and they will be able to tell you what any apple.com bill charge is for.
Go to reportaproblem.apple.com. It's Apple's website for problem resolution, but you can also check your purchase history there. Simply sign in with your Apple ID and enter the amount of the charge you see on your bank statement into the Search box.
Contact Apple Support. This can become your last resort if you are unable to locate an apple.com bill charge using the methods above.
Why is Apple taking money from my account?
According to 2020 reports from Sensor Tower, an average user spends about $21 per month on their subscriptions, and an additional $11 on apps. That's almost $400 of small charges per year that often go unnoticed.
For the next time you look at your bank statement and wonder about a new Apple bill, here are all the cases when you might see Apple charges on my account:
You've made a purchase using your Apple ID. Maybe you have just forgotten? This can often happen to pre-ordered items that haven't been fully charged yet. The amount on your bill can set you off as well, but it might be because Apple has grouped your purchases or you've paid for items partially using your Apple ID credit.
Some subscriptions have escaped your memory. In other words, the apple.com/bill or itunes.com/bill you are wondering about might be one of the monthly subscriptions. Maybe you've accidentally signed up for iCloud Storage or forgot to cancel Apple Music after the free trial?
Your Family Sharing group member made a purchase. You will see charges from other members of the group if you are the Organizer. In this case, ask your family members if they can recognize the Apple itunes com bill charge in question. If you have young kids in the family, you might like to turn on the Ask to Buy feature to request permission before children can make purchases.
Someone made a purchase using your Apple ID. This might be a person you willingly shared your password with, or a stranger who hacked into your account. You can protect yourself by creating a new, secure Apple ID password.
Someone made a purchase using your card. Just like with the case above, if you suspect or discover that your card has been compromised, contact your bank to block the card and cancel any unwanted purchases. However, this should be your final strategy, after you've checked your account invoices and your Apple Store purchase history first.
How to check Apple Store purchase history on iPhone, iPad, and Mac
The first thing you'd want to do if you see unexpected charges from Apple is find out what you've bought. Checking Apple Store purchase history is quick, no matter what device you have on hand to do it.
How to check your purchase history on an iPhone or iPad
Go to Settings ➙ Your Name ➙ iTunes & App Store
Tap your Apple ID account, then tap View Apple ID
If prompted, enter your ID password to sign in
Scroll down and tap on Purchase History
Select any purchase to view or Resend the invoice
How to view Apple purchase history on a Mac
Launch Apple Music or iTunes on your Mac
From the menu bar, click on Accounts ➙ View My Account
If prompted, enter your ID password to sign in
Scroll down to the Purchase History section and select See All
Click on the Order ID next to a purchase to view or Resend email invoice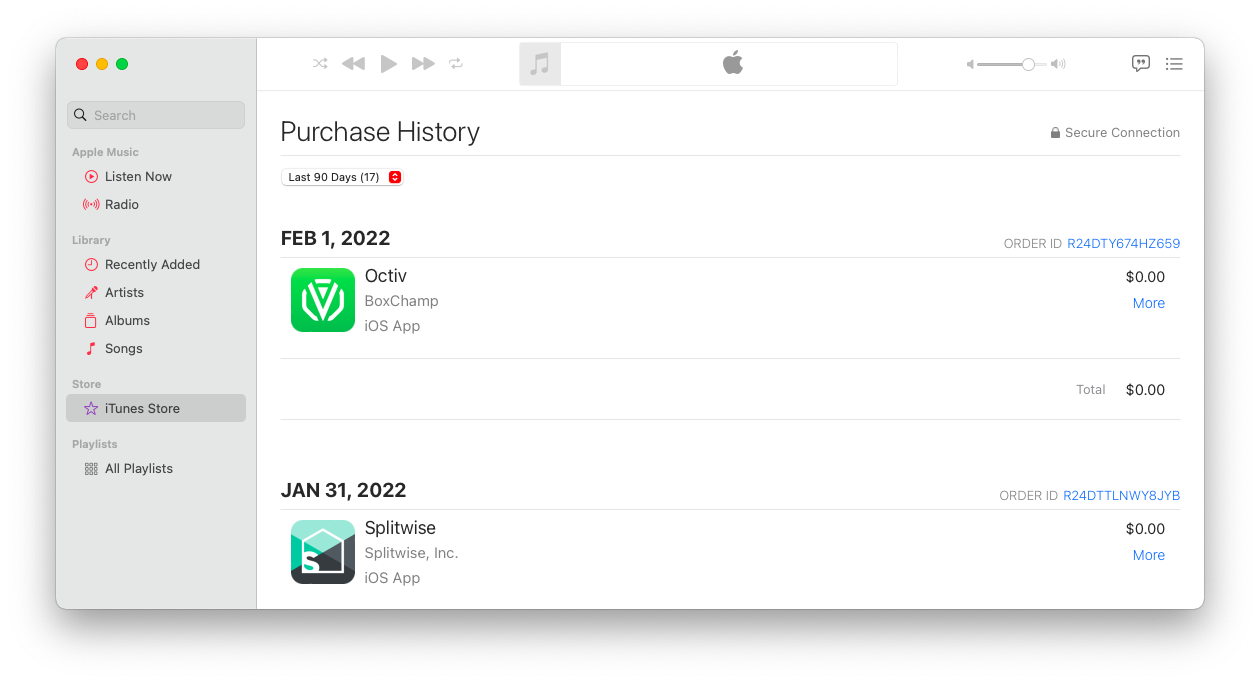 If you ever find Apple bill charges on your account for purchases you're sure you didn't make — it might mean your Apple ID has been hacked or your credit card details have been stolen. To protect yourself from this scenario, you need to create a strong password and keep your card details secure.
Secrets is one of the best places to safely store your password information. It's definitely better than writing it down in a notebook, and easier than trying to remember a billion passwords for all your apps. Think of Secrets as a secure personal information vault that's intuitive in navigation, but impossible to hack. With industry-standard PGP encryption, this app will keep your existing accounts secure, while giving you access to them from anywhere in the world.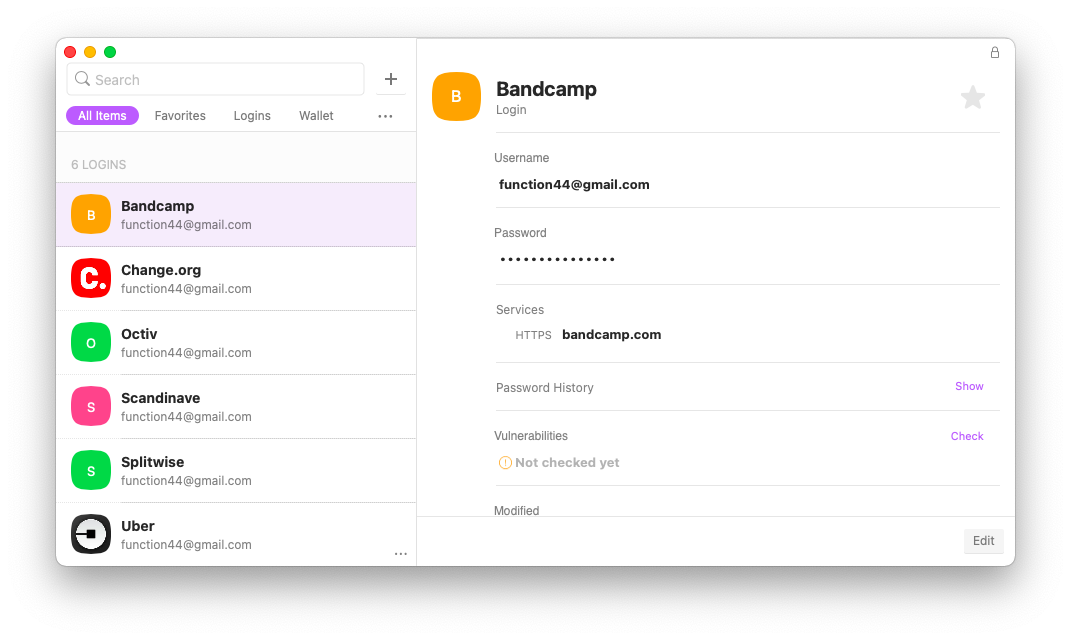 While on the topic of security and effectiveness, you can't forget about your network. Your internet can cause you problems not only by being slow, but by allowing others to access your data through an non-secure connection.
WiFi Explorer will help you fix your network problems better than any technician. With its range of extensive details about networks in the vicinity, the app gives out information about their connection quality and problems in seconds. Use WiFi Explorer to troubleshoot your own connections at home or in the office, and fix any network problems before they get in the way of your productivity.
Here is how you can quickly make sure your WiFi connection is secure and up to speed:
Launch WiFi Explorer
Wait for the app to scan your wireless environment and generate a list of active networks
Use the Filter field at the top right to narrow down the networks on display
Click any network from the list and select Network Details
Go over to the Advanced Details tab and use expandable arrows for more information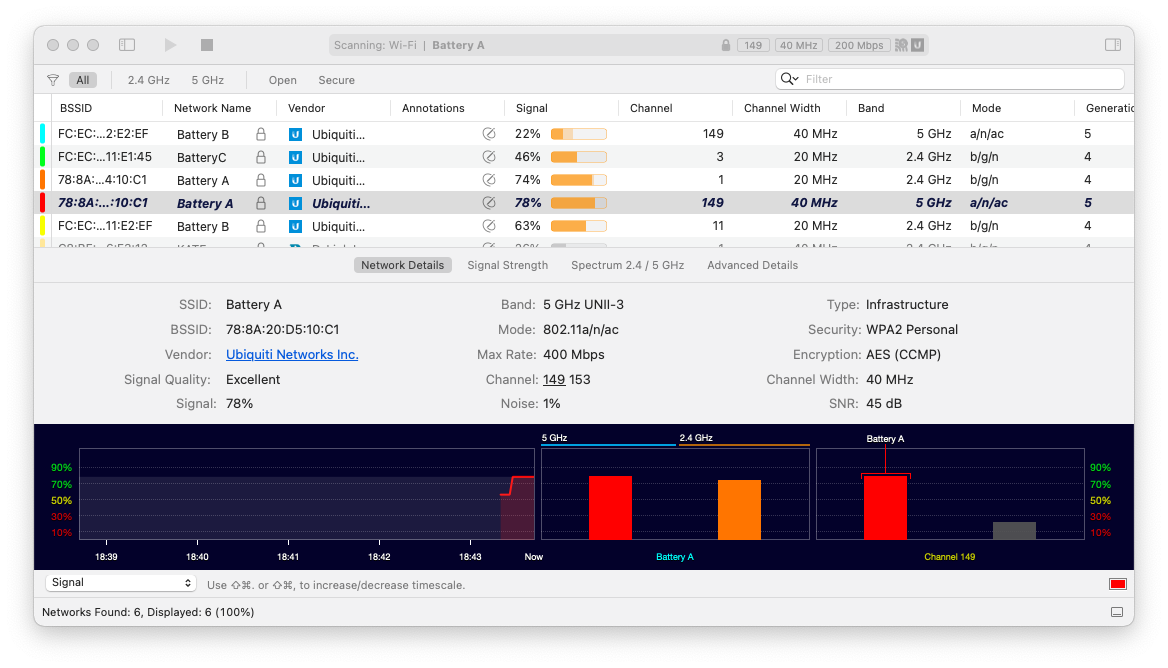 How to cancel unwanted Apple bill charges
Now that you've checked your Apple Store purchase history, you might find charges that you didn't authorize. You have a couple options in this case: head over to reportaproblem.apple.com to use Apple's resolution process, or contact your credit card company and deal with the charge through them.
Oftentimes, we tend to underestimate how much we pay for apps and subscriptions, until we actually sit down to calculate it. That's why most unexpected apple.com bill charges will turn out to be a monthly subscription that you've forgotten about or an app purchase that you just didn't plan into the budget.
This is when a digital financial advisor like MoneyWiz comes in handy. It's not just a bill organizer, but a reliable online base for all your financial needs and information. MoneyWiz makes it easy to accurately plan your budget with spending forecasts, as well as pay all your bills on time with a bill payment organizer and reminder. Its user-friendly interface with some amazing time-saving options makes it one of the best budget apps to date.
Here is how you can easily create an expense budget:
Launch MoneyWiz and click on the Budget section ➙ New Budget
Select whether you'd like to create an Income or Expense budget
Fill out budget details in the window that appears
Wait for MoneyWiz to scan all transactions and add relevant ones to the new budget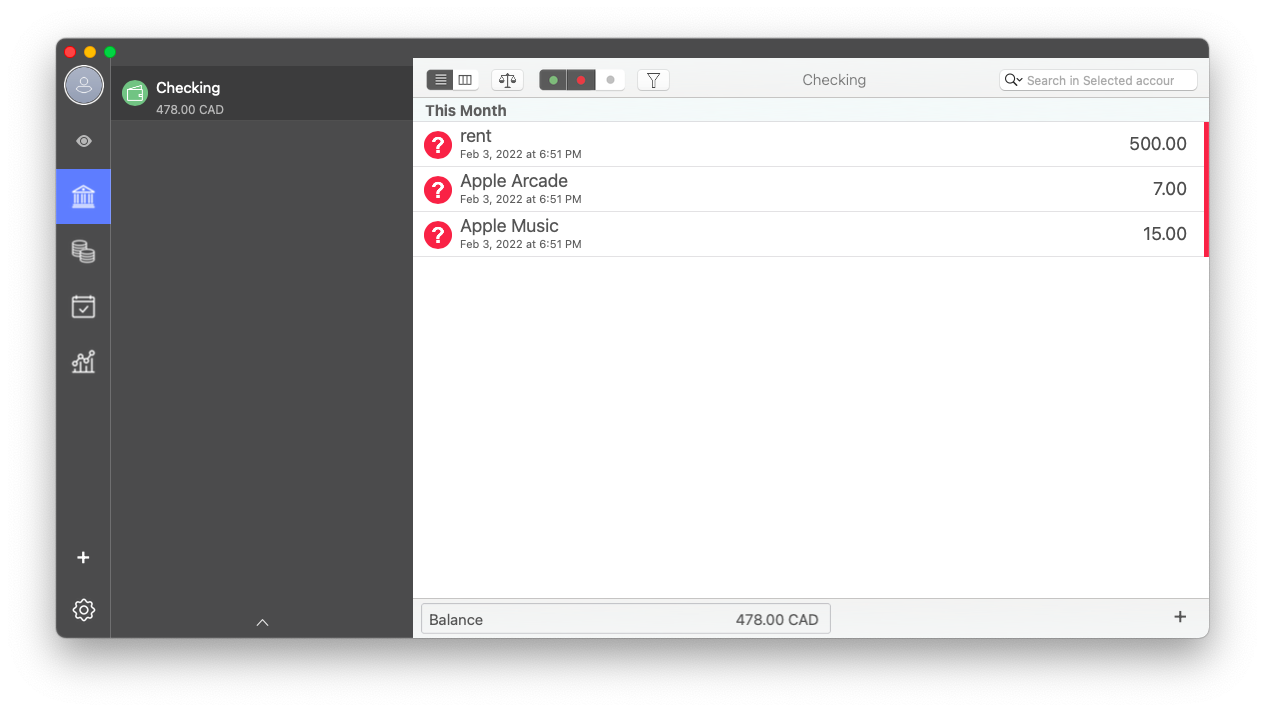 In the more serious case of unexpected Apple bill charges turning out to be the consequence of fraud, you need to take action to protect your account. We've talked about changing your Apple ID password and contacting your bank, but there is more you can do.
Protect yourself from hackers and other online criminals by setting up two-factor authentication on your accounts. Step Two is a security app that brings ease and beauty into a two-step verification process. You can quickly add a new account by scanning its two-step QR code. The app also comes with a Safari extension that autofills your verification codes for you, simplifying the sign-in process, while keeping your account secure.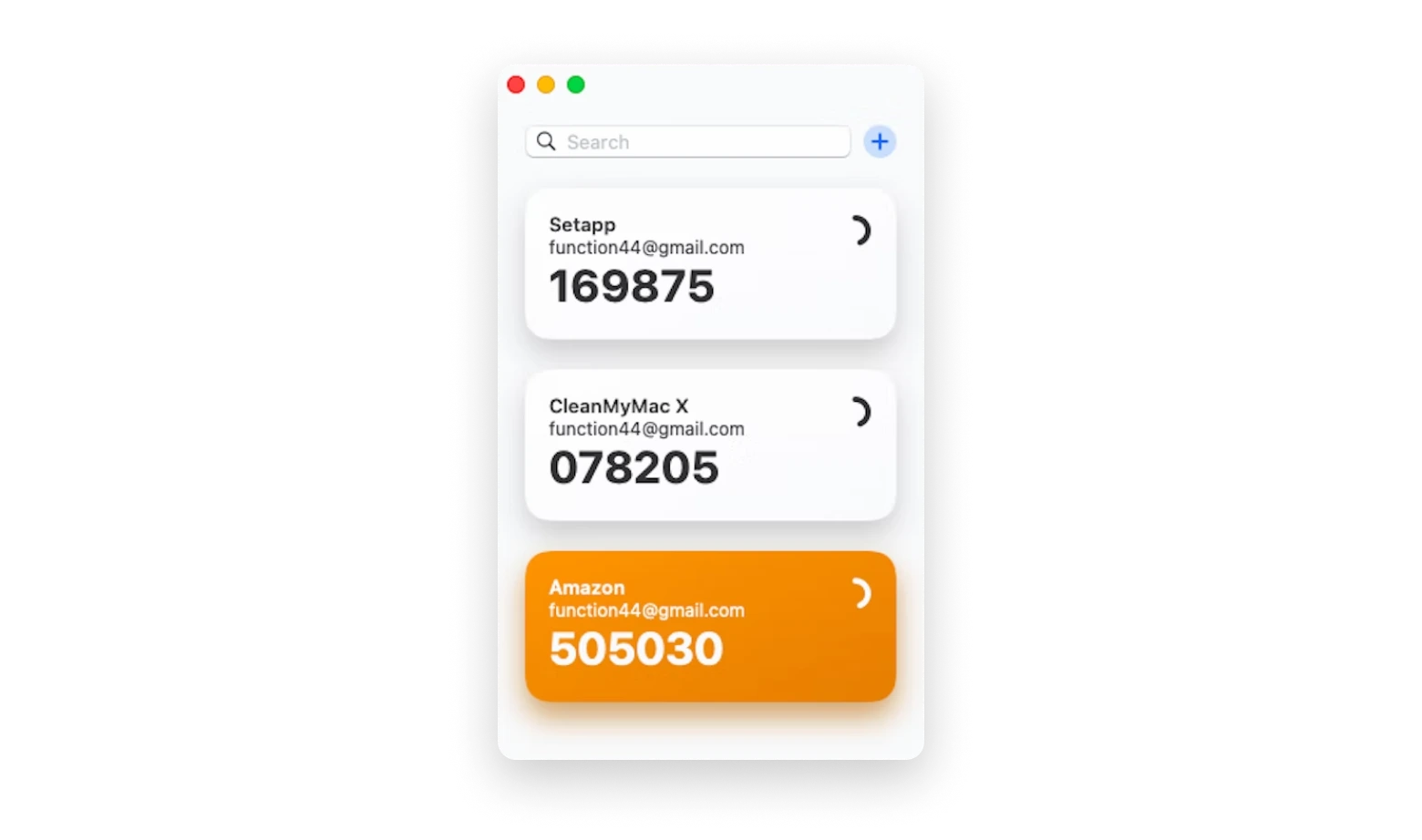 Now you're an expert on how to check your Apple Store purchase history and deal with any unwanted apple.com bill charges. It's a good time to protect your accounts further with the help of Secrets and Step Two, get ahead on your budget planning with MoneyWiz, and up your network connection using WiFi Explorer.
Good news! All four apps – Secrets, Step Two, MoneyWiz and WiFi Explorer are available to you immediately and absolutely free through a seven-day trial of Setapp, a platform with more than 230 best-in-class macOS and iOS apps that can help make your life easier and solve any problem you can imagine. Try any Setapp app today and you'll never look back!