How to convert WAV to MP3 on Mac
Choosing between the best audio quality of WAV files and the convenience of MP3 can be tricky at times. But once you understand when the quality of sound is critical and when it's smarter to use a compressed version of your audio, WAV to MP3 conversion will no longer feel like too much of a compromise.
In this article, we'll discuss the difference between WAV and MP3 file formats and explain multiple ways to convert WAV to MP3 on Mac — to help you better manage your disk space, easily transfer files, and ensure great sound quality.
What's WAV and MP3? What's the difference between them?
Both WAV and MP3 are popular file formats used for recording and storing audio.
WAV (pronounced as "wave") was developed by IBM and Microsoft back in the 1990s and remains the format of choice in professional audio engineering today. It stores uncompressed raw audio and is the closest in quality to the original sound. The downside is that WAV files are usually large and can take up to 4 GB of space.
MP3 format solves this problem by compressing the data to produce more reasonable file sizes. Although some quality is lost in the process, it's hardly perceivable by the human ear (the most noticeable downside to MP3 music is a weakened bass response) — while the file size may go down 95% from the original.
This brings us to the key differences between MP3 and WAV:
Audio quality: WAV files record original sound "as is," with a very high sample rate and bit depth, which is always best for the highest quality audio. MP3 compresses digitized sound by removing all the data beyond the range of human hearing.
File size: Uncompressed WAV files are so large that they aren't suitable for sharing, streaming, or storing music on your iPhone or Mac. MP3 audio is usually a tenth of the size of a WAV file.
Use: WAV format is a standard for recording audio to ensure that you capture the most data and have more options for editing later. MP3 format is more practical for fast streaming, exchanging, and storing files.
The best way to convert WAV to MP3 on Mac
The most straightforward way to convert .wav to .mp3 and not waste any of your time on it is to use a specialized media file converter. We recommend Permute as one of the most versatile and easy-to-use converters of audio, image, or video files for macOS.
Permute can convert WAV to MP3 literally in two clicks. Even if you want to change WAV to MP3 format for multiple files at once.
To use Permute as a WAV to MP3 converter:
Open the app
Drop your WAV file into the app's window
Choose MP3 from the dropdown at the upper left
Click the play button for instant WAV to MP3 conversion
Your new MP3 file will automatically be saved to the same location as its WAV original.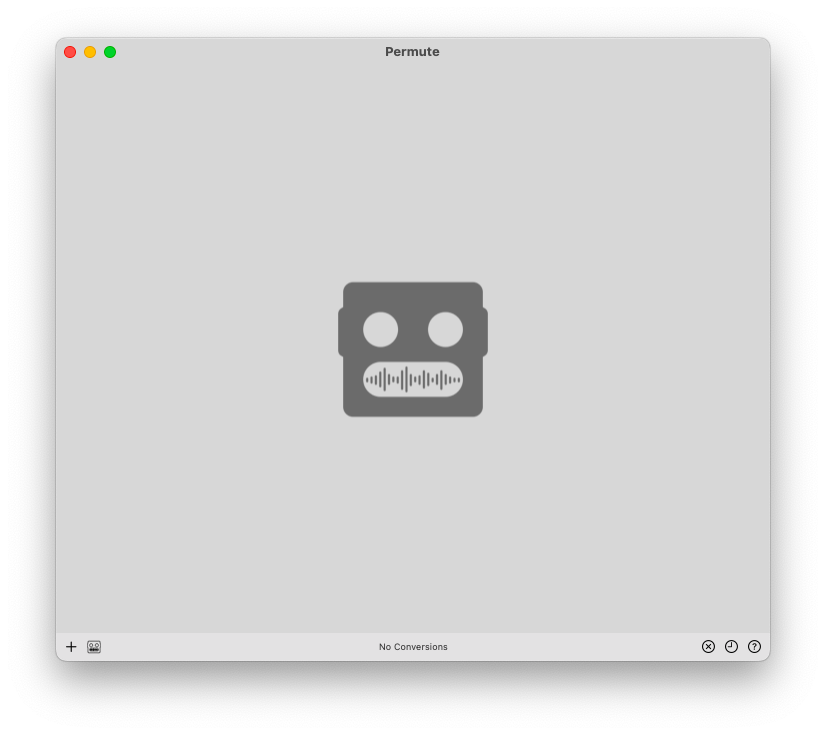 How to convert WAV to MP3 using Music (iTunes)
If you'd like to try native macOS tools to turn WAV into MP3, you can use iTunes or Music (for macOS Catalina or later). The process will take a little longer than with Permute, but it allows you to use the app you already have on your Mac.
Follow these steps to turn WAV into MP3 using Music or iTunes:
Open the Music app
Go to Music in the app's top menu bar ➙ Preferences (if you're using iTunes, go to Edit in the top menu bar ➙ Preferences)
Open the Files tab (in iTunes — choose the General tab) and click on Import Settings
Choose MP3 Encoder next to Import Using ➙ OK
Add the WAV file (or files) you'd like to convert to your Music or iTunes Library
Find and select all the files you want to convert
Go to File in the top menu ➙ Convert ➙ Create MP3 Version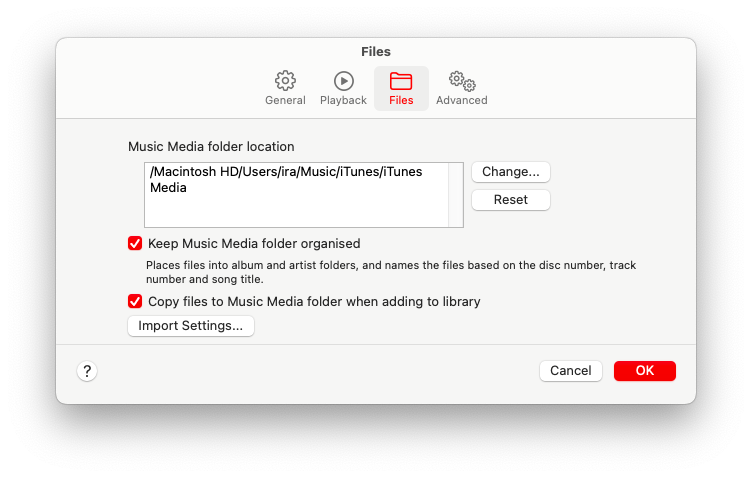 How to convert WAV to MP3 on Mac using VLC
Another free app that can be used as a WAV to MP3 converter is VLC, a popular video player that also supports the conversion of audio files.
To convert .wav to .mp3 with VLC:
Open VLC
Go to the File menu at the top of your screen ➙ Convert/Stream
Drop your WAV file into the top section of the dialogue window that appears (or click on Open Media and browse to add your file)
Choose Audio - MP3 in the Choose Profile section ➙ Save as File ➙ Browse
Name the file (make sure you add the .mp3 extension to the name manually for the conversion to work properly) and the location where you'd like to save it ➙ Save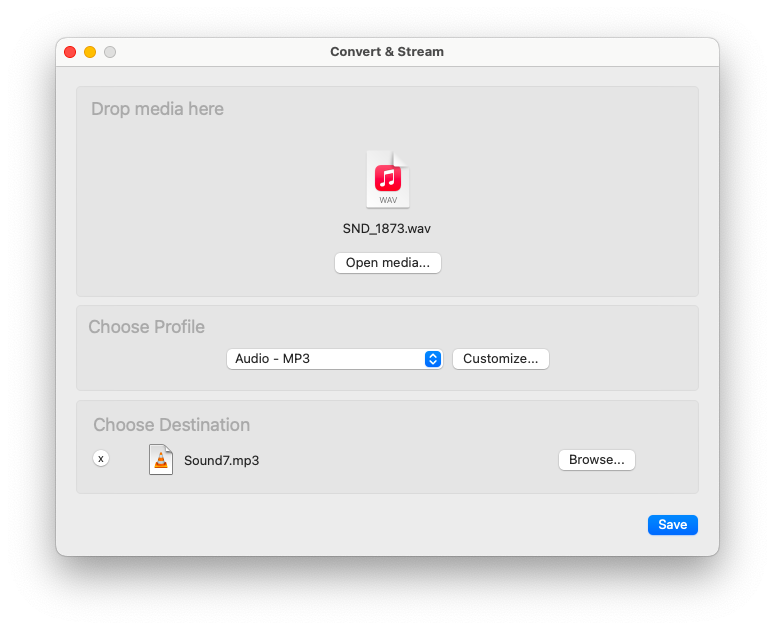 How to play WAV and MP3 files on Mac
As we've already discussed, both iTunes/Music and VLC player are good candidates for a WAV to MP3 converter free of charge for you. You can also use any of them to play WAV and MP3 files.
If you're interested in additional advanced functionality of a media player that could help you improve your viewing and acoustic experience, we recommend Elmedia Player.
Elmedia Player is one of the most versatile options for Mac that can play audio and video files in over 70 formats, including WAV, MP3, SWF, MP4, AVI, MOV, DAT, and others. Simply drop your file onto the app's window or paste a web link to your video into the app's browser and enjoy:
Wireless streaming from and to your Mac, making use of a larger screen or speakers
Outstanding picture and sound quality due to hardware accelerated decoding that reduces the load on your Mac's processor, integrated video tuner, and audio equalizer
Full-screen movies, picture-in-picture mode, or playback pinned on top of other active apps for multitasking
Subtitles, screenshots, and bookmarks support
Easy out-of-sync audio adjustment and more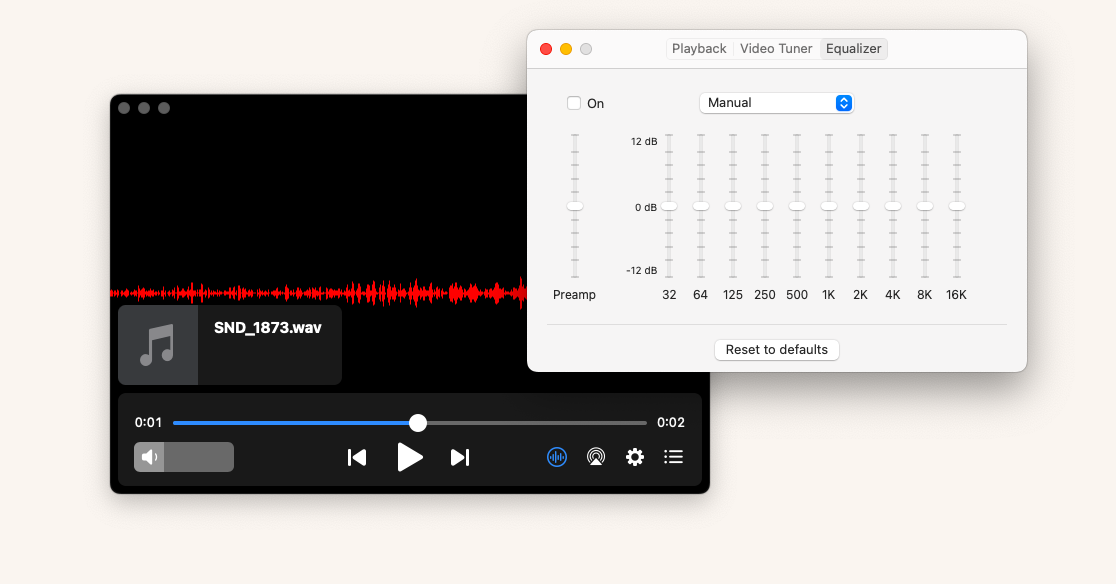 How to improve your Mac sound
Don't want to miss out on the surround sound experience of a bigger acoustic setup when playing files on your Mac? Try using Boom 3D audio enhancer.
Boom 3D can boost both the quality and volume of your audio, redefining your listening experience on Mac and pushing your Mac's audio hardware for its peak performance:
Enjoy the sound enhanced by the innovative virtual surround sound feature and an extensive palette of advanced genre-based equalizer presets
Push your audio volume higher than the system default with Audio Boost without sacrificing audio quality
Set custom volume levels for different apps in your system
Access Boom 3D, iTunes, VLC, QuickTime, and Spotify sound controls wirelessly from your iPhone or iPad with Boom Remote for iOS
Watch compatible Netflix content in surround sound and 1080p video settings with Boom 3D Netflix browser extension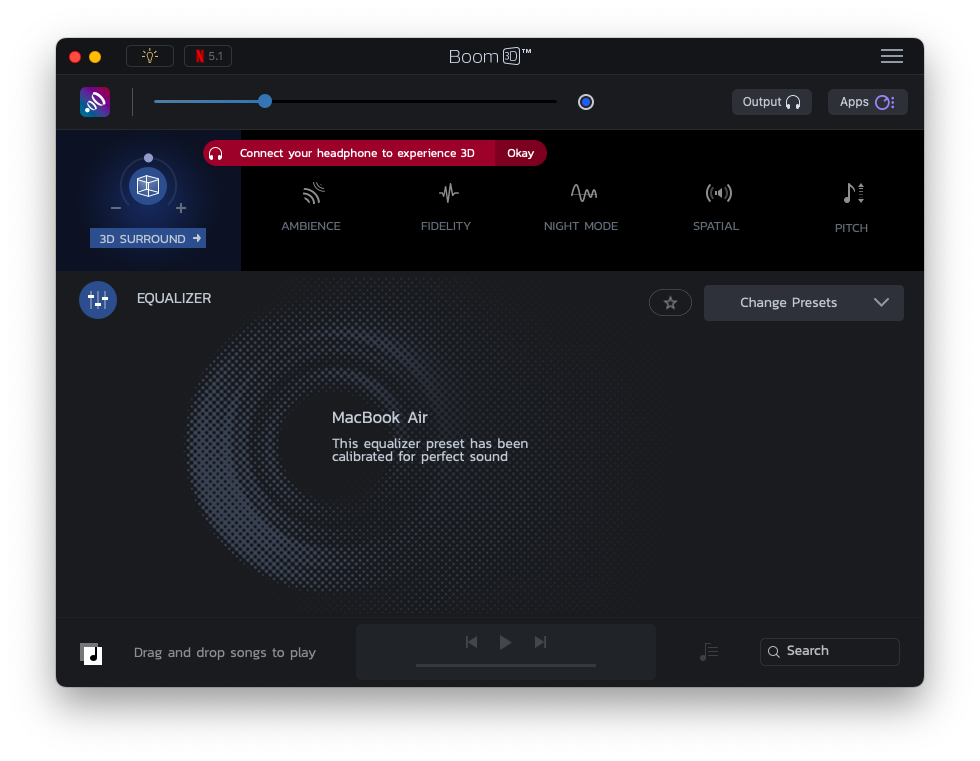 What would you say if we told you that it's not only the quality of the sound that you can work with — but could also easily create unique one-of-a-kind sound environments on your Mac? Meet AI-generated soundscapes from GetSound.
What's a soundscape? It's an ambient sound stream that can help you stay focused and productive or, depending on your goals, calm and relaxed. In GetSound soundscapes are created in layers:
Main track: Music that's generated for you in real time when you open the app — based on your current or preferred geographic location, time of day, and even the temperature outside
Environment: An additional sound layer to add nuance to your composition — choose from Ocean, Train Ride, Coffee Shop, Forest, Rocky Shore, Peaceful Garden, or other presets
Weather sync: This feature allows you to add real-time weather conditions (like raindrops or wind gusts) layer into your soundscape to match the mood of the place you are in
It's easy to get creative with GetSound and customize your own sound mix by adjusting the volume separately for the main theme, weather sounds, and environmental layer and balancing your sound mix perfectly. Or, if for some reason you don't like the location and conditions you're in, simply teleport yourself to a different place and mood in a matter of seconds.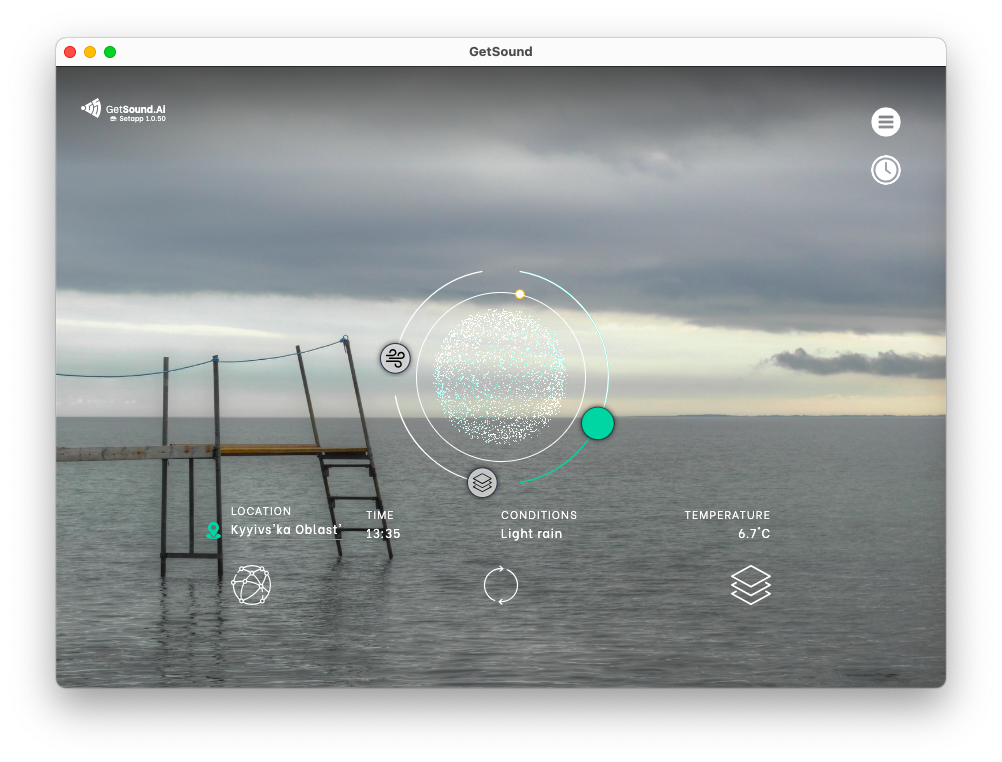 Become WAV to MP3 conversion master
The great news is that you have different options when looking for ways to convert .wav to .mp3. The easiest one is to use Permute media file converter: it can convert all types of video, audio, and image files for you (not just WAV to MP3) and only asks you to drop your file into the app's window, choose a desired file format, and click on Play. You can also find a WAV to MP3 converter free of charge right on your Mac — both Music (iTunes) and VLC player can turn a WAVE file to MP3.
Once you have your files converted, don't forget about the powerful tools that could help you make the most of the sound quality on your Mac:
Use hardware accelerated decoding, integrated video tuner, and audio equalizer to play files with Elmedia Player
Go for the surround sound simulation and advanced genre-based equalizer presets in Boom 3D
Or create your own ambient sound mixes with GetSound
To try all these powerful options on your Mac, don't pass on a chance to test Permute, Elmedia Player, Boom 3D, and GetSound for free with the seven-day trial of Setapp, a platform of best-in-class iOS and macOS productivity apps. Learn to change WAV to MP3 and check out more than 240 other options to boost your productivity.
FAQ
What app converts WAV to MP3 on Mac?
The easiest way to convert WAV to MP3 is using a specialized media file converter, like Permute. But you can also use Music (iTunes) or VLC player on your Mac for WAV to MP3 conversion.
Does Apple use WAV or MP3?
You can play both WAV and MP3 files on Mac. But the default format for Apple Music is AAC (uses a more complex compression algorithm than MP3 to offer a higher quality at a very similar file size).
Does iTunes convert WAV or MP3?
Yes, you can use iTunes to convert WAV to MP3. Simply set Import preferences to MP3 Encoder and change WAV to MP3 after you add your files to the iTunes library.