How to reset Apple Mail: Can you delete mail application and reinstall it?
Most people want to delete Mail app from Mac because of the storage space it occupies. You could have spotted Mail using up several gigabytes of valuable SSD storage if you've checked the Storage tab in About this Mac. It's also common when people use other email clients such as Gmail, Outlook, Canary, Newton, and so on. In such a situation, they don't need Apple Mail on their computers. So how to delete Mail application on Mac? Let's find out.
How to delete Mail application
When you buy a new Mac or upgrade the macOS, Apple Mail is already installed on your device. This means the app is secured by the system. As a result, you can't uninstall it like a typical third-party app. However, there's a way to clean up Mail's downloaded attachments that occupy a big chunk of storage space. We'll show you how to do that.
Good news: while you can't completely delete and reinstall Mac Mail, you can do it on iOS. Simply touch and hold the app until you see the option to remove it.
In case you want to reinstall Apple Mail because it's freezing and crashing, we'll show you how to reset Mail on Mac. It's nearly the same as deleting and reinstalling the Mail app when you start over. Keep reading.
How to reset the Mail app in a few clicks
As we've already mentioned, when the Apple Mail app on your Mac doesn't work, you might want to reset the Mail app to factory settings. There are two common ways to do that. Let's start with the easier one.
Follow these instructions to reset the Mail app on Mac if it won't open or is crashing all the time:
Open Setapp and type "CleanMyMacX" or "uninstaller" in the search bar.
Find CleanMyMac X in the search results and click Install.
Once the app is installed, open it, click Uninstaller in the sidebar.
Select Mail from the list of apps and click on the arrow.
Then select the Mail's supporting files, logs, etc. This will reveal the arrows with the text "Your selection" next to the Mail icon in CleanMyMac X. Select "Reset."
Finally, click the Reset button.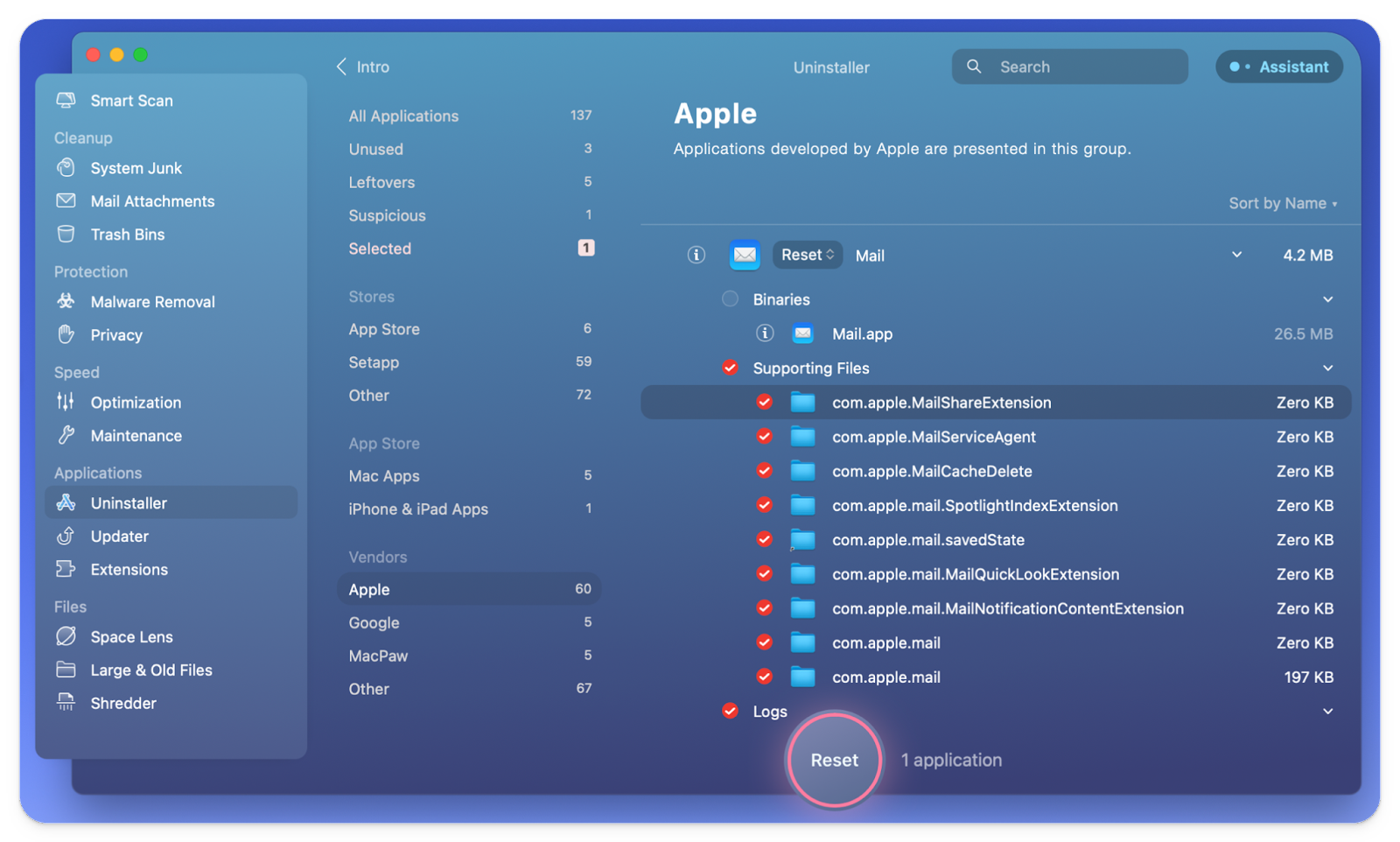 The Mail app is now restored to its original state. Check if it works.
In case your reason for deleting/resetting Apple Mail is to free up the space, use CleanMyMac X's Mail Attachments module. Here are the steps to follow:
Open CleanMyMac X – you can install it from Setapp.
Click Mail Attachments from the left sidebar and click the Scan button.
Wait for the Scan to finish, then review which mailboxes to clean, and confirm by clicking Clean. This will erase local copies of downloaded attachments from emails, freeing up valuable space.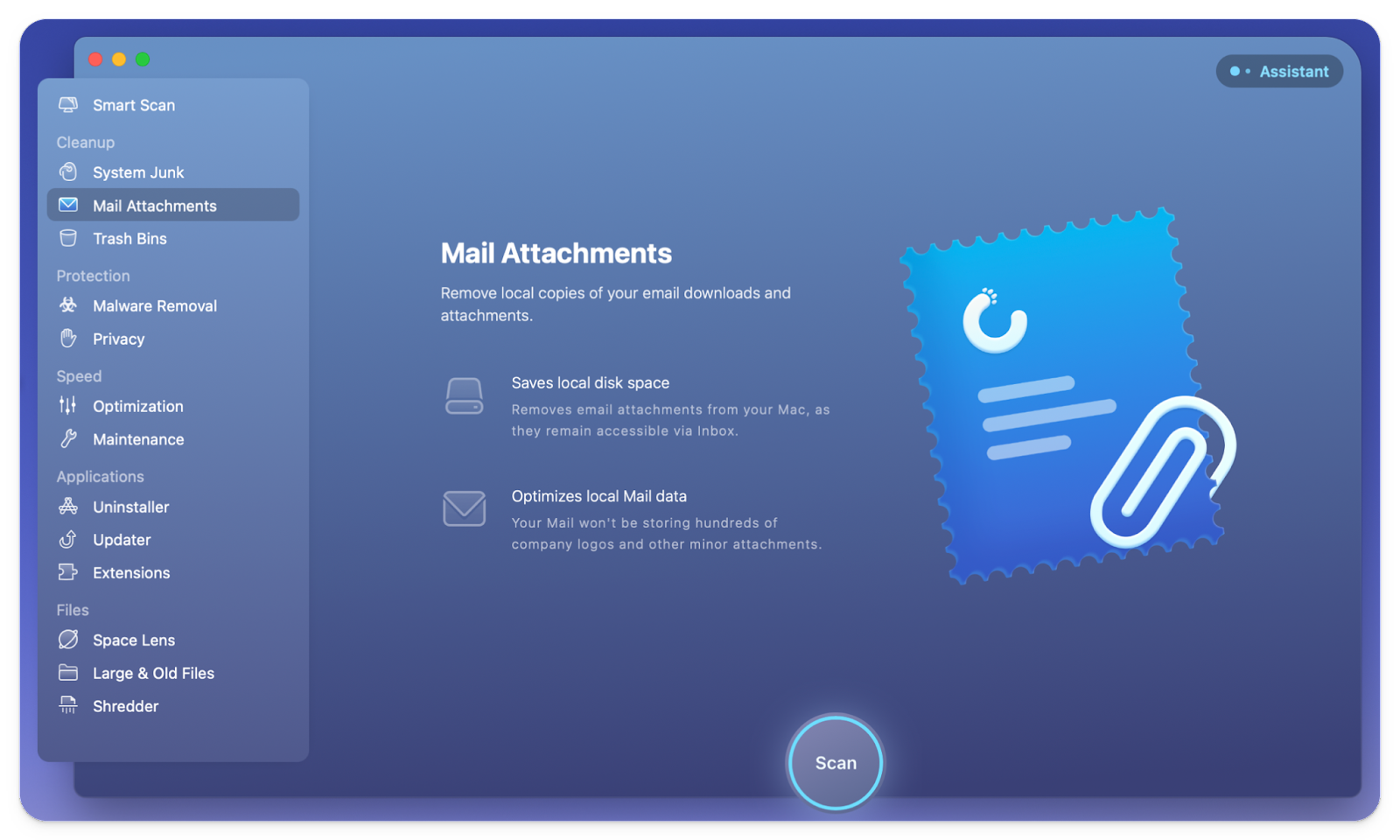 On top of that, we recommend using CleanMyMac X's Smart Scan option to clean your system for better performance and more free storage space.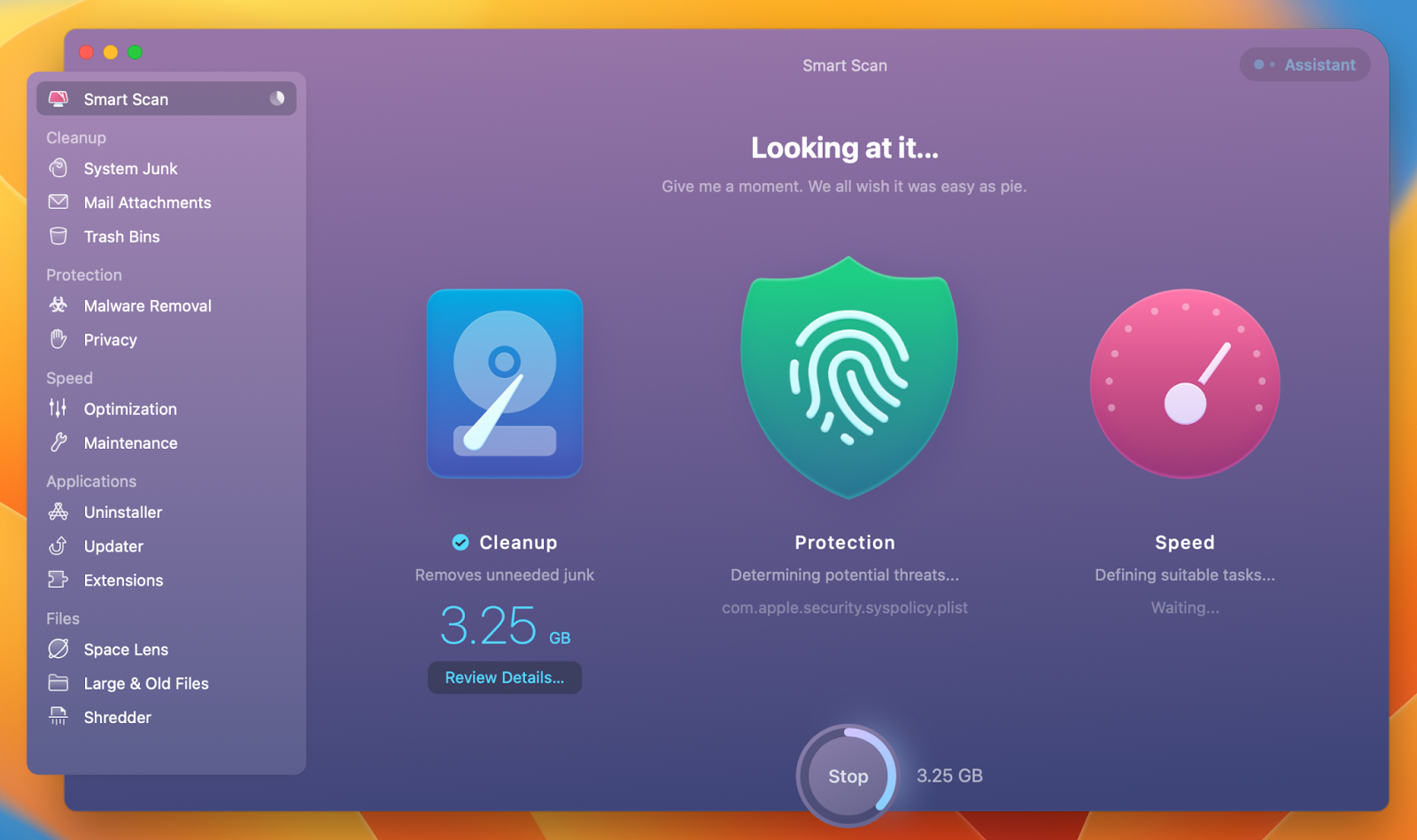 Once the iOS version of CleanMyMac is released, we'll update the article to show you how to reset the Mail app on iPhone and iPad.
How to restore Apple mail manually
Although the second way to reset the Mail app to factory settings is more time-consuming, you might want to try it. So here's how to reset Mail on Mac manually:
Choose the Apple menu > System Preferences.
Click Internet Accounts.
Then choose iCloud, Gmail, or the added IMAP accounts from the left sidebar, and uncheck the box for iCloud Mail or Mail.

In Finder, click Go > Go to Folder.
Copy this folder address ~/Library/Containers and paste it into the field.

In the search box, type Mail and click "Containers" to find all folders related to mail. Then select all of them and drag them to the trash bin.

Now repeat the process for the folders listed below. Go to these locations, type Mail in the search bar, choose the "folder name" (not This Mac), and remove things related to the Mail app if you see them.
~/Library/Mail
~/Library/Preferences
~/Library/Application Scripts
Reboot your Mac.
The accounts and associated data for the Mail app have been successfully deleted. When macOS restarts, the necessary files will be automatically created. You can now open the Mail app and log into the relevant email accounts. Alternatively, open System Preferences > Internet Accounts. Then choose the newly added accounts and activate Mail.
Before we show you how to reset iOS Mail app, be sure to try the best Apple Mail alternative, Canary Mail.
You can manage all of your email accounts in one location with the help of Canary Mail, a great app for Apple devices. It has a simple, user-friendly interface and offers a wealth of features that make handling your email easier than ever.
The capability of Canary Mail to encrypt emails is one of its most remarkable features. This means that your emails' contents are hidden from anyone who could intercept them, such as your ISP or the intended receiver. Additional security for your account is provided by Canary Mail's two-factor authentication feature.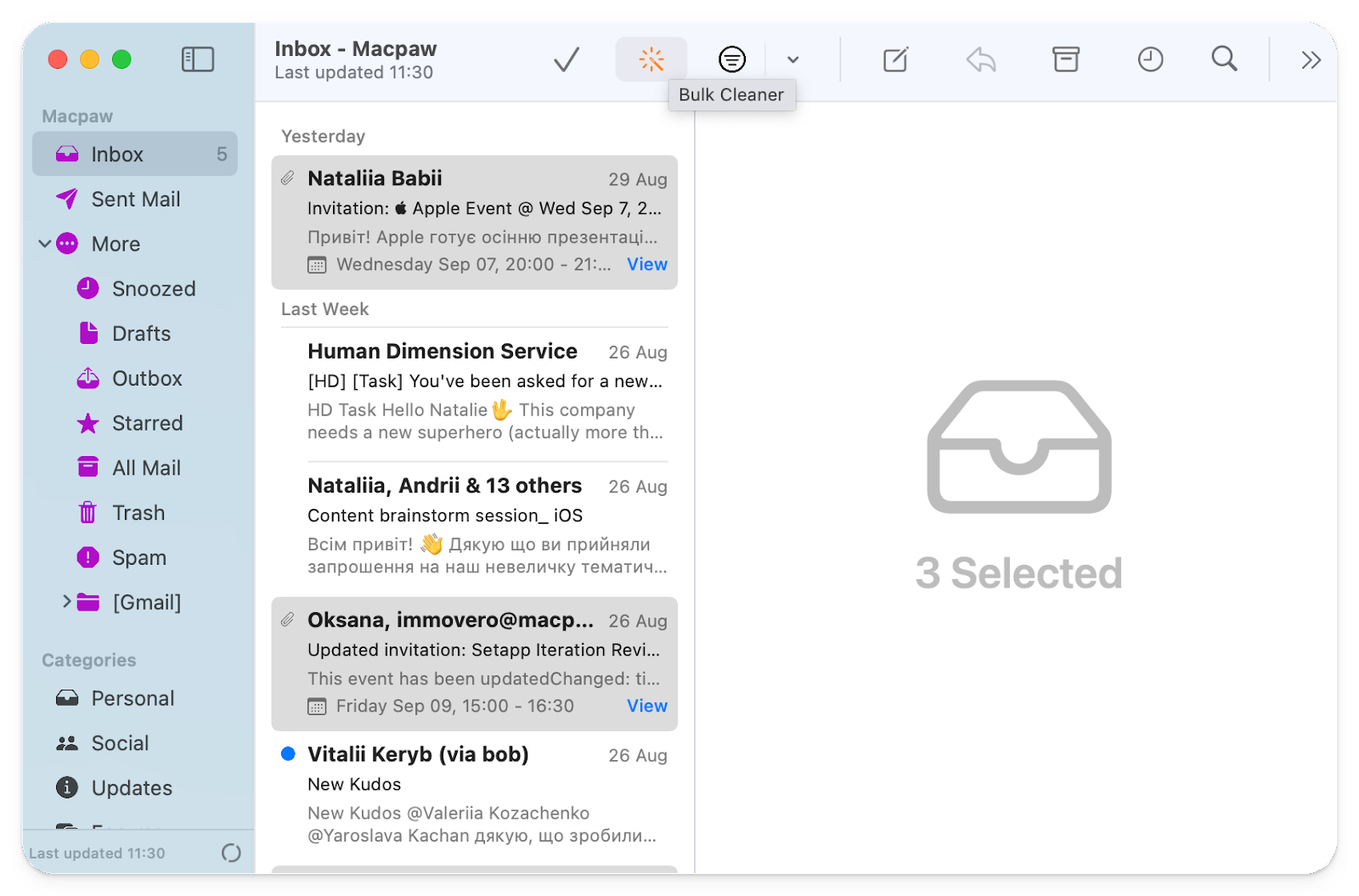 Finally, Canary Mail has a number of additional functions that help you manage your email. These include setting up rules to automatically handle particular email types, scheduling emails, and more.
Another great option you may like is Spark Mail. It is a fast, cross-platform email client that filters out the noise – so you can focus on what matters. The app separates priority email from non-priority email, highlights priority senders for quick identification, bundles emails from preferred senders for easy access, and much more. Our favourite features are Gatekeeper and +AI. The first time someone emails you, Spark's Gatekeeper checks the sender and gives you the option to accept or block future contact from that sender. +AI is an email assistant that helps you create the perfect email in seconds. Rephrase, correct grammar, adjust tone, and more.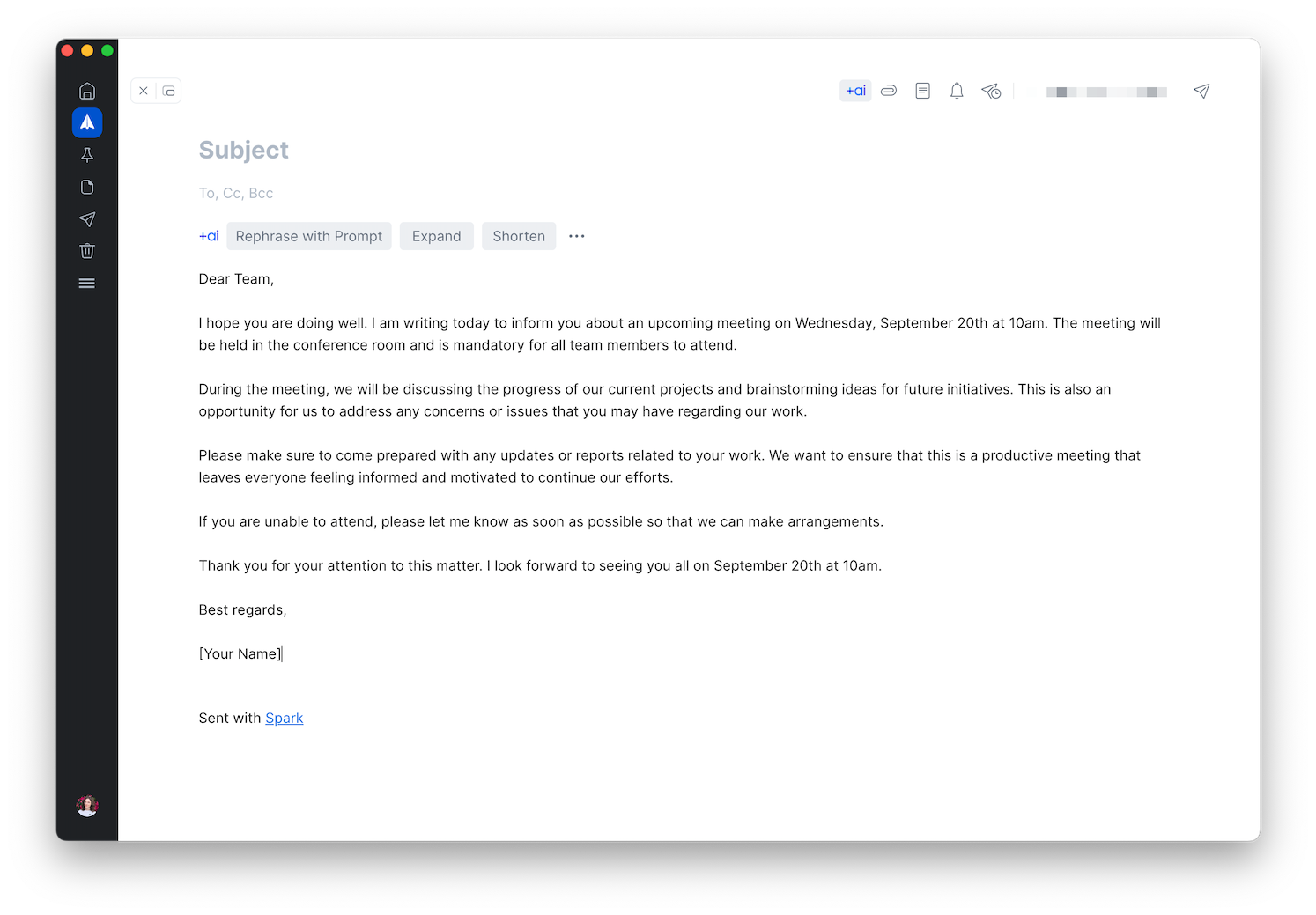 How to reset iOS Mail app manually
As promised, now, we'll show you how to reset Apple Mail on your iPhone. Follow the instructions below:
On your iPhone, go to Settings and choose Mai.l
Tap Accounts and choose the first account. It will probably be iCloud. To disable iCloud Mail, tap iCloud once more.
If you have more email accounts (for example, Gmail), repeat the above procedure for each of them.
Go to the Home Screen, tap and hold the Mail app until you see the option to remove the app. Tap Remove App > Delete App > Delete.
You have successfully reset the built-in iOS Mail app.
Restart your iPhone.
Go to App Store and download the Mail app again.
Finally, go to Settings > Mail and re-enable your email accounts. The procedure is the same as described above. You only need to turn on the toggle.
Reinstall Apple Mail and solve any other task on Mac with one app
As you can see, resetting Apple Mail isn't difficult with our guide. However, keep in mind that you work harder than you have to when you use the manual method. So we encourage you to install Setapp and take advantage of the tools mentioned above (CleanMyMac X, Canary Mail, and Spark Mail).
What is Setapp? Basically, it's a subscription service that offers a significant selection of apps for Mac and iPhone, many of which fall under the productivity, task management, maintenance, and creativity categories. You essentially get an all-access pass to more than 240 apps once you become a Setapp subscriber. You can view the complete list of Setapp apps, which includes top sellers like ClearVPN, CleanMyMac X, Nitro PDF Pro, Bartender, Newton, and more, here.
With Setapp, you'll save a lot of money since most apps individually would cost more than the monthly subscription. It's $9.99 per month. Before you commit to a paid subscription, you can start with a seven-day free trial to understand the platform and see if it's right for you.