How to get free Outlook app for Mac
Although originally conceived as one of the first free consumer email providers, Microsoft Outlook has gained worldwide popularity as the email client of choice for business environments. Even if you use Apple Mail on your Mac, you've probably come across Outlook as part of the Microsoft Office suite at some point.
The iOS version of Outlook has long been available for free, but if you were looking to download Outlook for Mac, you had to pay for a Microsoft 365 subscription or an Office license. Luckily, not anymore.
Try Outlook Mac for free — we will explain where to get it, how the new Outlook for Mac is different from Apple Mail, and what other options you have when looking for the best mail app to match your needs.
Outlook for Mac: Key features
As the name suggests, Outlook email for Mac is an email client, but it's also great for scheduling meetings, keeping track of your to-do lists, and managing contacts across all your accounts. Microsoft proudly calls it a "comprehensive productivity suite."
When you download Outlook for Mac, what you get is a free, ad-supported version that works with Outlook.com accounts, Gmail, iCloud, Yahoo, and any other IMAP email accounts. (An ad-free version requires a subscription and comes with the full desktop version of Office apps, 1 TB of cloud storage, and enhanced security features.)
Key Outlook's features include a focused inbox, calendar, contacts, notes, and to-dos.
Focused inbox: Outlook analyzes incoming messages and prioritizes them according to their importance using machine learning and filters out unwanted mail.

Calendar: You can plan your day and schedule meetings directly from the Outlook inbox, sharing your availability info with others. Additionally, the macOS version of Outlook features a calendar widget and boasts full integration with the Notification Center on your Mac.

Contacts, Notes, To Do: You don't need to leave the app to jot down some quick ideas, add a task to your list, or look up contact details — no matter which of your email accounts has this information.
What changed in the new Outlook for Mac?
Compared to the legacy Outlook, the new Outlook for Mac has been redesigned and optimized for Apple silicon Macs to become faster and support Handoff with iOS. Its newly added features include:
Intelligent natural-language all-mailbox search for messages, people, or documents
Text prediction and advanced dictation
Quick Parts feature that helps you save frequently used phrases or whole blocks of text for future use
Swipe gestures and custom hover actions
Fully customizable toolbar
Snooze, Undo Send, and Resend message options
Calendar widget
In terms of possible weakness areas of Outlook email for Mac, the most common concerns reported by users are connected with:
Data gathering practices: Microsoft Sync collects data (contacts, calendar, profile, messages) from your IMAP provider for storing on Microsoft's servers. In response, Microsoft claims that it only collects data for the benefit of your user experience and not for ad targeting.
Processing lags and mishaps: Focused inbox might take a while to process at times and is known to mistakenly hide important emails from the Focused tab.
Overwhelming UI: Having lots of functionality integrated into one app is set to help you stay productive but at the same time may feel excessive to someone only looking for a straightforward email app.
If you feel you're ready to explore your options when it comes to finding an email client that would work best for your needs, be sure to try Spark Mail.
Spark Mail is a great alternative for managing all your email accounts (including Gmail, AOL, iCloud, IMAP, Hotmail, Yahoo, and GMX) from a single inbox.
Spark Mail doesn't keep your messages separated by different account tabs. Instead, all your mail comes to a single inbox. To help you stay focused, Spark Mail automatically organizes your incoming correspondence by the sender: letters from real people are separated from the rest of the mail that pours into your accounts daily, and designated priority senders are brought to the top of the list.
Other Spark Mail features will help you:
Mark emails as done and out of the way
Block unwanted senders
Generate secure links to individual emails or discussion threads
Pin important messages to the top or set something aside to process later
Collaborate on composing emails with others
Use an AI assistant to proofread, rephrase, expand, or shorten your text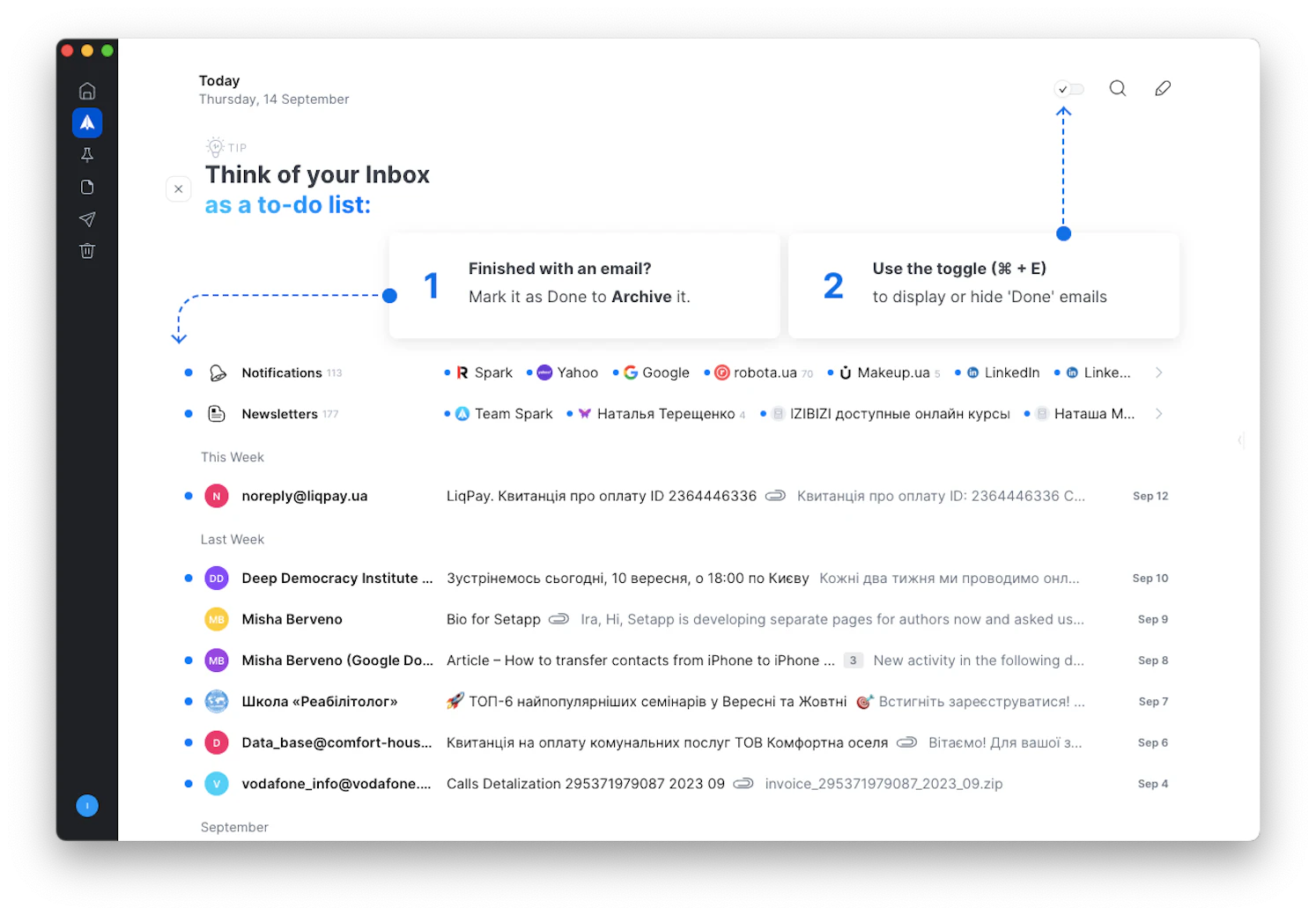 There's also a way for you to keep track of all your messenger accounts from a single app. You can bring your favorite instant messaging apps into one convenient window with IM+. Sometimes called an all-in-one messenger, IM+ will keep you connected, logged in, and updated on all the services you add to the app.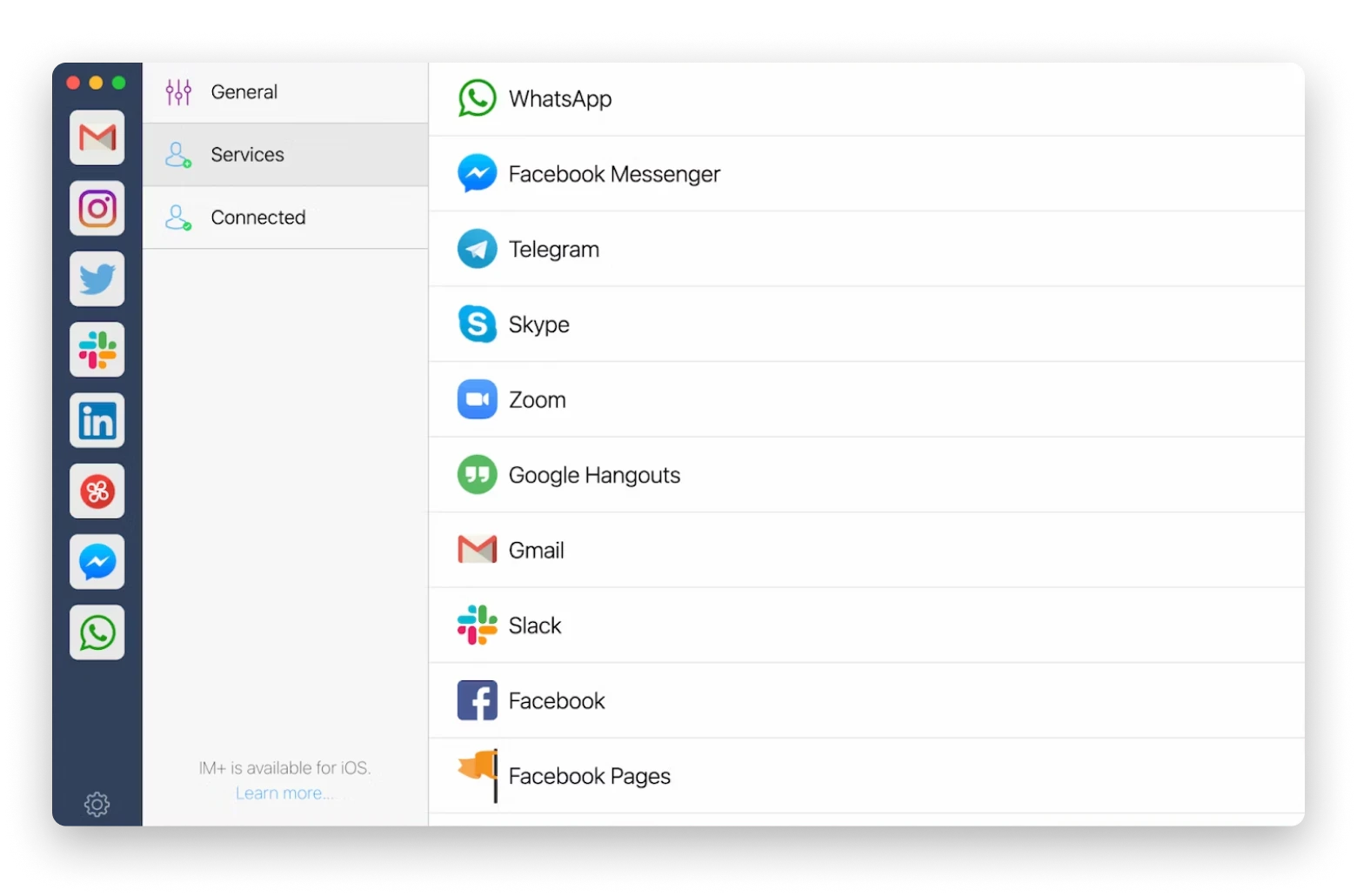 IM+ supports WhatsApp, Skype, Facebook Messenger, Twitter, Slack, LinkedIn, Telegram, Instagram, Tinder, and others. You can add more than one account for each service and configure custom notifications.
How to access Outlook on Mac
You can get Outlook Mac for free from the Apple's App Store. No Microsoft 365 subscription or Office license needed.
Simply download Outlook for Mac, add your existing email accounts you'd like to manage, or create a new Outlook account, and you'll be ready to use your new mailbox.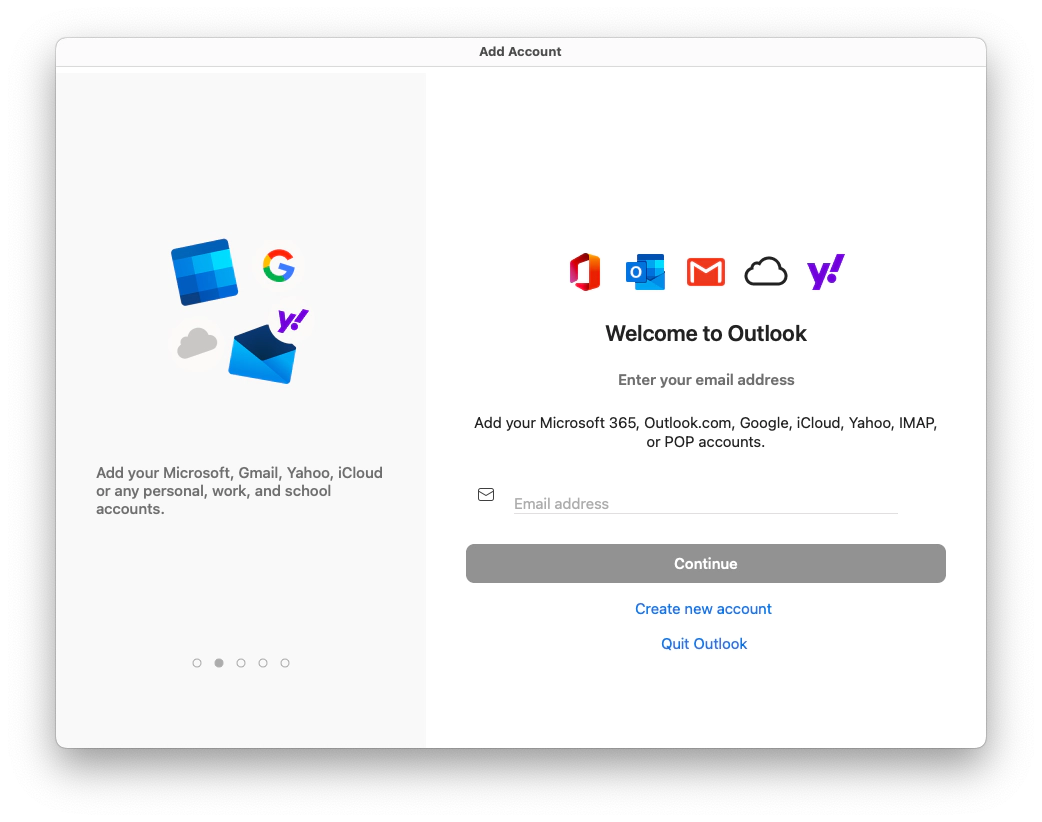 If, on the other hand, you decide to manage your Outlook mail along with other accounts from the Spark Mail platform, it also only takes a few steps to set up:
Launch Spark Mail
Go the the app's top menu and click on Spark Mail ➙ Add Account
Enter the Outlook email you'd like to add to your Spark Mail inbox
Sign in with your Microsoft account
Is the Mac Mail app better than Outlook?
Is Outlook free to use? Yes. Is it now optimized for use on Mac? Yes, thankfully. Is it better than the native macOS Mail app? That would depend on your needs and personal preferences.
Think of Outlook as Mail, Calendar, Contacts, and Notes apps merged into one. The app is packed with productivity features that make it a sound option for people with busy schedules working within a big team. If, on the other hand, you already have your preferred calendar and productivity apps, you might find the minimalist Mac Mail app a better fit for you.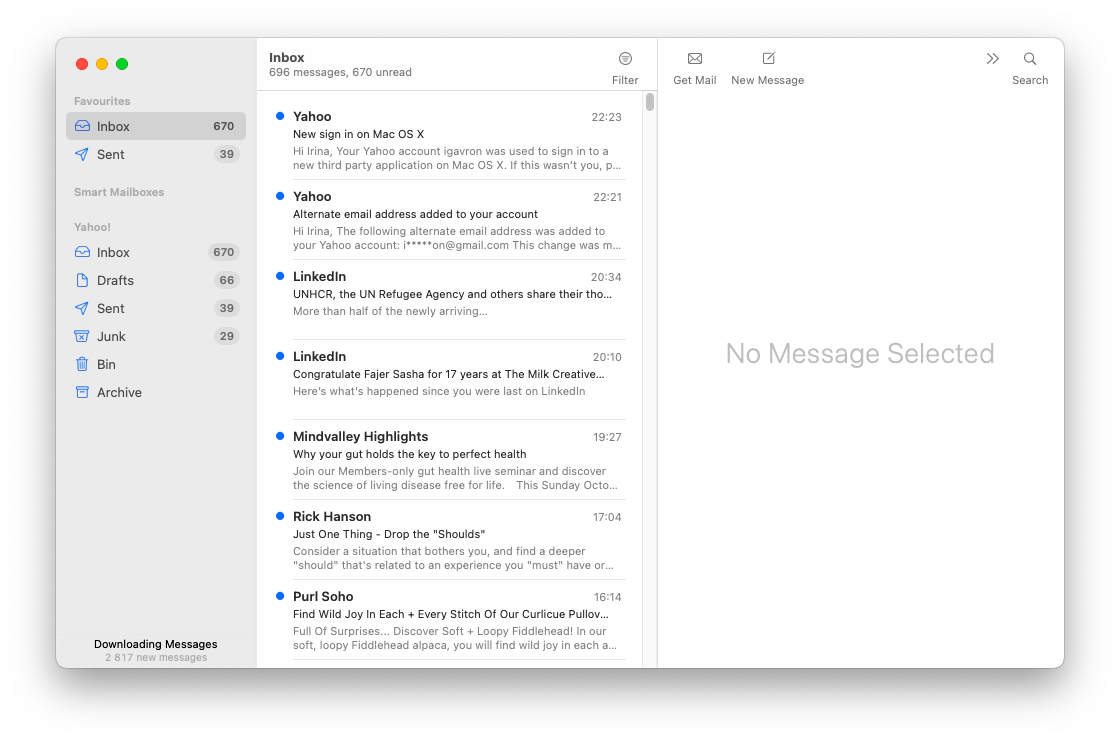 Both Mac Mail and the new Outlook for Mac allow for an unlimited number of inboxes you can register and custom configurations to show emails in a "unified inbox" view or separated by individual accounts you've added to your mail.
You can send, receive, and effectively organize your emails with both of these apps:
Add flags (Mail on Mac) or colored tags (Outlook for Mac) to your emails to organize entries by categories
Prioritize your contacts with a VIP list feature (Mail on Mac) or Focused inbox (Outlook for Mac)
Create theme-specific (Outlook for Mac) or custom (Mail on Mac) message folders
Filter out spam
Schedule emails in advance and choose the time they are to be sent
Search inbox
It's true that Outlook email for Mac comes with a range of additional advanced features and supports third-party add-ins in case you'd like to power up your email even further. But, ultimately, if all you need is a solid send-and-receive email app, you can safely count on Mac Mail. Otherwise, definitely go for a chance to download Outlook for Mac to check if its additional functionality is an advantage or distraction for you.
If the main thing you're looking for when choosing an email app is security, make sure you also have a look at Canary Mail.
Canary Mail offers end-to-end encryption to ensure that what is sent is read only by you and the person you're communicating with (advanced PGP users can even manage their own encryption keys).
In all other respects, Canary Mail is comparable to Outlook's functionality — it lets you bring all your existing email accounts together and integrates seamlessly with your favorite apps for schedules, tasks, and working with files. With Canary Mail, you can give your productivity a boost with:
Natural language search that instantly understands what you are looking for
Customizable email templates
Read notifications
Bulk mail actions — pin, star, move, snooze, mark as read, etc.
Unsubscribe feature that lets you quickly remove your name from any mailing list without the need to look for unsubscribe links
Smart filters for auto-sorting your mail
AI assistant to help you summarize incoming messages or write replies for you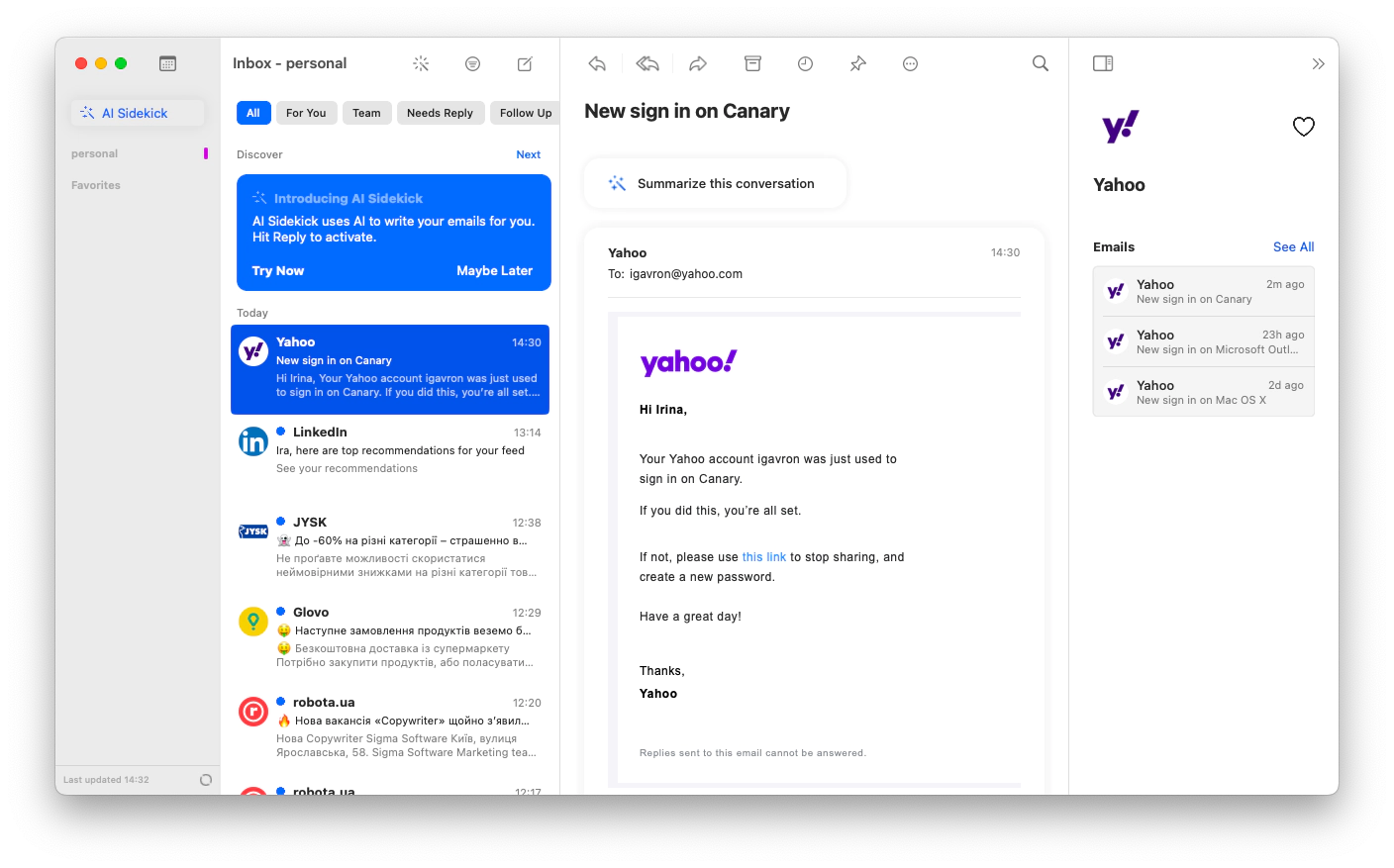 Get Outlook Mac for free and see how it compares to your current mail app
If anything, the new Outlook for Mac Microsoft's release is a great prompt for you to take a closer look at your current email app. Are you interested in more functionality? Would you like to try new tools for managing your mail, to-do lists, and daily schedule?
If so, download Outlook for Mac or bring your email accounts together in Spark Mail that automatically separates emails from real people from spam and brings messages from your priority senders to the top of the list, or Canary Mail that can bring real peace of mind about your personal data privacy with end-to-end encryption of all messages.
Additionally, don't forget the app that could help you manage all your instant messengers — IM+ displays all your social media conversations in a single window, making it unnecessary to check on updates across multiple apps.
Grab a chance to try all the apps mentioned in the article for free with the seven-day trial of Setapp, a platform of best-in-class iOS and macOS productivity apps. Learn what Spark Mail, IM+, or Canary Mail can do for your productivity, and check out more than 240 other options to boost your performance.