How to block an email address on Yahoo
If you are receiving annoying spam messages to your Yahoo mailbox or want to block a contact you no longer want to stay in touch with, you can add the email address to your Yahoo Mail blocked contact list. Remove the address from the blocked contacts list any time if you change your mind.
In this article, we will talk about how to block emails on Yahoo using Yahoo block sender feature. You can do this directly from the email an unwanted contact sent to you, or you can go through settings and add any email you need there. Now, let's go through the process step by step.
How to block emails on Yahoo
Yahoo currently allows you to block up to 1,000 email addresses. To add someone to your blocked list, go to mail.yahoo.com, open their message in your Inbox, and click the three dots at the top of the email. Find Block senders option: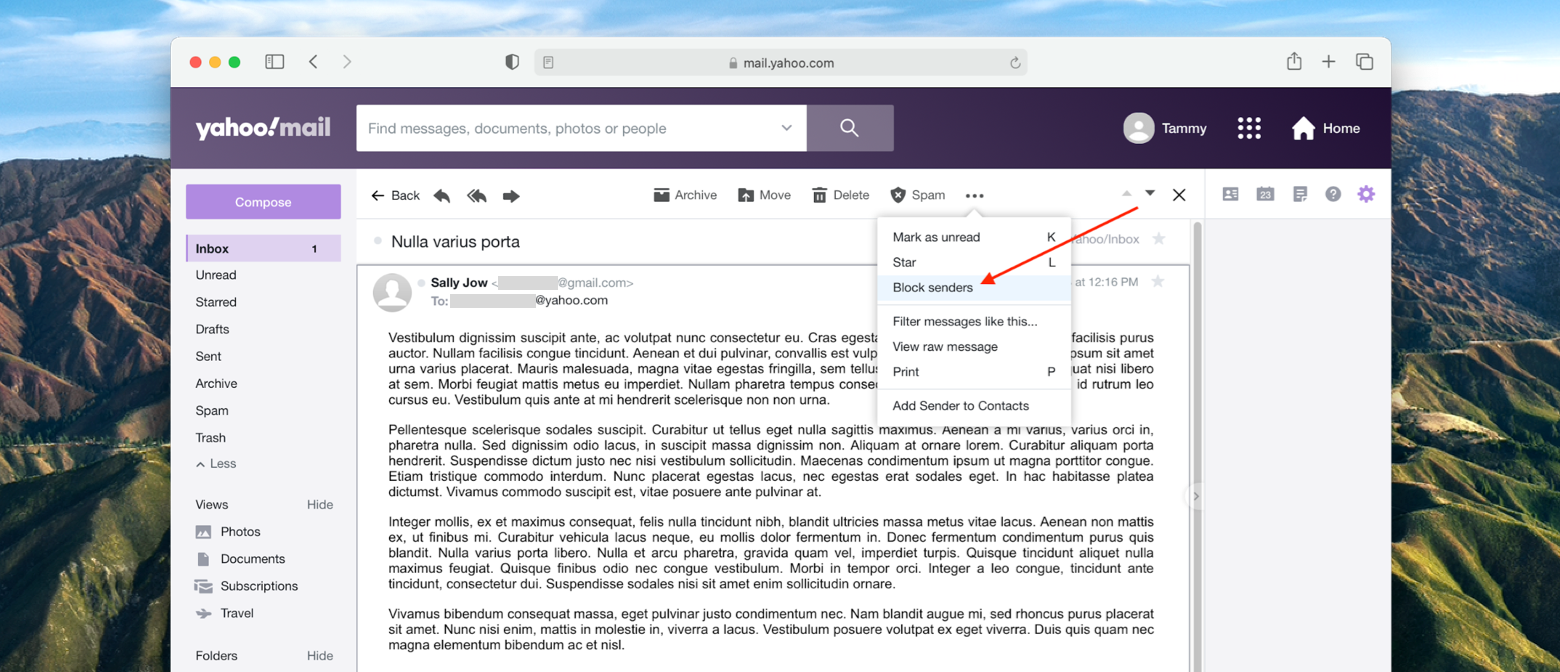 Click on it and confirm blocking: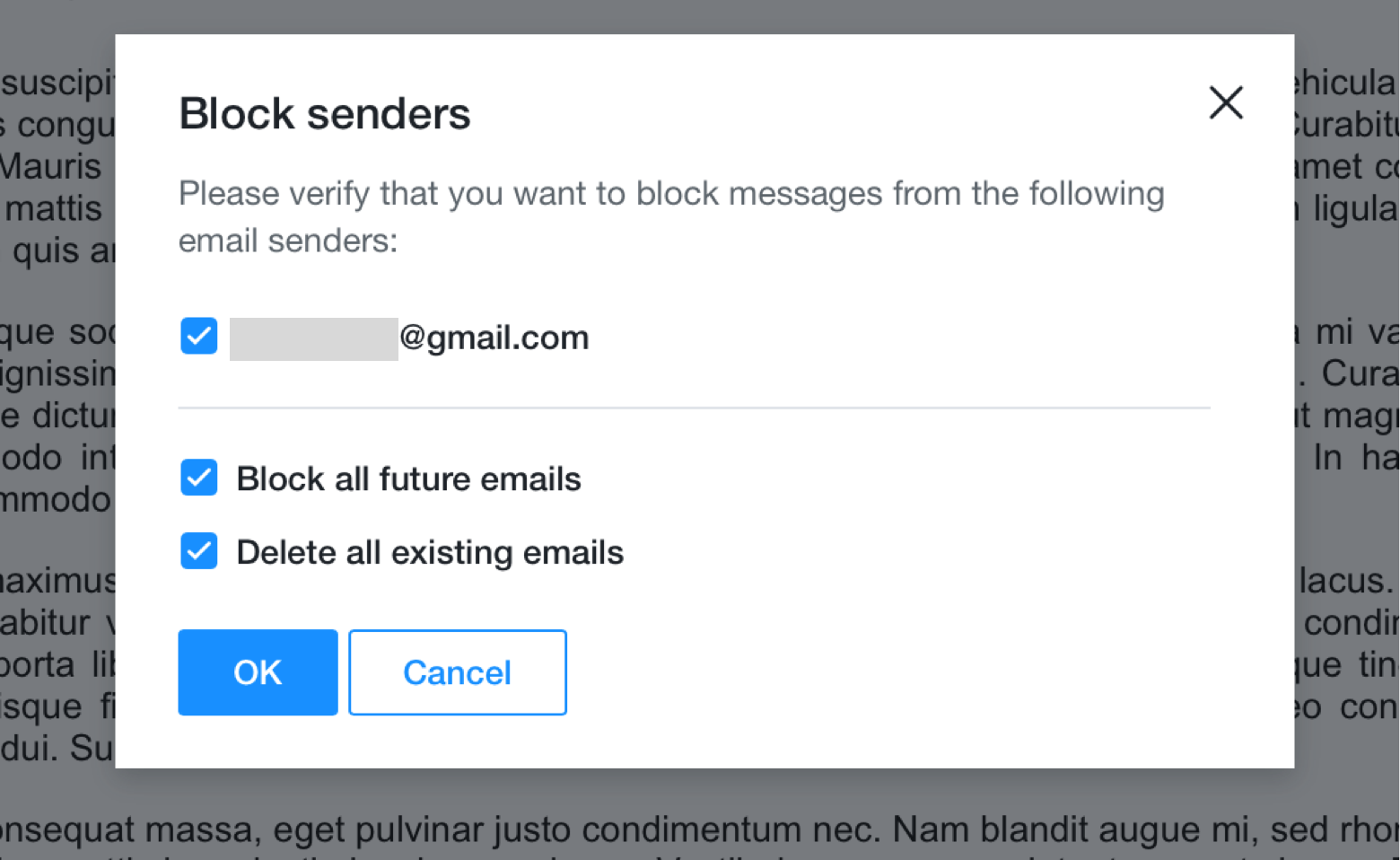 By default, the tool also offers to delete all existing emails from this sender. It's a useful option if you are blocking a spam newsletter or a phishing attempt. You'll have to uncheck this box if you do want to keep the previous messages though.
Click OK to confirm your selection, and you are done.
Now, to manually add an email to your Yahoo blocked addresses list, go through the settings. Here's how you do that.
To open Yahoo settings in the web interface of this email client, look for a wheel icon at the top far right corner of the screen. Press it and find More settings at the bottom of the menu: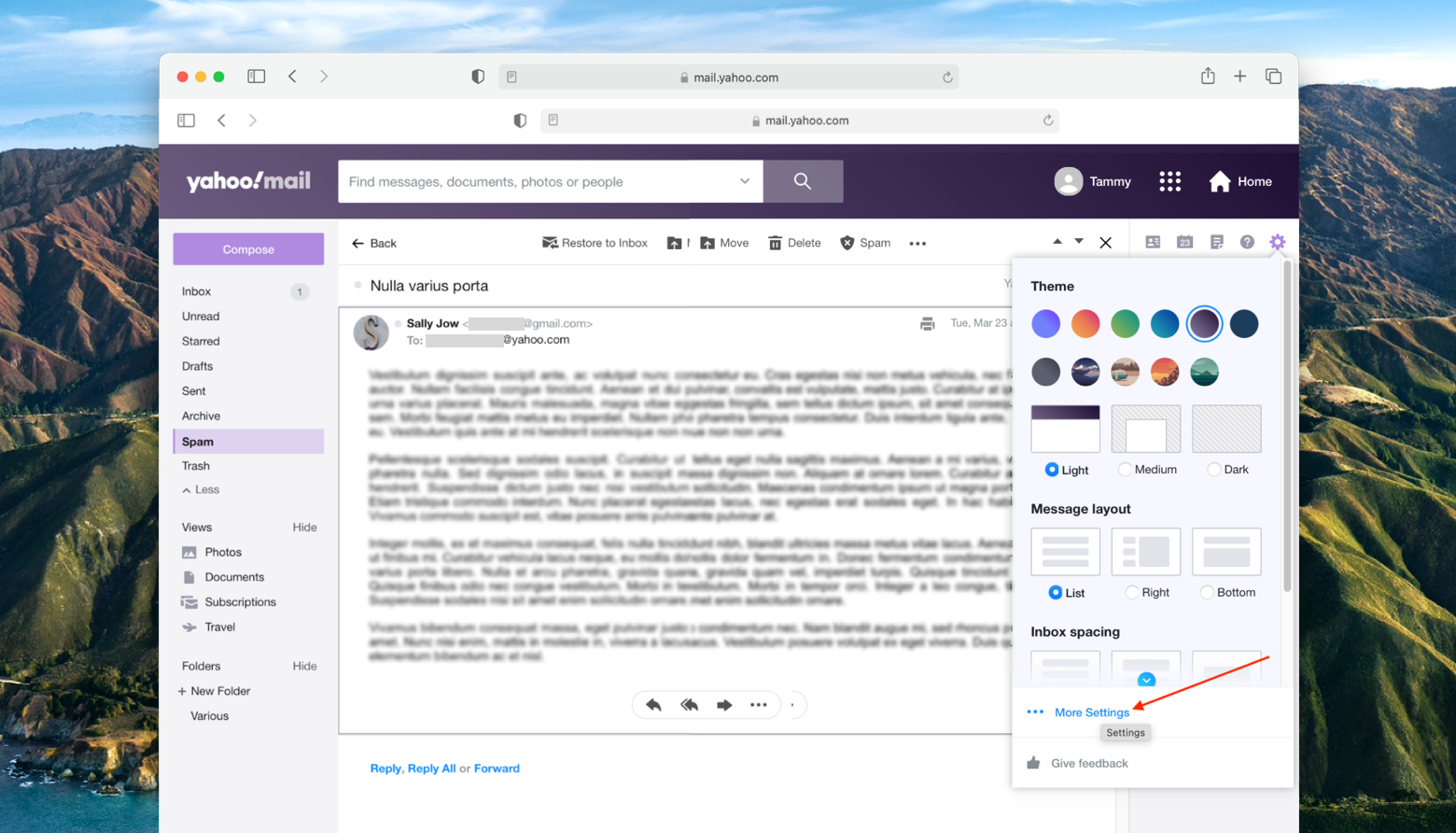 Find Security and Privacy tab in the settings menu: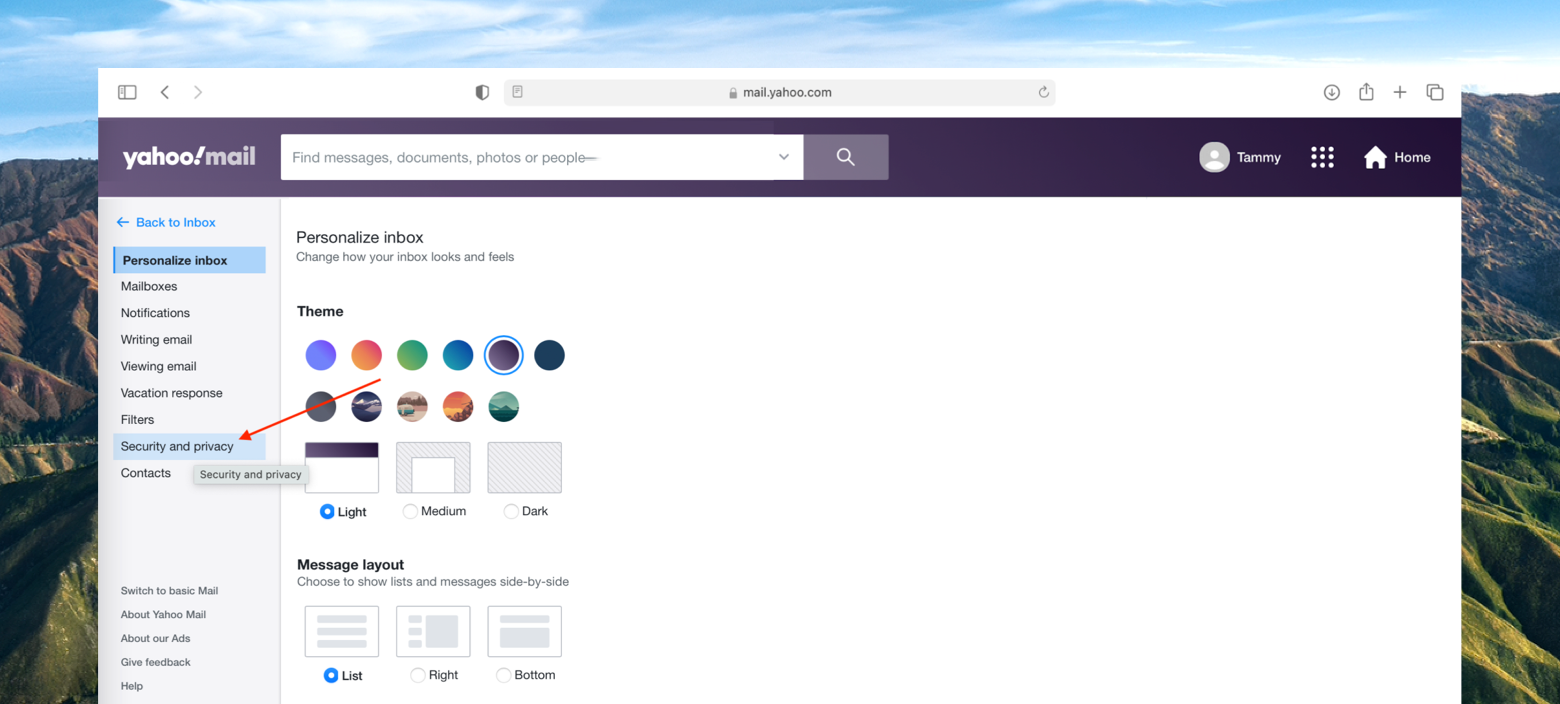 There, just click + or Add to open the field for entering an address: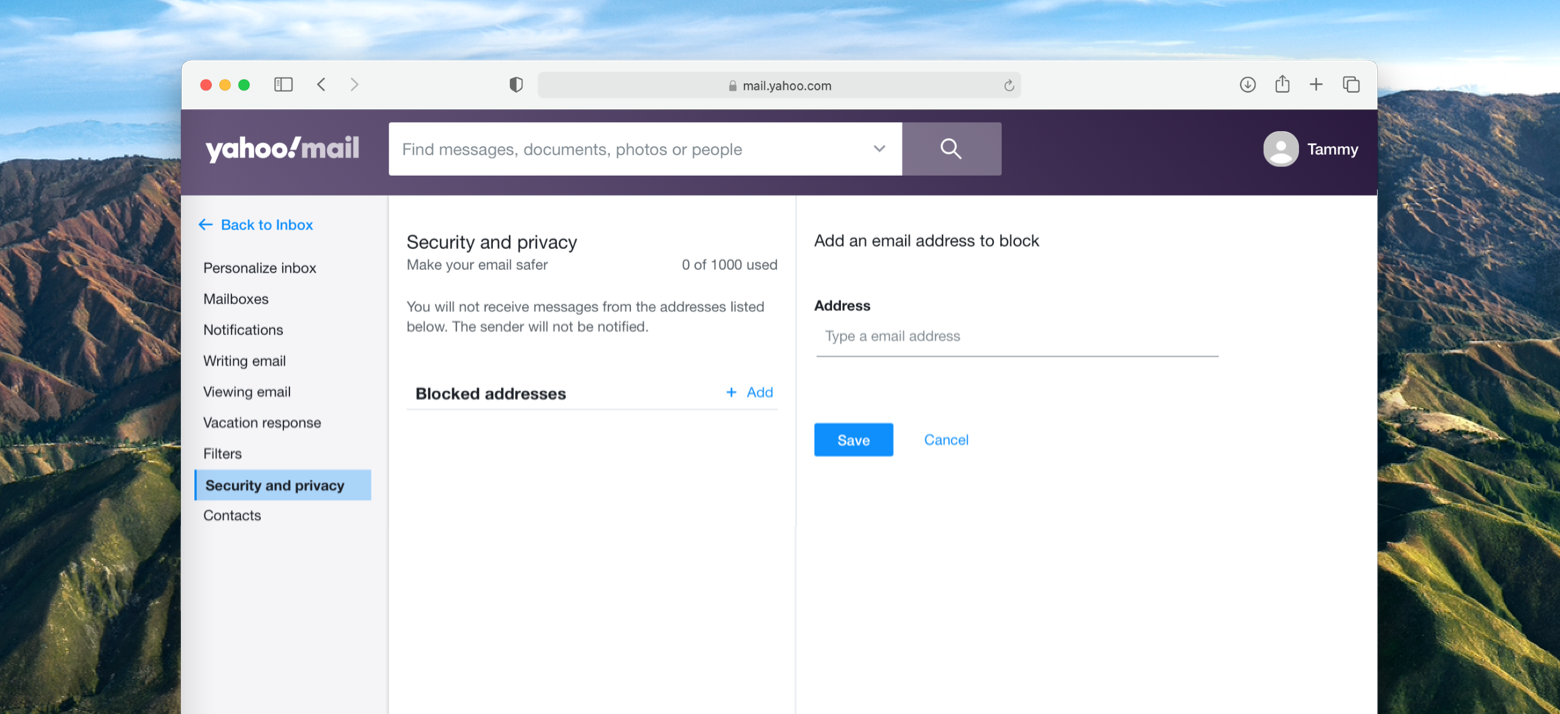 Type in the address you want to block and hit Save. Your blocked contacts will appear in the list under Blocked addresses in the center column on this section.
If you are wondering if the blocked contact will find out that you've blocked them, Yahoo has the answer – blocked contacts are not notified.
Now that you know how to block someone on Yahoo web, let's see how to mark messages as spam in your Yahoo inbox.
How to block spam emails on Yahoo
Sometimes a pesky newsletter just won't go away from your inbox, and you are not even sure if you ever subscribed. Besides blocking the sender, you also have the option to report spam in your Yahoo Inbox.
If you've opened a message and realized it was a spam email, you can send it to your Spam folder directly from that page. Just click the Spam icon at the top of the email: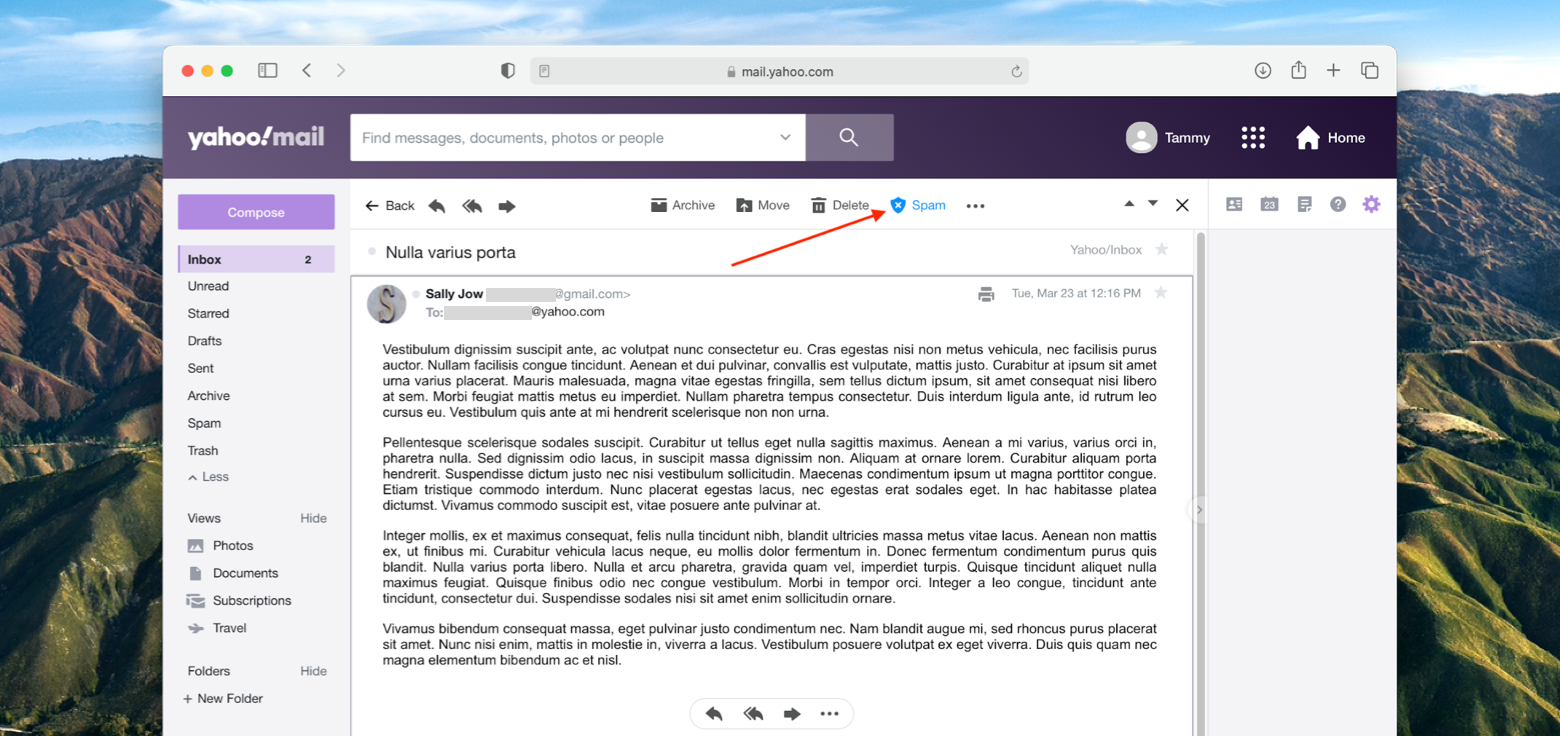 Message will be moved to the spam folder.
You can also send messages to your Yahoo Spam folder without even opening them. Plus, you can select more than one and send emails to Spam in bulk. Just select the messages you want to mark as spam inside your Inbox and then click the Spam icon: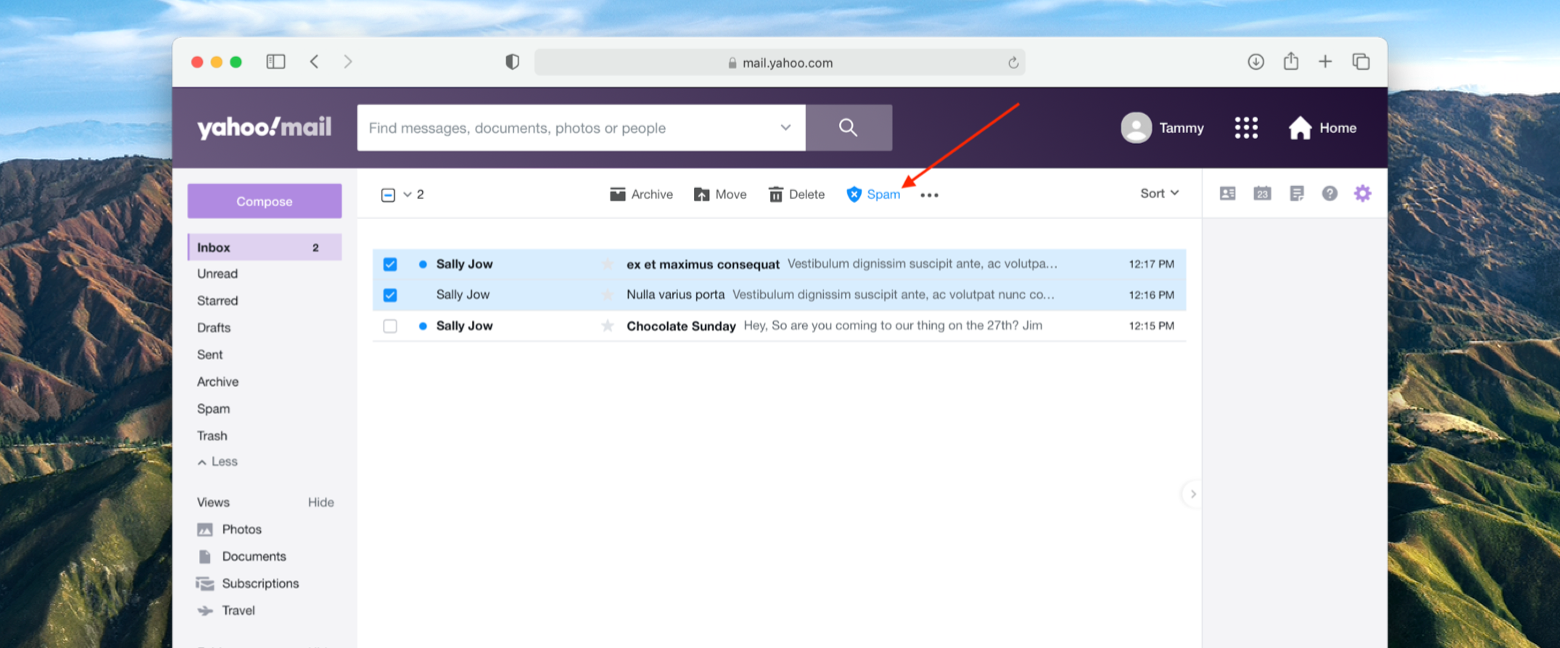 All selected emails will be marked as Spam and sent to your Spam folder right away: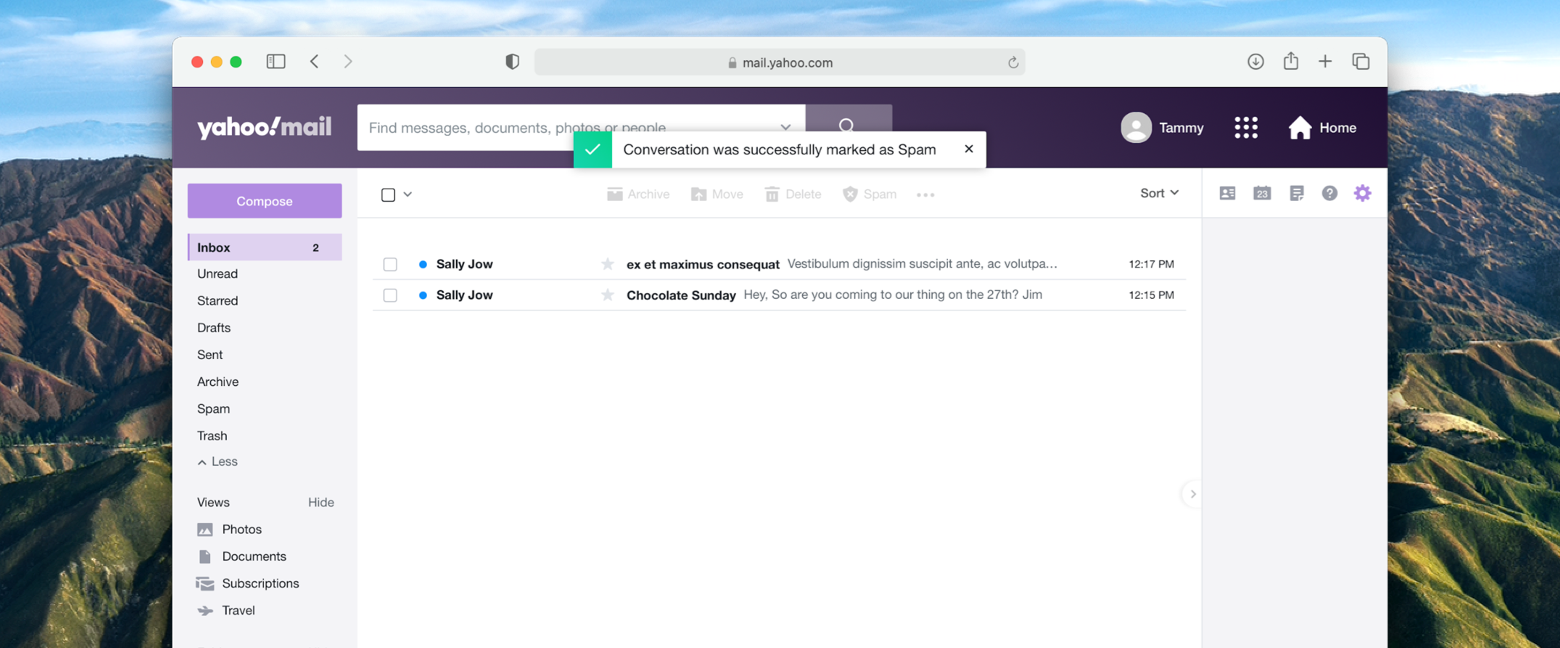 If you receive a lot of spam, it might not be practical to block each and every email as you'll use up Yahoo's 1,000 email address limit for blocking. Just mark unwanted newsletters and promo emails as spam.
The good news is that you can also mark messages as spam in Yahoo mobile app.
Just select an unwanted message from the inbox and mark it as spam:

To mark as spam a message that you've already opened, just find the More option at the bottom right corner of your message and tap on it to reveal action options:

Tap Mark as spam.
Messages remain in the spam folder for 30 days and then are automatically deleted. If you don't want the spam messages to be deleted, you need to move them out of the spam folder back to your Inbox. Then, you can archive them or create a dedicated folder to get back to them later.
If you don't want a newsletter or other messages that keep being automatically sorted into your Spam folder to be marked as spam, you can whitelist them. Just create a filter to always send emails for a specific sender to Inbox or a folder of your choosing.
If you found the email in Spam, you can choose to mark it as Not Spam: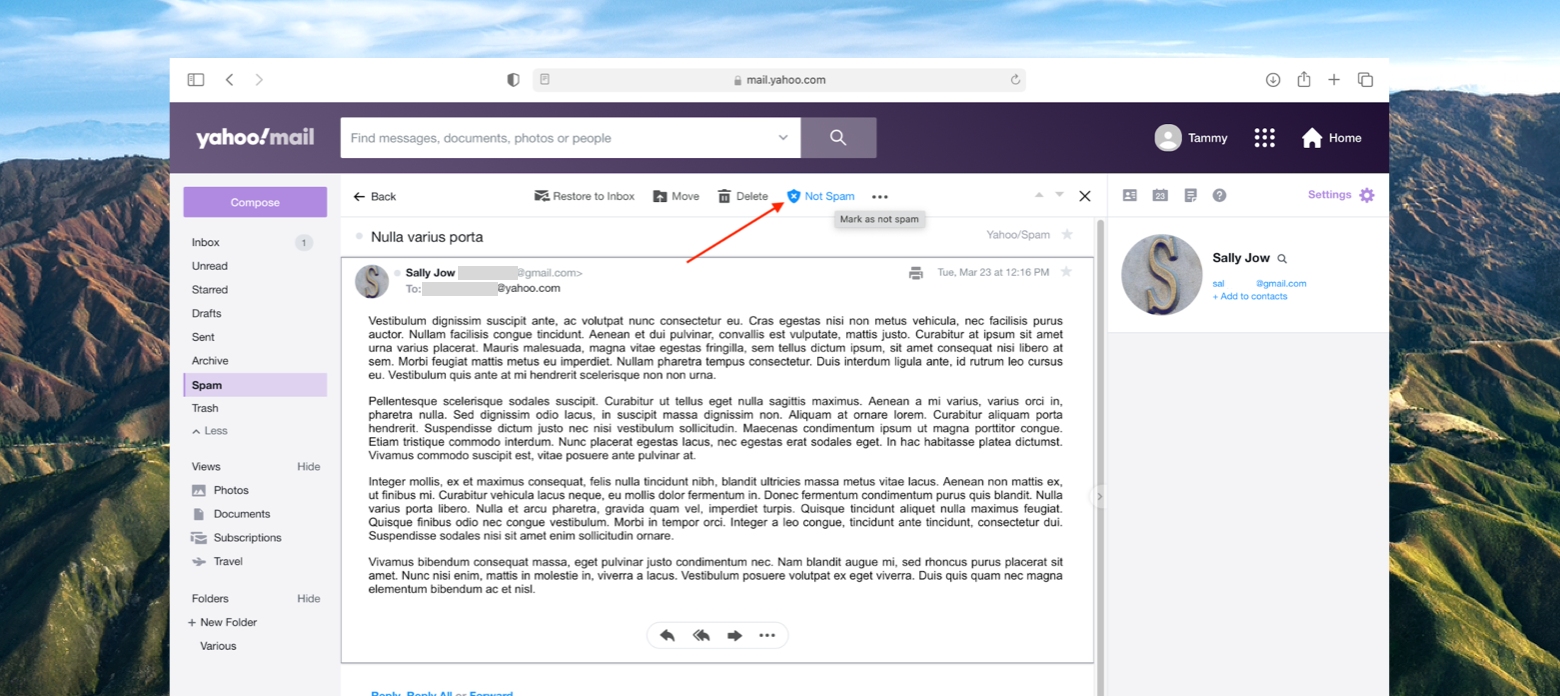 To filter future messages from this sender, just click the three dots icon right next to Not Spam and select Filter messages like this: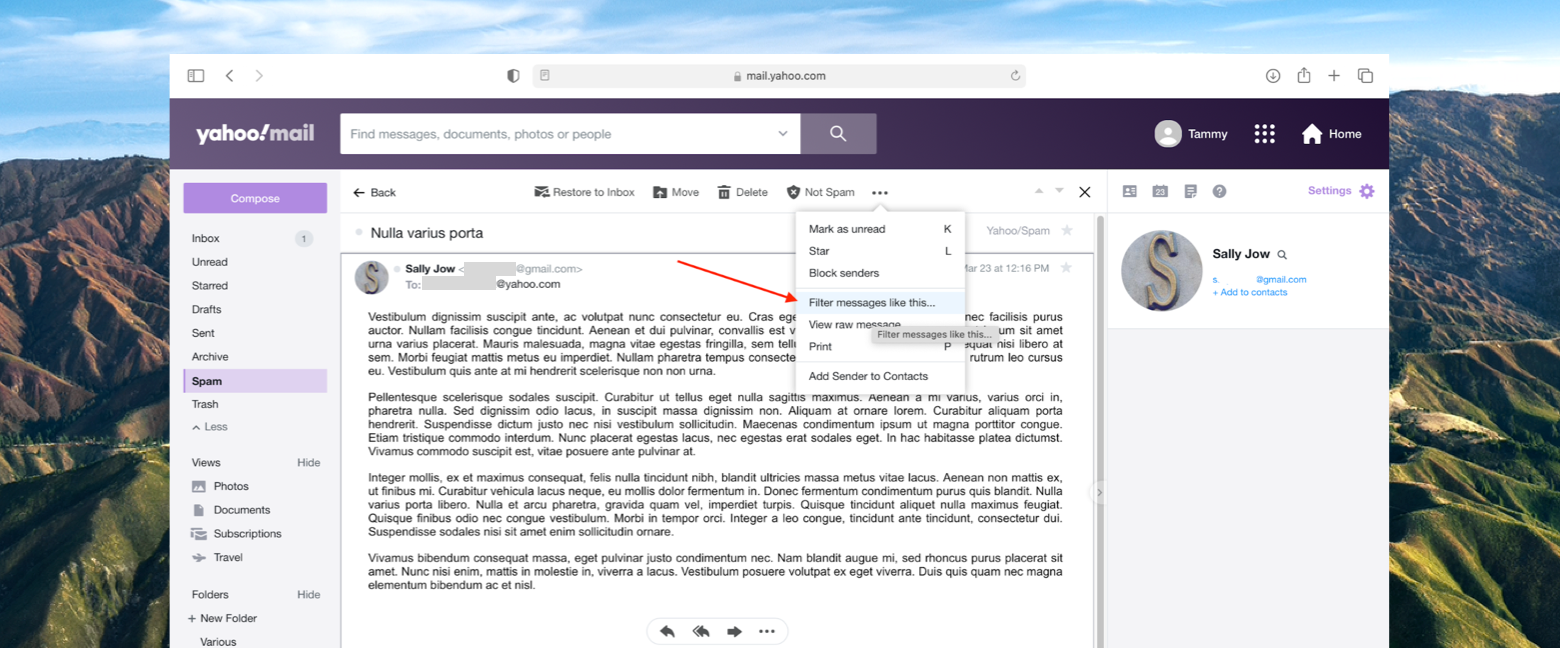 You will be prompted to create a filter for this sender. Select the folder you want future incoming messages from this email address to be moved to: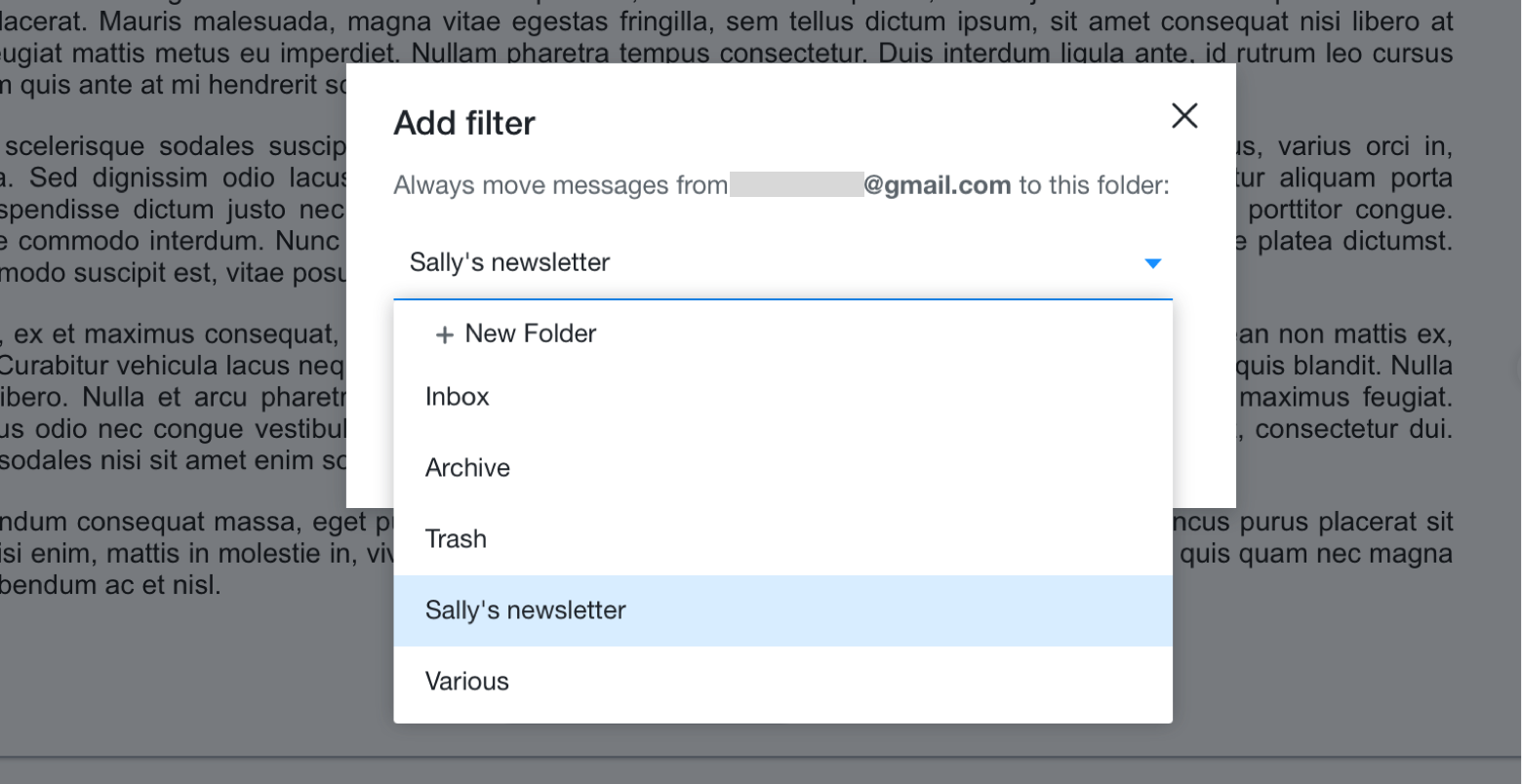 And click Save to finish your filter creation: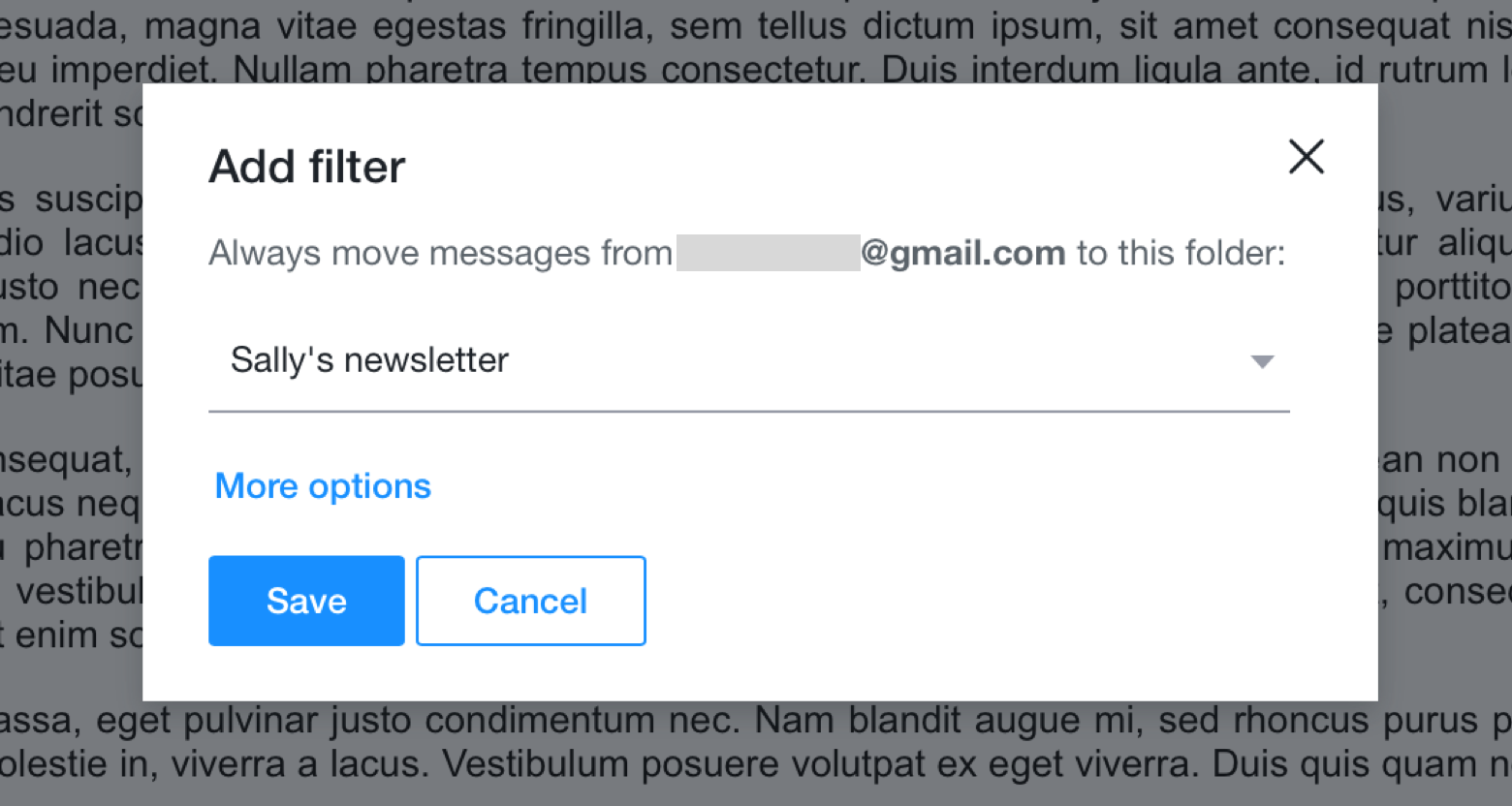 Click More options to open additional filter settings and fine tune your filter.
You can also create a filter for incoming emails through settings. Just click the wheel icon in the top right corner of your inbox and hit More Settings. Go to Filters: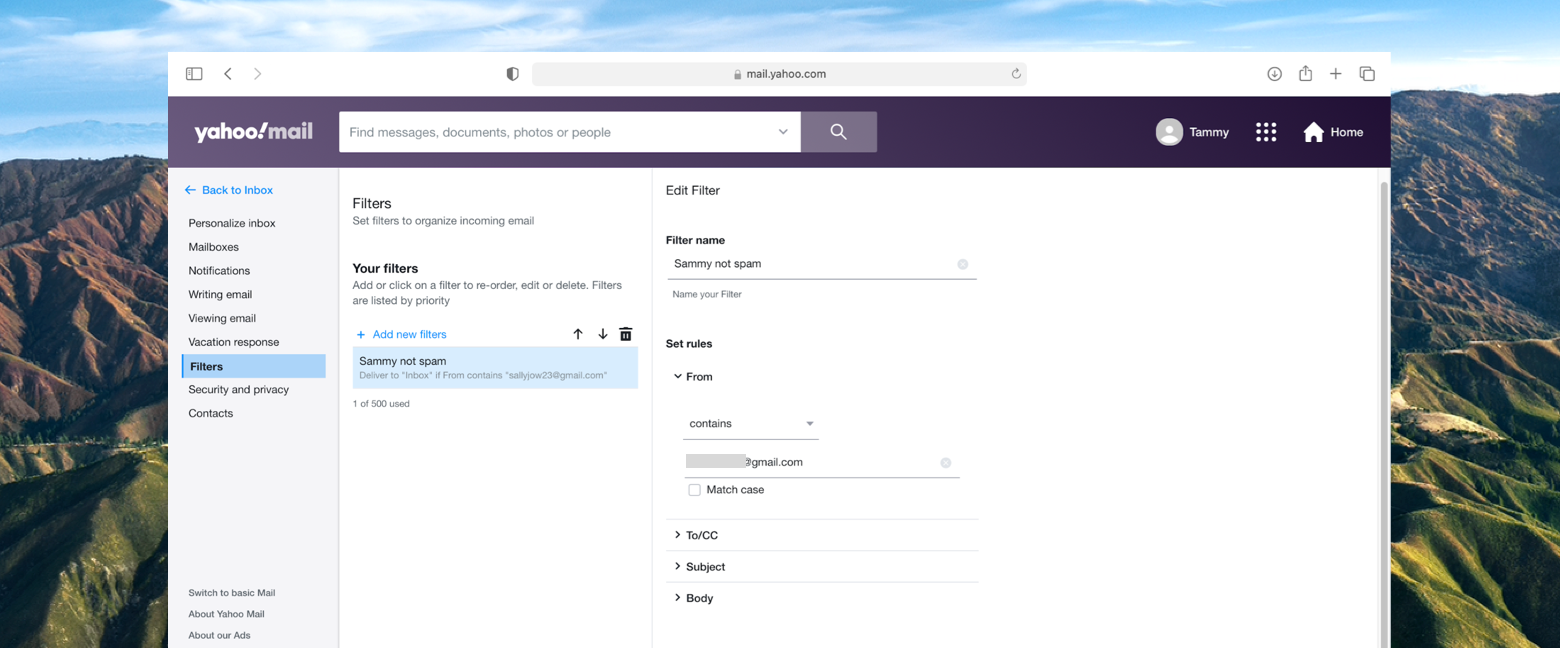 There, you'll be able to manually create filters for various emails, subject lines, and other rules.
How to protect your Yahoo Mail
Blocking addresses you do not trust or sending messages to spam may not be enough to secure you from all threats. Some of the essential steps to take to protect your email is to keep your Yahoo Mail password secure and beware of the phishing attacks aiming to get sensitive information from you through clever social engineering techniques.
Yahoo also tries to catch phishing attacks and warn you. If Yahoo detects an email that looks like a phishing message, the mail service will warn you. You will then will have the option to either disregard the warning or report message as a phishing attack.
If you suspect your mailbox might have been compromised, you can check if any of your email settings – like your sender name – have been changed or if there are any recently sent messages that you didn't send yourself. Yahoo also keeps track of your recent activity where you can see the list of recent devices and locations logged into your account, apps authorized to connect to your account, as well as recent account changes.
To open your Yahoo Recent Activity page, go to mail.yahoo.com, press your account icon or image in the top right corner of the page, and click Add or Manage Accounts: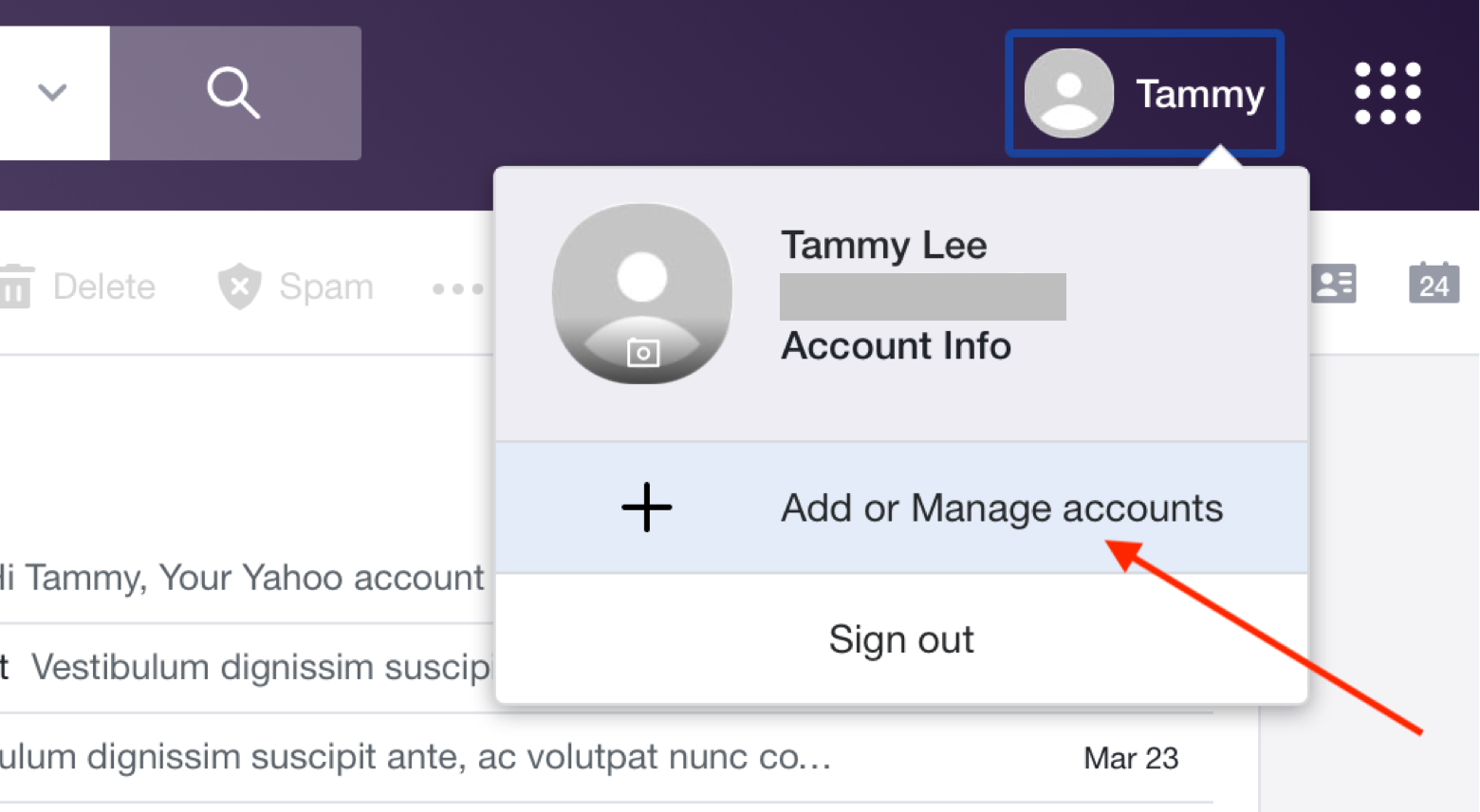 On the next page, click Account Info: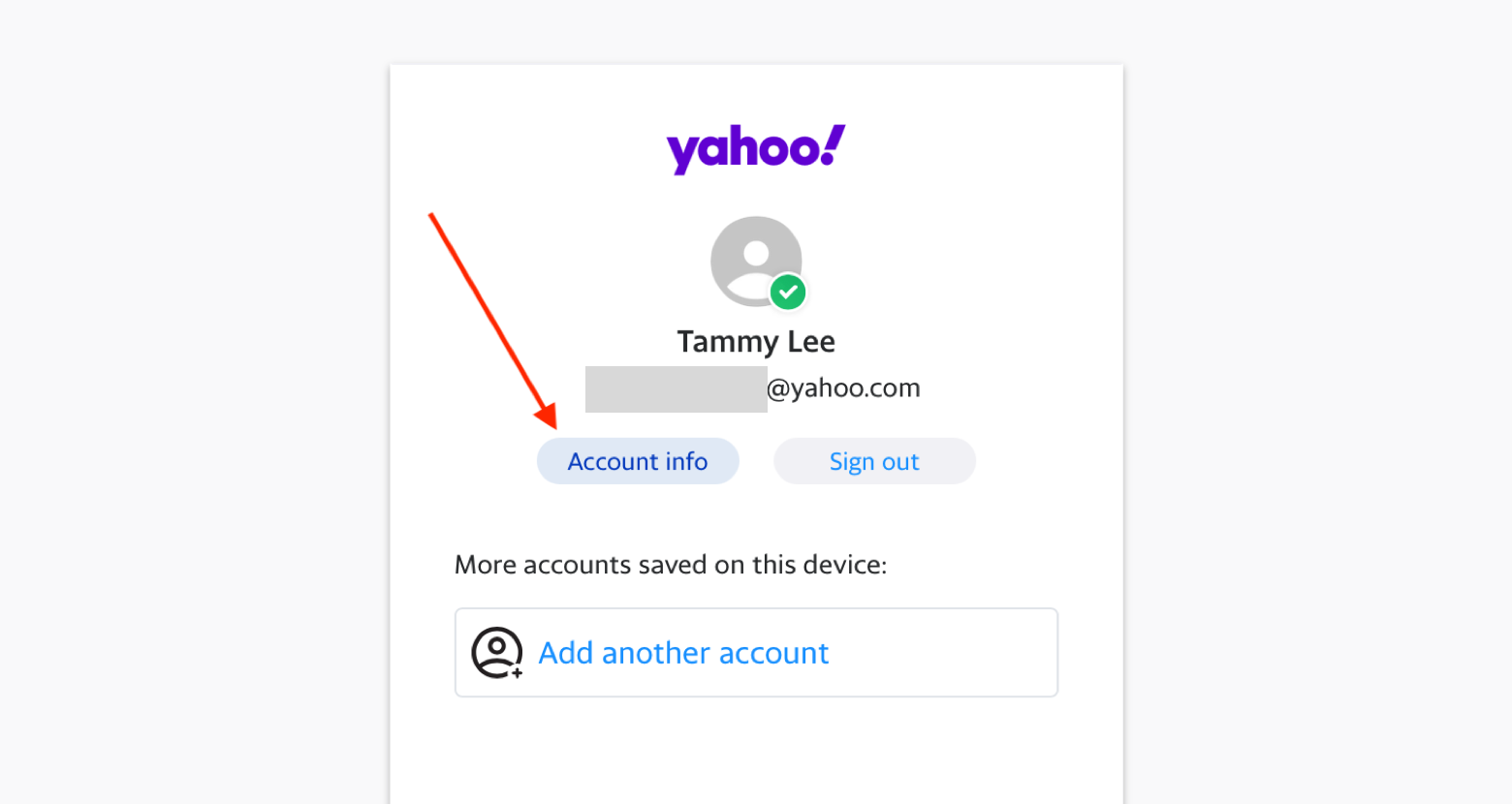 Then go to the Recent Activity tab and view all activity:
If you do not recognize any of the devices, sign them out. Next, change your password to secure your mailbox.
Review the apps connected to your Yahoo Mail, if there are any you don't recognize, remove them.
Our account is connected to Canary Mail, that's a secure end-to-end encrypted mail client which we love to use for a lot of our mailboxes. We recognize it, so we keep it.
If you want to try out an email client for your Mac desktop, Canary Mail makes for a handy helper with a simple and minimal design where you can access your inboxes with various email services in one interface.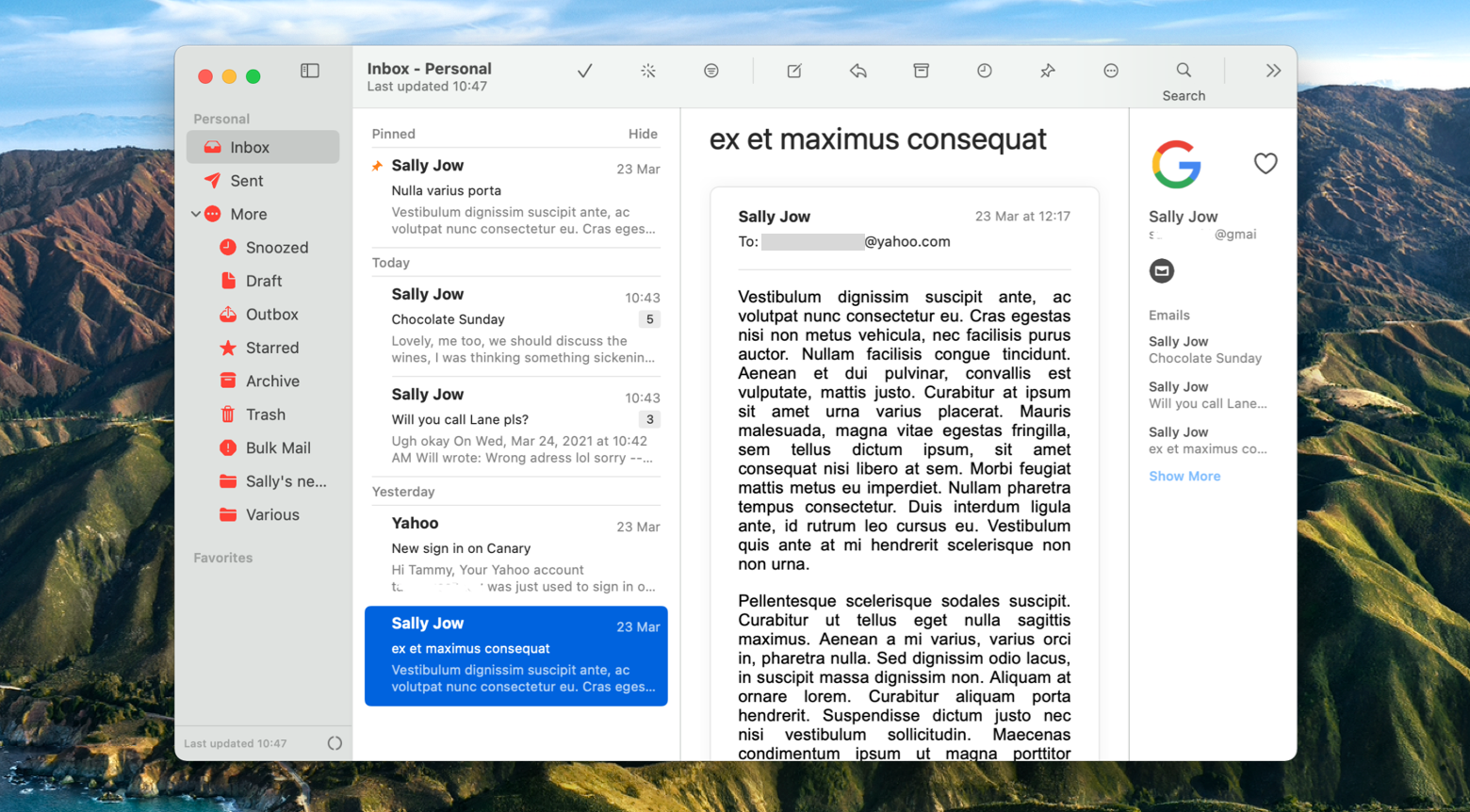 Conclusion
As we've learnt above, you can block an address on your Yahoo mail very easily – from the message itself or by adding a contact manually through settings. To ensure further security of your inbox, only share your email address with trusted contacts, screen your inbox diligently, pay attention to any warnings from Yahoo, and be careful when sharing any sensitive information with your contacts or clicking links in emails.
But it's not enough to just know how to block an email address in Yahoo, your mailbox will become a much more organized and way less overwhelming place if you set up filters to manage incoming messages. In your Yahoo Mail, you can filter the messages into various folders to sort through them later. And any unwanted newsletters and promo emails can be marked as Spam and moved to the spam folder, where they get deleted after 30 days.
If you are managing more than one email account, using an email client like Canary Mail can save you time and make the process smooth and effortless. Plus, with Canary Mail your messages are end-to-end encrypted, for an extra layer of protection. You can get Canary Mail along with over 210 other apps with your Setapp subscription.
Setapp is a single subscription for dozens of apps for productivity, workflow, creative tasks, and managing your schedule and plans. If you are interested in optimizing your projects and processes with various apps within Setapp, you can try Setapp 7-day free trial and explore all the apps for yourself!