How To Enable Flash Player On Chrome
Having been around since 1996, Adobe Flash Player has played a crucial role in the evolution of the web. For the longest time, before HTML5 became truly widespread, it was the only effective way to run multimedia content online, including video, games, applications, audio, and more.
Today, the era of Adobe Flash Player is coming to an end. While the Flash Player 2020 is still supported, Adobe announced back in 2017 that 2020 would be the last year of support for the software. Accordingly, all major browsers, from Safari to Firefox and Chrome, replaced most of Flash Player's functionality with compatible HTML5 features. What's more, Microsoft said it would completely remove Flash from its browsers at the end of 2020.
So why has the internet, which benefited so much from everything that Flash had to offer, suddenly turned against it? In a word, it had a lot to do with security issues and the closed ecosystem of Adobe.
Why Is Adobe Flash Player Going Away?
In his 2010 letter, Thoughts on Flash, Steve Jobs outlined his reasons for Apple's iOS devices not supporting the Flash standard, which arguably greatly accelerated its downfall. Jobs cited poor performance on mobile devices, frequent crashes, high battery consumption, and availability of better open standards (i.e. HTML5) that are able to completely replace Flash.
In reality, security vulnerabilities have plagued Adobe Flash Player throughout its life, and it has been widely reported to be the primary target for hackers trying to exploit those vulnerabilities, which companies producing browsers and operating systems couldn't fix due to the proprietary nature of Flash.
Having said that, there are still quite a few reasons for why you might want to use Adobe Flash Player. For example, it could still be the only way some legacy media content on the web (e.g. videos, games) is going to play on your Mac. So let's look at how to enable Adobe Flash Player in Chrome.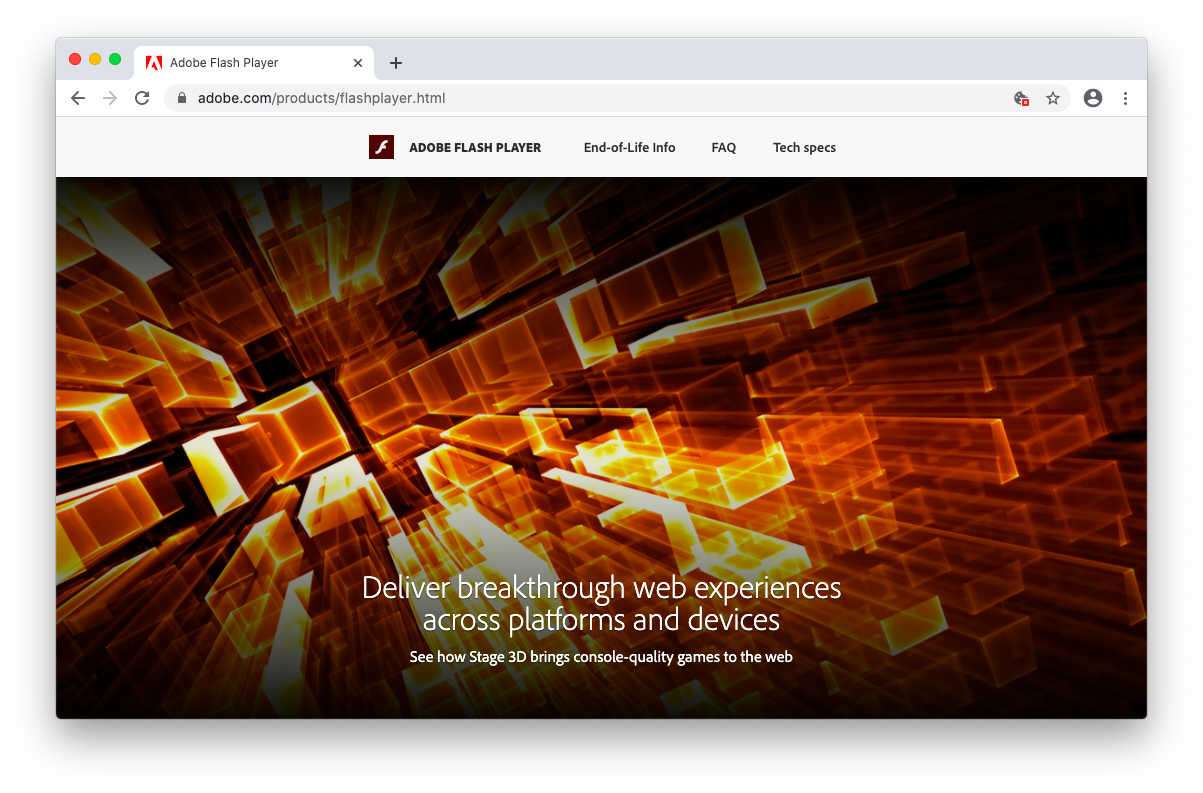 How to enable Adobe Flash Player on Chrome
If you need to use Flash Player today, your best bet is to go with Google Chrome. You might be surprised to hear that the Flash plugin is already installed in Chrome, however, it's turned off by default — you need to turn on Flash in Chrome Flash settings yourself.
So how to allow Flash on Chrome?
Open Google Chrome and go to Settings (⌘ + ,)
Scroll down to "Privacy and security"
Click Site Settings ➙ Flash
By default, there's a toggle set to the off position that says "Block sites from running Flash (recommended)." Switch it on, so it says "Ask first."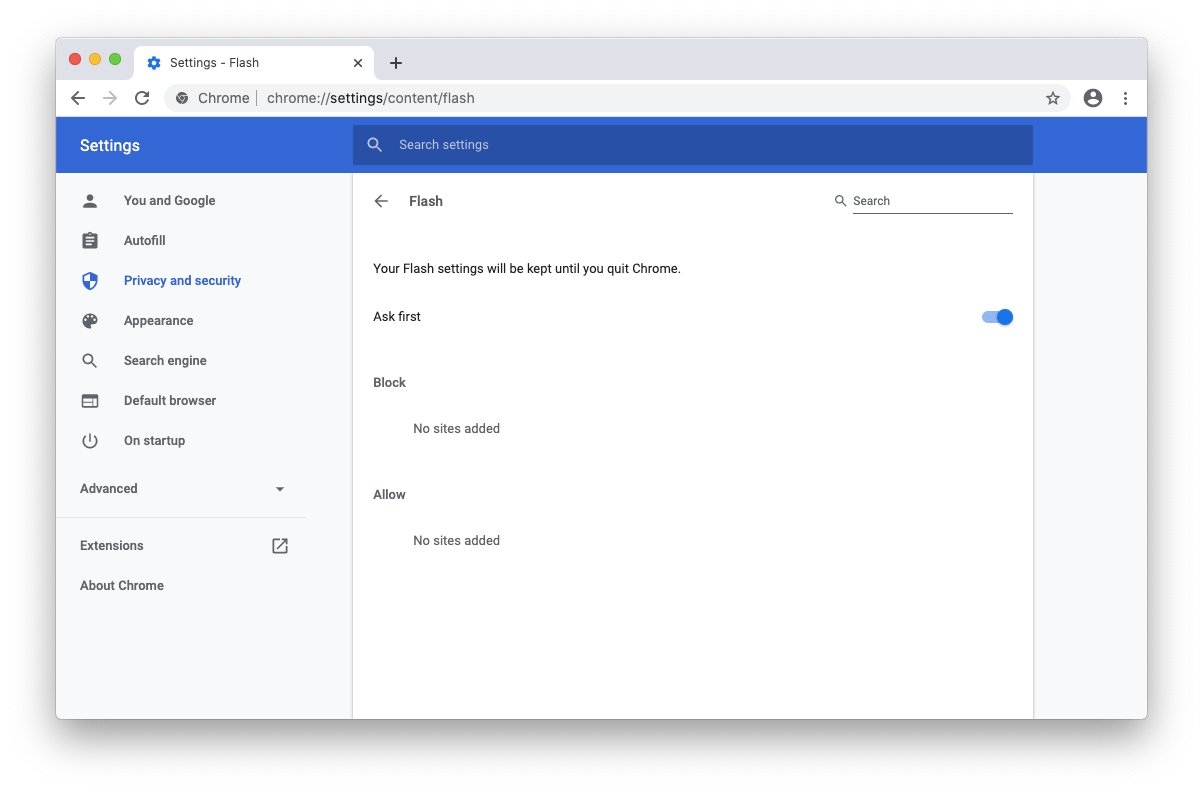 Now, every time you visit a website that contains something for Flash Player Chrome will ask your permission to play it instead of blocking it. But your settings will only work until you quit Google Chrome. So don't forget to come back and reset it after.
In case you're having problems with the Chrome Flash Player, updating Google Chrome could help:
Open Chrome and click on the menu button in the top-right corner
Click Update Google Chrome, if available. Otherwise, you're currently on the latest version.
Alternatively, visit google.com/chrome and download the latest version of Chrome from there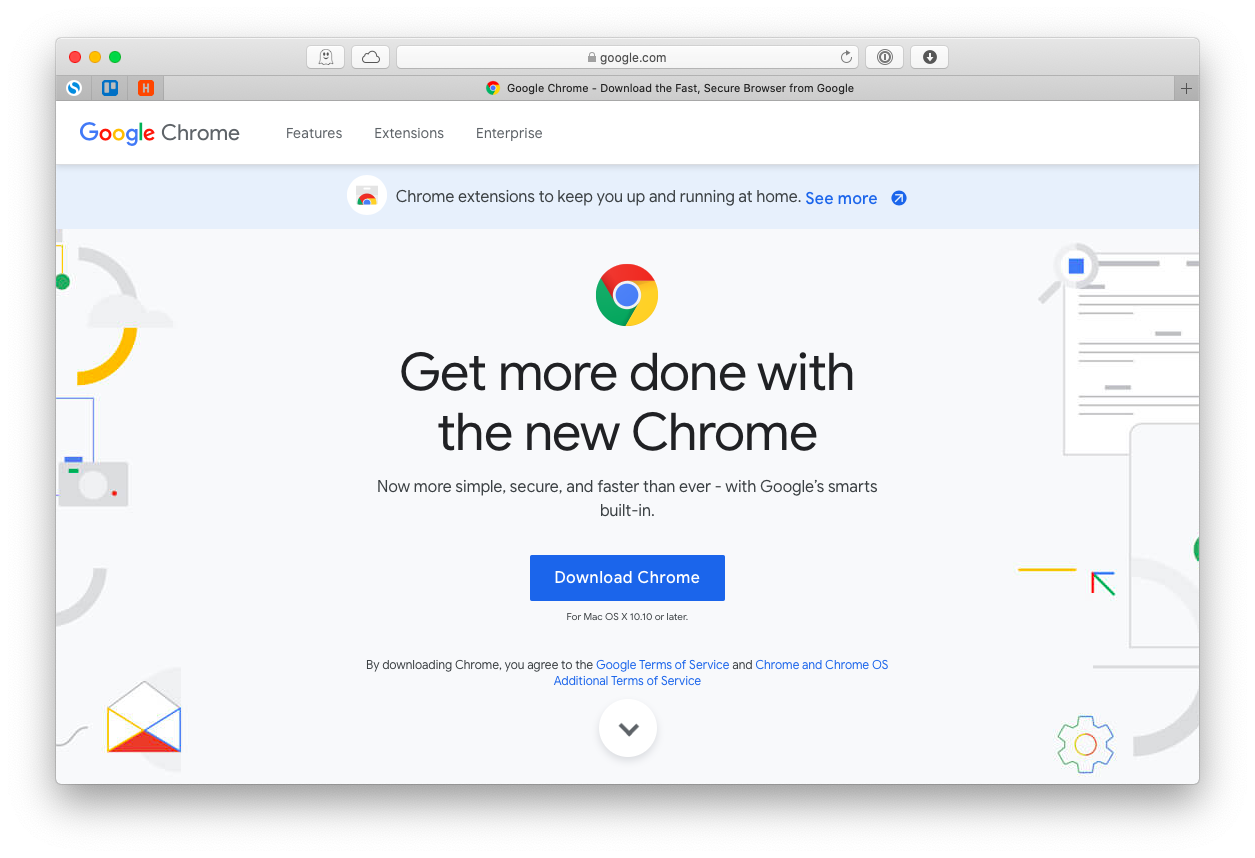 Remember that Google Chrome will stop the support for the Flash Chrome plugin at the end of 2020, so if you absolutely need to use it, make sure you stop Google Chrome from automatically updating sooner rather than later (and use another browser for day-to-day work). But how do you do that? It's a bit more technical:
Launch Terminal from your Applications ➙ Utilities folder
Type defaults write com.google.Keystone.Agent checkInterval 0

Press Enter
Quit Terminal and relaunch Google Chrome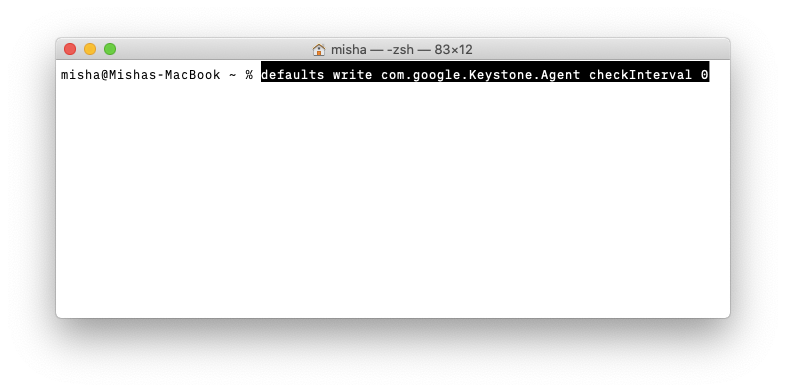 Note: This command will stop the general Google Software Update script from working, so none of your Google apps (e.g. Google Drive for Mac) will automatically receive updates.
To undo the change and let the Chrome browser update itself again:

Launch Terminal
Type defaults write com.google.Keystone.Agent checkInterval 10000
Press Enter
Quit Terminal and restart Google Chrome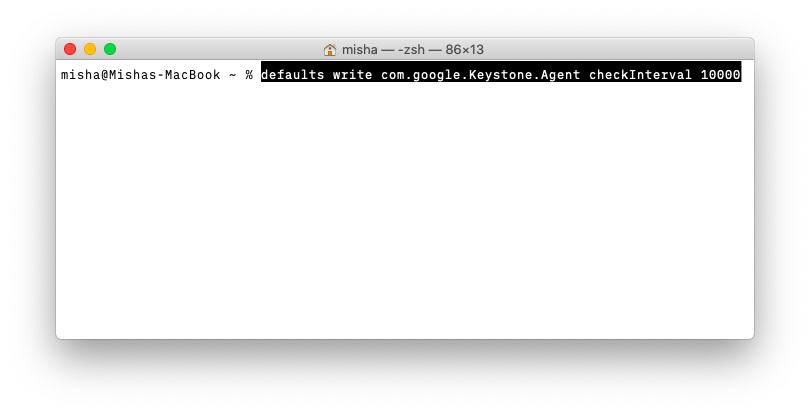 How to block websites from using Adobe Flash
It's likely that everyone who needs to run Adobe Flash Player for Chrome right now has a specific use case in mind, such as a retro online game or an old-school website. Practically no one needs to allow Flash in Chrome for all websites. So how do you block specific websites from accessing Flash? Although tedious, it's fairly easy to do:
Open Google Chrome and visit any website
Click on the padlock icon in the far left of the URL bar
Select the Flash dropdown and choose Block. If you don't see the dropdown, choose "Site settings" instead, then find Flash in the list and select Block from there.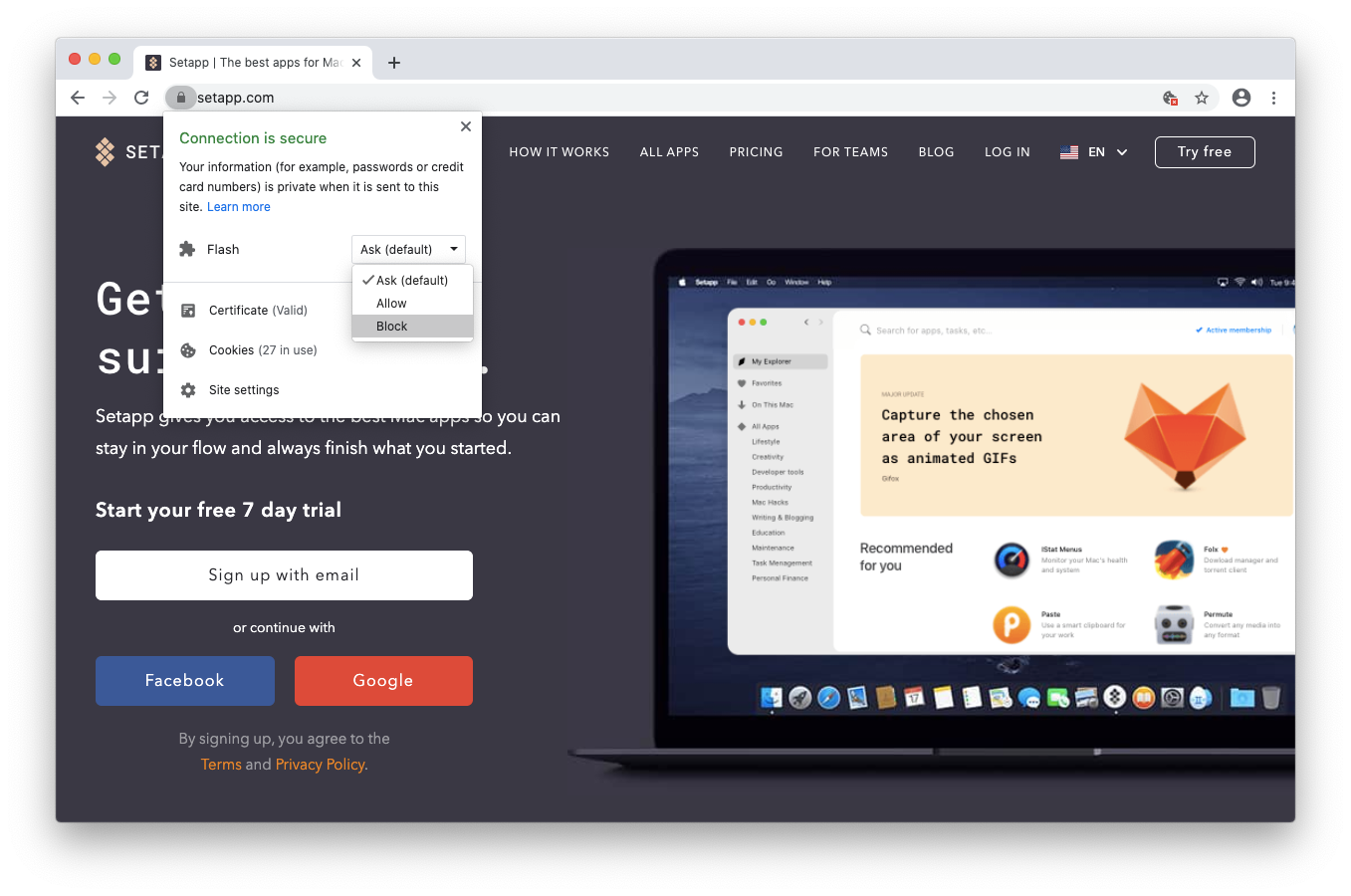 How to update Adobe Flash Player for Chrome
Most of the time, when you enable Flash in Chrome, it's going to be up to date. But, occasionally, you could see a Chrome enable Flash error. To resolve it, try updating your Adobe Flash Player Chrome edition first:
Open Chrome
Type chrome://components in the URL bar and hit Enter
Scroll down to Adobe Flash Player
Click "Check for update"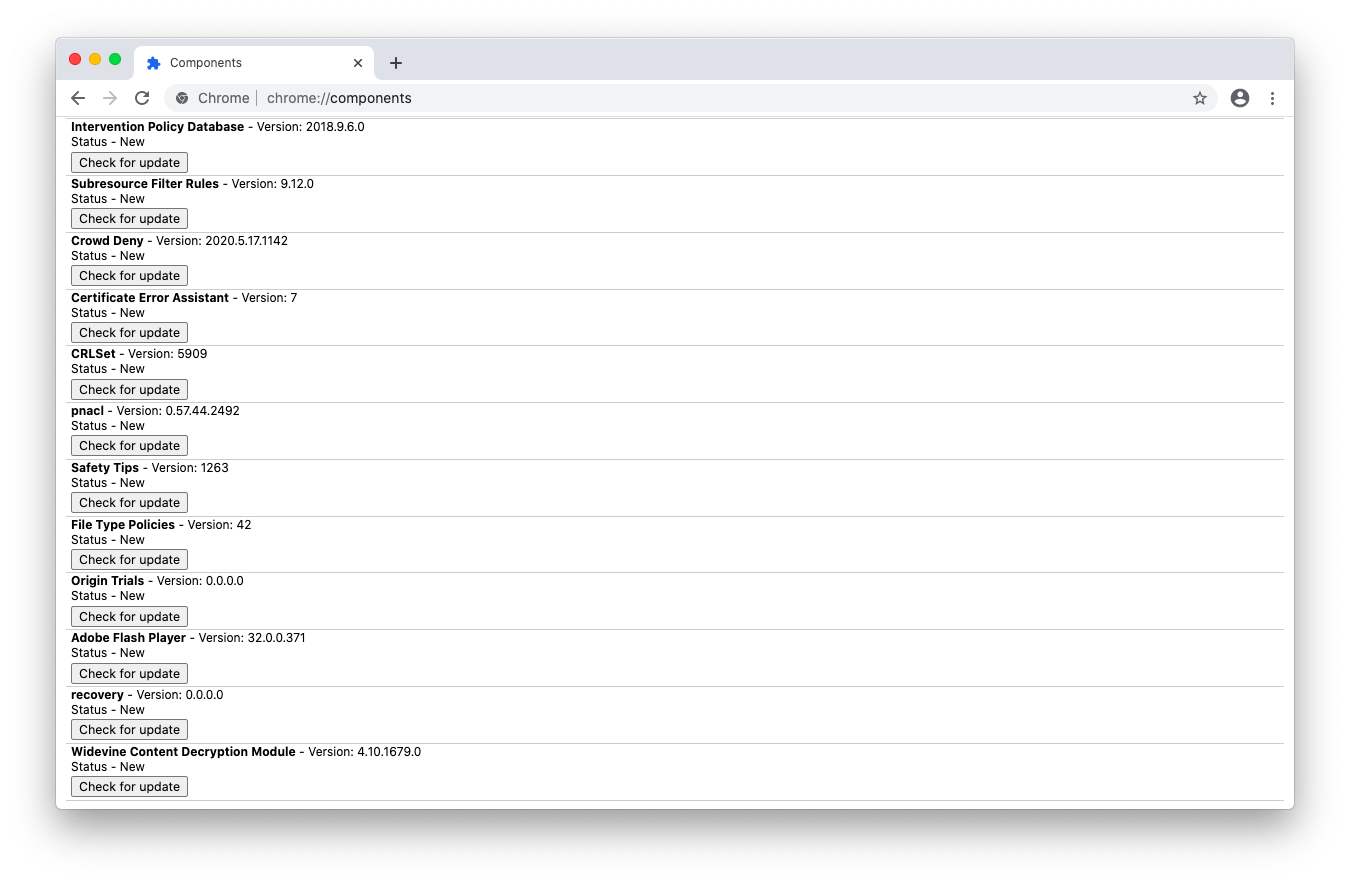 Alternatively, you can simply reinstall your Chrome Flash Player altogether:
Visit get.adobe.com/flashplayer/otherversions
Pick your OS from the dropdown
Select PPAPI as a version
Click Download Flash Player
Find and install the Adobe Flash Player for Chrome in your Downloads folder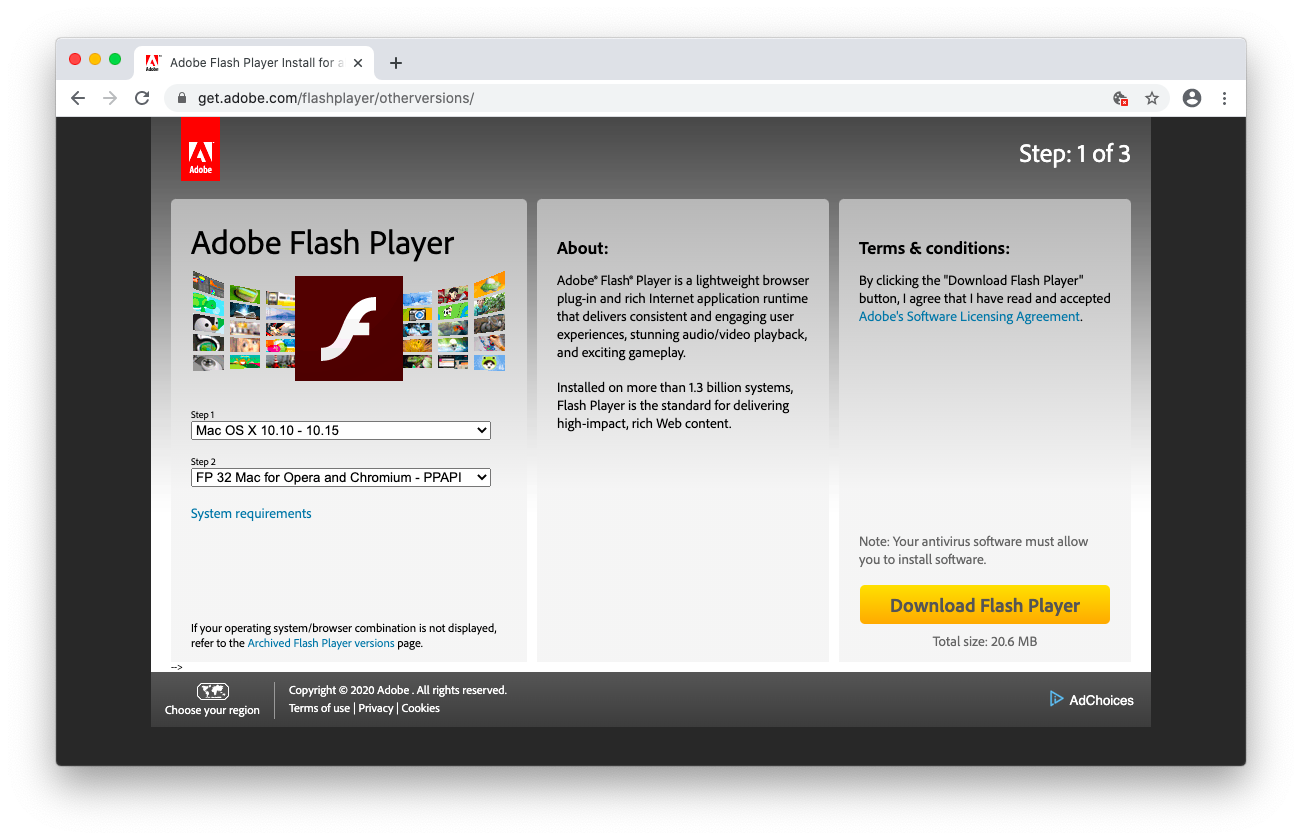 Why scan your Mac for Adobe Flash malware?
It's good to understand that every major browser is disabling the use of Adobe Flash for a reason — there are simply too many security flaws in the software. So if you consciously search for how to enable Flash in Chrome, you're exposing yourself to some potential risk.
What you definitely need here is a powerful and trusted malware removal software, so that nothing is able to put your Mac or your files in danger. Where do you look for one?
CleanMyMac X is the world's leading optimizer for Mac. It not only scans your Mac for every known type of malware and keeps its databases up to date but also helps you maintain your online privacy, speeds up your Mac overall, completely uninstalls any intrusive apps, deals with useless extensions, shreds outdate personal files, frees up space, and much more.
To see if any malware has infiltrated your Mac:
Launch CleanMyMac X
Navigate to the Malware Removal tab under Protection
Click Scan
Hit Remove, if any malware was found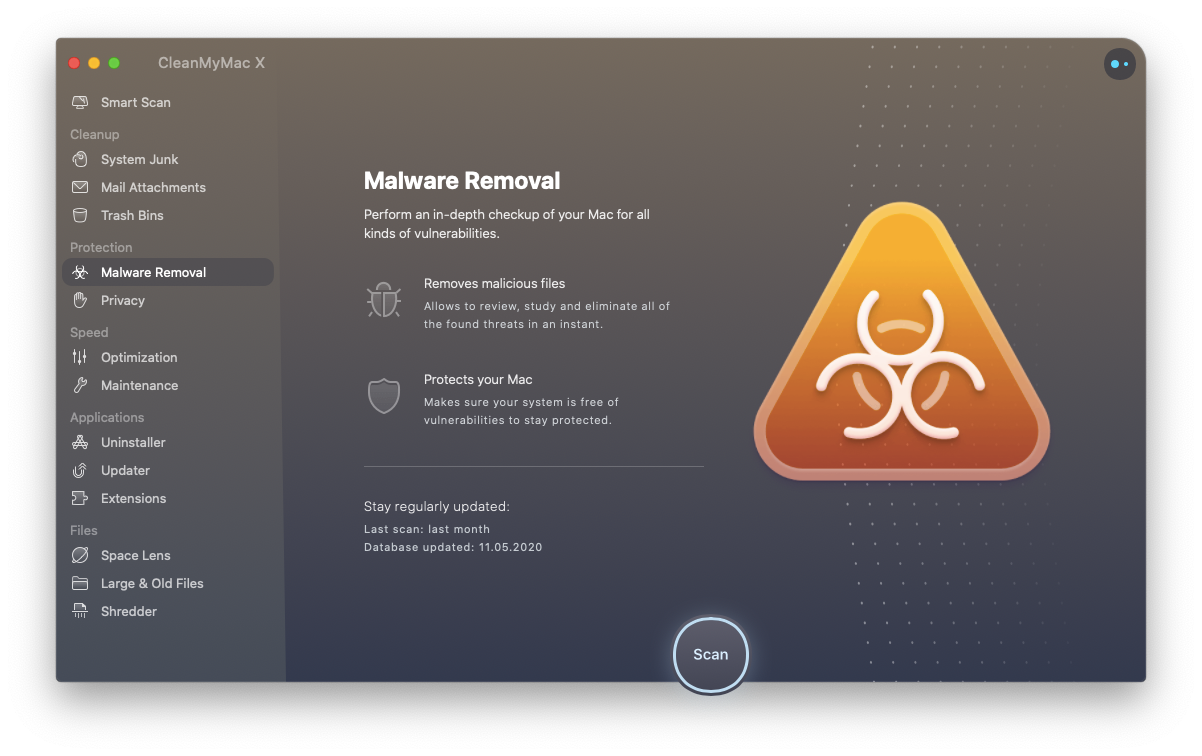 How to recover deleted files on Mac
After you learn how to enable Flash on Chrome, you should at least try to prepare for all eventualities. One of which is a possibility of losing some of your files to malware produced by the Adobe Flash Chrome plugin. How do you get those files back?
Disk Drill is a top-notch app for recovering any recently deleted file from your hard drive. It works for unintentionally removed files just as well as for disk utility errors or data corruption, both on your hard drive or any external devices connected to your Mac. Moreover, it features a handy backup functionality (a good habit to have) so you can save your files somewhere safe frequently with 100% recovery rate.
To use Disk Drill:
Launch the app
Connect your external drive or pick the internal driver from the list and click Recover
Wait for the scan to finish and select the files you want to get back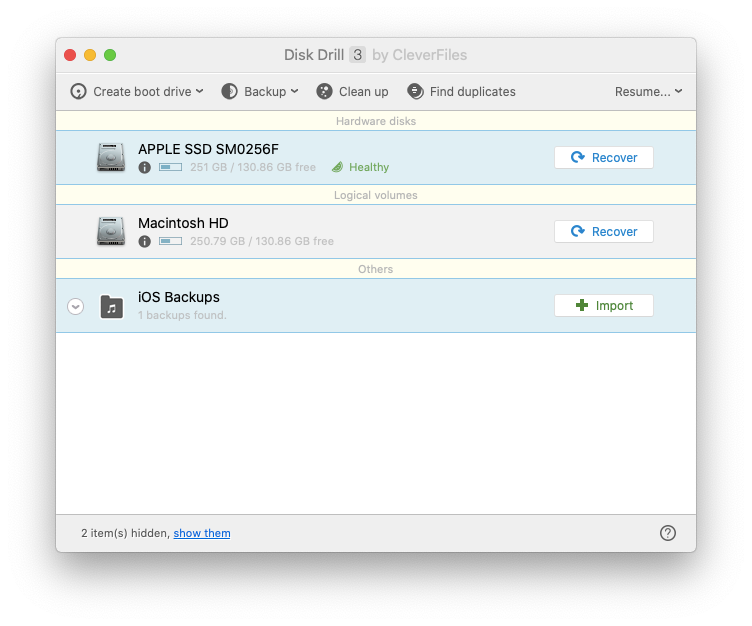 So if you need to use Flash today, having an Adobe Flash Player Chrome plugin is probably your best bet. Just make sure to stop your Google Chrome from updating to keep using Flash past 2020 and install a malware removal app like CleanMyMac X and a data recovery software like Disk Drill beforehand, just in case.
Best of all, CleanMyMac X and Disk Drill are available to you absolutely free for seven days via Setapp, a platform with more than 200 Mac apps for any situation, from bill payments (Chronicle) to extracting files (Archiver) to keeping contacts in one place (BusyContacts). Try them all today at no cost and see for yourself!