Ways to fix "YouTube app not working" issue
YouTube has become nearly as synonymous with online video as Google is to search. It's difficult to avoid YouTube; people use it to host videos, which they share across Twitter and other social media platforms. Those who prefer long-form content almost always choose YouTube as their hosting platform.
This is what makes YouTube not loading on your Mac or mobile phone such a concern. You may run into the issue and think "why is my YouTube not working?" or "is YouTube down right now?"
In this article, we'll tell you why YouTube may be giving you errors, how you can fix it yourself, and which apps may help smooth out your YouTube experience.
Is YouTube Down?
It seems as though YouTube is always there, waiting for you to stream videos. That's what makes a YouTube playback error so alarming.
Popular internet watchdog Down Detector keeps track of site performance and does note YouTube is "down" fairly often. It's important to remember the outages or issues affect a small subset of users, meaning it's unlikely that YouTube is having a widespread outage affecting many people.
That said, most who report issues with YouTube to Down detector say playback (the act of watching videos) is the cause of concern. 79 percent report playback issues, while 16 percent report website issues. This means roughly 95 percent of people who report YouTube issues are having trouble watching videos – so what happened to YouTube?
If YouTube stopped working for you, the first step is to check if the YouTube site is to blame. Try visiting any other website on the device you're trying to access YouTube on. If you can get to other websites, it's likely you are one of a few people affected by a YouTube outage.
When you can't access other sites, it's likely your device is having connectivity issues. To diagnose your connection, do the following (on a Mac):
Click the Apple logo at the top left corner of your Mac menu bar
Select "System Preferences"
Choose "Network"
How to fix "YouTube not working" in Chrome on a Mac
One of the issues with YouTube is that it has no official Mac app. Google never created a dedicated YouTube app for Mac because YouTube is at home on the web. Really, a YouTube app would simply be the YouTube homepage anyway; there's just nothing a YouTube app would offer the web can't.
An app wouldn't fix why YouTube not working is a hot-button topic, either. Chrome, Safari, and other browsers are more than capable of running YouTube.
But if you're really into having an actual YouTube app, we've got the perfect app for you. Unite isn't a YouTube app, but it helps you create your own YouTube app. Unite can do the same for just about any website you want, too!
All you have to do is download Unite from Setapp, enter the YouTube URL (be sure to include the https:// portion of the URL) into the Unite load screen, and click "Create Unite application." That's really it!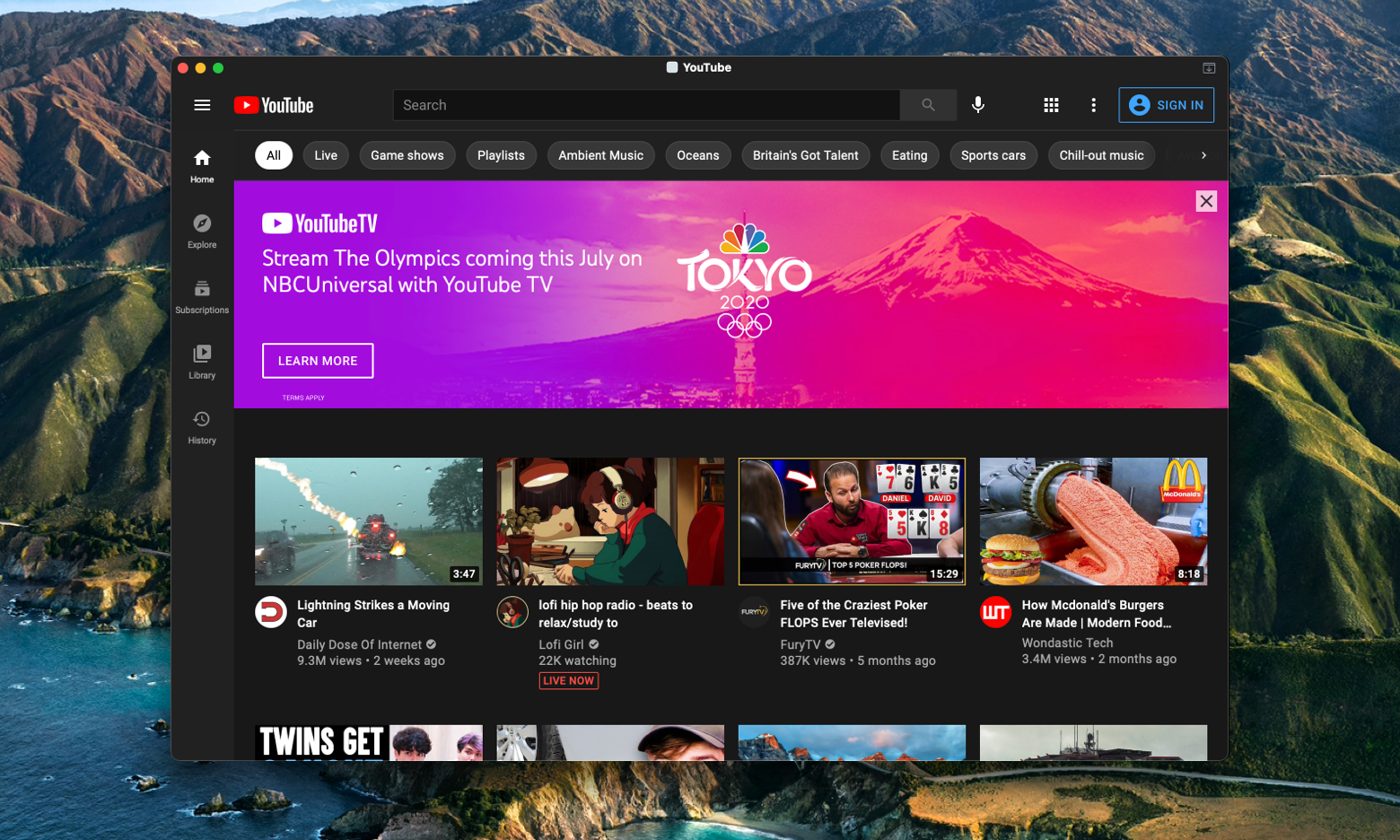 Unite then creates a YouTube app that loads into your Mac's application folder, which you can access any time. It's a brilliant app that also supports your Mac's keychain feature for surfacing and loading website passwords.
You'll really like Unite if you find yourself visiting a specific YouTube channel often. You can enter the URL for that specific channel into Unite, and it will create an app that directs to that specific channel. It's a great way to avoid the noise of YouTube!
When using a browser to access YouTube, running into troubles may have you asking "why is YouTube not working?" If your Mac shows WiFi is connected, the browser may be to blame. Sometimes cookies and other data your browser stores can interfere with connectivity to websites, especially sites like YouTube which have many trackers and cookies. Each browser has its own method for clearing cache, cookies, and data, so here's how to do it on the Chrome browser for Mac:
Open Chrome on your Mac
Type "chrome://settings/clearBrowserData" into the URL tab
Press the enter key
In the "Time range" field, select "All time" from the dropdown menu
Make sure the "cookies and other website data" and "cached images and files" options are selected (Note: You can also opt to clear your browsing history by selecting the "browsing history" toggle, but there's no indication doing so will solve the issue of YouTube not loading. That said, if you ever accessed YouTube via another site, we suggest clearing your browsing history as well as Chrome may try to visit a broken URL rather than the YouTube site proper.)
Choose "clear data"
Extensions may also be to blame. Chrome has a lot of extensions for Chrome, and the chances one (or more) are interfering with your browsing experience is high. Google can't check all extensions for safety and security. Moreover, when Chrome makes changes, it can change how some extensions work, which in turn can cause issues with you accessing websites like YouTube.
There's a fix for this, too! Chrome allows you to delete or manage extensions with ease. Simply follow these steps:
Open Chrome on your Mac
Type "chrome://extensions/" into the Chrome URL field
Press the enter key
Select the extension you'd like to manage
Choose "remove" to delete the extension, or toggle the switch at the bottom right of the extension window to turn it off
As you can see in the screenshot above, Chrome may even tell you if an extension has malware. If you find one of your extensions does, it's recommended you delete it immediately.
It may be time to update Chrome, too. The top right of the Chrome window may have an "Update" icon, but you can check manually by entering "chrome://settings/help" into the Chrome URL bar. If it's time to update Chrome, you'll see a prompt in this window.
Should you still be experiencing issues with YouTube, it's time to consider your WiFi signal is not as strong or reliable as you think it is. Your Mac has built-in WiFi monitoring tools, but those tools are limited. A better way to check your WiFi reliability and connection is with WiFi Explorer.
WiFi Explorer for Mac keeps close tabs on your WiFi performance, giving you details on signal strength, the band in use, and maximum capacity of your router and connection. Not only will you see real-time data in numerical format, but WiFi Explorer surfaces detailed graphs and charts that provide a visual representation for your WiFi performance. Graph views can even be customized so you see the precise data you want, when you want.
The right side of the window in WiFi Explorer surfaces issues as they arise, and offers best steps for fixing those issues. Not only a monitor, but WiFi Explorer is also the best troubleshooting tool you can have for WiFi connectivity on your Mac.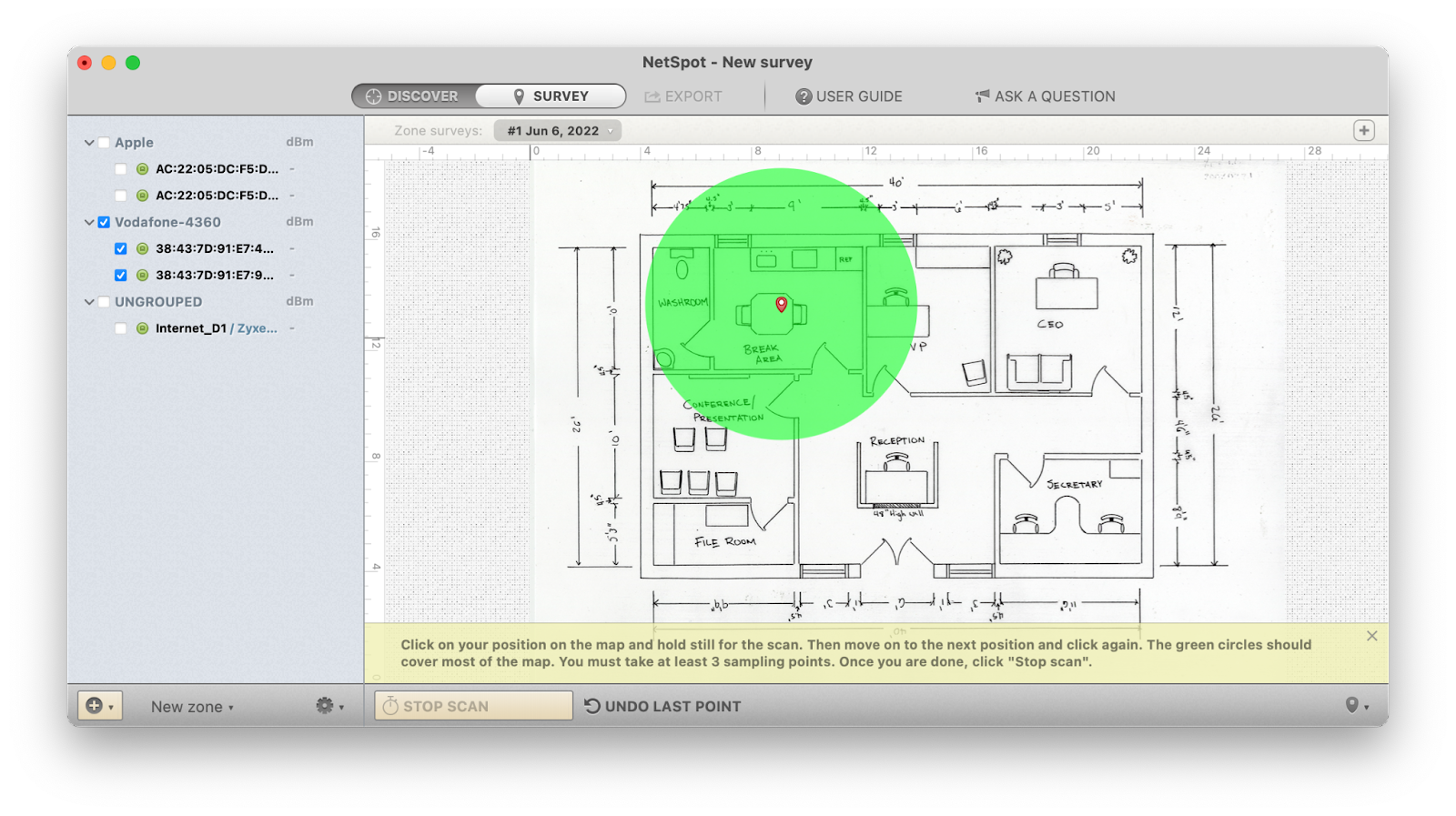 Like the browser, your Mac can also accumulate cookies and cached data that may prevent it from running smoothly. Deleting that data can be tedious, and difficult – unless you have CleanMyMac X.
CleanMyMac X for your Mac is the most robust suite of tools you'll find for keeping your Mac running its best. One service, Maintenance, is a powerful set of steps CleanMyMac X runs to optimize your Mac. In these steps is a DNS cache flush, which can prevent your Mac from accessing some websites – like YouTube!
You also have the option to manage Safari extensions, clear system junk, free up RAM, update and uninstall apps, and lots more. Whatever your Mac needs to run its best, CleanMyMac X can do!
We especially enjoy its malware detection tool, which scans your entire Mac for junk it may have downloaded from the internet. Sometimes undetectable malware can affect your access to certain websites, but CleanMyMac X will catch it all!
Using CleanMyMac X is simple, too. Once you download it, just select the services you want to run, and choose the "Run" button at the bottom of the window. CleanMyMac X takes care of the rest.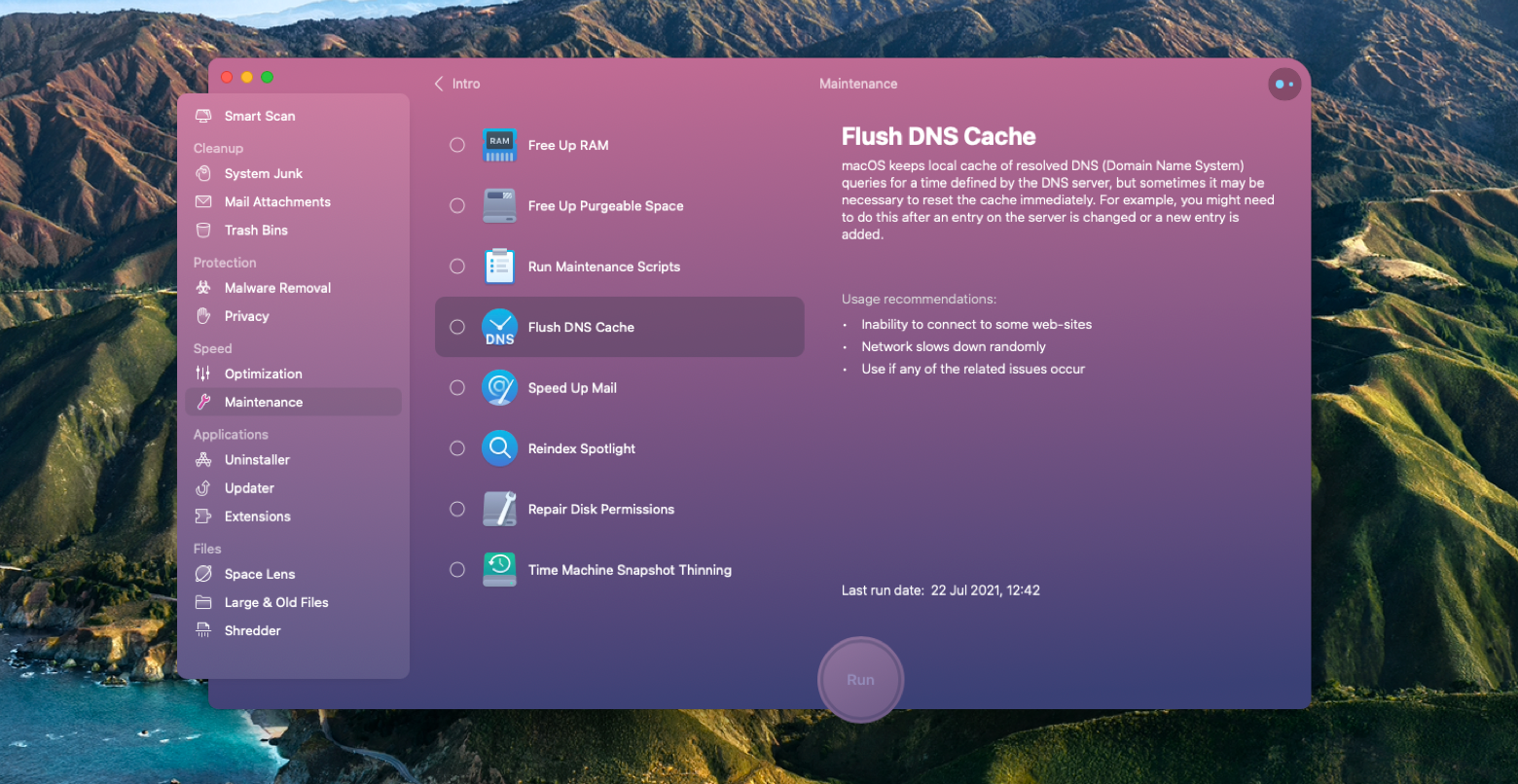 How to fix "YouTube app not working" on Android and iOS
Both iOS (iPhone) and Android have native YouTube apps. This isn't a solution to YouTube being inaccessible, though; oftentimes, people report they see errors for the YouTube apps not working, either.
When this occurs, it can be for several reasons. Here are a few of those reasons, and some solutions for fixing the issues:
The operating system is out of date
If the operating system on your Android or iPhone is out of date, it can affect how apps work. To remedy the situation on Android, follow these steps:
Open "Settings" on your Android phone
Find "Software update" or "System update" in the menu (Note: Android phones typically have unique Android-based operating systems, so the system update feature is not always in the same location across Android devices.)
Download and install the update
For iPhones, the process is much simpler:
Open the Settings app on your iPhone
Choose "General"
Select "Software update"
Your iPhone will download and install the latest version of iOS.
Update the YouTube app
The YouTube app may need an update, too. To update YouTube on your iPhone or Android handset, visit the App Store (iPhone) or Play Store (Android) and update the YouTube app. Here's how to do it on iOS:
Open the App Store app
Select your profile icon at the top right of the screen
Choose "Update all" under the "Upcoming automatic updates" section
For Android phones, follow these steps:
Open the Play Store
Tap your profile icon
Choose "Manage apps and device"
Select "Updates pending"
Update the YouTube app if it's on the list
Clear cache and data for the YouTube app
Just like the desktop, you can clear cache on mobile, too. Here's how to do it on Android:
Visit "Settings"
Tap "apps"
Choose "YouTube"
Select "storage"
Choose "clear cache"
Select "clear data" once the cache clearing has finished
For iOS, it's much simpler. Simply uninstall and reinstall the app and it will clear all cache. Keep in mind you'll have to log in again once you re-download the app, but this is a small price to pay for continuous streaming of videos on your iPhone.
Keep in mind you don't have to rely on an always-on internet connection to watch your favorite YouTube videos. You can download videos from YouTube and other sources with Pulltube.
This app not only downloads all your favorite videos directly from YouTube, it can also let you extract MP3 from videos, trim your videos before downloading, adding subtitles to your downloads, and more. All you have to do is drop a link to your YouTube video into Pulltube and the app will download it instantly.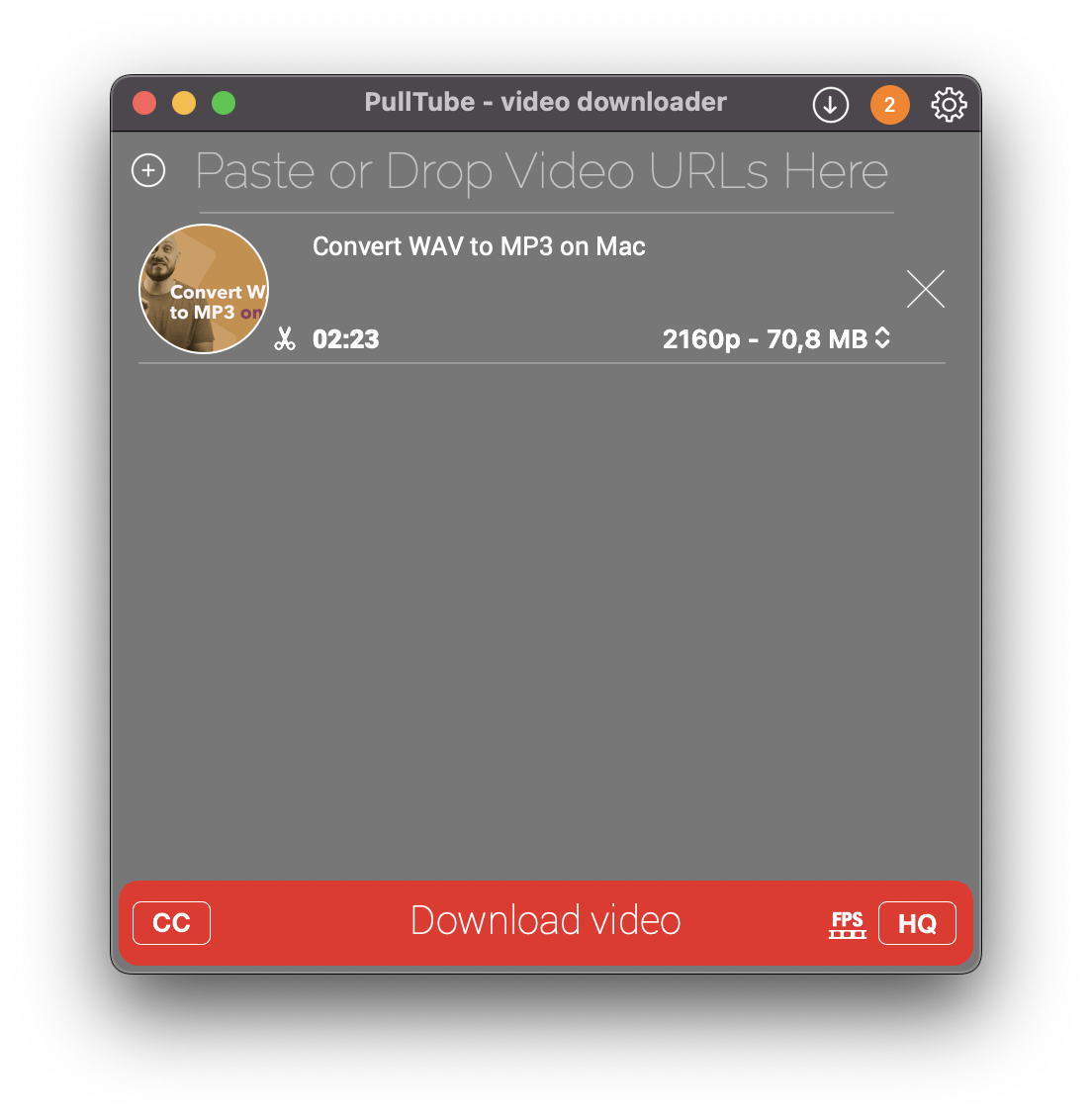 Conclusion
YouTube is almost a must-have site or app for just about everyone. Many of us use it to learn new things, keep up with people we care about, or just waste time letting the app autoplay videos.
When YouTube is down, people get a bit anxious. This is why we like Unite, WiFi Explorer, CleanMyMac X, and Pulltube for managing your devices and connectivity. Each plays a critical role in keeping your devices operating at their best or allowing you deep insight into your WiFi connectivity. If you're a YouTube afficionado, these are must-have apps for you.
They're also free as part of a seven-day trial of Setapp, the most complete suite of apps for your Mac and iPhone. Along with these five apps you'll enjoy unlimited access to the entire Setapp catalog, which is now over 240 apps.
When your trial ends, Setapp is only $9.99 per month. It's a small price to pay for peace of mind. Your Mac is running its best and able to access YouTube at all times, so why hesitate? Give Setapp a try now!