How to block a contact on Mac
Unfortunately, in the last few years, the levels of spam have reached the stratosphere. It's not uncommon for people to get at least a few unwanted calls and messages every day. What's worse, there isn't a clear way of getting rid of all spam forever.
At the same time, if you become proficient in blocking anyone you don't want to have contact with on Mac, you might be able to significantly reduce the amount of spam and annoying ads you get.
Let's see how blocking contacts on Mac works and how to block someone on MacBook in various apps, starting with Messages.
How to block a contact in Messages on Mac?
The Messages app on Mac and iMessage in general tend to attract lots of spam, usually asking you to click on a link or reply with a 2FA code sent to your device (never do this!).
Although there's no clear way to prevent spam from landing in Messages, you can block any unknown contact to cut out repeat offenders.
Here's how to block people on MacBook:
Open Messages
Select a conversation with someone you want to block
Go to Conversation ➙ Block Person… in the menu bar
Block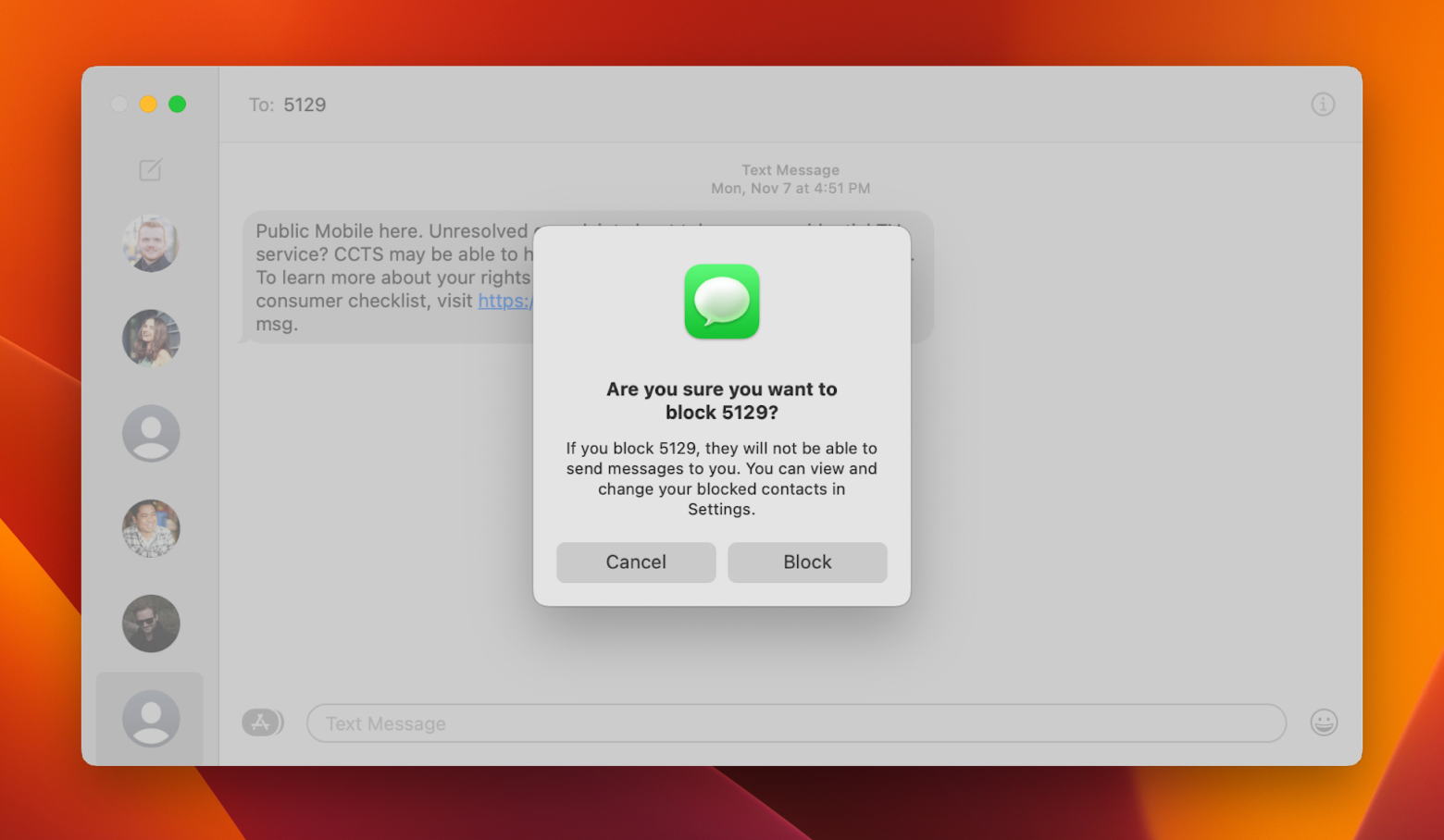 If you're like most people, you don't just use Messages. In addition, you probably have half a dozen other messengers, from Slack to WhatsApp to Facebook Messenger to Telegram. Keeping all these apps open and hoping between them is tiring and confusing. What if you moved them all to a single app instead? With IM+, you can!
IM+ combines any number of messaging apps under one intuitive and lightning-fast interface — no more need to cycle through multiple windows. At the same time, you still get the benefit of notifications and can even configure separate notification groups (e.g. work and personal) for different apps to keep distractions under control. Use IM+ to share text, photos, videos, voice messages, and other files with any contact, in any messaging service.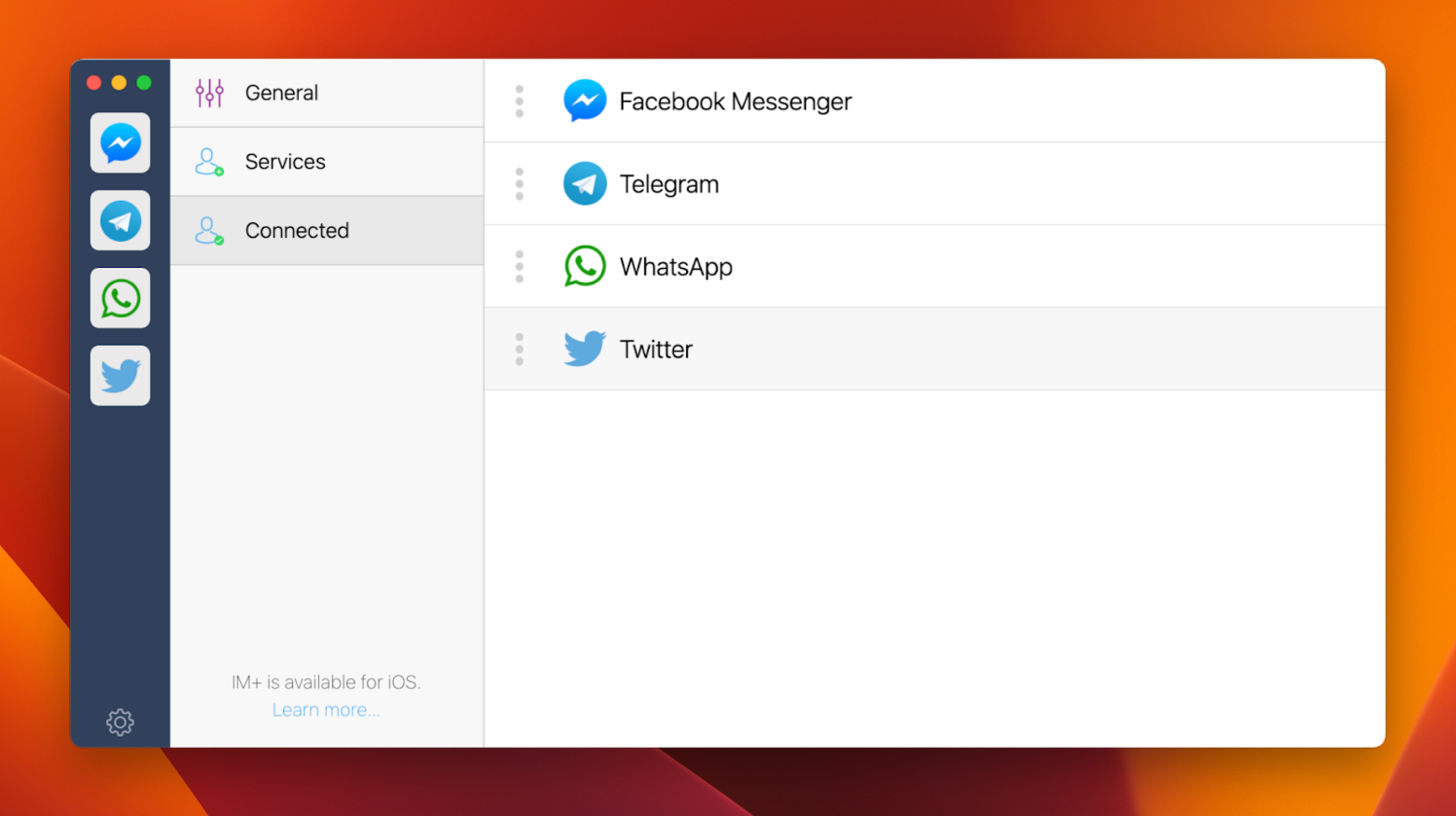 If you primarily use WhatsApp for messaging (as over two billion people do), you'll find ChatMate for WhatsApp a much better alternative to WhatsApp's default Mac app.
ChatMate for WhatsApp is a significant improvement over the default app for a few reasons. It supports multiple accounts, including full support for business accounts. It lets you granularly adjust important notifications. It also has a privacy mode, which only lets you see a message once you hover over it and locks you chats with a password to prevent unauthorized access. It even lets you create custom keyboard shortcuts, and more!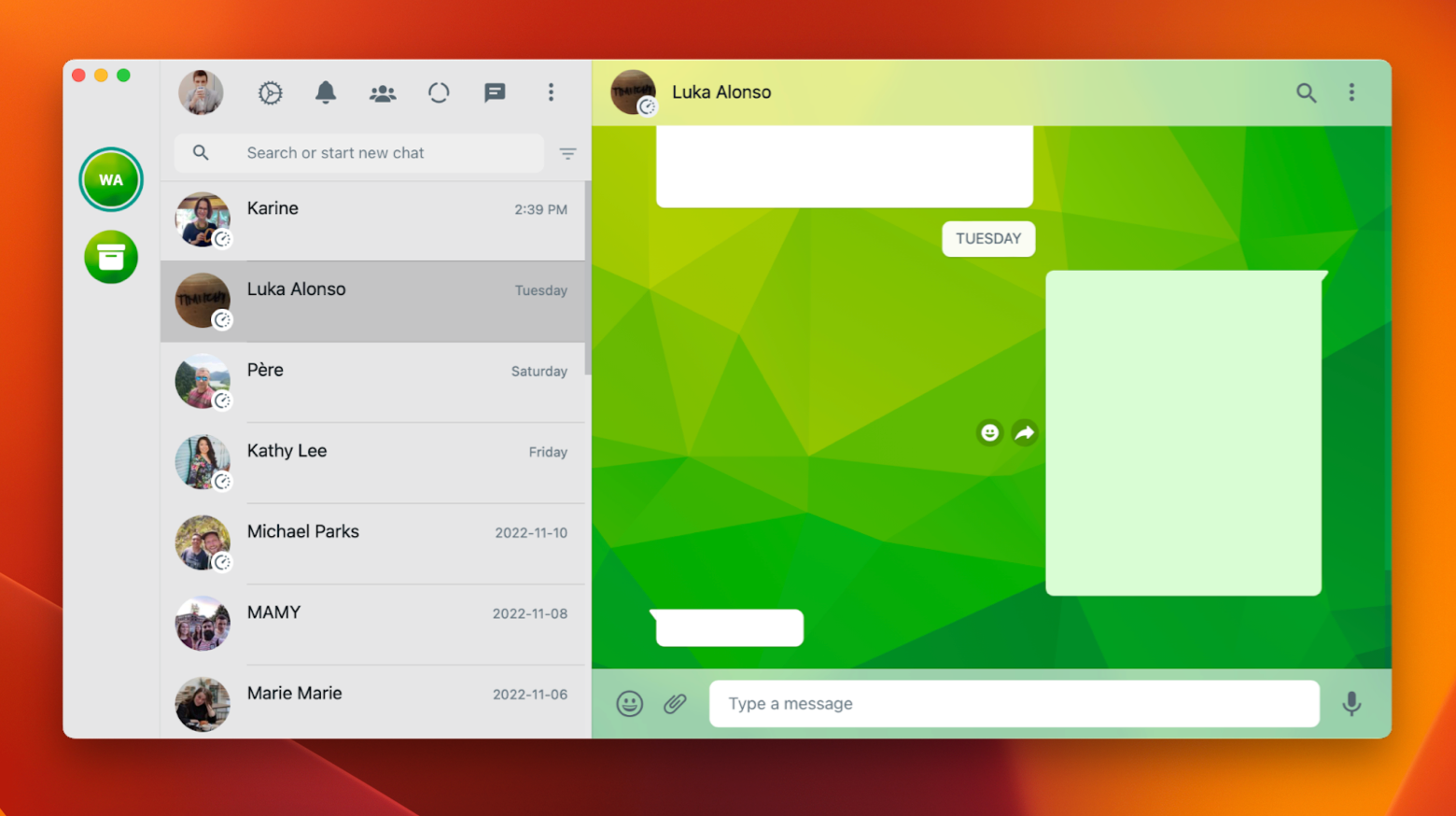 How to block a new number on Mac
What if you already know a number you should block in advance, before they even had the chance to contact you? There's no straightforward solution. Basically, you should add them to your Contacts first and then block them through Messages.
Here's how to block someone on Mac Messages even if they haven't contacted you yet:
Open Contacts and create a new contact with their phone number or email (if they use email for iMessage)
Open Messages ➙ Settings… (Command + ,)
Navigate to iMessage ➙ Blocked
Click the plus icon (+)
Select the newly-created contact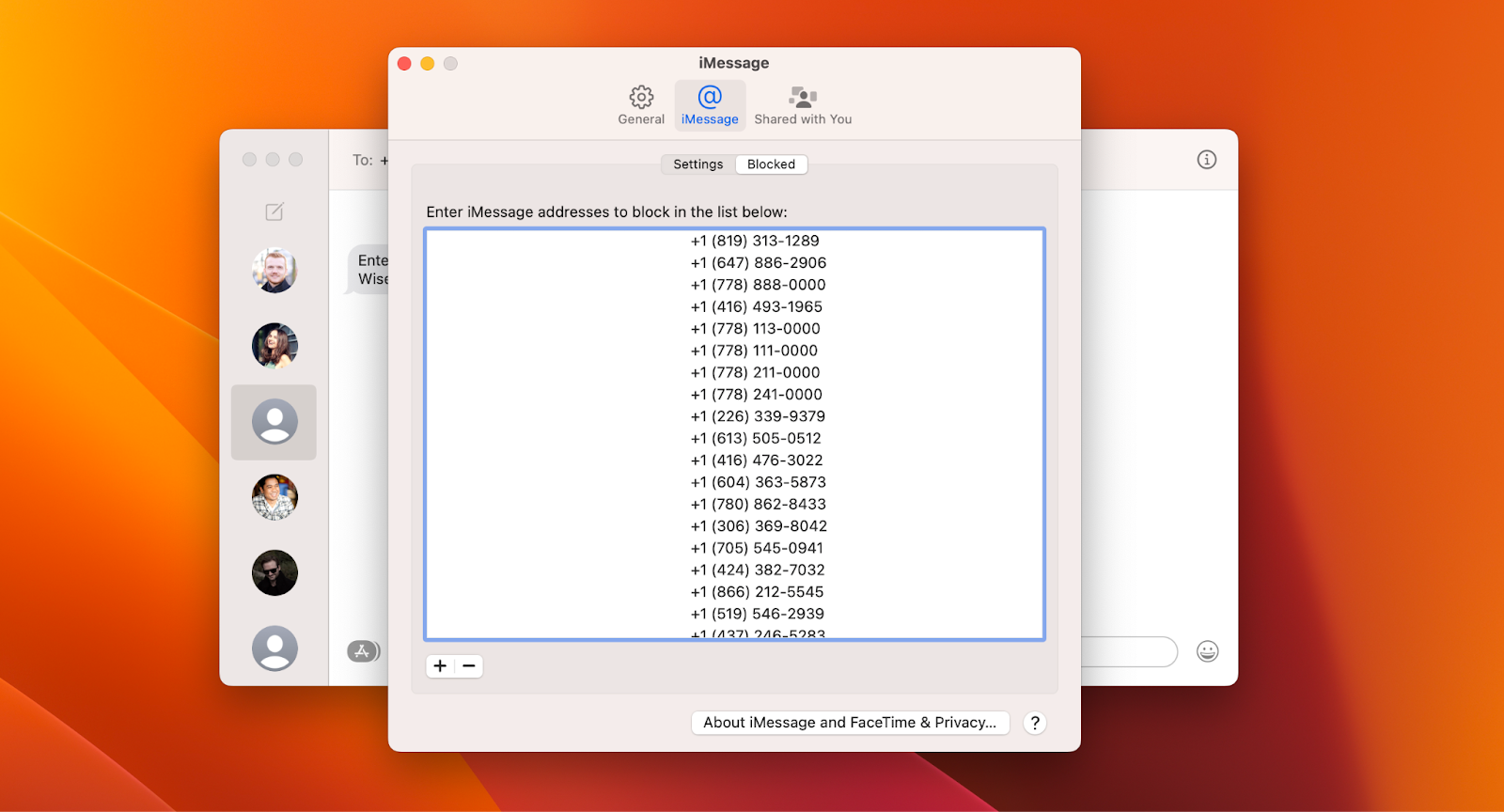 Tip: If you have more than one number to block, you can create a generic contact (e.g. Blocked) and add multiple numbers to it. Then Messages will block them all at once.
How to block FaceTime callers on Mac
While FaceTime doesn't tend to get a lot of unwanted calls, they are much more disruptive than messages (or even audio calls), so it's a good idea to block them right away.
Note: Messages already shares its Blocked list with FaceTime, so you don't need to block contacts in both apps.
How to block a number on MacBook using FaceTime:
Open FaceTime ➙ Settings… (Command + ,)
Switch over to the Blocked tab
Select the plus icon to choose which contact you want to block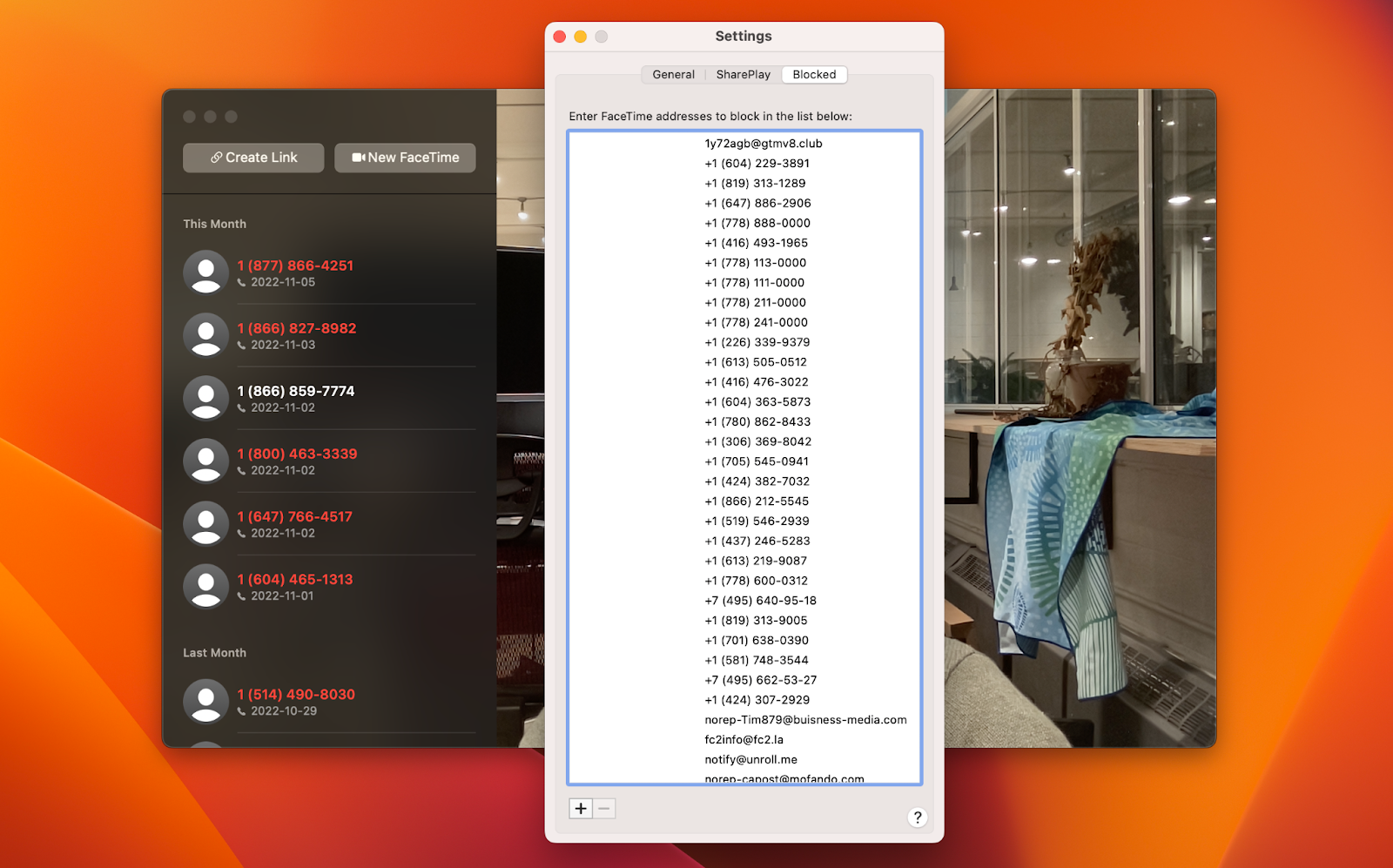 How to unblock someone on MacBook
Now you're fully equipped to block anyone and everyone who distracts you. However, at some point you might make a mistake and block the wrong person, which means they won't be able to contact you. Is there a way to unblock them?
To unblock someone from either Messages or FaceTime:
Open the app
Go to Settings… (Command + ,)
Activate the Blocked tab
Select any number you'd like to unblock
Click the minus icon (-)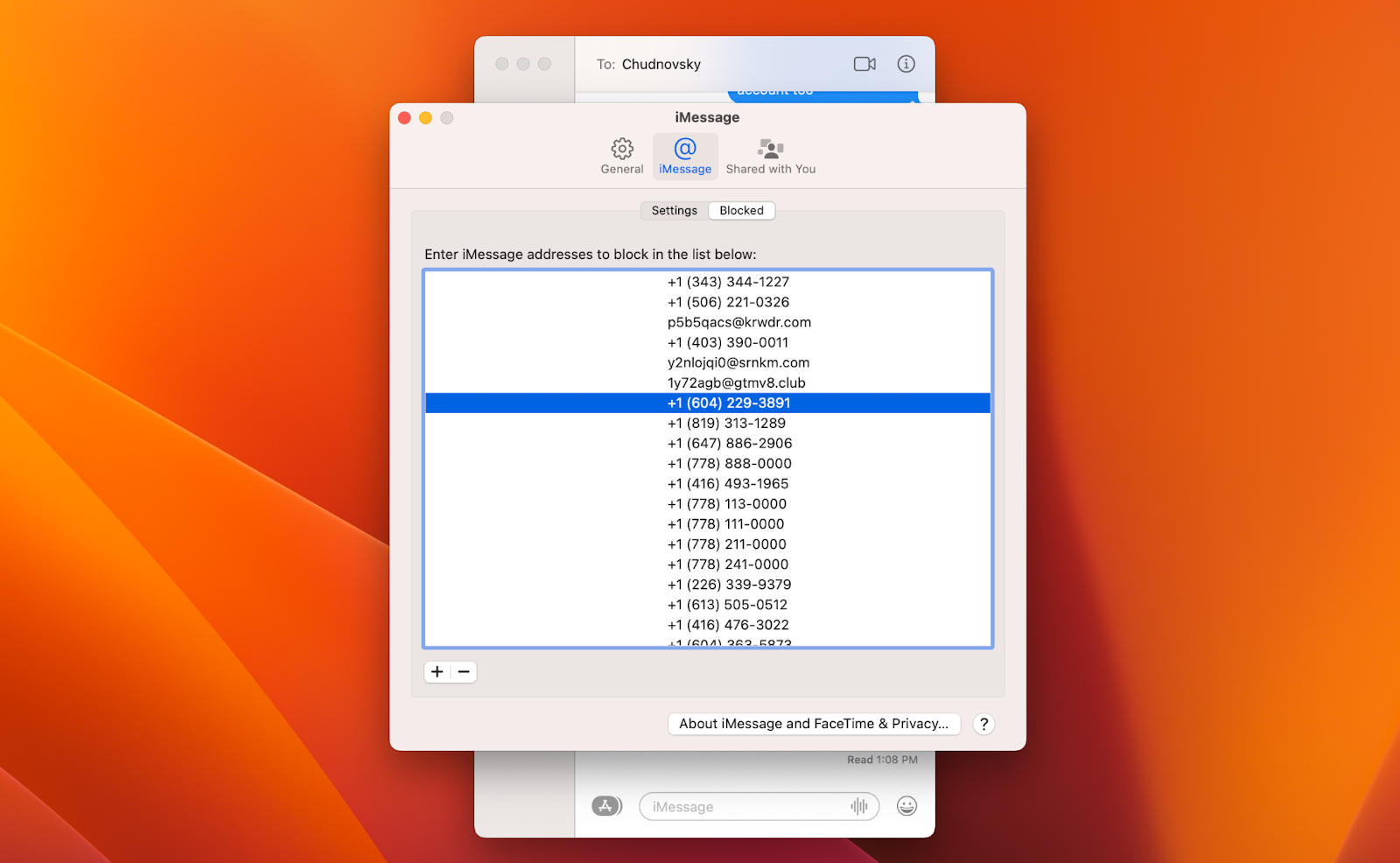 More blocking tools for your Mac
Now you know how to block and unblock contacts quickly in Messages and FaceTime, which should significantly reduce the amount of spam you get on a daily basis.
But it's not only people that distract you, kill your productivity, and generally cause a lot of frustration. What about annoying online ads?
AdLock is one of the most simple and effective ad-blocking solutions around. Not only does it filter ads, it also gets rid of pop-ups, online chats, trackers, autoplay videos, and more. You can specify which types of ads you'd like to remove and then enjoy safe and fast browsing forever after.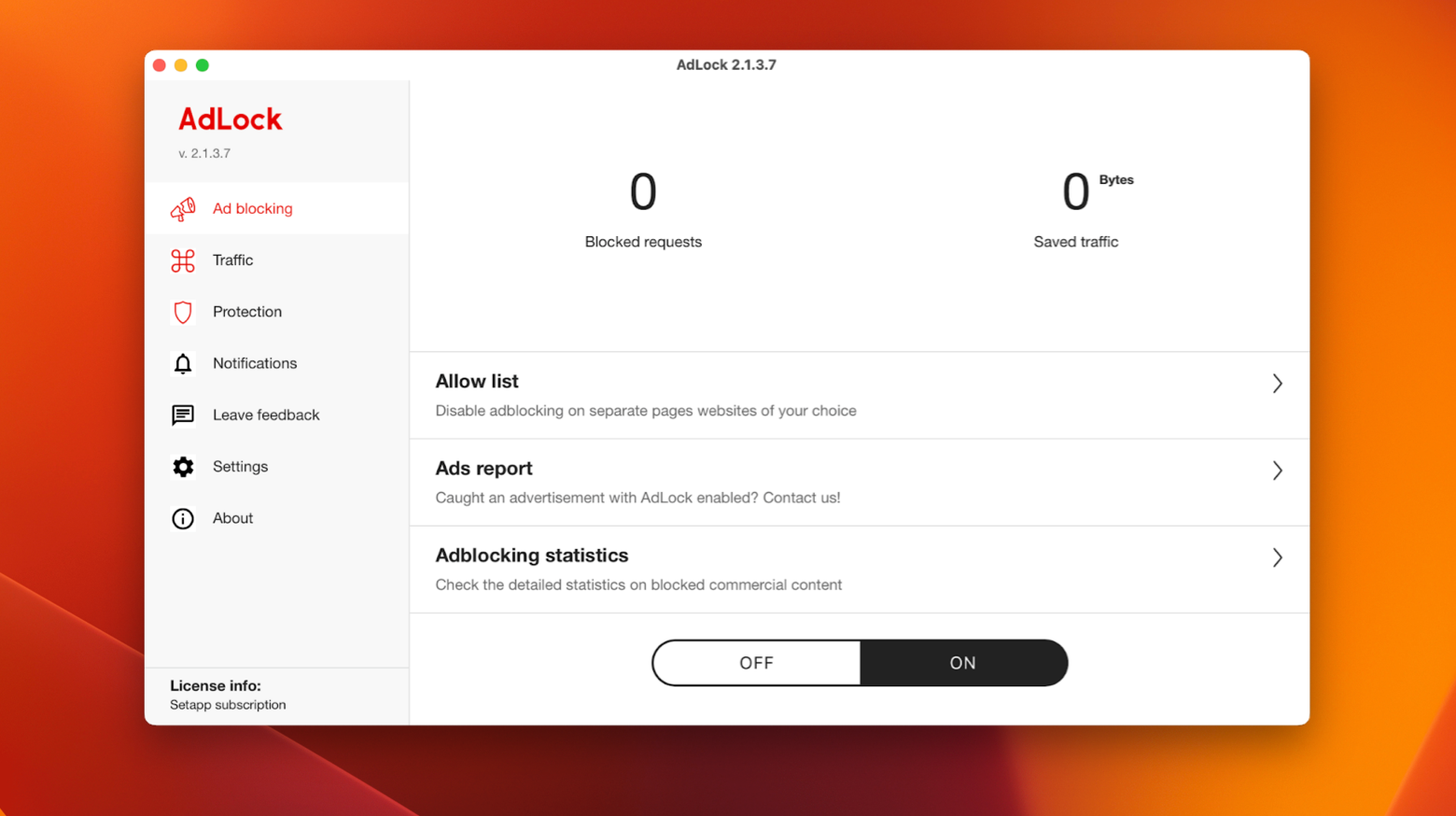 Finally, with so many things placing demands on our attention these days, it's getting harder and harder to concentrate for long periods of time. Do you find yourself scrolling Twitter or watching YouTube while you should be working? You need Focus.
Focus is a simple app that blocks all distractions from your Mac. You can configure which websites or apps need to be blocked, and set up a recurring schedule that corresponds to your work. If you try going to a website on the block list, Focus will show you a wise and time-saving quote instead. If you find your bad habits really hard to control, Focus also features a hardcore mode, which makes it impossible to disable the preferences you set beforehand.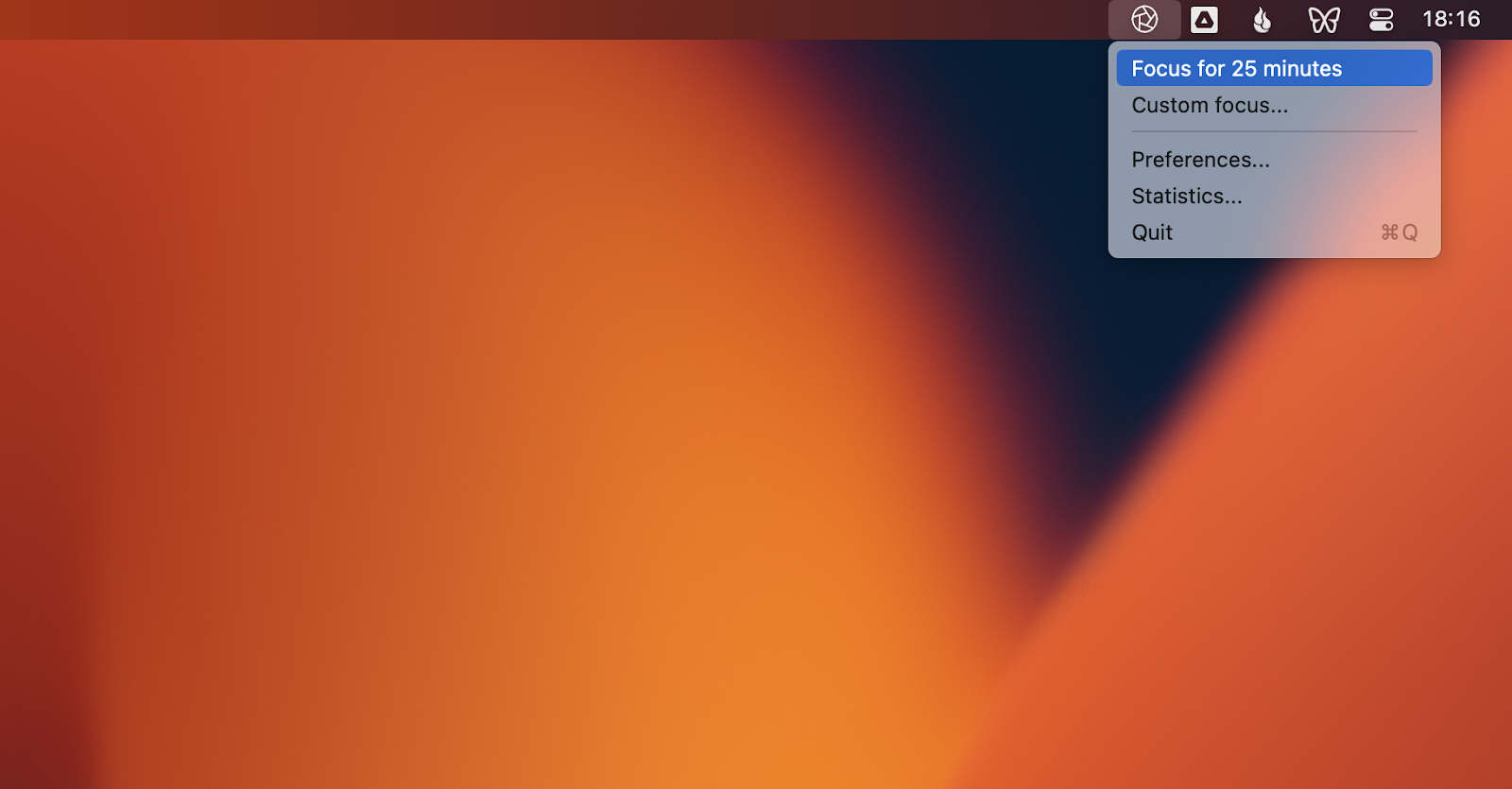 Just like that, you're now ready to eliminate all distractions from your Mac, whether they come in the form of unwanted calls to FaceTime, messages to iMessage, ads online (by using AdLock), or addictive apps (with the help of Focus). It's hard to imagine a more serene Mac environment! In addition, you can consolidate all your messaging apps in IM+ and boost the capabilities of WhatsApp with ChatMate.
To get all these benefits, download and try Focus, AdLock, IM+, and ChatMate for WhatsApp for free from Setapp, a platform with more than 230 outstanding (and non-distracting) apps for Mac and iOS. You're now in control!