How to develop a killer content marketing campaign
Have you ever heard the saying: "Content is king"? Bill Gates said that over two decades ago, in 1996 — back when the Apple PowerBook 1400 with its customizable skin was the coolest laptop around. It's since become the slogan of choice for content marketers everywhere.
In the same paper, Gates also said: "Content is where I expect much of the real money will be made on the Internet, just as it was in broadcasting."
He was absolutely right. Without content marketing, MacPaw wouldn't be where it is today and nor would millions of other popular brands. Toshiba, IBM, Virgin Mobile, American Express, Marriott — all of these brands credit content marketing for growing their online presence.
Benefits of Content Marketing
You see, unlike ads — which the rapid rise in ad blocker technology shows people are growing tired of — content marketing plays to what people want. Customers and clients like authenticity and transparency, not some tacky, in-your-face ad that disrupts the browsing experience. Content marketing is organic. It's friendly and useful and builds trust in a brand in a way that advertising could never do.
That's not to say that advertising can't be effective. Absolutely it can. We're just saying that content marketing is better. Building a marketing campaign around content can get you three-times more leads per dollar spent than paid search. It's almost two-thirds cheaper than outbound marketing, yet three-times more effective, and has a conversion rate six-times that of traditional marketing.
The vast majority (93 percent) of B2B marketers favour content marketing over traditional marketing methods. On the flip-side, that also means a lot of people are doing it. Every day the marketplace becomes more crowded and noisy, with other brands and businesses creating content to attempt to capture your audiences shrinking attention span.
This means your content not only has to be good, it has to be bigger, better and more original than anything out there. Every. Single. Time. Those that create the best content are the ones that stand tall at the top of their industry; the ones that customers trust, respect and turn to for advice.
The fact that you're even reading this today is because our own content marketing efforts have helped us build trust and respect within the Mac community. It also — without blowing our own trumpet too much — puts in a position to pass on some advice based on our own experience that you can put into practice in a campaign of your own.
It all starts with coming up with something to talk about, consistently, that you can build on.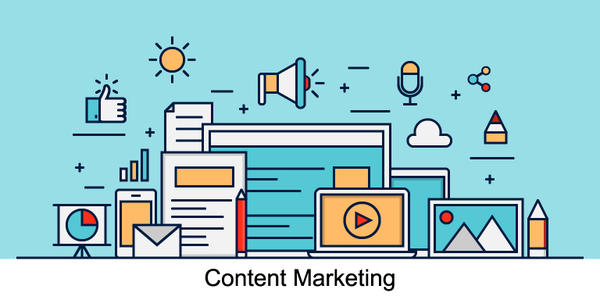 Talking the talk
Ideas are the biggest hurdle for any content marketer. What on earth should you talk about?
Well, there's one source of material that always throws up worthy material, and that's your business.
We're not suggesting you base your entire marketing strategy around talking about your team and business. But no one knows your business as you do, and no one has had the same experiences within your business as you have. Your perspective is unique, but relatable to like-minded people.
That's the way we approached things in our own campaign, using our experience of Mac and software distribution to produce content that resonated with the Mac community.
Not all content is created equal, though. Investing your time in something that you think is cool is all well and good, but if you want more than just your Mom and the neighbour's dog to enjoy what you produce, you need to make sure there's a market for it. Find out what's being talked about and give your own unique take on it. If you can back that up with data and case studies, wonderful. If not, always endeavour to produce something of value to the reader.
In our situation, we identified the Mac App Store and third-party app channels as a talking point within the community. We then reached out people within the Mac development community to get their opinions and feedback, collating the results in an Annual Mac Survey. By involving others in the process, those who were passionate about the same things as us, we created a ready-made audience. And by producing unique data, we had content that would appeal to Mac devs worldwide.
Some things you can do come up with the content ideas for your campaign:
Use Google Trends to research search volumes for your chosen topics;

Use AdWords to search for keyword volumes;

Use Buzzsumo to find the most shared content around your chosen topic;

Visit sites such as Quora and Reddit, and social media to find out which subjects are being talked about and which questions are being asked;

Reach out to your audience to find out what interests them. Use all available communication channels — email, social media, media connections, etc.
Go forth and create
Creating content is easy. Creating content with the potential to go viral (which should be the aim of every marketing campaign) is a lot more difficult.
In putting together our Annual Mac Survey, it would have been easy for us to collect pre-existing data and present it as a long list of facts, figures and statistics. That might have been enough to please journalists looking to reference the survey in their own content, but it wouldn't have appealed to a larger audience.
Instead, we created, sent, and took the data from 742 completed questionnaires. Then we presented it in an infographic-style format, replacing text data with eye-catching charts and graphs. This made it instantly more attractive and user-friendly to readers and made data easy to digest.
After the content was ready, we tested it to receive feedback on the structure and the quality of the content, before settling on a publish-ready piece. Regardless of the type of content you create, make it unique (original data helps in that regard) and engaging to the reader, and consider how it's presented.
Some things to take into consideration:
People following directions with text and illustrations do 323 percent better than people who attempt to follow information without illustrations.

When content includes relevant images, readers spend more time looking at the images than they do reading the text.

Infographics are liked and shared on social media three-times more than any other type of content.

43 percent of people skim blog posts. Headlines, sub-headlines, videos, images, and graphics make content easier to consume.
Moz founder, Rand Fishkin, came up with the term "10X content" to describe content that is 10 times better than anything else in search results. That's what we aimed to do with the Mac survey, and it's what you should do in creating your content.
Create content that's impossible to ignore
Having completed the Annual Mac Survey, we could have easily posted it to the Setapp blog, brought out the deckchairs and basked in our glory. We didn't do that. We'd worked too hard for too long on this. Unless you're a media giant, viral status doesn't just happen.
People won't find your content if you don't put it in front of them. And SEO benefits only come when Google recognizes that a piece of content is informative and popular.
Content is king, but distribution is queen." — Jonathan Perelman
A simple share on social media isn't enough. A structured social sharing campaign is what's required. This involves sharing content on the day that it's published and again in the days, weeks, and months to follow.
When sharing content across social media channels, test text and imagery to find the combinations that resonate best with followers. Also, be mindful of how often you share — you don't want to spam people.
In SEO, links count for a lot. They're one of the main factors used by Google to rank content — the more respected the site linking to the content, the more favourable it is viewed by Google.
Reaching out to industry media sites and influencers was a big part of our promotion strategy as it helped us to achieve quality backlinks, as well as exposure way beyond the Setapp website. We were able to identify and pitch a number of high-profile sites with great success, including The Next Web, Cult of Mac, and Mac Rumors. The survey was also the topic of discussion on the YouTube show MacVoices and AltConf.
Appearances on well-respected sites created a buzz, which resulted in a boost in traffic, improved SEO, and increased social mentions.
It's a strategy that can work within any niche. Track down high-authority sites in your industry and pitch them with your content. The pitch here is extremely important. Keep it concise. Give a brief overview of your content, picking out some juicy stats) and include a link. Where possible, make the pitch personal too. This shows that you've taken the time to find out a bit about the person you're reaching out to.
Where original data is involved, a press release can also be a useful tool in pitching. This alerts the media to the content, providing key findings and statistics, and giving you instant exposure.
Finally, take your content and promote it across audio and video channels. Podcasts and YouTube shows help you reach new audiences while adding to your credibility as an authoritative voice in your niche. Again, it's important to identify and target influencers and respected publishers within your industry for these methods to have the desired effect.
In a world where over 615 million devices use ad blockers, content marketing is the best way to increase awareness, build trust and establish authority. Yes, it's hard work, and we'd be lying if we said it isn't time-consuming, but the results of a well-designed and managed campaign make it all worthwhile. Now get out there and create, your audience awaits.